Homemade Shake and Bake Pork Chops add some smoky flavors to your classic breaded pork cutlets. Making a great thing even better always presents a challenge. With this shake and bake breaded pork chop recipe, you rise to the occasion and go above and beyond!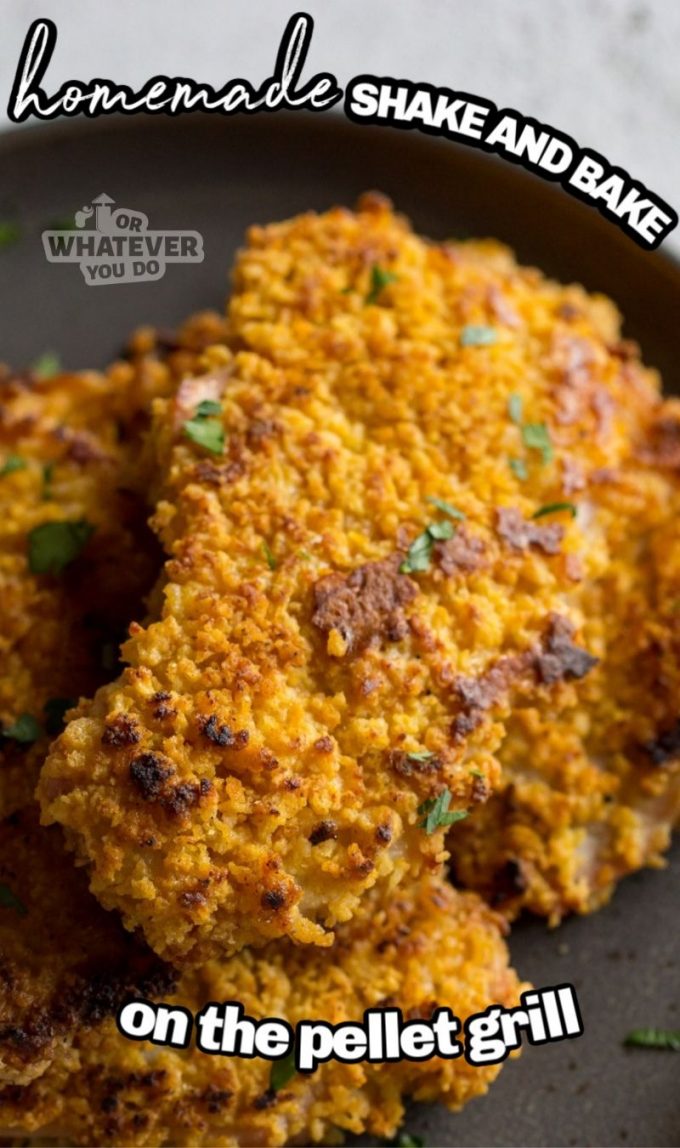 Traeger Breaded Pork Chops Recipe
These classic "grill" fried pork chops are breaded with a homemade shake and bake and wind up super crunchy on the outside but tender and juicy on the inside, but no frying required! I love this method of cooking pork chops, and I can't wait for you to try it!
Thin cut pork chops are ideal for breaded pork chops. Most recipes actually call for pounding the pork cutlet to make it thinner, but I've found the thin cut pork chops are just fine.
If you do decide to lay some smackdown on your pork because you didn't pick up the thin versions, then there is a method to the madness. Wrap the pork chops in plastic wrap (or put them in a big ziplock freezer bag), and then smack it a few times with a rolling pin.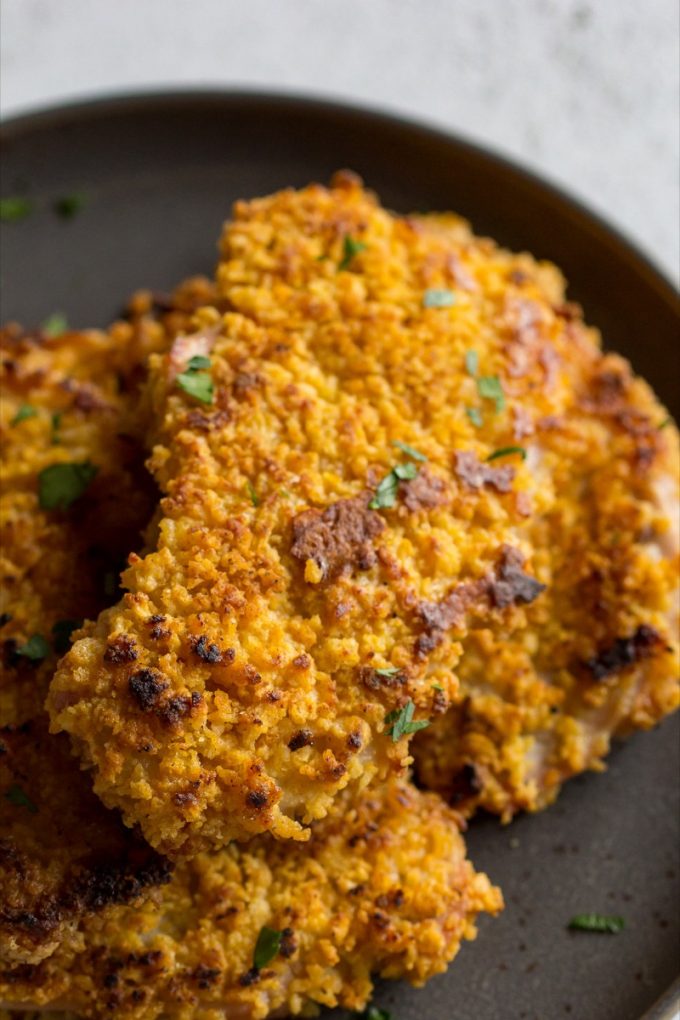 Smoked Breaded Pork Chops shopping list
Wondering if you have to hit the store? Here's the list of items you'll need to make this recipe. For specific amounts, please refer to the printable recipe card at the bottom of the post.
pork chops
egg
milk
flour
breadcrumbs
panko
avocado oil
salt & pepper
paprika
onion powder
garlic powder
dried parsley
dried oregano
dried basil
Also check out my Stuffed Smoked Pork Tenderloin!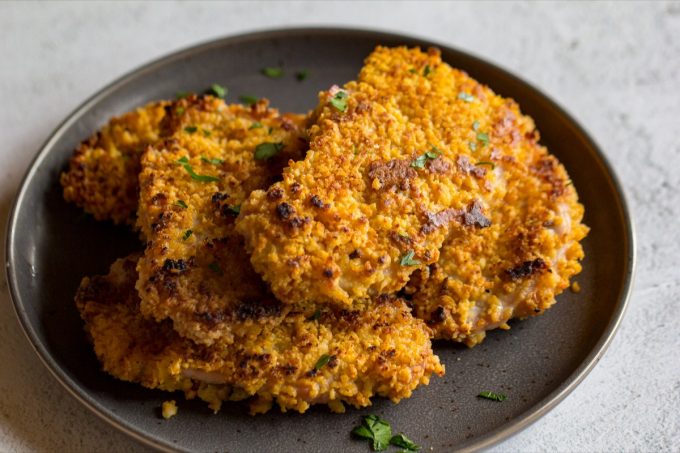 How to make Homemade Shake and Bake Pork Chops on the Traeger
This is just the overview so you can see what you're actually getting into here. When you are cooking, you'll want to use the full recipe at the bottom of the page.
Preheat
Preheat your Traeger to 350°F.
Mix it
Mix together all the breading ingredients and place into a container.
Bread it
Put the flour in another container. Mix together the egg and milk in another. Bread by dipping in flour, then the egg wash, and then the seasoned bread crumbs.
Cook it
Place the breaded chops on a grill-safe parchment lined baking sheet. Cook for 10-15 minutes, flip, and continue cooking until the other side is crispy and browned.
Enjoy
You're going to love this homemade version of a classic weeknight recipe! Mix up a double batch of the breadcrumb mixture for an easier time next week!
Follow me on Instagram!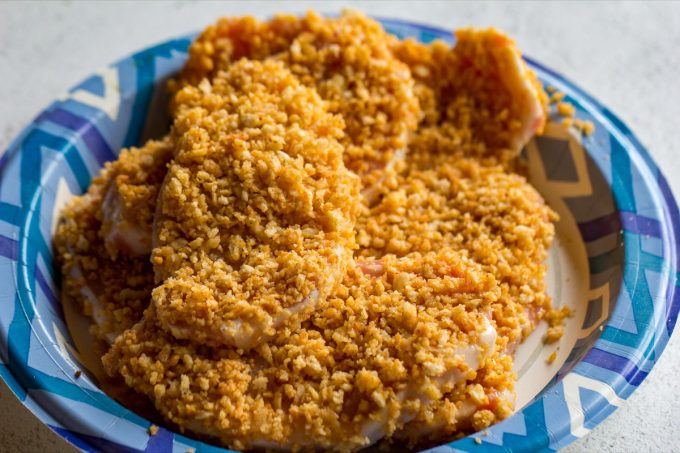 Traeger Breaded Pork Chops FAQ
Bread Crumbs for Pellet Grilled Pork Cutlets
The breading for this can be seasoned bread crumbs or panko. You can even take an old dry piece of bread and make your own seasoned bread crumbs. In this recipe, I use a combination of traditional bread crumbs and panko for the best results.
How to make your own breadcrumbs
To make your own bread crumbs, dry out a piece of bread. French baguettes work really well. Grate the bread on the small and medium shredder holes, or use a food processor. The dusty crumbs help bind the breading to the meat. The larger crumbs make for more crunchy bite.
What's the best cut of pork for these breaded pork chops?
You can use pork cutlets or slice your own pork cutlets from a long strip of tenderloin. If you slice from a tenderloin, then make sure to cut the pork about half an inch thick.

You will be smacking them to about a quarter inch thick. Why not cut them that thin in the first place? That's the route I usually take if I don't buy the pre-cut thinly sliced pork chops right from the grocery store.
Check out all of my Traeger Recipes!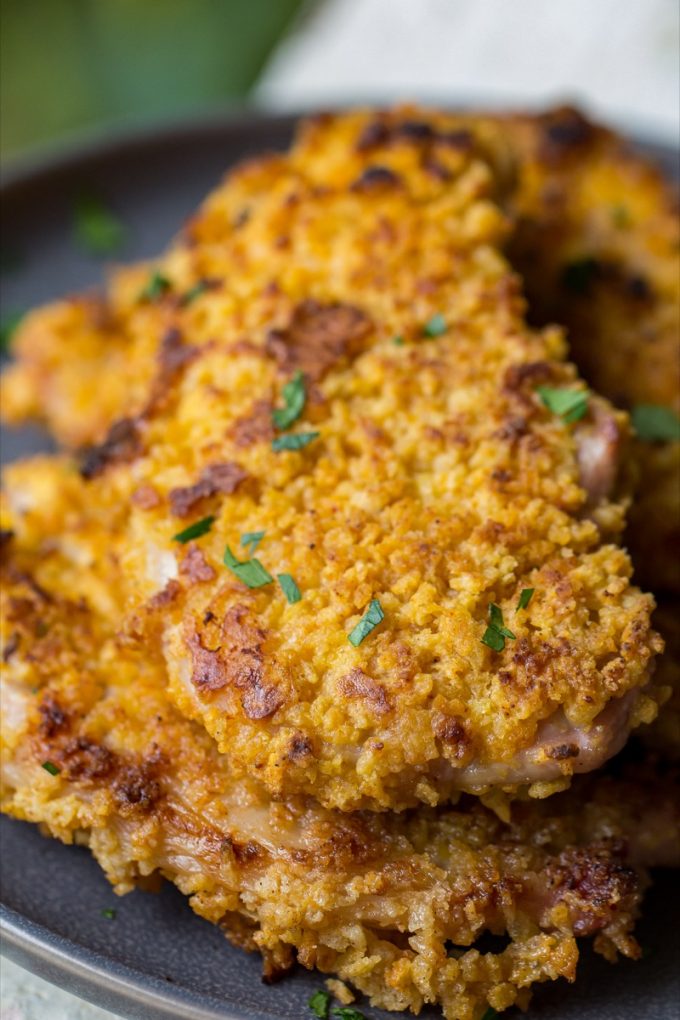 What should you serve with these pork chops?
These are the perfect meat to put right next to a big pile of Smashed Smoked Potatoes. They get great reviews, and are a great alternative to mashed potatoes for a dish like this.
Then I'd typically throw out some grilled asparagus, or just simple steamed green beans. So easy!
Hit up this Brownie Sundae from my fave, Sugar Dish Me too, and help feed some of her 9 dogs that she's got running around there at any given time. (She's a rescuer of all the dogs. Or all the dogs that can fit into her house at any given time, and then some.)
More great pork recipes
If you like this, then you might enjoy some of my other pork inspired recipes.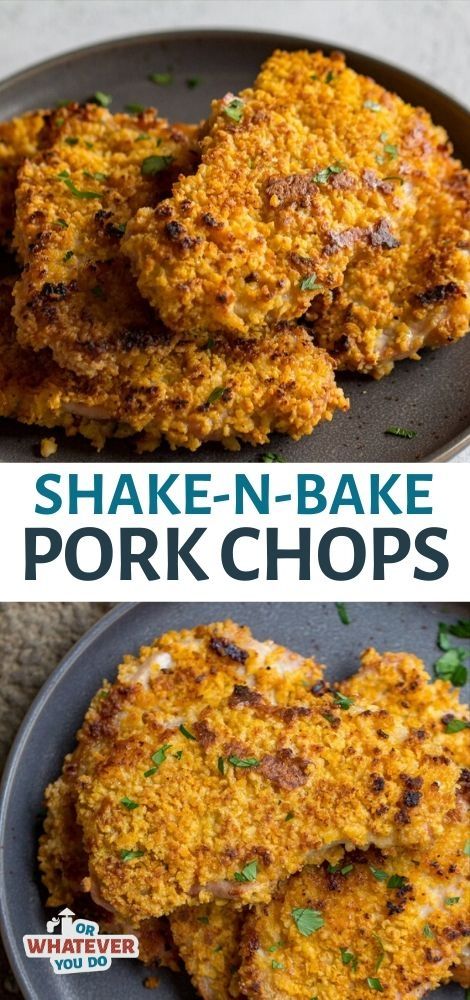 Yield: 8 servings
Homemade Shake and Bake Pork Chops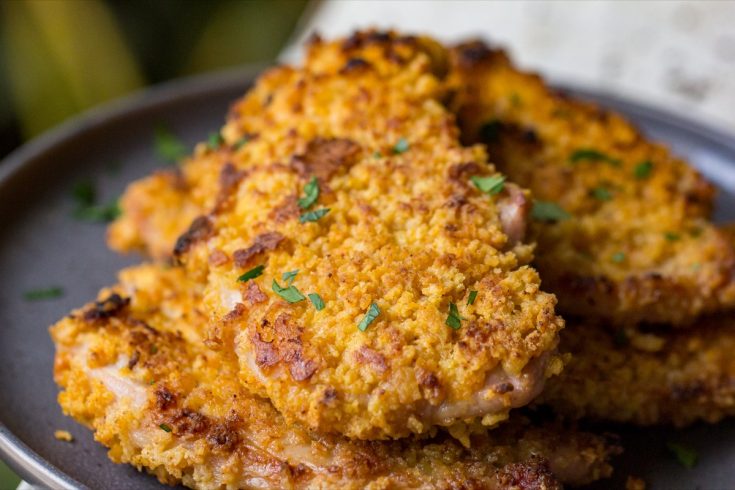 Flavorful homemade shake and bake you can put on almost anything! Pictures here are some thin-cut pork chops, but try this simple copycat recipe on chicken and fish too.
Ingredients
Breading
2 cups plain breadcrumbs
2 cups plain panko
1/3 cup avocado oil (or similar)
1 1/2 teaspoons salt
1/2 teaspoon pepper
1 teaspoon paprika
1 teaspoon onion powder
1/2 teaspoon garlic powder
1/2 teaspoon dried parsley
1/4 teaspoon dried oregano
1/4 teaspoon dried basil
Meat + Extras
8 thin cut pork chops
1/2 cup flour
2 eggs
1/4 cup milk
Instructions
Preheat your pellet grill to 350°F.
Place all of the breading ingredients into a large freezer baggie and toss to combine.
Place the flour in one container, and beat the egg and milk together in another container.
Coat your meat by first drenching in flour, then in an egg/milk wash, and then coating in the shake-and-bake breading. It'll stick on much better this way!
Place your meat on a parchment-lined baking tray, and cook your meat in the preheated Traeger. Flip after 10-15 minutes, and continue cooking until the breading is crispy and brown on both sides.
Remove and let rest for 5 minutes on wire racks and then serve hot.
Recommended Products
As an Amazon Associate and member of other affiliate programs, I earn from qualifying purchases.
Nutrition Information:
Yield:
8
Serving Size:
1
Amount Per Serving:
Calories:

296
Total Fat:

12g
Saturated Fat:

2g
Trans Fat:

0g
Unsaturated Fat:

9g
Cholesterol:

0mg
Sodium:

793mg
Carbohydrates:

40g
Fiber:

3g
Sugar:

3g
Protein:

7g
Nutrition data provided here is only an estimate.