Pork Belly Burnt Ends are an easy dish to put together but are so tender and delicious. Every bbq is better with a pile of these on the table.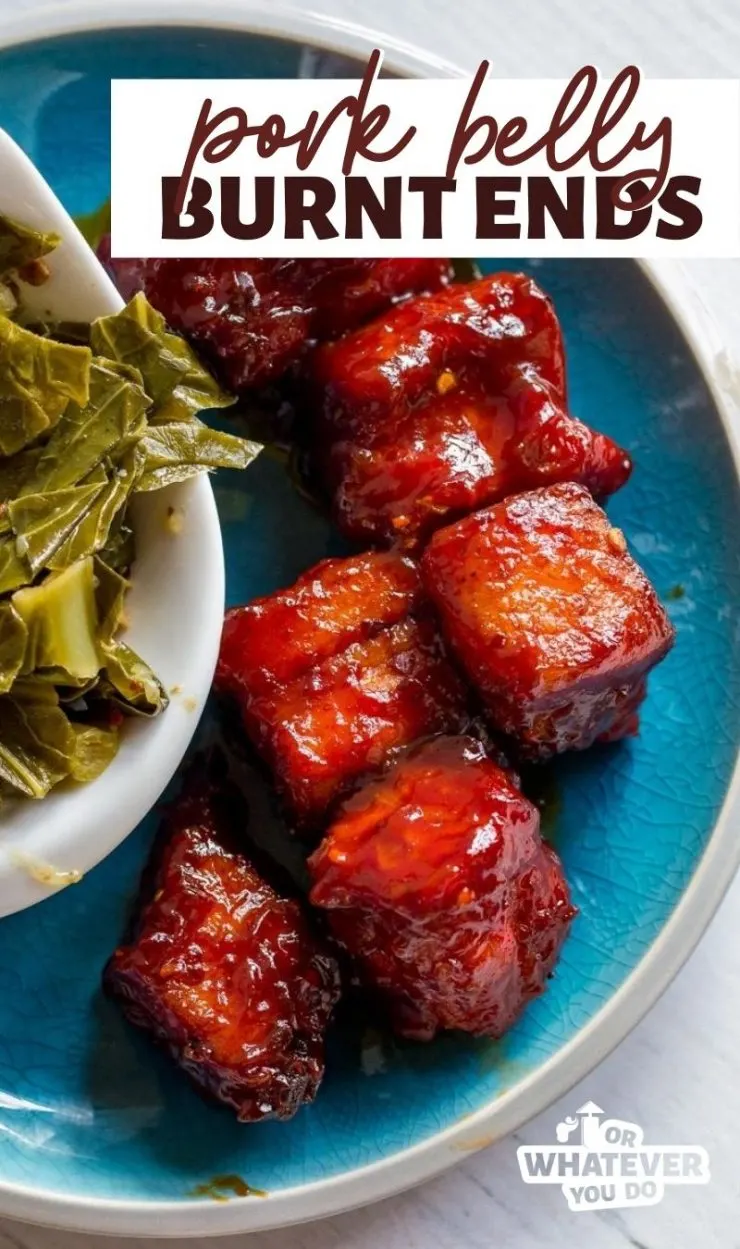 Pork Belly Burnt Ends
I'm not sure whether to call these an appetizer or a meal, but whatever you call them you need to get them on your table, stat. Serve them in a big pile or on toothpicks for easy eating, and don't forget the napkins!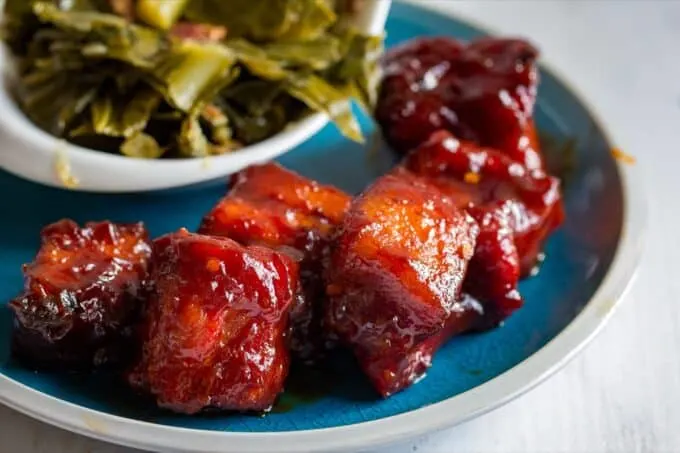 What are burnt ends?
Pork Belly Burnt Ends are a pork version of a well-known barbecue item in Kansas and they are becoming popular everywhere you find great barbecue. In Kansas, the fatty ends of a beef belly brisket are sweetened in barbecue sauce and slow-cooked until they form a "bark".
For this recipe, we substitute easier-to-find and cheaper-to-buy pork belly instead of beef brisket.
Making grilled burnt ends creates a sweet, savory, and smokey treat that works wonderfully as an appetizer.
Use your Traeger grill (or on any pellet grill you have available) to barbecue the sweet glaze onto the pork belly. You have to let them cook slowly to render out the fat and break down the collagen, but this also helps build up a "bark" on the meat.
The bark is the burnt crust on the meat which creates those deep smoky flavors.
With this grilled pork belly burnt ends recipe, you pretty much create pork candy. You won't be able to eat just one!
More Easy Traeger Recipes here!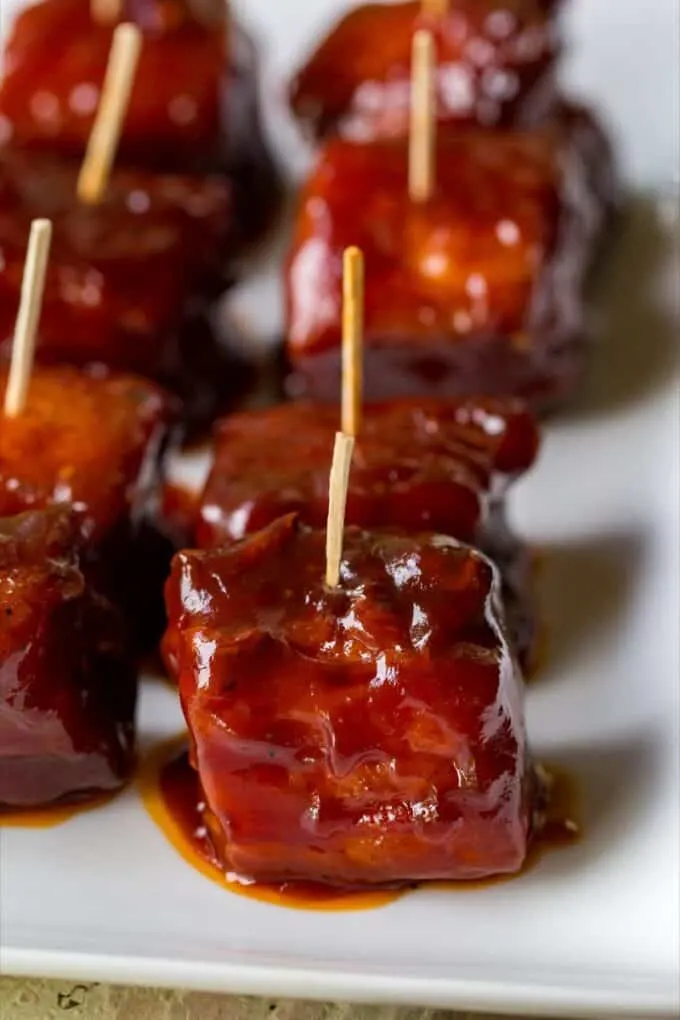 What kind of meat do I need for burnt pork belly ends?
Traditionally, the Kansas-style burnt ends are cut from the point end of a beef brisket. This is the fatty end of the brisket. You can also do "poor man's" burnt ends, which is made from chuck roast.
Pork belly, like brisket, comes with either more fat or less, depending on what part of the belly it is cut from.
The upper end is less fatty, and the lower is more, and I recommend using the less fatty pork belly. Pork belly is the same portion of meat that bacon is made from. The difference is pork belly hasn't been smoked, cured, and salted.
Burnt pork belly ends are made from pork belly which is easier these days to find at most any grocery store. If you have trouble finding them, then ask the butcher at the meat counter and he or she should be able to help.
You are not looking for the pre-sliced pork belly, which I often see at the Asian market locally. While you could use the thick slices if you had to, you really want to be able to cut the pork belly into cubes that will be able to slow cook on the grill.
That helps render the fat out and will make the meat less tough and juicier. If the meat is already cut in strips, then you have to worry about the fat rendering out too quickly and the meat becoming dry and tough.
Get all of our PORK RECIPES here!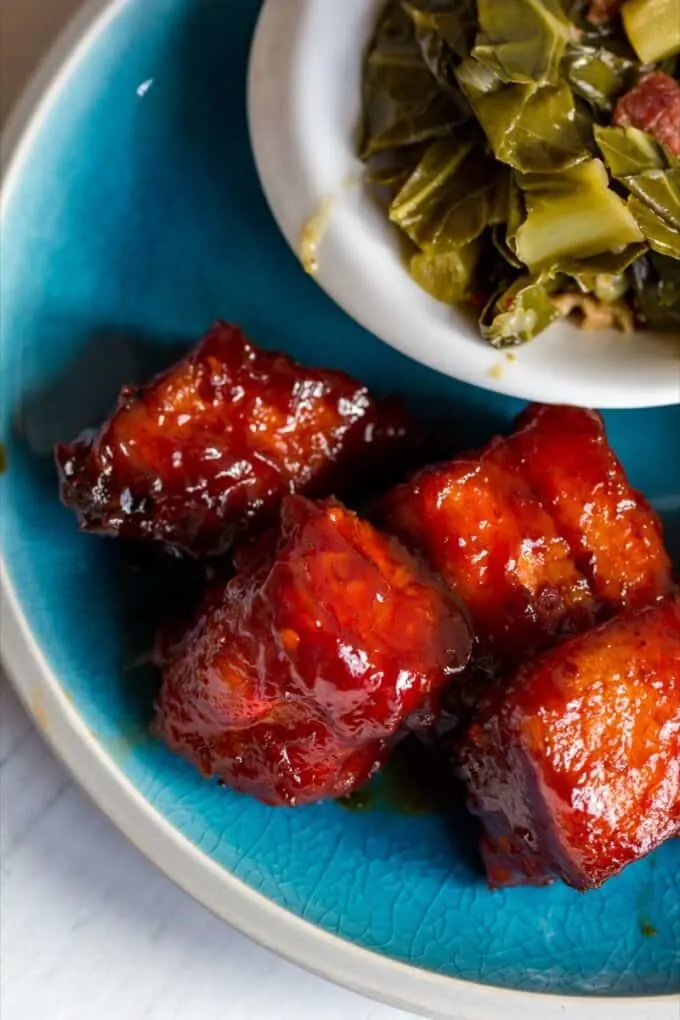 How do I cook burnt pork belly ends to get them just right?
Expect a few hours of smoking over a low heat of about 225-250 degrees f. The goal is to cook them low and slow to allow the fat to melt into the meat and permit the tough meat to break down. Cooking time is similar to how you would cook ribs low and slow.
Cooking them low and slow also helps develop the bark. The cooking time will be between three and four hours generally. When you see that they have turned a dark rich red color and have a good amount of bark on them then you know they are ready!
Get all my recipes for RIBS here!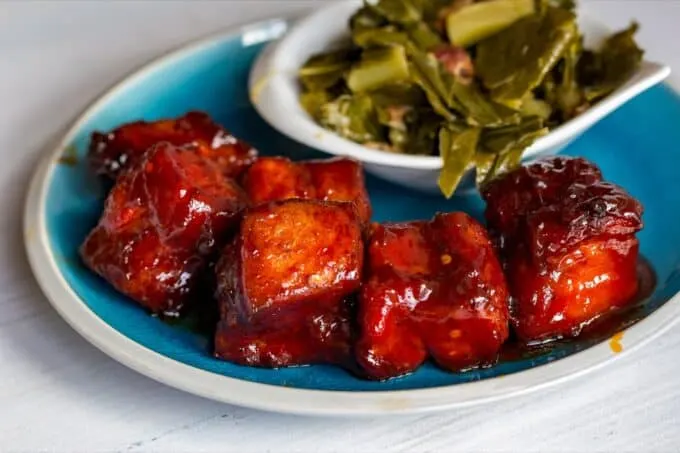 How much pork belly do I need?
You will be cutting the pork belly into cubed pieces about 1 ½ inch wide and long. I recommend 4 to 5 pounds of raw pork belly to start.
Remember, so much of the fat content is just going to melt out during cooking so that will leave you with about a pound and a half of burnt pork belly ends when it is all said and done.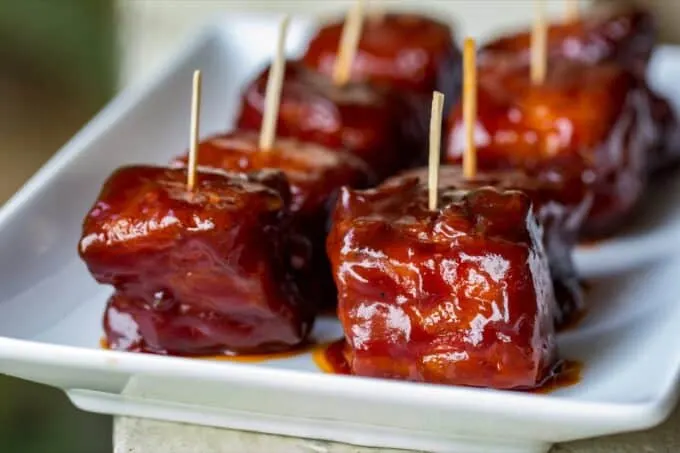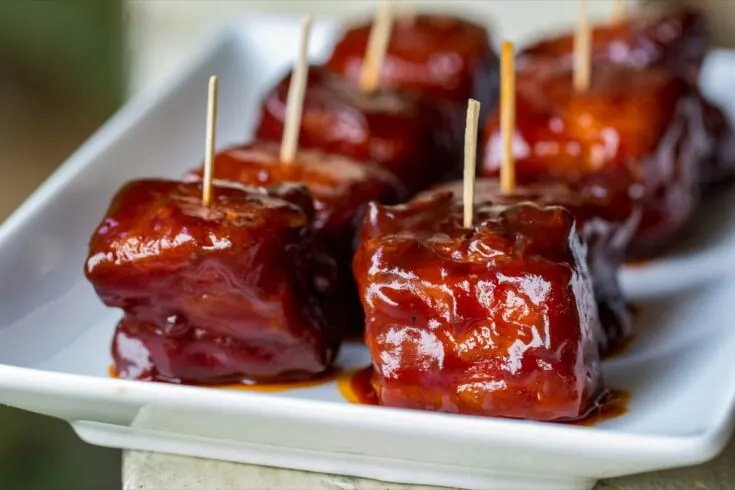 How can I help tenderize the meat in the pork belly?
If you have time and you want the meat to tenderize easily and save a bit of grilling and smoking time in the process, you can marinate the pork belly in your barbecue sauce or you can soak it in a brine solution overnight.
The vinegar in the barbecue sauce helps tenderize the meat. The salt in the brine solution helps add moisture content to the meat, and this helps speed up the breakdown of the collagen that makes the meat tough.
Either way works fine for helping make the meat more tender. You add time in terms of having to prep the meat in the sauce or the brine solution, but you save time during grilling and smoking since your meat is already going to be partially tenderized.
If you have a fattier cut of pork belly to work with then let the grill do the job of rendering the fat to tenderize the meat. If you have the leaner cut of pork belly to work with then I recommend the marinade or brine ahead of cooking to aid in the process.
In that case, you have less fat to work with so you want to make sure you still have enough to melt into the meat during cooking.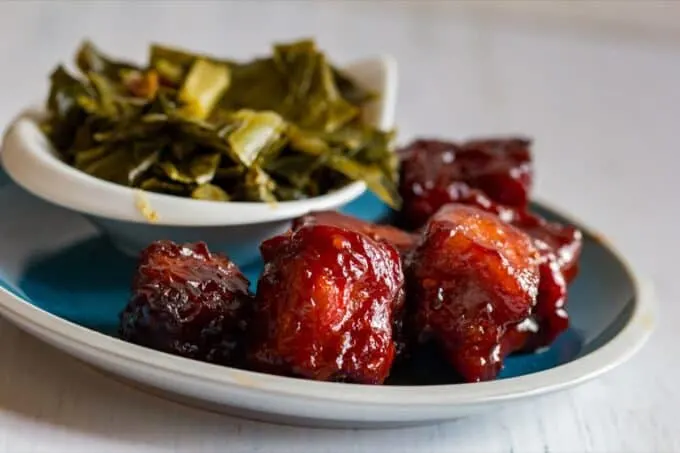 How do I reheat burnt pork belly ends?
I recommend using the sous vide technique to reheat your pork belly burnt ends. Sous vide means "under vacuum" in French. Essentially, you are cooking, or in this case re-heating the meat, in a bag or mason jar at very low heat underwater.
The great advantage of sous vide is it retains all the moisture and flavor that would otherwise be lost if you simply reheated on the stovetop or in a microwave oven or regular oven.
If you don't have a sous vide machine with its own resealable bags, then you can use a mason jar instead. Use a thermometer to get the water to about 130 degrees f. You don't need it to be any hotter.
Make sure the jar is fully covered when you immerse it in the water, and that the water won't overflow as a result of the jar going in.
Follow me on Instagram!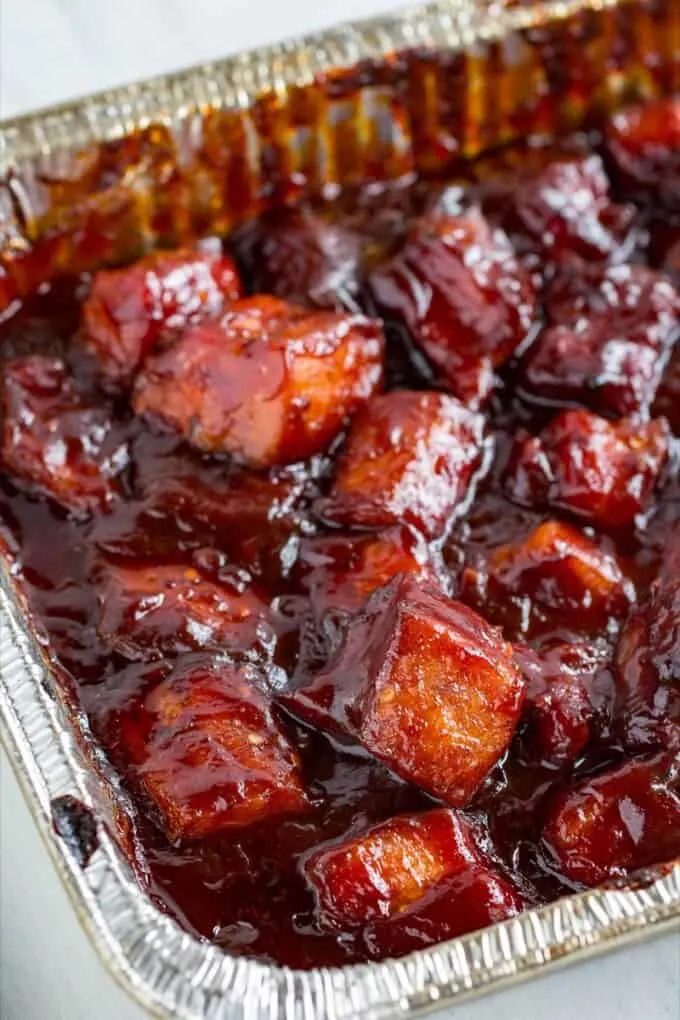 What else can I serve with my burnt barbecue pork belly ends?
With the time you spend waiting for the burnt pork belly ends to come out of the Traeger smoker grill, you have plenty of time to get some sides worked into the meal.
Here are a few things I think go well with the barbecue pork belly: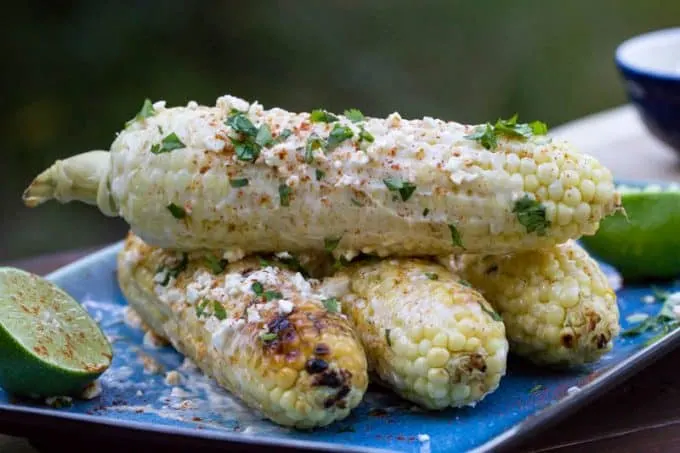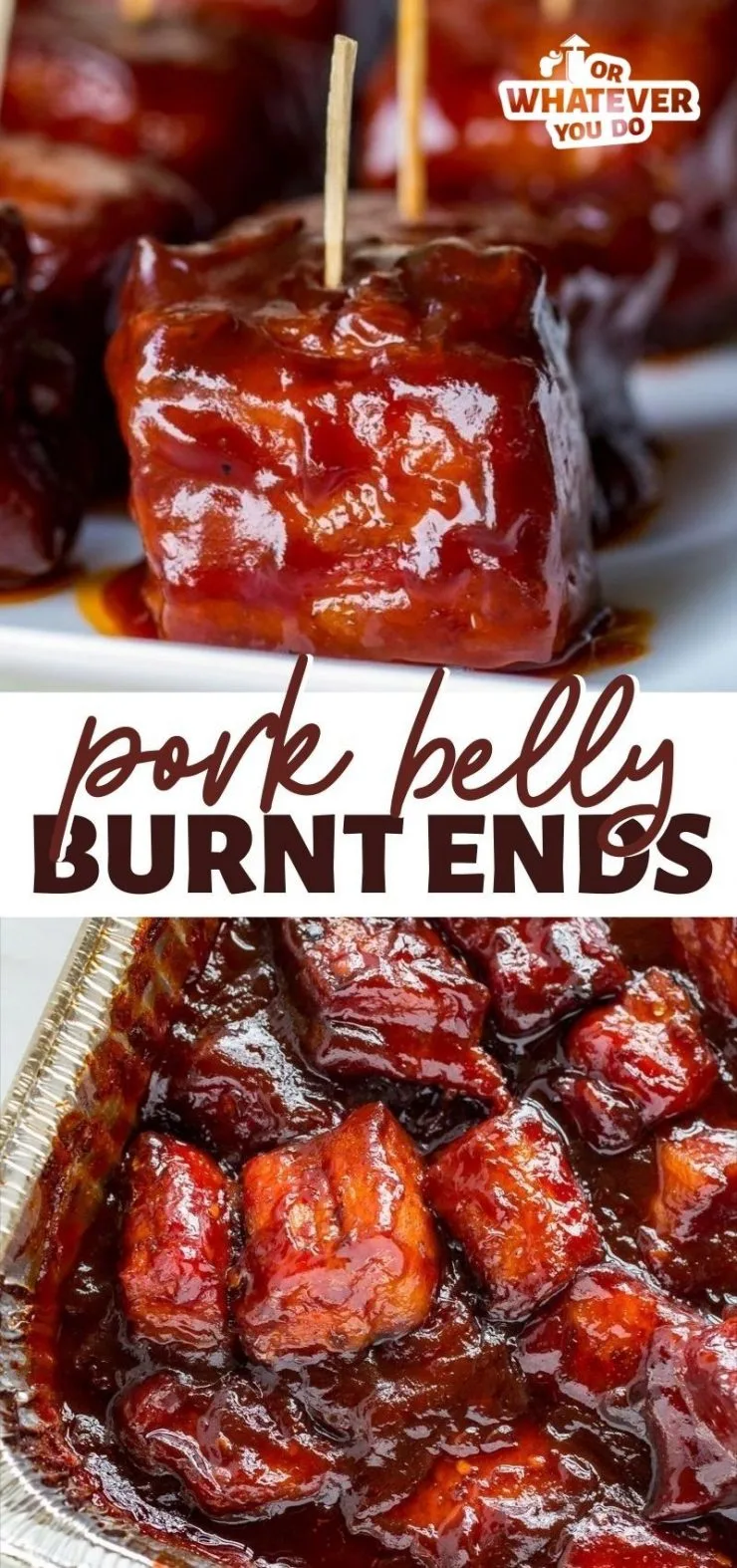 Yield: 8 servings
Pork Belly Burnt Ends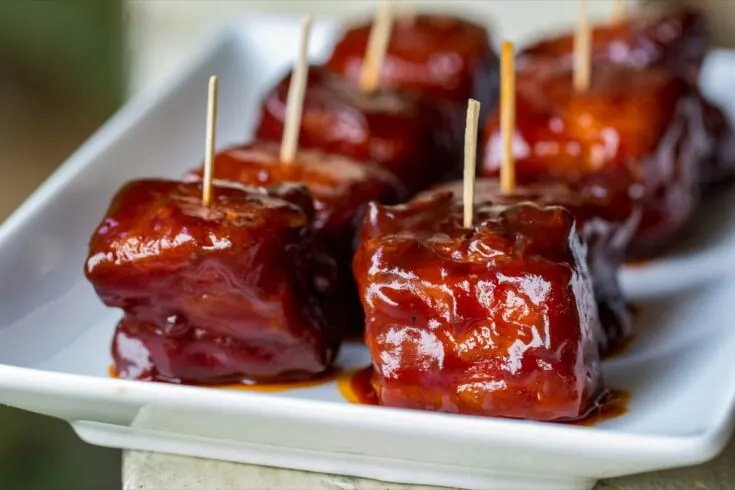 These tender pieces of pork belly are slow-cooked on the Traeger Pellet Grill over live fire and then get a barbecue sauce bath to finish them off and leave them fork-tender and full of flavor.
Total Time
4 hours
10 minutes
Instructions
Cut your pork belly into 1 1/2" squares and place into a medium-sized bowl.
Pour about two-thirds of your rub into the bowl and mix thoroughly with your hands or utensil of choices. Make sure all the pieces of pork belly are evenly coated.
Cover the bowl and place it into your fridge for 1 hour.
Start your grill and pre-heat it to 275 degrees Fahrenheit.
Place your pork belly pieces onto the grill with at least 1/2" space between each piece.
Let cook on the grill for approximately 2 1/2 to 3 hours.
Test for doneness by gently pressing down on the top of a few pieces of pork belly. The meat should hold together and the fat layers should "crush" a little bit when it is rendered.
Pull your meat from the grill and put it into a disposable foil box or grill safe cooking container.
Shake the rest of the rub onto the meat and mix it up with a large spoon.
Pour the barbecue sauce on top of the meat and mix it up with your spoon.
Place it back onto the grill for 30 minutes or until it begins to simmer a little bit and the sauce just starts to caramelize.
Pull from the grill and serve.
Recommended Products
As an Amazon Associate and member of other affiliate programs, I earn from qualifying purchases.
Nutrition Information:
Yield:
12
Serving Size:
1
Amount Per Serving:
Calories:

310
Total Fat:

17g
Saturated Fat:

6g
Trans Fat:

0g
Unsaturated Fat:

10g
Cholesterol:

66mg
Sodium:

557mg
Carbohydrates:

19g
Fiber:

0g
Sugar:

16g
Protein:

18g
Nutrition data provided here is only an estimate. If you are tracking these things for medical purposes please consult an outside, trusted source. Thanks!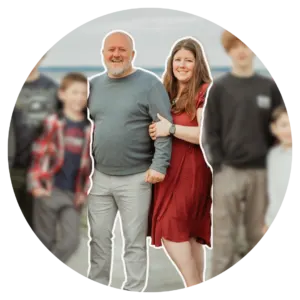 Nicole Johnson, a self-taught expert in grilling and outdoor cooking, launched Or Whatever You Do in 2010. Her blog, renowned for its comprehensive and creative outdoor cooking recipes, has garnered a vast audience of millions. Nicole's hands-on experience and passion for grilling shine through her work. Her husband, Jeremiah Johnson, also plays a pivotal role in recipe development, adding his culinary flair to the mix. Together, they form a dynamic duo, offering a rich and varied outdoor cooking experience to their followers.