Our bacon-wrapped Stuffed Pork Tenderloin has a bacon weave and is filled with spinach, smoked cheddar cheese, and provolone. Once it is stuffed, we wrap the bacon around the whole pork tenderloin and toss it on the Traeger.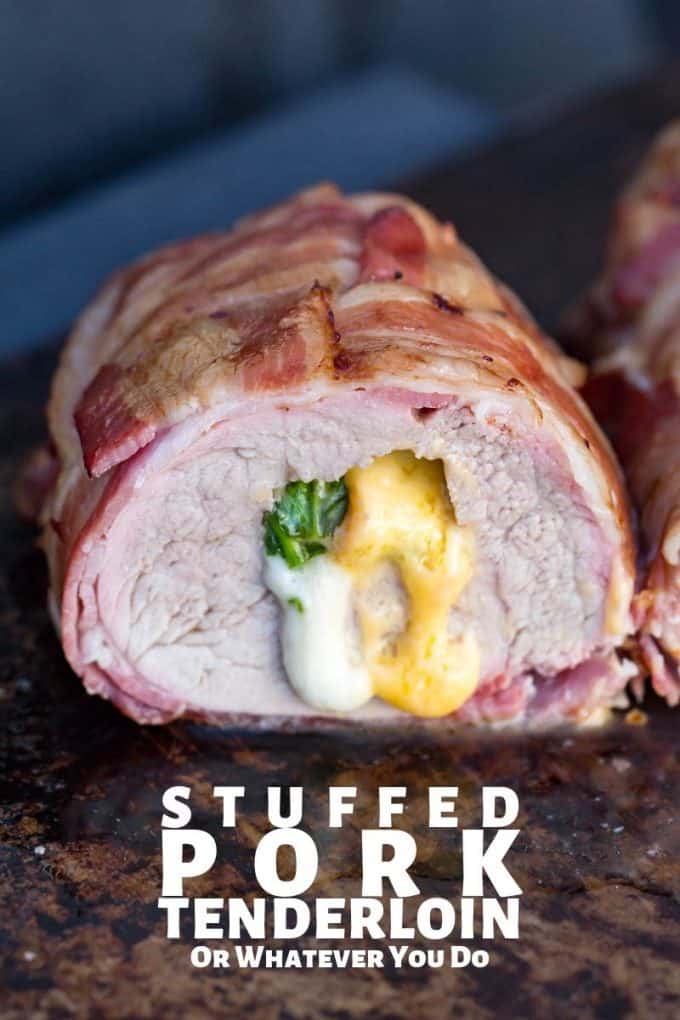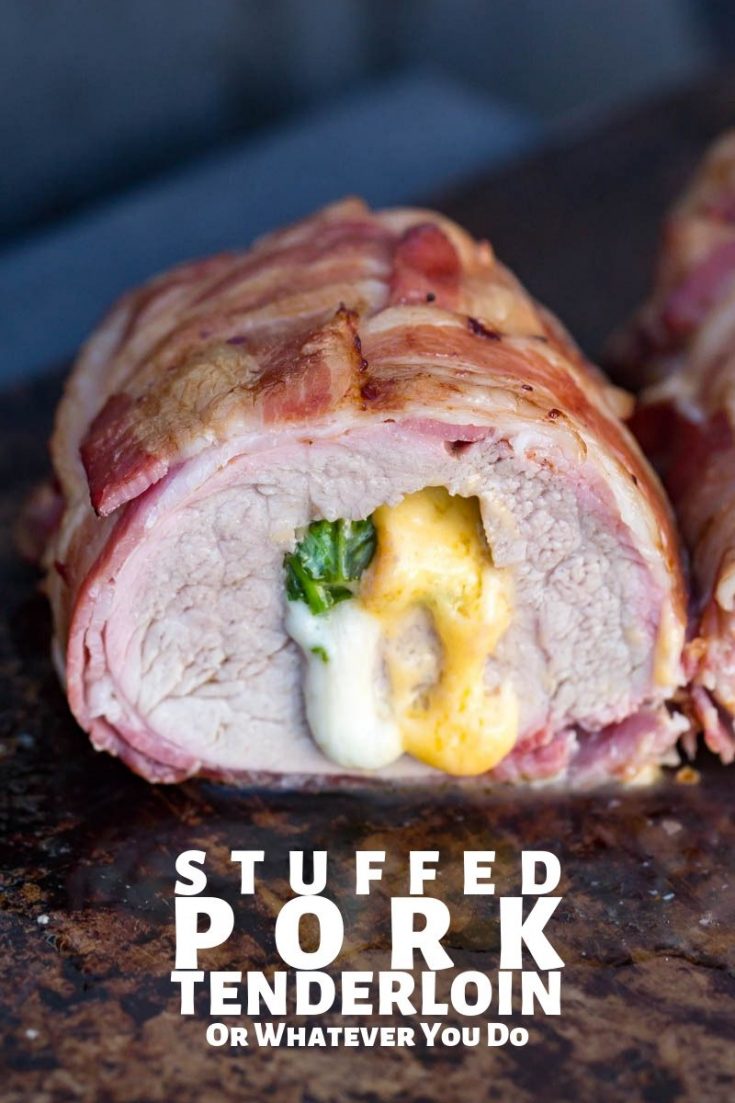 Traeger Stuffed Pork Tenderloin
What to cook for dinner tonight? The age-old question we all face 7 days a week, 52 weeks a year! No wonder we find ourselves scratching our heads and enlisting the family and the internet for ideas to keep the menu interesting and efficient!
This Stuffed Pork Tenderloin is one idea you can add to your list of go-to recipes. This recipe is easier than it looks and quick to prepare, but not run-of-the-mill.
Pork Tenderloin is also an economical meat to serve. You can find them on sale quite often so stock up and throw a few in your freezer for a quick delicious meal option!
Click here to save this post for later!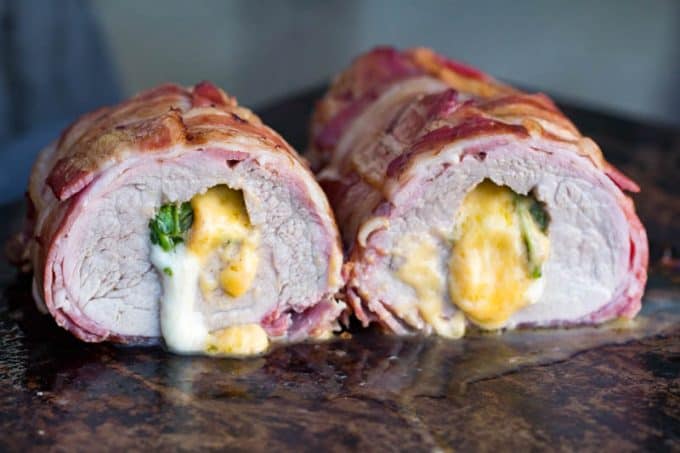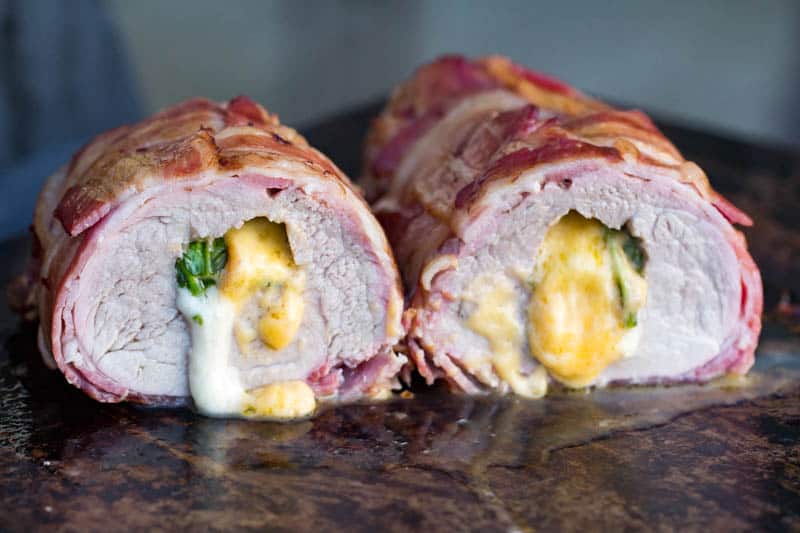 What is Pork Tenderloin?
The pork tenderloin is a tender, lean cut of pork equivalent to the beef tenderloin. The lack of connective tissue and the delicious fat marbling allows this cut to remain tender while cooking fairly quickly. No need to slow roast this cut to break down and dissolve the collagen that so many other cuts require.
Don't confuse this Pork Tenderloin with the pork loin, however, these are two different cuts of meat. The pork loin is a much longer and thicker in diameter than the pork tenderloin which is usually around 10-12 inches long. The pork loin is what center-cut pork chops tend to originate.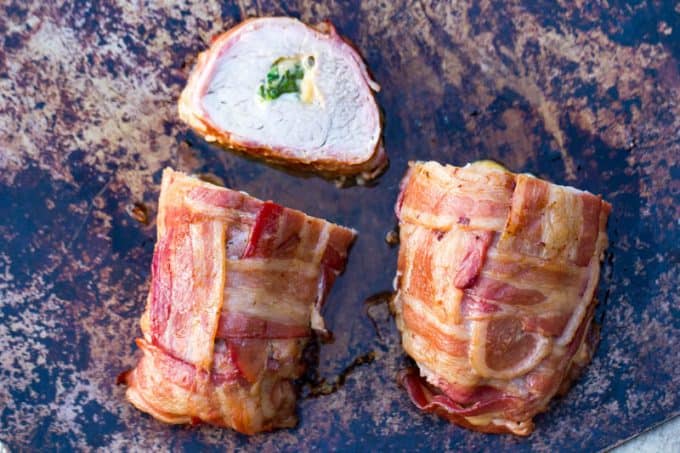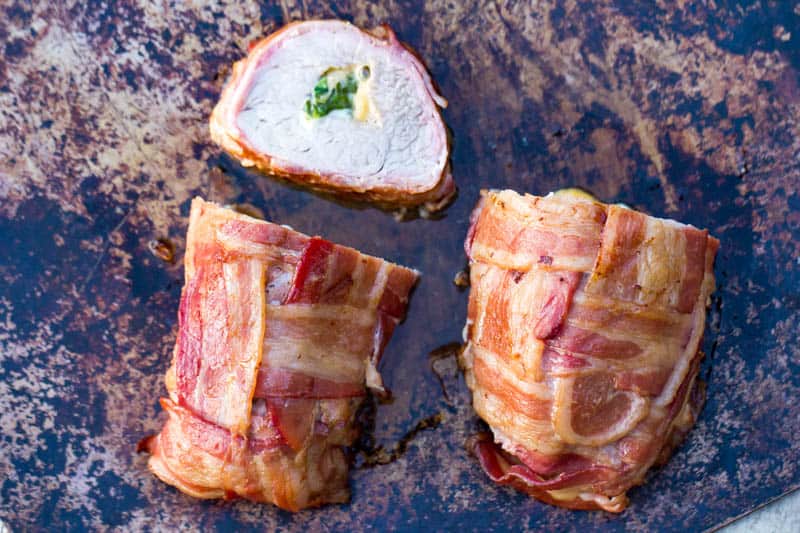 How long do I cook this pork tenderloin?
First – you are asking the wrong question. When it comes to cooking meat, you MUST cook to temp and not to time. If you try and cook according to a time chart, you're going to have a lot more fails than you would if you invest in a good thermometer and pay attention to it.
It is very, VERY important to use a good meat thermometer when cooking this cut of pork. Being that it is a very lean cut of meat, as with other lean cuts can be easily overcooked and dry when cooked to even a couple of degrees too high.
I use the ThermoWorks Smoke a LOT for these types of recipes, and highly recommend!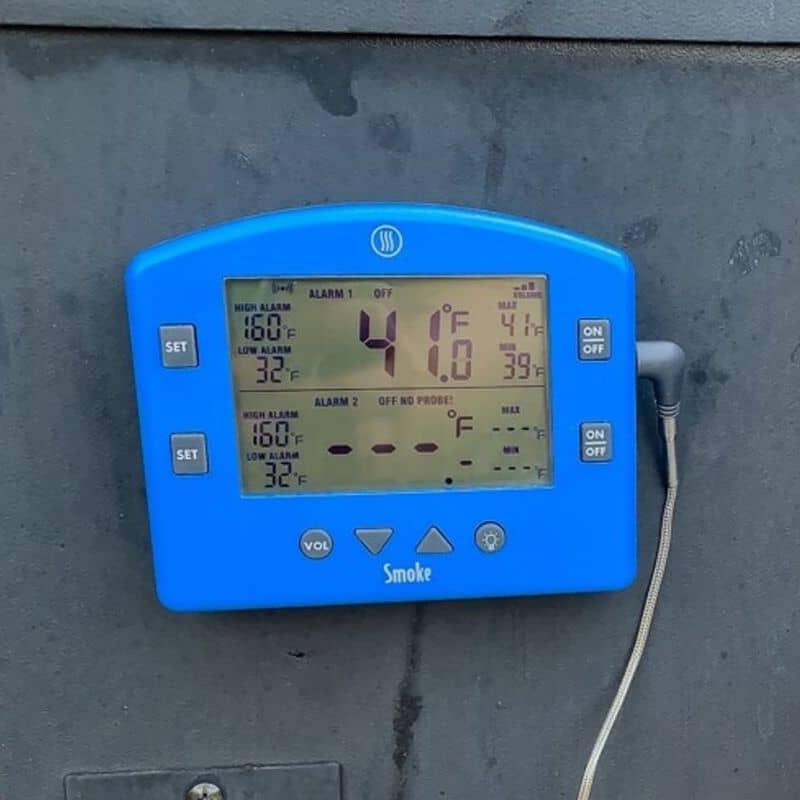 Join our Easy Traeger Recipes Facebook group!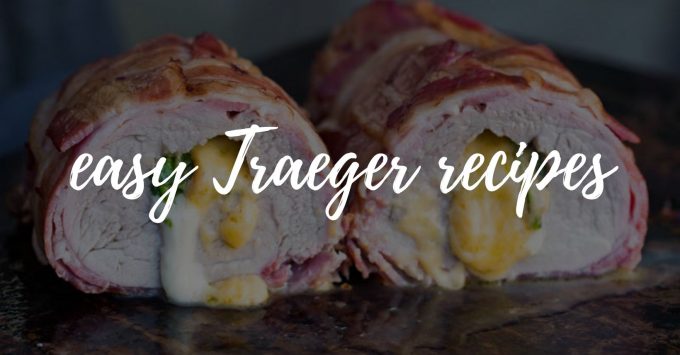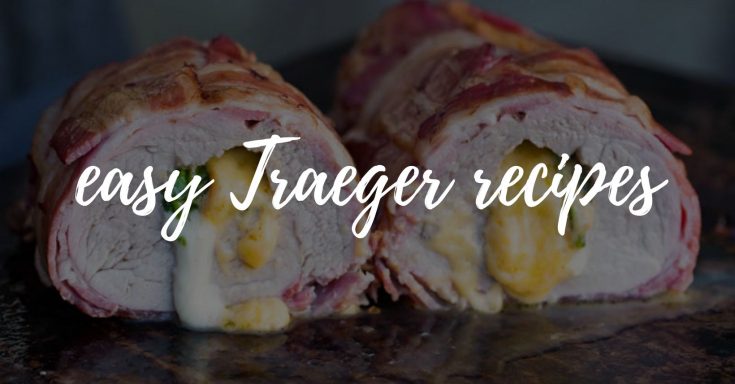 To prevent a dry tenderloin, cook this meat to an internal temperature of 145 degrees and then remove it from the heat source and allow it to rest. This will ensure a juicy, tender and flavorful tenderloin. I would recommend a leave-in probe thermometer, but if you don't have one you can use a reliable meat thermometer and keep your eye on it.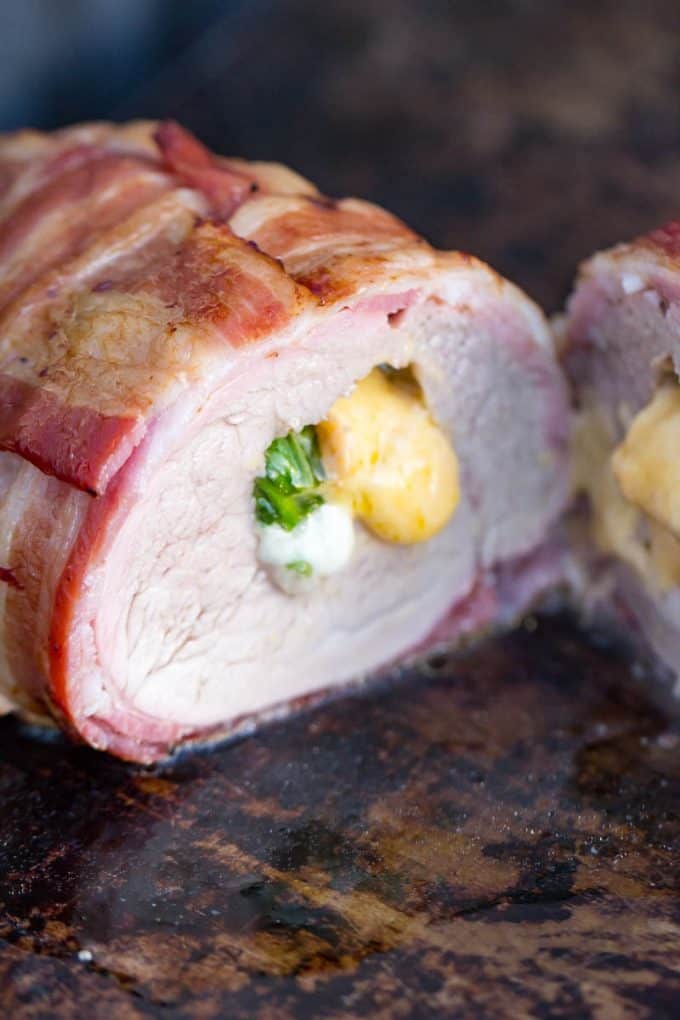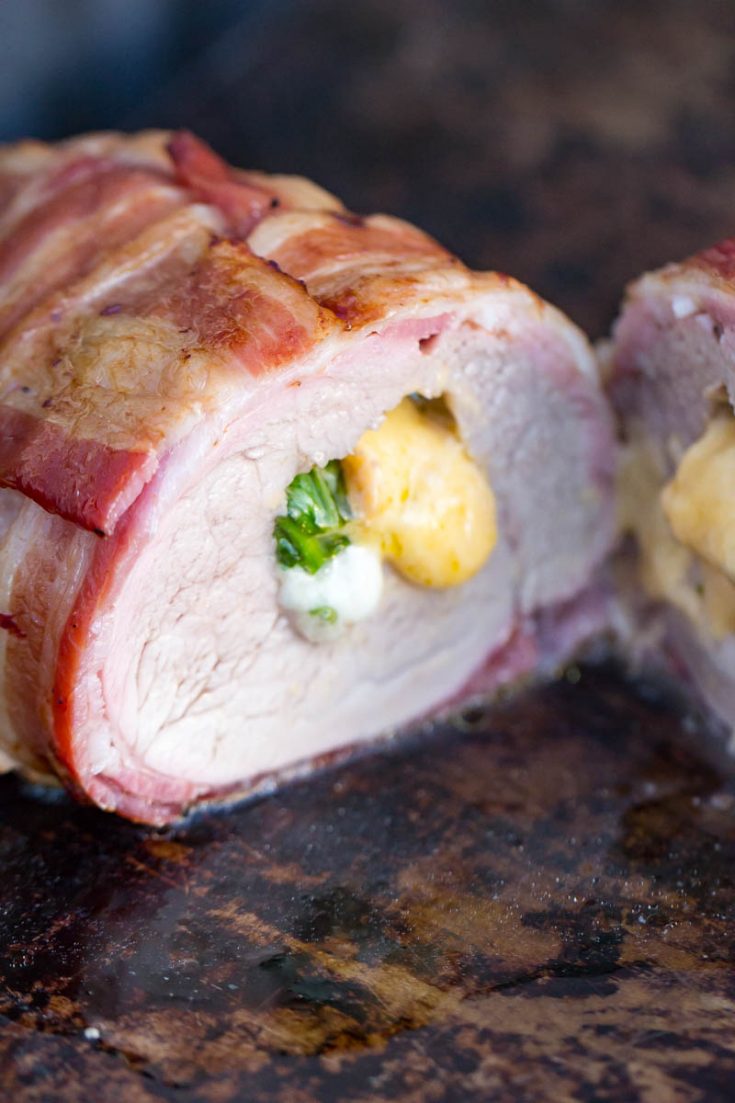 How do I stuff Pork Tenderloin?
The first thing you will want to do is remove the silver skin from the Tenderloin. You can easily do this using a sharp knife and by sliding the knife under the skin to release it from the meat. The silver skin does not break down during cooking and will remain chewy if it isn't removed.
Next, you will butterfly (cut almost all of the way through the meat, opening it up like butterfly wings) the tenderloin, or cut a slit in it in the center being careful not to cut all the way through. You can then cover with plastic wrap and gently pound with a tenderizer to ensure your meat is about ½ an inch thick. This technique allows for even thickness all the way through for even cooking all the way through.
Now is when you will place the meat flat on a piece of plastic wrap or waxed paper, add your fillings evenly distributed all the way to the ends, then roll it up, wrap with bacon, and secure with toothpicks or tie with kitchen string in several places to keep intact while cooking. I used spinach and cheeses to stuff in mine, you can use whatever kinds of cheeses or vegetable you like.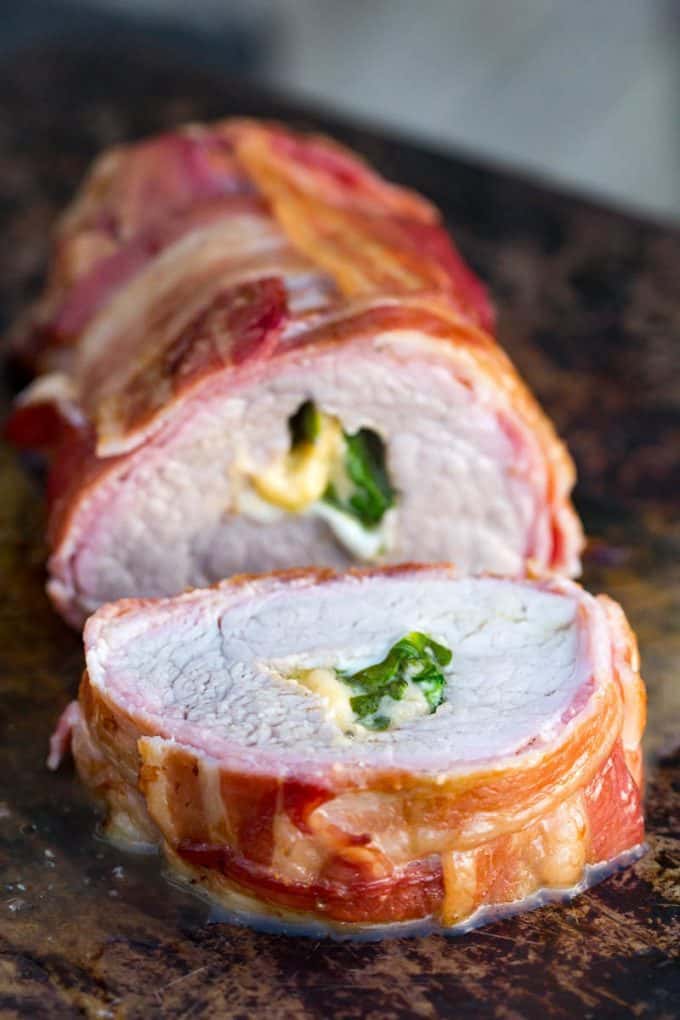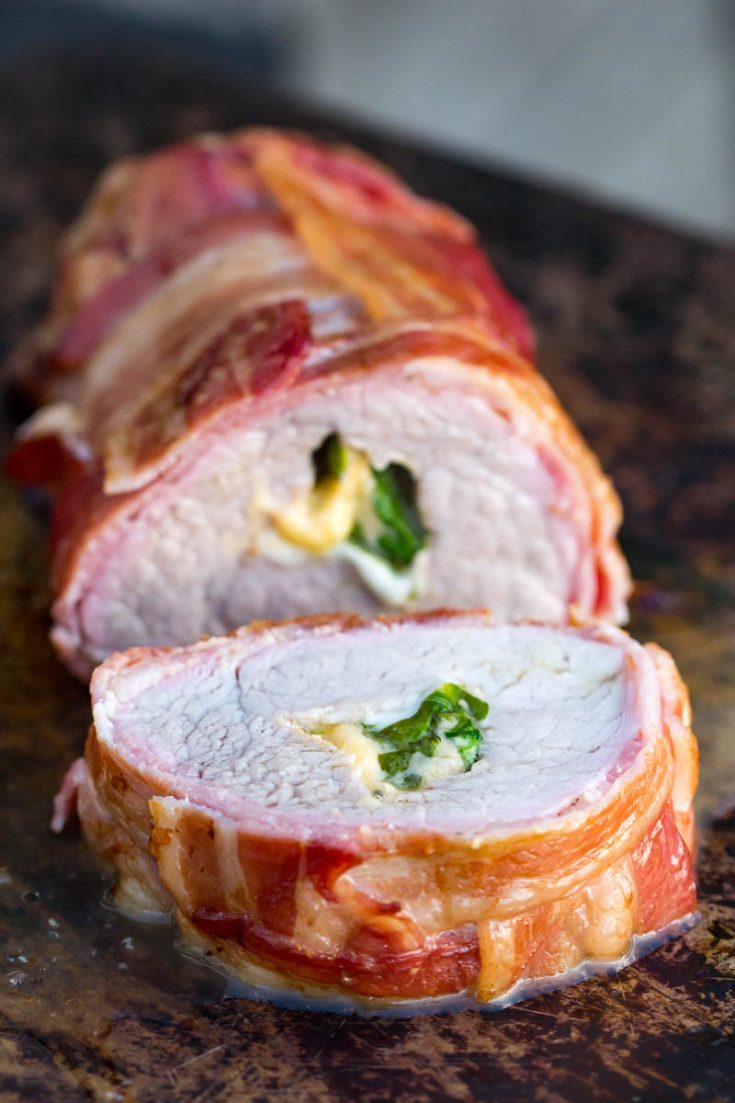 What should I use to cook stuffed pork tenderloin?
I used my Traeger Wood-Pellet Grill to cook this Stuffed Pork Tenderloin, but you can just as easily cook it in the oven or on another type of grill. Personally, I love the wood-fired flavor that cooking with real wood gives the meat, but when you have a tender piece of meat stuffed and wrapped in bacon you really can't go wrong.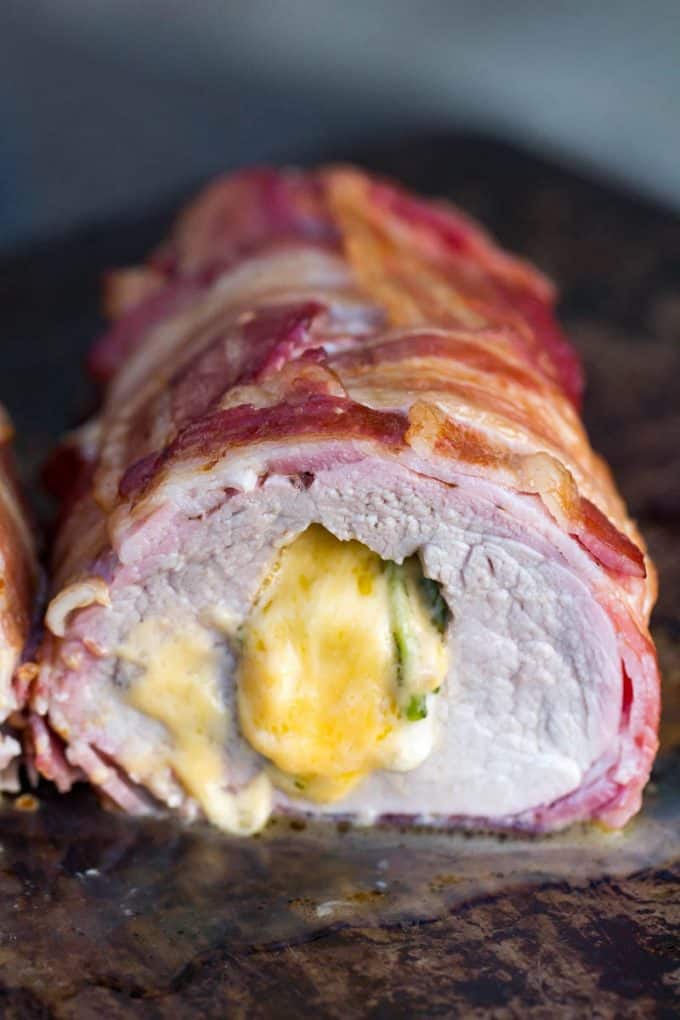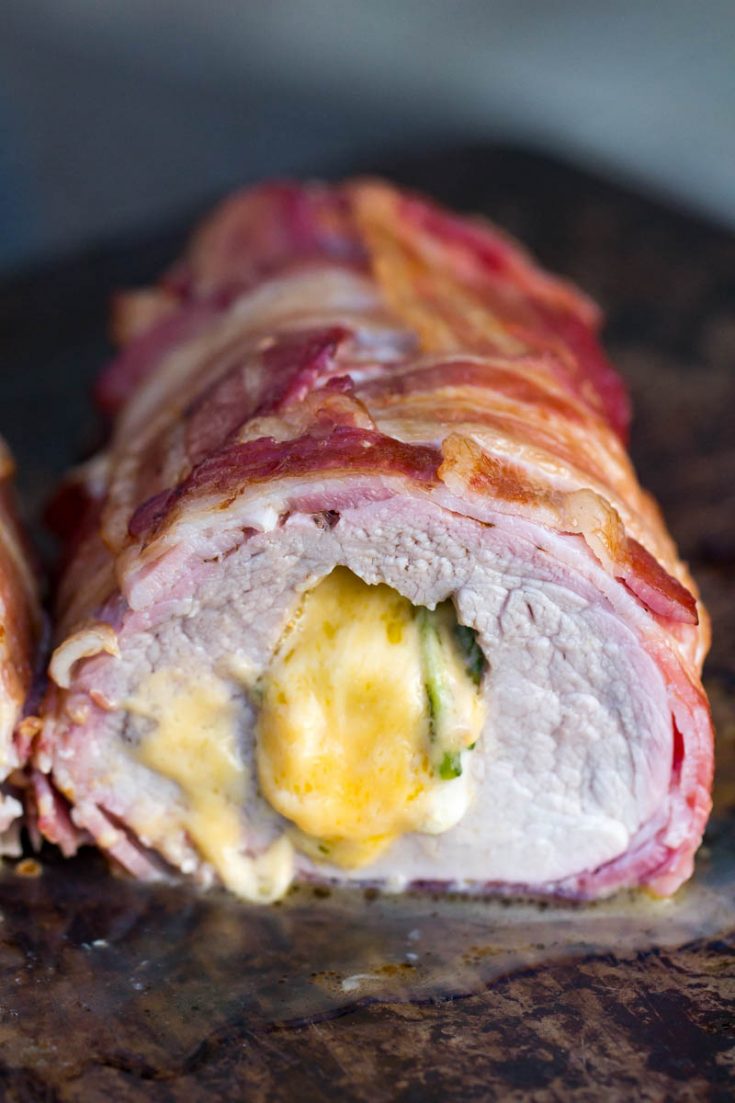 How to make a bacon weave
A bacon weave looks impressive but is really easy to make. All you need to do is lay out some bacon and weave it together, much like you do a lattice pie crust.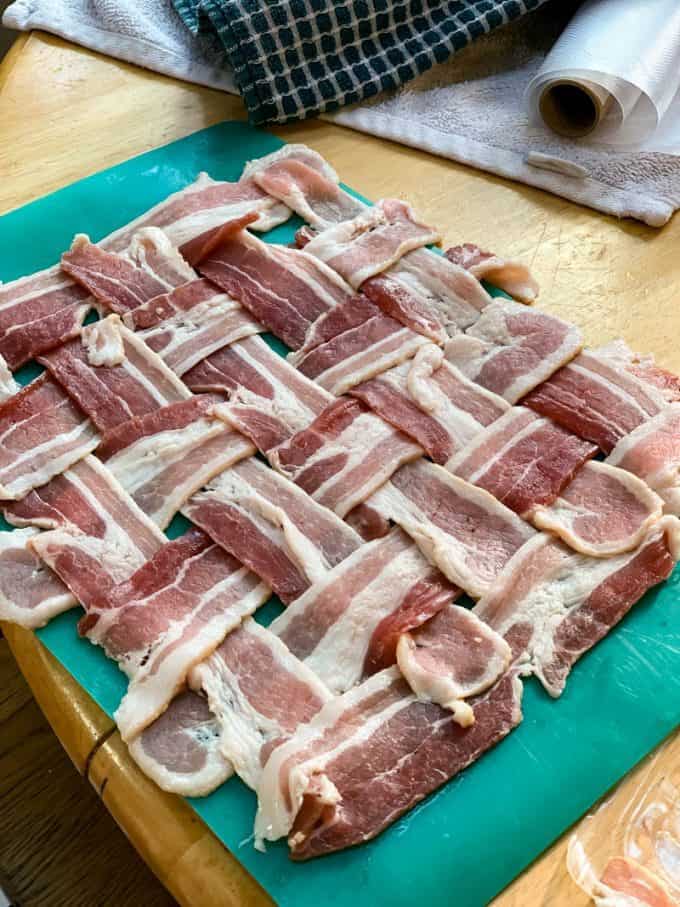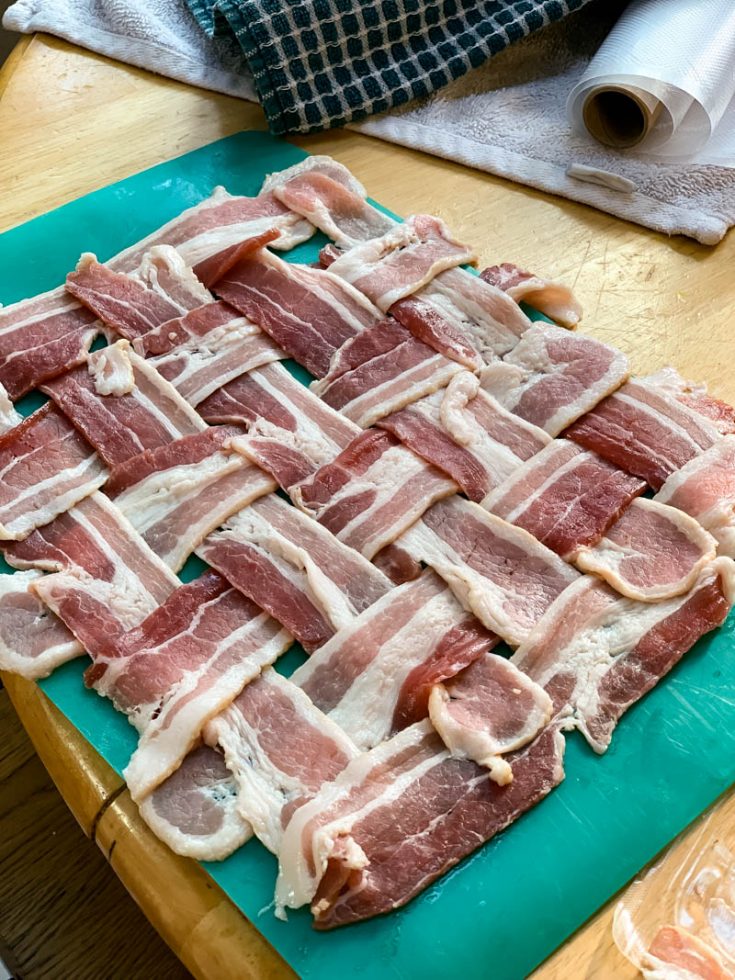 What can I serve with this Stuffed Pork Tenderloin?
Almost any side dish would pair well with this pork dish but here are a few suggestions I've compiled for you, all of the recipes living right here on my site!
Vegetable options are unlimited. You already have spinach inside your pork tenderloin, but it's nice to serve an extra serving of vegetable just to amp up your daily intake.
If you want to prepare something a little different, check out my Easy Side Dish Recipes, you'll find numerous ideas for vegetable and side dish options. Or if you are crunched for time? Open that can of corn or beans. I prefer fresh vegetables but there are days when time is not on my side and a can of veggies is the ticket!
Your family and friends will appreciate this elegant, tasty, restaurant quality meal.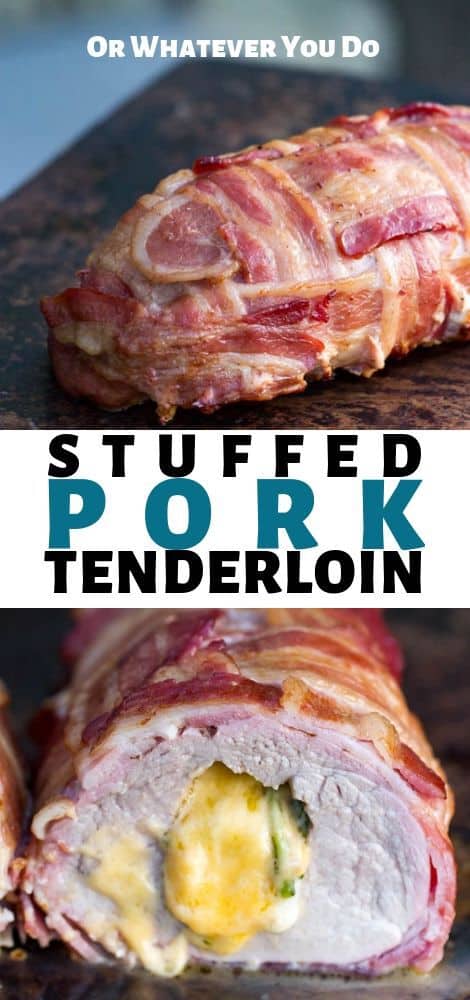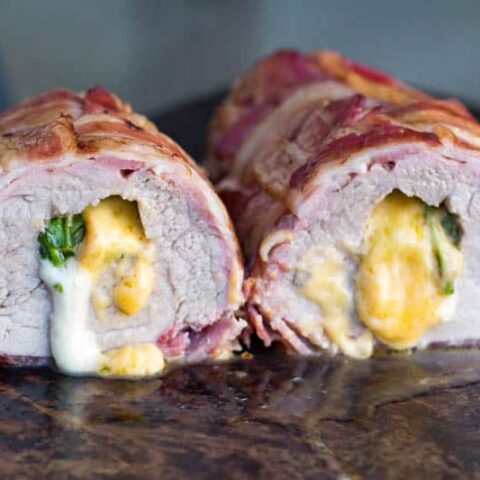 Traeger Grilled Stuffed Pork Tenderloin
This impressive pork tenderloin is butterflied, stuffed with two different kinds of cheeses and fresh spinach, and then wrapped in a bacon weave and cooked on the Traeger grill.
Ingredients
1 pork tenderloin
1 cup fresh spinach leaves
3-4 ounces cheddar cheese
3-4 ounces provolone cheese
1 pound this sliced bacon
Rub
1 teaspoon salt
1/2 teaspoon pepper
1/2 teaspoon granulated garlic
1/2 teaspoon onion powder
1 teaspoon paprika
1 teaspoon red pepper flake
1/4 teaspoon cumin
Instructions
Preheat your grill to 325°.
Start by butterflying the tenderloin and laying it flattened out onto a cutting board or other flat surface.
In the middle of the tenderloin, stack your spinach leaves flat on top of each other the whole length of the tenderloin.
Next place chunks of the cheeses next to and on top of the spinach.
Start to roll up the tenderloin on one side until it wraps up all the spinach and cheese inside. All of the spinach and cheese should be covered and inside of the rolled up tenderloin.
Combine all the ingredients of the rub together, mix them up well and apply them to the outside of the tenderloin evenly.
Start to wrap the bacon in a lattice around the outside of the tenderloin until it is completely covered. Make sure the ends of the bacon are all on the side of the tenderloin that will be placed downward to the cooking surface.
Place your tenderloin in the center of the rack and let cook for approximately one hour, or until the meat is at least 145°.
Pull the tenderloin from the grill after it has finished cooking and let rest for 8-10 minutes before cutting into it.
Recommended Products
As an Amazon Associate and member of other affiliate programs, I earn from qualifying purchases.
Nutrition Information:
Yield:

8
Serving Size:

1
Amount Per Serving:
Calories:

610
Total Fat:

46g
Saturated Fat:

22g
Trans Fat:

0g
Unsaturated Fat:

21g
Cholesterol:

135mg
Sodium:

1892mg
Carbohydrates:

5g
Fiber:

1g
Sugar:

1g
Protein:

43g
Nutrition data provided here is only an estimate. If you are tracking these things for medical purposes please consult an outside, trusted source. Thanks!