Our Traeger Smoked Al Pastor Tacos takes thinly sliced pork shoulder, marinates it in a mix of chile sauce, pineapple, and oregano, and then we smoke it for several hours until it reaches.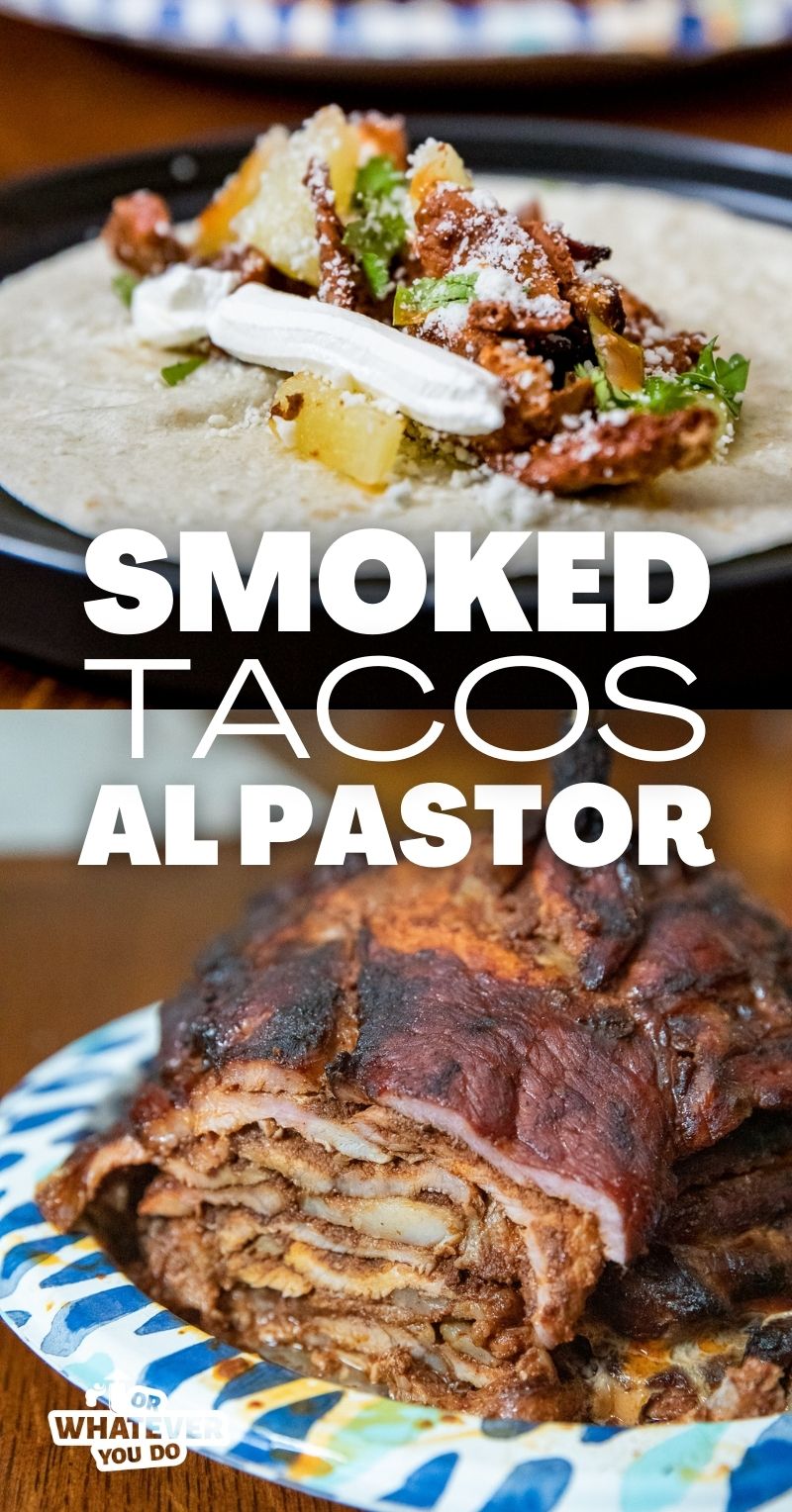 Traeger Smoked Al Pastor Tacos Recipe
If you are in the mood for something a little different than your average American-style ground beef tacos, I've got a quick and easy version of a classic pork taco recipe that features bright pineapple, tender pork, and wood-fired flavor courtesy of our Traeger pellet grill.
Check out all of my Traeger Recipes!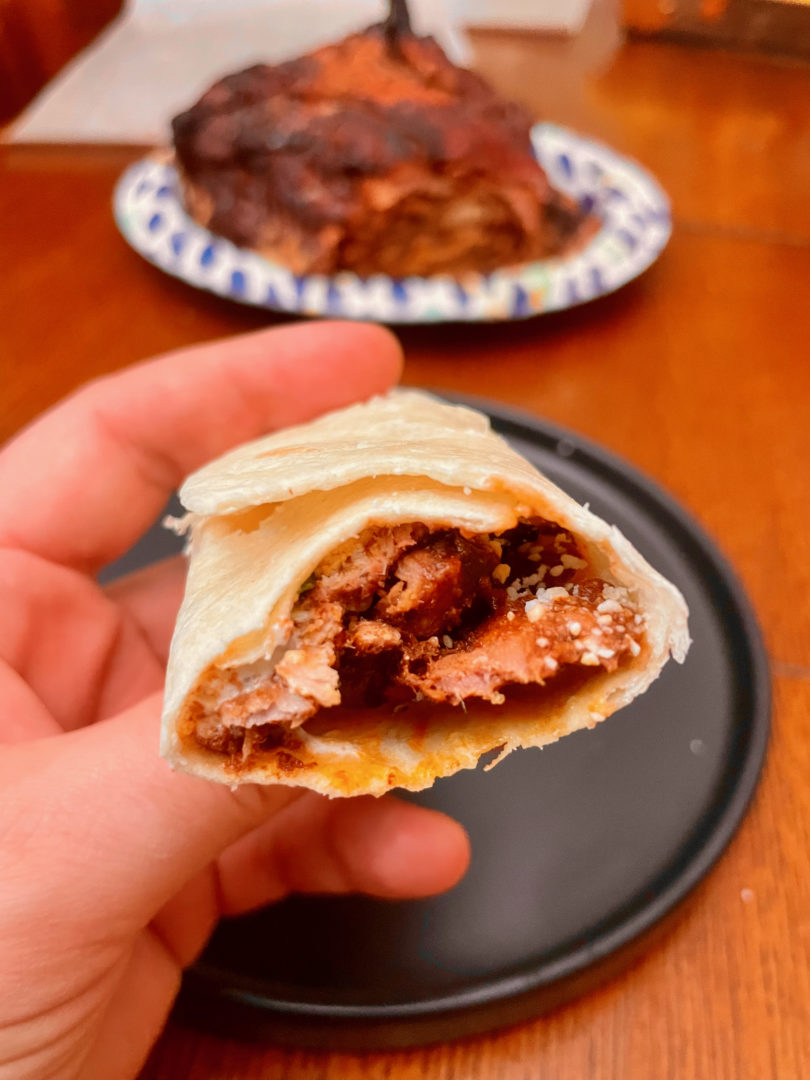 Hit the easy button for these smoked pork tacos
Al Pastor isn't something you'd normally think of as being "easy". And you'd be right. Most recipes call for using dried chilies that have been rehydrated and then blended along with roasted tomato, fresh garlic, onion, and herbs and seasonings to make the marinade.
Those recipes are much more authentic than this one.
I don't claim authenticity here, I only claim to share our adventures one recipe at a time. What we eat is what we share, and we love this al pastor.
Have the meat counter slice the meat
Cheat code, unlocked. Grab a nice boneless pork shoulder and ask the butcher or meat counter if they'll slice it thin for you. 1/4″ in about right. You want a 4ish pound roast.
Use some pre-made sauces
This recipe features a couple of pre-made sauces that I picked up in the local grocery store. I used the Frontera brand, but if you can't find those particular ones there are other options available in most stores.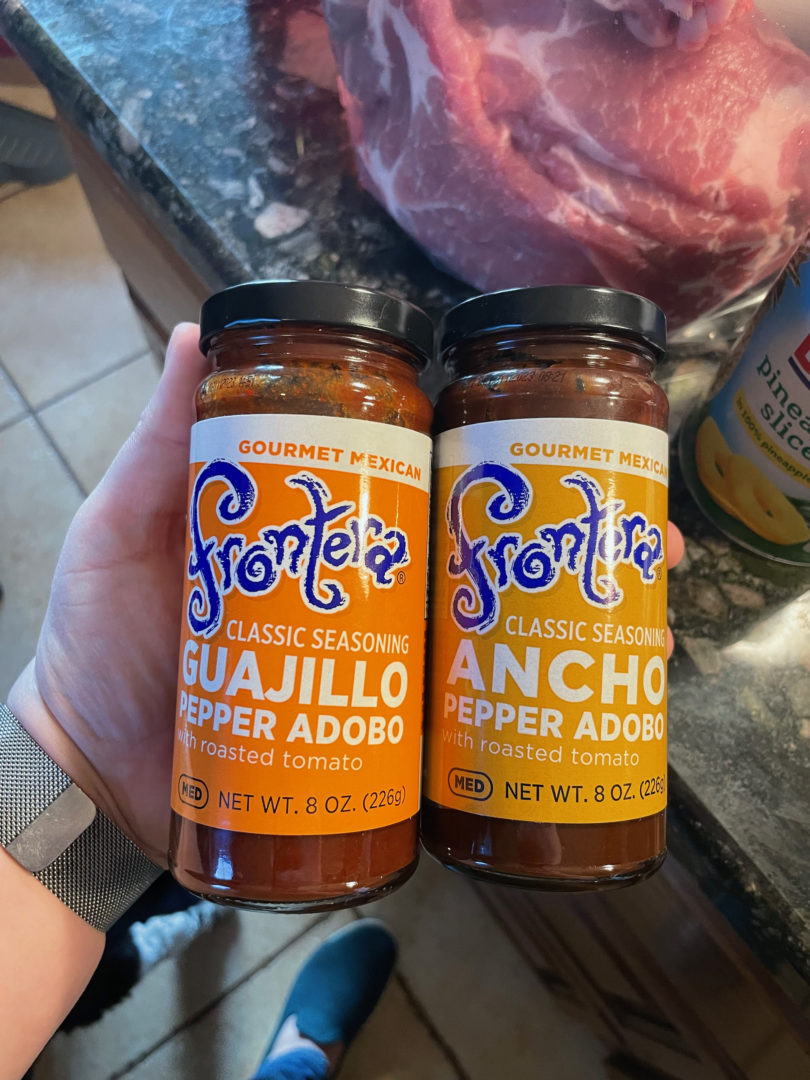 Get a good metal skewer stand for the grill
These stands are great and will save you a ton of hassle trying to make a stand out of pineapple ends and skewers. You can also use it for things like shawarma, gyros, etc. (Look for those recipes coming soon!)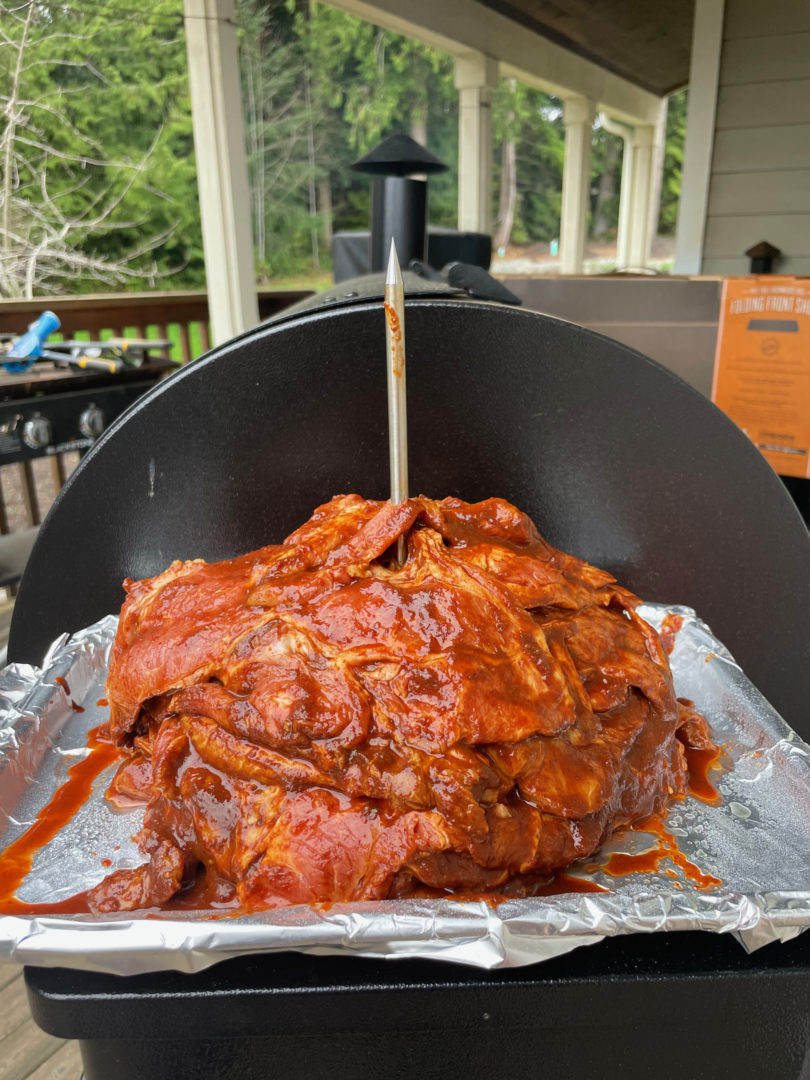 Smoked Tacos Al Pastor shopping list
Wondering if you have to hit the store? Here's the list of items you'll need to make this recipe. For specific amounts, please refer to the printable recipe card at the bottom of the post.
All my PORK RECIPES here!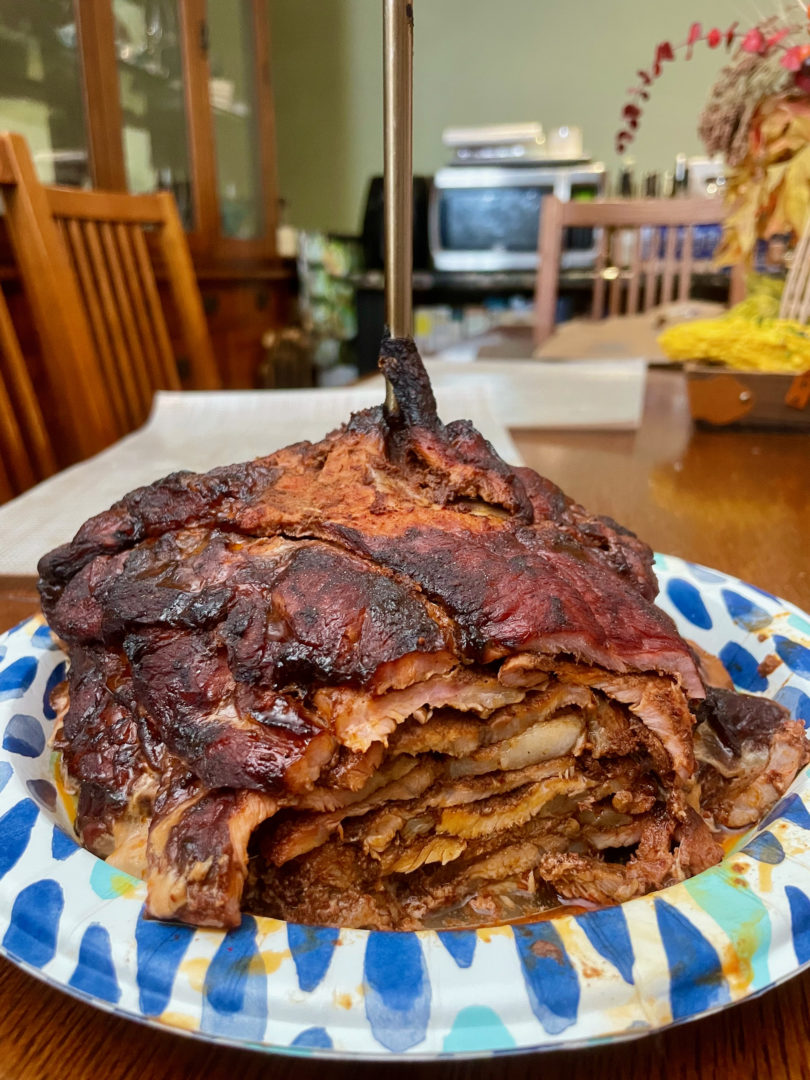 How to make Al Pastor Tacos
This is just the overview so you can see what you're actually getting into here. When you are cooking, you'll want to use the full recipe at the bottom of the page.
Marinate
Hopefully you hit that easy button and had the butcher slice your meat. Mix the marinade ingredients together and make sure all the meat is coated. Refrigerate overnight, preferably. 4-6 hours will do in a pinch though!
Preheat & Skewer
Set your pellet grill to 200° and let it preheat. Spray your skewer with cooking spray and layer on the pork. It doesn't ALL have to be skewered. The main goal is to make sure the pork is a relatively even thickness so it cooks evenly. Intermittently place the pineapple over the skewer as well.
Smoke & Grill
Smoke the pork for 2 hours and then turn the heat up to 350°. Continue cooking until the internal temperature is 145°-155°.
Remove & Rest
Remove the meat from the grill and let rest, tented, for 10-15 minutes.
Slice & Serve
Slice your pork off the skewer into small pieces. Serve immediately with cilantro, cotija, crema, and finely chopped onion (if desired).
More South-of-the-Border Inspired Recipes here!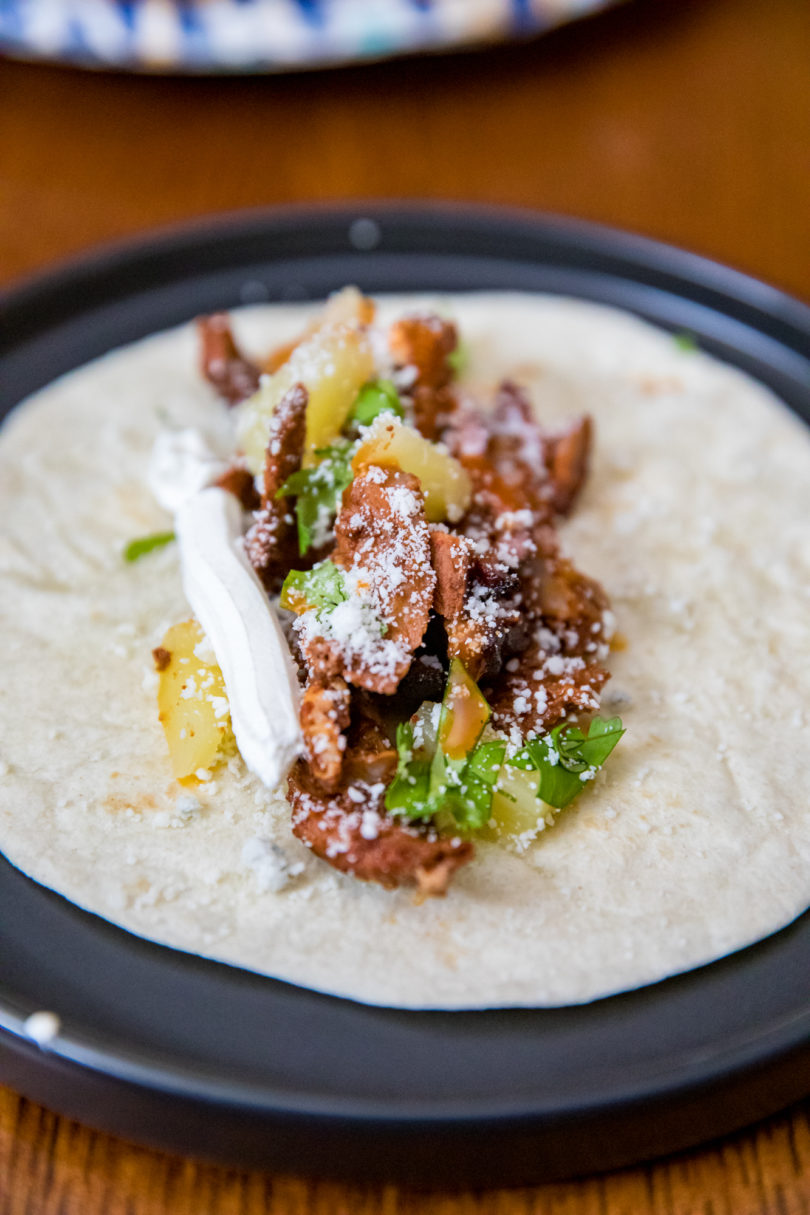 Helpful tools & products to have on hand
Skewer Stand
Amazon has a lot of options for these, and they can be used for shawarma and gyros too! Pick your favorite!
BBQ Knife
This is my FAVORITE knife for the grill. The fork on the end is perfect, and I've used the bottle opener more times than I ever expected. Makes a great gift for anyone who loves grilling in your life, too! Pick up the Shogun series (our favorite) on the Dalstong site, or if it is sold out, try this model, this model, or check for them on Amazon.
Good ingredients & sauces
There are a lot of options for making good Al Pastor marinade. Everything from using dried, reconstituted chiles to using chile powder, paste, or pre-made sauces like I did here. I'm sure you could even do fresh roasted peppers if you wanted to get real extra. They are all great options, and will turn out a plate of excellent pork tacos.
Good meat
We love Butcherbox meats a lot here, and their pork shoulders are always great! You won't get the advantage of having a butcher slice it into thin slices if it is delivered to your doorstep, though! For al pastor and things like Philly Cheesesteaks that require thinly sliced sirloin, I'll usually hit up the local butcher counter. Or you can just slice it yourself with that sweet BBQ knife you ordered from the link above.
Follow me on Instagram!
What else should you serve with Al Pastor?
You have tons of options, and I am going to list some of my favorites below!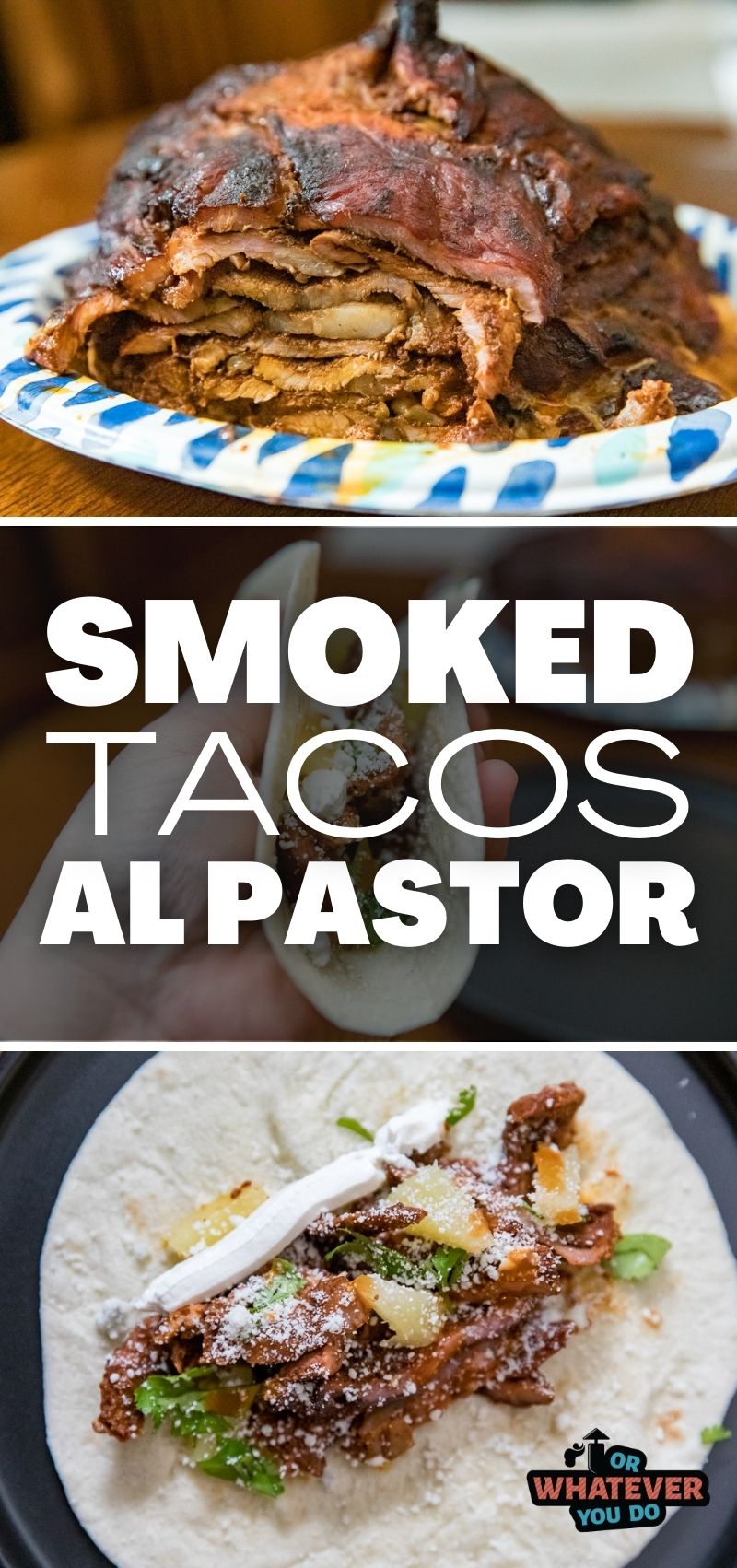 Yield: 12 servings
Smoked Al Pastor Tacos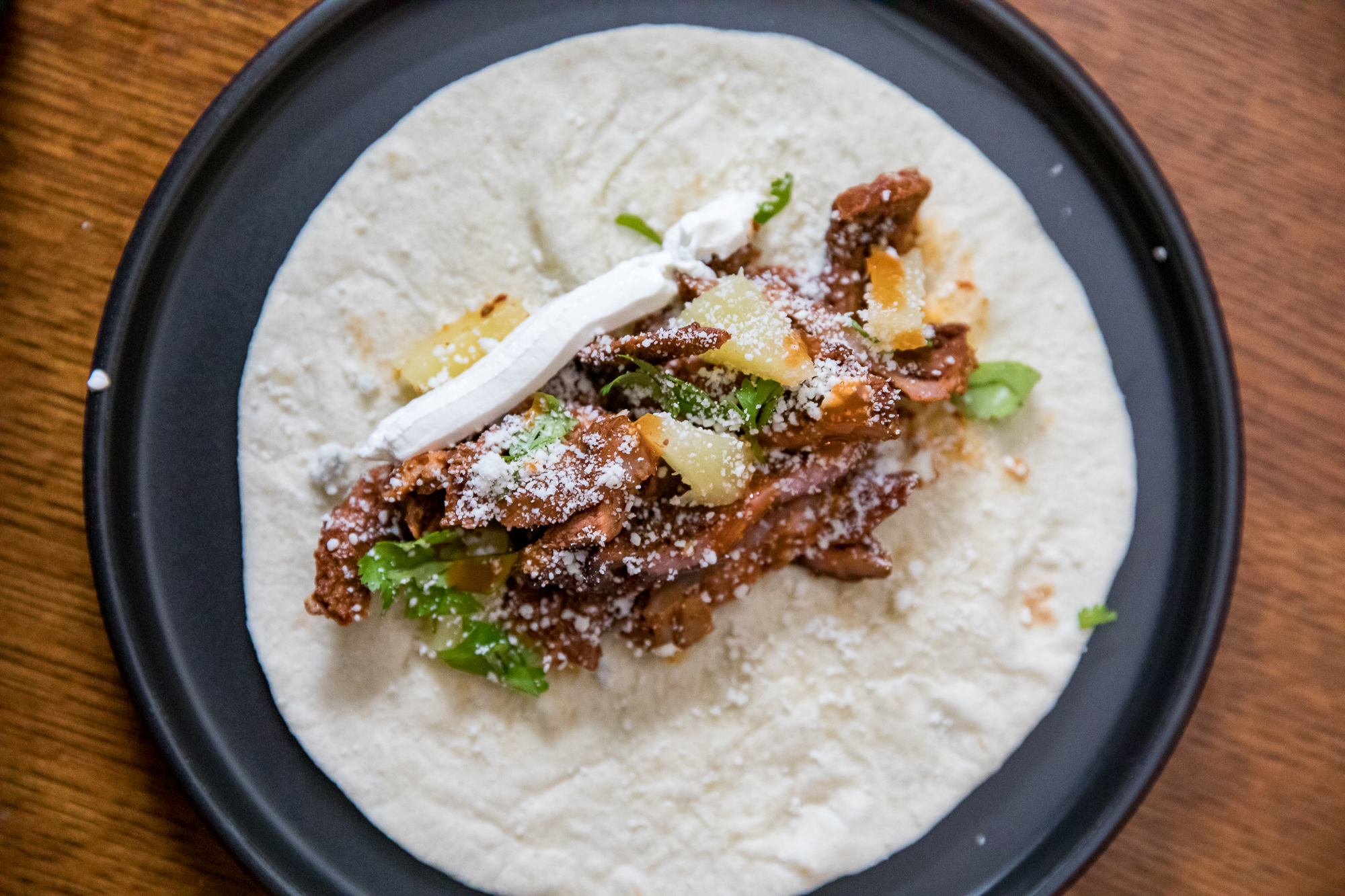 Tender, marinated pork gets skewered and smoked on the pellet grill for a big plate of the tastiest taco meat, ever.
Total Time
3 hours
30 minutes
Ingredients
Pork
For serving
tortillas
cilantro
onion
cotija cheese
Instructions
Slice the roast into 1/4" thick slices, across the grain. Place the meat into a large baggie or bowl. Pour the guajillo pepper sauce, ancho pepper adobo sauce, achiote paste, white vinegar, pineapple juice, orange juice, and oregano into a bowl and mix to combine.
Massage the sauce into the meat so it gets between all the different layers, and refrigerate for at least 4-6 hours, but overnight is preferable.
Preheat your smoker to 200°.
Spray your skewer with cooking spray. Place the skewer base on a grill-safe baking sheet.
Layer the meat on the skewer, putting some pineapple rings around the skewer every few layers. Not every piece needs to be pierced by the skewer. Keeping the overall height of the meal relatively even is more important for even cooking.
Place the tray on the grill and smoke for 2 hour at 200°. Turn the grill up to 350° and continue to cook until the internal temperature reaches 155°.
Remove from the grill and let rest, tented with foil, for 10-15 minutes before slicing.
Serve with your favorite taco fixings. We like onion, cilantro, cotija, sour cream, and hot sauce.
Recommended Products
As an Amazon Associate and member of other affiliate programs, I earn from qualifying purchases.
Nutrition Information:
Yield:
12
Serving Size:
1
Amount Per Serving:
Calories:

517
Total Fat:

33g
Saturated Fat:

12g
Trans Fat:

0g
Unsaturated Fat:

18g
Cholesterol:

137mg
Sodium:

136mg
Carbohydrates:

17g
Fiber:

2g
Sugar:

10g
Protein:

36g
Nutrition data provided here is only an estimate.