This recipe for Traeger Smoked Salmon is so simple, but it transforms your catch into something so delicious you're going to wonder why you haven't been smoking your own salmon your whole life.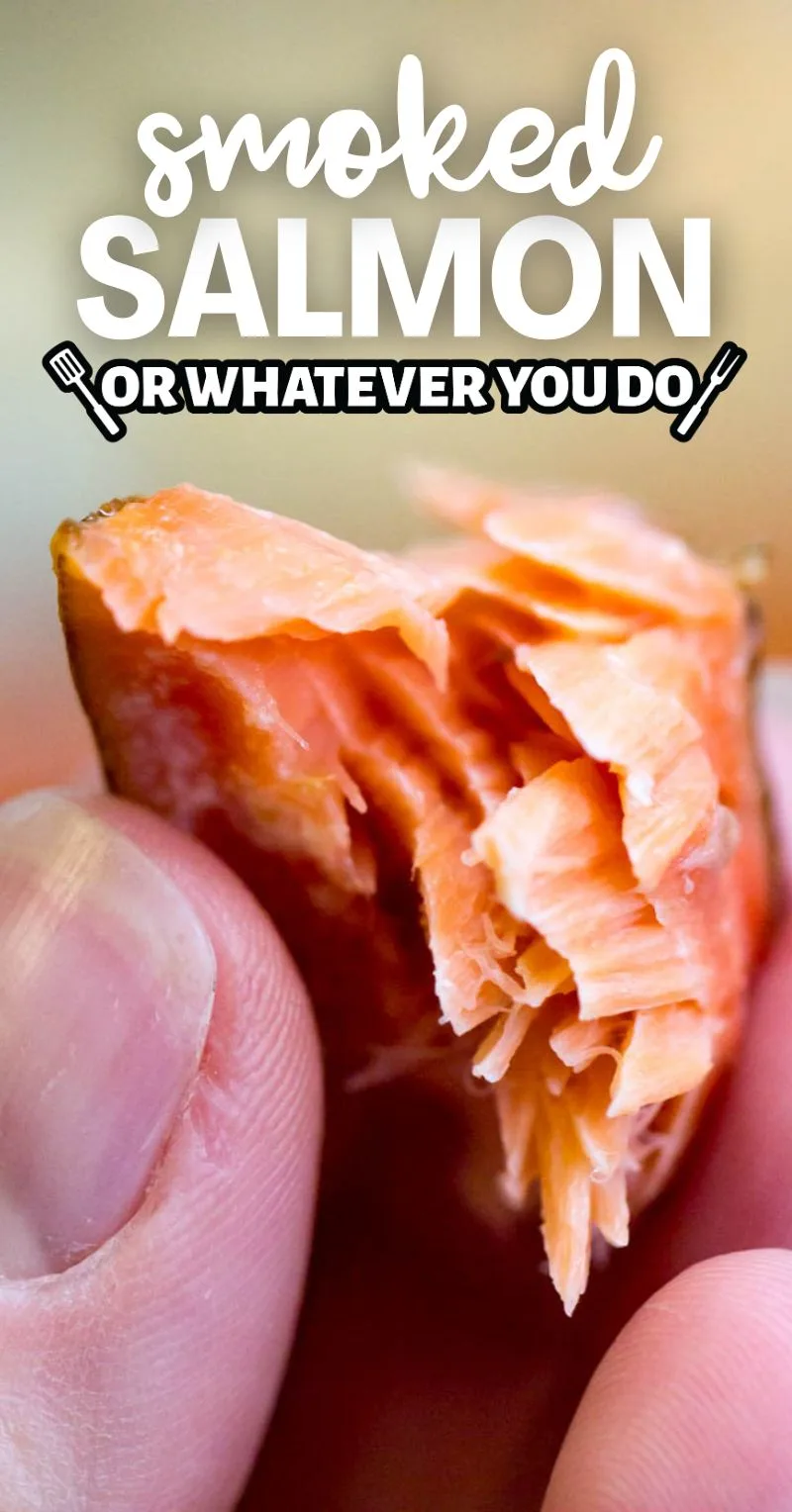 Traeger Smoked Salmon Recipe
This easy Traeger Smoked Salmon recipe is something you can make over and over again, and is one of our most popular salmon recipes on the whole site.
Living in the Pacific Northwest, we eat a lot of salmon. That's a good thing since we also CATCH a lot of salmon.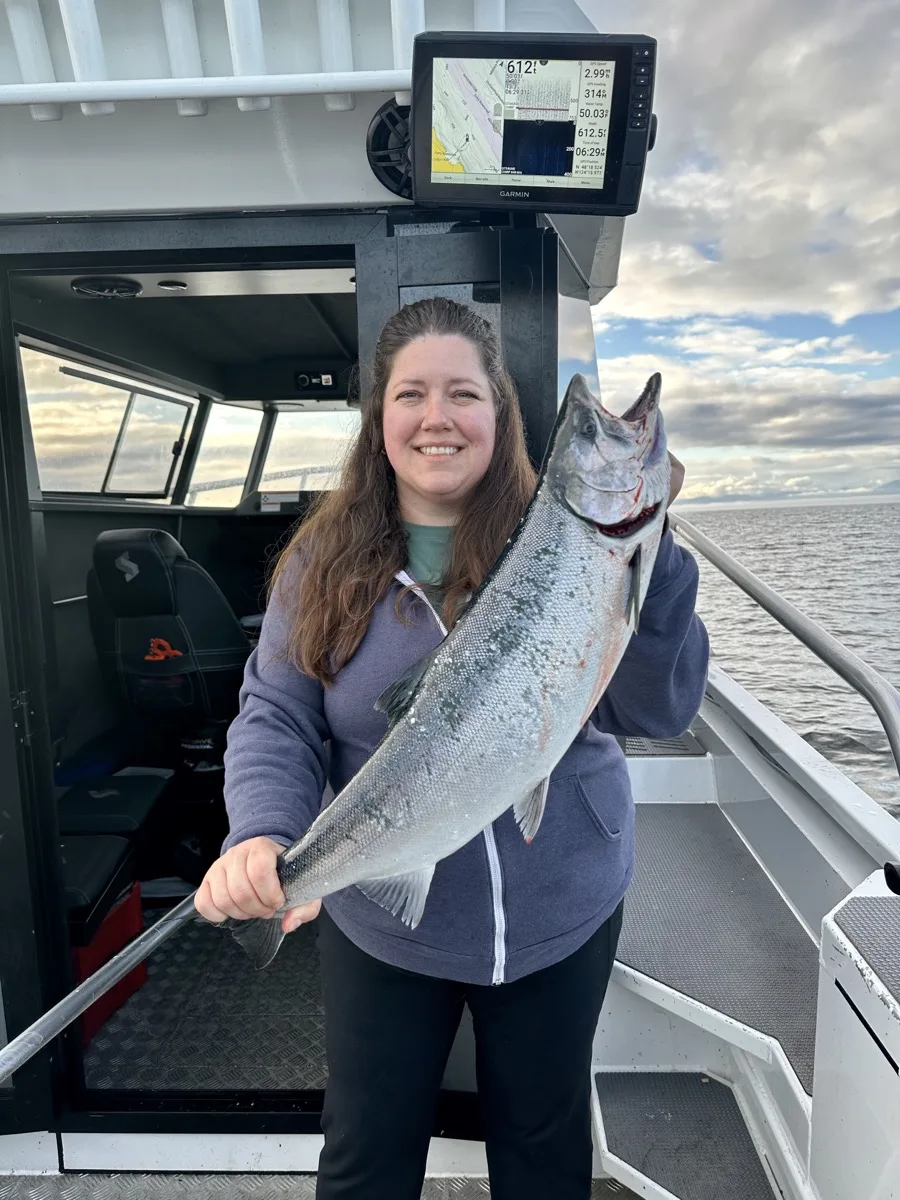 Fresh salmon is something so special that it really needs to be treated with the respect it deserves, and this smoked salmon recipe does just that.
A simple brine of water, brown sugar, and salt, and then some smoke on your pellet grill (or whatever smoker you've got) perfectly complements the salmon, and our maple glaze adds a touch of sweetness that the bold salmon needs to balance everything out.
This is a great smoker starter recipe for anyone who loves salmon. I have easy directions to follow, to help give you that final product you will love and keep making repeatedly. I keep this tried and true recipe on hand and make it a handful of times throughout the year.
More Easy Traeger Recipes here!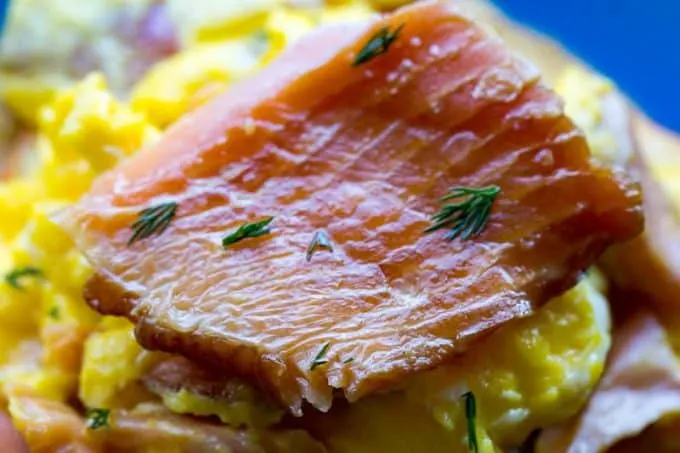 Traeger Smoked Salmon Ingredients
Here's the run-down of what you need to make this recipe. Make sure to get the full list along with the amounts in the recipe card at the bottom of the post.
Brown sugar
Kosher salt
Salmon
Maple syrup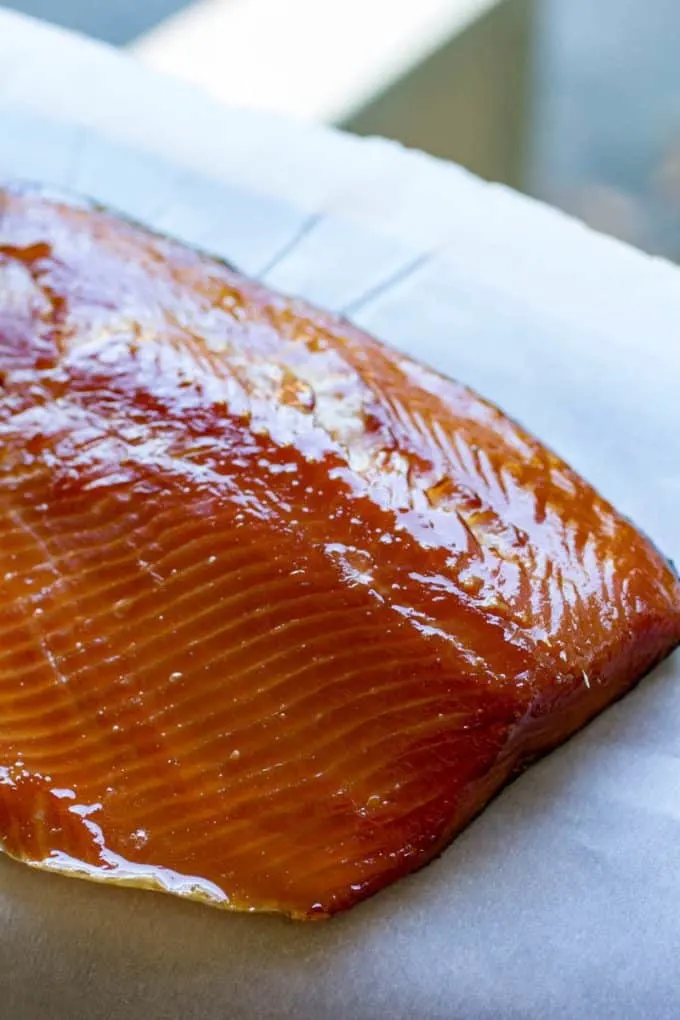 How to make Smoked Salmon on the Traeger
This is just the overview so you can see what you're actually getting into here. When you are cooking, you'll want to use the full recipe at the bottom of the page.
My pellet grill has come in handy when smoking salmon because you can maintain a specific temperature. For the process of smoked salmon, you want to cook on low heat for a long period of time with all the smoke.
Our Traeger has a temperature gauge right on the front and WIFI too, so I can see what temp it is from anywhere I am.
The temperature control has helped ensure I don't cook things too hot and ruin the salmon. If your salmon gets too hot, you will not like the results.
Brine
Combine the brine ingredients and whisk until they are well mixed. Add the salmon, skin-side-up, and put everything in the fridge. Bring for 10-12 hours.
Remove from the brine, rinse off, pat dry with paper towels, and let the salmon sit on wire racks in the fridge for several hours. We're letting the pellicle form. This is an important part of smoked salmon.
Prep some wire racks with a spray of cooking spray and place the salmon skin-side-down on the racks.
Preheat
Fire up the smoker and let it preheat to 180°F.
Smoke
Put the racks into the smoker and let them smoke for 30 minutes.
Glaze
Brush your salmon with real maple syrup every 30 minutes while the fish smokes. It should take around 3-4 hours, but the time really depends on how thick your filets are.
When the fish flakes easily, it is done.
Enjoy
Remove from the grill and let cool. Serve with crackers and cheese. Store in the fridge.
Make these bacon-wrapped shrimp too!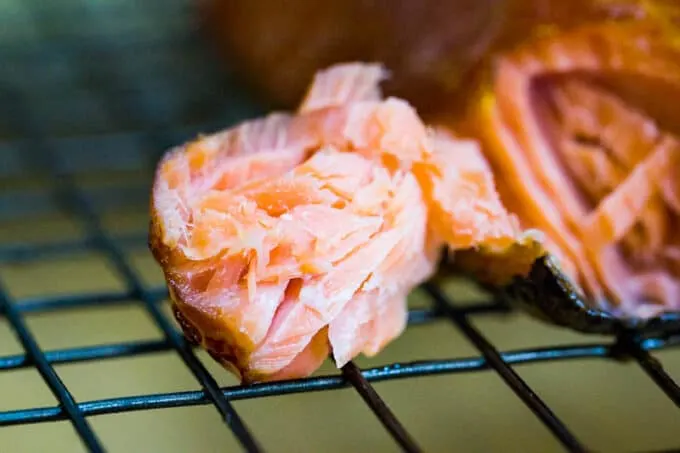 Tips for making amazing Maple Smoked Salmon
Real maple syrup or bust
Real maple syrup is a must for this recipe. Please don't waste your time on the imitation. The real stuff is going to help give you the sweet to your smoky, and fake maple syrup will not do. You will ruin your salmon, so make sure you spend the money and buy real maple syrup to slather onto those gorgeous filets.
Don't let it get too hot
180°F is about the max you want to go on temperatures for even hot smoked salmon. Monitor your temps carefully and adjust as necessary. You don't want that white stuff coming out of the top of the filet. That means things got too hot.
That "white stuff" is also known as albumin.
Albumin is a protein that is naturally present in fish, including salmon. When salmon is cooked, especially at higher temperatures, the albumin within the fish's muscle fibers coagulates and appears as the white substance that often oozes out. It's essentially a protein that solidifies during the cooking process and can be more noticeable in certain cooking methods like baking or grilling. While it might not look very appealing, it's a natural occurrence and doesn't affect the taste or safety of the salmon.
So, if things get too toasty and you do notice some of that, all is not lost. The texture and flavor is just BETTER if you control the temperature better to prevent that.
Try our Traeger Grilled Teriyaki Salmon!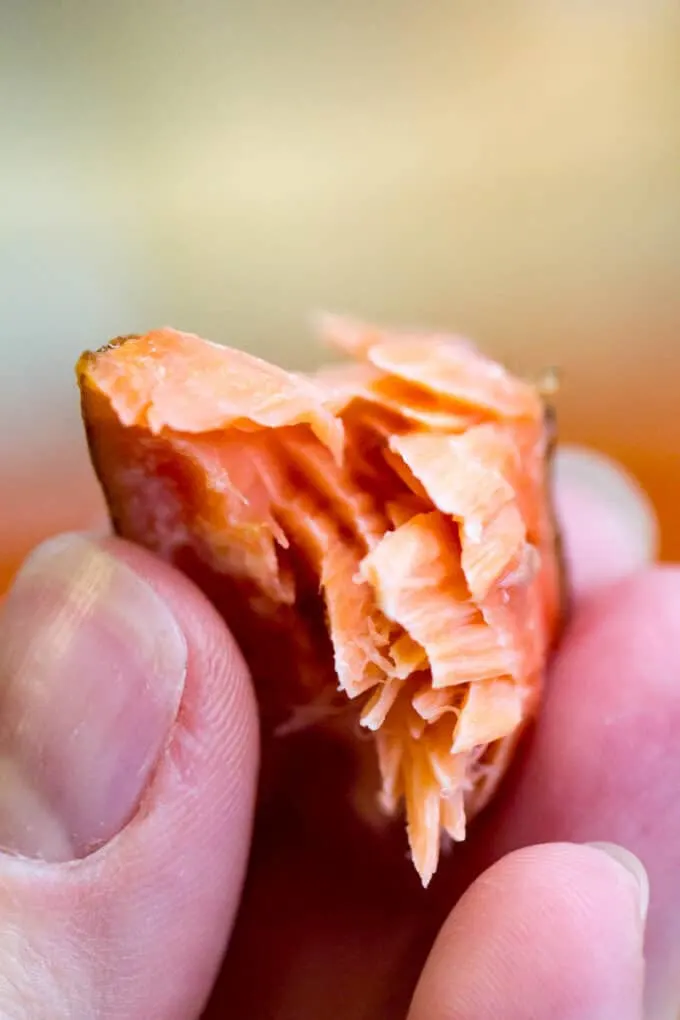 Traeger Smoked Salmon FAQ
How do you eat smoked salmon?
There are tons of ways you can eat smoked salmon!
Flake it and make a salmon salad, top some salmon on a cream cheese bagel, eat it plain, create a smoked salmon platter, and more. The beauty of smoked salmon is it is so versatile, and you can use it in a ton of ways from slicing and eating it plain to a handful of ways and more. Try our Smoked Salmon Dip too!
What should you serve with smoked salmon?
You can serve this simply with crackers and cream cheese, in a Smoked Salmon Eggs Benedict that you will die for, or even on top of a pile of Alfredo instead of the chicken or shrimp.
Skin on or off?
We find better success when we smoke with the skin on. It helps to keep the fish from falling apart, so keep the skin on the bottom of your filet and smoke away!
How to store smoked salmon
After you are finished smoking your fish, you want to let it rest for around an hour on a cooling rack. Once it is completely cool, wrap it up in plastic wrap and place in the fridge. Your smoked salmon will keep for around 8-10 days.
If you have a vacuum system you can vacuum seal your fish for around 3 weeks in the fridge, or you can toss it in the freezer and it will last for up to a year.
More Smoked Salmon Recipes here!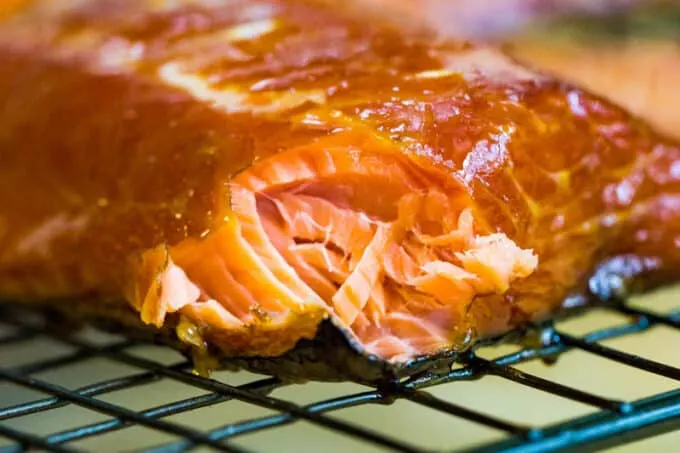 More great fish recipes to love!
We catch more than just salmon around these parts. From Halibut and Lingcod to Rockfish, Walleye, Black Cod, and more, we have fish recipes for almost anything you can pull up with a line.
Oh yeah. You came to the right place! I've got this Traeger Grilled Salmon that you'll love, and more awesome options in the works.
We also have a fantastic Grilled Walleye recipe with a Lemon Cream Sauce that's one of the best pieces of fish I've ever had in my whole life.
Want more? Check out these recipes below!
Grilled Fish Recipes:
Grilled Seafood Recipes: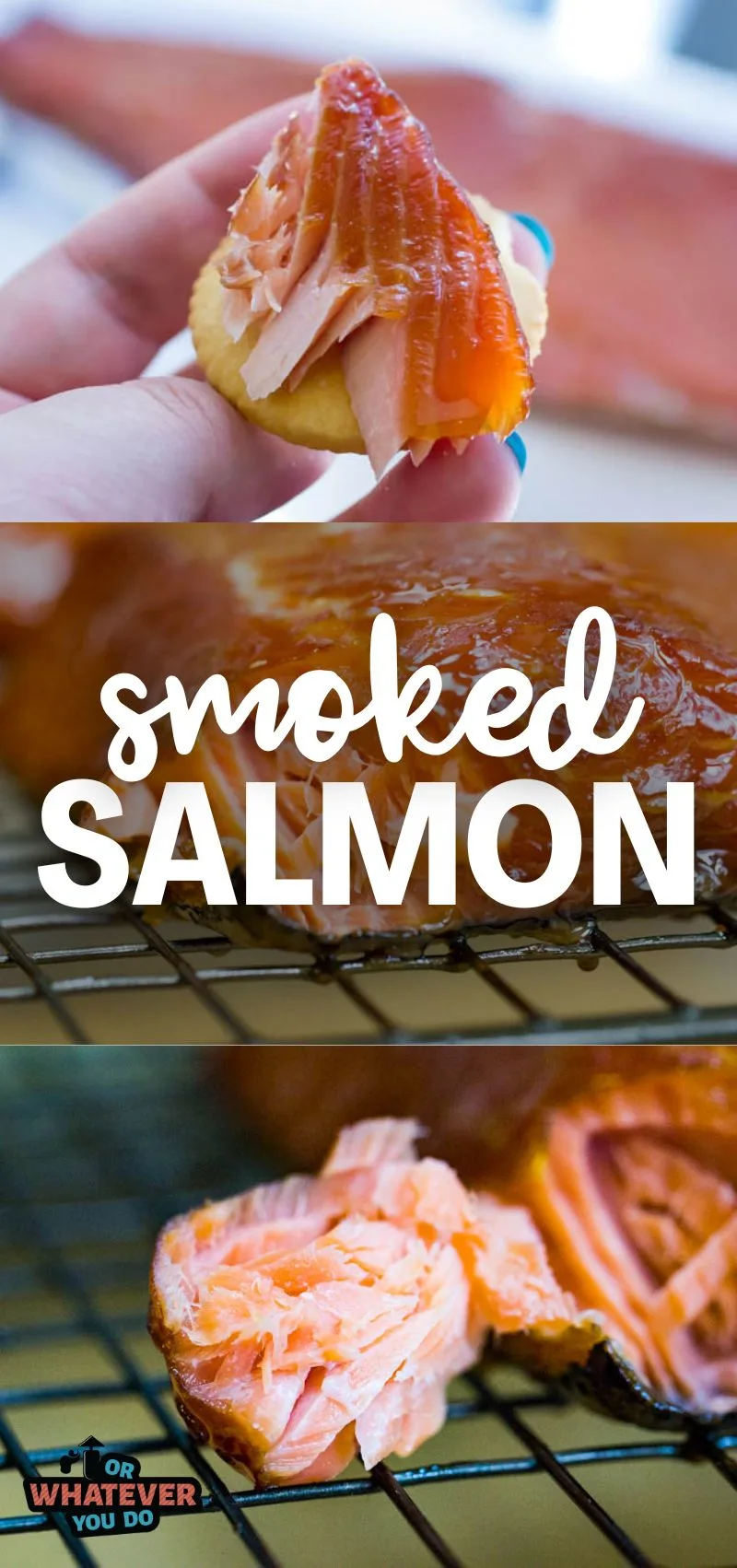 Yield: 8 servings
Traeger Smoked Salmon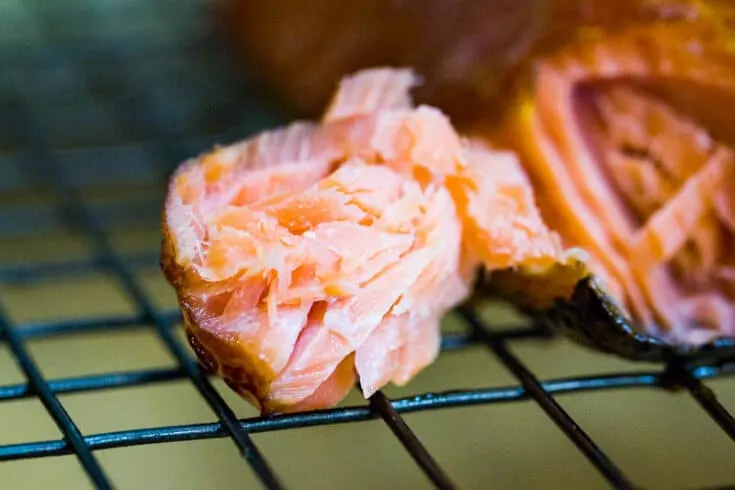 Easy and delicious Traeger Smoked Salmon recipe. Homemade taste, fresh flavor, delicious real maple glaze.
Total Time
16 hours
10 minutes
Ingredients
Brine
4 cups water
1 cup brown sugar
1/3 cup kosher salt
Salmon
Large skin-on salmon filet
REAL maple syrup
Instructions
Combine brine ingredients until the sugar is dissolved, and place into a large ziplock baggie or large covered container. Place your clean salmon into the brine, and refrigerate for 10-12 hours.
Once the fish is brined, remove from the liquid, rinse quickly, and pat dry with paper towels.
Place the salmon on a wire rack that's been lightly sprayed with cooking spray and place it in the fridge for several hours to allow the pellicle to form.
Preheat your smoker to 180°F.
Place the rack of salmon on the smoker and close the lid.
Every 30 minutes, baste the salmon with pure maple syrup, generously.
It takes around 3-4 hours on average, but the length of time depends on how thick your fillets are. You want to pull the salmon when it flakes easily.
Store in the fridge in an airtight container.
Recommended Products
As an Amazon Associate and member of other affiliate programs, I earn from qualifying purchases.
Nutrition Information:
Yield:
12
Serving Size:
1
Amount Per Serving:
Calories:

101
Total Fat:

2g
Saturated Fat:

0g
Trans Fat:

0g
Unsaturated Fat:

2g
Cholesterol:

12mg
Sodium:

1682mg
Carbohydrates:

16g
Fiber:

0g
Sugar:

16g
Protein:

4g
Nutrition data provided here is only an estimate.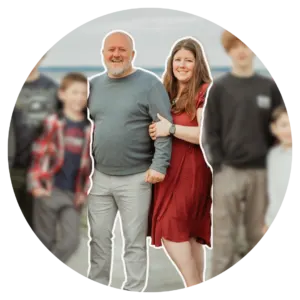 Nicole Johnson, a self-taught expert in grilling and outdoor cooking, launched Or Whatever You Do in 2010. Her blog, renowned for its comprehensive and creative outdoor cooking recipes, has garnered a vast audience of millions. Nicole's hands-on experience and passion for grilling shine through her work. Her husband, Jeremiah Johnson, also plays a pivotal role in recipe development, adding his culinary flair to the mix. Together, they form a dynamic duo, offering a rich and varied outdoor cooking experience to their followers.