Traeger Grilled Scallops take on just a touch of smoke in this easy pellet grill recipe and are served scampi-style. Perfect on top of a pile of pasta, or all on their own.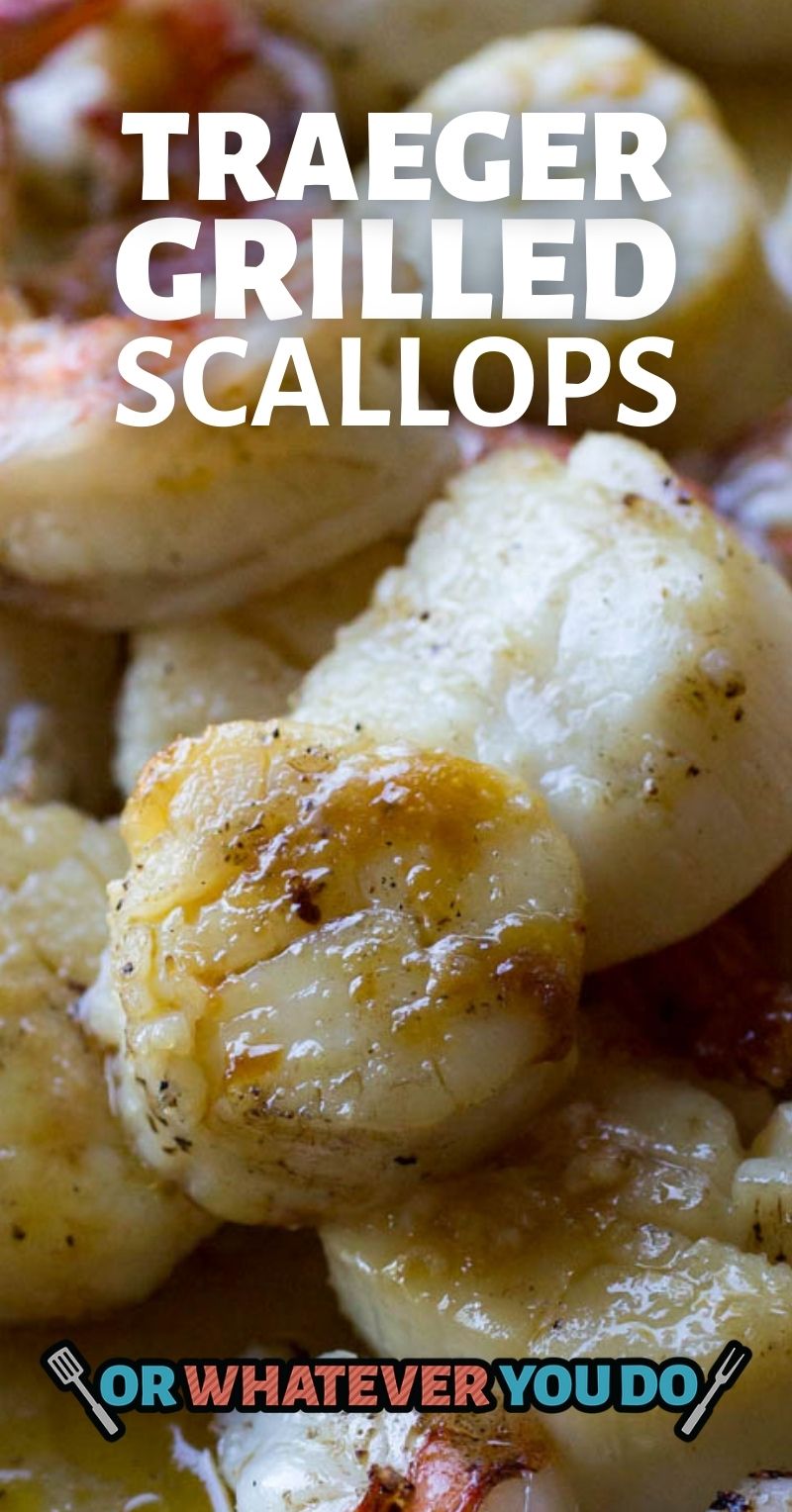 Traeger Grilled Scallop Scampi
If you are looking for a fantastic seafood meal, this is for you. Scallops are rich, delicious, and they are much easier to make than you might think.
In the summertime, I am all about NOT heating up my house. So, instead of firing up my stove or oven, I love utilizing the grill. Plus, wood fire does some pretty amazing things to seafood. We cook a ton of fish and seafood here, and we are avid fishermen. The Pacific Northwest is a great place to be around someone who likes to fish, as there's an abundance of fish, seafood, and shellfish on our shores.
These scallops aren't local. We actually get most of our scallops from ButcherBox! You might think of them as the GOOD mail-order steaks, but they are so much more than that. From pork, chicken, beef, and seafood, we get the majority of our meats through the mail these days, which is something that I never thought I would've said a few years ago.
---
ButcherBox FREE Lobster Tails and Ribeyes!
July 12th – Aug 9th
New ButcherBox members get the ultimate surf and turf in their first box! Two 5-oz. lobster tails and two 10-oz. ribeyes for free!
New members receive 2 ribeyes and 4 top sirloins for free in your first ButcherBox order + $10 off the first box.
---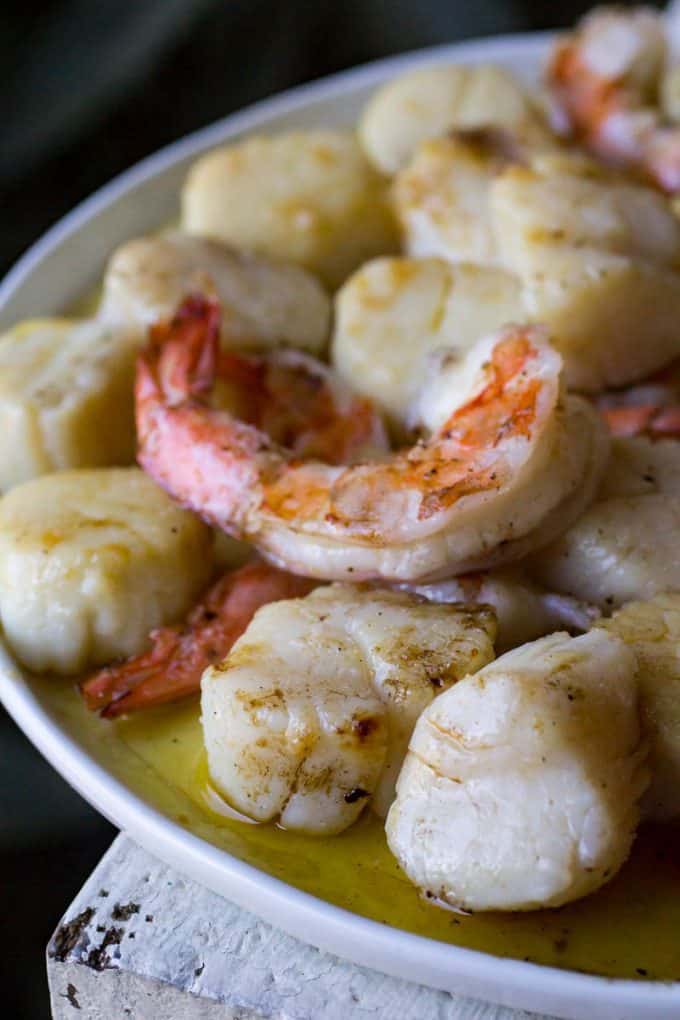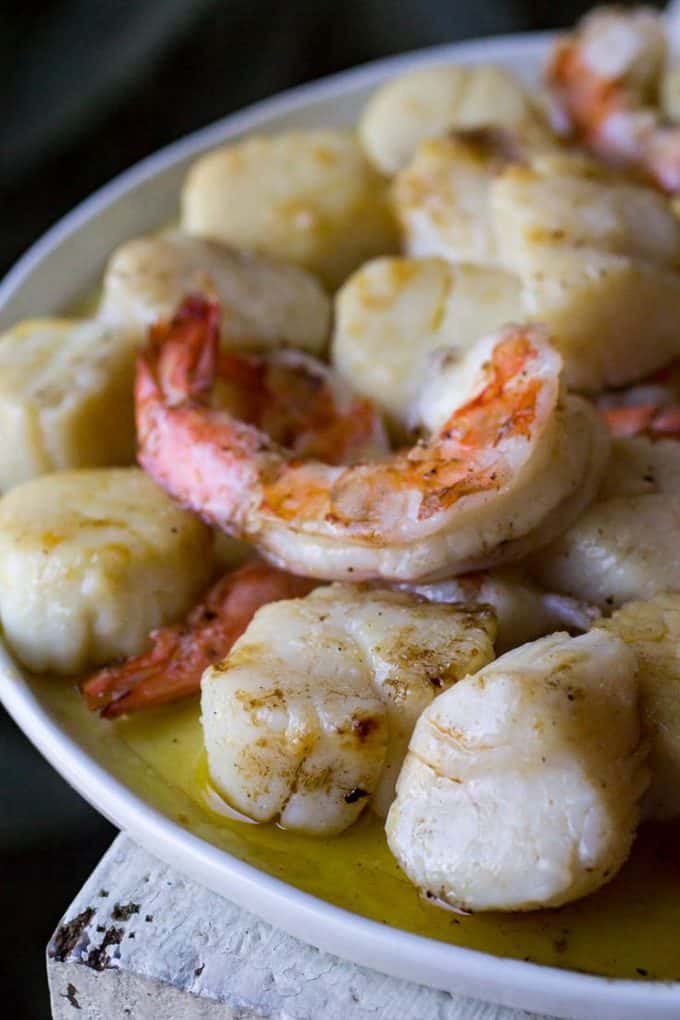 What are scallops?
Scallops are shellfish that are found in oceans throughout the world. The part we eat is the "adductor muscle". Scallops are bivalves, a class of mollusks. The part that we call "scallops" is found right in the middle. Although everything in the scallop is edible, this little round piece of muscle is what is most sought after. These tender and rich scallops are worth the (sometimes) hefty price tag that comes with them.
Scallops are found in every ocean in the world. Sea scallops are found in the sea. Because they are in a bigger body of water, and generally deeper, they grow to larger sizes than their Bay Scallop relatives. They average about one and a half inches in diameter.
Bay scallops are usually found in shallower water and in bays. They are usually much smaller but are a tad bit sweeter. I prefer the sea scallop myself.
Bay scallops are hard to find because of the nature in which they are harvested. They dredge the ocean floor and this is hard on other sea life that is present. Scallops cannot live outside the ocean so they are usually harvested right away and then the meat is put on ice.
Both bay scallops and sea scallops can be a little tough if overcooked, so you'll want to be careful!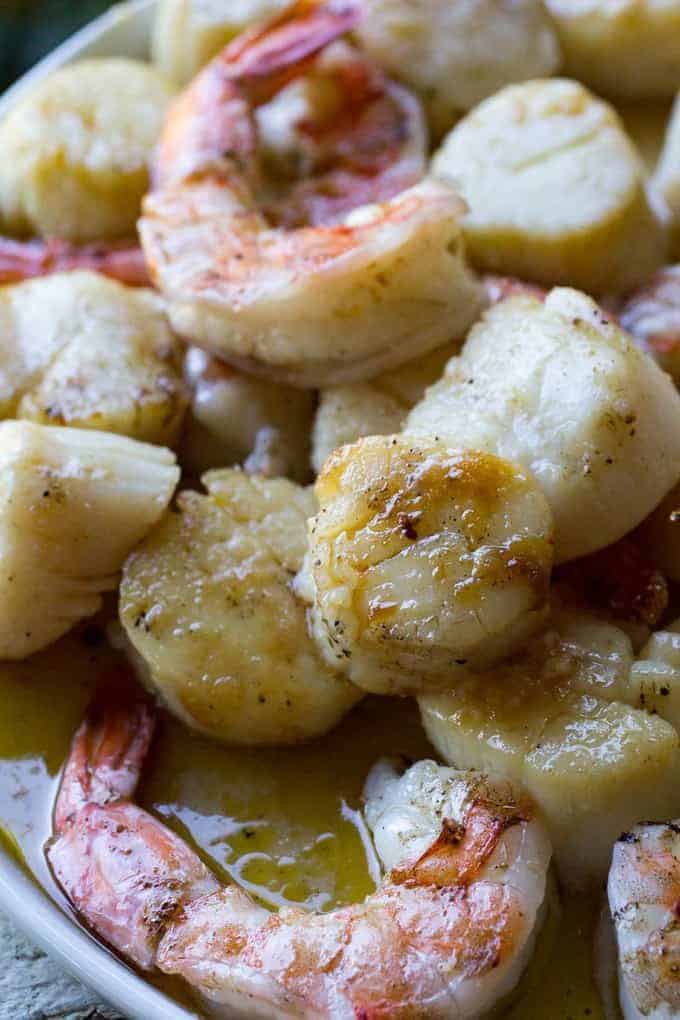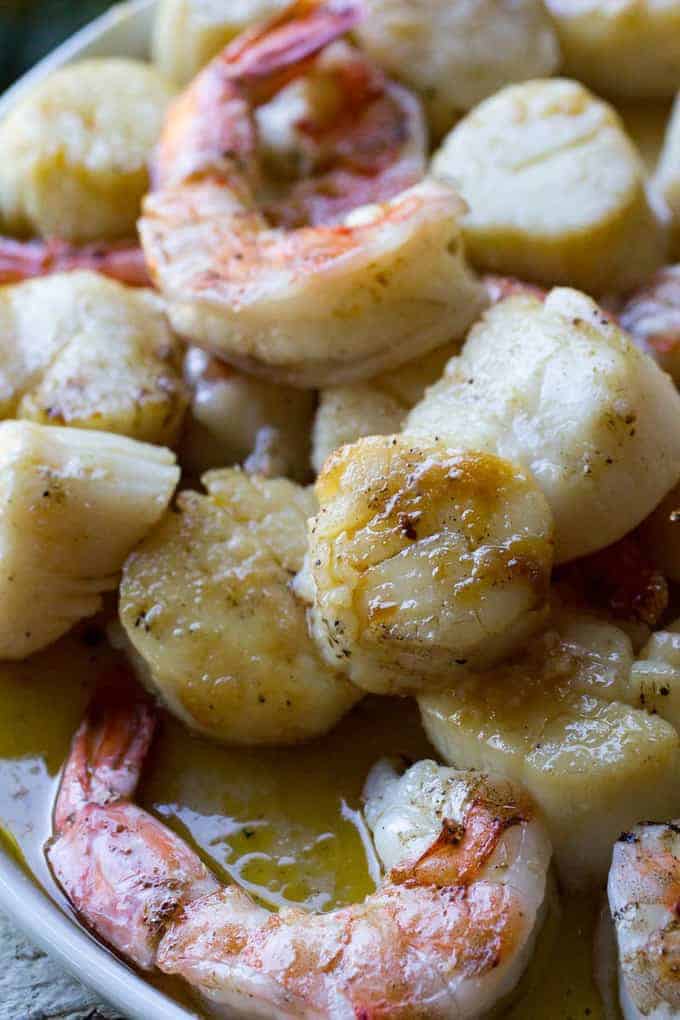 What should I serve with scallops?
You can't go wrong with rice. Try it with my Instant Pot Basmati Rice. Or if you prefer pasta, you can try it with some garlic linguine. Sometimes I like to just eat these right as they come off the grill.
Make a salad and get a loaf of french bread and dinner is done! My homemade Cheddar Bay Biscuits are also wonderful with these!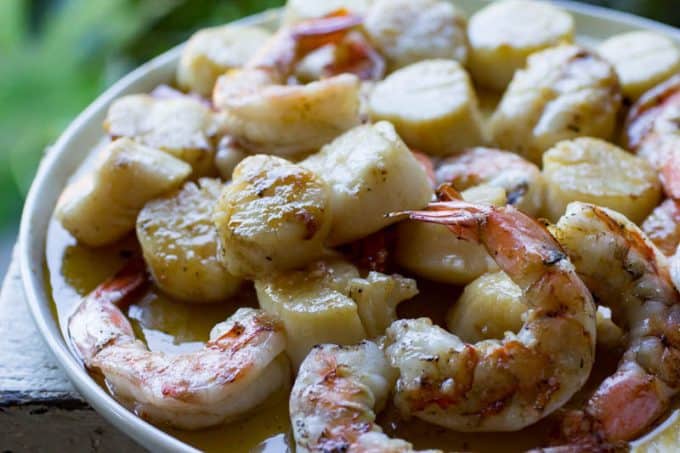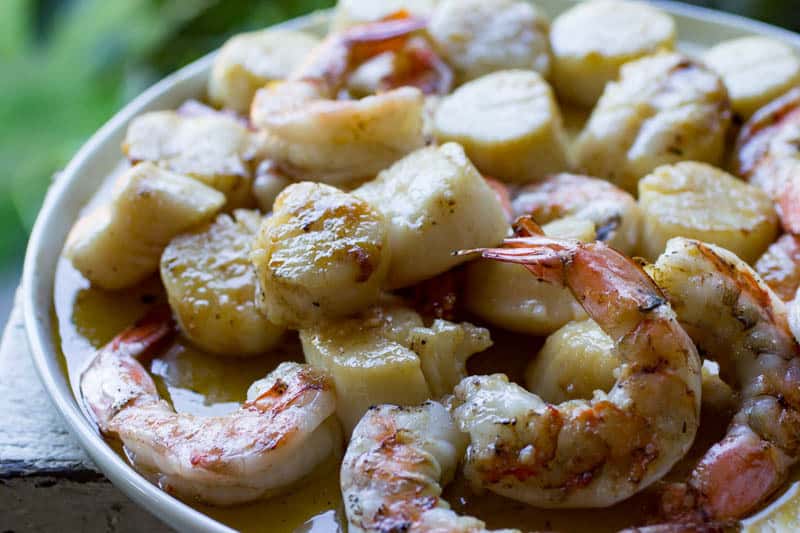 More recipes to love!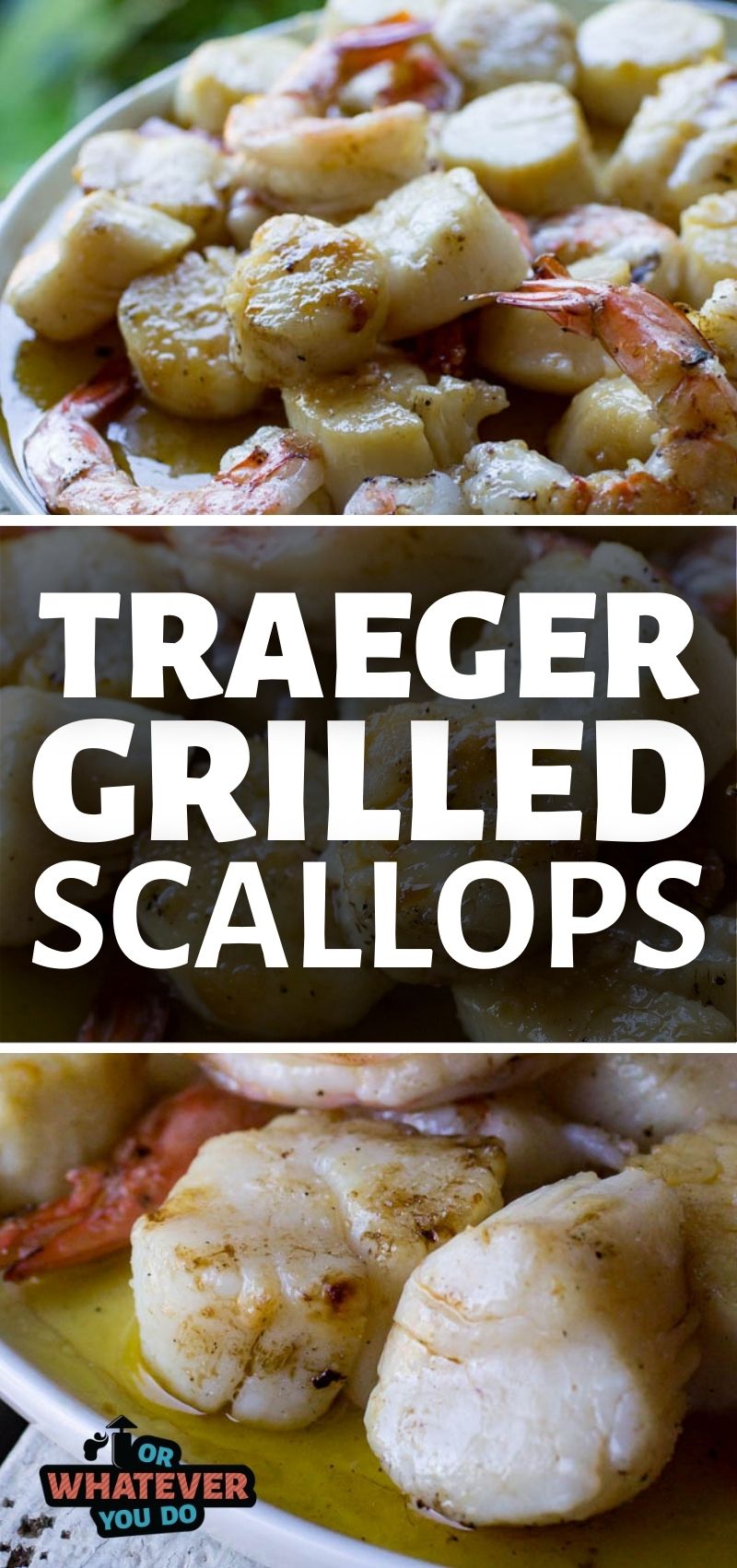 Yield: 4 servings
Traeger Grilled Scallops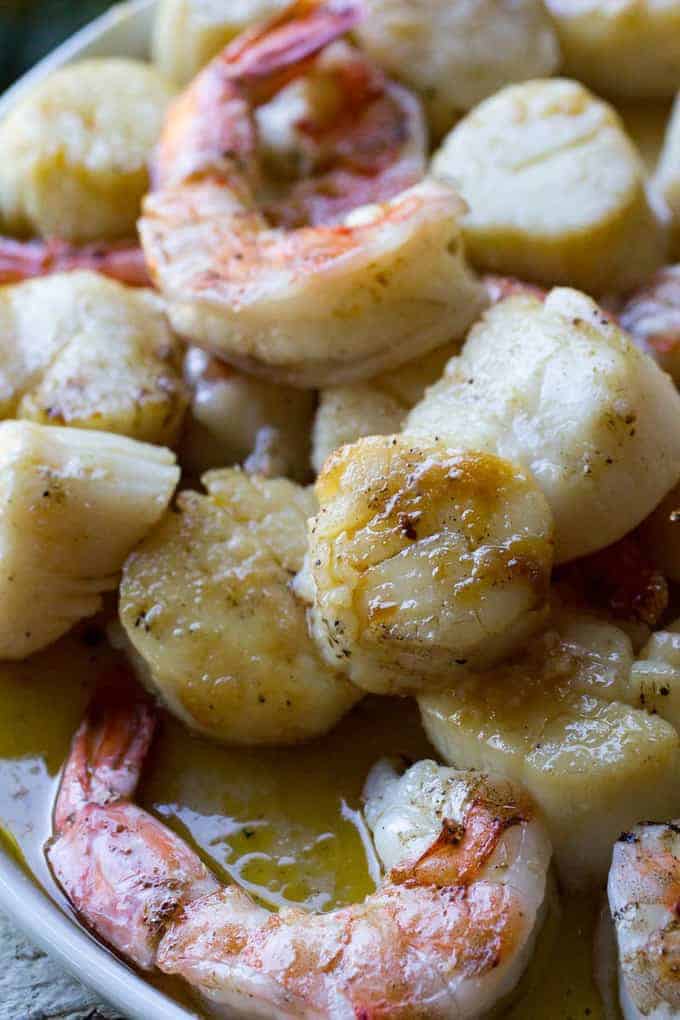 Easy Grilled Scallops get a touch of smoke from the wood-fired grill, and stay tender and delicate by cooking in a cast iron butter bath.
Ingredients
2 pounds sea scallops, patted dry with paper towels
1/2 teaspoon garlic salt
1 - 2 teaspoons kosher salt
dash white pepper
4 tablespoons salted butter
squeeze lemon juice
Instructions
Preheat your grill to 400 degrees with your cast iron pan inside.
Sprinkle your garlic salt, salt, and pepper over both sides of your scallops.
Place the butter into the preheated cast iron pan along with the scallops. Close the lid and cook for 5-6 minutes.
Flip the scallops over once, close the lid, and cook another 5-6 minutes. The scallops are done when the center is opaque.
Carefully remove from the grill, and squeeze with lemon juice. Serve immediately.
Recommended Products
As an Amazon Associate and member of other affiliate programs, I earn from qualifying purchases.
Nutrition Information:
Yield:
8
Serving Size:
1
Amount Per Serving:
Calories:

177
Total Fat:

7g
Saturated Fat:

4g
Trans Fat:

0g
Unsaturated Fat:

2g
Cholesterol:

62mg
Sodium:

1430mg
Carbohydrates:

6g
Fiber:

0g
Sugar:

0g
Protein:

23g
Nutrition data provided here is only an estimate. If you are tracking these things for medical purposes please consult an outside, trusted source. Thanks!