If you're looking for a hearty and delicious breakfast, the search has ended. Our Traeger Breakfast Bake it all the things you're looking for, and more! Lots of eggs, hash browns, bacon, spinach, cheese, bell peppers, and more will have you full and ready to start the day!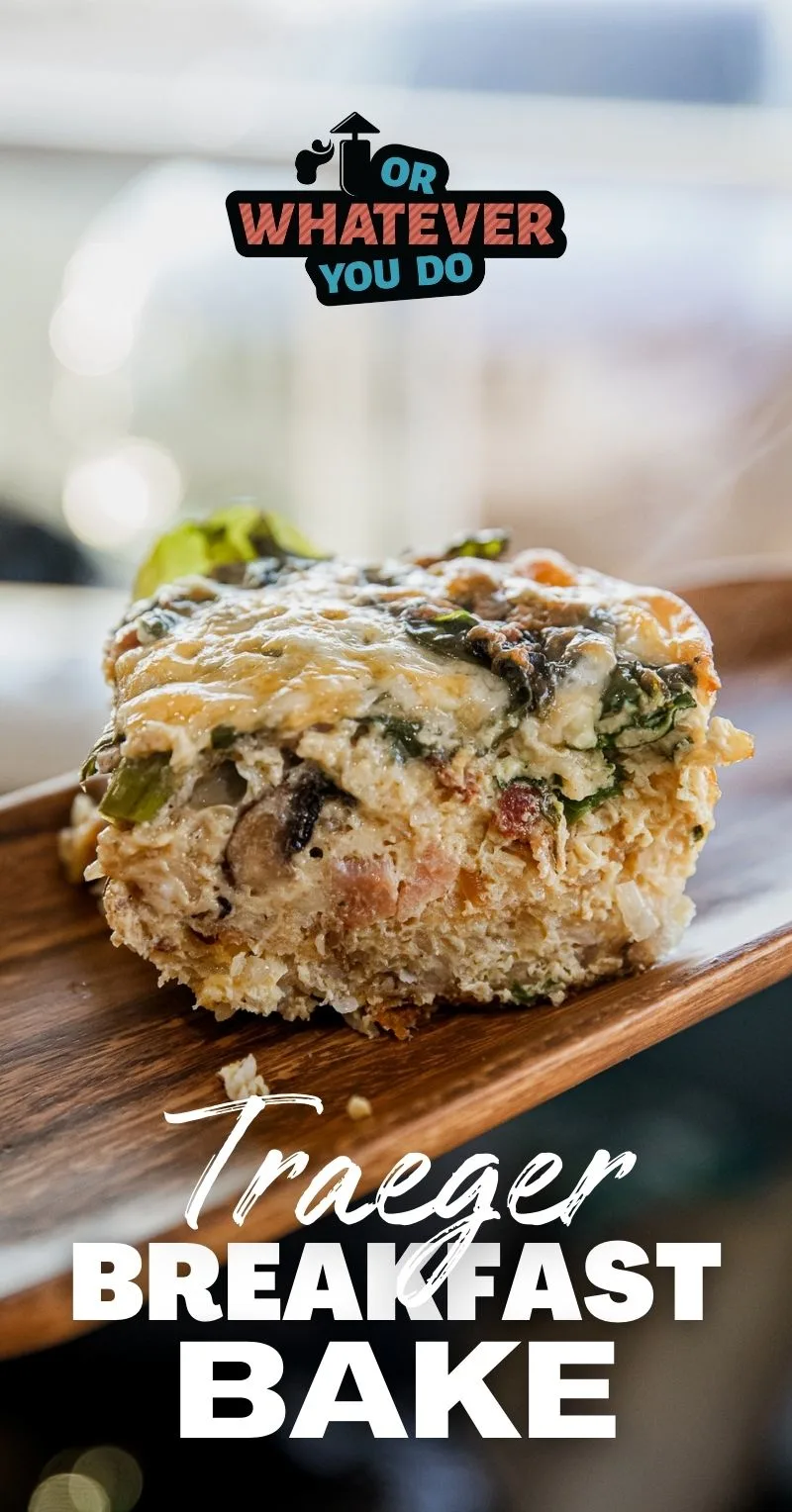 Traeger Breakfast Bake
I love a good breakfast, but even though I get up relatively early in the morning, I'm not really a "get up and cook breakfast" type of person.
I'm more of a "someone brings me coffee in bed while I zone out and wake up with my laptop for an hour or two" kind of morning person.
So, while I like eating breakfast, I don't really enjoy making it at a time when breakfast is still breakfast and not brunch.
Enter the breakfast bake.
This Traeger Breakfast Bake can be made the night before and then reheated in individual portions when people start rolling out of bed. It can also be cut into long pieces and wrapped in a tortilla for a quick on-the-go meal for those school kids (or crazy busy fishermen) in your life.
Get all of my Traeger Recipes here!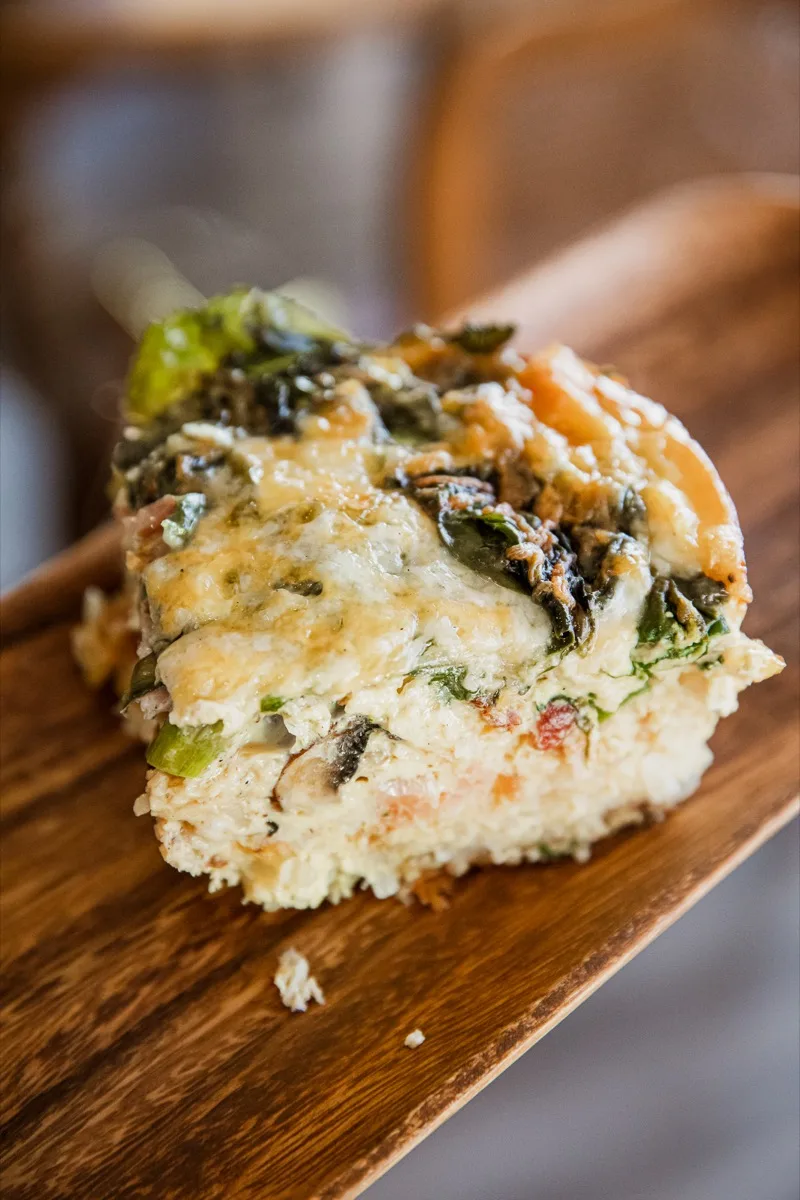 Traeger Breakfast Bake shopping list
Wondering if you have to hit the store? Here's the list of items you'll need to make this recipe. For specific amounts, please refer to the printable recipe card at the bottom of the post.
Butter
Mushrooms
Bell pepper
Green onions
Bacon
Eggs
Half and half
Cheddar cheese
Baby spinach
Get 75+ of my favorite Traeger Recipes here!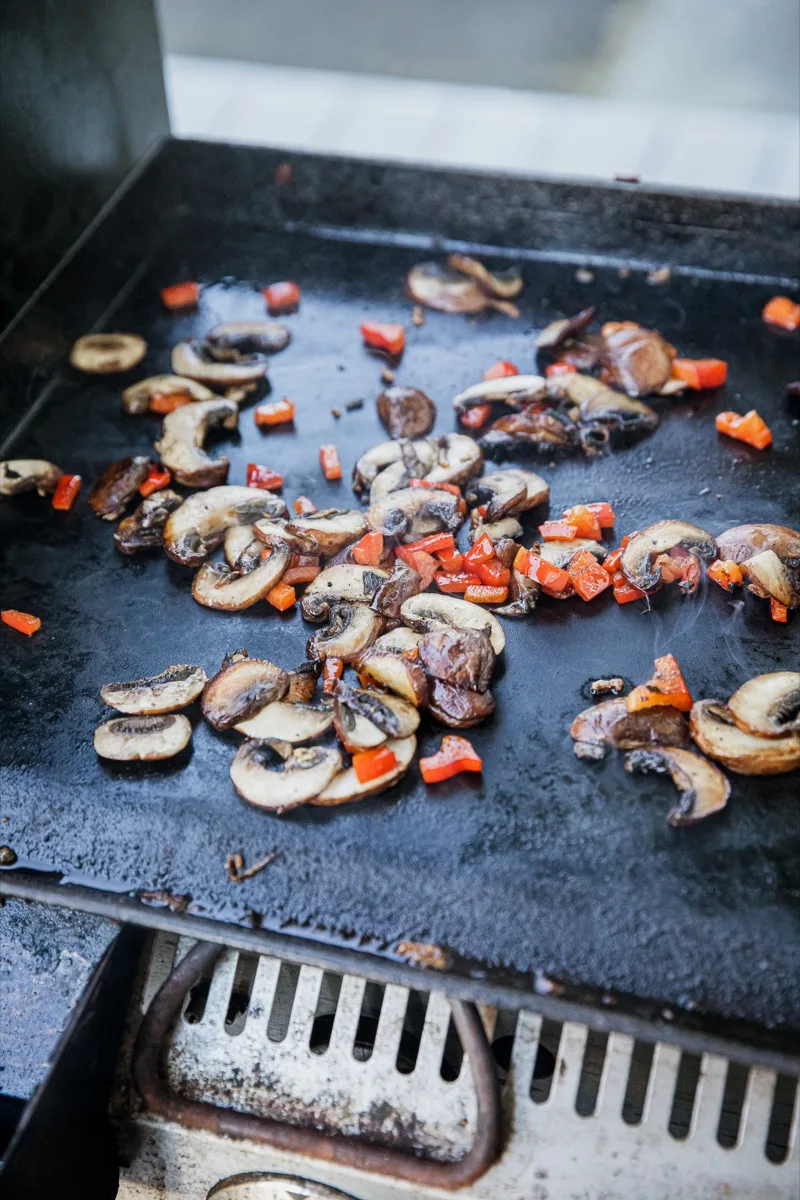 How to make a Breakfast Bake on the Traeger
This is just the overview so you can see what you're actually getting into here. When you are cooking, you'll want to use the full recipe at the bottom of the page.
Prep & Preheat
Prep your pan with cooking spray. Preheat your pellet grill to 325°F. Rehydrate the hash browns.
Cook
Saute the mushrooms, bell peppers, and white parts of the green onions.
Fry up the bacon until crisp.
Cook the re-hydrated hash browns in the bacon fat until brown on both sides.
Combine
Put all the cooked vegetables into your prepped pan.
Whisk together the eggs and half and half. Pour into the pan.
Top with the baby spinach and shredded cheddar cheese.
Bake
Put your pan into the pellet grill and cook for 45 minutes. Check the internal temperature. It needs to be 160°F in order for the eggs to be set.
If it needs more time and the top is starting to brown, you can cover it with tinfoil while it continues to cook.
Enjoy
Let rest for 10-15 minutes before cutting.
Try our Tater Tot Breakfast Casserole too!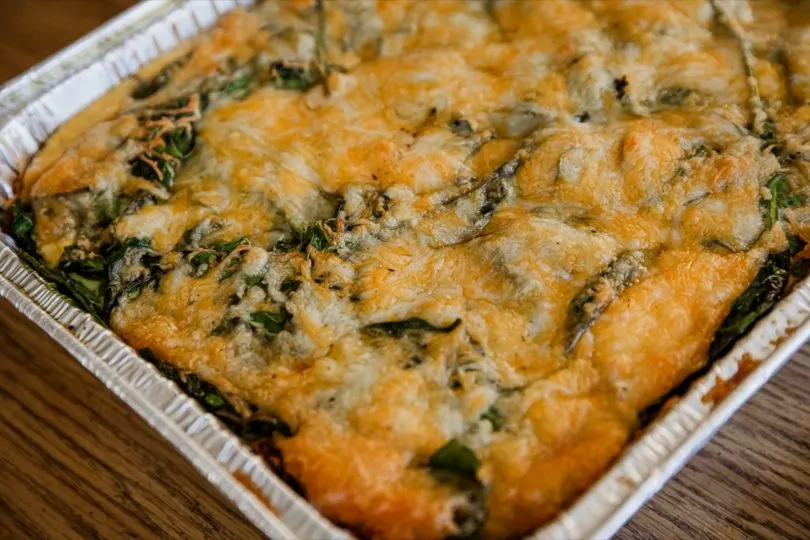 Traeger Breakfast Bake FAQ
What's the best way to store and reheat the leftovers?
This recipe is perfect to make ahead of time for leftovers! Store it covered, in the fridge, and reheat individual slices in the microwave. This makes a perfect on-the-go breakfast, especially if you wrap it in a tortilla!
Are there any recommended substitutions or additions?
Sure! This Traeger Breakfast Bake is the perfect dish to really make your own. Have some breakfast sausage or leftover steak laying around? Toss it in. Have more vegetables that need to be used? Saute them and add them in too. I actually used some leftover grilled asparagus in this dish, and it was amazing.
Try our Traeger No-Flip Bacon for this dish!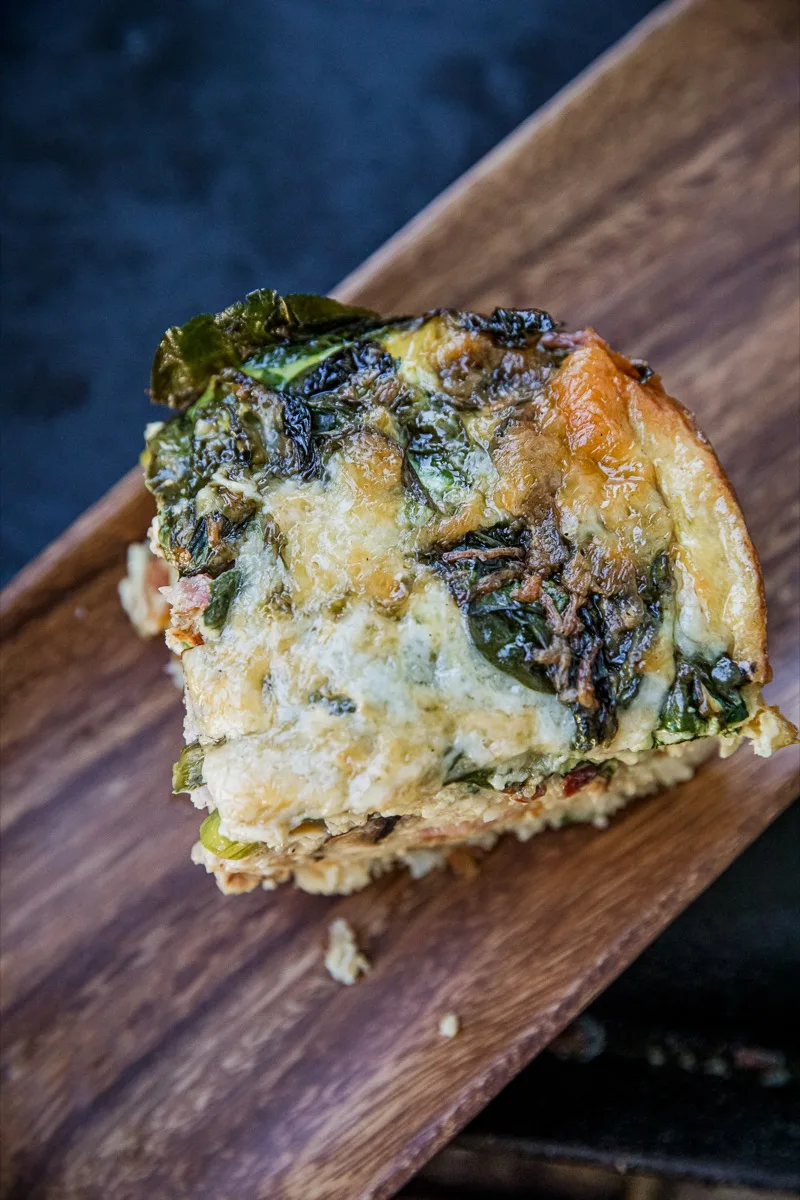 More great recipes to love!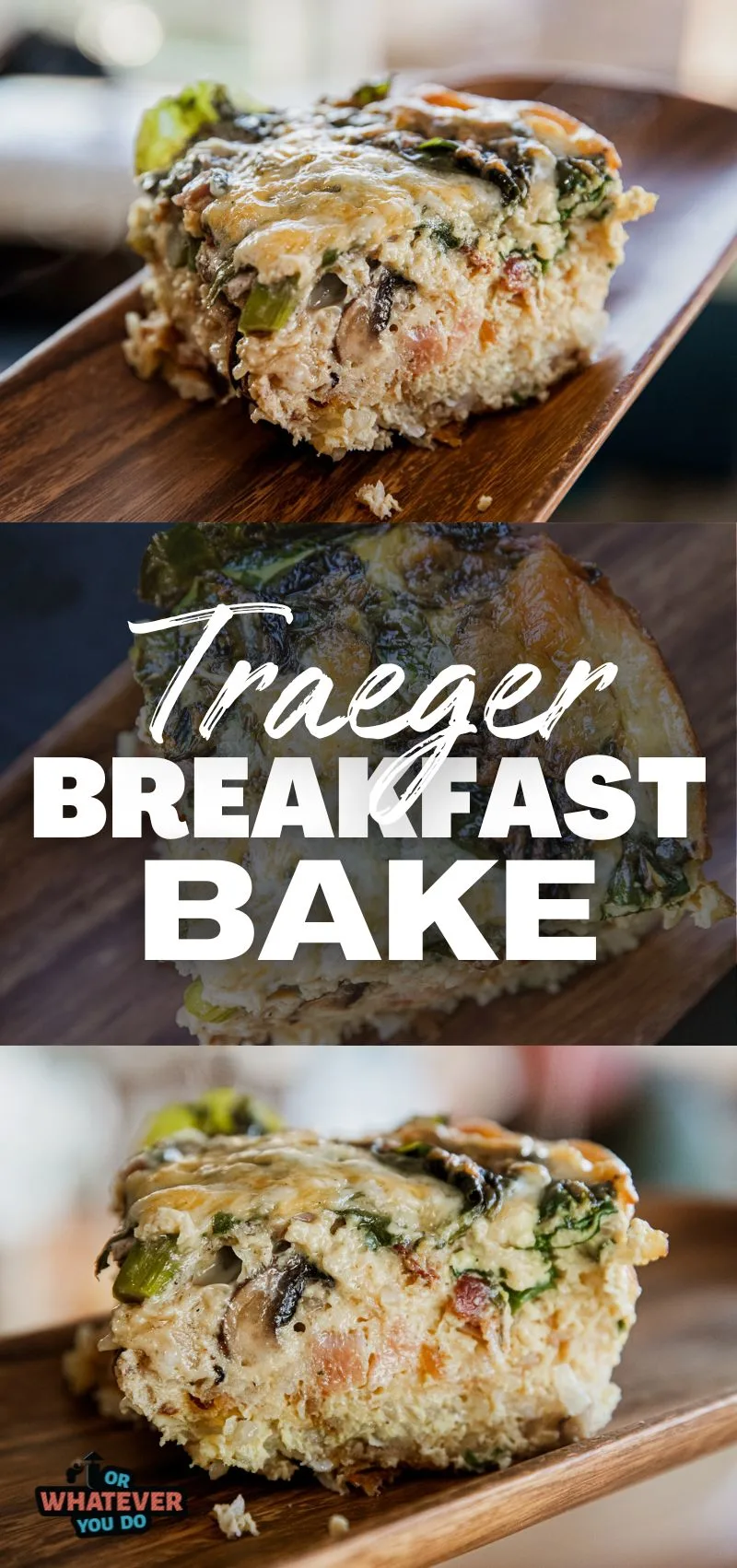 Yield: 12 servings
Traeger Breakfast Bake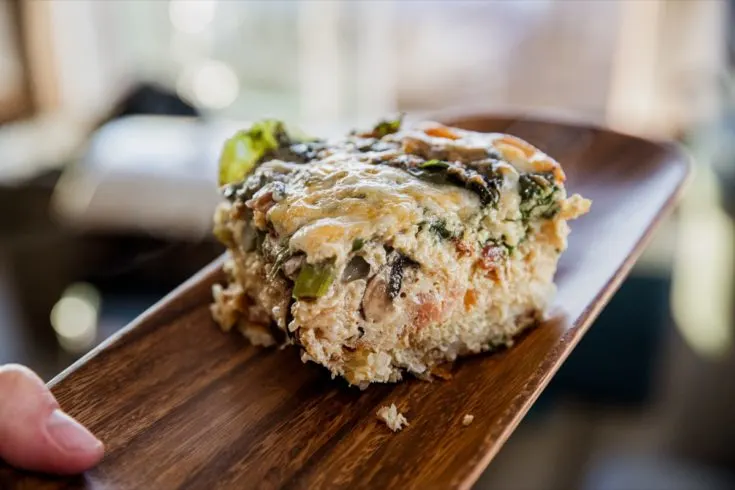 Our hearty, meaty breakfast bake is perfect to throw together at night and reheat in the morning for a quick breakfast! Perfect for the cabin, a holiday weekend,
Total Time
1 hour
20 minutes
Ingredients
4 tablespoons butter, salted
2 cups sliced mushrooms
1 red bell pepper
1 bunch green onions
1 pound bacon
2 - 4.2 ounce boxes dehydrated hash browns
18 eggs
1/2 cup half and half or whole milk
4 cups shredded cheddar cheese
2 generous hand fulls baby spinach
Instructions
Prepare your 9x13 high-sided foil pan with cooking spray.
Preheat your grill to 325°F. Rehydrate the hash browns according to the package directions.
On your gas griddle or in a cast iron pan on the stove, heat to medium-high and melt a tablespoon of butter. Saute the mushrooms until they are browned. Remove to the prepared pan when cooked.
Dice the red bell pepper and the green onion. Separate out the green and white parts of the onion. Put the green onion into the prepared foil pan.
Add another tablespoon of butter and saute the white parts of the green onions and the red bell peppers. Let them cook until tender and starting to brown a bit, and then remove to the baking pan.
Cut the bacon up into small pieces and cook until crisp. Remove when done to the baking pan. Reserve the grease.
Cook the rehydrated hash browns in the bacon grease until they are browned on both sides. Remove to the baking pan. Give everything a gentle stir to combine all the vegetables in with the hash browns a bit.
With a whisk, beat together the eggs and half and half.
Pour over the hash browns and vegetables.
Put the baby spinach on top and top with the shredded cheese.
Put the whole shebang in the Traeger and cook for about an hour. It may take longer, so make sure to rotate it mid-way. It is done when it is no longer jiggly and the internal temperature reaches 160°F. This one can be tricky because this egg bake is so full of meat and vegetables, it can fool you into thinking it is done and then you'll cut into it and there will be liquid eggs coming up.
Cover the egg bake at the 45-minute mark if the top is getting browned and keep on cooking until the eggs are set.
Remove from the Traeger and let cool for 10-15 minutes before serving. OR, toss in the fridge at this point and reheat in the morning for a quick breakfast.
Recommended Products
As an Amazon Associate and member of other affiliate programs, I earn from qualifying purchases.
Nutrition Information:
Yield:
12
Serving Size:
1
Amount Per Serving:
Calories:

539
Total Fat:

41g
Saturated Fat:

18g
Trans Fat:

1g
Unsaturated Fat:

19g
Cholesterol:

376mg
Sodium:

1119mg
Carbohydrates:

8g
Fiber:

1g
Sugar:

3g
Protein:

34g
Nutrition data provided here is only an estimate.