This Traeger Chicken Wings Recipe is smoky and delicious, and the perfect match for your favorite bbq or buffalo sauce – or just add your favorite dry rub and eat them on their own!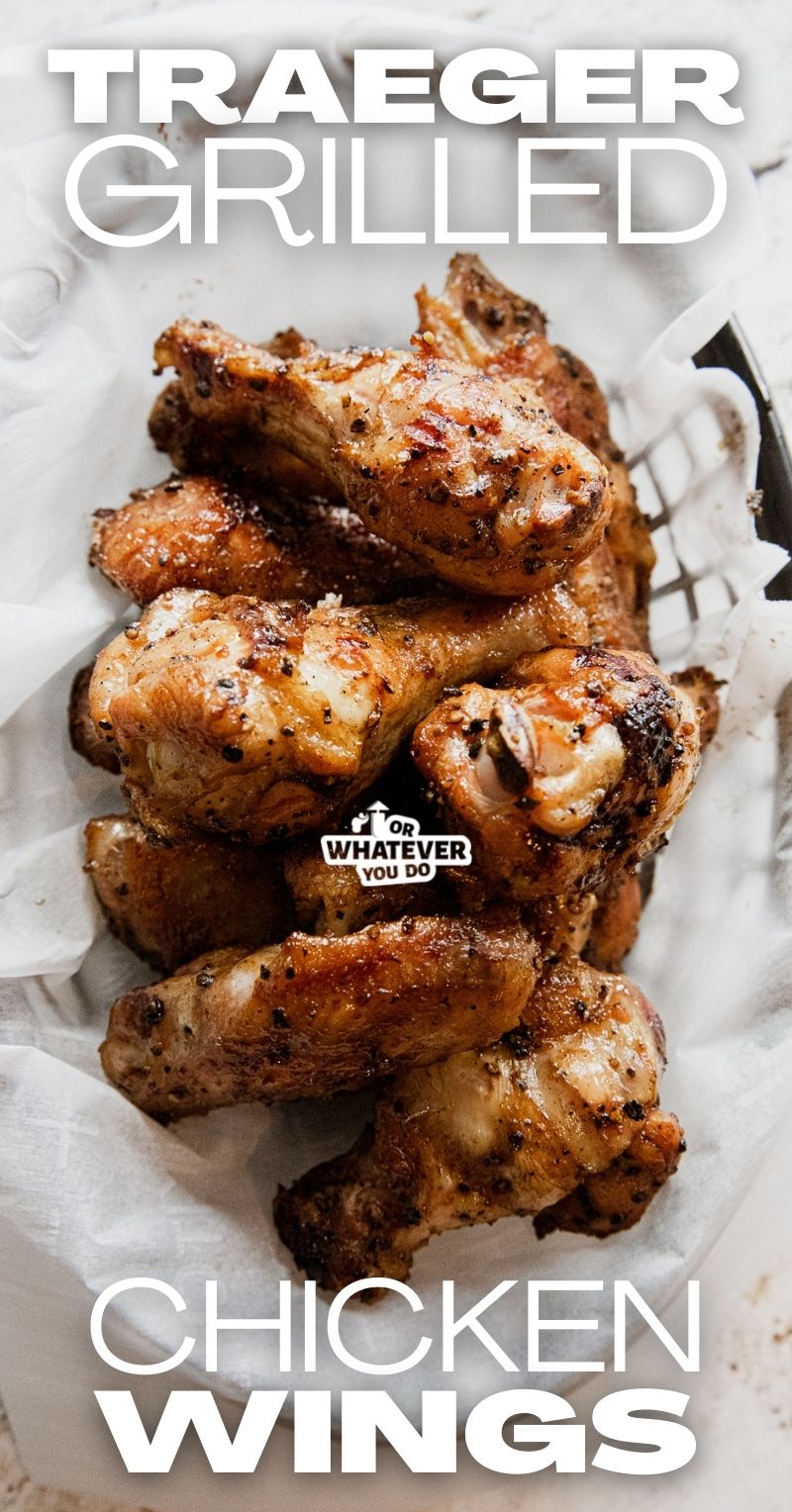 Traeger Chicken Wings Recipe
Listen. You guys know me by now. I'm not afraid to make a meal out of chicken wings, and around here, we do it regularly. Appetizers for dinner are basically the best treat you can possibly give me. All the munchies, all the time, please.
I didn't really think wings got any better than our spicy grilled chicken wings. They are made on our gas grill, pre-pellet-grill times around here.
Then, Jeremiah threw wings on the Traeger and put some smoke on them, and STOP THE PRESSES.
Wings just got better.
Way better.
Check out all of my Traeger Recipes!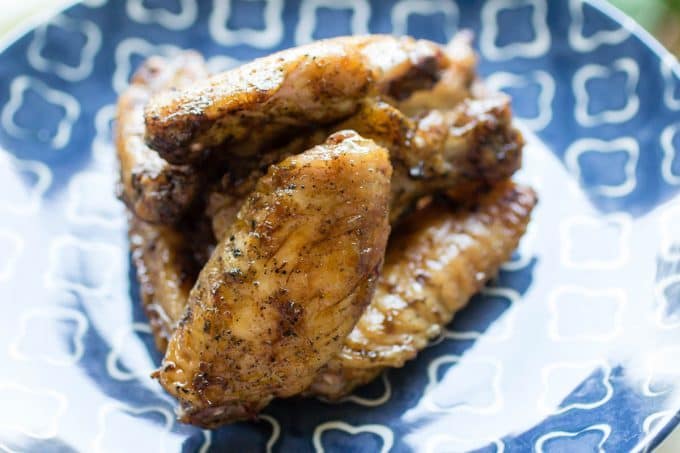 Traeger Chicken Wings shopping list
Wondering if you have to hit the store? Here's the list of items you'll need to make this recipe. For specific amounts, please refer to the printable recipe card at the bottom of the post.
chicken wings
dry rub
sauce of your choice
Get my whole Chicken Wing Collection!
How to make perfect Traeger Chicken Wings
This is just the overview so you can see what you're actually getting into here. When you are cooking, you'll want to use the full recipe at the bottom of the page.
Preheat
Preheat your pellet grill to 350°F.
Dry & Season
Pat your wings dry with paper towels. Toss with a little oil and then coat liberally with the dry rub of your choice.
Grill
Lay out the wings right on the grill. Cook for 20 minutes and then flip and rearrange (if necessary) to account for hot spots. Grill for another 20-25 minutes.
Enjoy
Remove from the grill, take care of any post-grilling crisping you might want to do (totally optional, by the way! Most of the time we eat them right here at this point and skip that part), and enjoy!
More Easy Traeger Chicken Recipes here!
Do you love Traeger too?
See my entire Traeger Recipe Collection if you are a pellet griller too!
If you need some specific suggestions, I highly recommend our Traeger Smoked Salmon, Traeger Walleye with Lemon Cream Sauce, and this Bacon-Wrapped Pork Tenderloin. Oh yeah. We went there.
Join our Easy Traeger Recipes Facebook Group!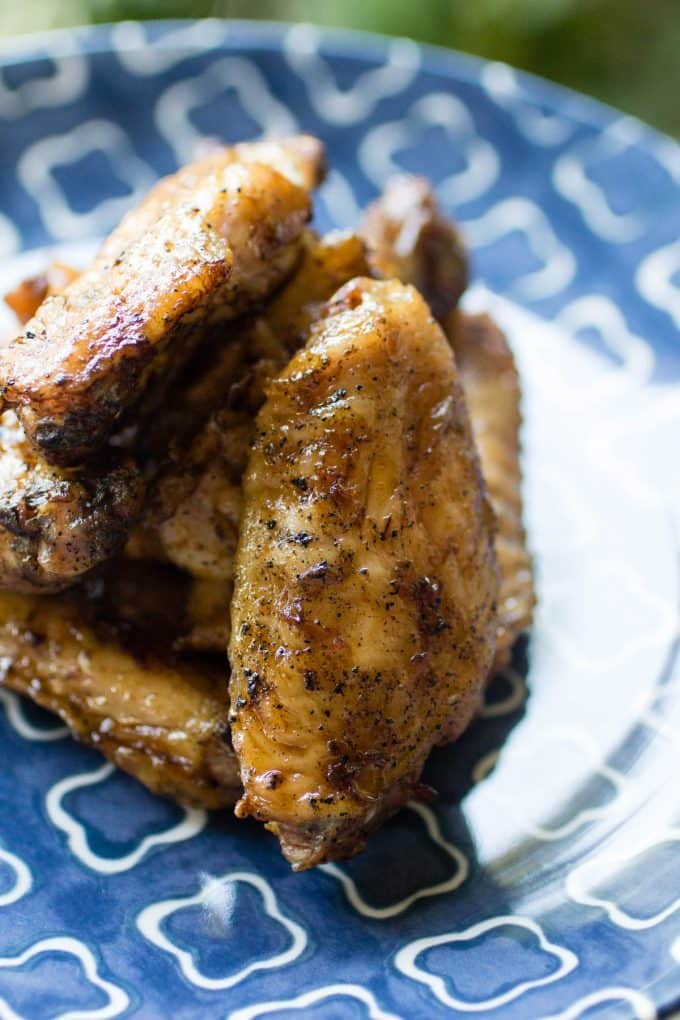 To sauce or not to sauce?
These Traeger Chicken Wings don't even NEED sauce, they are so great. Our famous, all-purpose BBQ Rub puts a huge kick of flavor directly onto the wings, but if you wanted a little extra kick I'd definitely recommend a good barbecue, teriyaki, or a classic Buffalo sauce.
Follow me on Instagram!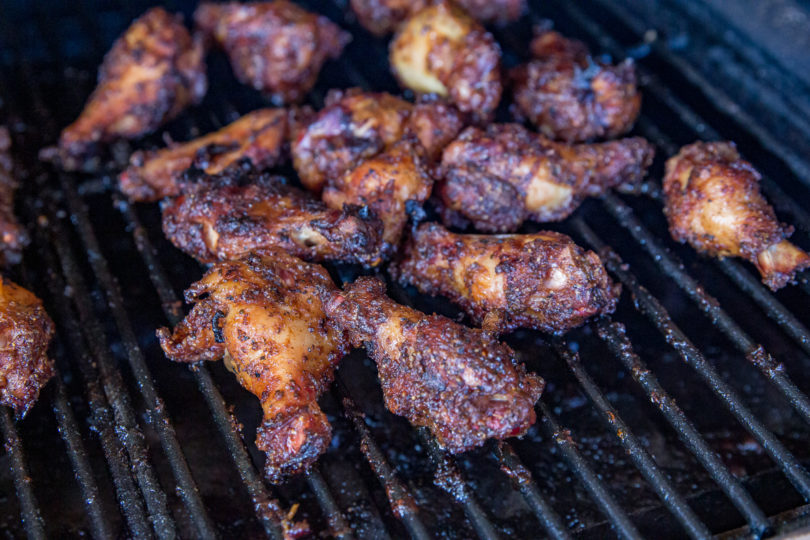 How many wings do you need to feed a crowd?
Side note.
Do you know how many wings you need to feed a crowd of hungry teenage boys?
You probably don't want to.
It is a shocking number and I've never had leftovers, so I don't have an answer yet. I imagine it'll just increase exponentially as they get into their teens and have friends here with them, right?
If you are trying to cook Smoked Wings for a crowd, I'd figure on about 6 per person, unless you are trying to make a meal out of them. Then a dozen is a pretty safe bet if you have sides to go with it.
If your crowd consists of teenage boys, I'd just have about 15 pounds of wings on hand and ready to go. 😉
Get all my favorite Spice Guy Rubs here!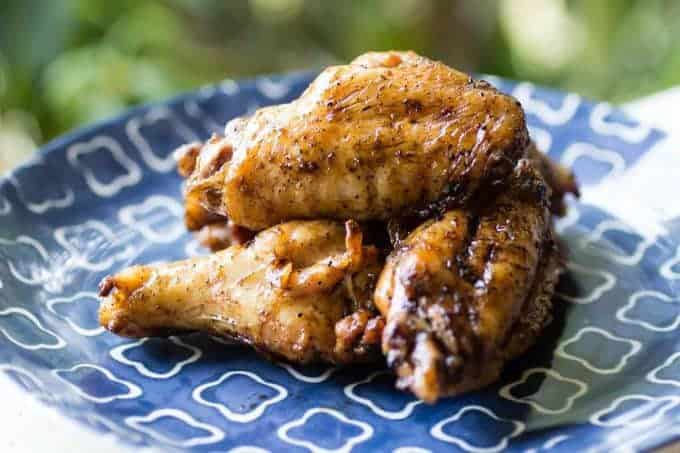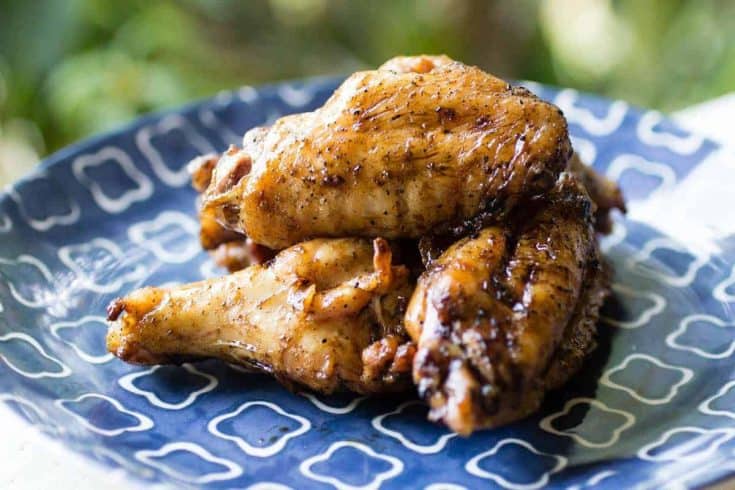 Can you get crispy skin on wings on a pellet grill?
Kind of.
But it takes some work, and a caveat. If you are looking for "crispy" as in the same kind of cripsy you get with deep fried wings, you're going to be disappointed and should skip right to the Smoked and Fried method.
Baking Powder/Cornstarch Method
Some people swear by a dry-skin method which involves dusting the wings with baking powder and/or cornstarch and then laying them out, uncovered, on a pan in the fridge overnight.
This lets the skin dry out, the fat render more quickly, and the skin to crisp faster so you don't overcook the wings in the quest for crispy chicken skin.
You want to mix roughly 2 parts of your rub with 1 part of baking powder for this to work correctly.
Air Fryer Method
For this method, you skip the prep work and just toss the wings in dry rub and put them on the grill, but after they come off the grill give them a spritz of oil and toss them in the air fryer.
This will crisp up the skin without drying out the meat, and is pretty fool-proof.
The downside is that most air fryers don't have large amounts of food at once, that means you'll have to do them in batches.
Oil Fried Method
This one is by far my favorite method, and the most reliable way to get that crisp skin that you want without losing the smoked flavor you need.
Just heat up an inch or two of oil in a cast iron pan, and give your wings a 2-3 minute fry post smoke. You'll have the best of all of the worlds, with these wings, and they are by FAR the best tasting. You can read about my experience with smoked and fried wings here.
More Chicken Wings & Sauce Recipes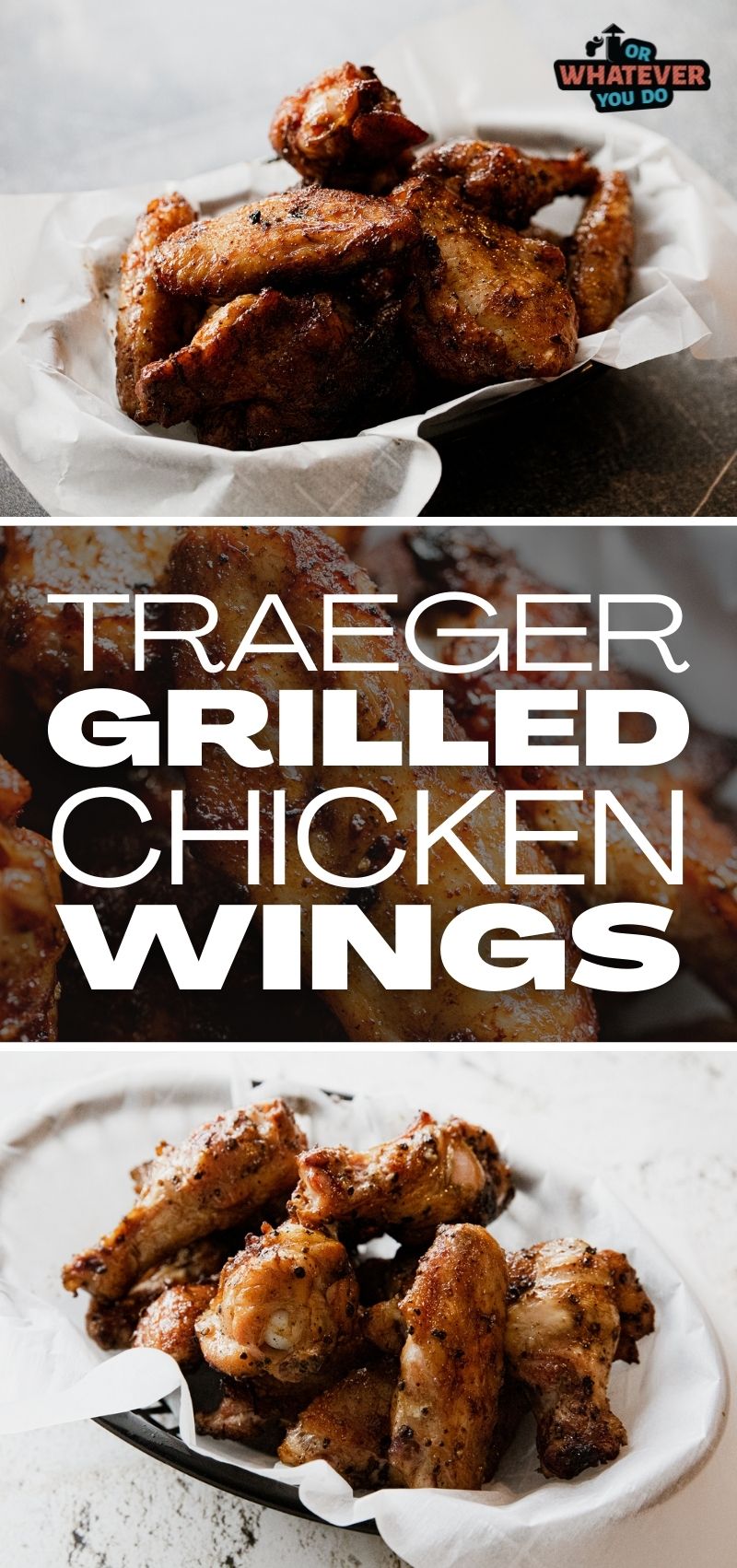 Some of our content is only for OWYD+ members. Membership is FREE! Find out more here, or sign up below!
Yield: 8 servings
Traeger Grilled Chicken Wings Recipe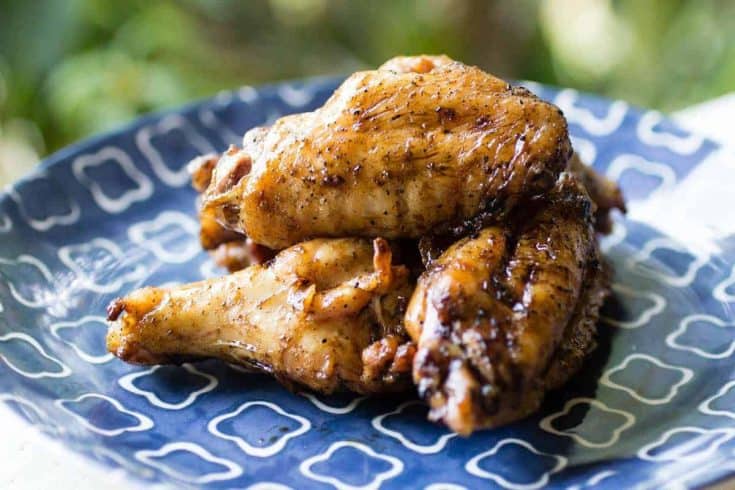 This Traeger Grilled Chicken Wings recipe is our favorite way to make wings! Customize with your favorite rub and sauce, and get smoking!
Ingredients
48 chicken wing segments*
4 tablespoons BBQ Rub
1/3 cup canola oil
Instructions
Preheat your pellet grill according to factory instructions to 350°F.
Starting with DRY chicken wings, combine the oil and seasonings in a large bowl and toss in chicken wing segments. Stir to evenly coat with oil and seasonings.
Place the wings on the grill, evenly spaced. Close the lid and cook for approximately 45 minutes, or until they are cooked through and the skin is crispy. Turn the wings over halfway through.
Remove from heat and toss with your favorite barbecue or buffalo sauce. Serve hot!
Notes
How many chicken wings you get is really up to you. We're figuring about 6 wings per person for this recipe.
Recommended Products
As an Amazon Associate and member of other affiliate programs, I earn from qualifying purchases.
Nutrition Information:
Yield:
8
Serving Size:
1
Amount Per Serving:
Calories:

619
Total Fat:

48g
Saturated Fat:

15g
Trans Fat:

0g
Unsaturated Fat:

30g
Cholesterol:

134mg
Sodium:

683mg
Carbohydrates:

17g
Fiber:

1g
Sugar:

2g
Protein:

28g
Nutrition data provided here is only an estimate.