Our Sweet Heat Smoked Spicy Chicken Wings recipe uses habanero powder to give them little kick, and our Traeger pellet grill to add the smoke. Next, they hit either the deep fryer or the air fryer for crispy skin you can crunch into.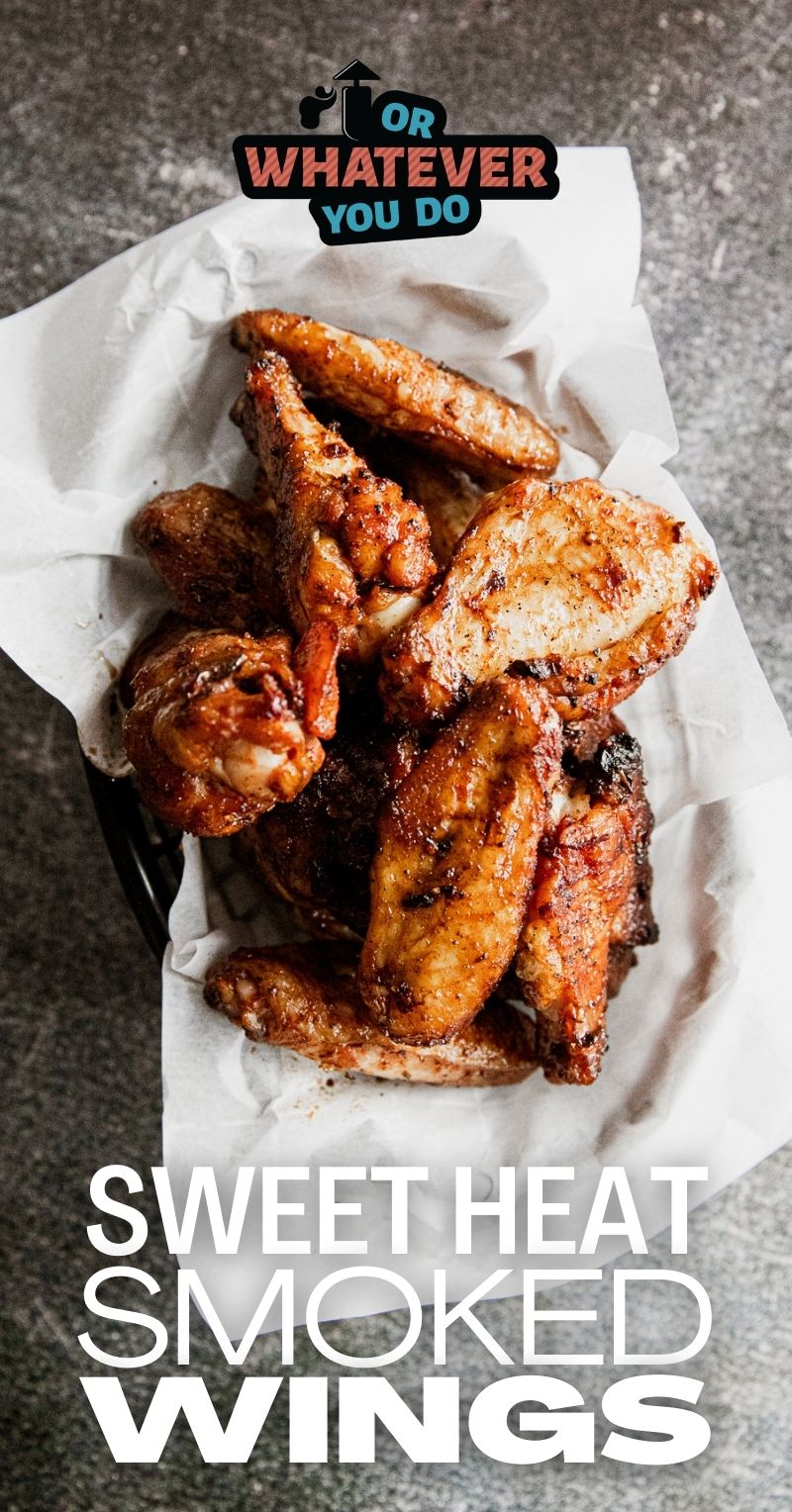 Sweet Heat Smoked Spicy Wings
If I could only cook one thing on the grill for the rest of time, and only one thing, chicken wings might be my pick. You can make a KILLER steak in a cast iron pan. You can roast beef in the oven. Pulled pork might be a tie, there's no comparison to smoked pulled pork, after all, but I think the same can be said for chicken wings. Once you have smoked wings you just can't go back to any other way.
For this batch we did a pretty classic smoke and fry. Dry wings, tossed in oil, coated with dry rub, and right on the smoker at 200° for 1-2 hours. There are other ways to get great wings off of your pellet grill, but that's my favorite way. My husband likes to grill them at about 350-375° straight through. Other people I know prefer to toss some cornstarch and/or baking powder into the dry rub mix, or smoke first and blast with high heat to finish them off.
As with pretty much all of our recipes, we encourage you to experiment! Our way is not the only way, so take what you like and leave the rest.
Check out all of my Traeger Recipes!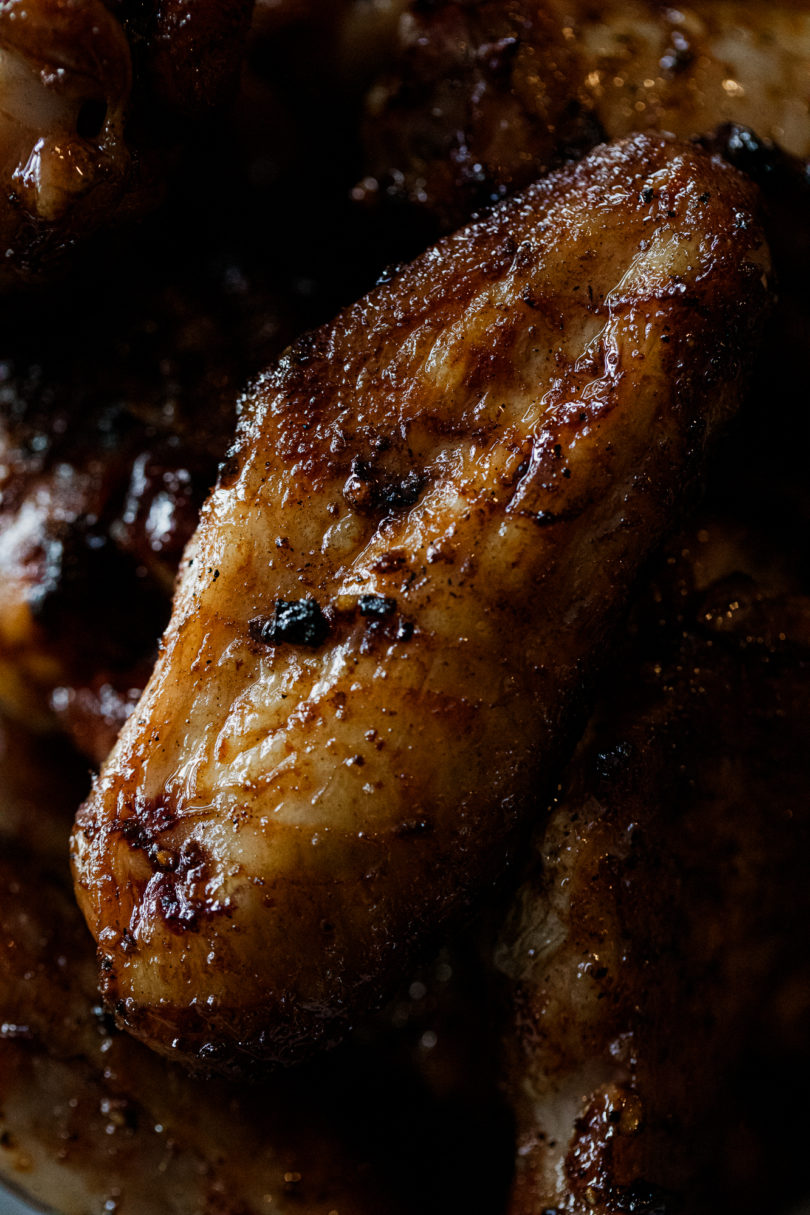 Traeger Spicy Chicken Wings shopping list
Wondering if you have to hit the store? Here's the list of items you'll need to make this recipe. For specific amounts, please refer to the printable recipe card at the bottom of the post.
chicken wings
oil
salt & pepper
brown sugar
paprika
garlic powder
More Easy Traeger Chicken Recipes here!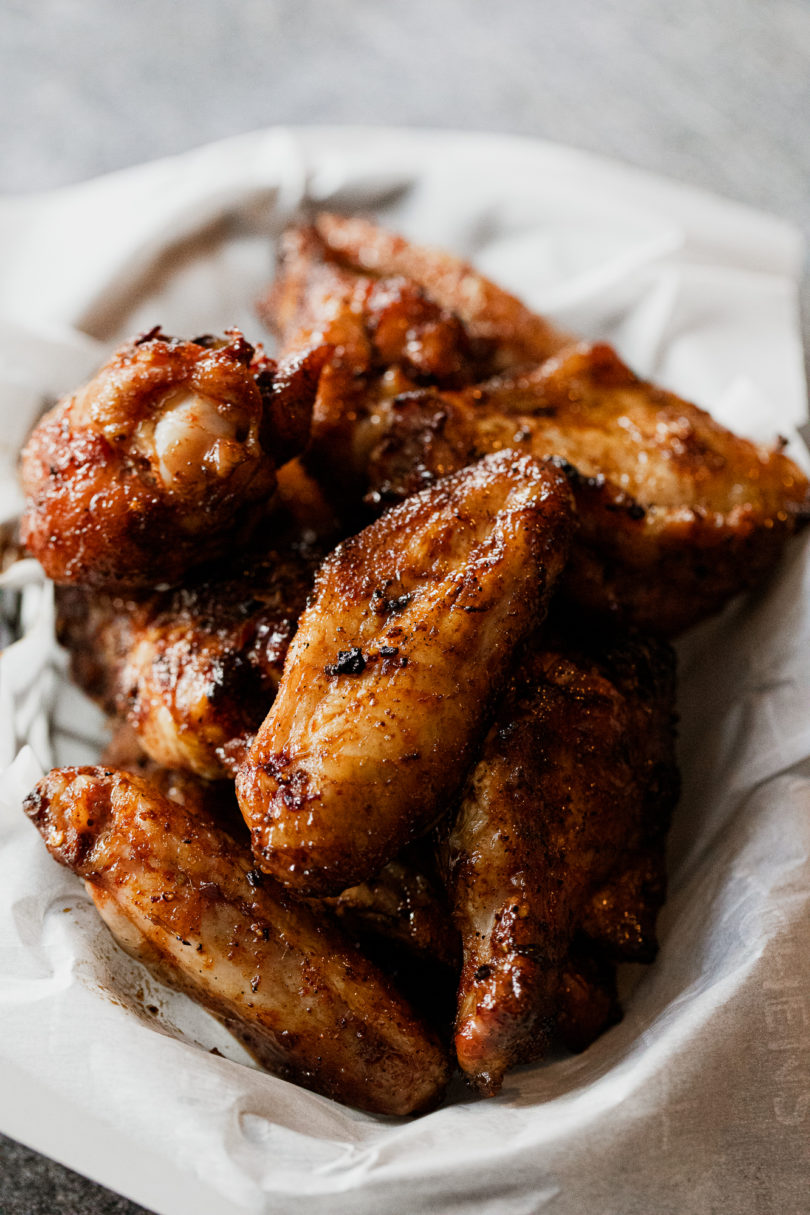 How to make Spicy Smoked Chicken Wings
This is just the overview so you can see what you're actually getting into here. When you are cooking, you'll want to use the full recipe at the bottom of the page.
Preheat your smoker
200°F is what we're aiming for!
Dry and Rub
Make sure your wings are nice a dry before you do anything else. You can either take them out and put them on racks and let them sit, uncovered, in the fridge for a few hours, or sacrifice some paper towels and pat those babies down.
Next, mix together the rub ingredients and liberally season your wings.
Smoke
Put your wings on the grill grates (or on a wire rack if you want to make your life easier) and let them smoke for 1-2 hours. The longer the better, but if you are hungry and don't want to wait, an hour will do. 😉 Flip halfway through however long you're going to smoke them.
Fry
I prefer a quick trip through some hot oil to crisp up the skin on my smoked wings, but if you're looking for something with a little less oil, you can totally give these a light spray with some avocado oil and then toss them in the air fryer or in your convection oven at 400°.
Sauce
If you want! We love buffalo sauce around here and this dry rub is a great base for buffalo wings.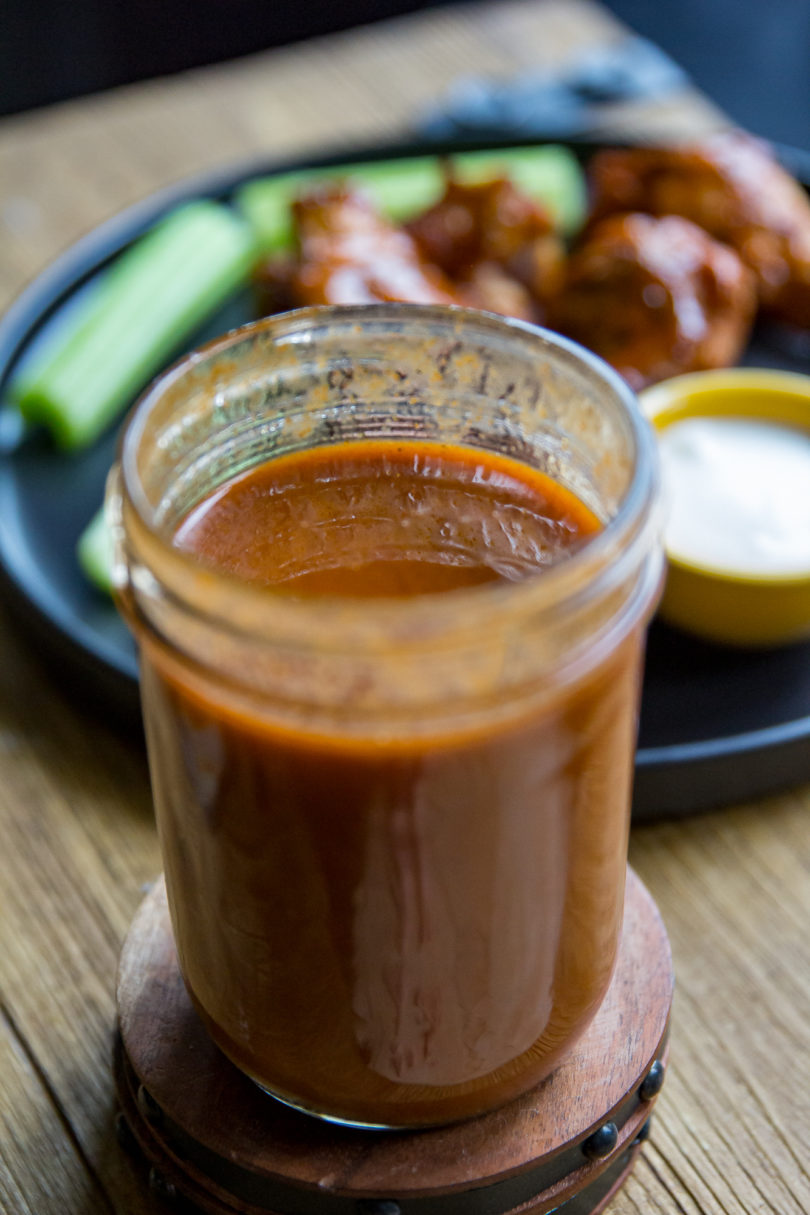 Our Old Bay Buffalo sauce quickly became my favorite homemade buffalo! It is simple to throw together too. Make some while your wings smoke (or at least order the hot sauce. You're going to freak it is so good.)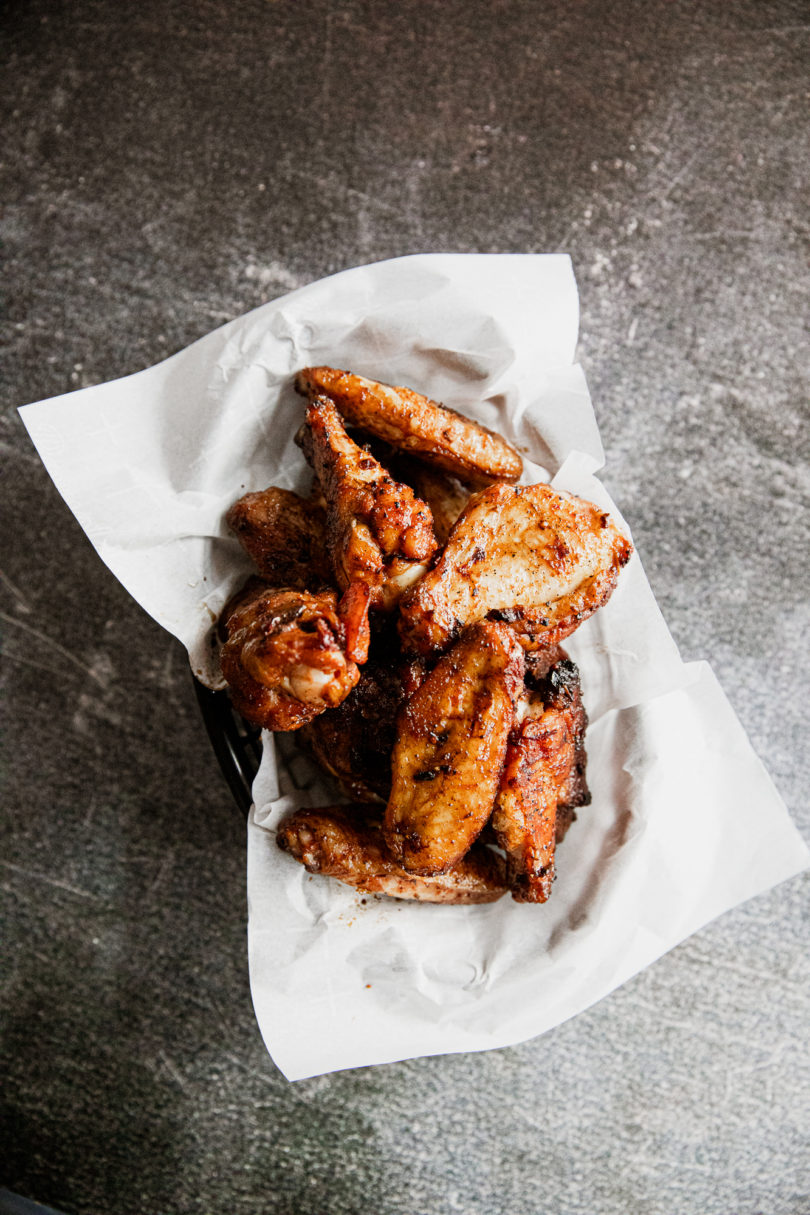 Where's the best place to get chicken wings?
Your local grocery store will likely have a lot of wings available. You can also pick them up bagged and frozen in the frozen chicken section too. We tend to just add wings to our ButcherBox orders whenever they have them available. They come frozen in a three pack and it is perfect for an appetizer or meal.
We love Butcherbox, and it is where we get most of our meat. High-quality, humanely raised, grass-fed beef, free-range organic chicken, pork raised crate-free, and wild-caught seafood options are all available. You can customize your box to your own preferences too.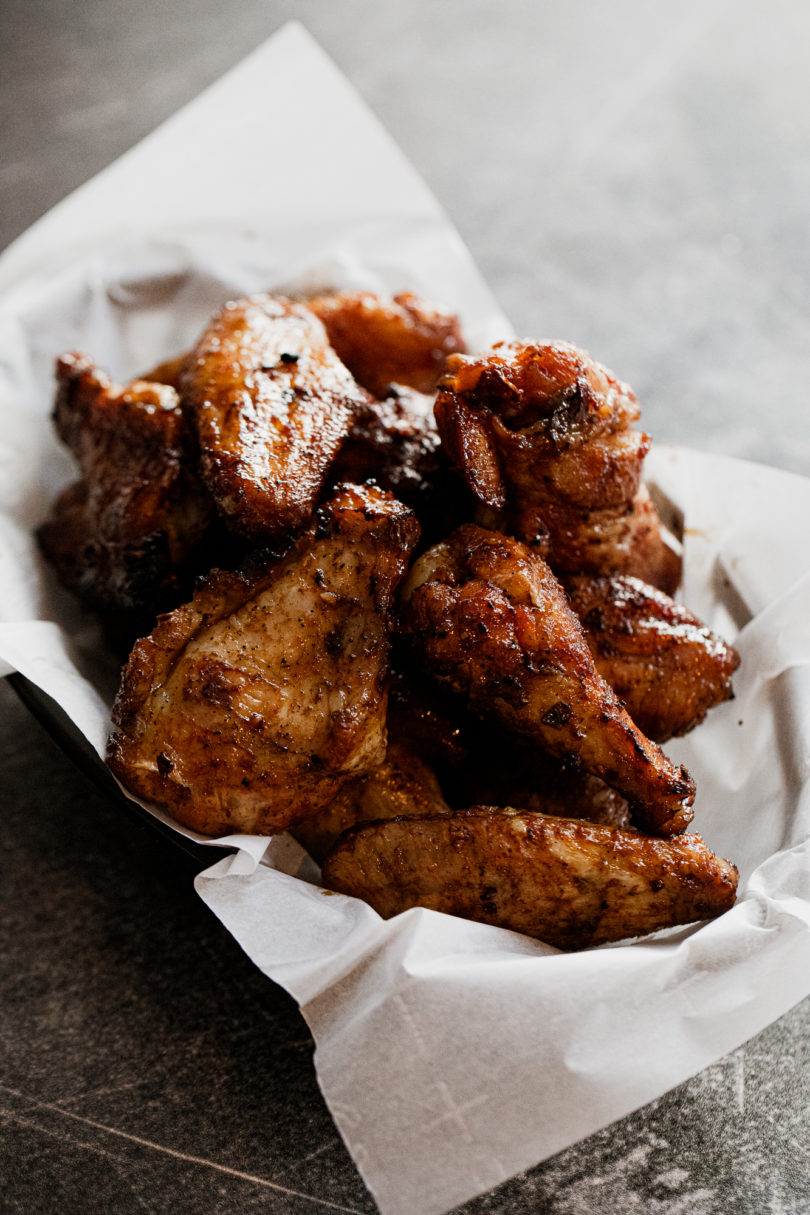 Smoked Chicken Wings FAQ
What's the best way to store leftover chicken wings?
Only sauce the wings you KNOW you are going to eat right away. Store unsauced wings in an airtight storage container or plastic baggie. Keep for 2-3 days, or vacuum seal and freeze.
How to reheat leftover chicken wings
My favorite way to reheat wings is in the air fryer. It crisps up the skin again and they are hot in a flash. If you don't have an air fryer the oven would work as well.
Can you cook wings from frozen?
Technically, yes. You could throw separated frozen wings on the Traeger, and smoke them to thaw them. The key to doing this method will be to season the wings AFTER they are thawed and dried though.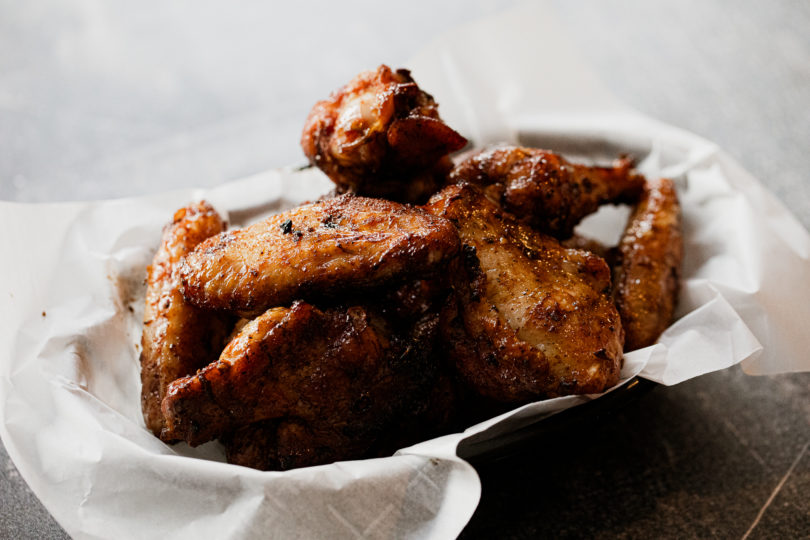 More wings to love
We make a ton of chicken wings around here. Want some other varieties?
Perfect homemade wing sauces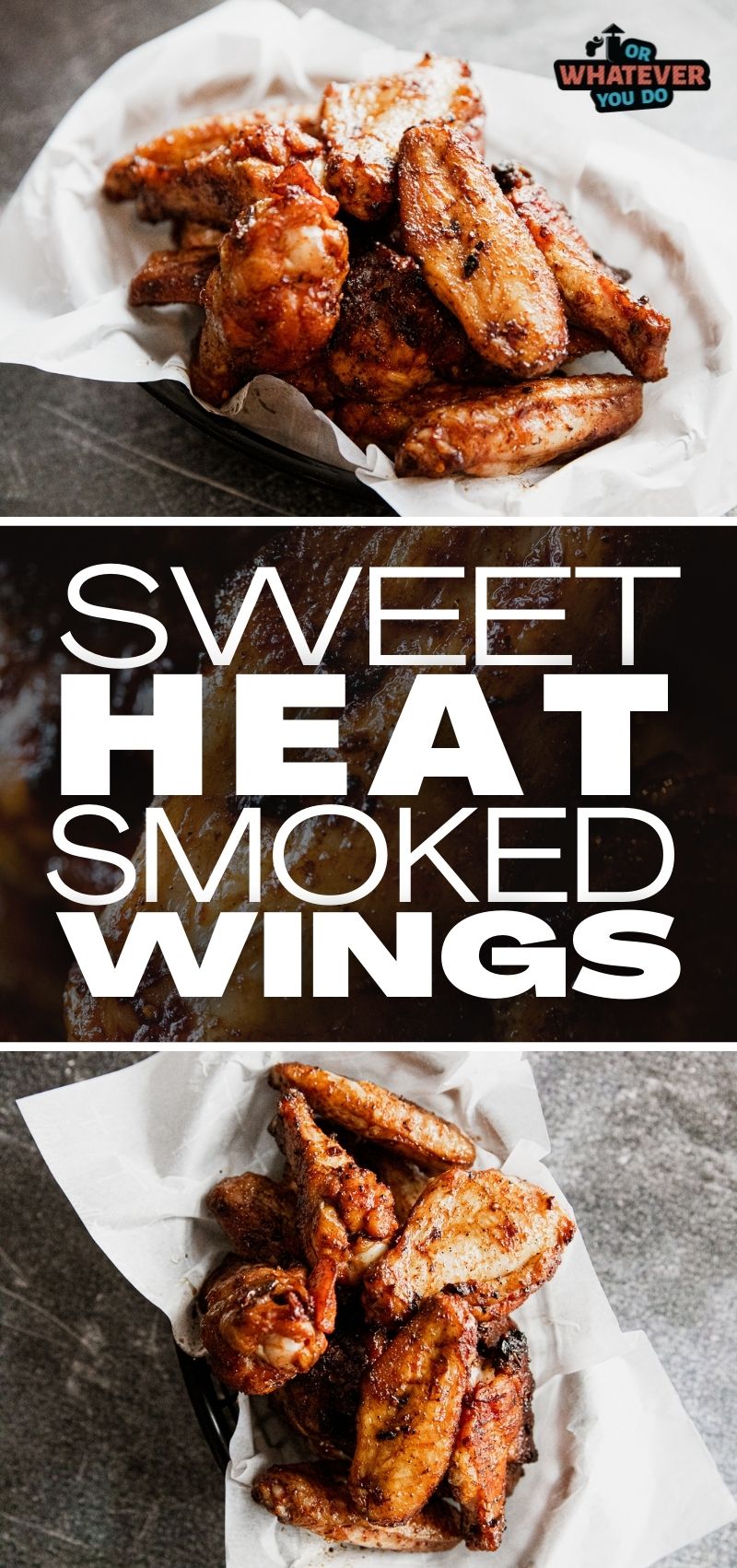 Yield: 6 servings
Sweet Heat Smoked Chicken Wings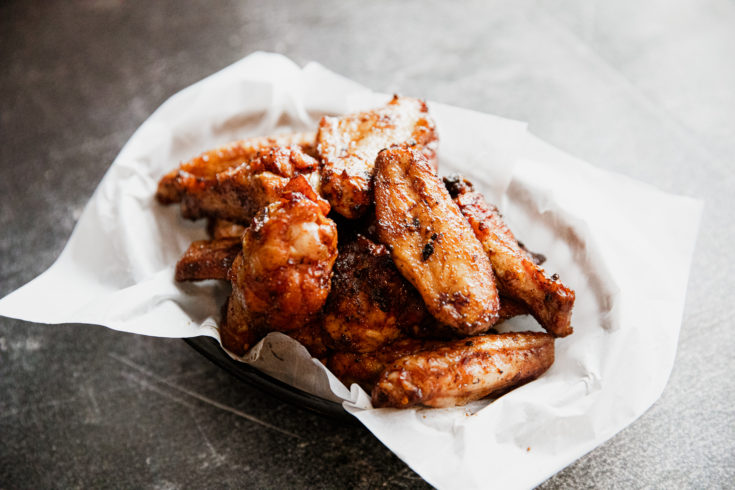 These sweet and spicy wings are smoked on the Traeger before hitting either the air fryer or a hot oil bath! Smokey, crispy, and with a slow sweet heat that'll have you wanting seconds!
Total Time
2 hours
15 minutes
Ingredients
2 pounds chicken wings
2 tablespoons oil (avocado is ideal, but any high-temp oil will work)
Dry Rub
2 teaspoon salt
1 teaspoon black pepper
1 teaspoon habanero pepper powder
3 tablespoons brown sugar
1 teaspoon paprika
1/2 teaspoon garlic powder
Instructions
Preheat your pellet grill to 200°.
Mix together the rub ingredients. Make sure your wings are dry, and then toss with oil until they are evenly coated, and sprinkle the rub mix until they are well-coated in rub.
Place on the preheated grill and let smoke for 1-2 hours, turning over halfway through.
Remove from the grill and either toss them into a preheated 400° air fryer in batches for 5-7 minutes to crisp up the skin, or give them a 2-3 minute bath in a pan of shallow hot oil to crisp them up. If you want to do them the WHOLE time on the grill, you can also crisp up the skin by giving them a blast on high for 10ish minutes on your grill.
Recommended Products
As an Amazon Associate and member of other affiliate programs, I earn from qualifying purchases.
Nutrition Information:
Yield:
6
Serving Size:
1
Amount Per Serving:
Calories:

561
Total Fat:

41g
Saturated Fat:

13g
Trans Fat:

0g
Unsaturated Fat:

25g
Cholesterol:

124mg
Sodium:

1301mg
Carbohydrates:

21g
Fiber:

1g
Sugar:

6g
Protein:

26g
Nutrition data provided here is only an estimate.