Easy and delicious meal that turns very inexpensive ingredients into something…more. Hamburger steaks with Onion Gravy will turn into one of your family's favorite meals.
This post was originally published here on OWYD in January 2011.

Once upon a time, I was a newlywed and a new mom.
We lived in Minnesota and had just had our first son less than a year before. My mother and father-in-law were coming over to visit, a rare and special event because they live in Washington, and were having dinner at our house.
That was all awesome until I realized it'd been a bit too long since I'd last been to the grocery store, we were out of nearly everything, and I couldn't get to the store in time to get something for dinner.
Off to All Recipes I went. I did a quick search of my cupboards and fridge and saw I had ground beef and onion.
That was about it.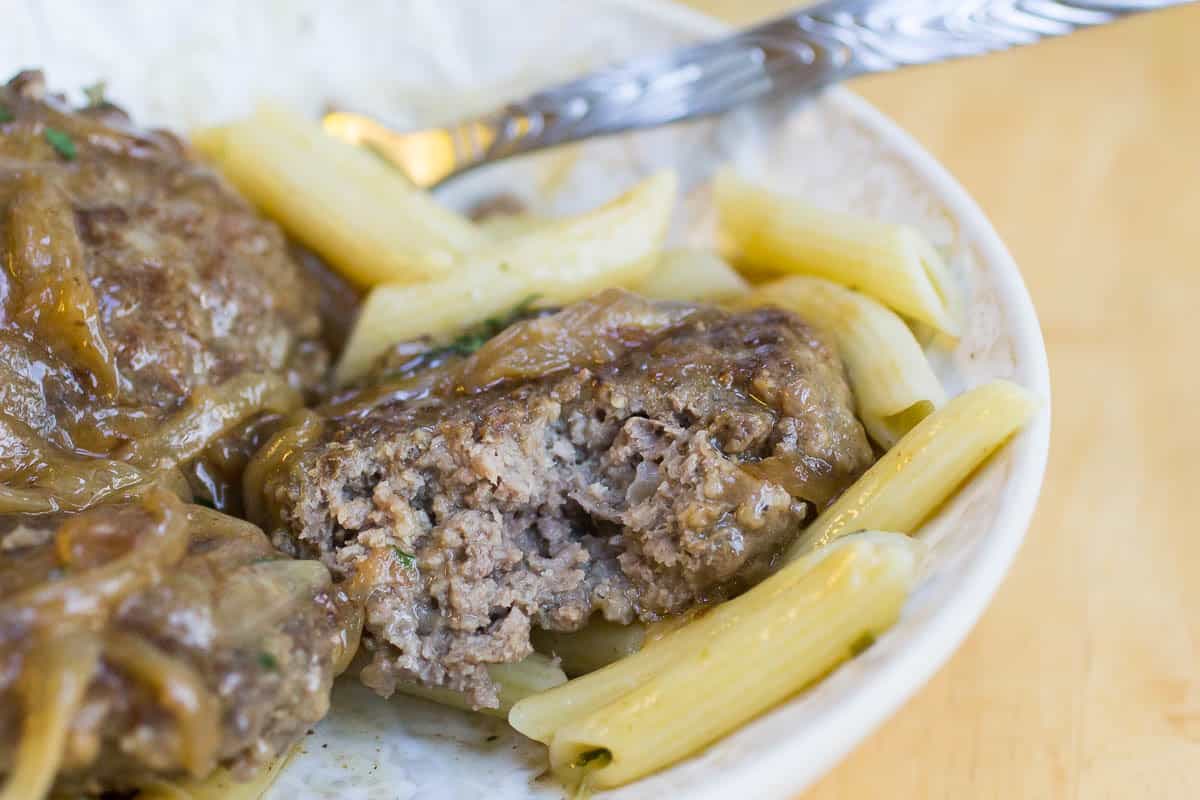 I entered those into the ingredient search and found Hamburger Steak with Onions and Gravy. At that time I was not a big onion fan, but I had little choice so I ran with it.
I made some mashed potatoes to go with, and off I went.
I had all the other ingredients in my pantry. It was simple enough for me to follow along with as a brand new cook, and it was fast enough to prepare while the new mom in me couldn't stand to have my baby cry for a second.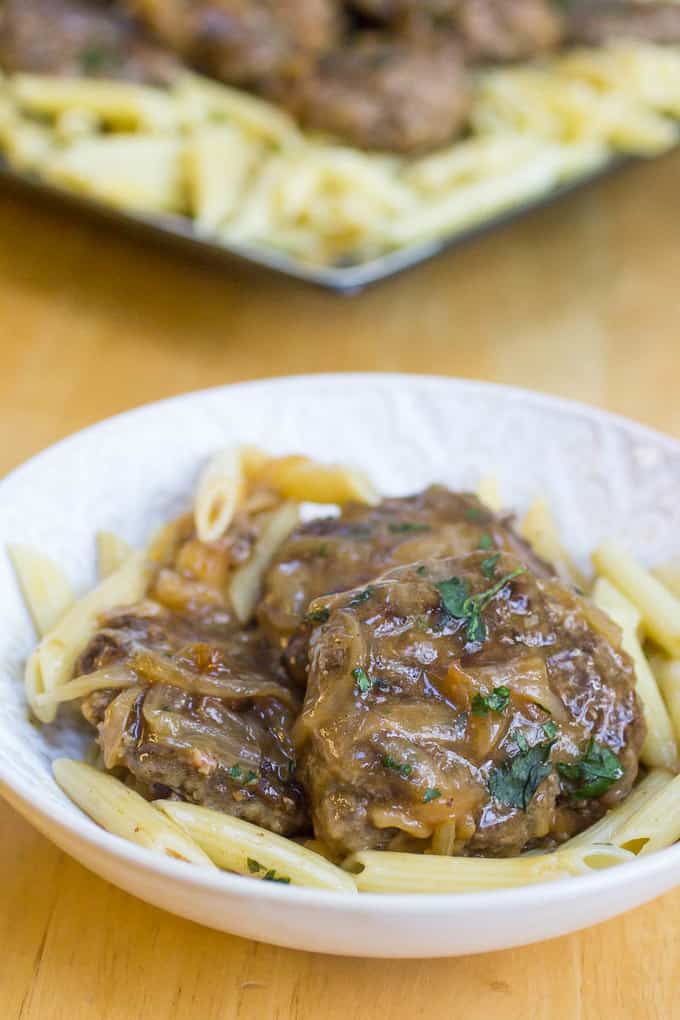 The dinner was a hit!
My mother-in-law has raved about it, to almost every family member we have, ever since. It's still in fairly regular in our rotation, and probably will be forever!
I made a few small alterations to accommodate our family. We double the gravy, for instance, because we are sauce/gravy freaks. I also omit the Worcestershire that the original recipe calls for because Isaiah's allergies react badly to the fish used in it.
I'll post the recipe as we make it, but be sure to pop over to allrecipes if you make it and let Ann Marie Sweden how much you enjoy it!
After you mix up the patties, brown them all well in the pan…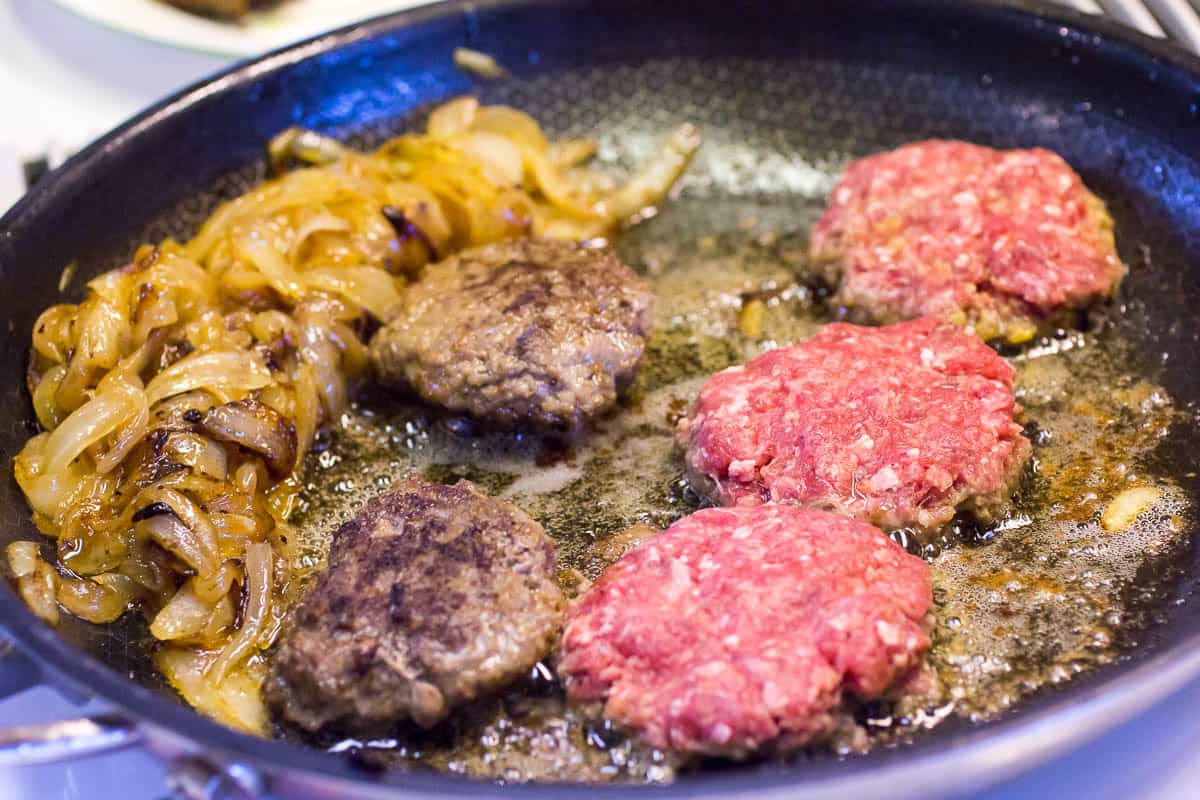 Remove the patties and sprinkle the flour over the onions. If the mixture looks too dry throw in a few TBSP of butter to loosen it up a bit. Add the beef broth and sherry, the return the patties to the pan.
Cover and cook 20 minutes.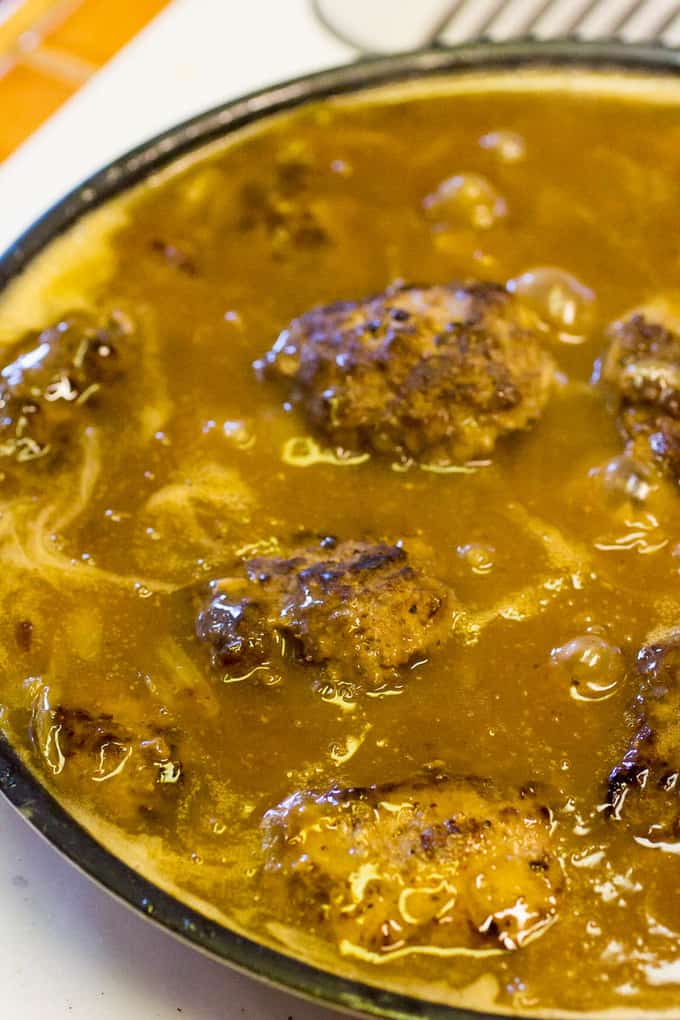 5/6 happy family members! I'll call that a WIN any day!
Update: He still doesn't like it much, 5 years later! 😀 He doesn't make that cute face anymore though. Bummer!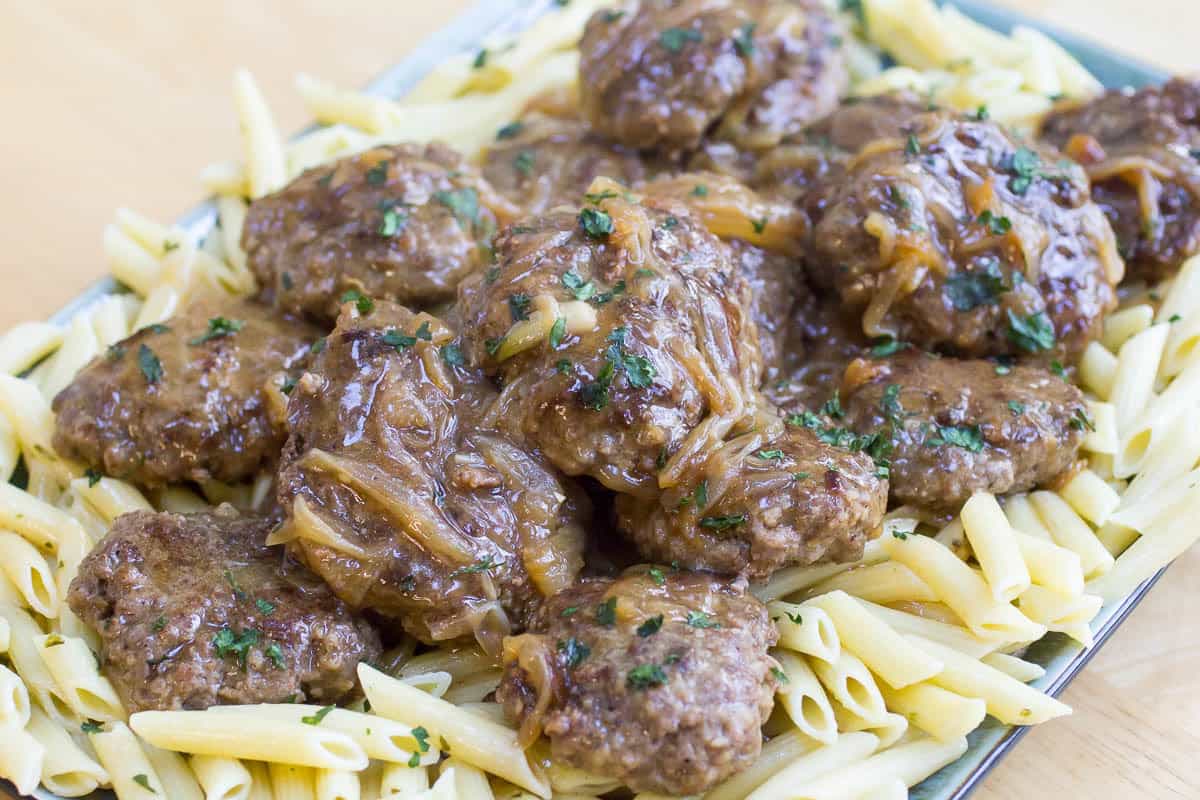 Yield: 8 servings
Hamburger Steaks with Onion Gravy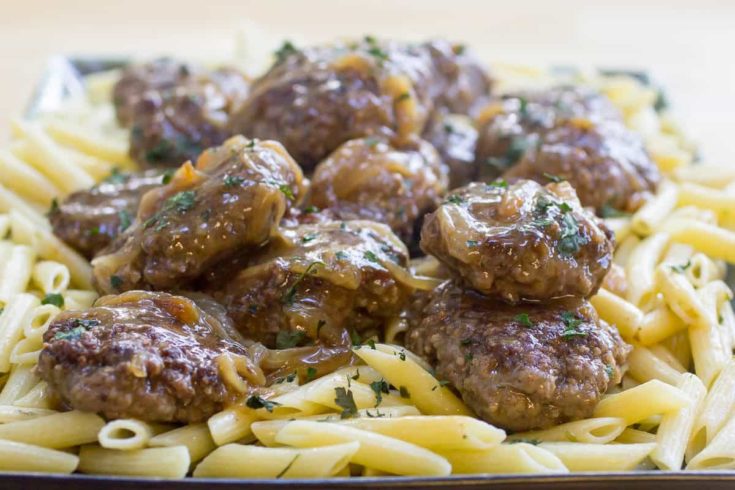 A delicious and different meal with ground beef and onions that is cooked in a rich gravy spiked with sherry. Perfect for a weeknight meal, and is perfect to serve alongside mashed potatoes or pasta.
Ingredients
2 pounds ground beef
1 egg
1/2 cup Panko bread crumbs
1/8 teaspoon ground black pepper
1/2 teaspoon seasoned salt
1/2 teaspoon onion powder
1/2 teaspoon garlic powder
2 teaspoons A-1 sauce
2 tablespoons vegetable oil
1 cup thinly sliced onion
4 tablespoons all-purpose flour
2 cups beef broth
3 tablespoons cooking sherry
Instructions
Mix together egg, seasonings, and A-1 sauce. Using your hands, mash together with ground beef. Sprinkle panko crumbs over the mixture and knead in with hands until combined, but don't over mix. For into small patties.
In a preheated skillet place the vegetable oil. When oil is hot place patties onto pan, sprinkle onions around the patties and cook until browned, about 4-5 minutes. Flip patties, moving the onions to the sides of the pan, and remove patties when browned on both sides to a different plate. Brown the rest of the patties (this always takes me two rotations with the amount of patties I always have) in the same manner.
When all patties are removed, stir the onions around in the pan and sprinkle flour on the top. If there isn't enough grease in the pan for the flour to properly cook and be absorbed, you can throw in a tablespoon or two of butter. Cook 2 minutes and add in beef broth and sherry. I often use "Better Than Bouillion" and potato water from the mashed potatoes I am making. Add as much as you need to make the gravy the consistency that you prefer. When the sauce is right, add patties back into pan, cover, and cook 20 minutes.
Serve with mashed potatoes, egg noodles, or rice.
Nutrition Information:
Yield:
8
Serving Size:
1
Amount Per Serving:
Calories:

419
Total Fat:

25g
Saturated Fat:

8g
Trans Fat:

1g
Unsaturated Fat:

13g
Cholesterol:

125mg
Sodium:

610mg
Carbohydrates:

13g
Fiber:

1g
Sugar:

3g
Protein:

34g
Nutrition data provided here is only an estimate. If you are tracking these things for medical purposes please consult an outside, trusted source. Thanks!