Chocolate Chip Zucchini Bread is a great fall treat that everyone will adore!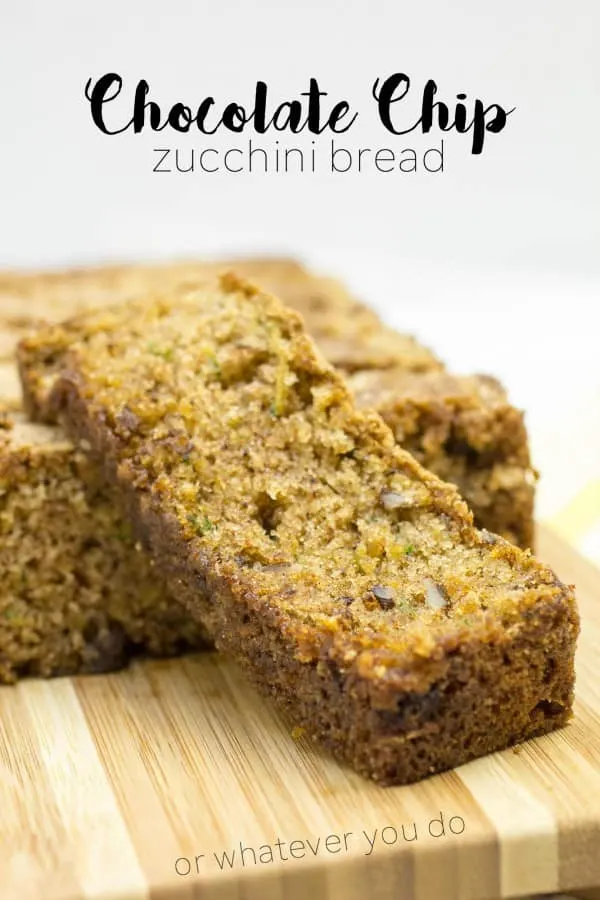 Chocolate Chip Zucchini Bread
It's less than a month until Christmas, you guys. LESS THAN A MONTH. Do you even know how many presents I have left to buy?
All of them.
For like 20 people.
Hold me.
As much as I love shopping and buying gifts for people, by the end of the shopping season I'm all bought out. That's why I love putting the credit cards away once in a while and taking out my mixing bowls and making something awesome for people. Doing is sometimes so much better than buying – you know? This week, I'm having a bake-a-thon at my place and I'm making a bunch of desserts for my church's Christmas party. For 150. This chocolate chip zucchini bread is definitely making it onto the dessert table.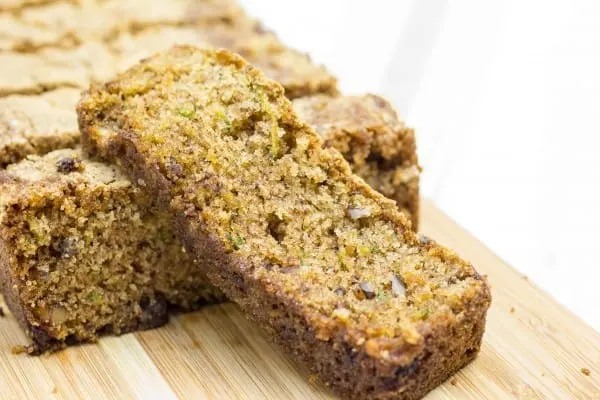 This bread is super easy to make. It's full of spices, zucchini, and pecans, and with a glaze or icing, this bread could easily be a dessert. I love dual purpose baked goods. Is it breakfast? A snack? Or a dessert? ALL OF THEM. That's what.
Know what else I'm making this week? I have an entire baking schedule up on my fridge so I make sure to get it all done. When I'm busy – I'm really busy!
Sugar Cookies with royal icing like these
Chocolate Chip Cookies
Browned Butter Soft Ginger Cookies
Hostess Cupcakes
Carrot Cupcakes
Cheesecake bits with Raspberry topping
Apple Crisp
something I'm forgetting because my list is in the fridge and I'm allllllll the way in my room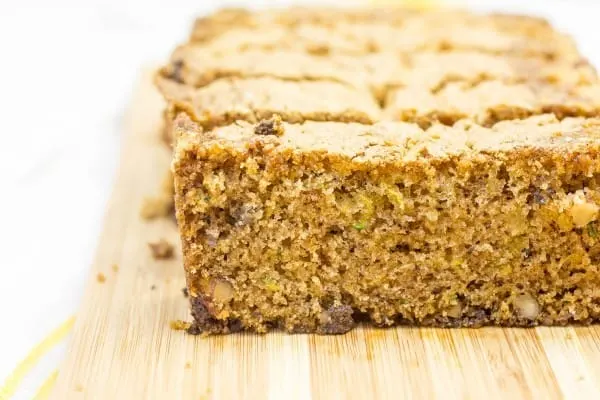 Yield: 12 servings
Mini Chocolate Chip Zucchini Bread
This moist and delicious banana bread
Cook Time
1 hour
10 minutes
Total Time
1 hour
30 minutes
Ingredients
4 large eggs
2 cups sugar
1 cup canola oil
2 cups flour
2 teaspoons cinnamon
1 teaspoon salt
2 teaspoons baking powder
1 teaspoon baking soda
1 ounce can crushed pineapple, drained, 8
1 cup chopped pecans
2 cups grated zucchini
1 tablespoon vanilla
2 cups mini chocolate chips
GLAZE
1 cup powdered sugar
2 tablespoons milk
Instructions
Preheat oven to 350.
Beat together the eggs and sugar until combined and creamy. Add the oil and beat for 30 seconds.
In a separate bowl, mix together the flour, cinnamon, salt, baking powder, and baking soda. Add to the egg mixture, and beat on low until combined.
Stir in the pineapple, pecans, zucchini, chocolate chips, and vanilla. Place into a prepared tube pan, and bake for 60-70 minutes, or until a toothpick comes out with only moist crumbs.
Let cool in pan for 15 minutes, and then invert onto a serving tray.
Nutrition Information:
Yield:
12
Serving Size:
1
Amount Per Serving:
Calories:

640
Total Fat:

35g
Saturated Fat:

8g
Trans Fat:

0g
Unsaturated Fat:

27g
Cholesterol:

62mg
Sodium:

393mg
Carbohydrates:

80g
Fiber:

4g
Sugar:

60g
Protein:

7g