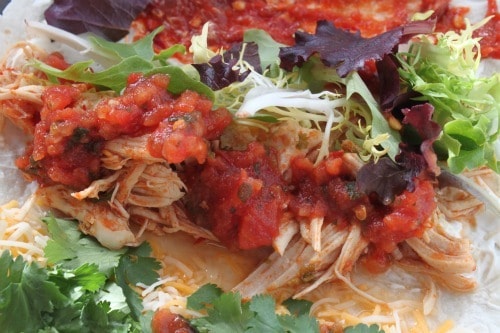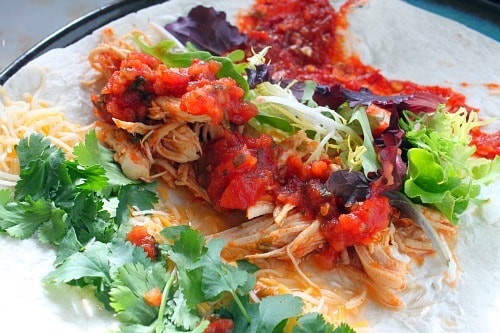 The last few months I've been on a big Mexican kick. HUGE. I've suddenly developed a taste for spicy foods which I've never had before, and I am hooked. I could put Tapatio on almost anything in a tortilla, and I've found myself saying, "This isn't spicy enough!" when Taco John's MILD sauce used to be on the boarder of "too spicy". I've also developed a new appreciation for cilantro as well. It wasn't an herb I'd ever really eaten or used a lot of until the last year or so. Also, did you know that coriander is the seed of cilantro?
Last weekend we celebrated my sister-in-law Mandie's 27th birthday. We started out at my other sister-in-law's house, but an unfortunately timed power outage caused us to all migrate over to our place! Good thing we'd left it perfectly cleaned and company ready. (haha) Jen made the most amazing Carne Asada, complete with homemade salsa. The meal was so, so good. So good, in fact that I was pretty ridiculously excited when I discovered that she had left her salsa here!
This salsa recipe taken directly from allrecipes.com. You can find the carne asada recipe in its entirety here. I've pulled only the salsa portion.
Roasted Tomato Salsa
2 large tomatoes, chopped
2 jalapeno peppers, chopped
1 white onion, quartered
4 cloves garlic, peeled
4 dried New Mexico chile pods
1 pinch salt and pepper to taste
Heat a skillet over medium-high heat. Toast chile pods in the skillet for a few minutes, then remove to a bowl of water to soak for about 30 minutes. Preheat the oven to 450 degrees F (230 degrees C).

Place the tomatoes, 1 onion, jalapenos, and 4 cloves of garlic onto a baking sheet. Roast in the oven for about 20 minutes, until toasted but not burnt. Place the roasted vegetables, and soaked chile pods into a blender or food processor, along with salt and pepper. Puree until smooth. Set aside.
Now onto the chicken tacos…
Combine chicken breasts, your fresh salsa, tapatio, cilantro, garlic, and water in a pot. Cook until simmering over medium heat.
Remove meat from cooking liquid and shred with two forks. Place back into liquid and keep warm until ready to serve.
Here is how I like it. All its missing it a generous helping of diced and salted avocado, but I was out.
Spicy Shredded Chicken Tacos
4 chicken breasts, boneless, skinless, and trimmed of fat
1 cup oven roasted salsa (recipe above)
2 TBSP Tapatio, or to taste
1/4 cup cilantro
3 cloves garlic
1/2 cup water, or enough to make liquid cover chicken in pot
1. In a stock pot on the stove over medium heat add salsa, hot sauce, cilantro, and chicken breasts. Add enough water so the breasts are covered.
2. Cook over medium low heat until chicken is completely cooked. Remove from liquid and shred with two forks. Add back into liquid and keep warm over low heat until ready to serve.
P.S. I got my new CAMERA!! Woo-hoo!!! Can you tell? I've been spending the majority of my online time these days reading up at various photography forums and trying to decipher this whole new language. Aperture? Shutter Speed? ISO? Huh? I'm getting there.
Ssssssssssllllllllllllllloooooooooooowwwwwwwwwwwwwwlllllllllyyyyyyyyyyy…..