This pan seared chicken and cilantro cream sauce is a quick dinner that cooks in a flash and is perfect for a weeknight meal. You can serve it with spicy Mexican rice, or slice it and put it on top of the best taco salad you'll ever have.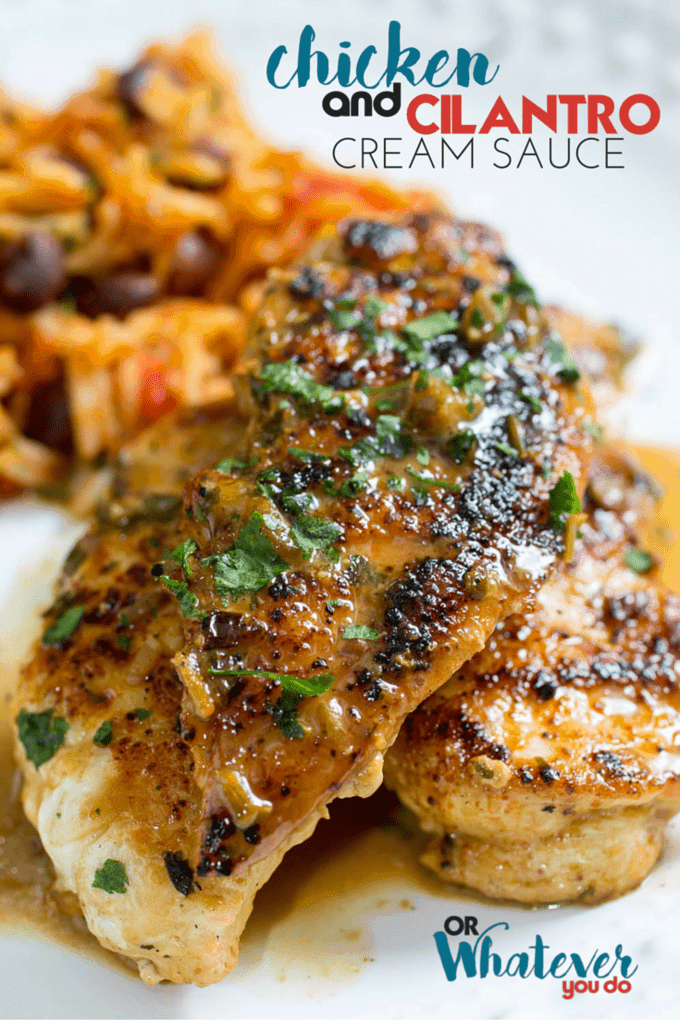 Chicken and Cilantro Cream Sauce
Pan fried chicken tenders are one of my favorite quick dinners to throw together when I don't want to mess around with a huge production.
This recipe was slightly adapted from the amazing Skillet Chicken with Creamy Cilantro-Lime Sauce from Sally's Baking Addiction. I am totally in love with her blog, and I'd love to encourage you guys to pop over there and check out all the awesome food and goodies she's whipping up over there.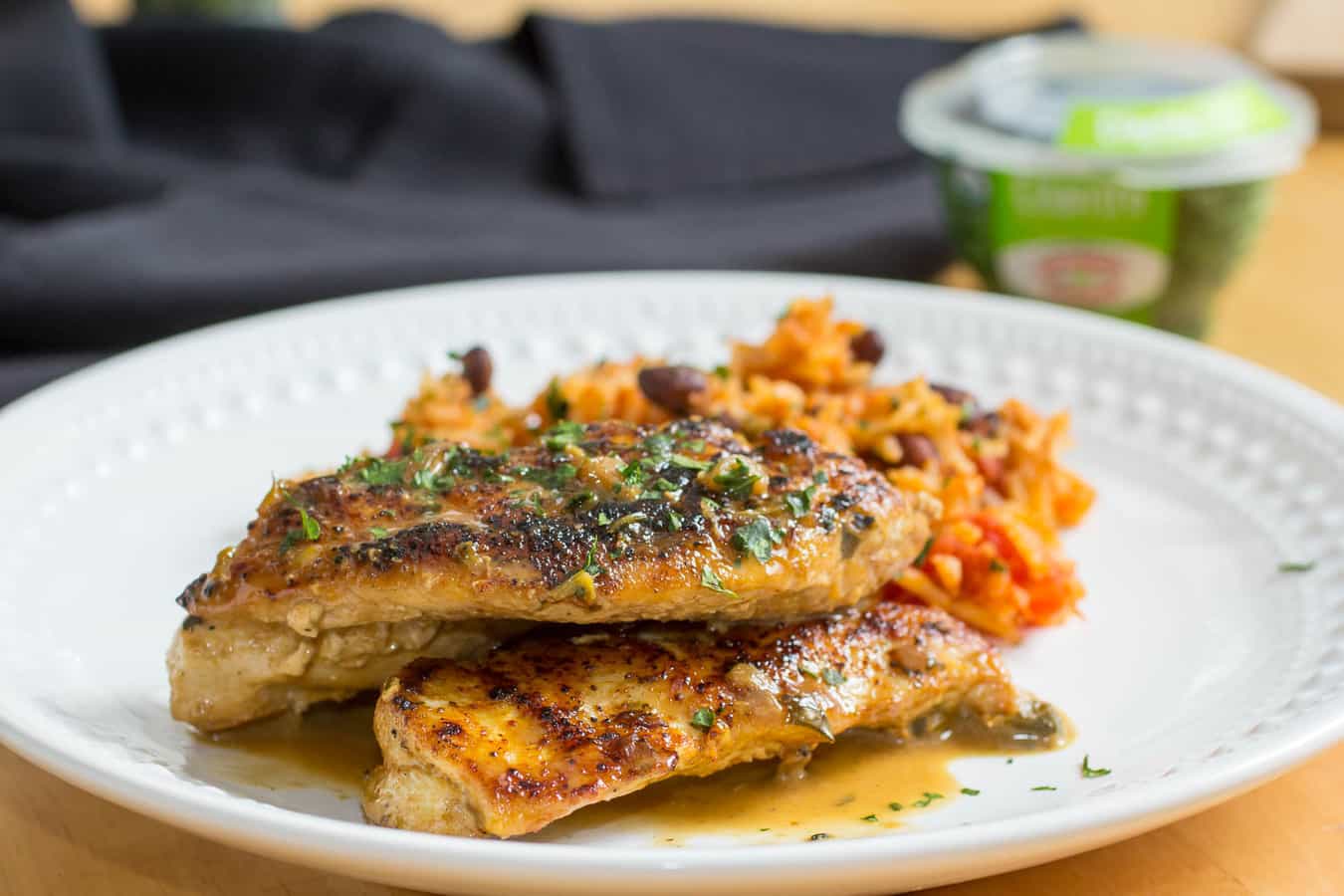 A few tips when you are cooking this chicken and cilantro cream sauce:
I love using chicken tenders because they cook quickly and are pretty evenly sized, even right out of the package.
You can use chicken breasts, but if you do I'd recommend slicing them in half the long way to make them about half as thick as they typically are. This will make them cook faster and more evenly.
This sauce doesn't thicken up much, at all. That's okay. It is awesome drizzled on top of your complete dish, and over rice too. Such awesome condensed flavor!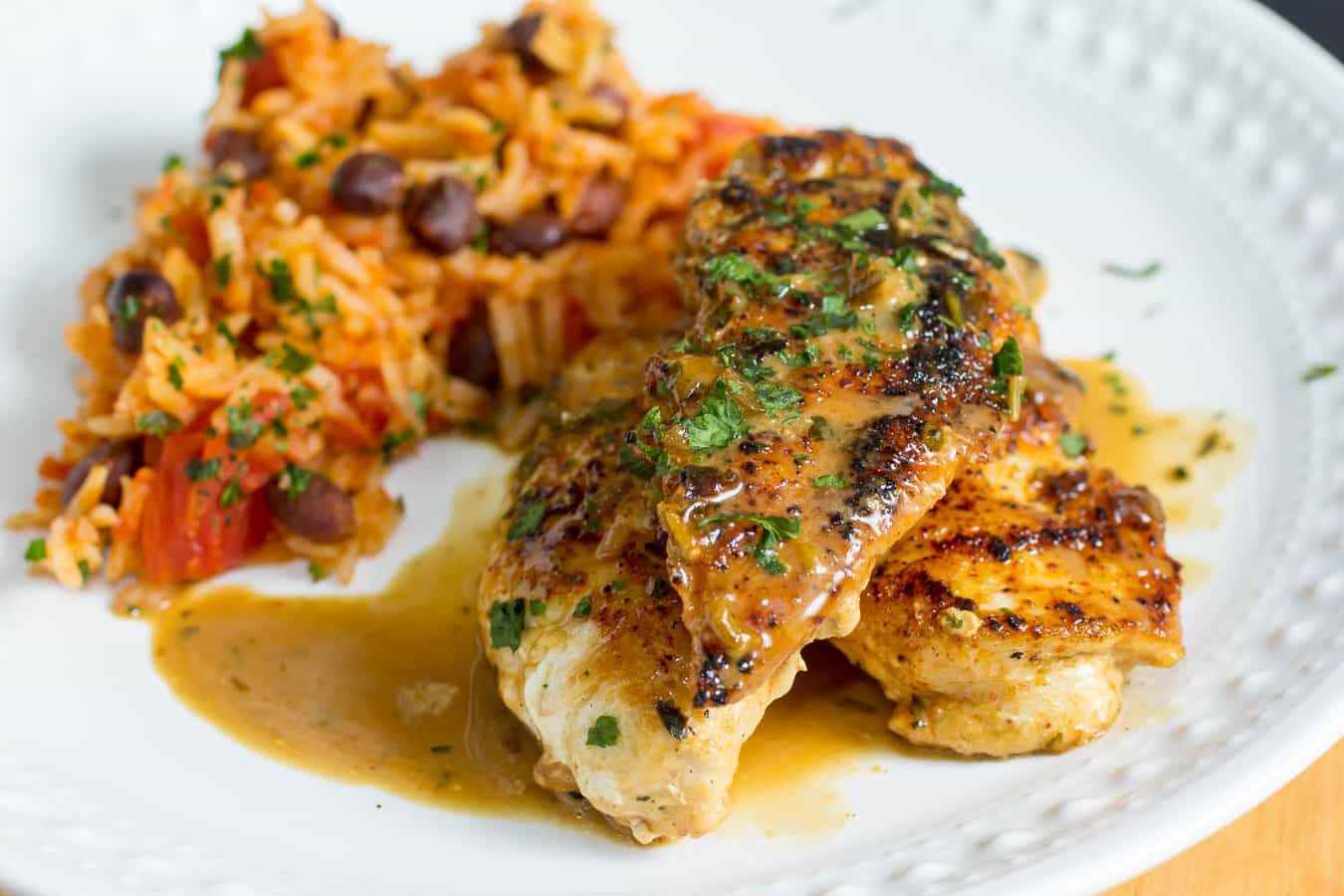 This is a perfect dish to serve with my spicy one-pot mexican rice, and my super-popular and EASY churro recipe. Feel like fajitas? My Traeger Sheet Pan Fajitas will do the trick!
Yield: 5 servings
Chicken and Cilantro Cream Sauce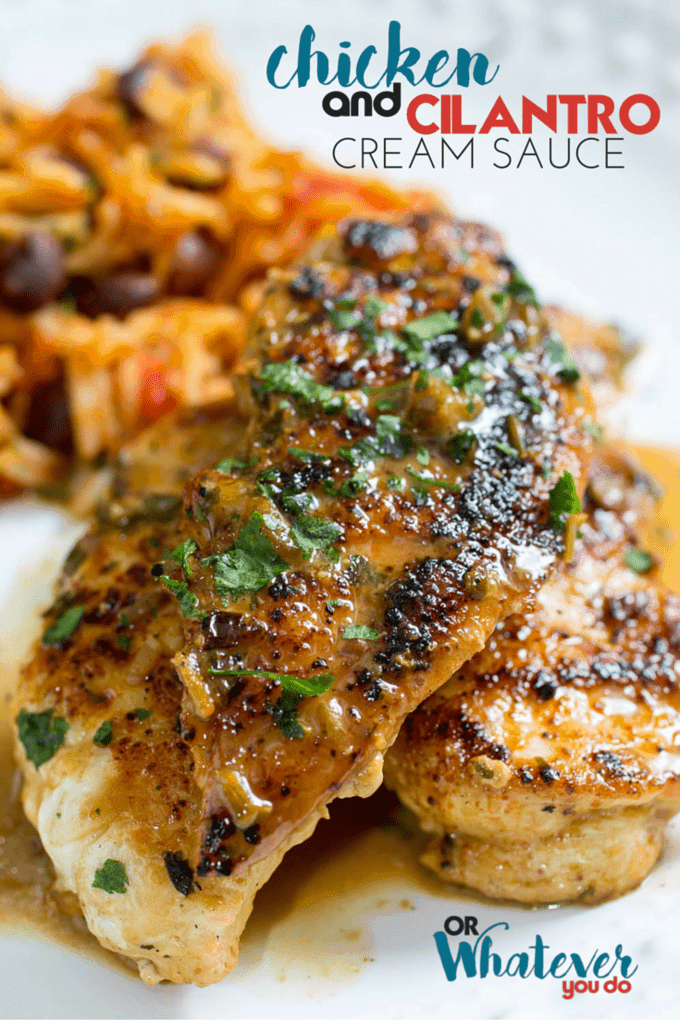 Pan-seared Chicken and Cilantro Cream Sauce is packed with flavor, and is a perfect weeknight dinner!
Ingredients
1 pound chicken tenders, boneless, skinless, and trimmed of any excess fat
salt, pepper, and garlic salt, lightly applied to chicken breasts
2-3 tablespoons vegetable oil
1/4 cup finely diced shallot
1 cup chicken broth
2 tablespoon fresh lime juice
1 tablespoons good tequila
1 1/2 tablespoons Gourmet Garden Lightly Dried cilantro OR Cilantro stir-in paste
1/2 teaspoon Gourmet Garden Lightly Dried Red Pepper flakes
1/4 cup heavy cream
1/2 teaspoon salt
Instructions
Season the chicken tenders lightly with the salt, pepper, and garlic salt.
Preheat the vegetable oil in a large skillet over medium-high heat. Place the chicken in the pan and brown on both sides.
Remove from the pan, and add in the shallots and reduce the heat to medium. Cook the shallots, stirring frequently, until they start to soften up. About 2-3 minutes.
Add the chicken broth, lime juice, tequila, cilantro, red pepper flakes, heavy cream, and salt. Simmer over medium to medium-low heat for 2 minutes. Add chicken back into pan, and continue on a low simmer, and spoon the sauce over the chicken as it cooks. Cook an additional 3-4 minutes, or until the chicken is cooked through and no longer pink.
Nutrition Information:
Yield:
5
Serving Size:
1
Amount Per Serving:
Calories:

444
Total Fat:

29g
Saturated Fat:

6g
Trans Fat:

0g
Unsaturated Fat:

20g
Cholesterol:

77mg
Sodium:

1340mg
Carbohydrates:

20g
Fiber:

1g
Sugar:

2g
Protein:

26g