We did a fun Big Mac twist on the viral Smash Burger Taco craze that's taken over the internet, and I can confidently say that this one is NOT hype! These burgers were delicious, and everyone loved the crunchy tortilla bottom.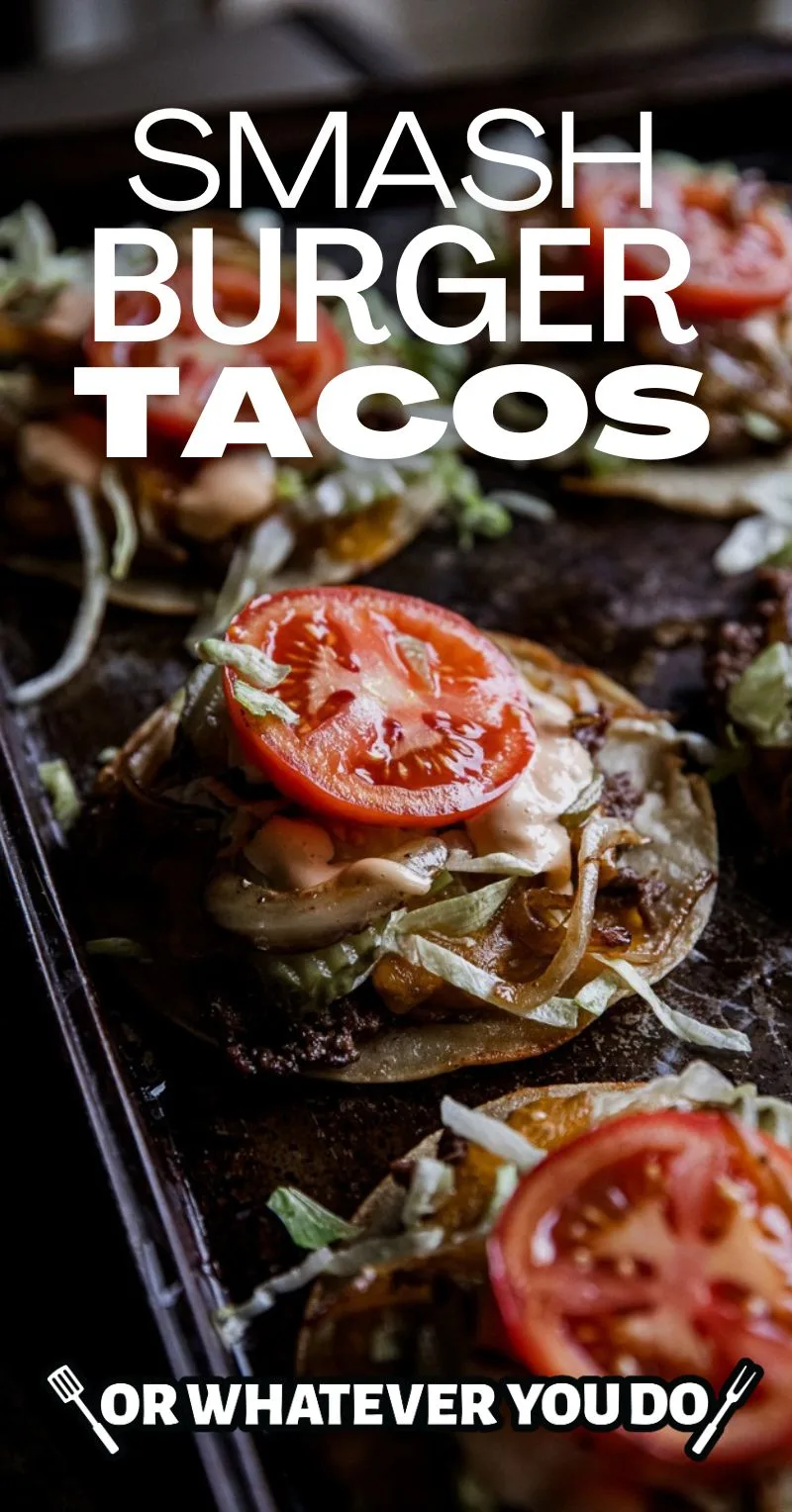 Smash Burger Tacos Recipe
When I first saw this one making the rounds on TikTok, I admit – I rolled my eyes a little. The only "taco" thing about this is the corn tortilla, and it looked a little like the "grandma tacos" that people were making which basically included smearing raw unseasoned beef on corn tortillas and cooking them on the griddle, which I 100% rolled my eyes at.
Sometimes it takes me a while to get on board with the latest and greatest new trends.
I'm big enough to admit my mistakes though, and now that I've tried (and loved) these Smash Burger Tacos, it is making me seriously reconsider my hatred for those "grandma tacos" and want to give them a try too.
My kids love big macs, so I decided to include some thousand island dressing on my version, as well as some grilled onions. Otherwise, we kept it simple. Oh – and there was also no smearing raw beef on the tortilla. I smashed the burgers, let one side develop the crust, flipped them, and THEN put the tortilla on top. Call me contrary, I know my husband does, but I cannot follow a recipe to save my life, and most of my readers can't either, which is why I always encourage you all to experiment and make things your own. It is also why I don't have many baking recipes on the site either, not coincidentally.
More Blackstone Recipes here!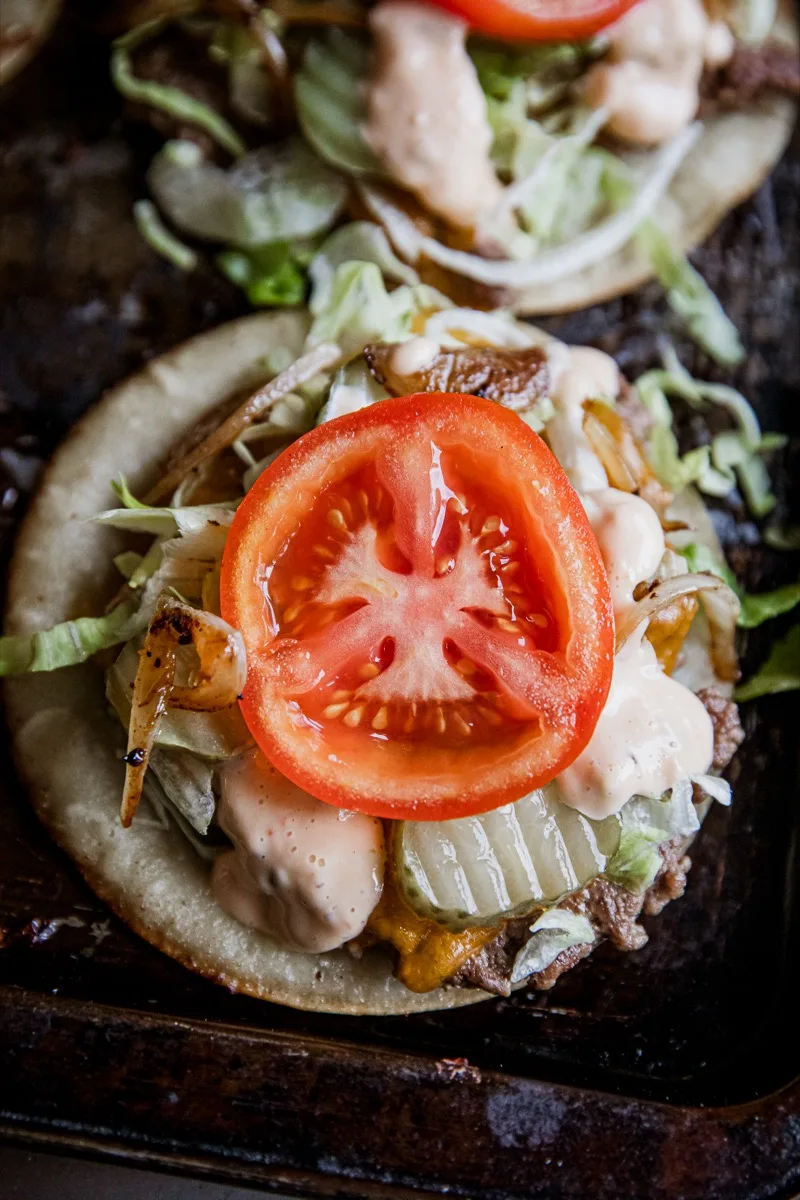 Smash Burger Tacos shopping list
Wondering if you have to hit the store? Here's the list of items you'll need to make this recipe. For specific amounts, please refer to the printable recipe card at the bottom of the post.
Ground Sirloin or Chuck
Salt, Pepper, & Garlic powder
Onion
Corn tortillas
Cheddar cheese
Lettuce
Tomatoes
Dill pickles
Thousand island dressing
Try our original Smash Burgers too!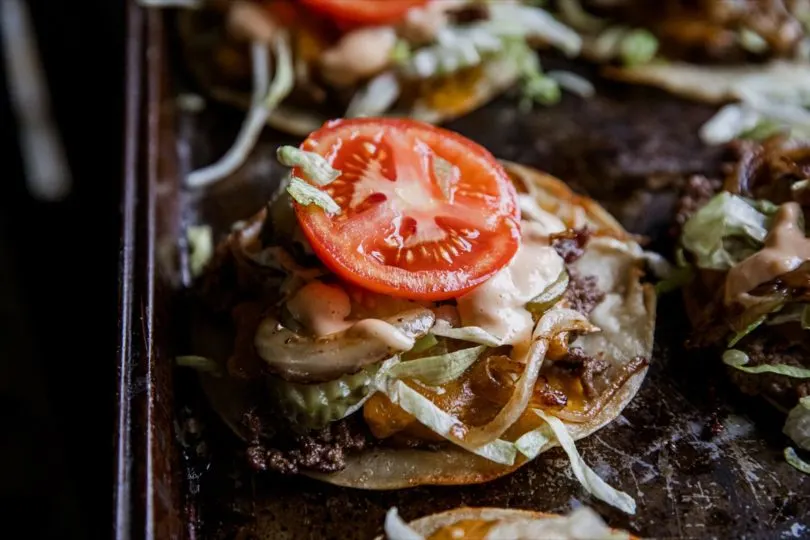 How to make Smash Burger Tacos
This is just the overview so you can see what you're actually getting into here. When you are cooking, you'll want to use the full recipe at the bottom of the page.
Preheat
Preheat your griddle over medium-high heat.
Prep
While the grill is preheating, prep all your burger toppings and form the burgers into equally-sized balls.
Smash
Put the burgers on the griddle and smash them down. Season with the SPG, and let the bottom develop a crust.
Flip the burger and put a tortilla on top.
Add the onions to the griddle and let them get brown in the burger grease.
Let that side brown and then flip again so the tortilla is on the griddle surface.
Put a piece of cheese on top and cover.
Let the tortilla crisp up and let the cheese melt.
Remove from the griddle.
Top
Remove from the griddle and add all your favorite burger toppings.
How about a Quadruple Smash Burger?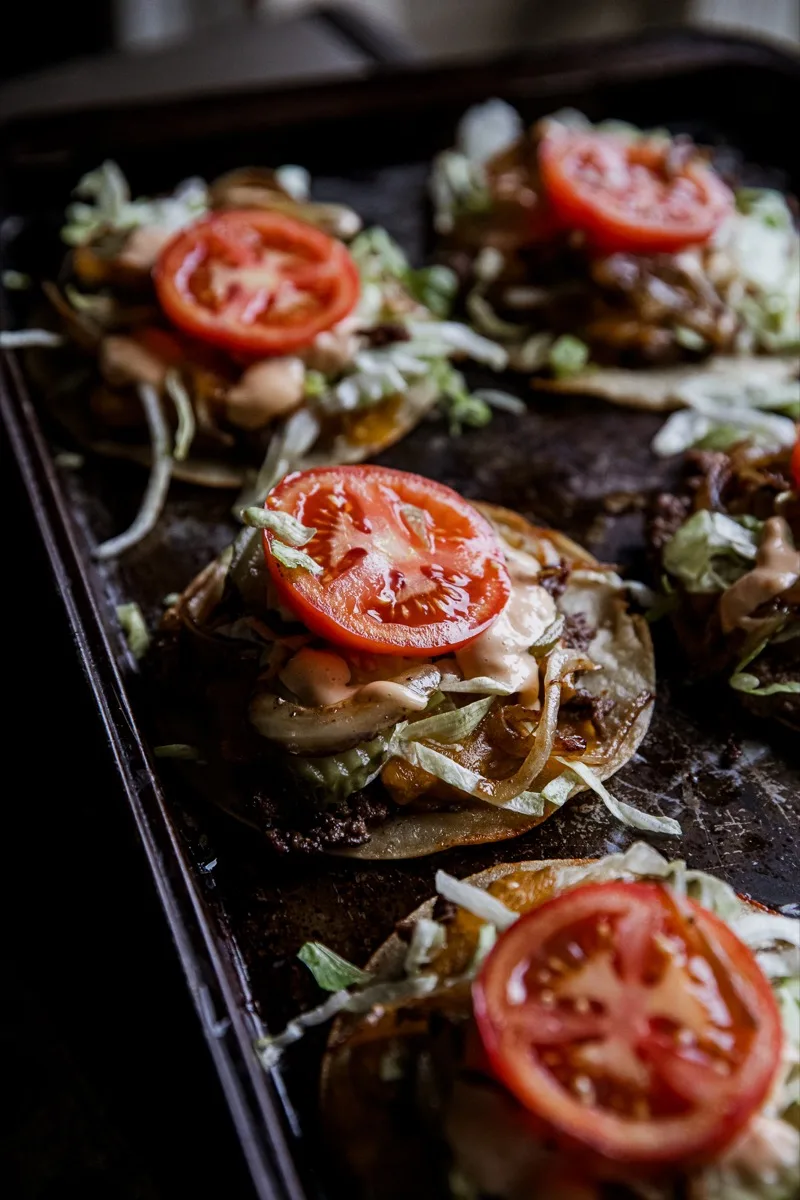 Smash Burger Tacos FAQ
Can these Smashburger Tacos be made in advance?
They CAN, but I don't think they should. Leftover burgers lose some quality and some moisture too. I wouldn't make them in advance on purpose.
What's the best way to store and reheat leftovers?
If you do have leftovers, store them WITHOUT toppings in an airtight container. Reheat in an oven or air fryer for the best results.
Can you use flour tortillas for this recipe?
Nope! It won't develop the same delicious crunchy crust. I'd stick to corn tortillas for this one. White or yellow is fine!
Try our Blackstone Steak Tacos too!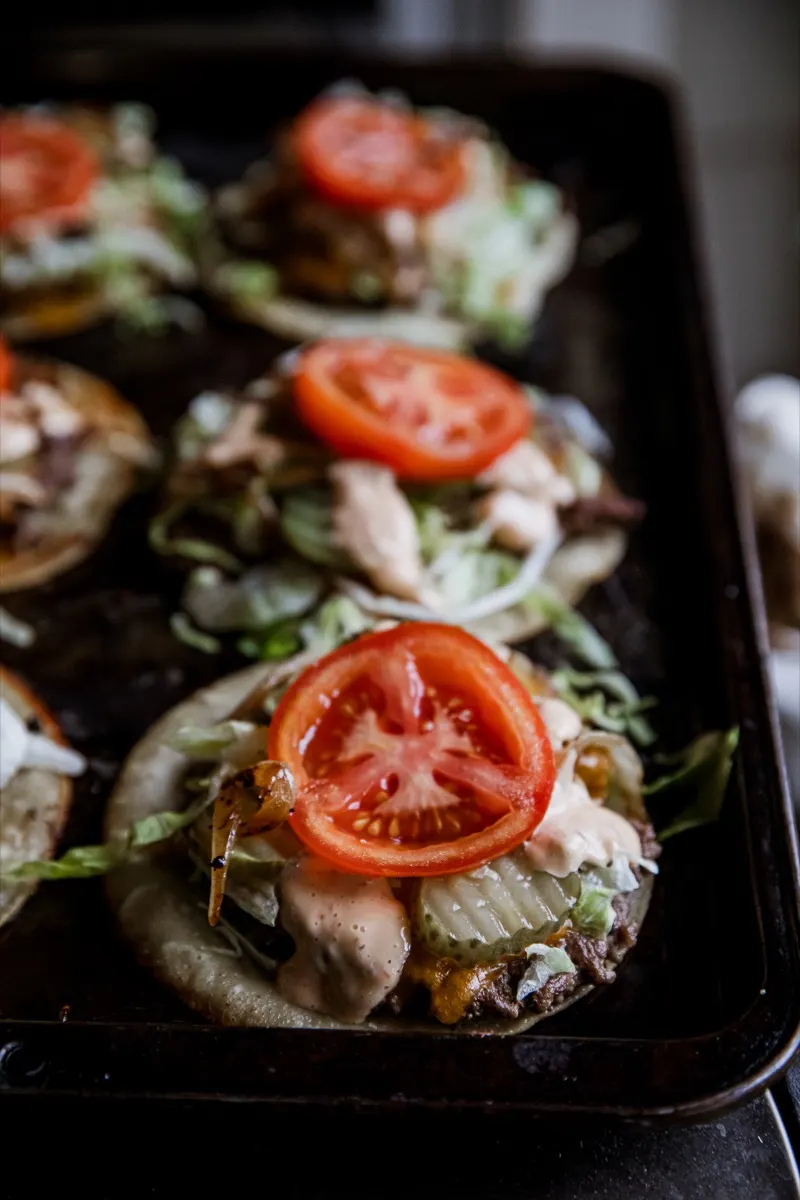 More great Taco and Burger recipes to love!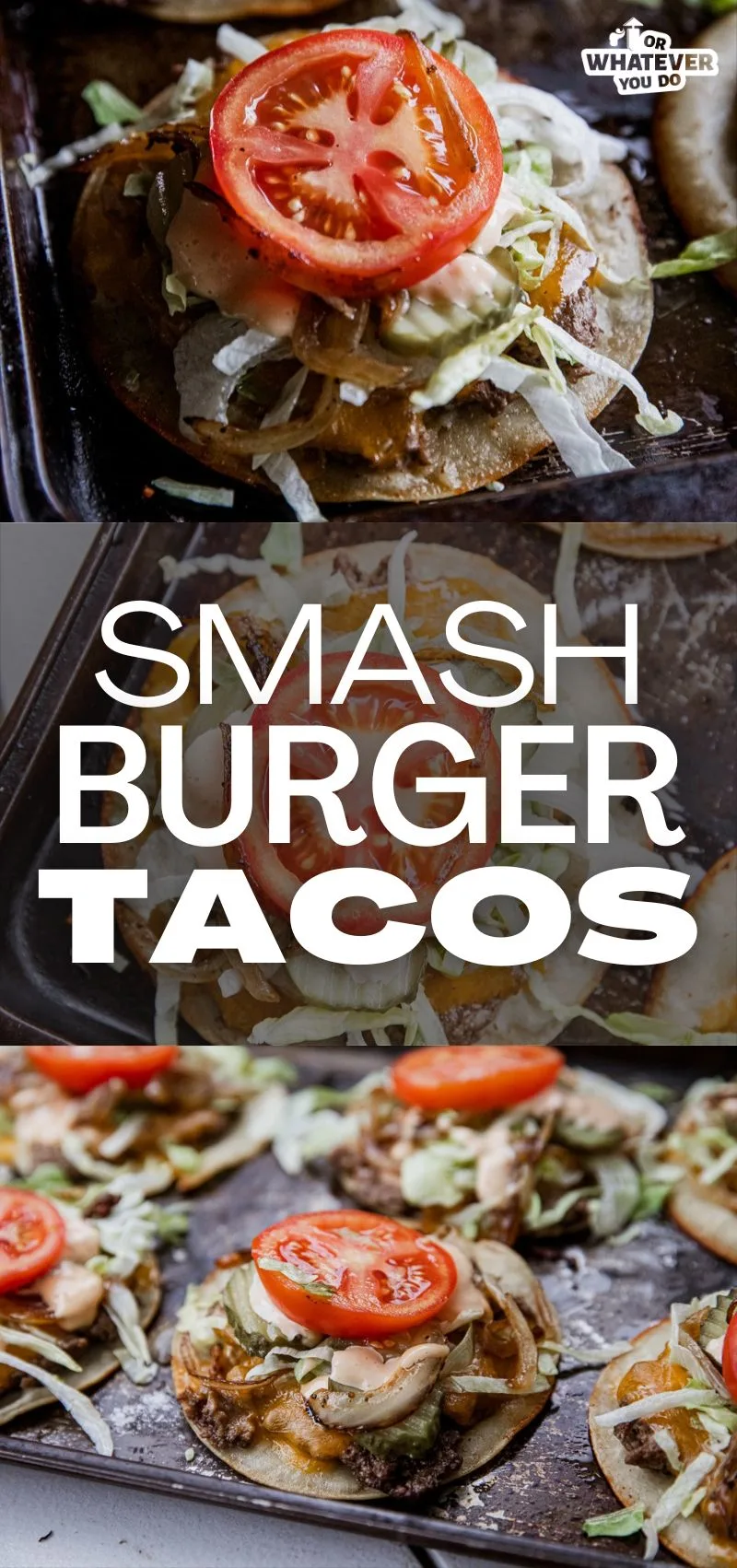 Yield: 6 servings
Smash Burger Tacos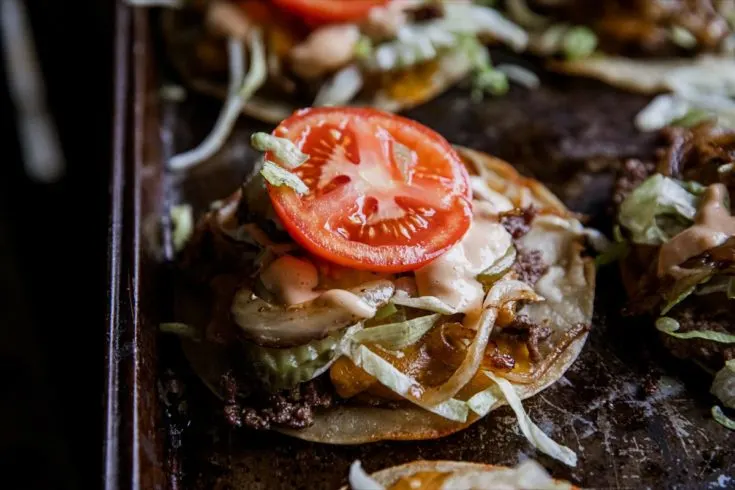 These viral sensations are turning the internet upside down, and for once, this is NOT all hype. Our version of the Smash Burger Taco is a play on a Big Mac, and we couldn't be happier about it.
Ingredients
2 pounds 80/20 Ground Sirloin or Chuck
Salt, Pepper, Garlic powder
1/2 medium onion, sliced
6 corn tortillas
6 slices cheddar cheese
1 cup lettuce
2 tomatoes, sliced
24 slices dill pickles
3 tablespoons thousand island dressing
Instructions
Preheat your griddle to medium-high heat.
Divide your burger into 6 equally sized balls.
Smash each ball with a large spatula or a burger smasher until it is about 1/4" thick.
Let the burger develop a nice crust on the bottom. Season the top with salt, pepper, and garlic powder. Flip the burger and immediately put a tortilla on top of the cooked side of the burger.
Put the onions down on the griddle and let them cook in the burger grease. Flip occasionally and let them brown.
Let the other side of the burger develop a crust. Flip the whole thing over, and let the tortilla crisp on the griddle surface. Add cheese on top and cover. Cook until the cheese is melted and the tortilla is crispy.
Top each "taco" with your lettuce, tomato, pickles, grilled onions, and thousand island dressing.
Enjoy!
Recommended Products
As an Amazon Associate and member of other affiliate programs, I earn from qualifying purchases.
Nutrition Information:
Yield:
6
Serving Size:
1
Amount Per Serving:
Calories:

371
Total Fat:

21g
Saturated Fat:

9g
Trans Fat:

1g
Unsaturated Fat:

9g
Cholesterol:

94mg
Sodium:

655mg
Carbohydrates:

17g
Fiber:

3g
Sugar:

3g
Protein:

29g
Nutrition data provided here is only an estimate.