I made these easy Panko Chicken Breasts as a quick lunch for my kids one day, and had no idea it would turn out as well as it did. It is crunchy, simple to make, and can be used in so many different ways! You can pre-make these and eat them for a quick lunch all week, or make the most epic chicken sandwiches ever.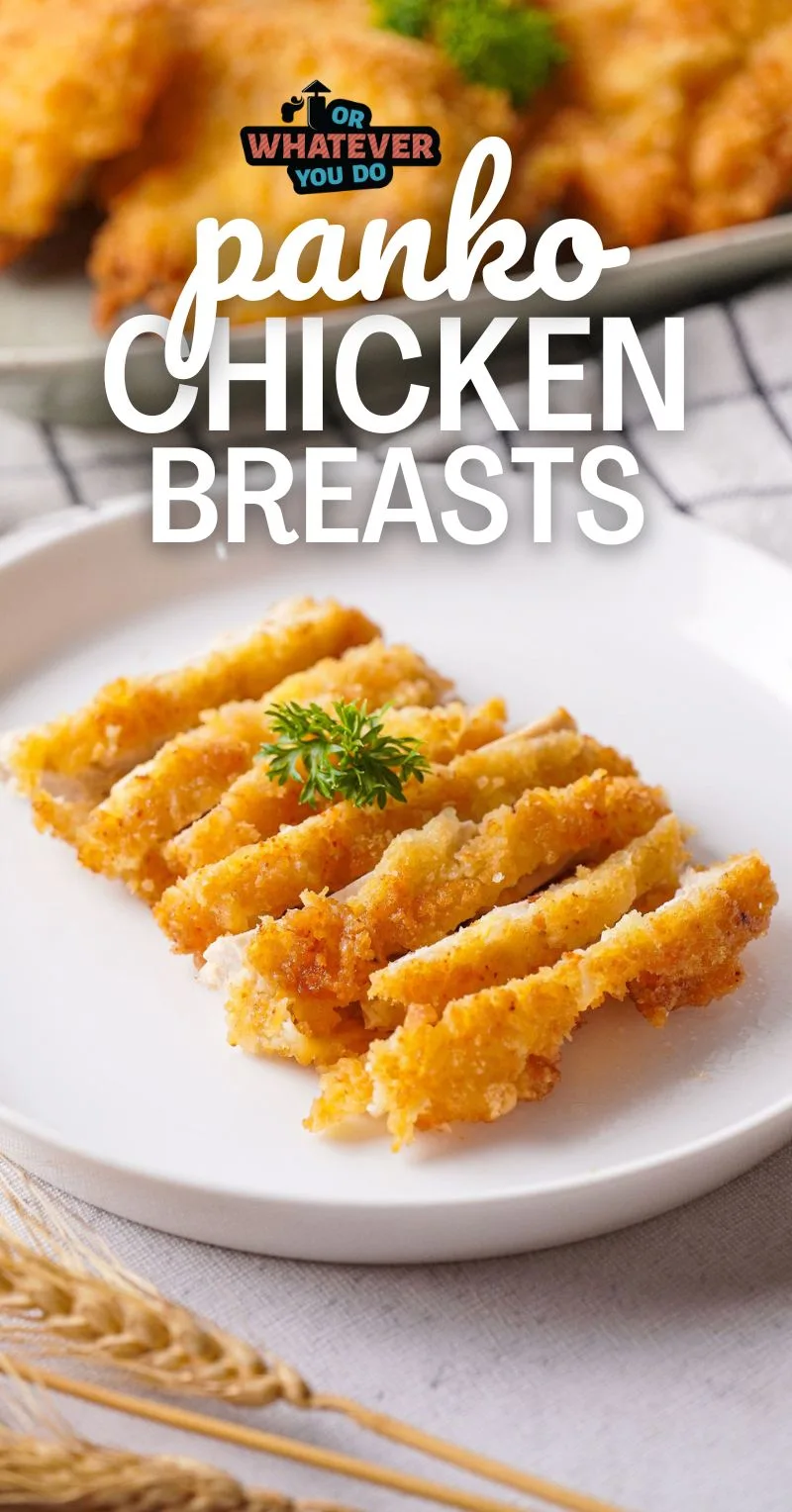 Panko Chicken Breasts
Discover the secret to perfectly crispy panko chicken with our easy step-by-step guide! We're here to help you create a delicious homemade meal that's sure to impress even the pickiest eaters in your family.
Panko chicken, a popular Japanese-inspired dish, is known for its delightfully crunchy exterior and tender, juicy interior. Make sure you are using quality ingredients, including high-quality chicken and Japanese panko breadcrumbs.
In this post we used the shallow fry method, but deep frying, air frying, and baking are all great options for cooking this dish.
Get all of my Chicken Recipes here!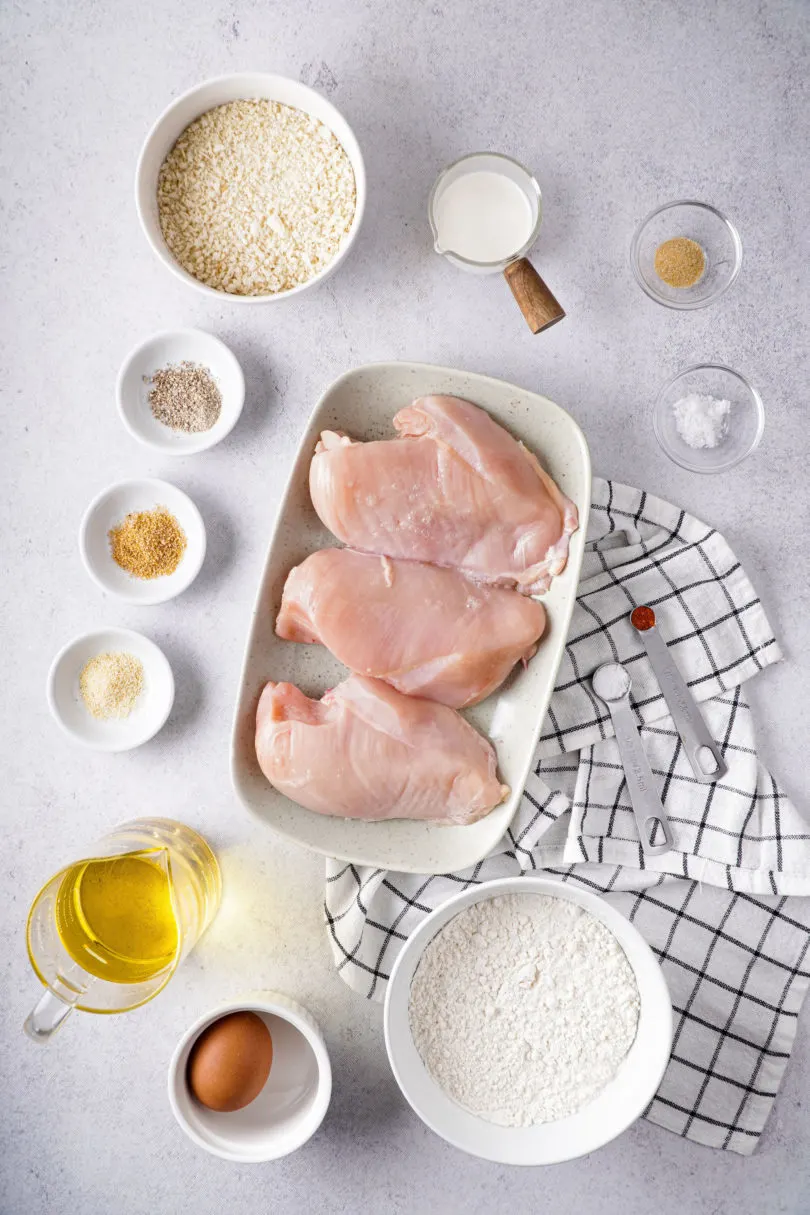 Panko Chicken shopping list
Wondering if you have to hit the store? Here's the list of items you'll need to make this recipe. For specific amounts, please refer to the printable recipe card at the bottom of the post.
chicken breasts
cooking oil
flour
panko
garlic powder
seasoning salt
cayenne pepper
onion powder
egg
milk
salt & pepper
Try our Jerk Chicken too!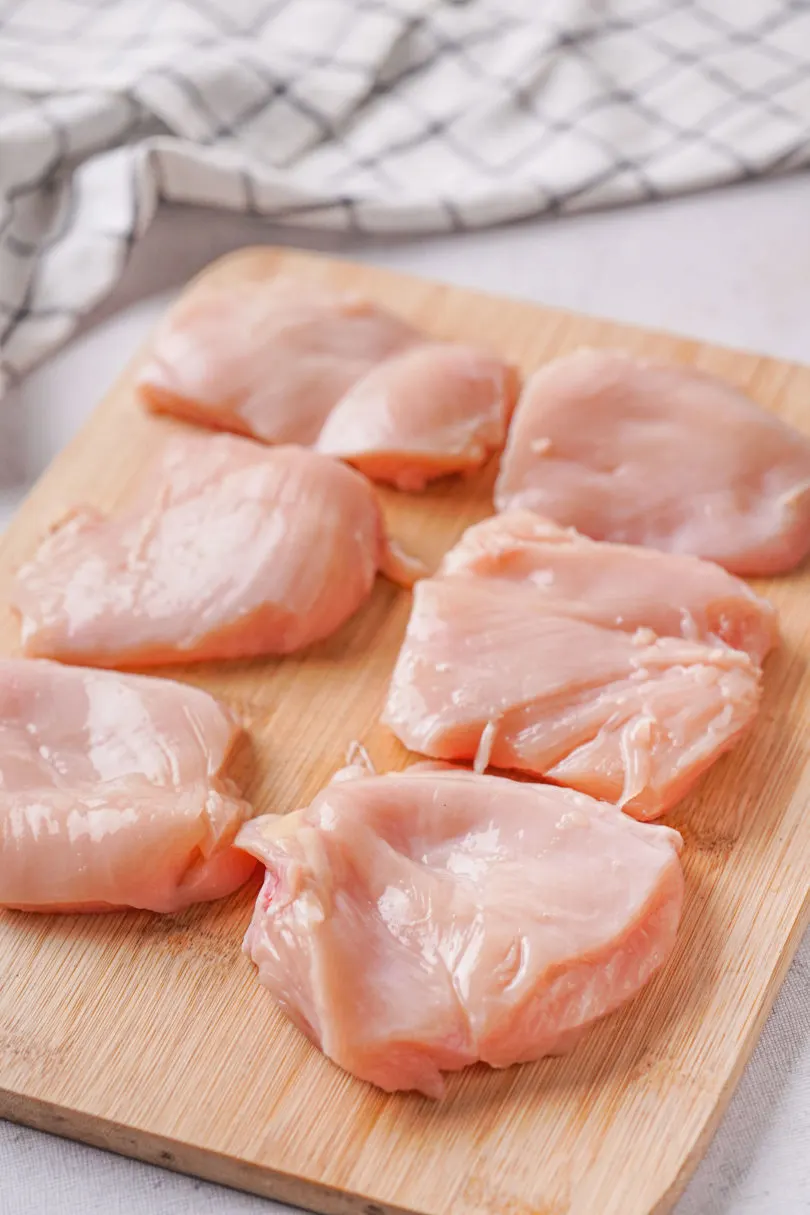 How to make Panko Chicken
This is just the overview so you can see what you're actually getting into here. When you are cooking, you'll want to use the full recipe at the bottom of the page.
Prep & Preheat
Pound out the chicken breasts so they are thinner. Prep your breading station. Season your chicken breasts with salt and pepper.
Preheat your oil over medium-low heat on the stovetop. You're shooting for 350°F oil. A ThermaPen IR works great for this!
Bread
Take your chicken breasts and dunk in the flour, then the egg wash, then the panko. Repeat until all the pieces are breaded.
Fry
Fry each piece of breaded chicken until both sides are golden brown and the minimum internal temperature reaches 165°F.
Remove to a wire rack and let sit for a few minutes before eating.
Enjoy
Dunk in sauce, slap in a sandwich, chop up and put it on top of a salad, just do your thing! They are delicious and versatile.
Make some Smoked Mac and Cheese with this!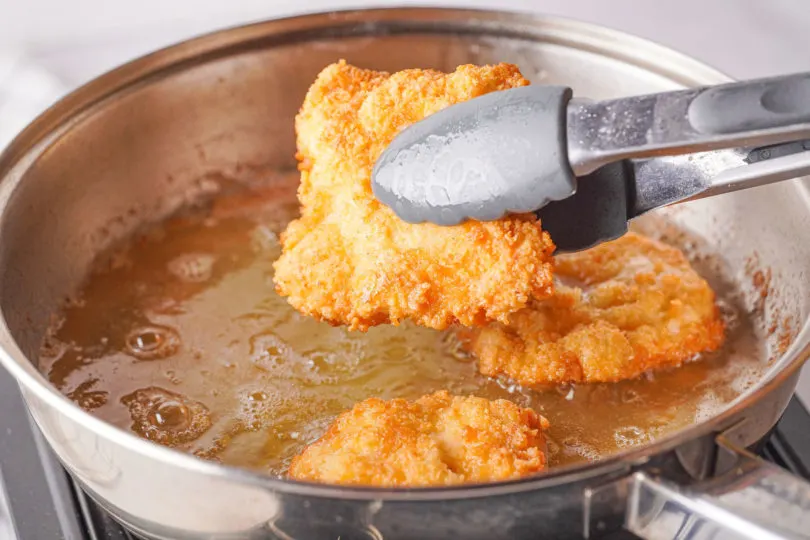 Panko Chicken Breast FAQ
What is panko, and why is it used in this recipe?
Panko is a type of Japanese breadcrumb that is commonly used in dishes that are deep-fried or baked. Panko breadcrumbs are lighter and crispier than traditional breadcrumbs, which makes them perfect for coating chicken. The result is a crispy and delicious coating that is hard to achieve with other types of breadcrumbs.
Can I use regular breadcrumbs instead of panko breadcrumbs?
You can, but it will affect the texture of the breading significantly. Regular breadcrumbs will not produce the same level of crispiness as panko breadcrumbs. It'll still be great, but definitely different!
Can I bake the chicken instead of frying it?
Yes, you can bake the chicken instead of frying it. Just preheat your oven to 400°F and place the breaded chicken on a baking sheet lined with parchment paper or non-stick foil.
Bake for 20-25 minutes or until the chicken is cooked through and the coating is golden brown and crispy. Flip halfway through the cook time.
How do I know when the chicken is fully cooked?
The best way to ensure that the chicken is fully cooked is to use a meat thermometer. We love the ThermaPen IR.
Insert the thermometer into the thickest part of the chicken, and it should read 165°F when the chicken is fully cooked. If you don't have a meat thermometer, you can cut into the thickest part of the chicken and ensure that the meat is no longer pink and that the juices run clear.
Make Buffalo Chicken Flatbread with our Panko Chicken!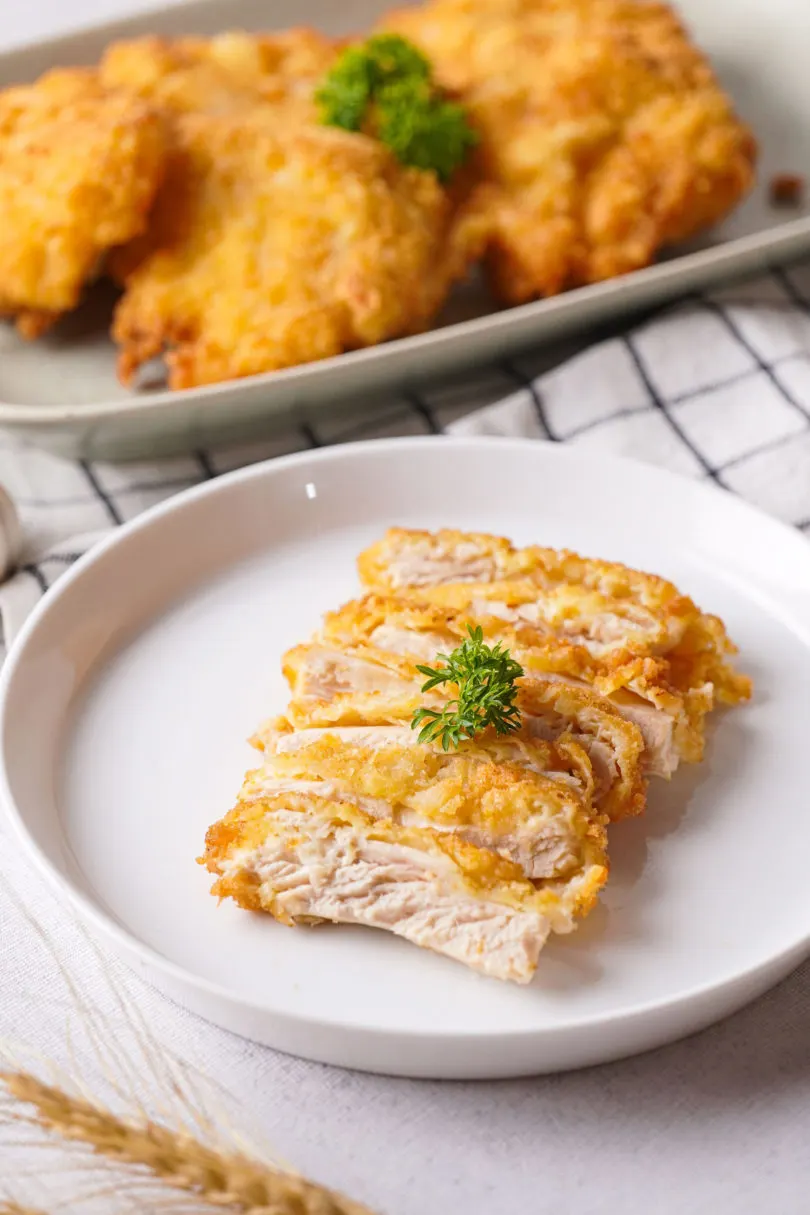 What should you serve with Panko Chicken?
You can serve this panko chicken in so many different ways! Check out some of our ideas below, and if you think of something else to do make sure and snap a picture and send it to us on social media or via email!
Panko Chicken & Rice
Make some of our Instant Pot Basmati Rice, steam some vegetables, and serve this panko chicken with some katsu sauce!
Panko Chicken Sandwich
Toast some buns, slap on some cheese and lettuce, and don't forget that ranch for dipping! Bonus points for making this Bacon Ranch Dip to slather on it!
Chicken Ranch Wrap
Our Chicken Ranch Wrap recipe can be made using pre-made chicken or this homemade version! You can also toss with Buffalo Sauce for this Crispy Buffalo Chicken Wrap too.
Try this with our Easy Cheesy Orzo!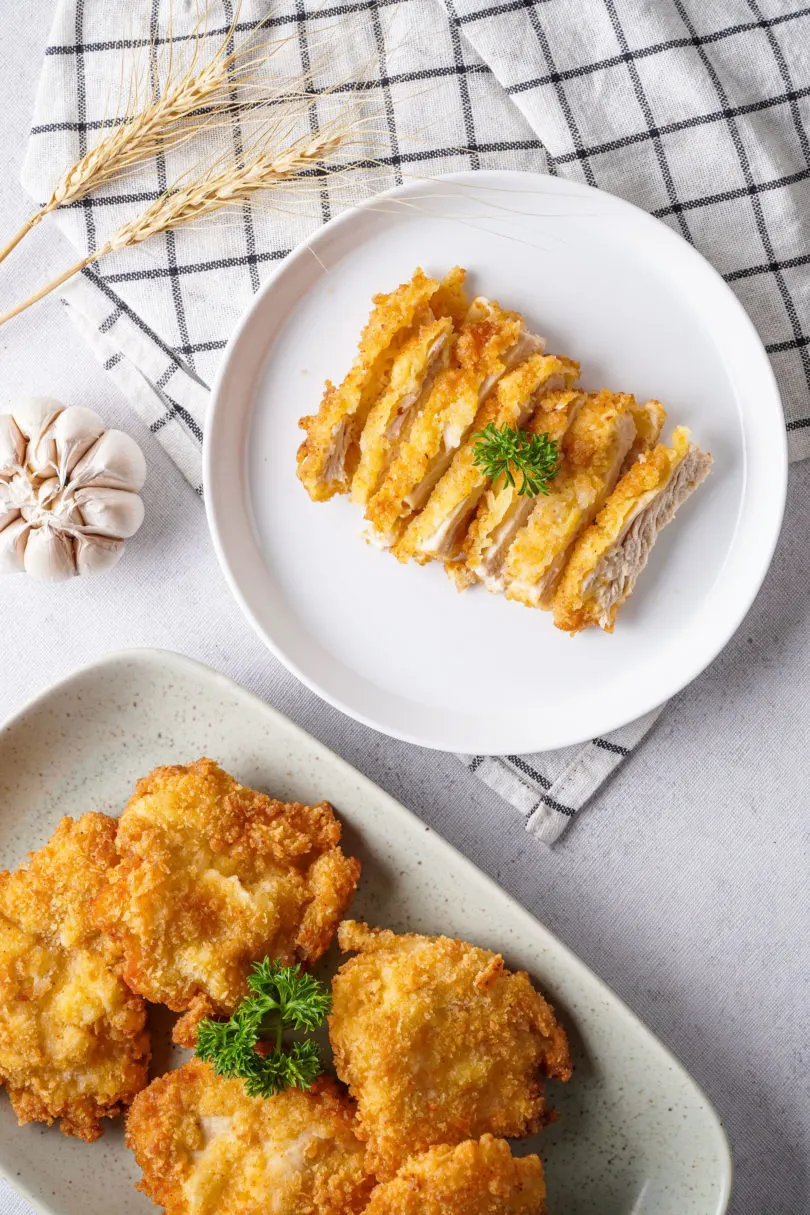 More great chicken recipes to try!
Our Homemade Chicken Marsala is one of my favorite special occasion meals. If you really want to impress someone special to you, whip this out. Marry Me Chicken (which is incredible!), move over and make some room! There's another great option on the table.
Traeger Chicken Paprikash is made with chicken leg quarters on the pellet grill, and gets served over a bed of mashed potatoes or buttered egg noodles. You're going to love the flavor of the rich sauce that the chicken gets cooked in!
My favorite chicken wing is a Smoked and (deep) Fried wing, but these Smoked and Air Fried Chicken Wing recipe is up there too. Smokey, tender chicken get deliciously crispy skin with either method, so pick your favorite and eat some wings! Goes great with our Cholula Buffalo Sauce!
Need a great easy recipe that you can set and forget? This Instant Pot Shredded Chicken Breast recipe is perfect. You can toss frozen chicken breasts in here and come home to the base of so many different recipes.
If you have a few hours to meal prep during the week, making a couple Smoked Whole Chickens is my favorite way to get a TON of delicious lunches and dinners well on their way to being done. You can also do them as Spatchcock Chicken too and shave some time off the cook process. Once they are cooked, make sure you bookmark this post with 40+ Recipes To Make Using Smoked Chicken!
Craving Indian food? Make this Smoked Butter Chicken Thighs recipe and make it at home! This easy recipe uses store-bought Butter Chicken sauce, but you can make it homemade too!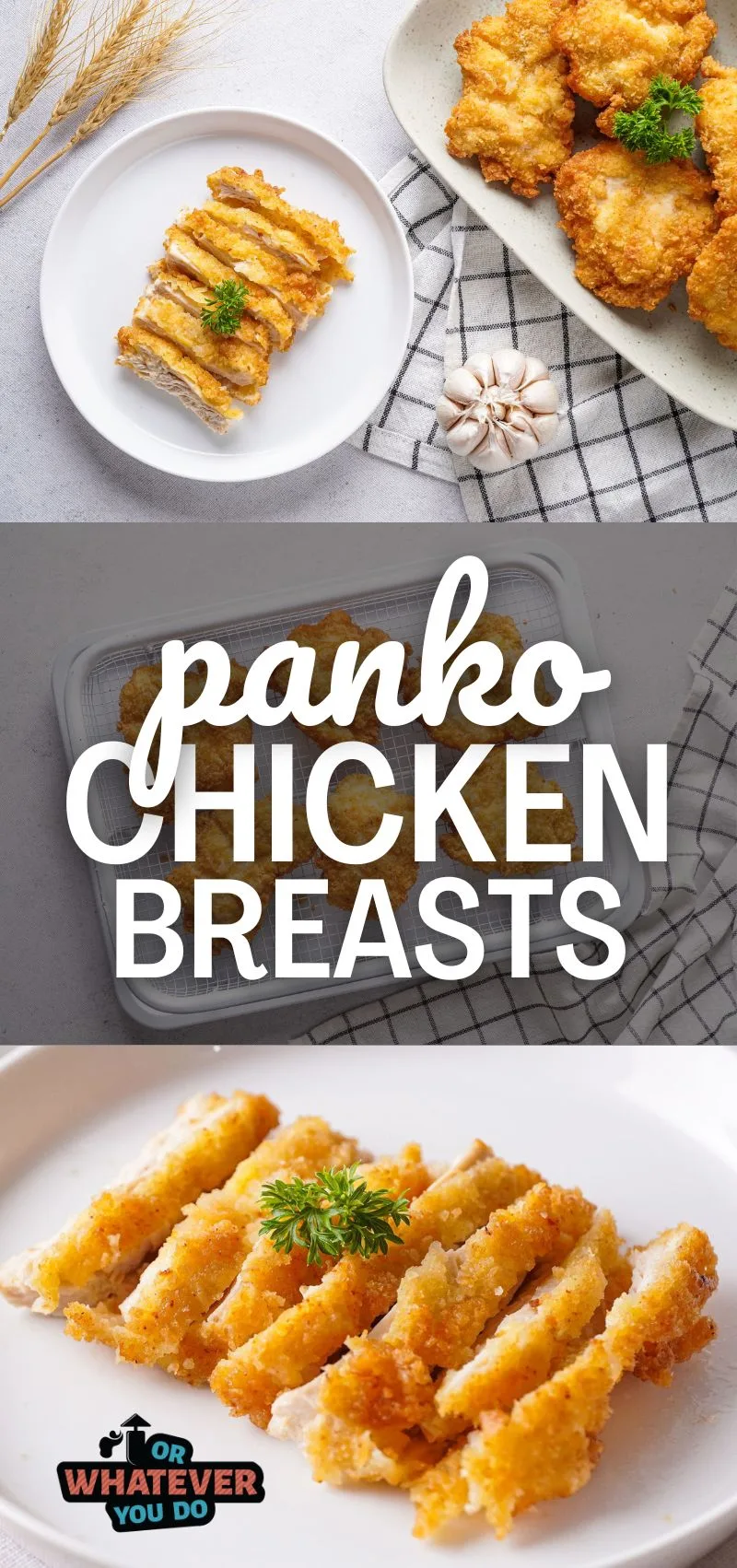 Yield: 6 servings
Panko Chicken Breasts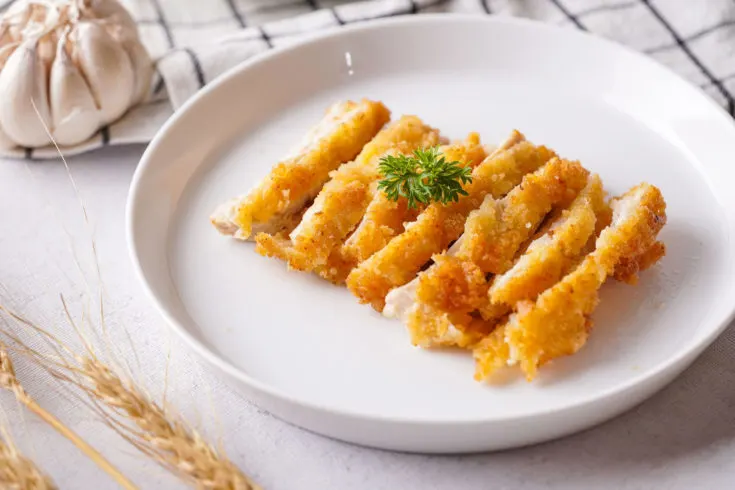 Juicy breaded panko chicken breasts are just as delicious as they are easy!
Ingredients
3 chicken breasts
3/4 - 1 cup cooking oil
1 cup flour, divided
2/3 cup panko
1/2 teaspoon salt
1/2 teaspoon garlic powder
1/4 teaspoon seasoning salt, Lawry's
1/8 teaspoon cayenne pepper
1/8 teaspoon onion powder
1 large egg, beaten
3 tablespoon milk
Pinch salt & pepper
Instructions
Place chicken breasts, one at a time, into a plastic bag. Flatten using a rolling pin or meat hammer until they are uniformly 1/2 - 3/4 inch thick. Repeat until each breast is pounded out. Cut breasts into palm-sized pieces.
Mix together 1/2 cup flour, panko, salt, garlic powder, seasoning salt, cayenne, and onion powder. Set aside. In separate bowl, mix egg and milk. In another bowl, place 1/2 cup flour with a few shakes of salt and pepper. Mix well.
Using a fork, dunk each piece of chicken first in the flour, then into the egg wash, and finally coat with the panko mixture. Make sure in each step the breast is coated completely. Fry over medium to medium high heat in preheated oil until golden brown on both sides and inside is no longer pink, approximately 6-7 minutes depending on your stove.
Remove from oil and let sit for 3-4 minutes on a wire rack before serving.
Recommended Products
As an Amazon Associate and member of other affiliate programs, I earn from qualifying purchases.
Nutrition Information:
Yield:
8
Serving Size:
1
Amount Per Serving:
Calories:

365
Total Fat:

24g
Saturated Fat:

2g
Trans Fat:

0g
Unsaturated Fat:

20g
Cholesterol:

62mg
Sodium:

301mg
Carbohydrates:

19g
Fiber:

1g
Sugar:

1g
Protein:

18g
Nutrition data provided here is only an estimate. If you are tracking these things for medical purposes please consult an outside, trusted source. Thanks!