Instant Pot Shredded Chicken Breasts from Frozen is an easy trick that I've been loving since I got my pot. It makes for very easy dinners all week long!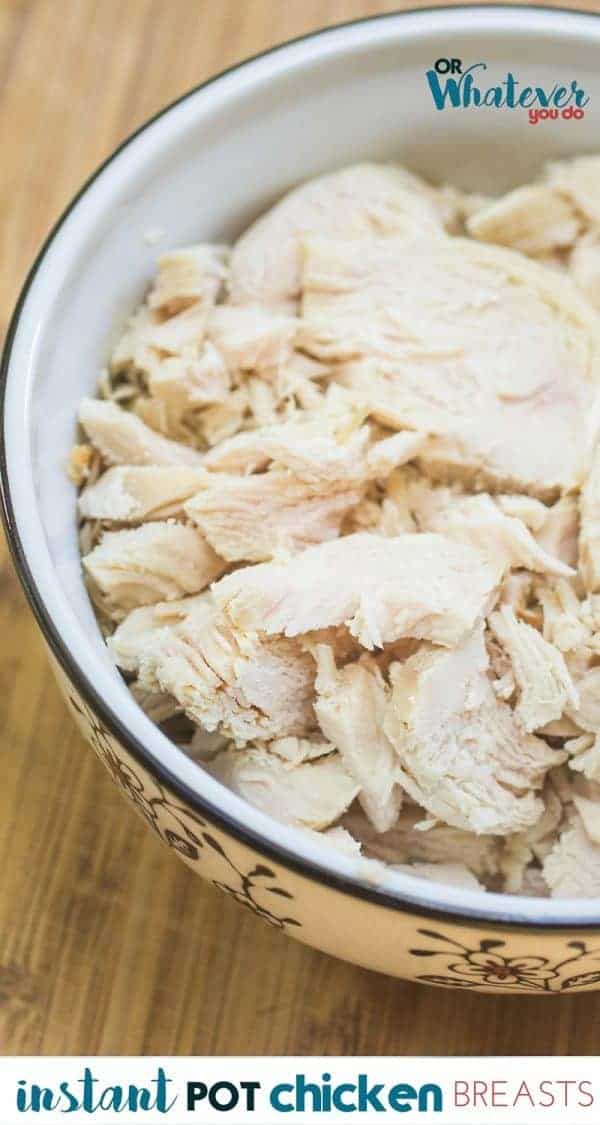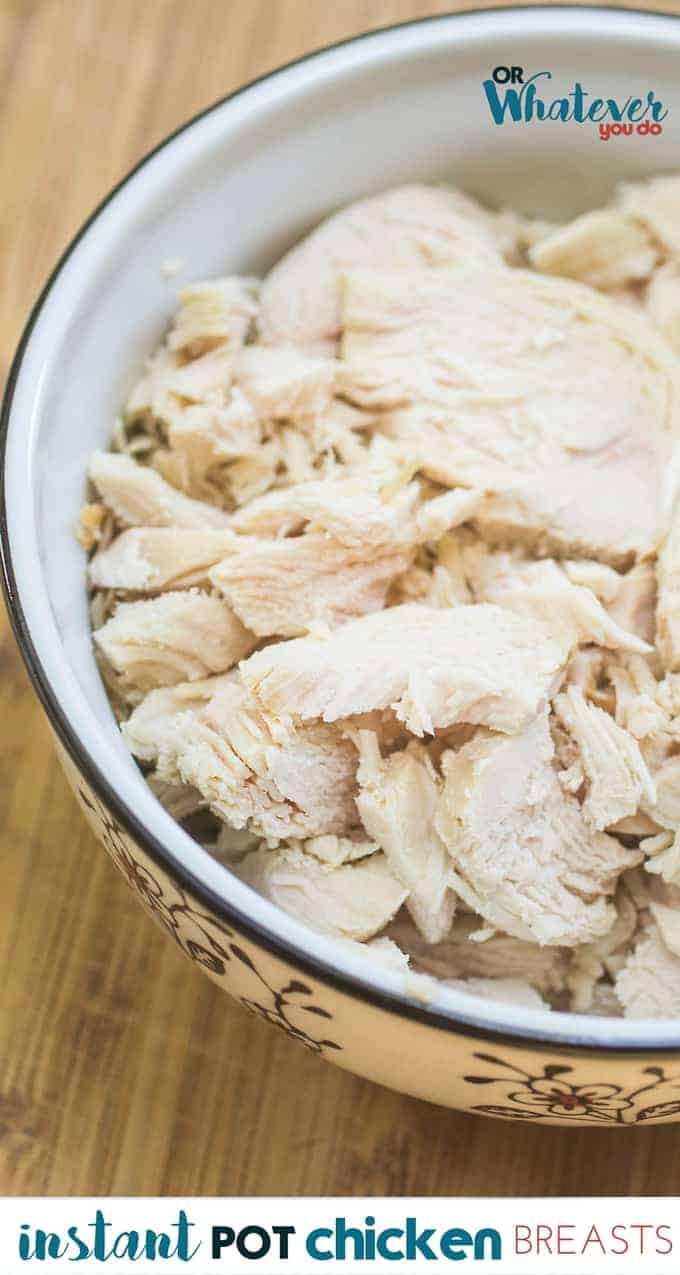 Instant Pot Shredded Chicken Breasts from Frozen
I'm so lazy lately when it comes to dinner.
Insanely lazy. By the time I'm done with work, and the kid stuff, and everything that all entails I don't really have any brain power OR motivation left by 6pm. It just isn't happening.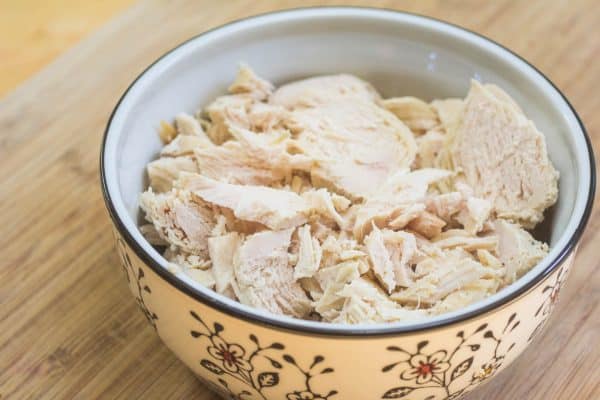 The days are long, this summer, and my kids officially have cabin fever. Have you ever spent a week cooped up with 4 very rambunctious, very loud, very boyish pre-teen and elementary aged boys? Oh, and 3 toddlers too? Let me tell ya. By 8pm I'm in bed, needing some quiet time. In order to make that happen, I need to have dinner on the table by 6, and cleaned up by 7 so I can get babies in bed by 7:30, and the rest of the crew situated by 8.
Literally anything I can do to make dinner easier, I'll try. It is a marathon. I'm not sure why, but the dinner cooking/serving hour is exactly the hour of the day where my 3 year old who is transitioning out of nap time needs to completely melt down, and it is 1 1/2 year old "cry time", and also the hour that my 2 year old son decides he's going to play "walk like a dinosaur". You wouldn't think a little 2 year old could make that much noise, but he's got like hulk power in those stomps, and it shakes the whole house sometimes.
So dinner is a wild cacophony of crying, yelling, and stomping from the toddlers, and various yells and noises that are coming from the bigger boys of the house. It is…chaotic…at times. To say the least.
Occasionally I'll think up an entertaining enough movie that'll capture half of their attention long enough to have a little bit of calm, courtesy of the big giant babysitter on my wall. And don't even think about getting at all finger-pointy or sanctimommy either. When you have a million kids, you do what you have to do.
I'm not sure if I'm just amazingly disorganized, or if my kids are a special kind of wild or what, but my parents' wishes are totally coming true. Evidently I was so wild that I needed 7 little me's to fulfill their deepest wish of my kids causing me as many gray hairs as I caused my parents.
So now you know why I need dinner to go smoothly. And why I enjoy my travel so much. And easy dinners like this easy shrimp scampi pasta, these easy chicken fajitas, and this super easy beef and bean taco rice skillet.
I'm guest posting over on The Weary Chef and shared an awesome Chicken Bacon Ranch Flatbread Pizza recipe that you'll love!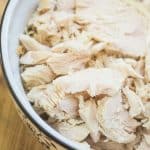 Instant Pot Shredded Chicken Breasts from Frozen
Ingredients
4-5

large chicken breasts

individually frozen

3

cups

chicken broth
Instructions
Place the chicken breasts and chicken broth into your Instant Pot, and set it to cook for 25 minutes on manual. It will take a while to come up to pressure since the breasts are frozen, but once it is done you'll have perfectly cooked chicken breasts. Make sure to natural release the pressure!

If the breasts were frozen into a large block, you might need some more time. Once the post is safe to open, remove the lid and cut the chicken in half to ensure there is not more pink remaining.

If there IS pink remaining, cut all the breasts in half, make sure to give it a stir, and then set it to cook for 5 more minutes on manual. That should take care of it if there was just a little undercooked chicken remaining.

Give the chicken a rough chop or a quick shred with two forks after it cools a bit, and then store in the fridge for up to 4-5 days, using as needed for meals.
I'd love for you to visit some of my best blogging friends who happen to have some fabulous ideas about what to do with cooked chicken. In some of these, like The Creative Bite's
Light Chipotle Ranch Chicken Wrap
, she calls for rotisserie chicken. This Instant Pot shredded is a great dupe for that.
This awesome Thai Chicken Flatbread Pizza from Life Made Sweeter also uses rotisserie chicken, but would be a perfect recipe to make with this easy and fast chicken.