This Easy Cheesy Orzo is so simple you will wonder why you haven't been making this for ages and ages. I am a recent convert to the joys of orzo pasta, and I LOVE it.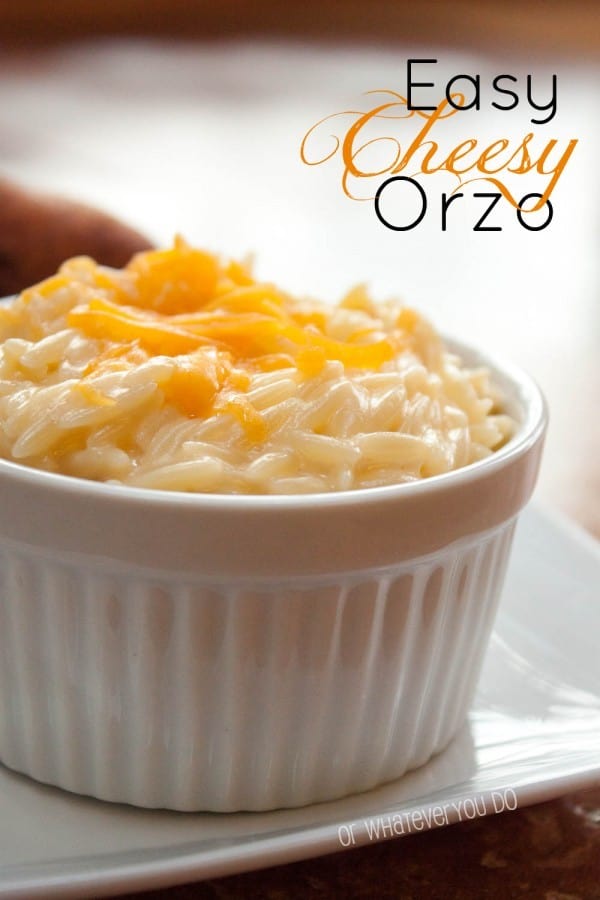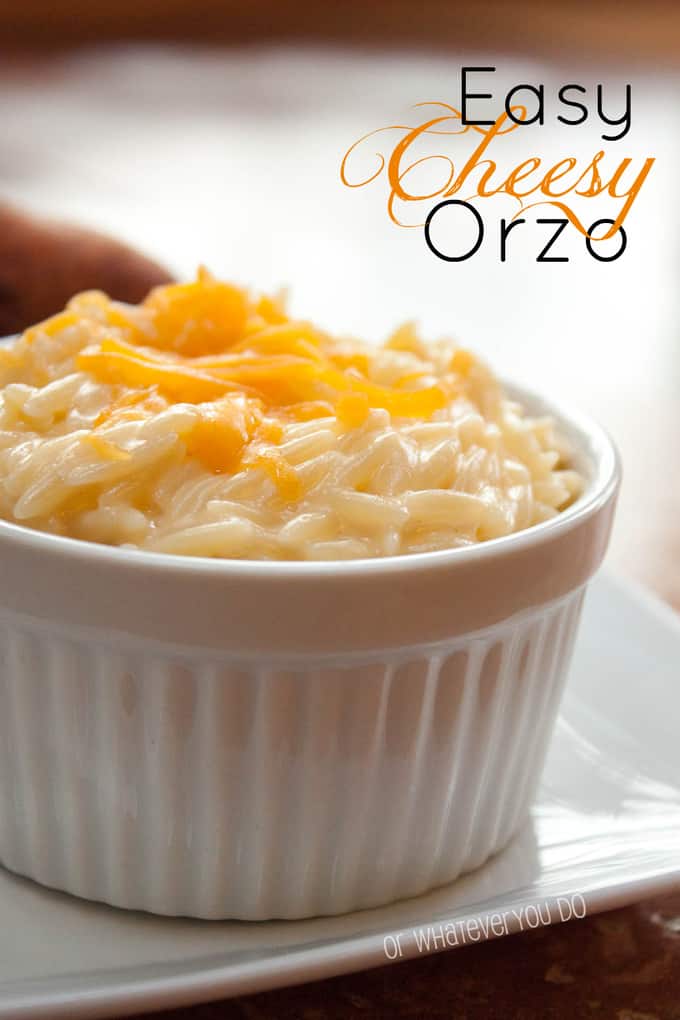 Easy Cheesy Orzo
You don't HAVE to use orzo for this, but I think it holds up so well. If there is one thing I love, it's pasta. If there's one thing I HATE, it is MUSHY pasta. I like my pasta just a tad on this side of al dente, and other people might find it a touch underdone.
Not me.
The shape of the orzo really lends itself to maintaining a little bite, even in dishes like this where it is VERY easy to go from perfectly cooked pasta to mushy goop.
This recipe is very flexible, and because of this the amounts are a little fluid. It depends on the type, size, and even brand of pasta you use. The types of cheese. The type of cream. So pay attention and if you think something needs a little more this or that, feel free to play around.
I think I've gotten so bad that it is nearly physically impossible for me to prepare a recipe exactly as written. I HAVE to change something. A seasoning or herb. The amount of cheese or other non-essential items. I just can't leave things alone. It's a sickness!
Need something amazing to serve this with? This Tilapia would be a great option!
How to Make Orzo with Cheese
Start this by boiling the orzo in some salted water until it is about a minute or two from being done to your liking. Then drain, return to the pot, and add some butter.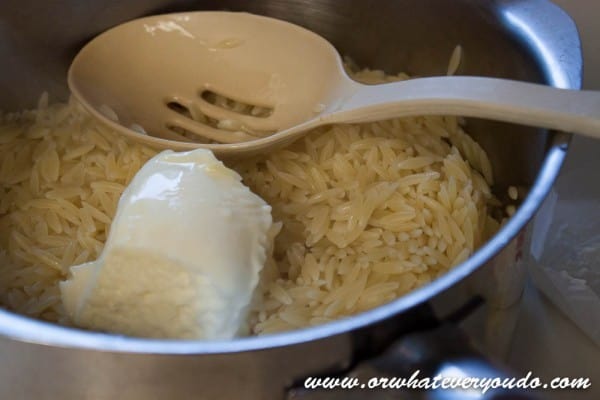 Stir that around until it is melted, turn the heat to low, and add in 1/2 cup of cream. Stir well and then add just enough milk to cover the pasta, and about 1/2 teaspoon of dry mustard.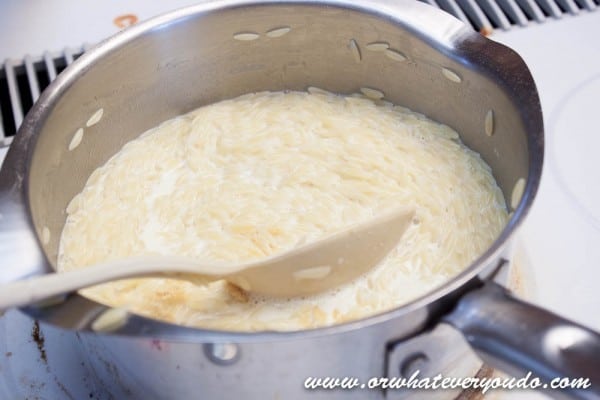 Continue stirring frequently over low heat until the pasta is done to your liking.
Next stir in about 1 cup of your favorite kind of cheese. I used a combination of sharp cheddar and colby jack. I LOVE the tang the sharp cheddar gives dishes like this!
Taste, and add salt to taste. With all the pasta and dairy, it will definitely need some salt, but the exact amount varies depending on what kind of cheese you used in this.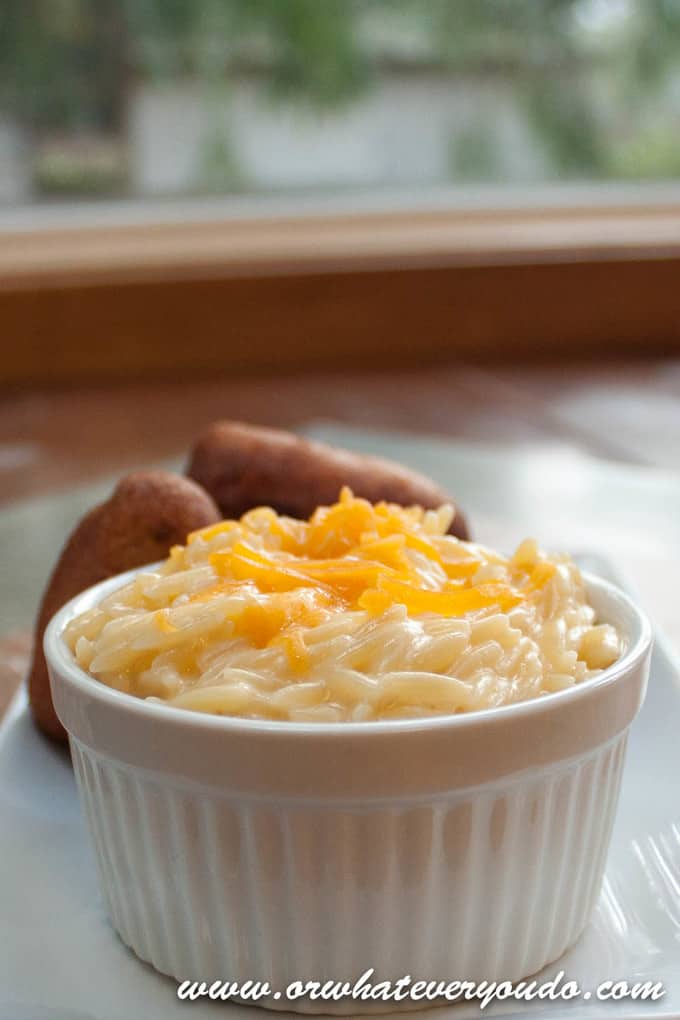 This easy cheesy orzo goes great with almost any dish! I served it alongside my Mini Corn Dogs.
NOTE: If the sauce is too thick after you add the cheese, feel free to add some more milk in small increments, stirring well after each addition, until your desired consistency is reached.
Yield: 4 servings
Easy Cheesy Orzo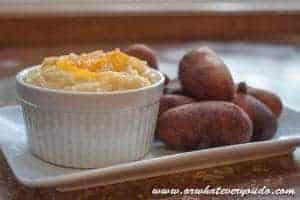 Quick cheesy orzo recipe that has your dinner on the table in a flash!
Ingredients
1.5 cups dry orzo pasta
3 Tablespoons butter
1/2 cup heavy cream
1/2-1 cup 2% or higher milk
1/2 teaspoon dry mustard
1 1/2 cups cheese, cheddar, colby jack, mozzarella, parmesan, etc
salt, to taste
Instructions
Boil pasta until it is about 1 minute from being done to your liking. Drain, and return to pot.
Add butter and stir until melted. Return to stove over low heat, add 1/2 cup cream, and enough milk to cover pasta. Add dry mustard. Heat over low heat until pasta is done to your liking. Stir in cheese until fully melted and incorporated. Salt to taste.
If sauce is too thick, add small amounts of milk while over low heat, stirring frequently until the desired consistency is reached.
Nutrition Information:
Yield:
6
Serving Size:
1
Amount Per Serving:
Calories:

765
Total Fat:

41g
Saturated Fat:

24g
Trans Fat:

1g
Unsaturated Fat:

13g
Cholesterol:

120mg
Sodium:

668mg
Carbohydrates:

69g
Fiber:

3g
Sugar:

4g
Protein:

28g