Are you on the Bachan's bus yet? This Japanese BBQ Sauce has taken over the culinary world, and is available in most major grocery stores, and is a major flavor bomb! We are obsessed, and these Smoked Bachan's Beef Short Ribs are an incredible way to use this delicious recipe shortcut.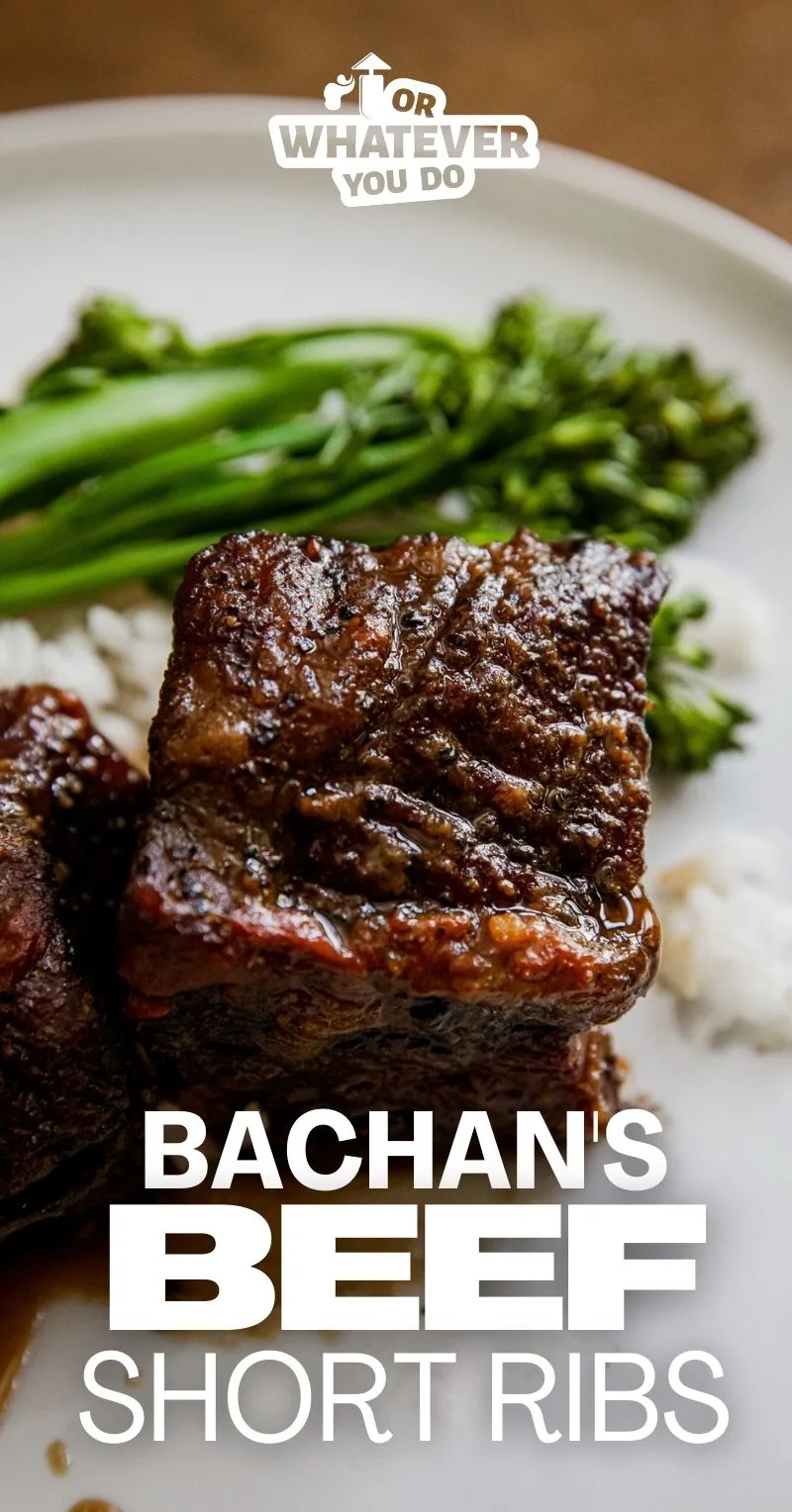 Smoked Bachan's Braised Beef Short Ribs
Beef short ribs are often considered one of the best cuts of beef, and there are several reasons for this.
Located near the belly of the cow, short ribs are a highly flavorful cut due to the amount of work this part of the animal does. The flavor is enhanced by the good amount of fat marbling, streaks of intramuscular fat, that slowly renders out during cooking, resulting in tender, flavorful, and juicy meat.
In addition, the bones in short ribs add depth and richness to the dish as the marrow melts during cooking. The versatility of short ribs is another appealing aspect; they can be cooked in various ways, including braising, smoking, and slow roasting, and can be incorporated into diverse cuisines and recipes.
The texture of short ribs, when cooked properly, is exceptional; they become fall-off-the-bone tender as slow cooking methods allow the connective tissues to break down.
Love fork-tender meat? Try our Smoked Mississippi Pot Roast!
Moreover, the aesthetic appeal of short ribs, especially when bone-in, adds a rustic and hearty touch to any meal, making them an excellent choice for both casual barbecues and dinner parties.
Get all of my Traeger Recipes here!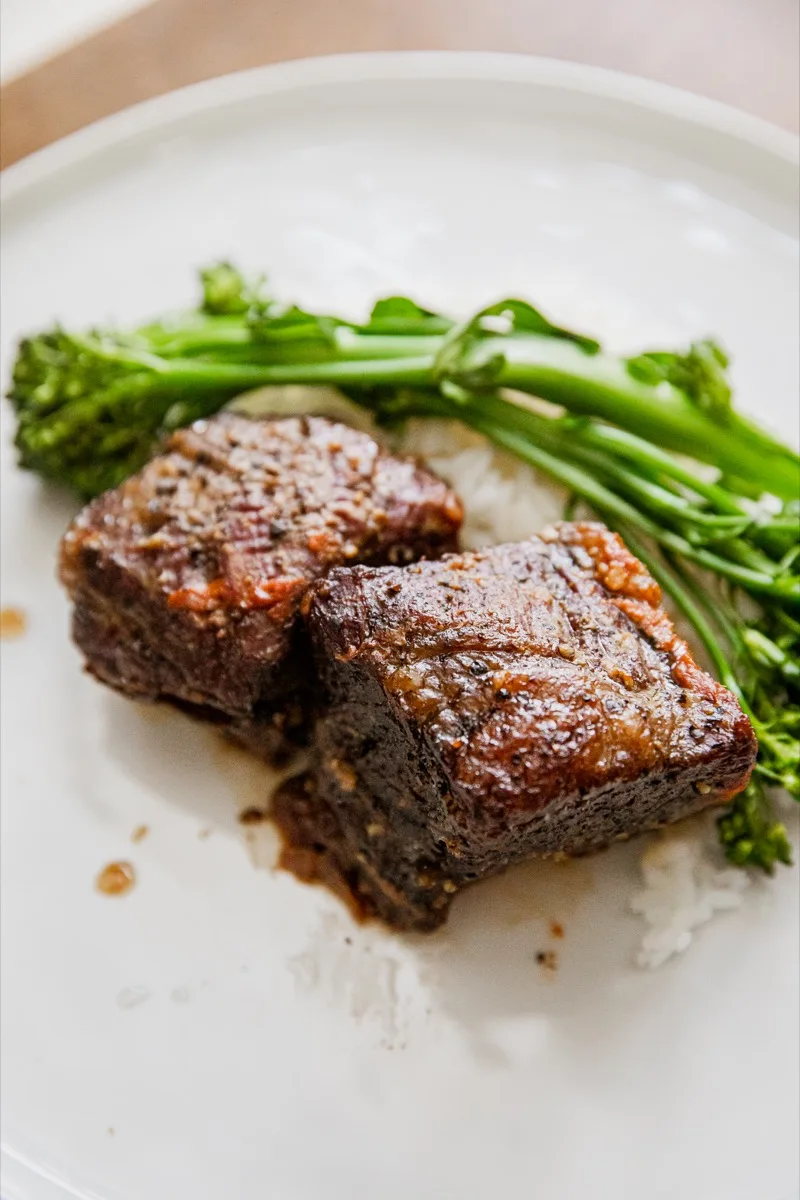 Bachan's Beef Short Ribs shopping list
Wondering if you have to hit the store? Here's the list of items you'll need to make this recipe. For specific amounts, please refer to the printable recipe card at the bottom of the post.
Beef short ribs
Salt
Pepper
Garlic powder
Bachan's Japanese BBQ Sauce
Beef broth
Get 75+ of my favorite Traeger Recipes here!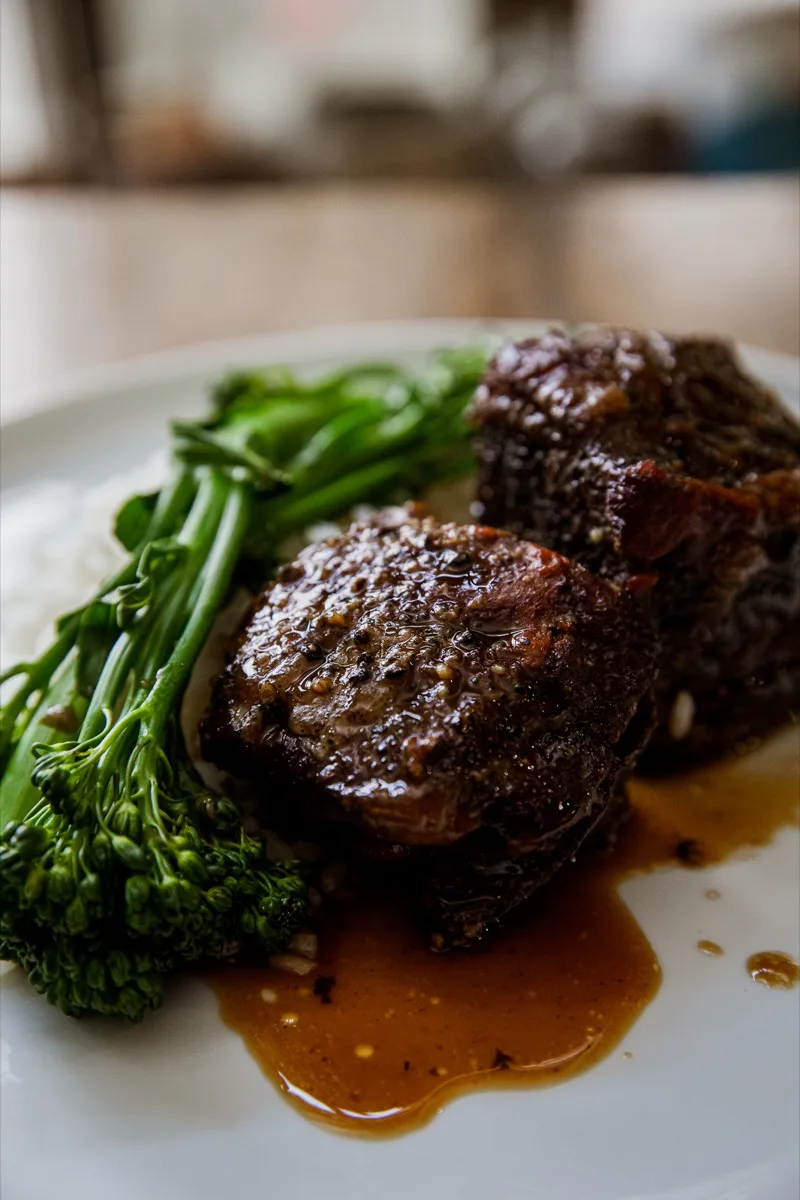 How to make Smoked Bachan's Beef Short Ribs
This is just the overview so you can see what you're actually getting into here. When you are cooking, you'll want to use the full recipe at the bottom of the page.
Preheat
Fire up the smoker and get it heated to 200°F.
Season
Season the short ribs well on all sides with the salt, pepper, and garlic.
Smoke
Put the ribs on the smoker and let them smoke for around 3 hours.
Braise
Put the smoked ribs into a baking dish with high sides and cover with the Bachan's and the beef broth. Let braise, turning the beef ribs in the liquid occasionally, for about 2 hours. Or until they are fork tender.
Enjoy
Pull when the ribs are tender to your liking and enjoy over some steamed rice or potatoes!
Try our Traeger Braised Beef Short Ribs too!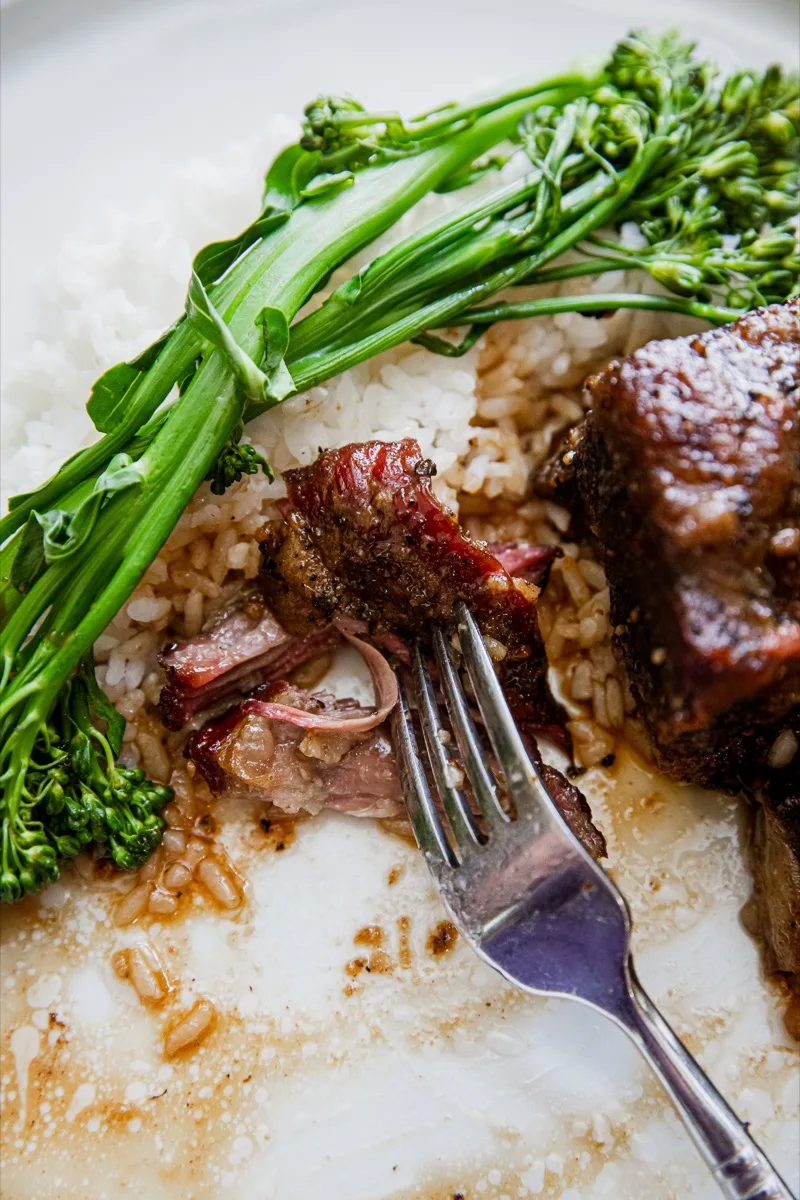 Smoked Bachan's Short Ribs FAQ
Will this work with another cut of beef?
Here are a few options, keeping in mind that you may need to adjust cooking times depending on the cut:
Chuck Roast or Chuck Steak: These cuts are from the shoulder region and have a good amount of connective tissue and marbling. This makes them ideal for braising, which is the common cooking method for short ribs.
Oxtail: This cut has a lot of bone, connective tissue, and marrow, all of which contribute to a rich and flavorful dish. However, oxtails are smaller than short ribs, so they may cook more quickly.
Beef Shank: The shank is a tough cut of meat from the animal's leg. It benefits from long, slow cooking methods like braising, just like short ribs. This cut will have a slightly different flavor and texture but is still a good substitute.
Beef Brisket: Brisket is a flavorful, fatty cut of beef that can stand up to slow cooking. It may not have the exact same texture as short ribs but should work in this recipe.
Beef Plate: This is another well-marbled cut from the belly of the cow. It's typically used for making short ribs, so it's a close substitute.
Boneless Beef Stew Meat: If you're using the short ribs in a stew or braise, chunks of beef stew meat can work as a substitute. They won't have the same bone-in presentation, but they'll provide a similar flavor and texture.
Always remember that substituting a cut of beef may change the flavor profile of your dish and may require adjustments in cooking time and temperature. It's also important to consider the ratio of meat, fat, and bone in your substitute cut compared to short ribs, as these can affect the flavor and texture of your dish.
Can this dish be made ahead of time?
Yes! Braised short ribs are fabulous for making ahead of time. These also keep warm very well, are easily transferable to a Crockpot or Instant Pot, and don't lose their quality being held over for a few hours.
What's the best way to store and reheat the leftovers?
Store these in any airtight container in the fridge for 3-4 days. Reheat in the braising liquid, gently, on the stovetop, for the best results. You can also reheat in an oven or slow cooker if that's more convenient. In a pinch, the microwave will work, just keep an eye on it so it doesn't overcook and dry out the meat.
Try with our Traeger Garlic Mashed Potatoes!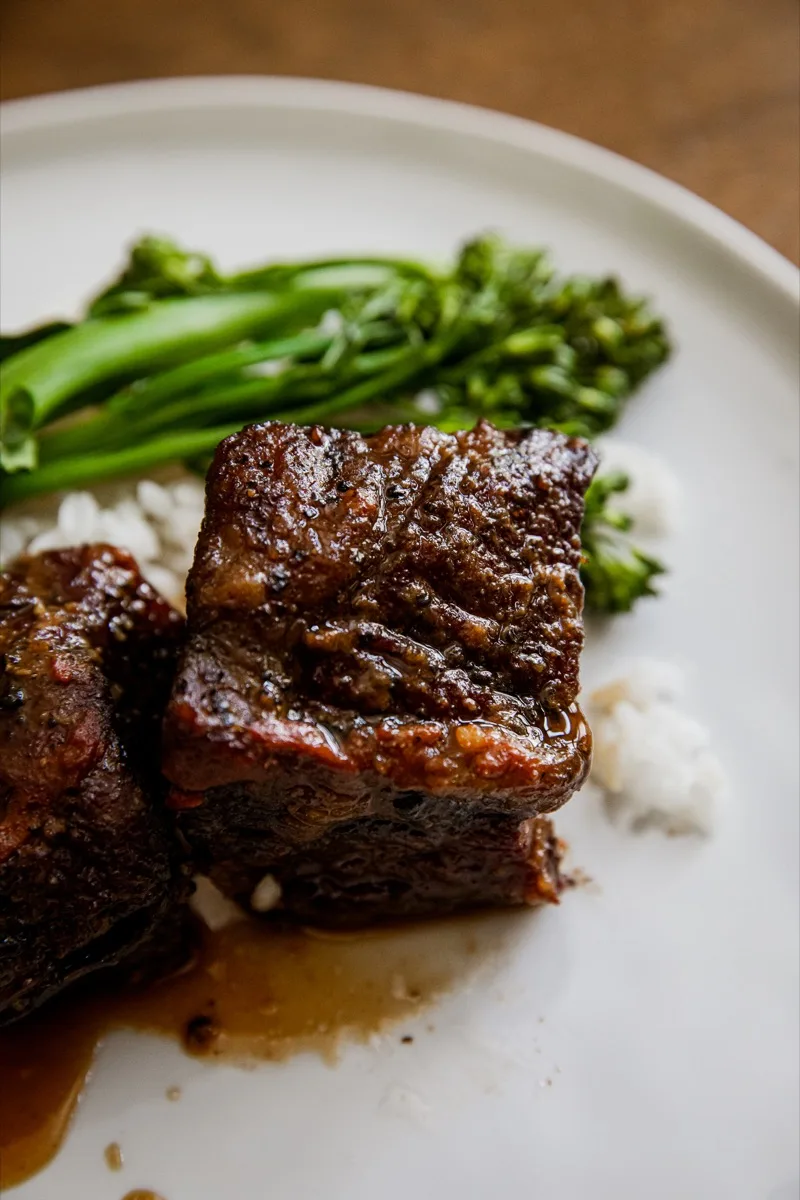 Round out your meal with…
More great beef recipes to love!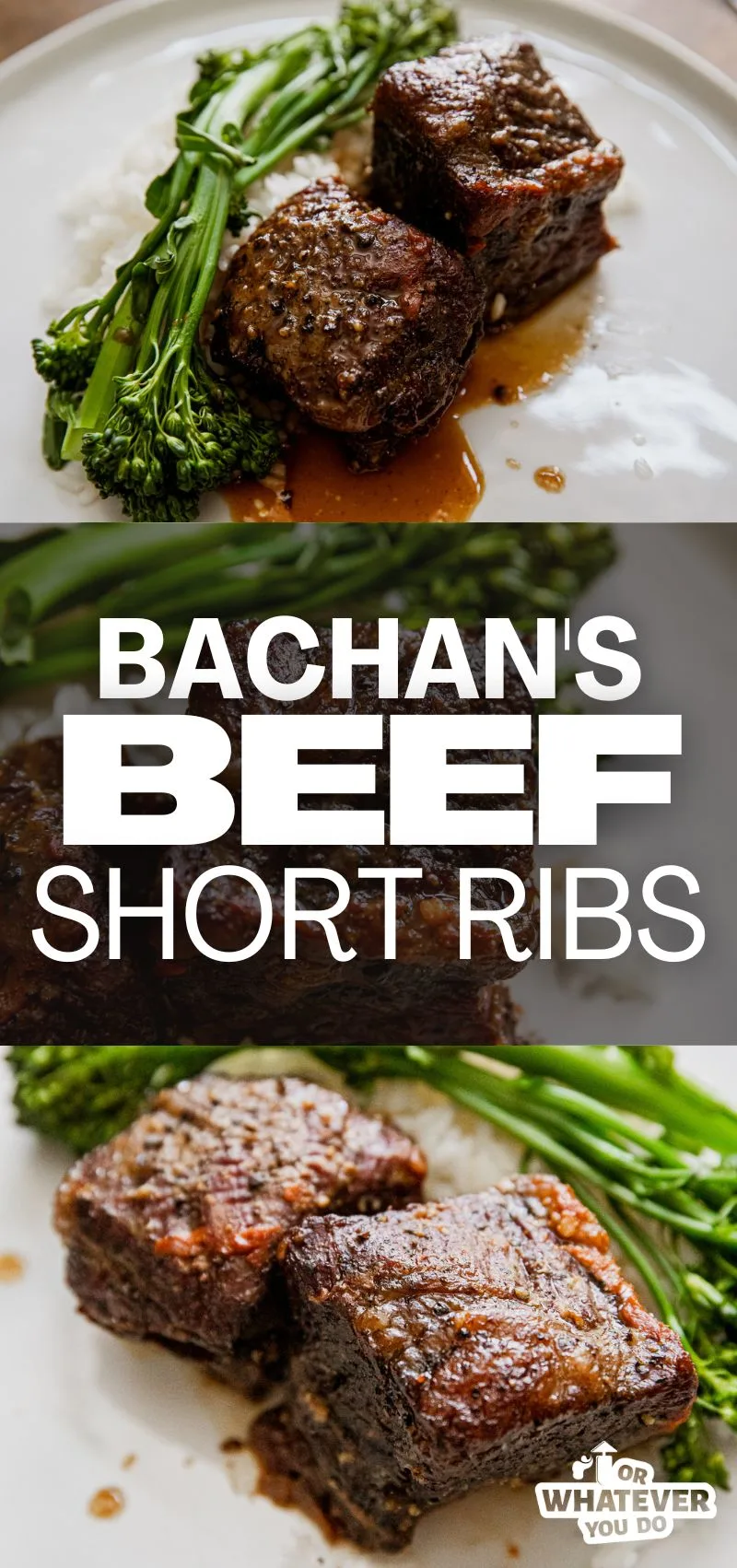 Yield: 6 servings
Smoked Bachan's Beef Short Ribs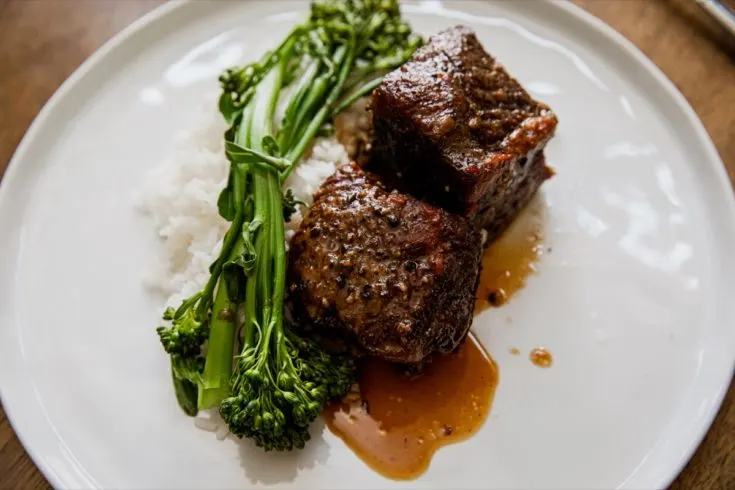 We took beef short ribs, seasoned them, and smoked them before getting doused in Bachan's Japanese BBQ Sauce and braised until they are fork tender perfection.
Total Time
5 hours
15 minutes
Ingredients
4 pounds bone-in short ribs
2 teaspoons salt
2 teaspoons garlic powder
1 teaspoon pepper
1 cup Bachan's Japanese BBQ Sauce
1 cup beef broth
Instructions
Preheat your smoker to 200°F.
Season the beef short ribs with salt, pepper, and garlic powder.
Place the short ribs on the grill and let them smoke for 3 hours.
Take the smoked ribs and put them into a high-sided grill-safe pan.
Mix together the Bachan's and the beef broth and pour over the short ribs.
Turn the heat up to 325°F and braise the short ribs, flipping occasionally so every side of the ribs gets braised evenly, for about 2 hours, or until they are fork tender.
Remove and serve with rice and vegetables and drizzle with the braising liquid.
Notes
The nutrition information assumes that we'll be consuming ALL of the braising liquid, which isn't the case.
Recommended Products
As an Amazon Associate and member of other affiliate programs, I earn from qualifying purchases.
Nutrition Information:
Yield:
6
Serving Size:
1
Amount Per Serving:
Calories:

1010
Total Fat:

69g
Saturated Fat:

30g
Trans Fat:

4g
Unsaturated Fat:

38g
Cholesterol:

302mg
Sodium:

1550mg
Carbohydrates:

20g
Fiber:

1g
Sugar:

16g
Protein:

78g
Nutrition data provided here is only an estimate.