Meatball subs are a beloved comfort food, but have you ever tried Traeger Grilled Meatball Bread? This unique twist on the classic sandwich involves hollowing out a French bread loaf, filling it with melted cheese, and topping it off with a delicious ground beef meatball mixture. Then we take it and grill it on our Traeger to achieve a delicious combination of savory, and cheesy. Whether you're serving it up for game day or a casual dinner with loved ones, this meatball sub bread is sure to become a new favorite in your recipe collection.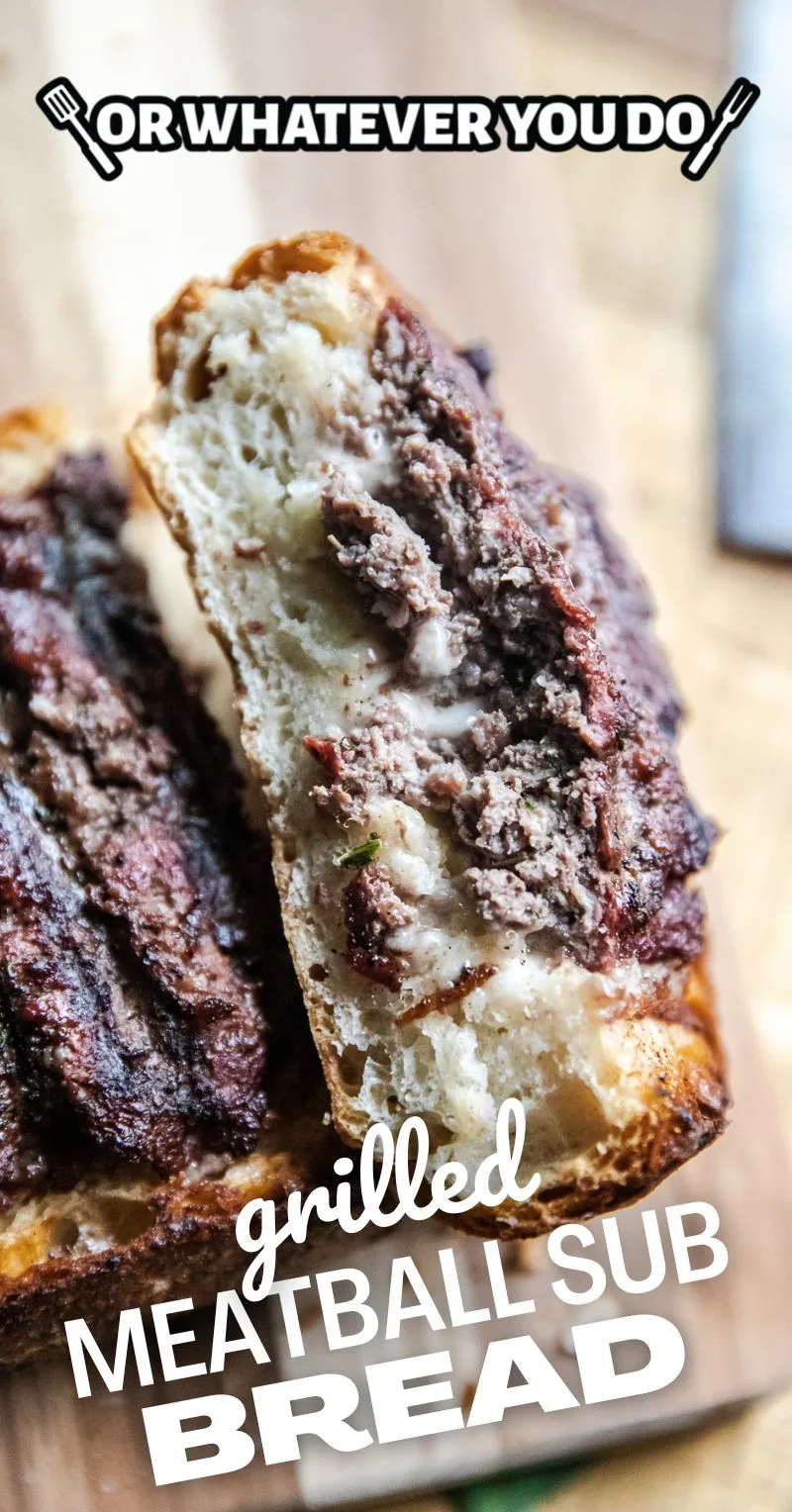 Traeger Grilled Meatball Bread
If you are anywhere on the grilling side of TikTok, you've probably heard of Grilled Sausage Bread. This trend took #grilltok by storm. This one from Grill Hunters got over 10 MILLION views. Like WHOA.
Spoiler alert, but I'm not a huge fan of sausage, and my family isn't either. We'll use it in things like Biscuits and Gravy, and occasionally I'll throw some Italian Sausage in with my ground beef for meatballs, but more often than not we save our sausage for the grill in Polish or bratwurst form.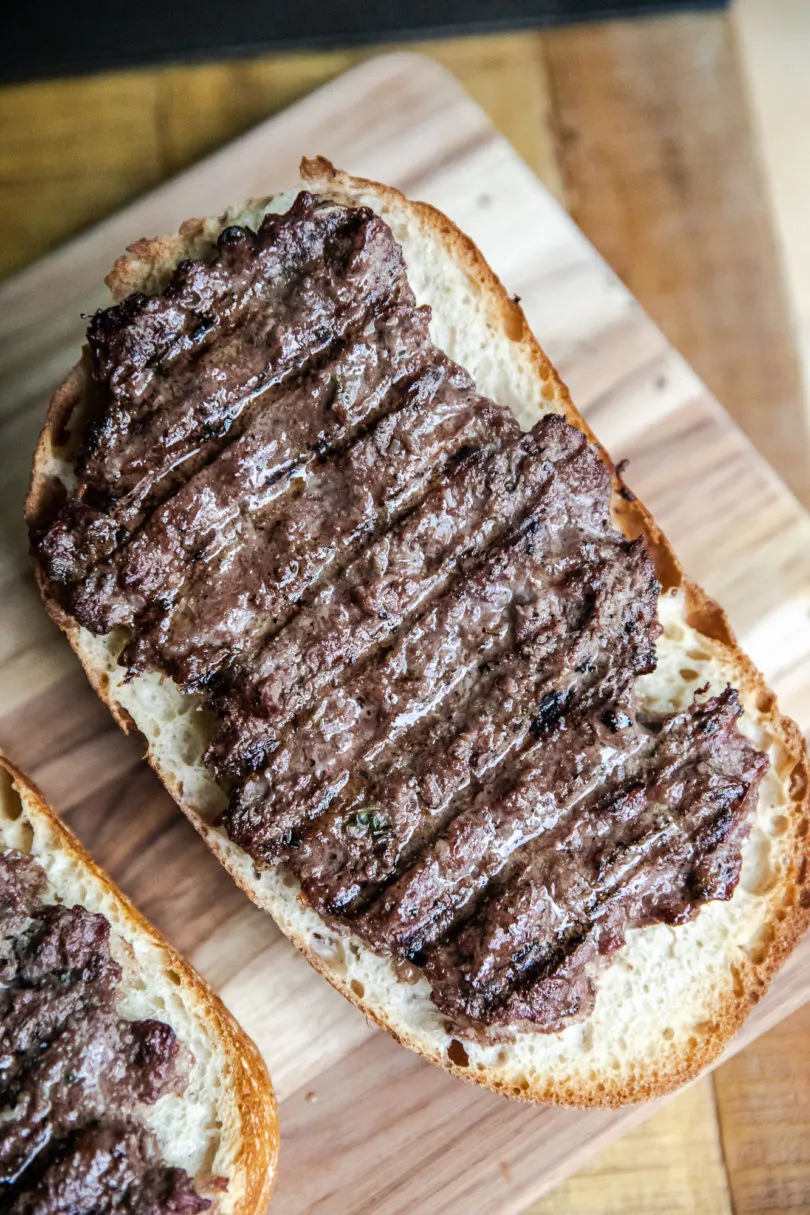 Traeger Grilled Meatball Bread shopping list
Wondering if you have to hit the store? Here's the list of items you'll need to make this recipe. For specific amounts, please refer to the printable recipe card at the bottom of the post.
french bread
panko
egg
whole milk
mozzarella cheese
ground beef
oregano
basil
garlic powder
onion powder
salt & black pepper
marinara sauce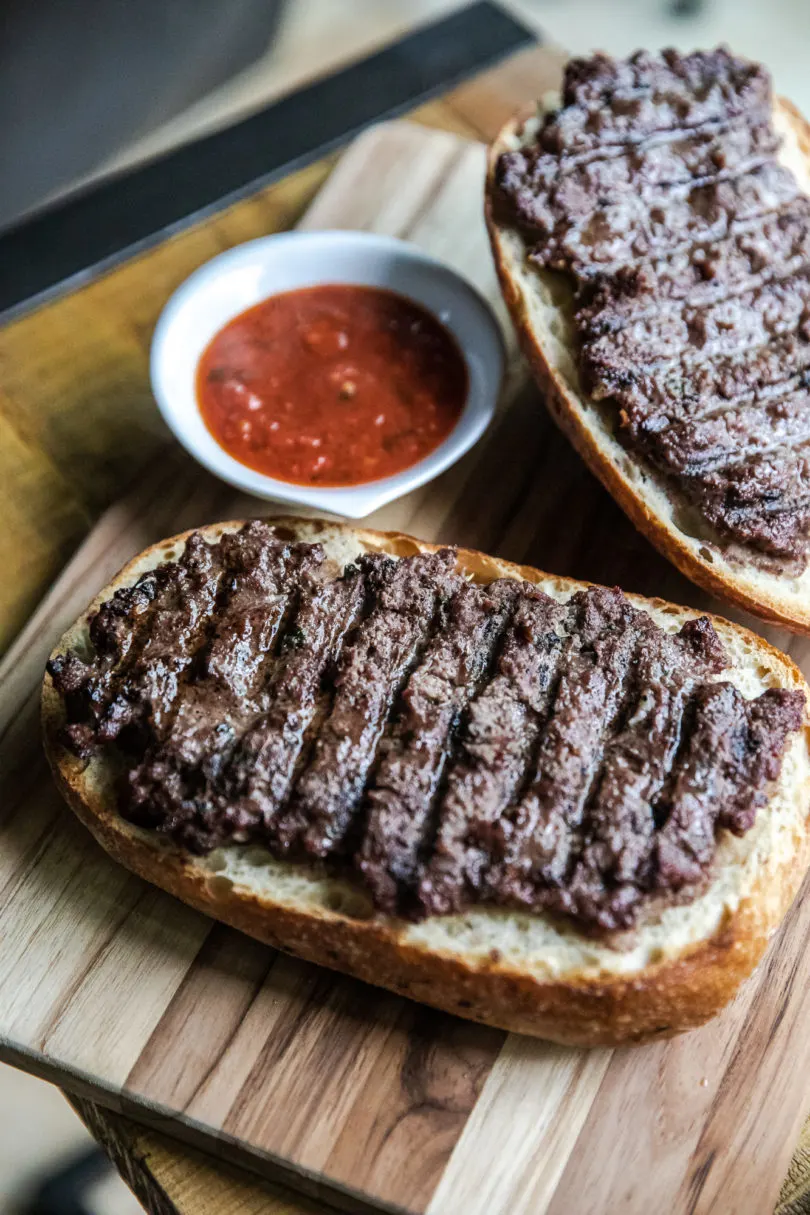 How to make Grilled Meatball Bread
This is just the overview so you can see what you're actually getting into here. When you are cooking, you'll want to use the full recipe at the bottom of the page.
Preheat
This time we're shooting for 325°F. Not too hot, or you'll burn the bread (or make it TOO crunchy) before the meatball mixture has fully cooked.
Prep
Slice your bread in half. Slightly hollow out the halves. Mix up the meatball mixture. Load up the bread with shredded cheese and press the meatball mixture on top.
Grill
Carefully place the loaves meat-side down on the grates of your preheated grill.
Cook for 15-20 minutes, or until the internal temperature of the meatball mixture reaches 160°F minimum as measured by a good digital thermometer. (My favorite kind is below.)
Rest
Let these molten lava breads rest for a few minutes before slicing and eating to make sure you don't burn anyone.
Slice and serve
Slice into manageable chunks and serve with marinara sauce for dipping.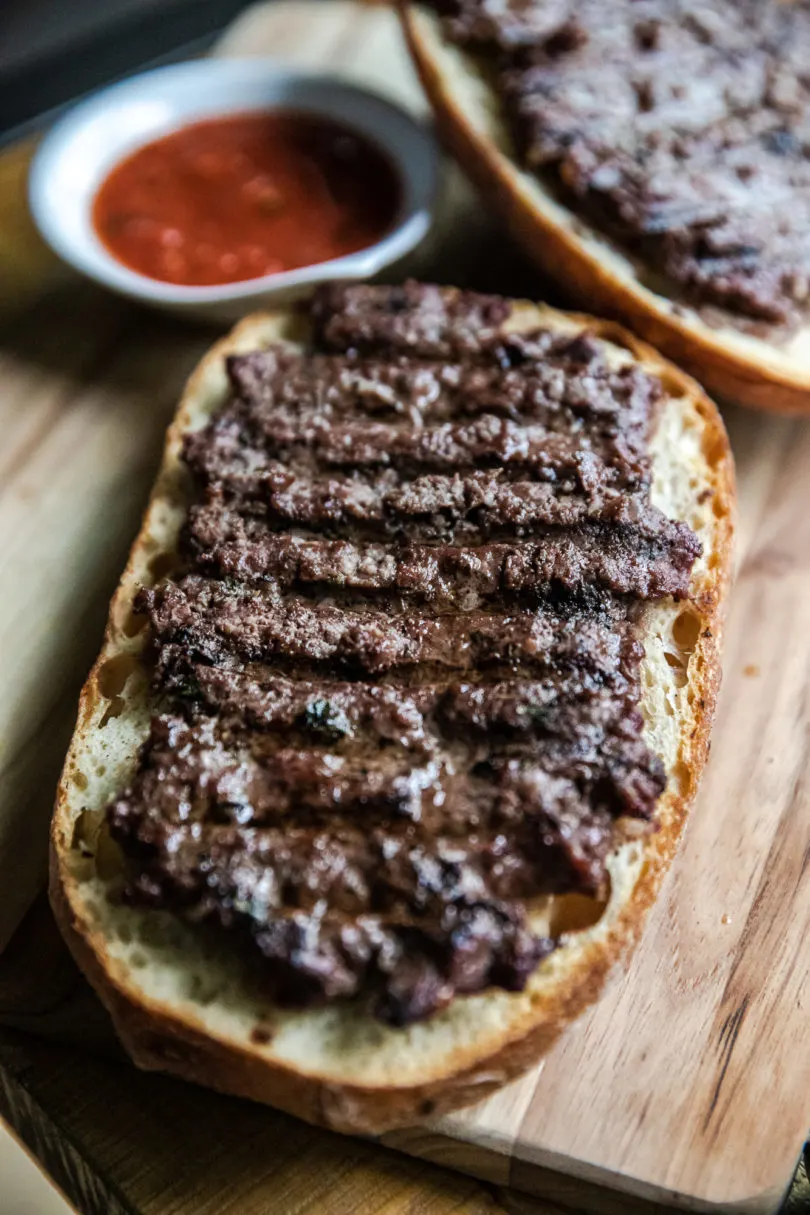 Grilled Meatball Bread FAQ
But won't the raw meat contaminate the bread?
Nope! We're cooking this entire thing, so if the meat reaches 160°F the bread will too, which means all the raw stuff in going to be cooked.
What other mix-ins would work well?
Like to snazz it up a bit? Mix in some chopped onions and bell peppers to the meatball mixture. You can also toss some red pepper flakes into the sauce OR the meatball mix too. Change, experiment, and adjust to make it perfect for YOU!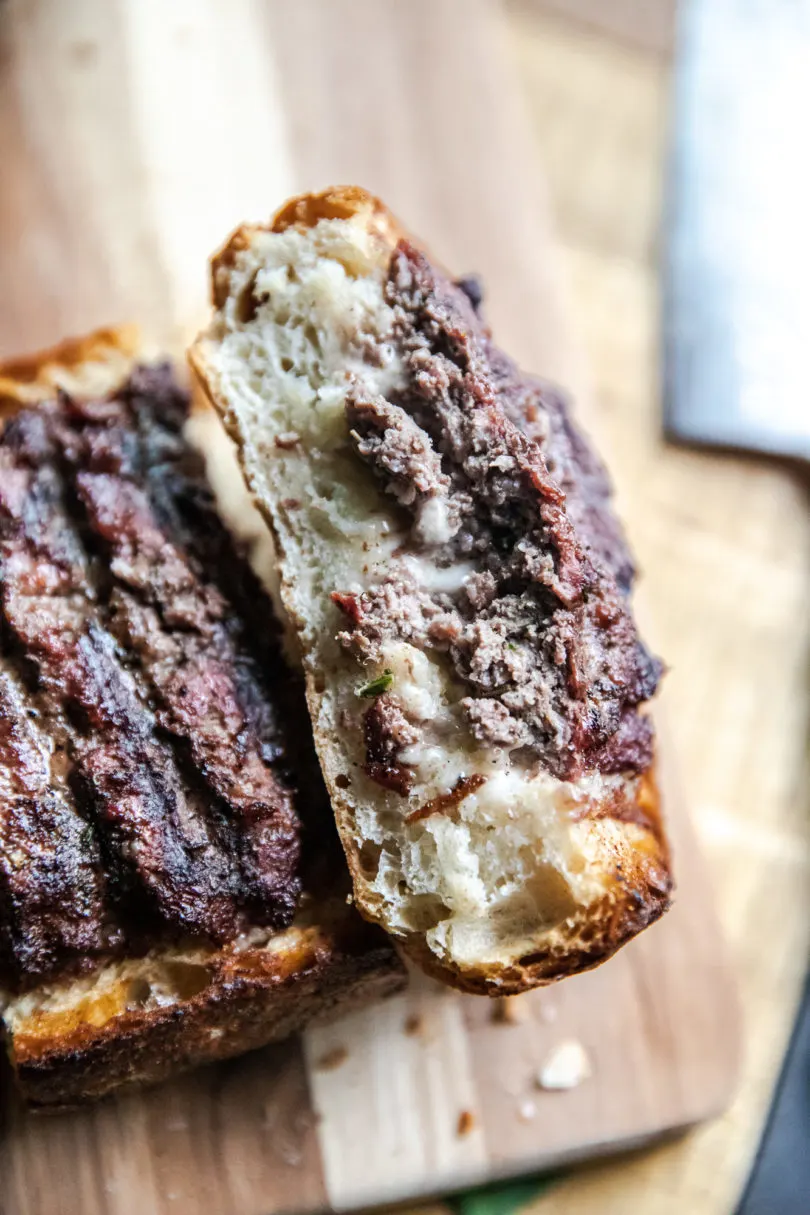 More great recipes to love!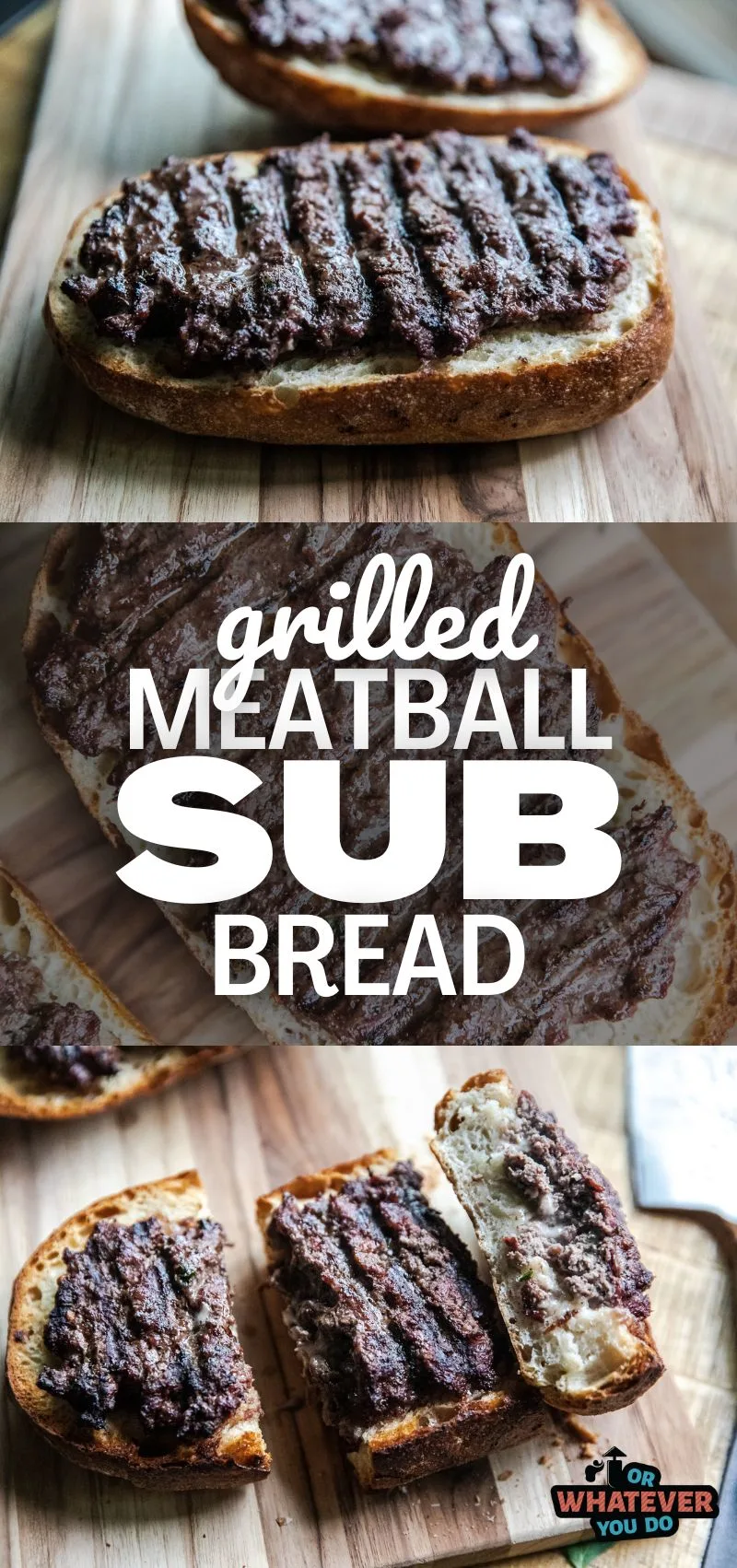 Yield: 4 servings
Grilled Meatball Sub Bread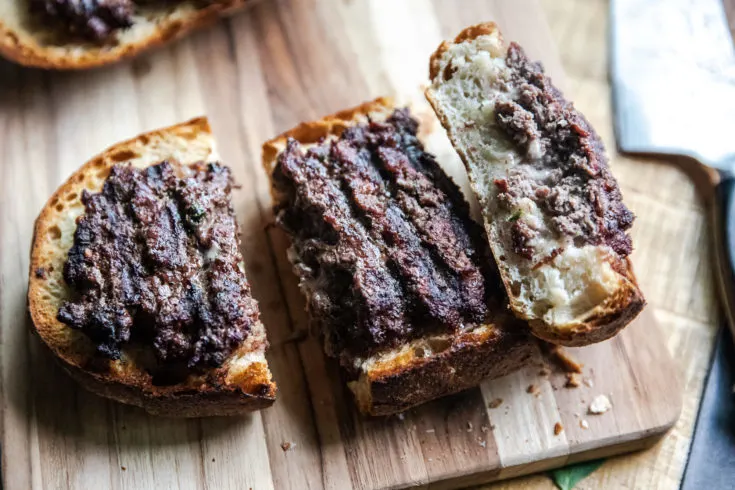 This easy Grilled Meatball Sub Bread is a french bread loaf that's slightly hollowed, filled with cheese, and then topped with ground beef meatball mixture before being grilled face-down on our Traeger pellet grill.
Additional Time
5 minutes
Ingredients
1 loaf french bread
2 cups shredded mozzarella cheese
1 pound lean ground beef
1/4 cub panko bread crumbs
2 tablespoons whole milk
1 large egg
1/2 teaspoon dried oregano
1/2 teaspoon dried basil
1/2 teaspoon garlic powder
1/2 teaspoon onion powder
1 teaspoon salt
1/4 teaspoon black pepper
1 cup marinara sauce
Instructions
Preheat your grill to 325°F.
Halve your French bread loaves, and slightly hollow out the halves.
Split your shredded mozzarella between each of the halves.
Mix together the ground beef with all of the seasonings.
Press on top of each of the bread loaves.
Carefully place the loaves meat-side-down onto the grill grates.
Cook for 15-20 minutes, or until the internal temp of the meat reaches at least 160°F.
Remove from the grill and let cool for a few minutes before slicing and serving with a side of marinara for dipping.
Recommended Products
As an Amazon Associate and member of other affiliate programs, I earn from qualifying purchases.
Nutrition Information:
Yield:
4
Serving Size:
1
Amount Per Serving:
Calories:

748
Total Fat:

26g
Saturated Fat:

11g
Trans Fat:

1g
Unsaturated Fat:

11g
Cholesterol:

130mg
Sodium:

1917mg
Carbohydrates:

70g
Fiber:

4g
Sugar:

10g
Protein:

56g
Nutrition data provided here is only an estimate.
Grilled Meatball Bread Web Story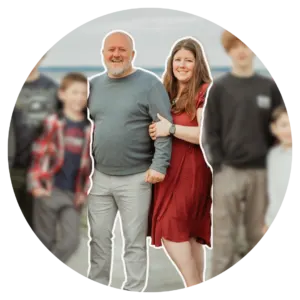 Nicole Johnson, a self-taught expert in grilling and outdoor cooking, launched Or Whatever You Do in 2010. Her blog, renowned for its comprehensive and creative outdoor cooking recipes, has garnered a vast audience of millions. Nicole's hands-on experience and passion for grilling shine through her work. Her husband, Jeremiah Johnson, also plays a pivotal role in recipe development, adding his culinary flair to the mix. Together, they form a dynamic duo, offering a rich and varied outdoor cooking experience to their followers.