An epic steak sandwich is one of the best ways to enjoy steak, and I'm going to show you my favorite way to make a next-level Traeger Grilled Steak Sandwich on your pellet grill.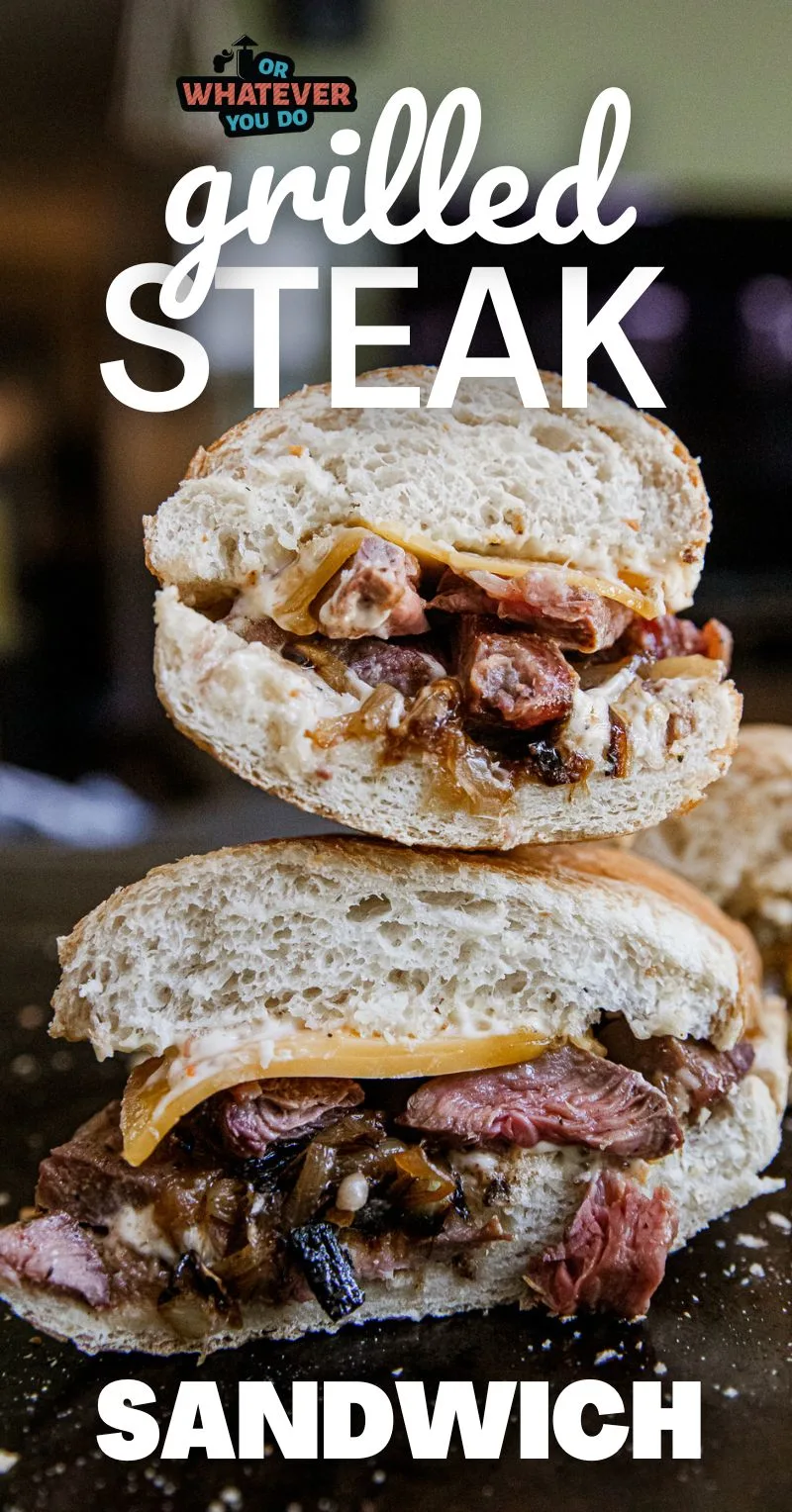 Traeger Grilled Steak Sandwich
There's a saying that used to be popular back in the day. "If you're going to go, go all out." That's the first thing that came to mind when I decided to make a steak sandwich the other day.
We fired up the grill and seasoned a couple of nice ribeyes that were in the fridge waiting to get cooked, threw a pan of sliced onions in a cast iron pan on the grill too, so they could get good and caramelized, and I broke out the good stuff. The real horseradish, the Kewpie mayo, and garlic pasta to make an epic aioli, and some smoked cheddar cheese I'd been saving for a charcuterie board but decided to put to good use in this sandwich.
Then, I took it all and put it inside a toasted freshly baked French loaf.
It was ridiculous.
Get all of my Traeger Recipes here!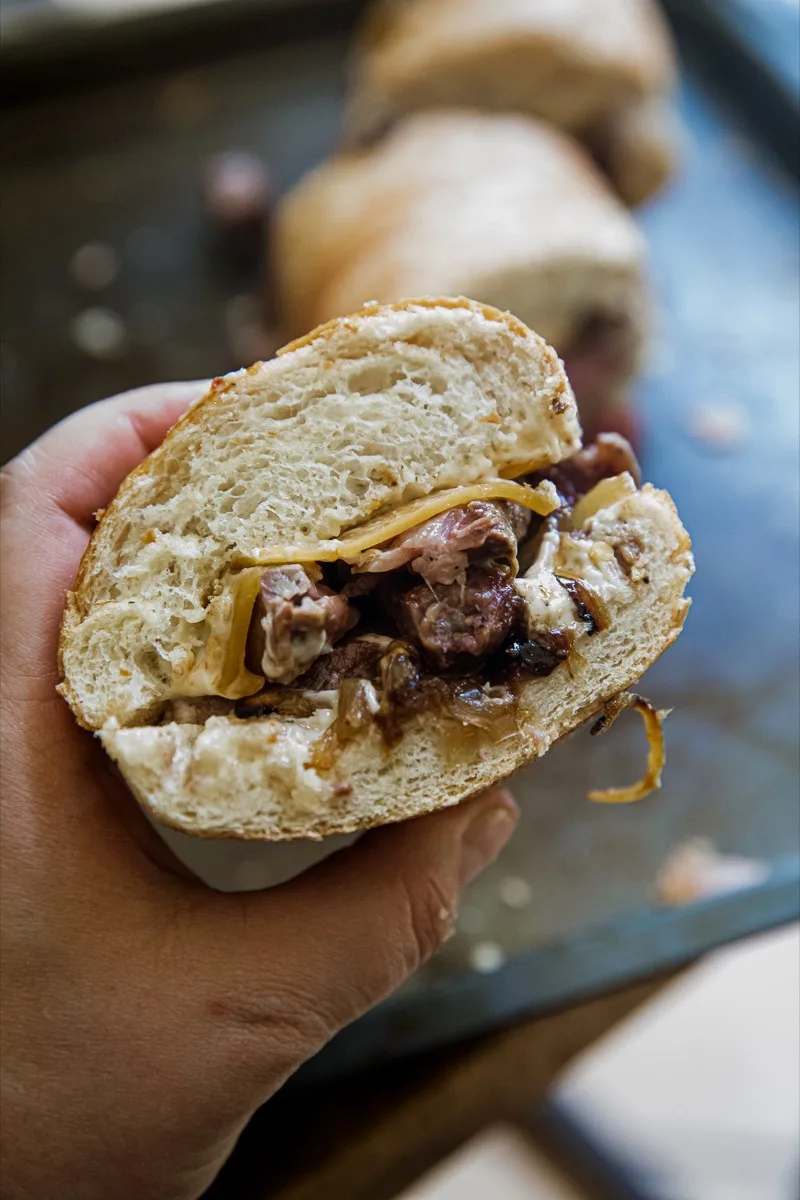 Steak Sandwich shopping list
Wondering if you have to hit the store? Here's the list of items you'll need to make this recipe. For specific amounts, please refer to the printable recipe card at the bottom of the post.
Ribeye
Beef rub
Olive oil
Yellow onion
Mayo
Horseradish
Garlic paste
Smoked cheddar
French bread loaf
Get 75+ of my favorite Traeger Recipes here!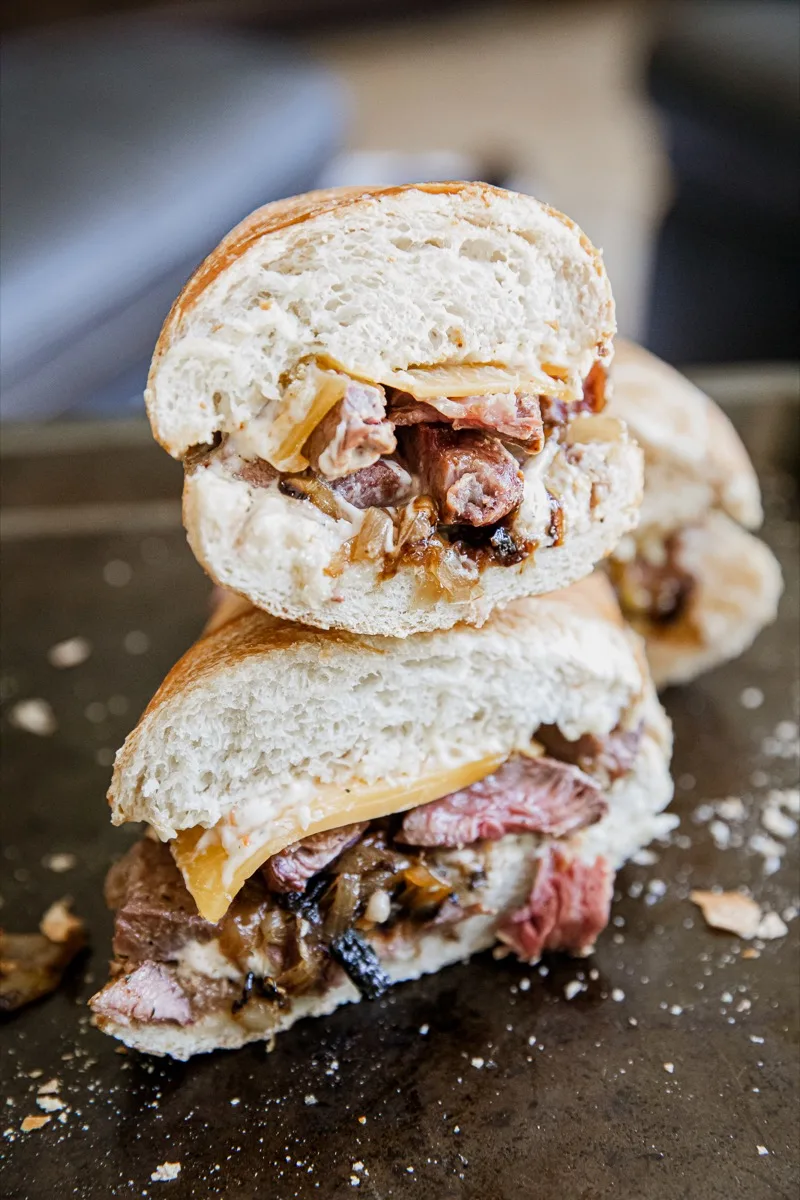 How to make a Grilled Steak Sandwich
This is just the overview so you can see what you're actually getting into here. When you are cooking, you'll want to use the full recipe at the bottom of the page.
Preheat
Fire up the grill and let it get nice and hot. We're shooting for between 400-425°F.
Season
Season the steak liberally with the homemade beef rub, or if you don't want to make your own, use your favorite pre-fab beef-friendly rub.
Grill
The onions will need more time than the steaks, so get your cast iron pan into the grill. Put a little olive oil in the pan and add your sliced onions. Close the grill, but stir those onions frequently, especially once they get cooking. We're cooking hot here, so they can go from perfectly browned to burnt pretty fast!
Once the onions are cooked remove the pan from the grill. Put the steaks on and let them cook for 8-10 minutes before flipping.
Flip and cook until 125°F-130°F internal temperature.
Remove and let rest.
Assemble
Slice your French loaf in half and put it cut-side-down on the grill for a couple minutes, until it is toasty.
While it is grilling, mix together the mayo, horseradish, and garlic paste.
Remove the bread from the grill and spread the aioli all over both sides.
Slice the steak against the grain and layer onto the bread. Add the onions and the slice smoked cheddar cheese. Melt the cheese if you feel like it using your favorite method.
Enjoy
Slice this bad boy into 3 or 4 pieces and get eating!
Try our Grilled King Crab Legs too!
Grilled Steak Sandwich FAQ
Are there other cuts of beef that would work for this sandwich?
Yes! But just like with wine you're cooking with, make sure and use a steak that you'd like to enjoy all by itself too. Don't try and hide a bad steak in a sandwich because you can definitely tell. I wouldn't hesitate to use a New York Strip or Flat Iron for this recipe. Those are my favorite cuts. You can even splurge on a filet if you want. Throw some bacon on the sandwich too for good measure. I'm not the boss of you. An inside skirt steak or thinly sliced flank steak could also work really well for this recipe.
Can this be made ahead of time?
Technically, yes. Most of it, anyway. If you aren't going to eat the sandwich right away, I'd wait to assemble it. If you can wait to cook the steak until immediately before serving you'll be happy with your life choices. BUT – a cold steak sandwich is legit, and toasting the bread helps keep it from getting too soggy with the mayo, and if you really want to pack this along for a picnic or something I'm not going to stop you. You can always keep the aioli on the side to maintain the toasty crunch of the bread.
How about our Prime Rib Pinwheel Sandwich?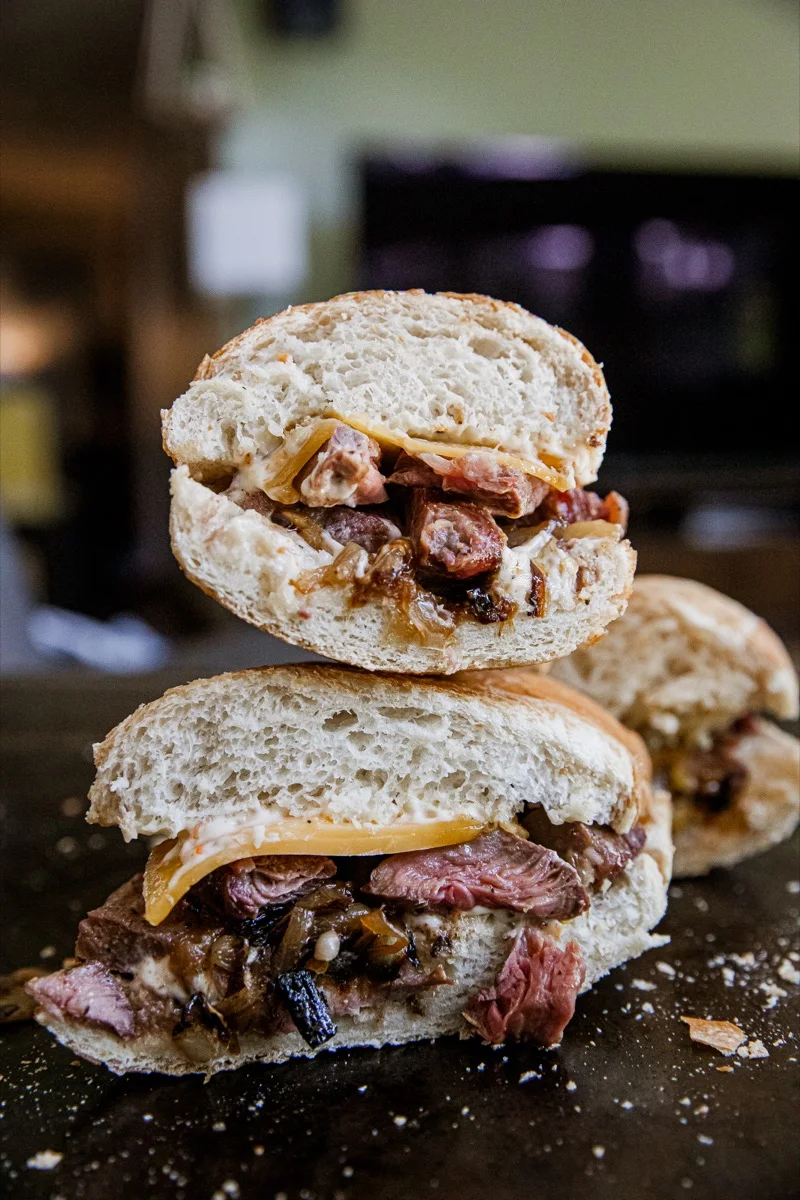 More great steak recipes to love!
How about a fork-tender plate of our Traeger Smoked Mississippi Pot Roast?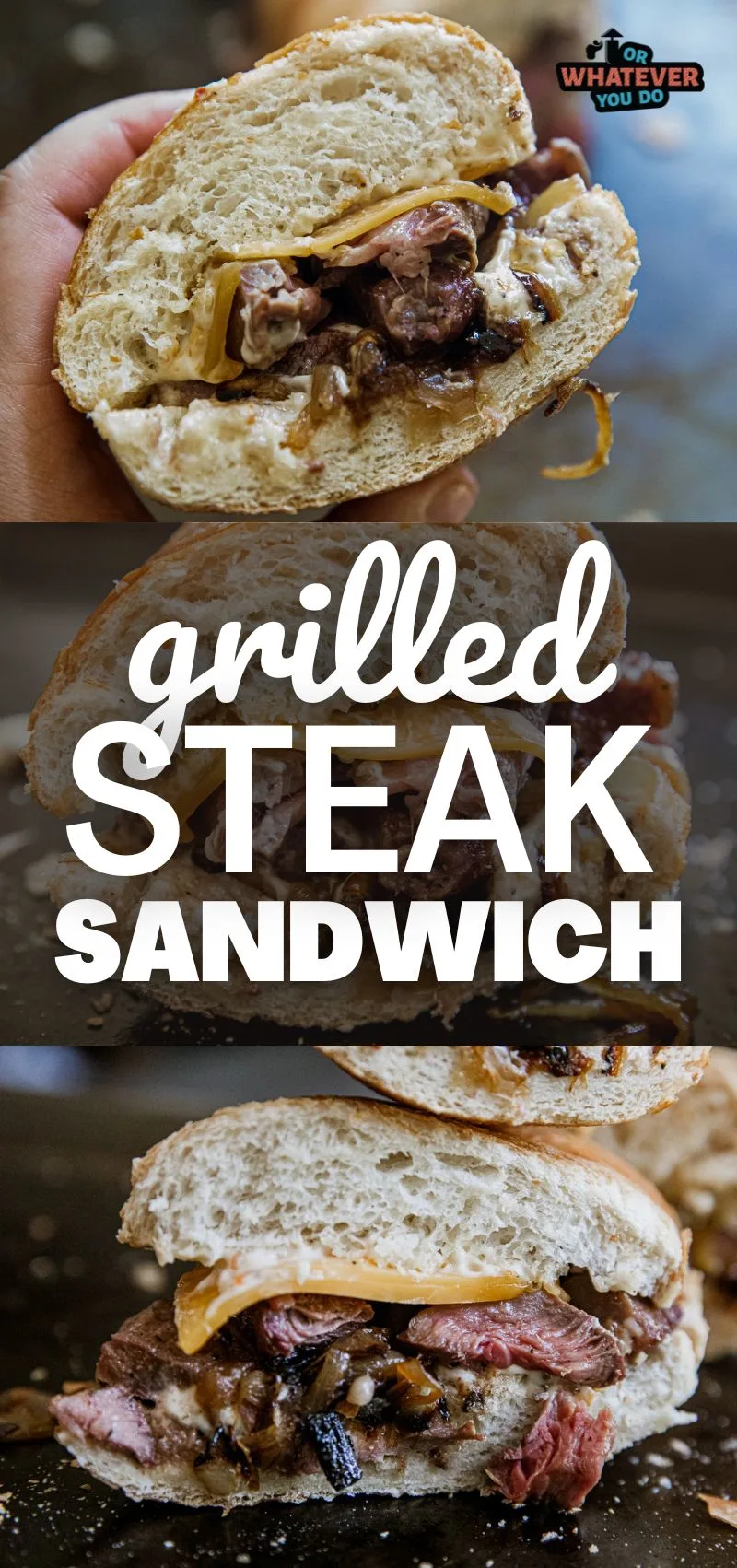 Yield: 4 servings
Traeger Grilled Steak Sandwich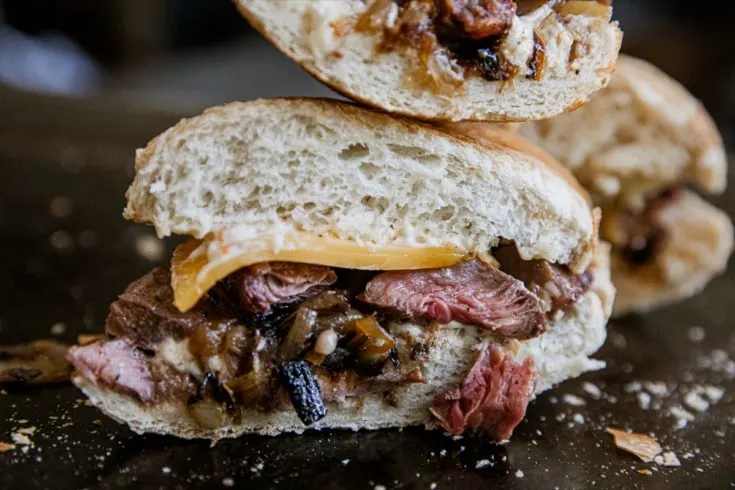 This epic steak sandwich is grilled hot and fast on our pellet grill, has our homemade steak rub on it, and features caramelized onions, horseradish aioli, and smoked cheddar.
Ingredients
Sandwiches
2 ribeye steaks
1 tablespoon Beef Rub*
1 tablespoon olive oil
1 large sweet onion, thinly sliced
1 loaf freshly baked French bread
6 ounces smoked cheddar cheese
Horseradish Aioli
2 teaspoons horseradish
1/2 cup mayo (I use Kewpie or Duke's)
1/2 teaspoon garlic powder
Instructions
Preheat your Traeger to 400°F-450°F. Put a cast iron pan into the grill while it preheats.
While the grill is preheating, season your steaks. If you don't want to make up your own beef rub, you can use whatever you have on hand, or a mixture of salt and pepper.
Put the olive oil into the preheated cast iron pan and toss in your sliced onions. Close the grill and let them cook a bit, but stir frequently so they don't burn. You want them browned, not black.
Once the onions are done, put your steaks on the grill. Grill on both sides until the internal temperature reaches 125°F-130°F. Also consider grilling your bread at this point too. You want the cut side toasty.
When the steak is done, remove from the grill and let rest.
Mix together the aioli ingredients and spread over both sides of your toasted bread.
Slice the steak across the grain and load it up onto the sandwich. Top with the smoked cheddar and caramelized onions and finally the top half of the bread. You can wrap in foil and put it back on the grill if you care about the cheese being melted. If not, just cut it into manageable chunks and enjoy!
Recommended Products
As an Amazon Associate and member of other affiliate programs, I earn from qualifying purchases.
Nutrition Information:
Yield:
4
Serving Size:
1
Amount Per Serving:
Calories:

852
Total Fat:

49g
Saturated Fat:

16g
Trans Fat:

0g
Unsaturated Fat:

30g
Cholesterol:

87mg
Sodium:

1202mg
Carbohydrates:

69g
Fiber:

3g
Sugar:

10g
Protein:

34g
Nutrition data provided here is only an estimate.