Ready for a flavor bomb? We're harnessing the power of Blackstone Griddle to supercharge TikTok's trending Chopped Italian Sandwich sensation. It's time to level up your grill game and deliver a punch of Italian flavor straight all the hungry mouths waiting for food at your table. We've taken this viral delight, added a sizzling twist, and turned it into a griddle-cooked sensation. Roll up your sleeves and gear up for an unforgettable ride, we're about to take this sandwich to a whole new realm of deliciousness!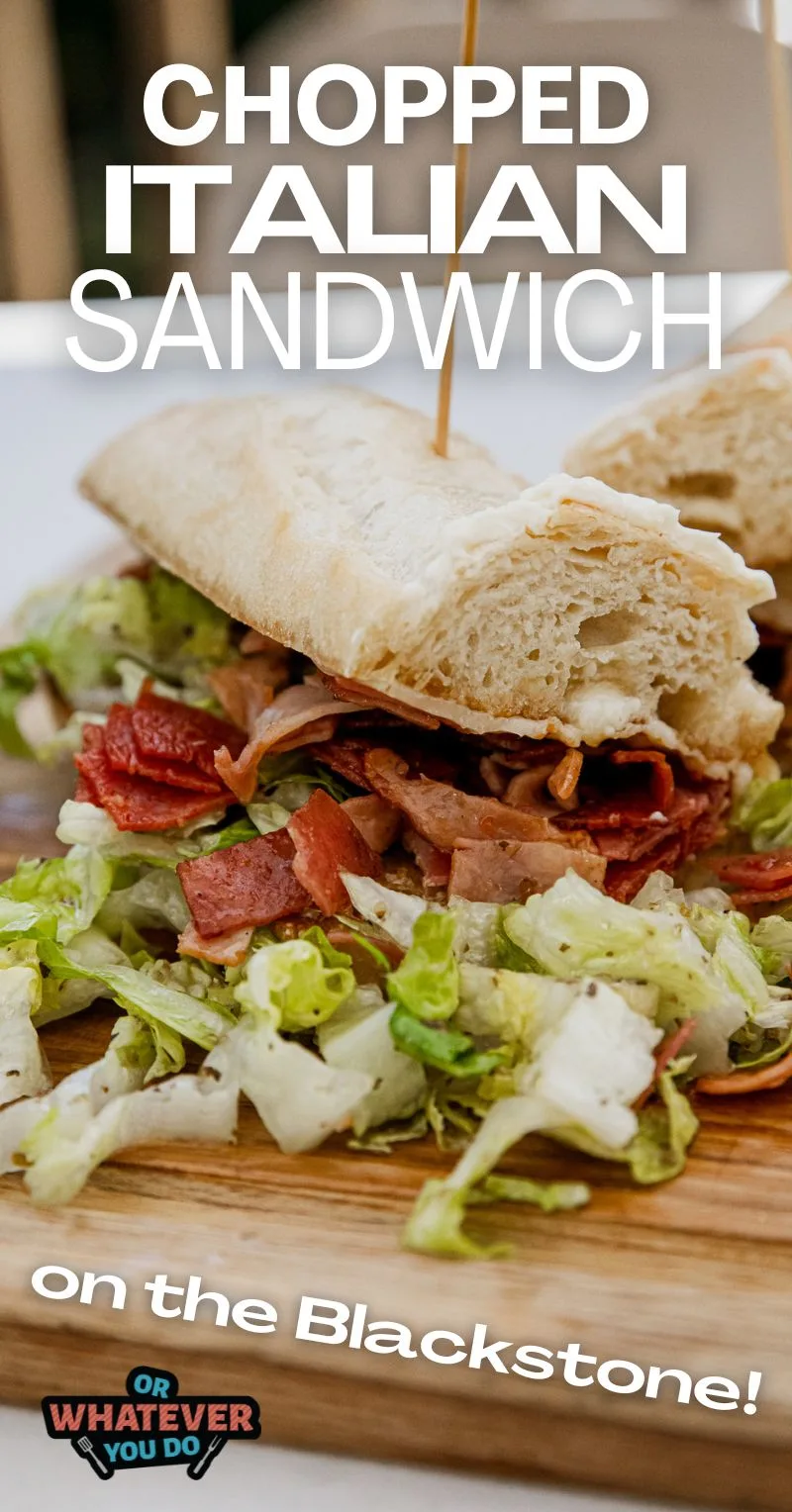 Blackstone Chopped Italian Sandwich
This viral TikTok sensation is getting the griddle treatment in this new twist on a popular social media craze. We took pepperoni, salami, and ham, chopped it up, and let it get sizzling hot on the griddle before being smooshed between two pieces of a toasty Italian loaf that was loaded with melted provolone cheese.
Then, we amped up the whole thing by dousing some lettuce in a homemade (and easy) Italian Vinaigrette.
The teenagers in the house ate all of these with no complaints and said it needed to return to the menu, stat. We're busy coming up with more fun variations for this easy, toasty, satisfying meal.
More Blackstone Recipes here!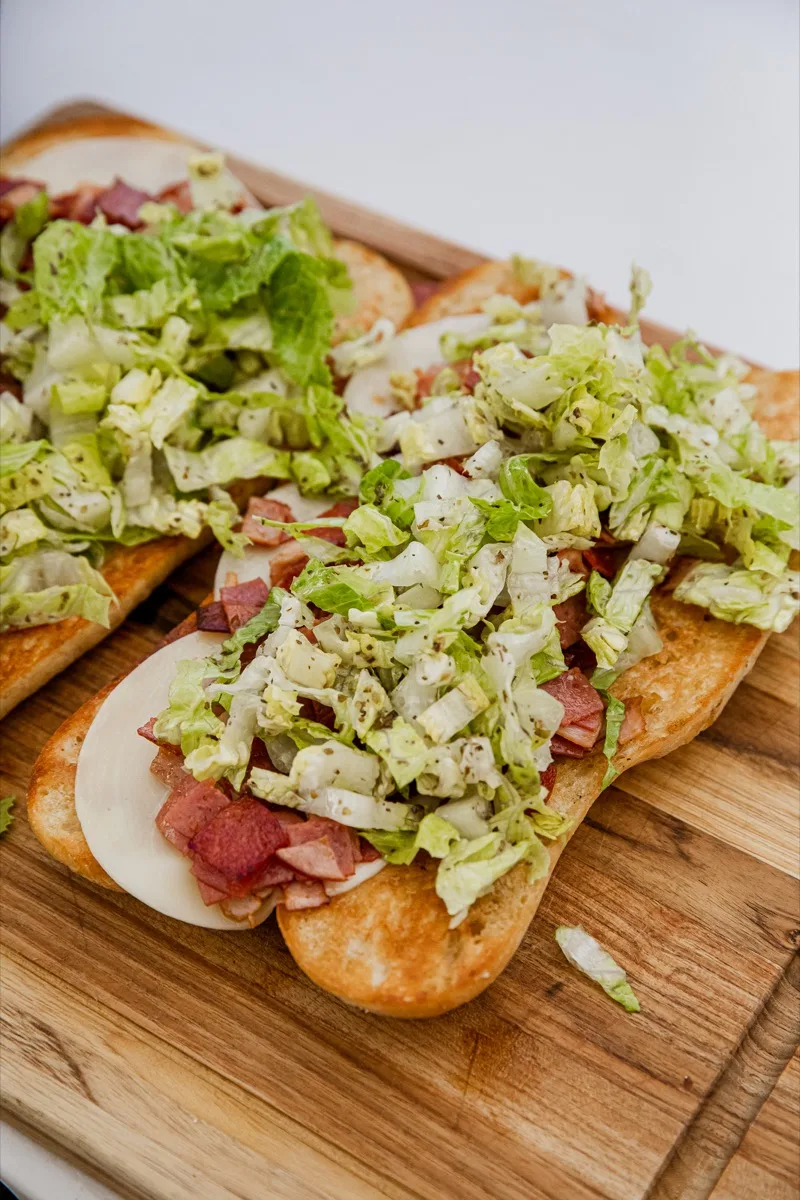 Chopped Italian Sandwich shopping list
Wondering if you have to hit the store? Here's the list of items you'll need to make this recipe. For specific amounts, please refer to the printable recipe card at the bottom of the post.
Italian sub loaves
Mayonnaise
Sandwich-sized pepperoni
Sandwich-sized salami
Ham
Provolone cheese
Romaine lettuce
Pickled yellow peppers
Red wine vinegar
Olive oil
Italian seasoning blend
Salt
Try our Blackstone Salmon Sandwich!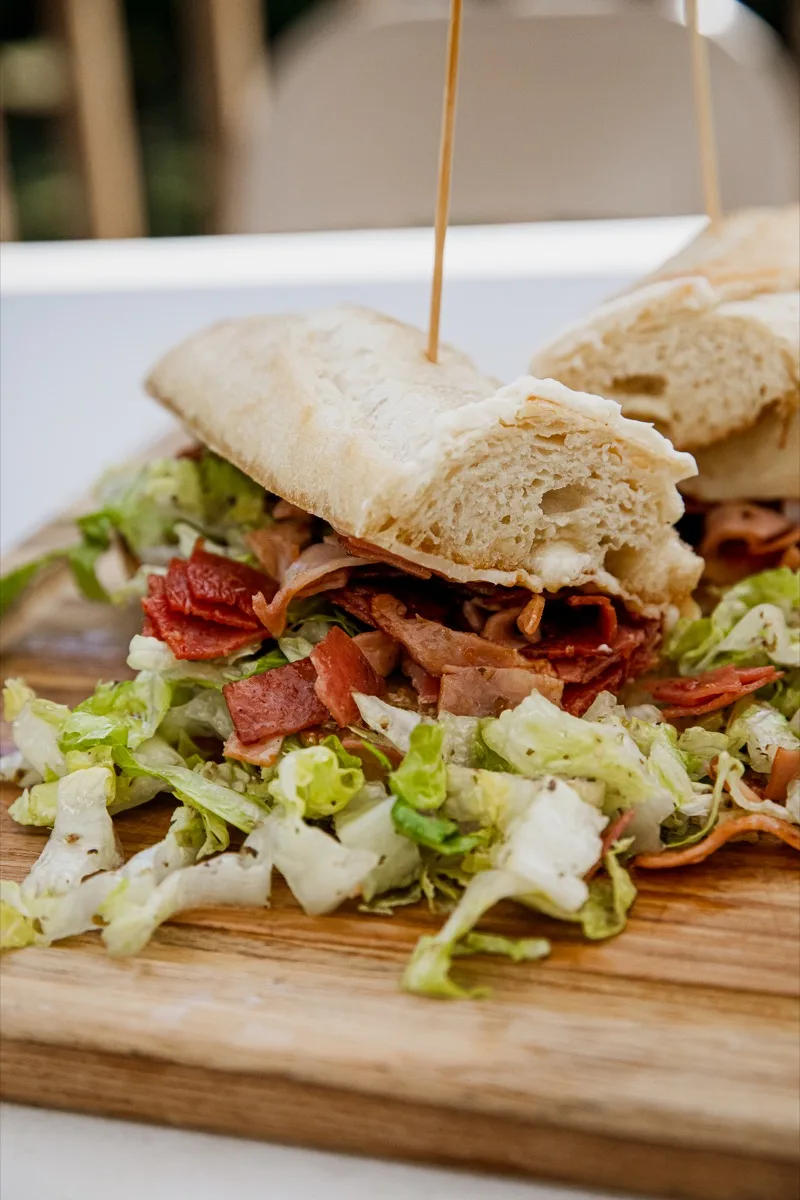 How to make a Chopped Italian Sandwich on the Blackstone
This is just the overview so you can see what you're actually getting into here. When you are cooking, you'll want to use the full recipe at the bottom of the page.
Preheat
Fire up that griddle and get it preheating over medium heat.
Prep
Chop up those meats, whisk up the dressing, slice your bread, slather with mayo, and assemble your utensils and a tray to build these delicious sandos on.
Cook
Put the bread cut-side down on the griddle. Put the chopped meat on the other side. Brown the bread. Stir the meat occasionally and cook until it is hot and getting some crispy edges.
Put the cheese on the bread as soon as it comes off the griddle, and then put the hot meat on top of the cheese to help it melt.
Toss
Toss the shredded lettuce with the dressing, and pile it all on the sandwiches.
Enjoy
Slice the sandwiches in half and dig in!
Try a Traeger Pulled Lamb Gyro Sandwich!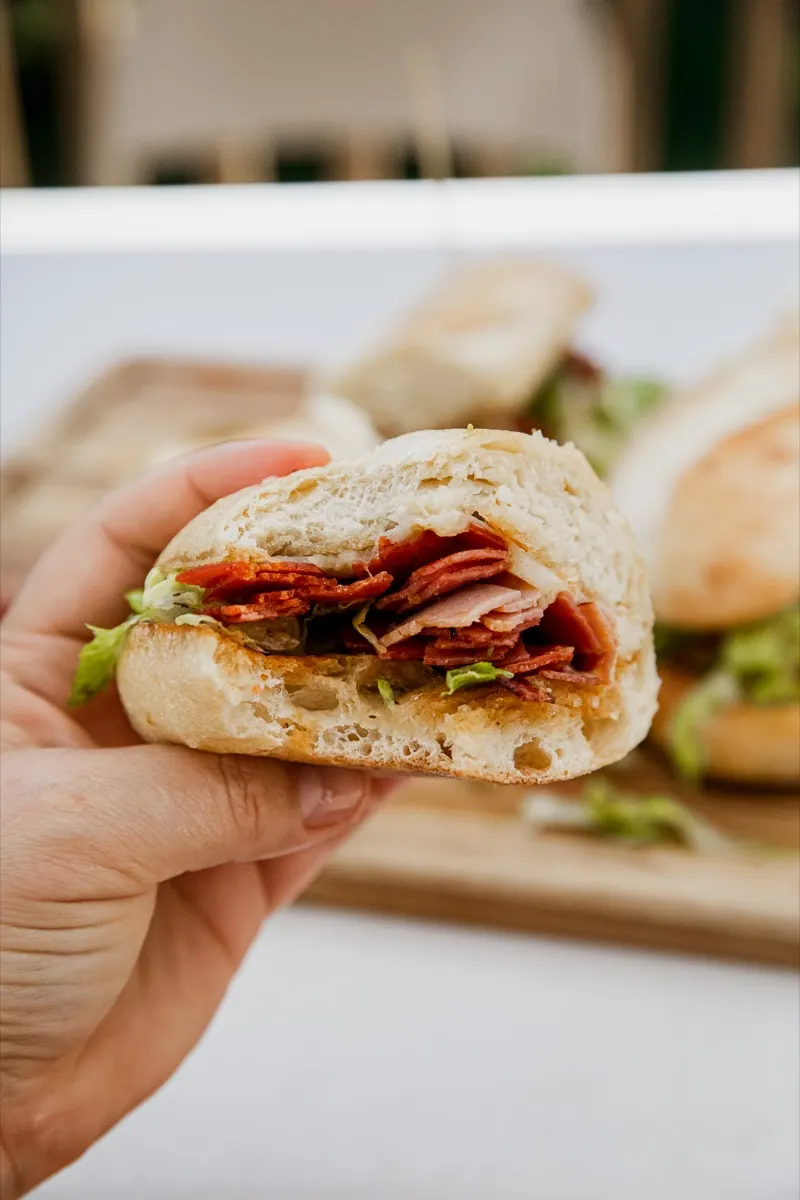 Chopped Italian Sandwich FAQ
Can this be made ahead of time?
Sure! Just wait to toss the dressing with the lettuce until right before you serve the sandwiches. You can grill up the meat and the bread before-hand, wrap it in foil, and then fully assemble once you're ready to eat.
What's the best way to store and reheat leftovers?
Only assemble what you're going to eat in one sitting, for starters. Lettuce on a sandwich doesn't keep. If you DO assemble too much to eat in one sitting, eat the leftovers cold instead of reheated for the best results.
Are there any recommended substitutions or additions?
This is a sandwich, and sandwiches are very flexible. Want some onions? Chop them up and toss with the lettuce. Love mustard? Drizzle that in the dressing too, or right on the bread after it comes off the griddle.
Our Traeger Grilled Steak Sandwich is delicious too!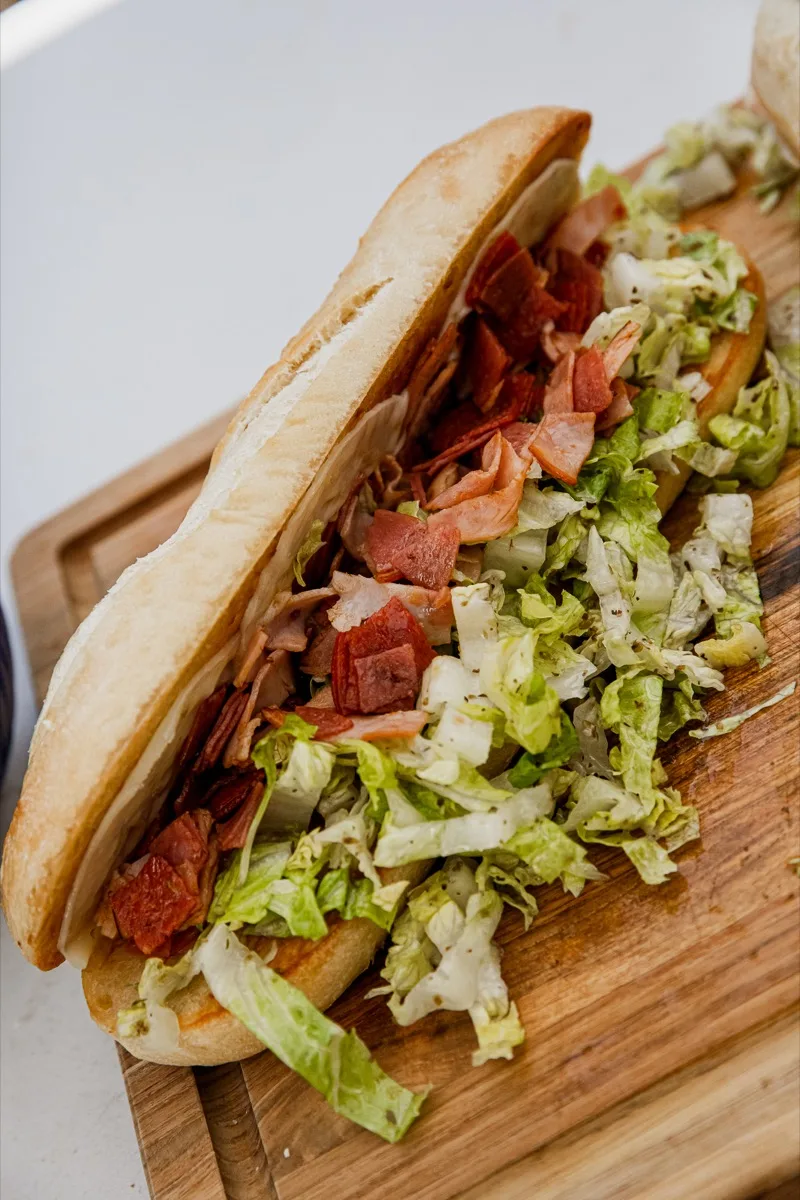 More great sandwich recipes to love!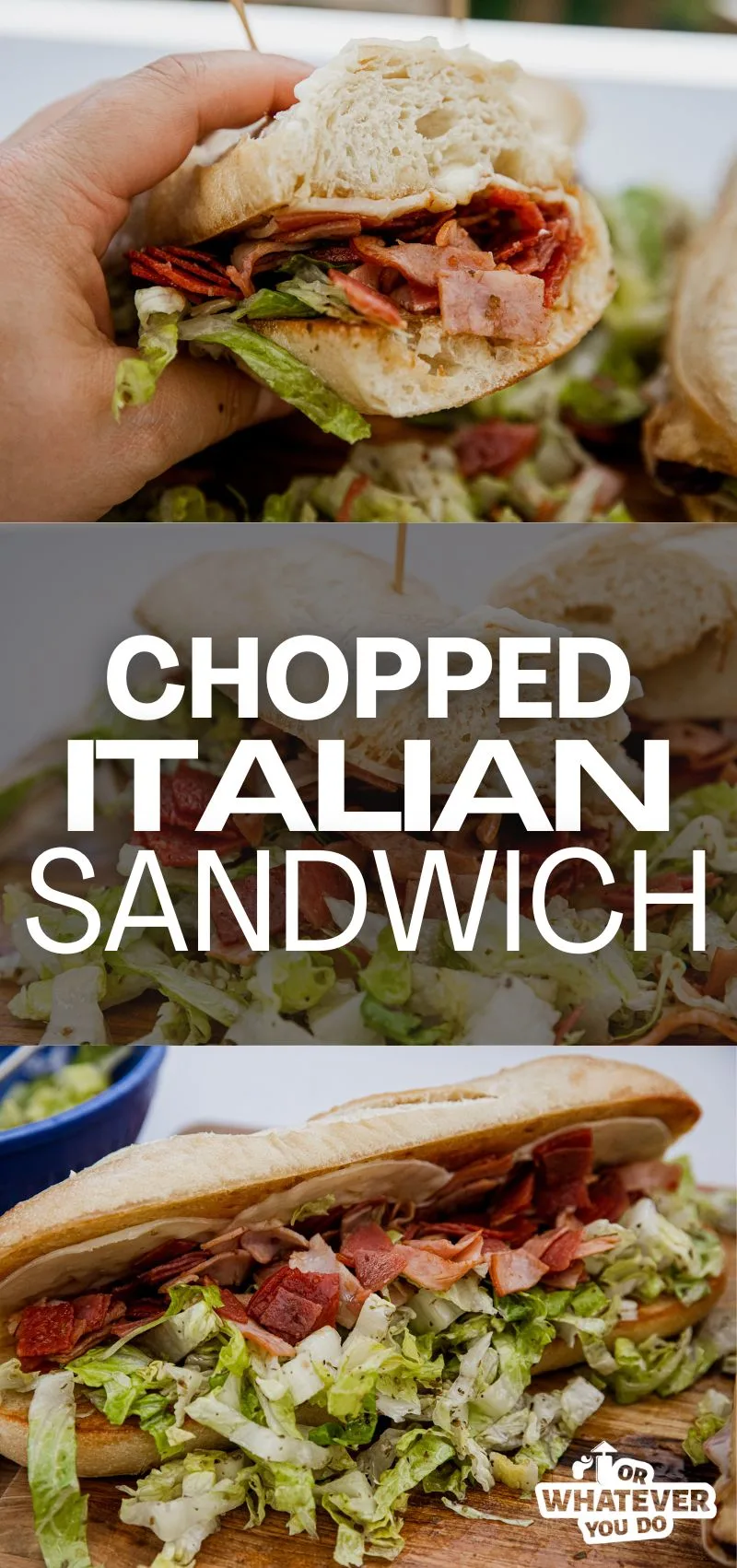 Yield: 6 servings
TikTok Viral Chopped Italian Sandwich on the Blackstone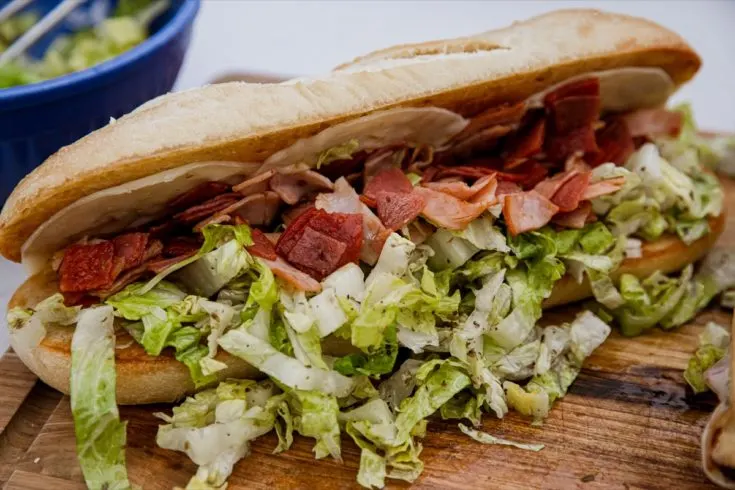 This is our Blackstone Griddle take on the viral TikTok Chopped Italian Sandwich craze! Delicious sandwich, toasty buns, and hot melty cheese.
Ingredients
Sandwiches
3 Italian sub bread loaves
3/4 cup mayonnaise
10 slices sandwich-sized pepperoni
10 slices sandwich-sized salami
10 slices ham
10 slices provolone cheese
3 cups shredded romaine lettuce
3 tablespoons diced pickled yellow peppers
Dressing
3 tablespoons red wine vinegar
2 tablespoons olive oil
1 tablespoon Italian seasoning blend
1/2 teaspoon salt
Instructions
Preheat your griddle over medium heat. Let it heat up for 10 minutes, minimum.
While the griddle is preheating, slice the bread loaves in half, leaving them connected on one side.
Spread the mayo evenly on both sides of each loaf of bread.
Take the meat and cut it into 1/2" cubes.
Mix up all of the dressing ingredients and whisk briskly until it is emulsified.
Put the chopped meat down on the griddle along with the cut bread loaves, mayo-side down.
Flip the meat over a few times until it is hot and sizzling and some of it is getting some browned bits on the edges.
Cook the bread, pressing down gently on the top as needed, until it is golden brown and toasty.
Pull the bread off the griddle and immediately place 3 cheese slices on each loaf.
Carefully remove the cooked meat from the griddle and put it on the bread loaves.
Toss the lettuce with the dressing and load that up on the subs too. Close, cut in half, and enjoy!
Recommended Products
As an Amazon Associate and member of other affiliate programs, I earn from qualifying purchases.
Nutrition Information:
Yield:
6
Serving Size:
1
Amount Per Serving:
Calories:

1107
Total Fat:

65g
Saturated Fat:

20g
Trans Fat:

0g
Unsaturated Fat:

41g
Cholesterol:

151mg
Sodium:

3214mg
Carbohydrates:

70g
Fiber:

6g
Sugar:

10g
Protein:

62g
Nutrition data provided here is only an estimate.