This simple Smoked Bachan's Beef Jerky recipe is going to blow your mind! The easiest marinade makes the best jerky, and you can whip this up easily in an afternoon. Homemade beef jerky is so much better than store-bought, and so much cheaper too!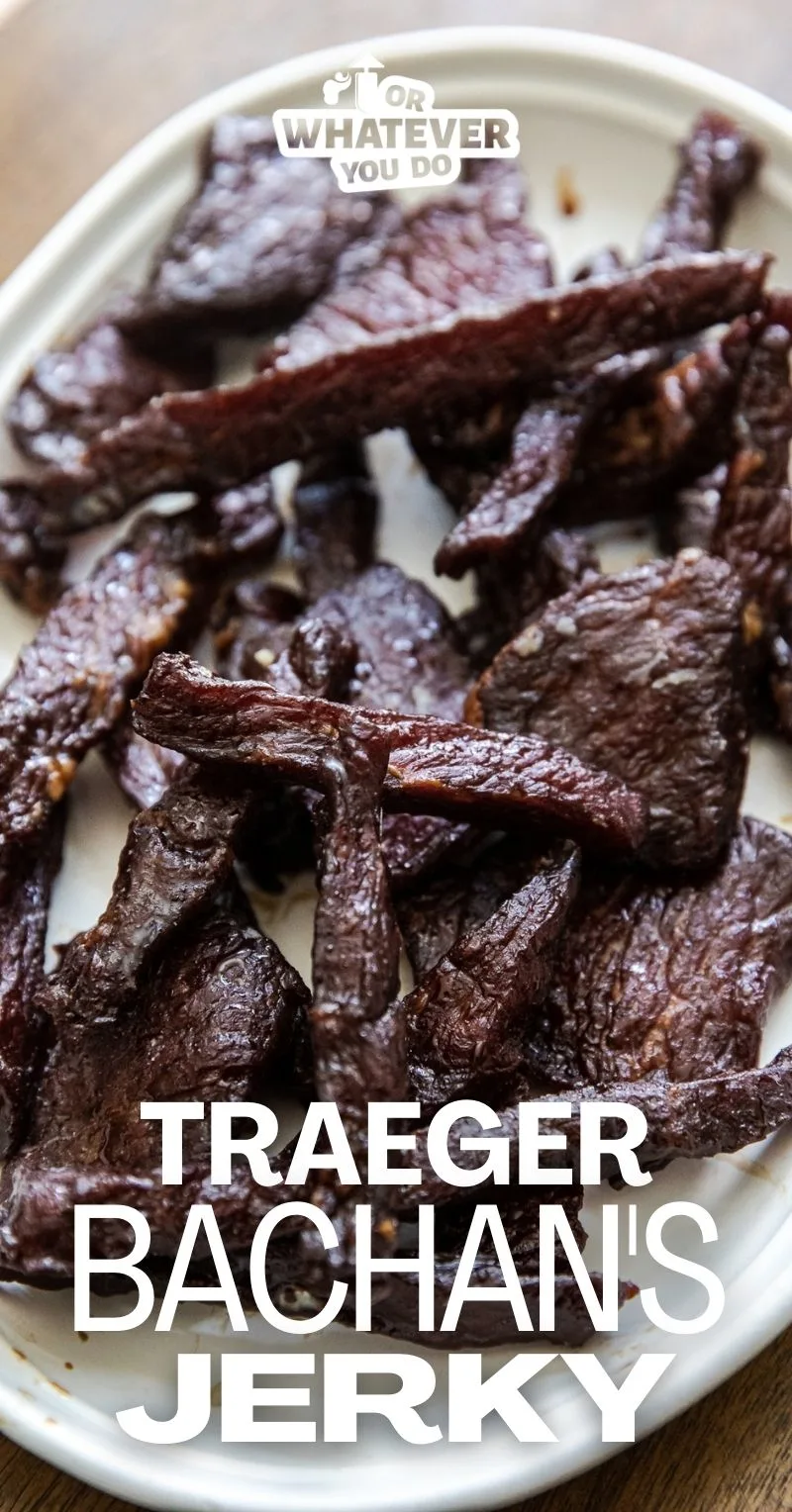 Traeger Smoked Bachan's Beef Jerky
The Bachan's obsession is sweeping the country – and for good reason. This has quickly become one of our favorite condiments. They call this "Japanese BBQ Sauce", and it is very close to a teriyaki sauce, but so much better. It contains ingredients like Soy Sauce, Sugar, Mirin, Tomato Paste, Ginger, Green Onion, Rice Vinegar, Garlic, Sea Salt, and Toasted Sesame Oil to make the perfect marinade for your next batch of beef jerky with ZERO measuring or fuss.
Bachan's is available at most major grocery stores these days, including Costco (in a bigger bottle, of course), and you can also buy it at Amazon.
Traeger Day 2023
I've been a fan of Bachan's for quite a while now, but the first time I tried it with beef jerky was during Traeger Day 2023 at the amazing Girl Meet's Grill get-together! She and her grilling bestie, Chad Ward (Traeger Grilling legend and the guy behind Whisky Bent BBQ), throw amazing parties, and we've been lucky enough to get invited to a couple of them.
This beef jerky was on the menu at this last one, and it was incredible and we knew we had to whip up our own batch to share with you all, stat.
Here are a few pics of some of the other goodies we got to enjoy while we were grilling and chilling on the Puget Sound with some grilling royalty.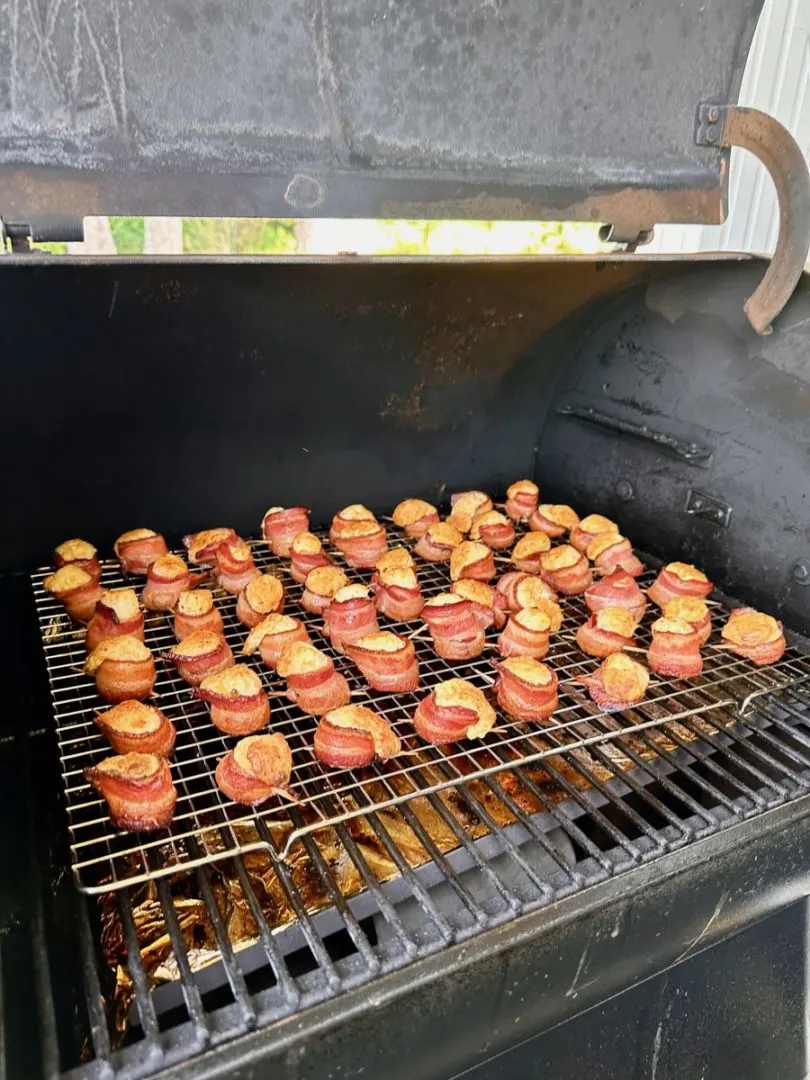 What kind of meat works best for jerky?
We used some sliced top sirloin steak for this jerky, but you can use a variety of different cuts for jerky. The key is to select a lean cut, as excess fat can cause the jerky to spoil more quickly. Our jerky is NOT shelf stable, so make sure to store it in the fridge.
Here are a few popular options:
Eye of Round: This is a popular choice for making beef jerky because it's lean and easy to slice uniformly. It's also a cheaper cut, which is a plus since the dehydration process reduces the weight of the meat significantly.
Top and Bottom Round: These are also lean cuts and cheaper, like eye of round. They're a bit tougher, but since jerky is meant to be chewed, that's not necessarily a downside.
Flank Steak: This cut is lean and has long, stringy fibers which can result in a good texture for jerky. It can be a bit more expensive, though.
Sirloin Tip: This is lean, like the other cuts mentioned, but has a bit more marbling (fat throughout the meat) which can add flavor.
Remember to trim off as much fat as possible before smoking the meat because the fat doesn't dry out and can go rancid. Also, it's best to freeze the beef for 1-2 hours before cutting it. This makes it easier to slice the meat thin, which is ideal for jerky.
Get all of my Traeger Recipes here!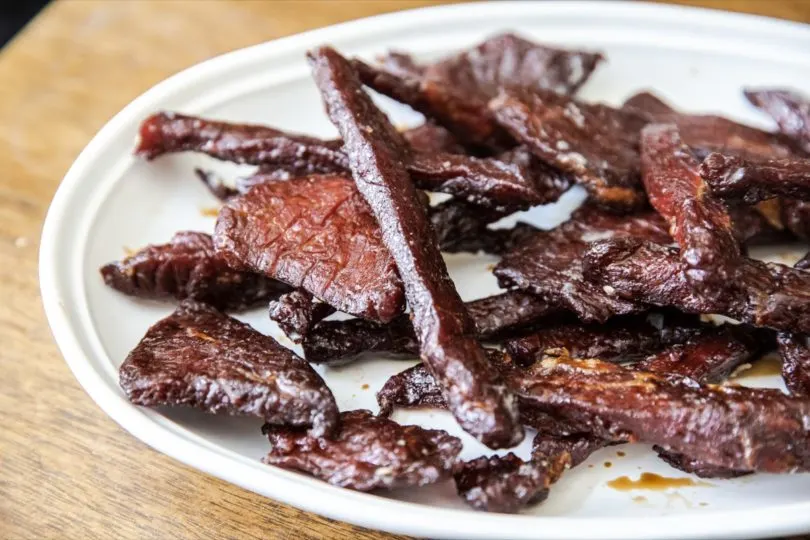 Bachan's Beef Jerky shopping list
Wondering if you have to hit the store? Here's the list of items you'll need to make this recipe. For specific amounts, please refer to the printable recipe card at the bottom of the post.
Steak or beef roast
Bachan's Japanese BBQ Sauce
Get 75+ of my favorite Traeger Recipes here!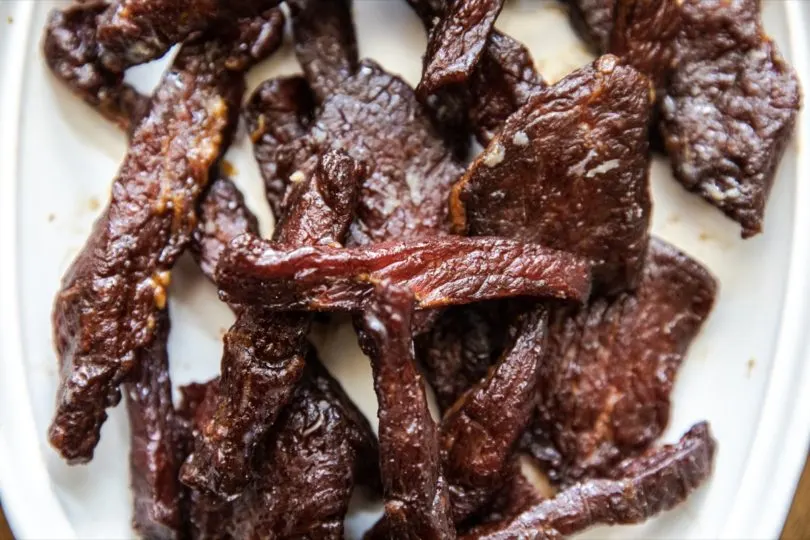 How to make Smoked Bachan's Beef Jerky
This is just the overview so you can see what you're actually getting into here. When you are cooking, you'll want to use the full recipe at the bottom of the page.
Prep
Slice your meat into strips or slices. The thicker the slices or strips, the longer you'll have to smoke them, so keep that in mind.
Marinate
Put the sliced beef into a large freezer baggie along with enough Bachan's to coat all of the meat. Put it in the fridge for at least 4-6 hours. Overnight is also fine.
Preheat
Once the beef is done marinating, preheat your smoker to 180°F.
Smoke
Lay the jerky out on racks and put them into the preheated smoker. Smoke for 3-4 hours, or until your strips are dry to the level you prefer. The more dry they are, the longer they will last in the fridge.
Enjoy
Remove from the grill and enjoy! Store them in the fridge, and snack away.
How about some Smoked Olives?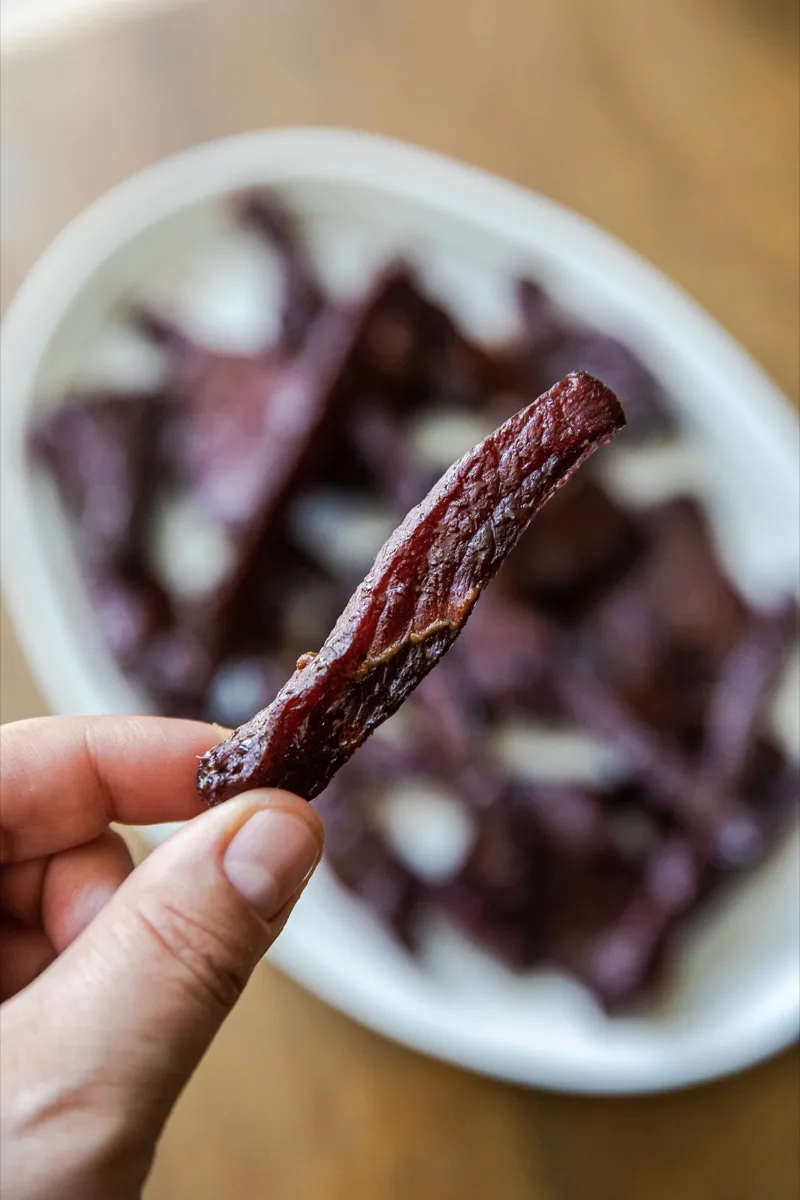 Smoked Bachan's Beef Jerky FAQ
What's the best way to store leftovers?
We keep our beef jerky in a sealed container in the fridge. It doesn't last long. Not because it spoils quickly, but because our teenagers polish it off before it barely has a chance to survive the night!
Are there any substitutions for the Bachan's sauce?
If you don't have Bachan's, you can whip up your own teriyaki marinade. Our Smoked Teriyaki Beef Jerky would be a great option.
Try our Smoked Summer Sausage too!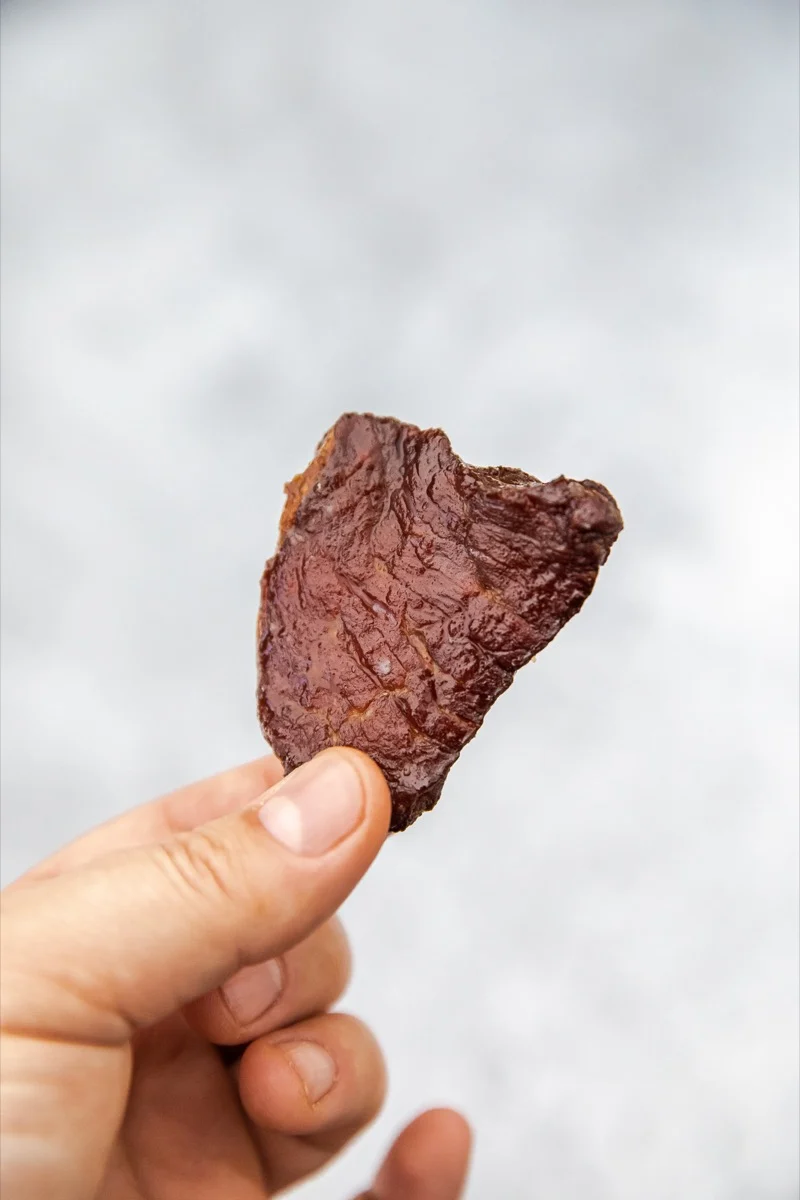 More great jerky recipes to love!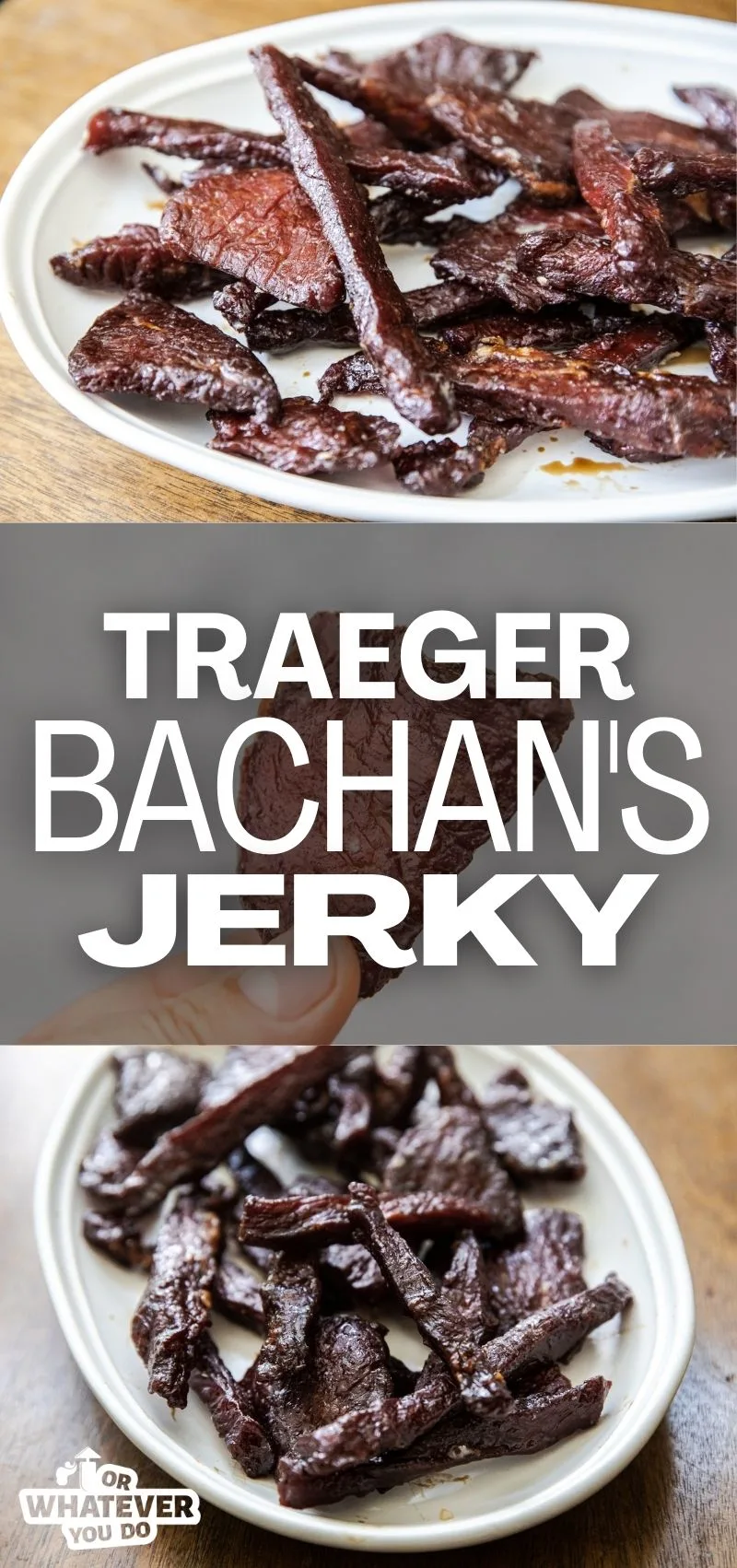 Yield: 8 servings
Smoked Bachan's Beef Jerky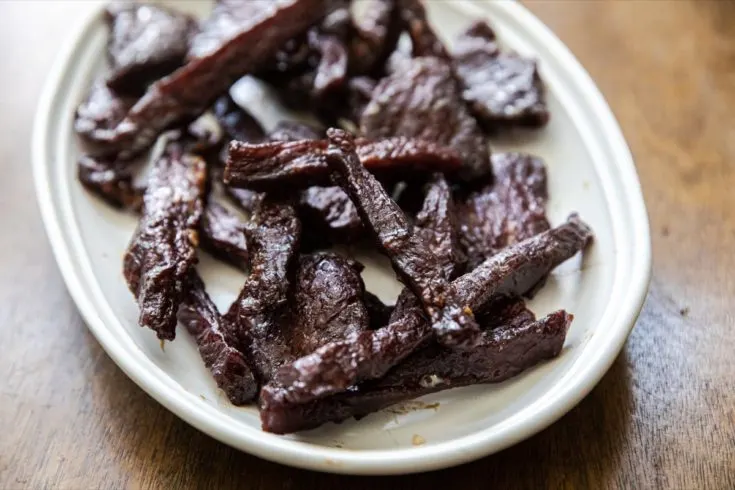 Our delicious (and easy) Smoked Bachan's Beef Jerky Recipe is going to be the hit of your next party! Two ingredients, and tastes incredible!
Total Time
3 hours
15 minutes
Ingredients
3 pounds lean beef, sliced into strips
12 ounces Bachan's Japanese BBQ Sauce
Instructions
Cut the beef into strips or thin slices. Either will work with this recipe as long as they are relatively thin!
Place the beef and the Bachan's in a large freezer baggie. Mix and mash everything together until the meat is evenly coated.
Put the meat the fridge for at least 4-6 hours, or up to 24 hours, to marinate.
Preheat your pellet grill to 160-180°.
Spray jerky racks with cooking spray and then place the beef across the racks, making sure they are not touching.
Smoke at 160-180° for 3-4 hours, or until the sticks are fully cooked and at the texture that you prefer. The longer you smoke them the drier they will be. The drier they are, the longer they'll last.
Remove from the smoker and store it in the fridge.
Recommended Products
As an Amazon Associate and member of other affiliate programs, I earn from qualifying purchases.
Nutrition Information:
Yield:
8
Serving Size:
1
Amount Per Serving:
Calories:

464
Total Fat:

21g
Saturated Fat:

8g
Trans Fat:

1g
Unsaturated Fat:

9g
Cholesterol:

151mg
Sodium:

585mg
Carbohydrates:

17g
Fiber:

0g
Sugar:

14g
Protein:

49g
Nutrition data provided here is only an estimate.