If you love meatball subs, you are going to love my Traeger Meatball Sub Casserole! Italian meatballs, homemade marinara, all the cheese you can throw on it, and a fresh hoagie roll are a match made in meatball heaven.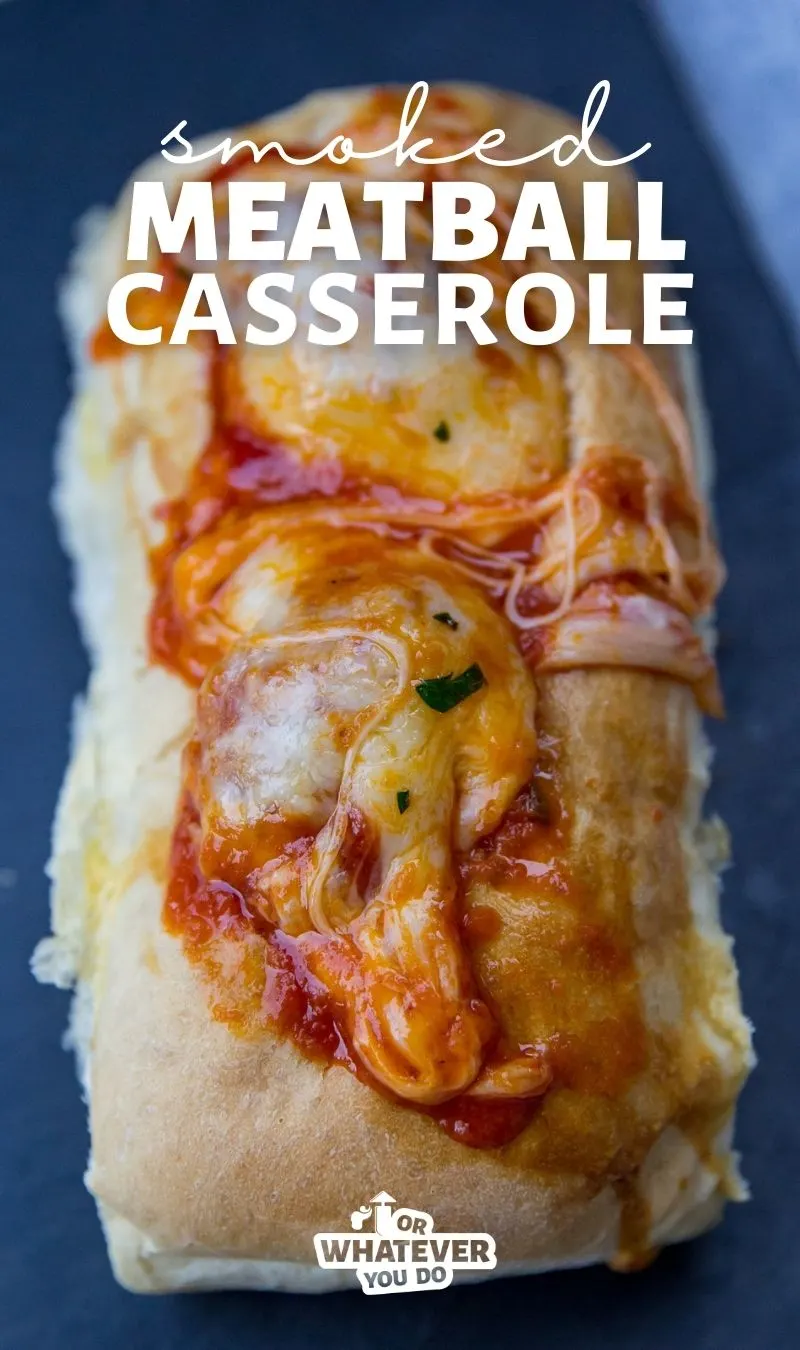 Meatball Sub Casserole Recipe
Homemade meatball subs are kind of legendary around here, but when you are cooking for a bunch of people, as we do, they are also kind of a pain. There are the meatballs and the cheese covering and then the final bake to melt the cheese. UGH.
I know that is ironic when I tout the awesomeness of 9-hour ribs and soup that days 4 days to cook, but here's the thing…
We don't cook like that all the time.
There are pizza nights, taco nights, spaghetti nights, stir-fry nights, steak and potatoes nights, and those are pretty much on repeat unless I have blog stuff planned or I'm on the meal-planning train, which I'd like to be but usually am not.
For this recipe, we've got all the options for you. Want to make everything from scratch? I gotchu.
Want to use store-bought everything? There are options for that too.
Get all of my Easy Traeger Recipes here!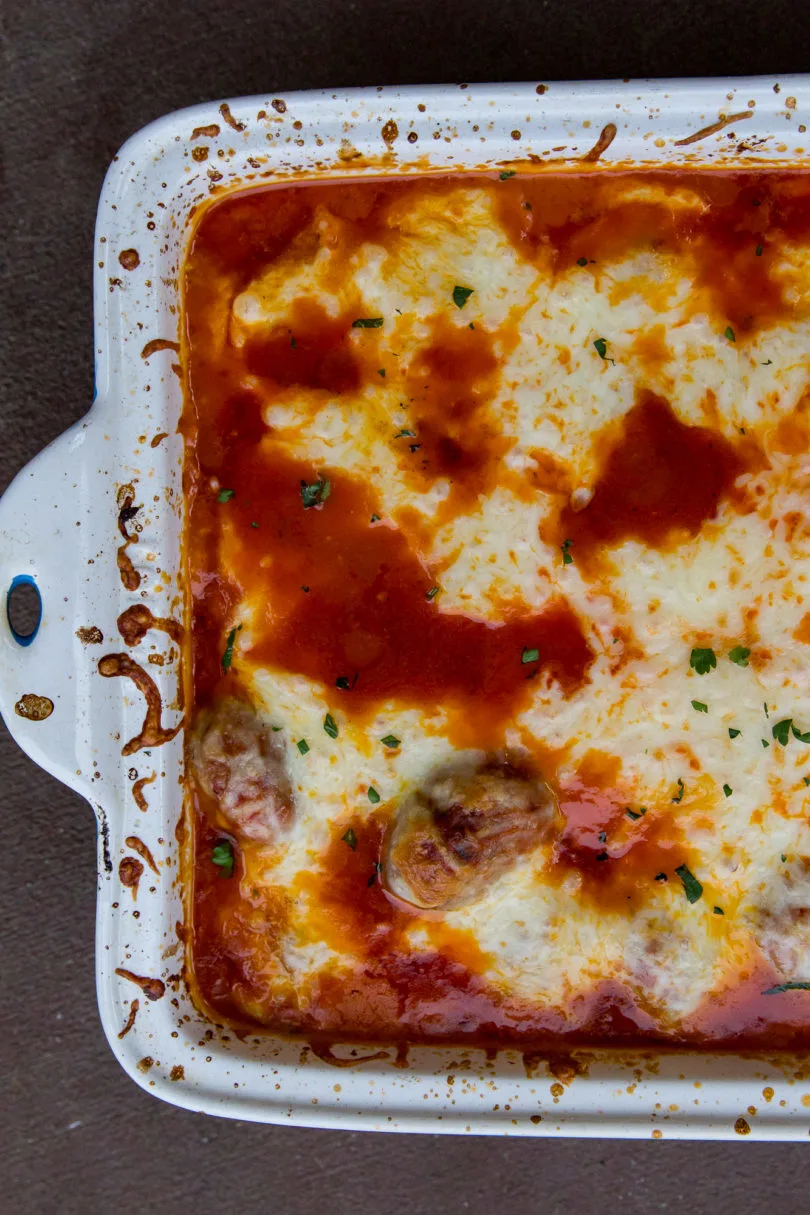 How to make Meatball Sub Casserole
We made this easy casserole on our pellet grill because we love those things and make about everything in them. From the meatballs to the buns, it can all be done in the pellet grill if you want to.
In that same direction though – if you don't have a pellet grill or the weather stinks where you're at right now, this recipe can be easily adapted for the oven. You could even do a lot of this in the Instant Pot or slow cooker if you really wanted to.
The end results will definitely be different depending on which method you choose, but as with basically all of my recipes – I encourage you to experiment and adapt things to make sure they work for you.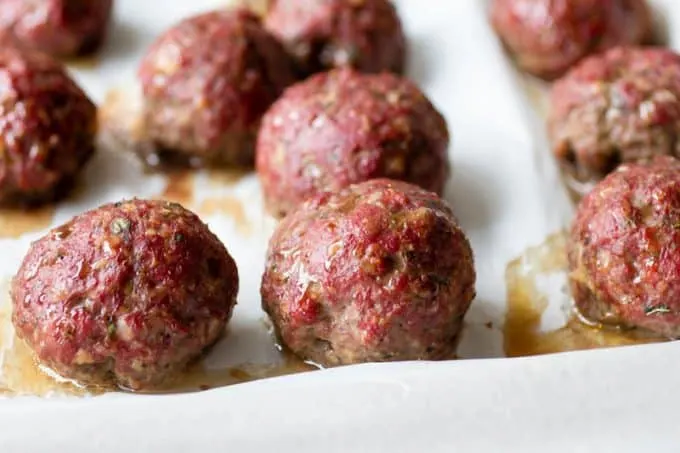 Meatball Casserole shopping list
If you want an idea of what you need, and whether you need to hit the store or not in order to pull this off, here's an easy list to work from.
Make sure when you are cooking to check the recipe card at the bottom of the page, which has all of the specific amounts listed.
Follow me on Instagram!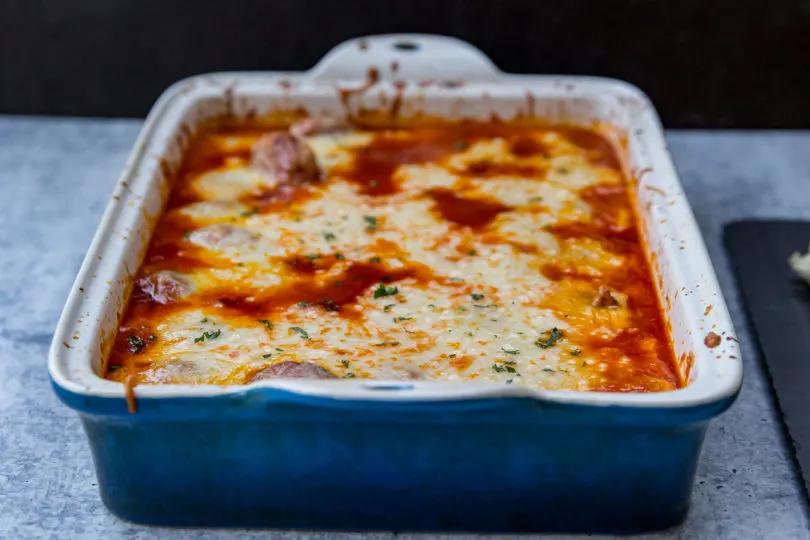 What kind of buns are best with this?
I really like a good, sturdy hoagie bun with my meatball subs. This time we whipped up some homemade rolls and they were amazing.
No matter what you go with, I highly suggest buying the freshest uncut rolls that you can, and then hollowing out the middle to make room for the meatballs. If you're old enough to remember when Subway used to cut their buns, that's what we're going for here.
Try my Homemade Bolognese sometime too!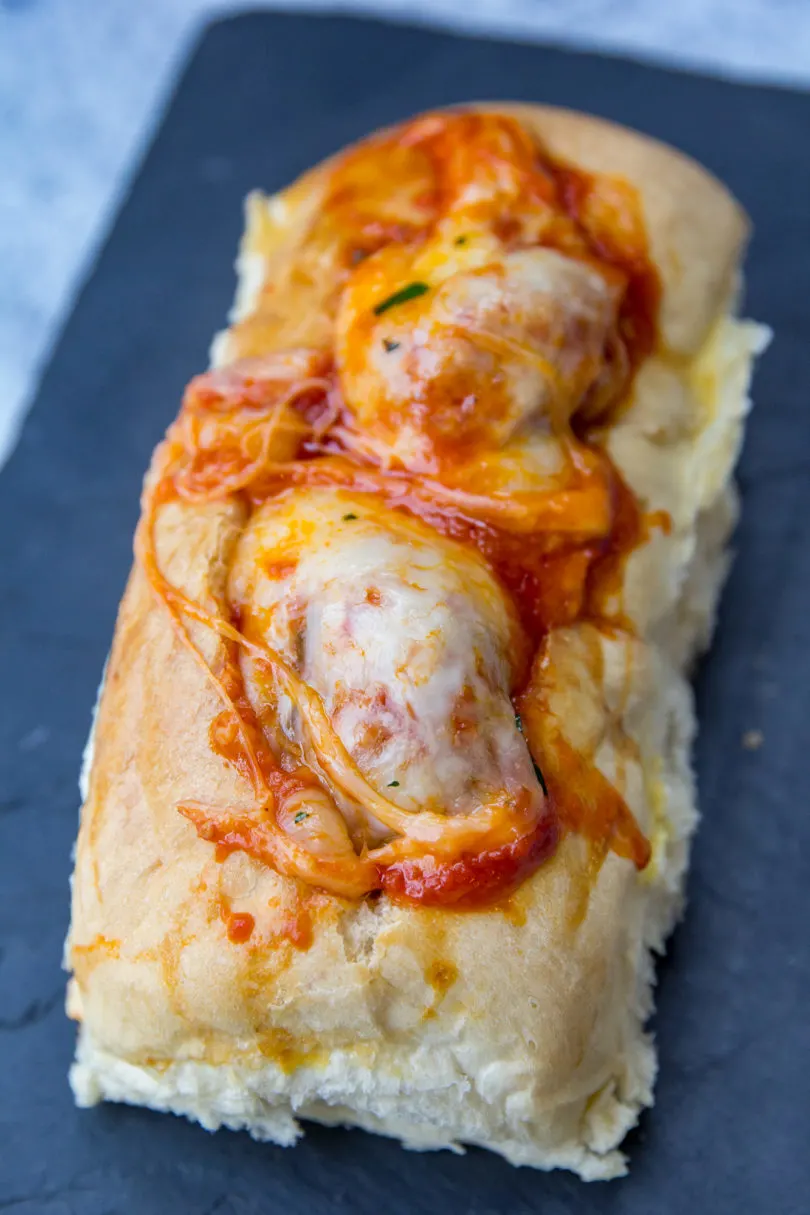 FAQ
Can you use pre-made or frozen meatballs?
Yes! If you have a good premade meatball that you love, feel free to use them! We usually make our own, but there's a local fancy grocery store that makes some meatballs that I LOVE, and we've definitely used those before.
What is the best jarred marinara to use if you don't want to make your own?
I really like the Rao's brand of marinaras when I don't want to go through the trouble of whipping up a batch myself. Another great one is the Victoria brand.
What kind of cheese is best?
We used a ton of mozzarella for this recipe, but I wouldn't hesitate to throw on some parmesan and provolone if we have it laying around.
I don't have a pellet grill. Can I still make this?
Yes! You can make this in the oven if you don't have a pellet grill.
You need more PASTA in your life.
More to love
More recipes to love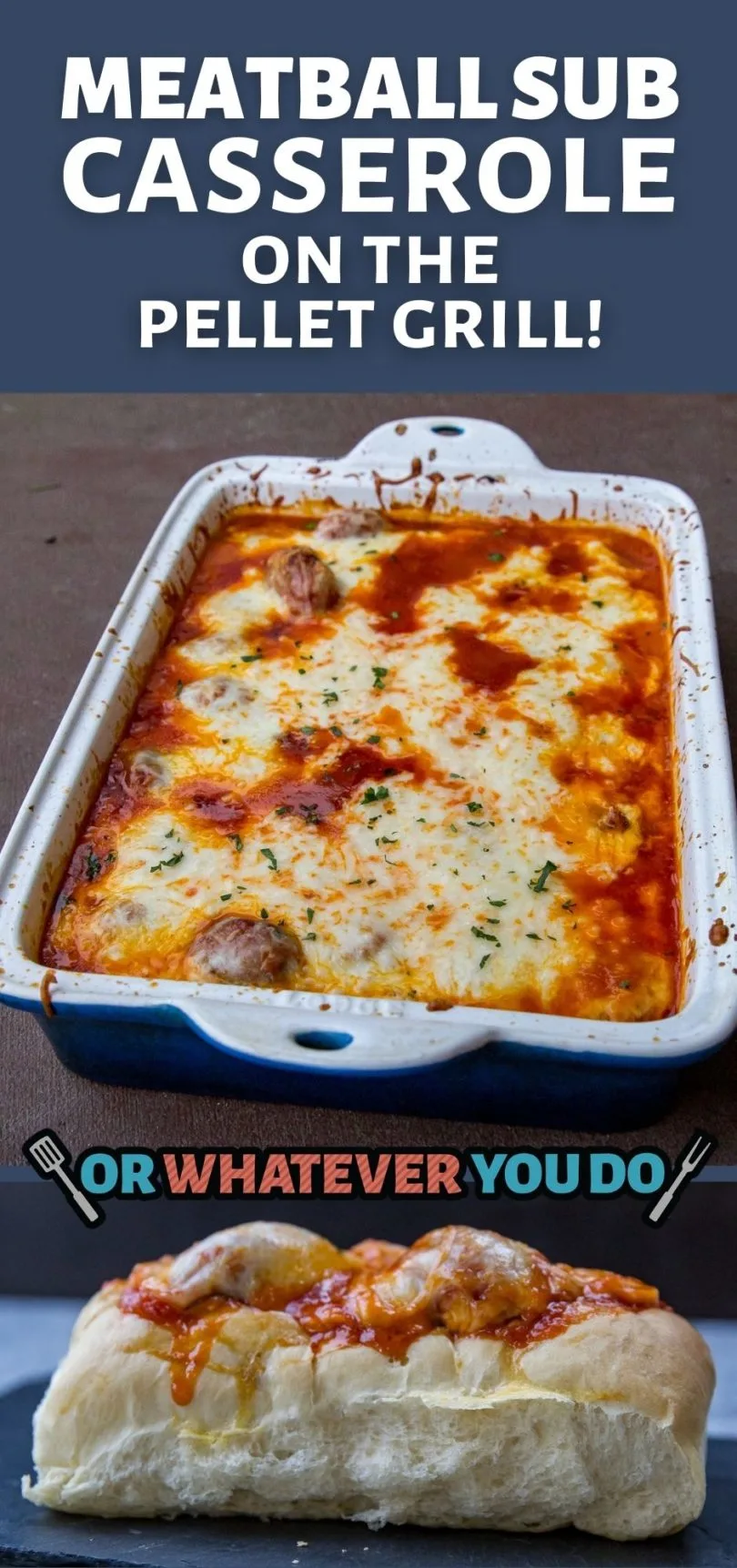 Yield: 8 servings
Traeger Meatball Sub Casserole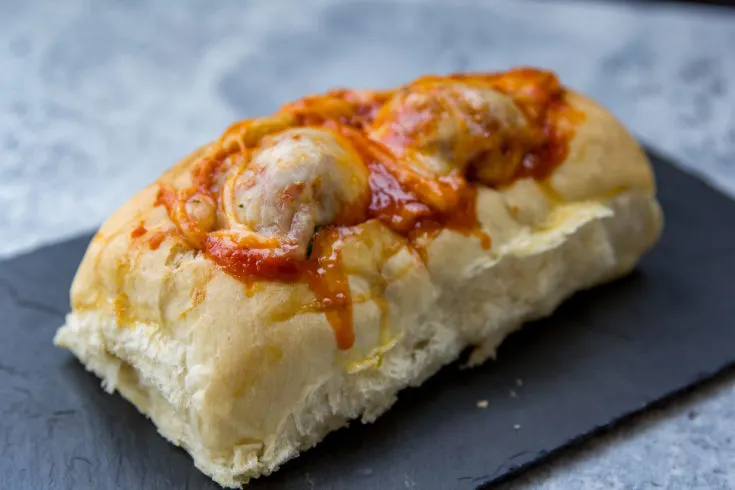 We hit the easy button with these delicious meatball subs by turning it into a casserole!
Ingredients
24 meatballs
6 cups marinara
4 cups shredded mozzarella cheese
8 sub rolls
Instructions
Preheat your pellet grill to 200°. Place the meatballs on the smoker and cook for one hour.
In a large grill-safe casserole dish, place the meatballs, marinara, and cover with the cheese.
Turn the grill up to 325° and bake the casserole for 20-30 minutes, or until the meatballs are cooked through and the cheese is melty.
Spoon meatballs into your sub buns and serve hot.
Recommended Products
As an Amazon Associate and member of other affiliate programs, I earn from qualifying purchases.
Nutrition Information:
Yield:
8
Serving Size:
1
Amount Per Serving:
Calories:

1355
Total Fat:

72g
Saturated Fat:

24g
Trans Fat:

1g
Unsaturated Fat:

42g
Cholesterol:

256mg
Sodium:

3337mg
Carbohydrates:

95g
Fiber:

8g
Sugar:

22g
Protein:

79g
Nutrition data provided here is only an estimate.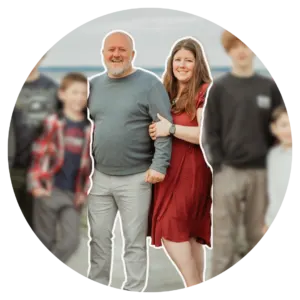 Nicole Johnson, a self-taught expert in grilling and outdoor cooking, launched Or Whatever You Do in 2010. Her blog, renowned for its comprehensive and creative outdoor cooking recipes, has garnered a vast audience of millions. Nicole's hands-on experience and passion for grilling shine through her work. Her husband, Jeremiah Johnson, also plays a pivotal role in recipe development, adding his culinary flair to the mix. Together, they form a dynamic duo, offering a rich and varied outdoor cooking experience to their followers.