Meatball Stuffed Shells is an easy dish of my favorite comfort food, and using your pellet grill to do the baking not only adds a bit of wood-fired flavor but also keeps you from heating up your kitchen in the warmer months too.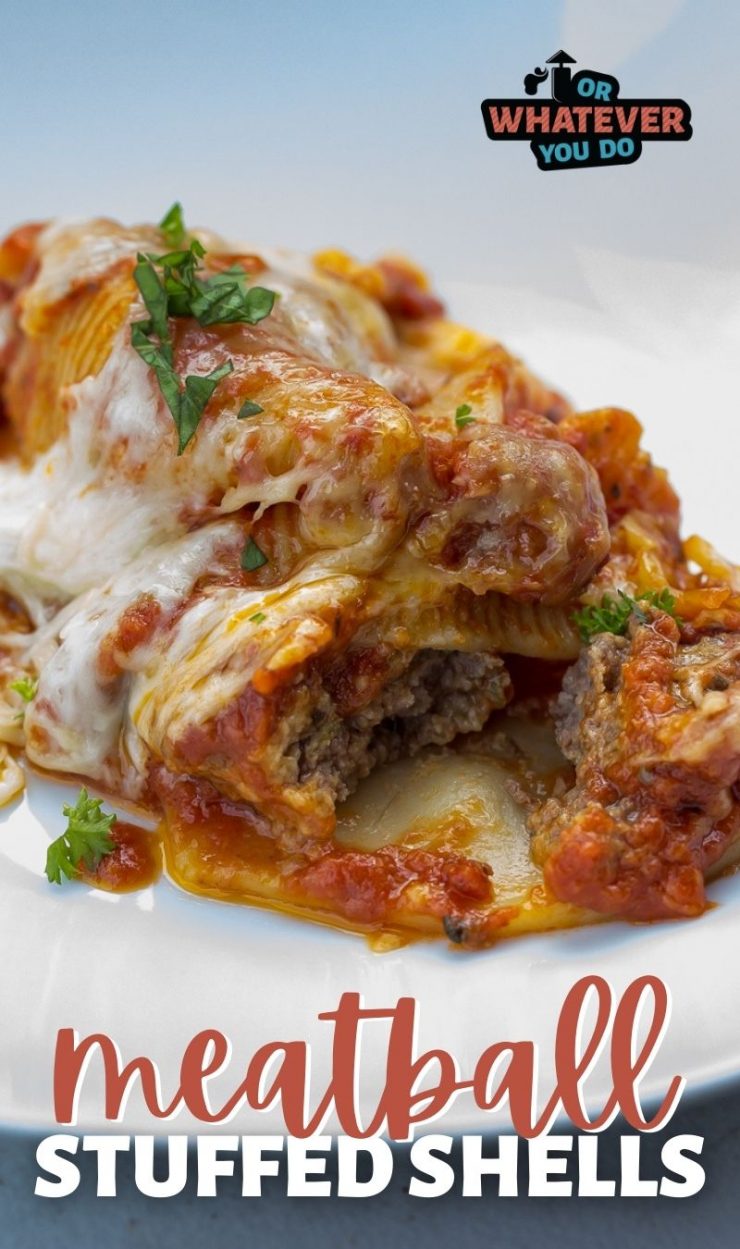 Traeger Meatball Stuffed Shells
Stuffed shells are one of my favorite meals, but typically you'll find them stuffed with cheese. That version is amazing, but I wanted to try something a little different.
We took my typically meatball mix, minus the breadcrumbs and bread, and put it right into par-boiled large shells before getting topped with marinara and copious amounts of cheese and baked off in your pellet grill.
More Easy Traeger Recipes here!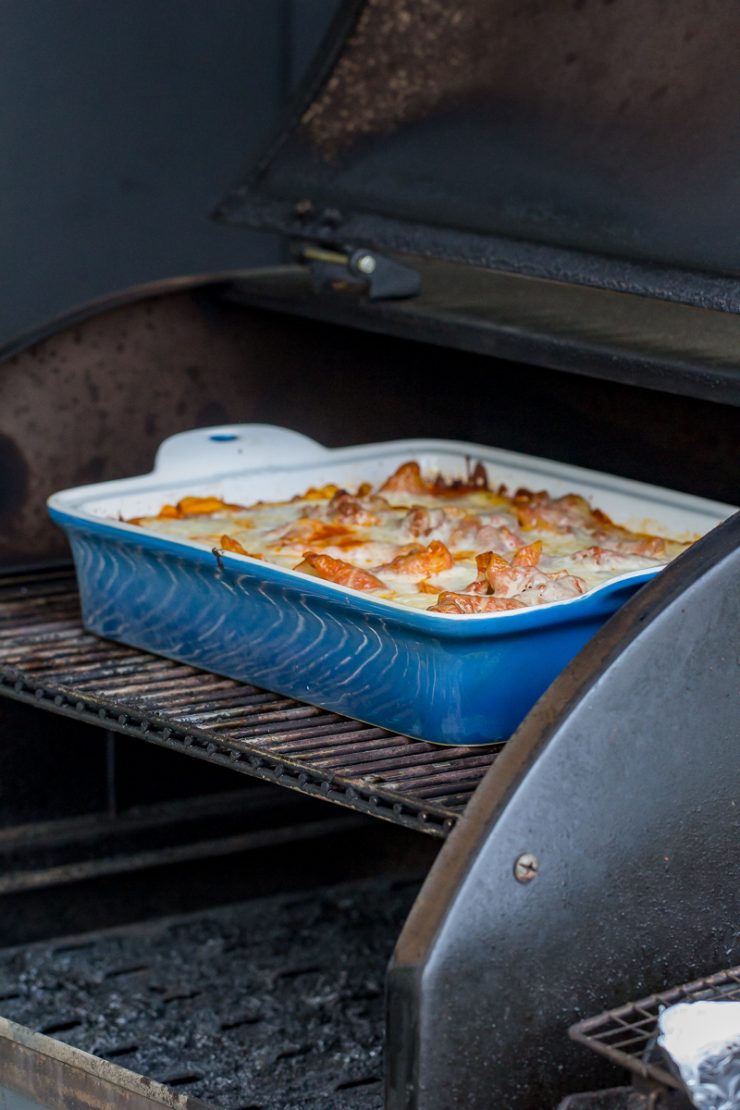 Do you have to use a grill?
Nope! I love using my pellet grills for baking, but if you don't have one you can definitely cook this in the oven and it'll be delicious.
If you do use a pellet grill, you'll get a bit of smoke in the mix. If that isn't your thing and you still don't want to use the oven, just cover the dish tightly while cooking.
You need more PASTA in your life.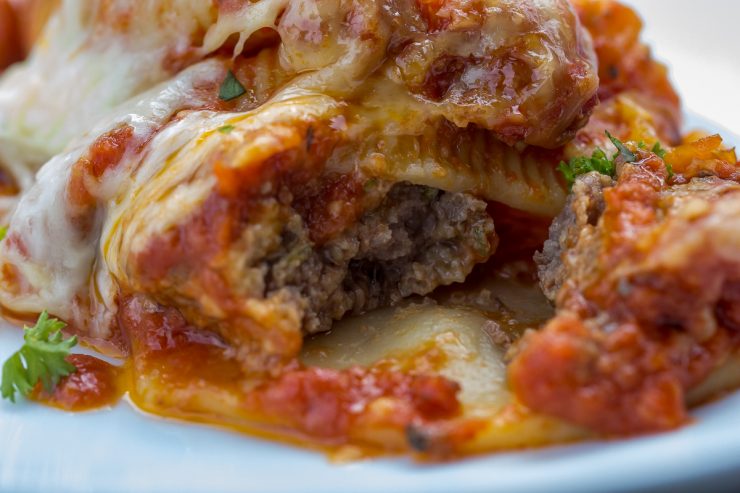 What is the best kind of meat for meatball stuffed shells?
I prefer beef for meatballs, or a mix of beef and pork. With these, since the meat isn't precooked in the shells I tend to go ALL beef, and get a lean variety that is 90/10 or 95/5, if you can find it.
We get all of our meat these days from ButcherBox! Their ground beef tastes amazing, is grass-fed, and is lean enough to not leave behind copious amounts of grease without sacrificing flavor.
Buy your Butcher Box here!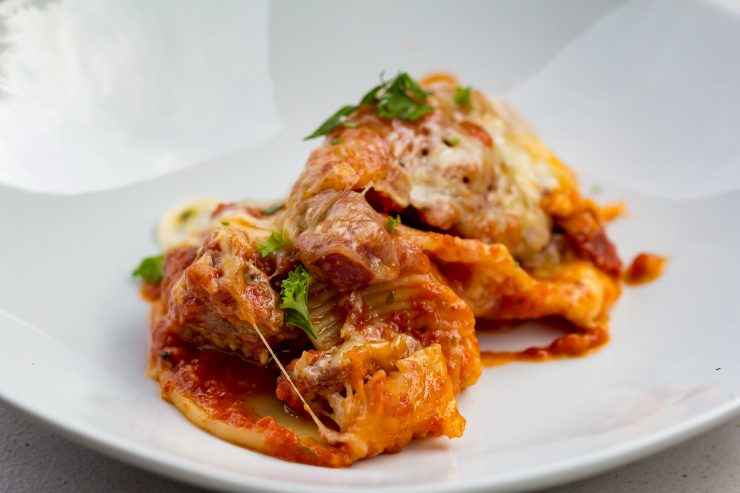 What are some good jarred sauces to use if you don't want to make your own?
I love to whip up my own marinara for dishes like this. It is simple, and SO much better than the average sauce you can buy on the store shelves. A version of this homemade marinara is perfect.
If you want to pick something up from the store, my FAVORITE "fancy" brand of marinara is Victoria Marinara. It is a bit on the pricy side, at $8.99 a jar in my area, but worth it if you love a GOOD sauce.
If you want to buy a more budget-friendly sauce, my favorite lately has been the Simply Ragu line. The traditional and chunky marinara varieties are fantastic.
Follow me on Instagram!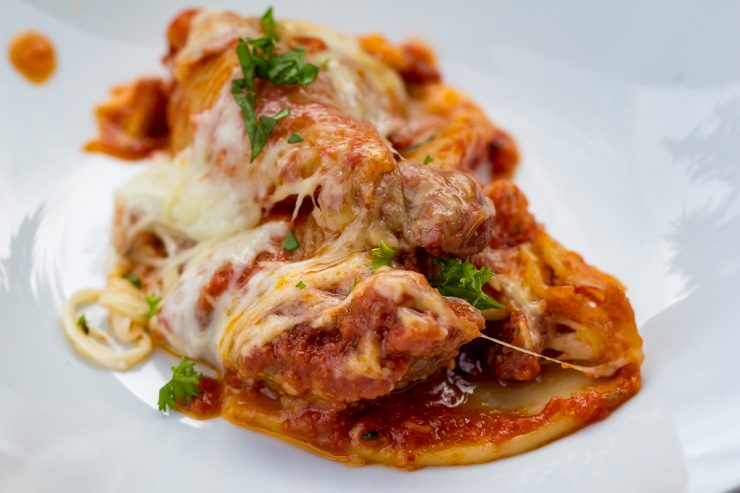 How do you know when it is done?
That is a great question because when it comes to meat covered in cheese and sauce, it is hard to tell just by looks.
For a dish like this, I ALWAYS do a temp to make sure I've got my bases covered and don't overcook it "just to be safe".
My go-to thermometer is the Thermapen Mk4. After going through 4-5 Amazon thermometers over the years, and none of them held up, my Thermapen has been going strong for two years running. They are high-quality, accurate, and lightning-fast.


What else can you serve with stuffed shells?
So many things. My garlic breadsticks would be the first vote on my list. They are fluffy and the perfect thing to dunk into a vat of that marinara you just made.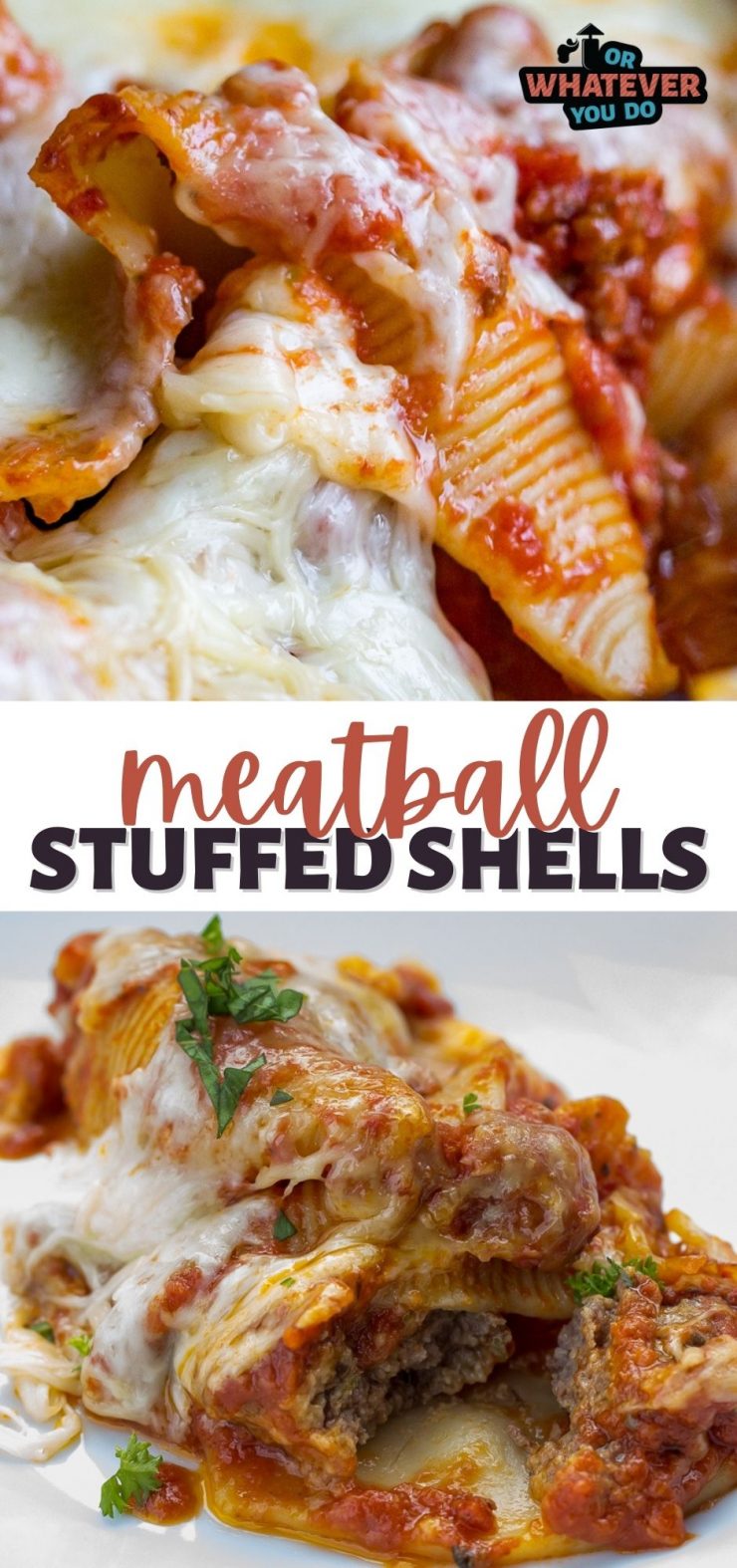 Yield: 12 servings
Traeger Meatball Stuffed Shells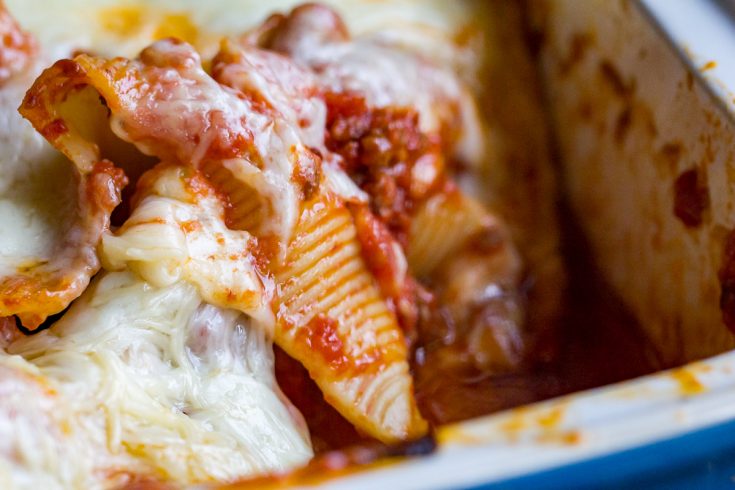 This hearty delicious stuffed shells recipe skips the usual cheese-fest until the very end, and your shells get stuffed full of a delicious seasoned meatball mix instead!
Total Time
1 hour
5 minutes
Ingredients
24 large shells
2 pounds lean ground beef (90/10 at most)
2 teaspoons Italian seasoning blend
1/2 teaspoon garlic powder
1/2 teaspoon onion powder
1 teaspoon salt
1/2 teaspoon pepper
1 egg, beaten
8 cups marinara sauce
2 cups shredded mozzarella cheese
2 cups shredded Italian blend cheese
Instructions
Pre-heat your pellet grill or oven to 350°.
Par-boil the noodles (meaning, cook them for half the called-for time) in well-salted water. Remove and rinse with cold water.
Mix together the ground beef, Italian seasoning, garlic and onion powder, salt, pepper, and the beaten egg well.
Fill each shell with meat mixture and place them into a large high-sided rectangular baking pan (9x12 or 10x13 works great.) If you have excess meat, make a couple of meatballs and plop them into the pan too.
Pour the sauce over the stuffed shells, and top with all the cheese.
Place the pan into the pre-heated grill or oven. If using a grill, place it on the top rack. If you don't have a top rack, get some additional separation between the flame and your pan by setting it on top of another inverted high-sided rectangular cake pan.
Let bake for 30-45 minutes, or until the cheese is melted and the internal temperature of the meat reaches at least 165°.
Remove from grill/oven, let sit for 10 minutes, and serve hot with some fresh cut basil on top (if desired).
Recommended Products
As an Amazon Associate and member of other affiliate programs, I earn from qualifying purchases.
Nutrition Information:
Yield:
12
Serving Size:
1
Amount Per Serving:
Calories:

727
Total Fat:

24g
Saturated Fat:

10g
Trans Fat:

1g
Unsaturated Fat:

10g
Cholesterol:

116mg
Sodium:

1250mg
Carbohydrates:

80g
Fiber:

7g
Sugar:

10g
Protein:

45g
Nutrition data provided here is only an estimate.