Homemade Meatball Subs are one of the best classic sandwiches that you can make at home. The best homemade meatballs smothered in homemade marinara sauce, topped with copious amounts of mozzarella cheese, and then popped under the broiler to melt everything. I have even used this same meatball and sauce and used to top pasta, to all of the fanfare.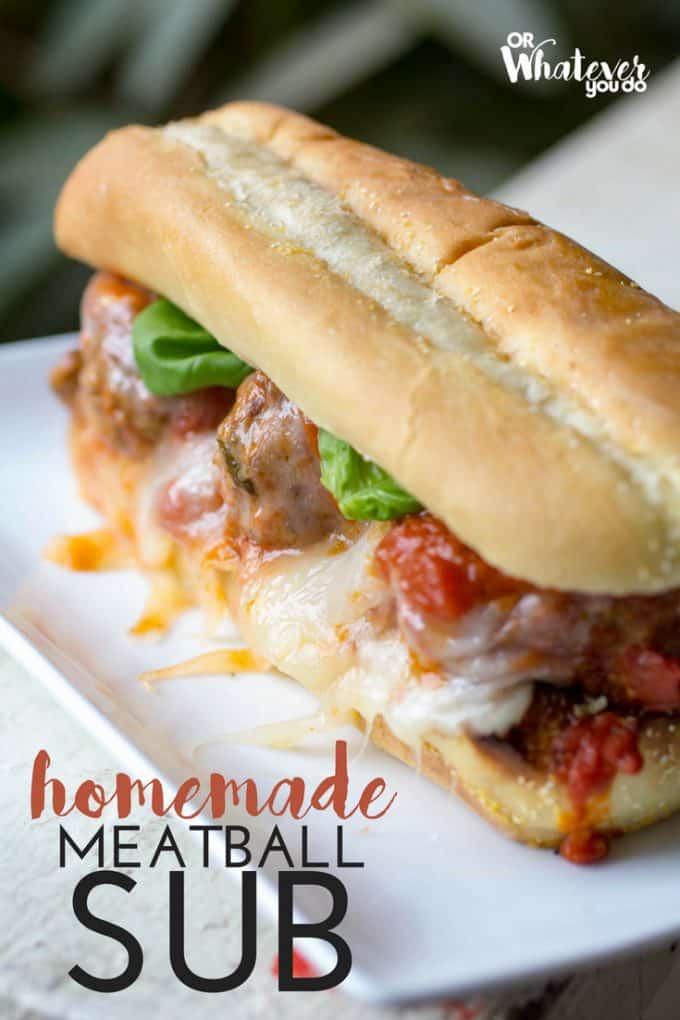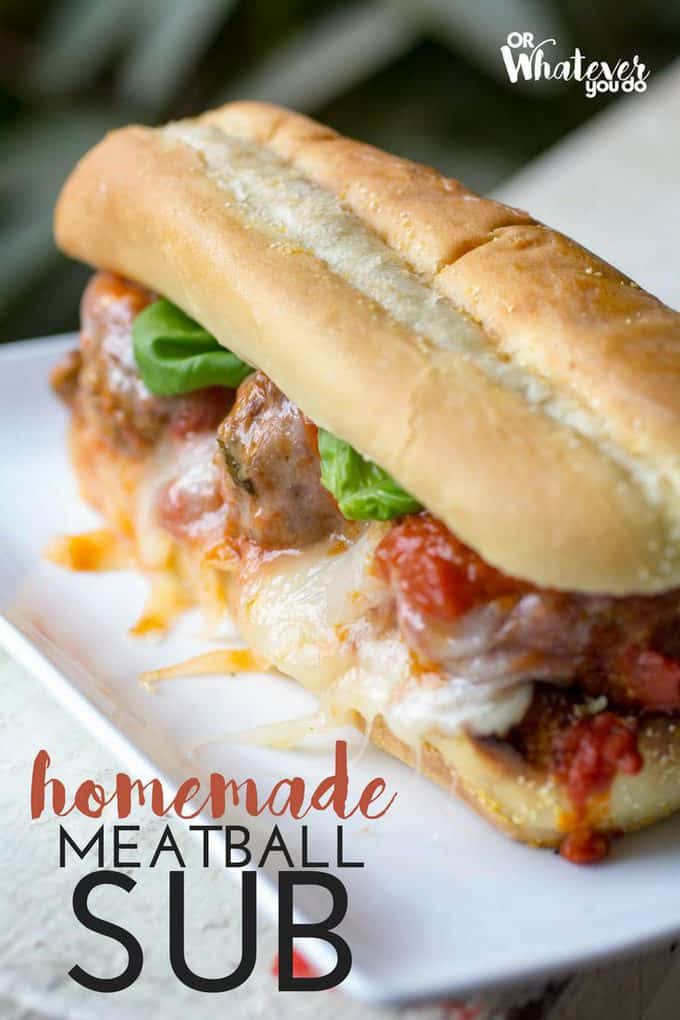 Homemade Meatball Subs
Homemade meatballs taste so much better than pre-made ones you can buy at a store, and they are really easy to make. A lot of people get intimidated by the thought of rolling them, but this is a no-fail recipe that is tried and true. I have used this same recipe for my homemade meatball subs for years, and they turn out great every single time.
Tag in the kids to help form the meatballs. If they are anything like mine they'll love getting a little messy AND being able to help out in the kitchen.
For a fun change up, make these meatball subs with Traeger Smoked Meatballs!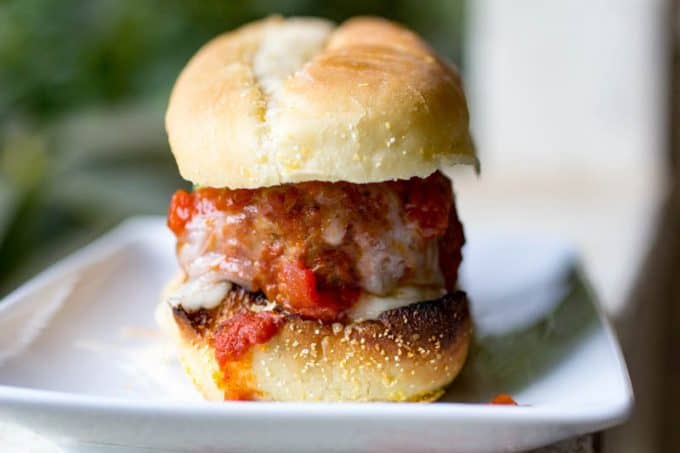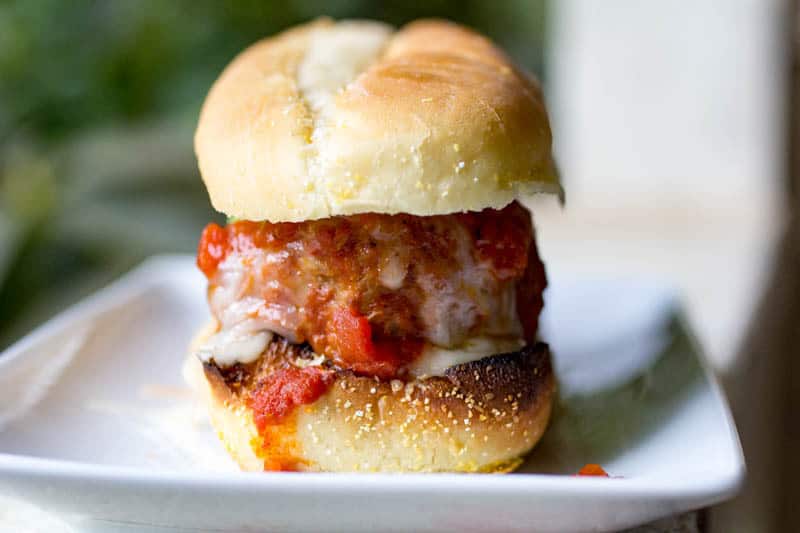 Before we get to the meatballs, we can't forget the marinara.
Every good meatball deserves a tasty marinara sauce. This sauce is quick to make, requires minimal ingredients, and will compliment your meatballs. Bright, tangy, and colorful is what you will find in this sauce, and it stands up great in pairing with the meatballs and the bread.
When I search for good bread, I want one that has little air pockets throughout. I find that the sauce seeps in perfectly and makes the sandwich even more flavorful because I can't ever get enough marinara sauce in my life. It is what dreams are made of.
Then you have your tender and juicy meatballs that have some juices flow, and the airy style bread catches it all so each bite gets every element of flavor from your sandwich.
Don't forget to toast them before topping them! You'll want that bread to be golden brown to prevent any sogginess from happening.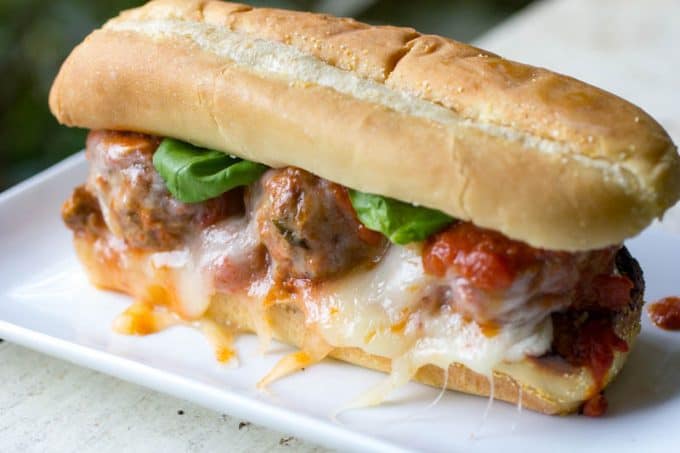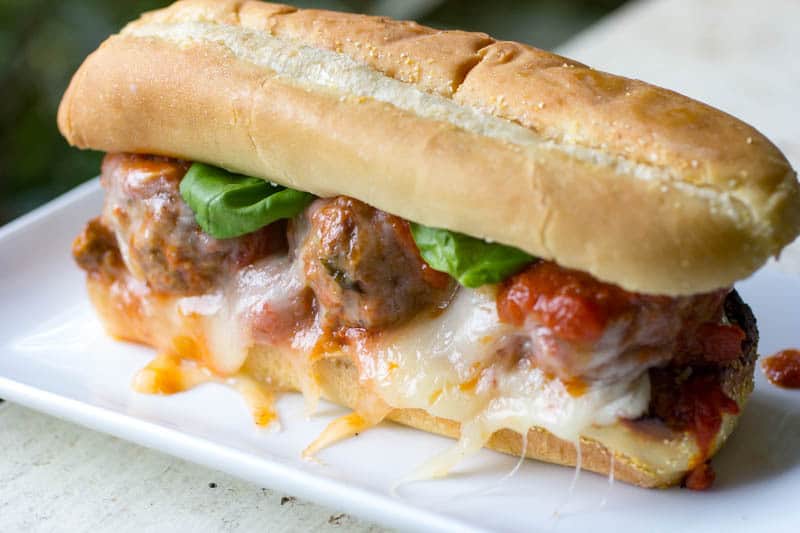 What Toppings Can You Put On A Meatball Sub?
You can put any type of toppings onto your sandwich as you want. Some prefer just the sauce, meatballs, and melted cheese like mozzarella or provolone cheese. Others like to mix in some grated parmesan cheese, oregano, or even fresh spinach or basil.
The choice is totally yours on what elements of flavors you want to add into your sandwich. I am more of a fan of the basics. The meatballs, cheese, and sauce add so much flavor, you don't need much else!
Tips For Making Meatballs
Here are a few of my tips and even techniques that I have used to help get perfect meatballs each time. I know a lot of times it takes practice and over time you learn the tricks to get those perfect round meatballs that have the right texture and turn out great.
WHAT TYPE OF MEAT SHOULD I USE FOR MEATBALLS?
Did you know the fattier the meat the more tender of a meatball you will have? If you use a really lean meat like turkey or even ground chicken it can result in a tougher texture, especially if you overcook your meatballs. I find that having a little fat in your meat helps, and even mixing meats can help. That is why a lot of times you see meatballs made with sausage and ground beef.
HOW SHOULD I ROLL MEATBALLS?
Make sure when you are handling your meatballs you don't pack them too tight. If you over mix or get too rough when forming balls it can, in fact, give you a chewier tough end result. Simply add a little amount of oil to your hands and gently roll the balls. The oil will help in the meat mixture not sticking to your hands.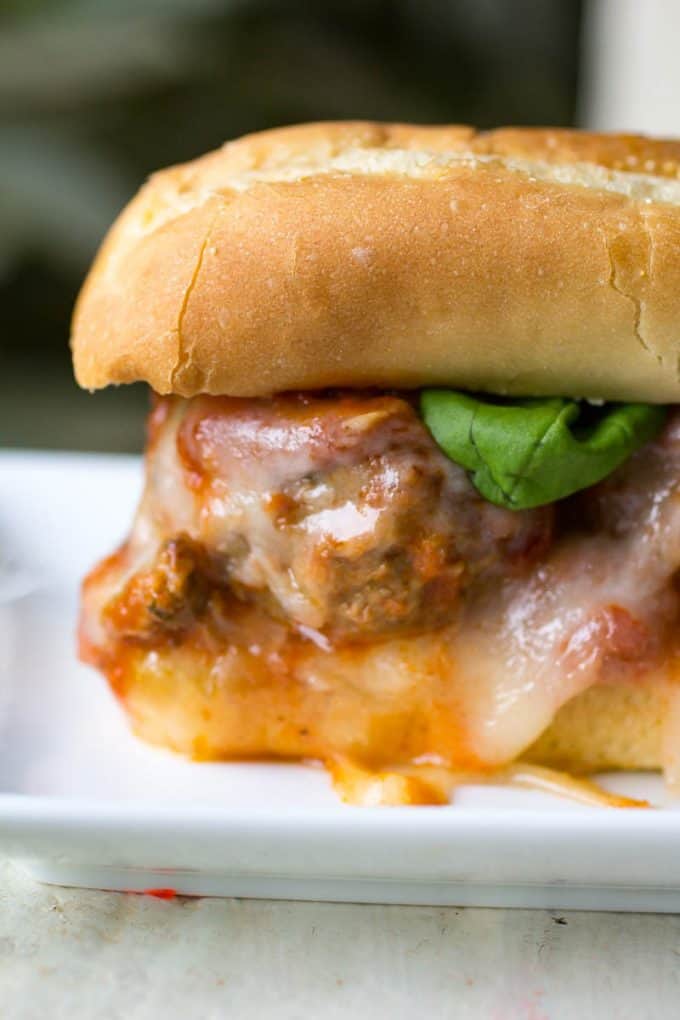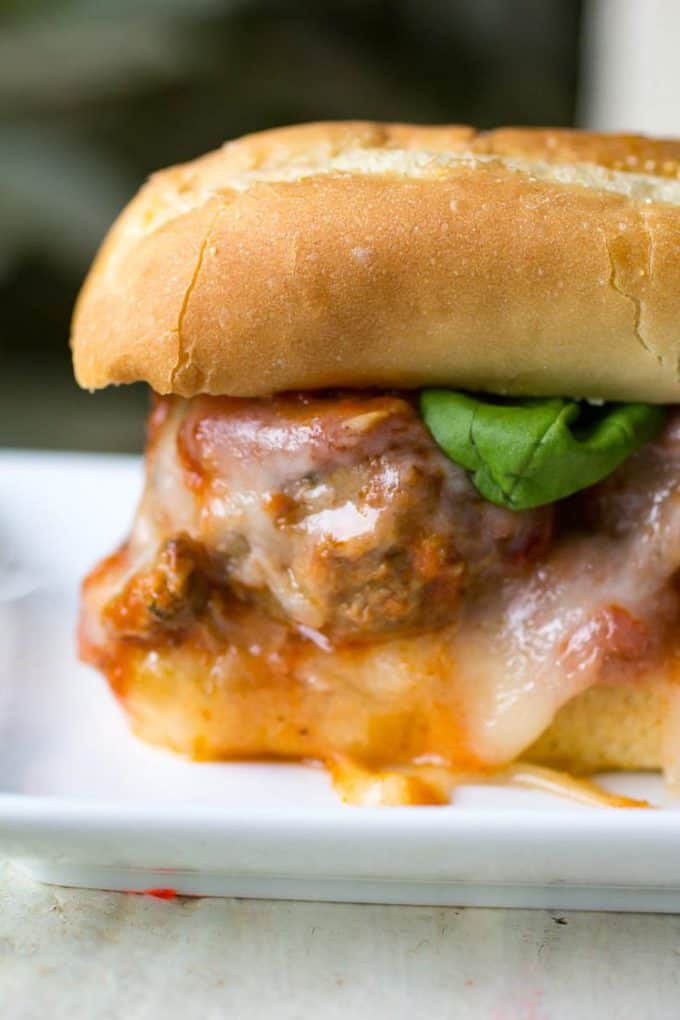 KEEP MEATBALL INGREDIENTS CHILLED FOR BEST RESULTS
Use a chilled bowl and keep your ingredients as cold as you can during the mixing process. You do not want the fat to break down in the meat before you go to cook your meatballs. If you are using ingredients that have been cooked like sauteed onions, chill the onions before you add it into the raw meat mixture.
USE A COOKIE SCOOP FOR UNIFORMLY SIZED MEATBALLS
I like to use a cookie scoop to help get the same size of meatballs so they cook evenly and are all close to the same size. You can buy a cookie scoop, spoon out a bit of the meat mixture and then roll it into your ball. I find it saves time and is really easy to use. If you don't have one, I recommend buying one online or in a store.
I hope you all enjoy these no-fuss homemade meatball sub sandwiches. They are so delicious any night of the week. Great for serving up to guests, or just your family! Pair with your favorite side dishes and dinner is served.
Pin for later!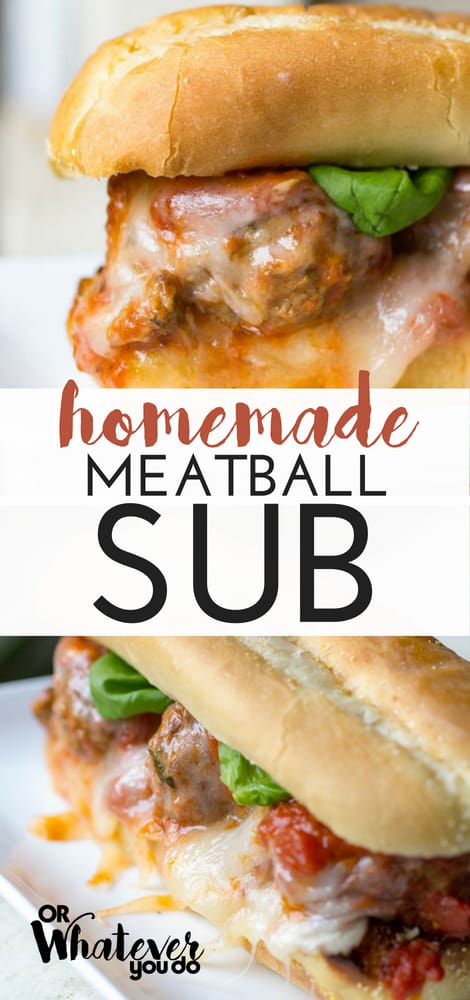 Yield: 5 subs
Homemade Meatball Sub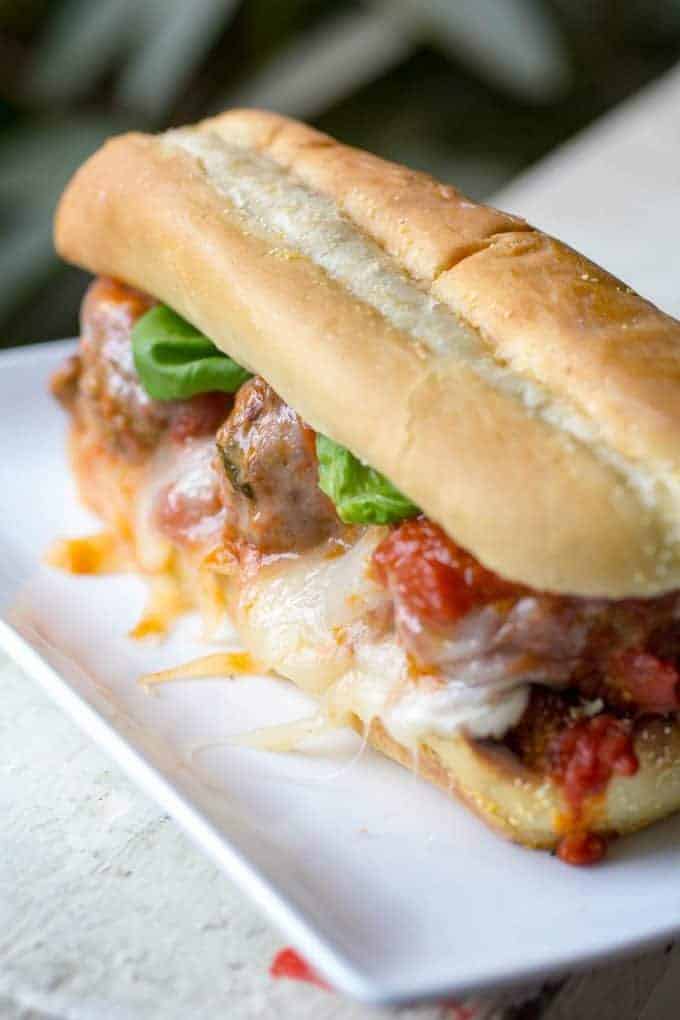 Make these homemade meatball subs today! Tender home-cooked meatballs simmered in a hearty marinara, and them smothered in cheese and sauce on garlic butter toasted rolls.
Ingredients
Meatballs
1/3 cup olive oil
1 cup onion sliced
1 pound ground beef
1 slice white bread
1/4 cup milk, may need a little more or a little less. You want enough to soak the bread.
1 large egg
2 tablespoon garlic, diced
2 teaspoons garlic salt
2 teaspoons onion, finely sliced and chopped
1/2 teaspoon basil, dried
1/2 teaspoon oregano, dried
1/4 teaspoon ground black pepper
Sauce
2 tablespoons garlic, diced
28-ounce can crushed tomatoes
28-oz can tomato sauce
14.5 - 15 oz canned diced tomatoes
1/2 teaspoon cayenne pepper
2 tablespoons fresh basil, chopped
2 teaspoons fresh oregano, chopped
1 cup water
Sub
5 fresh sub buns
1/2 cup butter, softened
1/2 teaspoon garlic salt
1 teaspoon parsley
1/4 cup grated parmesan cheese
4 cups shredded mozzarella
1 cup shredded parmesan
Instructions
Heat onion & olive oil in large sauce pan over medium-low heat, and saute until translucent. Reduce heat to low.
Soak the bread with milk and squeeze out excess. Tear into small chunks and put into a mixing bowl with egg, garlic, garlic salt, onion, dried basil, dried oregano, and black pepper. Mix well until bread and seasonings are well combined with meat.
Form into small 1 inch in diameter balls. Turn heat in sauce pan up to medium and brown meat balls. Remove from pan and set aside.
Add 2 tablespoons chopped garlic to sauce pan and saute approximately 1 minute. Add all other sauce ingredients except water, and heat to a simmer. Return meat balls to pan, reduce heat to low, and simmer on low stirring frequently until meat balls are cooked through and sauce is your desired thickness.
Before assembling the subs, mix together the butter, garlic salt, parsley, and parmesan cheese.
Spread onto both sides of the sub buns, and then place face-up under the broiler for about 2 minutes, or until the subs are golden brown.
Top each bun with copious amounts of mozzarella on the both sides of the bun, and top with 3-4 meatballs, and a little more mozzarella and parmesan on top of the meatballs.
Place the subs under the broiler again until the cheese is bubbly and melted, top with a little more marinara, and ENJOY.
Nutrition Information:
Yield:
8
Serving Size:
1
Amount Per Serving:
Calories:

1547
Total Fat:

77g
Saturated Fat:

33g
Trans Fat:

2g
Unsaturated Fat:

36g
Cholesterol:

228mg
Sodium:

5209mg
Carbohydrates:

149g
Fiber:

33g
Sugar:

55g
Protein:

80g