Traeger Poutine with Beef Tips takes crispy, golden-brown french fries and smothers them with rich, homemade beef gravy, copious amounts of fresh cheese curds (the squeakier the better), and tender braised beef tips to make the comfort food of your dreams.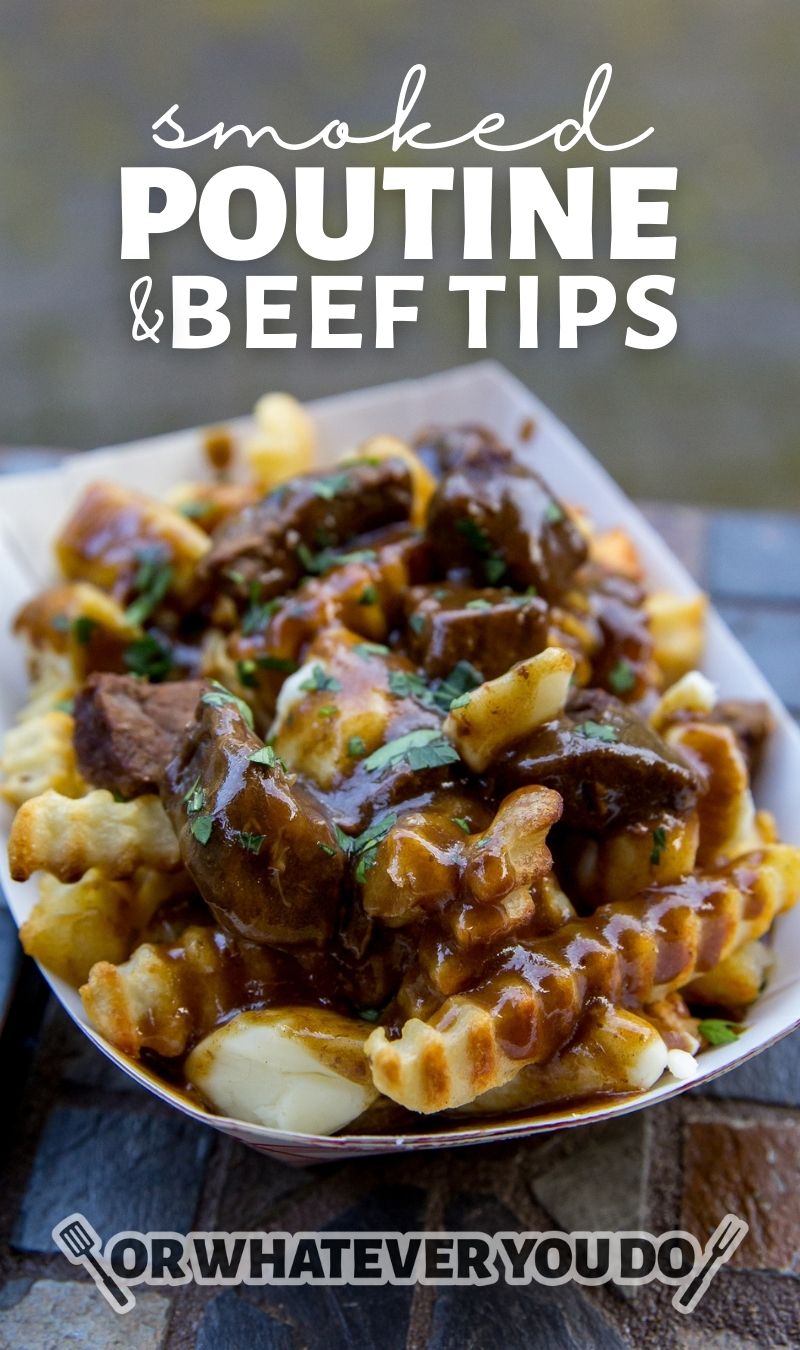 Traeger Poutine with Beef Tips
I'm not sure if I've shared this with you all before or not, but as far as my favorite foods are concerned, the list is short.
Ramen
Sushi
Roast Beef & Gravy
Spaghetti
Cheddar Bay Biscuits
The order changes and there are variations and temporary new additions to the list, but if I'm craving a big dish of something that is the ultimate of "comfort foods" – this is it.
When I was a teenager and couldn't afford to eat out very much, there was a little diner down the street called "Frontier Cake and Steak" (it is a liquor store now, if that tells you anything).
The Frontier was close enough to walk to, I could get a big heaping plate of french fries with a side of beef gravy for around $5, and that was my JAM for a time.
Even though I was close to the Canadian border, I didn't even know that poutine was a thing, but all that is to say that I'm kind of a resident expert on the subject of french fries and gravy.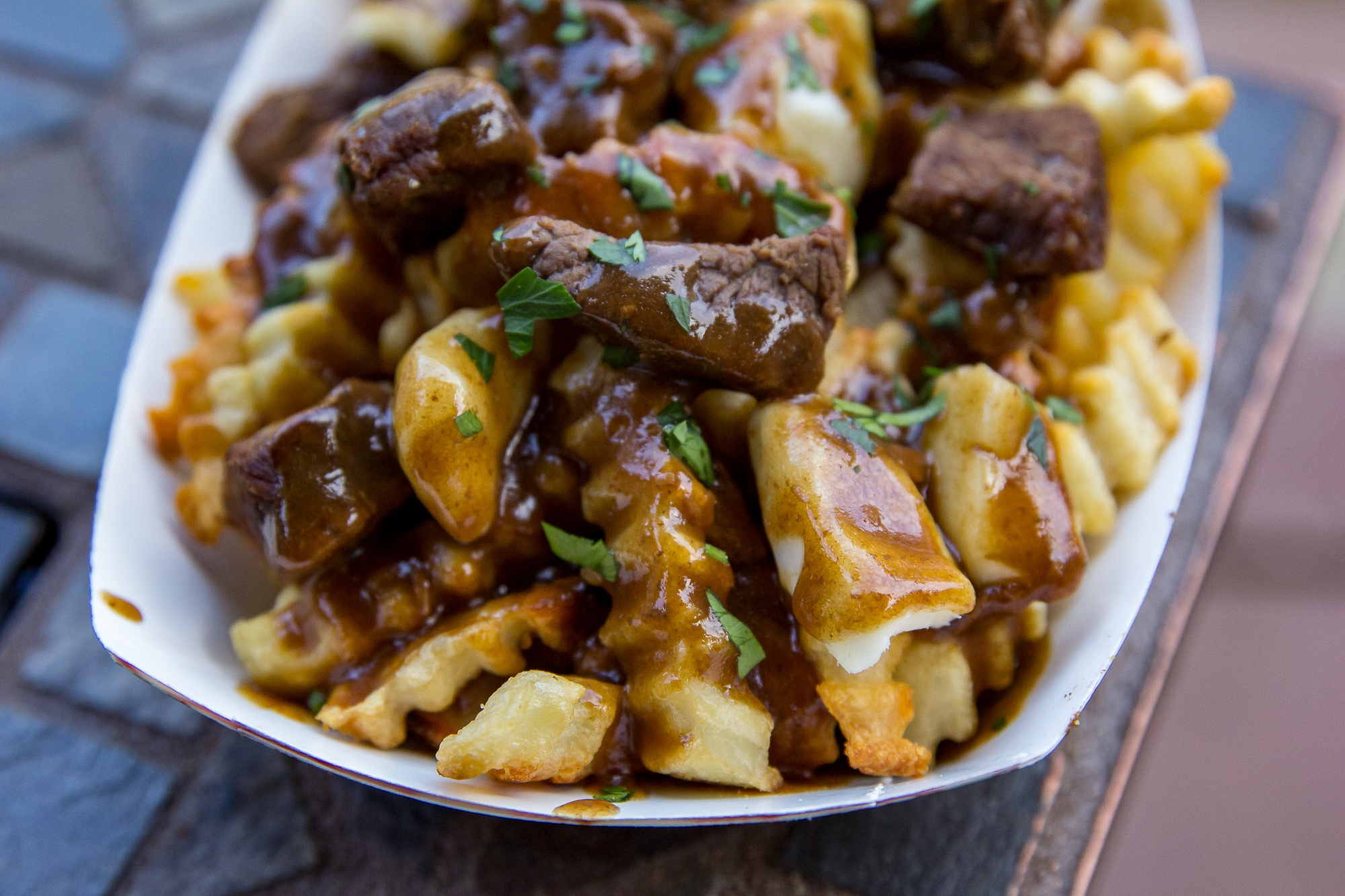 What is poutine?
Poutine is french fries, fresh cheese curds, and brown gravy. It originated in Quebec, Canada, sometime in the 1950s, and it wasn't always so celebrated outside of that region. Some people mocked it for a number of reasons and would use it to poke fun at the culture.
That's not the life I'm about, evidently, they got over themselves, and thankfully so, since I live down here on this side of the border and my life would be decidedly worse-off if I'd have never experienced actual poutine.
Get our 75 ESSENTIAL Traeger Recipes here!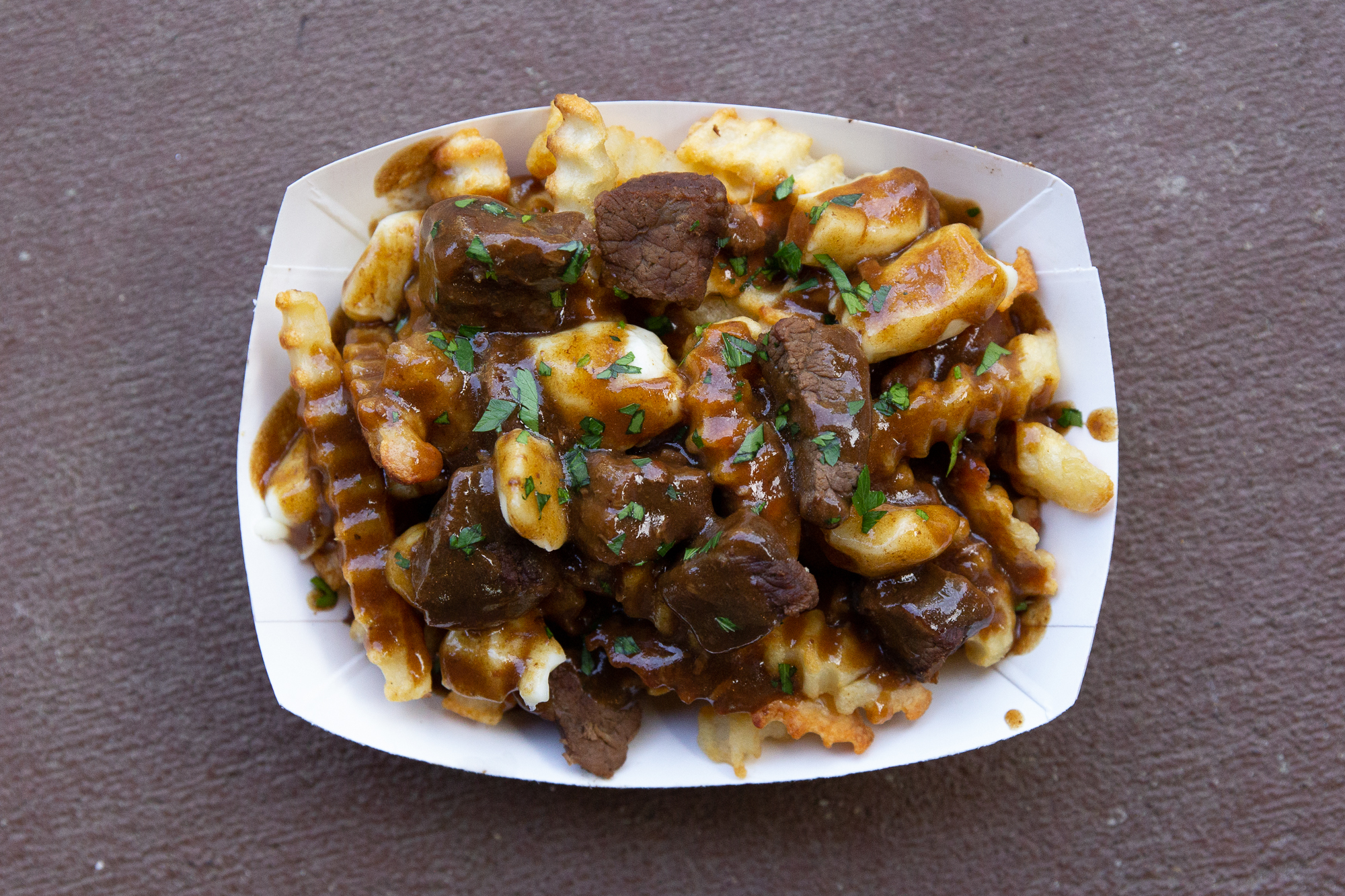 Pellet Grill Poutine Shopping List
These are just the main points so you can check and see if you need to go shopping, or even want to go any further. The full ingredient list (with amounts) is down in the recipe card, so use that while you are cooking!
oil
beef stew meat
beef stock
red wine
Johnny's Au Jus Mix (or another beef base)
onion
1 bay leaf
corn starch
French fries
cheese curds
Italian parsley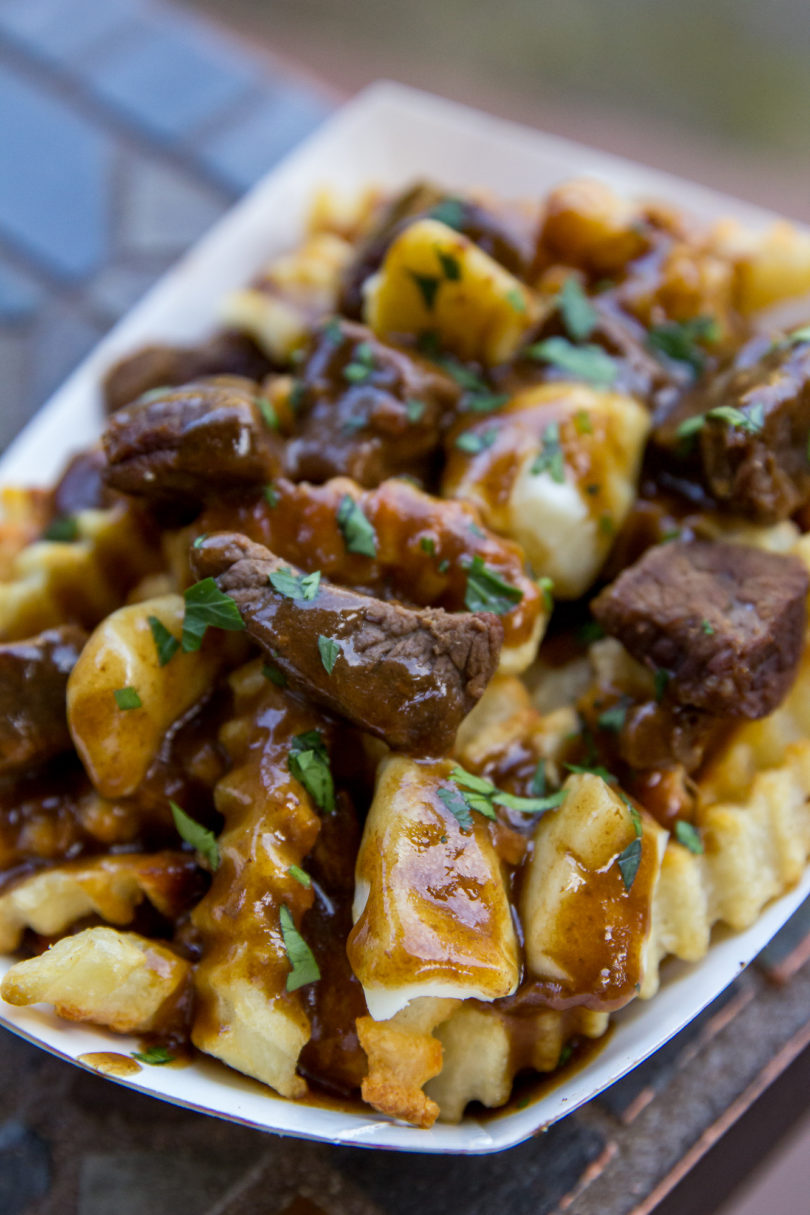 How to make Poutine on the pellet grill
Poutine gets most of its flavor from the gravy, and for this Traeger Poutine we're making some tender beef tips right on the pellet grill, and that long simmer over wood fire adds some smoke to the meat and gravy without it becoming overpowering.
Alternatively, you can smoke the beef tips for an hour and then simmer in the broth mixture on the stove for the remaining cook time. You'll still get some of that amazing smoke flavor, but you can save some pellets by doing the simmer on the stove.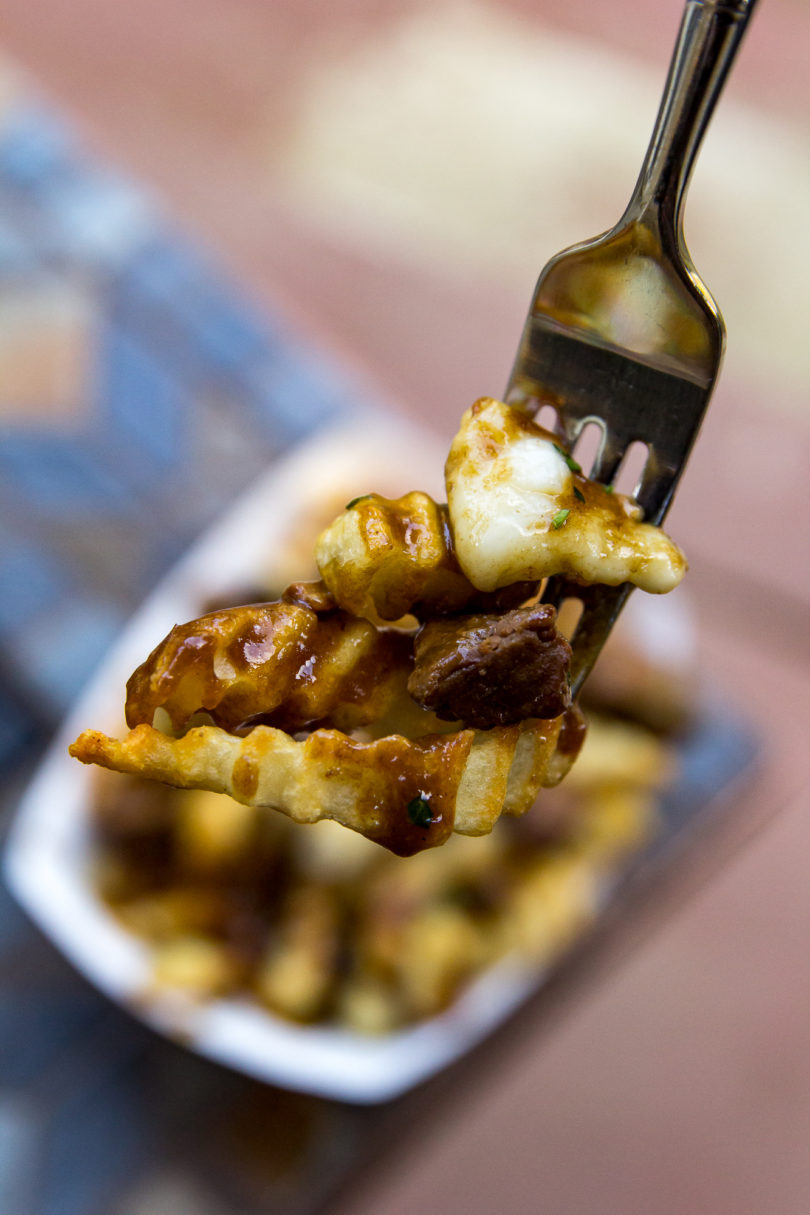 How to store leftover poutine
Ideally, you won't have any leftovers. French fries are best right out of the oven or fryer, and once the gravy is on top there's really no saving these for later unless you want them to resemble soggy mashed potatoes instead of crunchy, gravy-covered fries.
If you DO make more than you can eat in a sitting, just don't mix it all together until right before you serve, and re-heat the things in the way that's best for the individual ingredient.
For the fries, that's probably your oven or air fryer. The gravy and beef tips could be stored together and reheated in the microwave in a pinch.
Follow me on Instagram!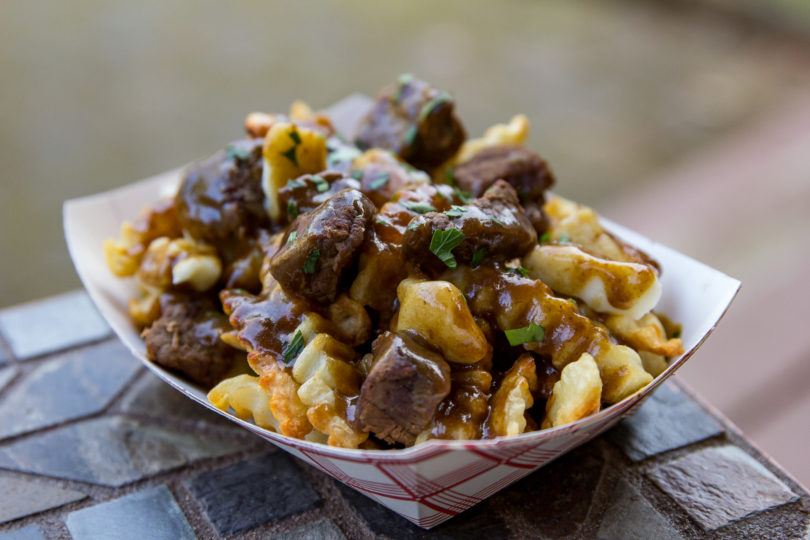 More recipes to love: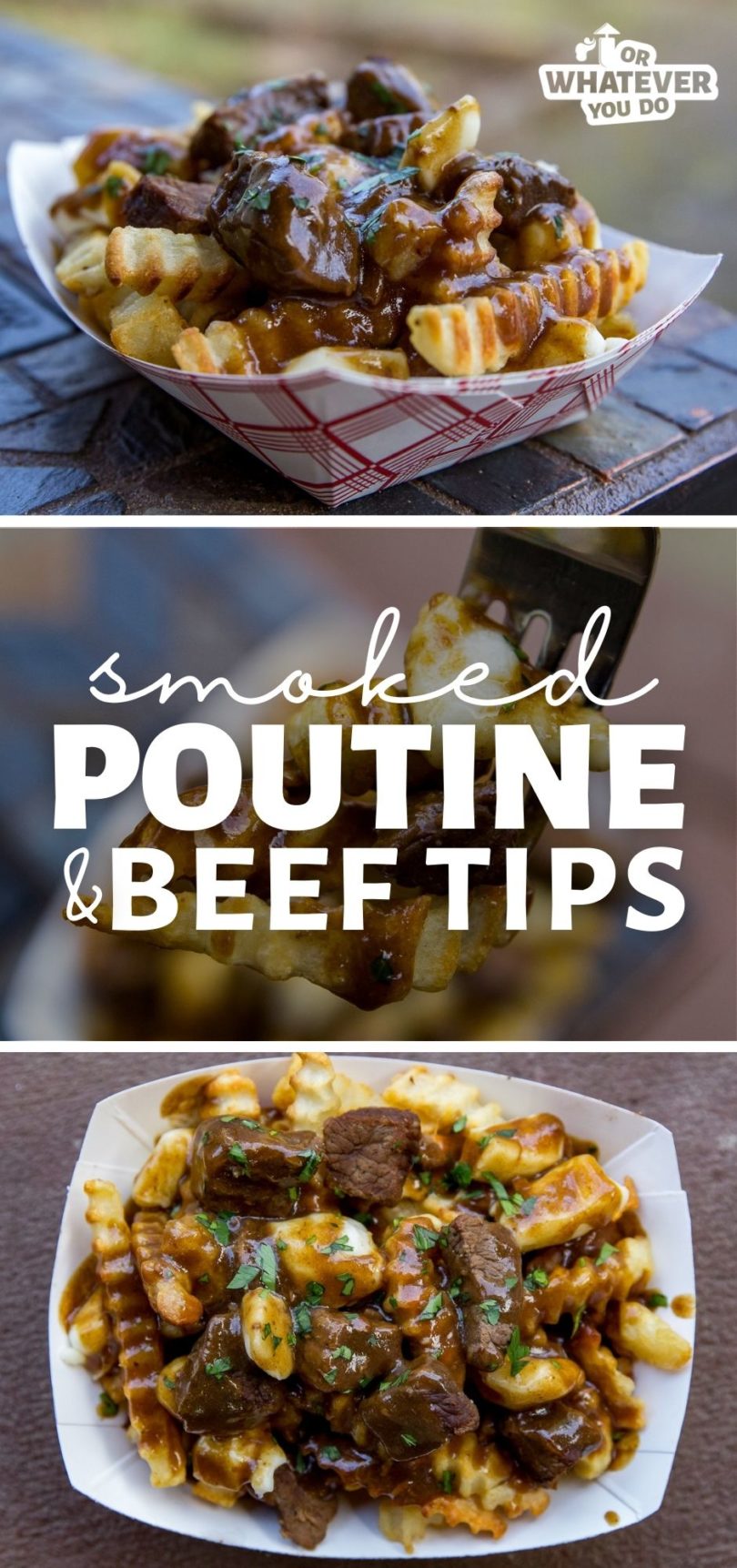 Yield: 6 servings
Traeger Pellet Grill Poutine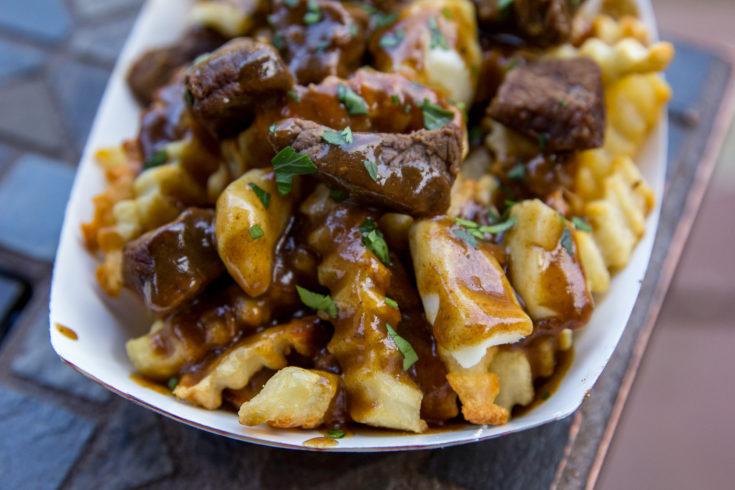 Crunchy french fries mixed with fresh cheese curds, tender beef tips, and then smothered with rich beef gravy.
Total Time
4 hours
15 minutes
Ingredients
1 tablespoon oil
1 pound beef stew meat
1 teaspoon salt
2 cups beef stock*
1 cup red wine
1 teaspoon Johnny's Au Jus Mix
1 medium onion
1 bay leaf
1 1/2 tablespoons corn starch
2 tablespoons cold water
1 28-ounce package frozen French fries
8 ounces cheese curds
1 teaspoon fresh Italian parsley
Instructions
Preheat your grill to 350°.
Put the oil in a large Dutch oven on the stove over medium-high heat. Season the stew meat with salt, and brown in the Dutch oven.
Put the beef stock, red wine, au jus mix, onion, and bay leaf in the pot that the beef tips are in, and place it on the pellet grill.
Cook for 3-4 hours, or until the stew meat is fork-tender. Stir occasionally, and put in additional beef stock as necessary to maintain the level of the liquid so it doesn't cook down too much. (You lose less liquid if you cover the pot, but covered pots aren't exposed to the smoke and we like that touch here, so it is a trade-off.)
ALTERNATIVE METHOD: Put the raw, seasoned beef tips into your pellet grill that's set to 180-200°. Smoke for 1-2 hours. Sear in the Dutch Oven on the stove, add all of the liquids, seasoning, and onion, and simmer covered for 3-4 hours on the stovetop.
Once the beef tips are fork-tender, reduce the heat on the Dutch oven and remove the cheese curds from the fridge so they are at room temperature for serving.
Cook the French fries according to package directions. For the best results, you'll want to break out the fryer. If you want to stick with the oven, just make sure to cook them long enough to crisp them up!
While the fries are cooking, prepare the gravy by removing the beef tips from the braising liquid, and bringing the liquid up to a simmer on the stove.
In a separate bowl, mix together the corn starch and cold water to form a slurry. Make sure there are no lumps!
Whisk the slurry into the simmering gravy base. Cook until thickened.
Assemble your poutine by placing your fries in a serving dish with sides (to contain all the gravy and help keep the fries hot), mixing in the room temperature cheese curds, and then covering the whole mess with piping hot gravy.
Serve hot, and garnish with fresh parsley if you wanna be fancy.
Notes
* You might need some extra beef broth if you cook these uncovered on your pellet grill.
Recommended Products
As an Amazon Associate and member of other affiliate programs, I earn from qualifying purchases.
Nutrition Information:
Yield:
6
Serving Size:
1
Amount Per Serving:
Calories:

586
Total Fat:

28g
Saturated Fat:

11g
Trans Fat:

1g
Unsaturated Fat:

14g
Cholesterol:

112mg
Sodium:

1246mg
Carbohydrates:

40g
Fiber:

3g
Sugar:

2g
Protein:

39g
Nutrition data provided here is only an estimate.