French Onion Stuffed Meatballs are the ULTIMATE comfort food. Combining the best of so many worlds with super-flavorful caramelized onions, tender, juicy meatballs, and lots of gooey cheese – these are SO worth the work.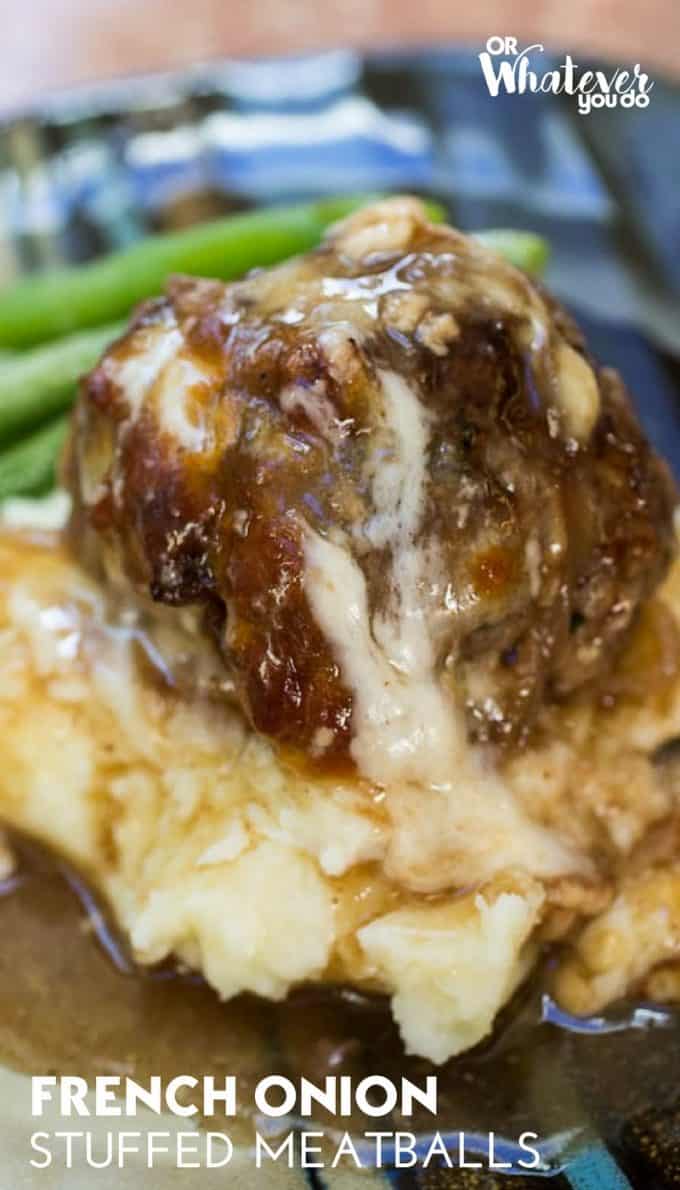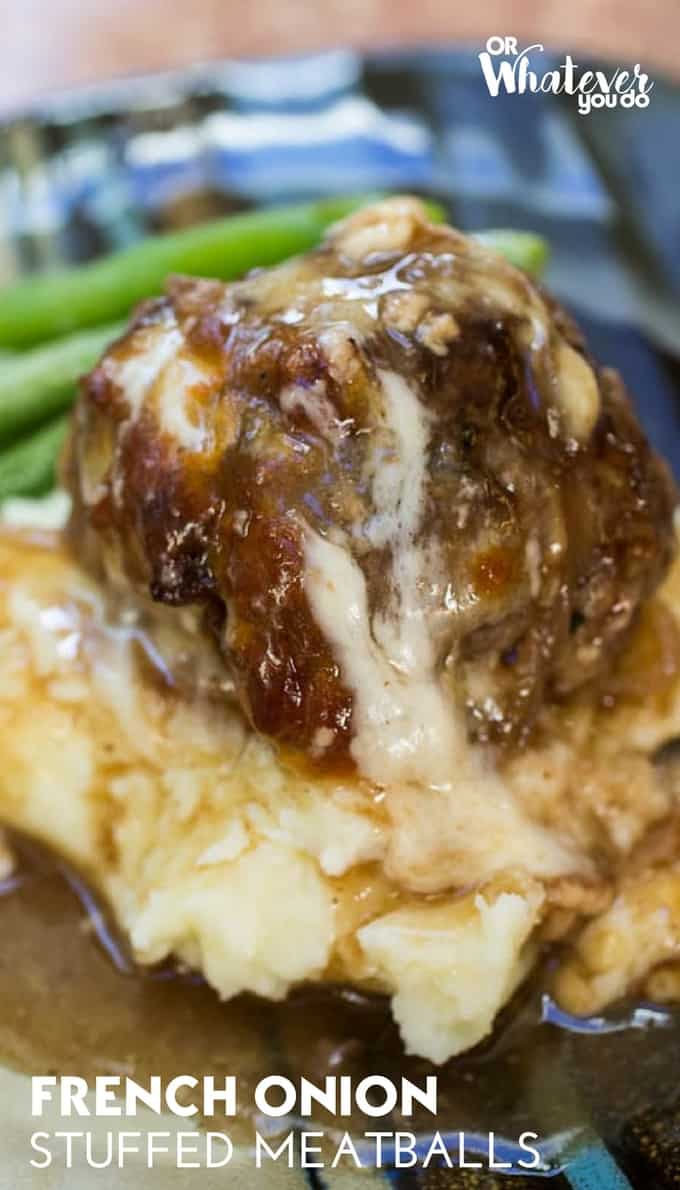 French Onion Stuffed Meatballs
Now that the weather is turning a bit, I can finally share with you guys one of the BEST blogger recipes I have ever tried. Hands down. Brianne from Cupcakes & Kale Chips – this is amazing. It is unique, creative, and so satisfying and delicious.
I made quite a few changes based on the ingredients I had on hand, and my inability to ever follow a recipe exactly as written. It is a sickness. I just can't do it.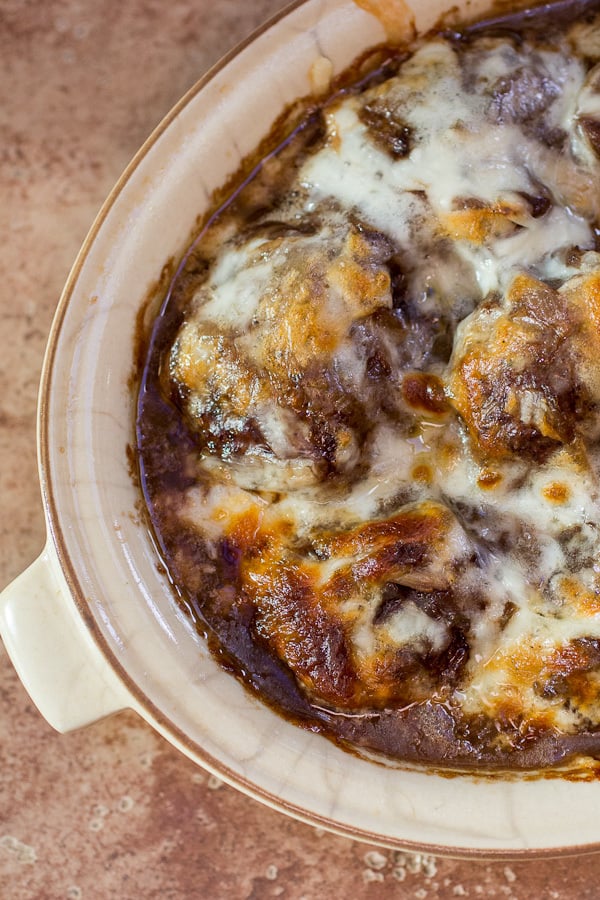 Can I Cook Meatballs in a Slow Cooker?
These french onion stuffed meatballs would be easily adapted to a slow cooker. Just toss the browned meatballs into a crockpot, top as instructed, and cook on low for 2-3 hours or high for 1-2 hours. Adjust the cooking times for your personal slow cooker as needed.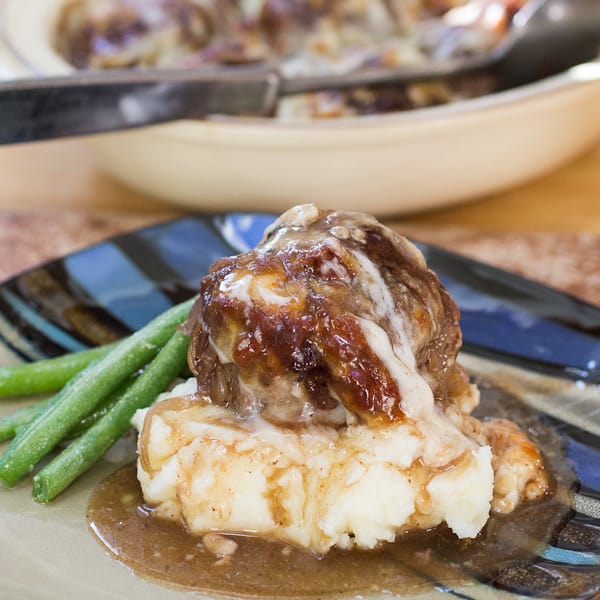 You probably will miss out on a bit of the cheese browning that you would get in the oven, but if your slow cooker stoneware allows for it you can finish these in the oven.
How To Caramelize Onion
See my post on caramelizing onions if you aren't familiar with the process.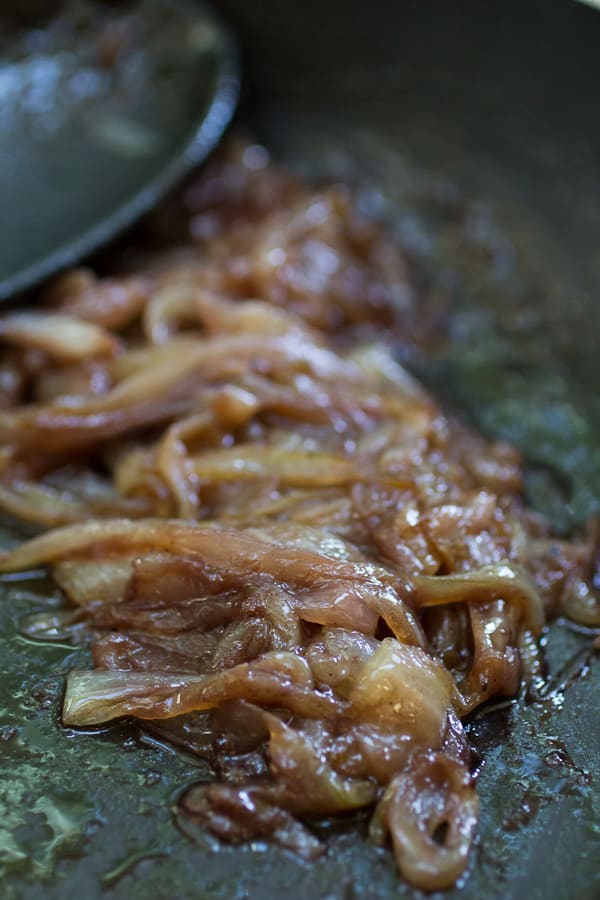 Can I make this without stuffing the meatballs?
If you find yourself a little short on time you could definitely skip the stuffing part, and just put all the onions and cheese on top of the meatballs. Almost the same effect. You won't get to cut open a meatball and have delicious cheese ooze out, but the flavors will still all be there. This is also helpful if you have any onion haters in your family.
Need another great meatball recipe? Check out these Traeger Smoked Meatballs, my Smoked Meatball Rigatoni, or my Meatball Subs!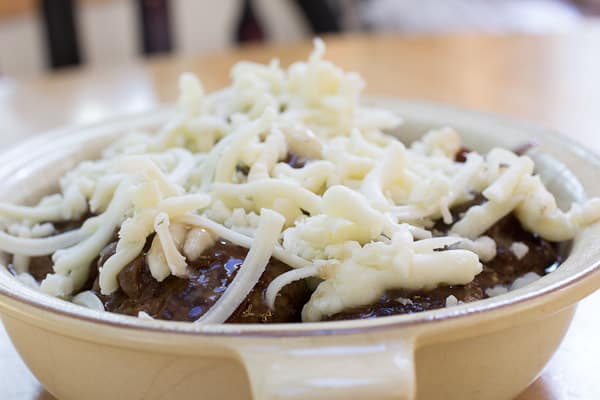 These meatballs are perfect for a big pile of garlic mashed potatoes.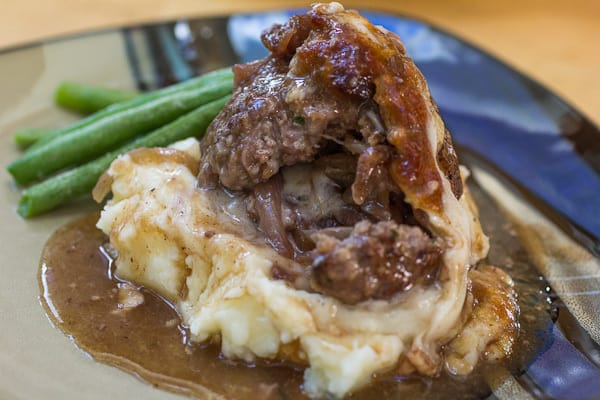 You could also serve these with egg noodles as well, or all on their own if you aren't into mashed potatoes. But if you aren't into mashed potatoes we can't be friends anymore, mmmmkay?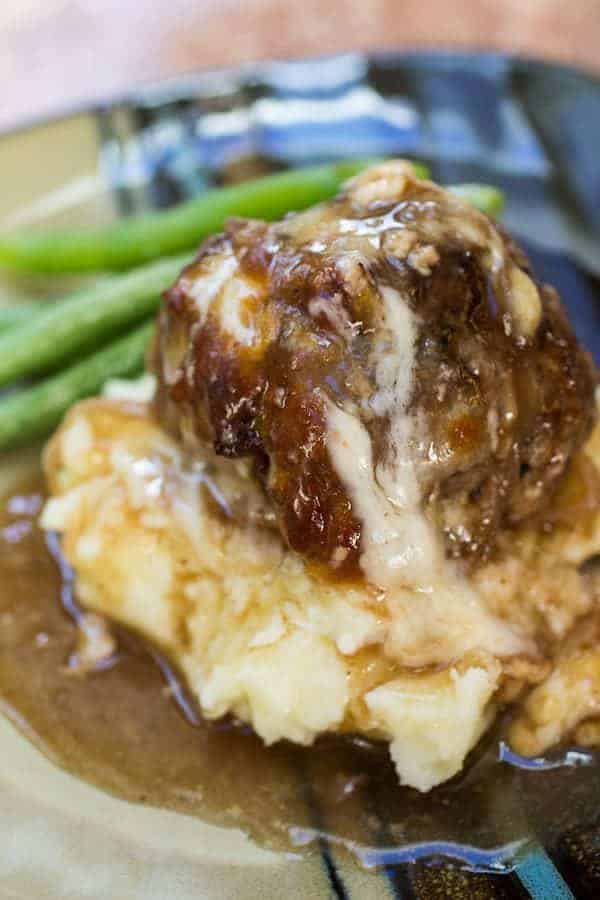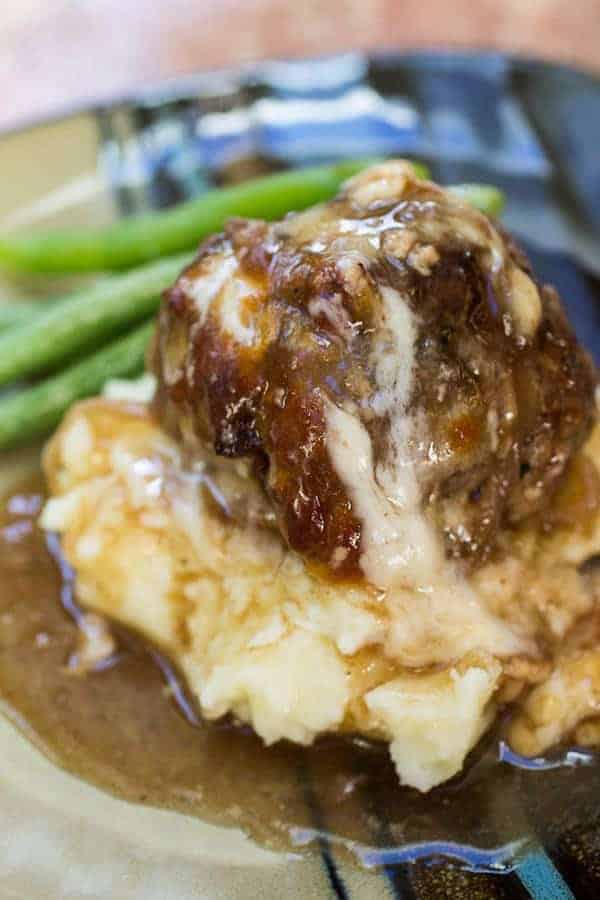 You also may like my Caramel Roll Cinnamon Cake, or my Raspberry Angel Food Cake to serve as dessert after this meal!
Real Reviews from Readers!
To have your photo and review featured, please email me at orwhateveryoudo @ gmail.com!
Yield: 6 people
French Onion Stuffed Meatballs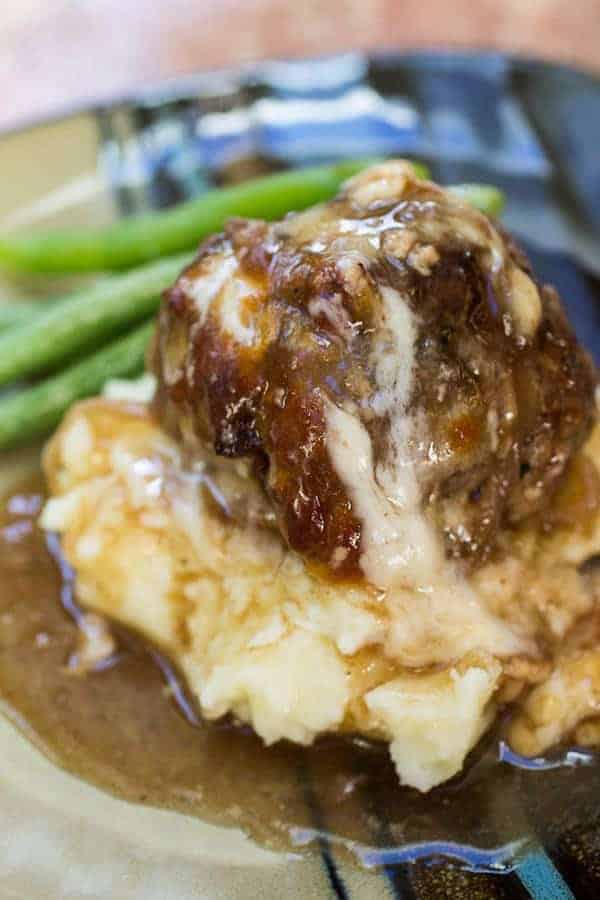 Cheesy stuffed meatballs baked and loaded with caramelized onions. French Onion Stuffed Meatballs are the ultimate fall and winter comfort food!
Total Time
1 hour
15 minutes
Ingredients
Caramelized Onions
4 teaspoons butter
1 large walla walla sweet onion, thinly sliced
1/2 teaspoon thyme
1 teaspoon salt
1/4 cup water
1/2 teaspoon beef flavored Better Than Bouillon
1/4 cup Cabernet
Meatballs:
1 1/2 lbs lean ground beef
1 slice white bread soaked in milk
1/2 - 3/4 cup panko bread crumbs
1 teaspoon parsley
1/4 teaspoon pepper
1/2 teaspoon salt
1 egg
8 oz shredded mozzarella
4 oz provolone
1 tablespoon canola oil
Fresh chopped parsley for garnish, optional
Sauce:
2 cups water
1 packet beefy onion dry soup mix
1/2 teaspoon chicken Better Than Bouillon
1/4 cup cabernet
1/4 cup chardonnay
2 tablespoons cornstarch
salt & pepper, to taste
Instructions
In a large nonstick pan over medium-low heat, saute onions and butter stirring occasionally until golden brown and caramelized.
Add the thyme, salt, water, bouillon, and wine. Cook over medium heat until reduced by half. Let cool.
Combine the milk soaked bread, 1/2 cup panko, parsley, pepper, salt, and egg in a bowl and mix together until everything is a happy gloopy mess. Mix in the ground beef with your hands until the gloopy mess is evenly distributed into the meat. If necessary to make the meat formable, mix in additional 1/4 cup of panko.
Grab a small handful of the meat and flatten in your palm. Add some cheese and onions, and fold meat over and around it, sealing the edges as best as you can. This is a messy process. Repeat until all meat has been stuffed.
In a large nonstick skillet, heat canola oil over medium high heat. Brown meatballs on all sides. Remove to an oven safe dish when browned. Don't worry about these cooking all the way through. They will finish cooking in the oven.
Make sauce by combining all ingredients in a saucepan, and simmering for 10 minutes. Pour over meatballs, and top the meatballs with any extra onions, with the shredded mozzarella cheese, and any extra provolone you didn't use to stuff the meatballs.
Bake at 350 for 30 minutes, Remove, top with fresh chopped parsley, and serve with mashed potatoes.
Notes
Recipe adapted from Cupcakes & Kale Chips.
Nutrition Information:
Yield:
8
Serving Size:
1
Amount Per Serving:
Calories:

627
Total Fat:

34g
Saturated Fat:

16g
Trans Fat:

1g
Unsaturated Fat:

14g
Cholesterol:

182mg
Sodium:

1537mg
Carbohydrates:

23g
Fiber:

1g
Sugar:

5g
Protein:

51g