Homemade Spicy Miso Ramen isn't only possible, it is totally within reach. Yes, you are going to spend the better part of a week making this, if you take your time and do it right, but every MINUTE will be worth it when you finally sit down to a giant, steaming-hot bowl of this ramen.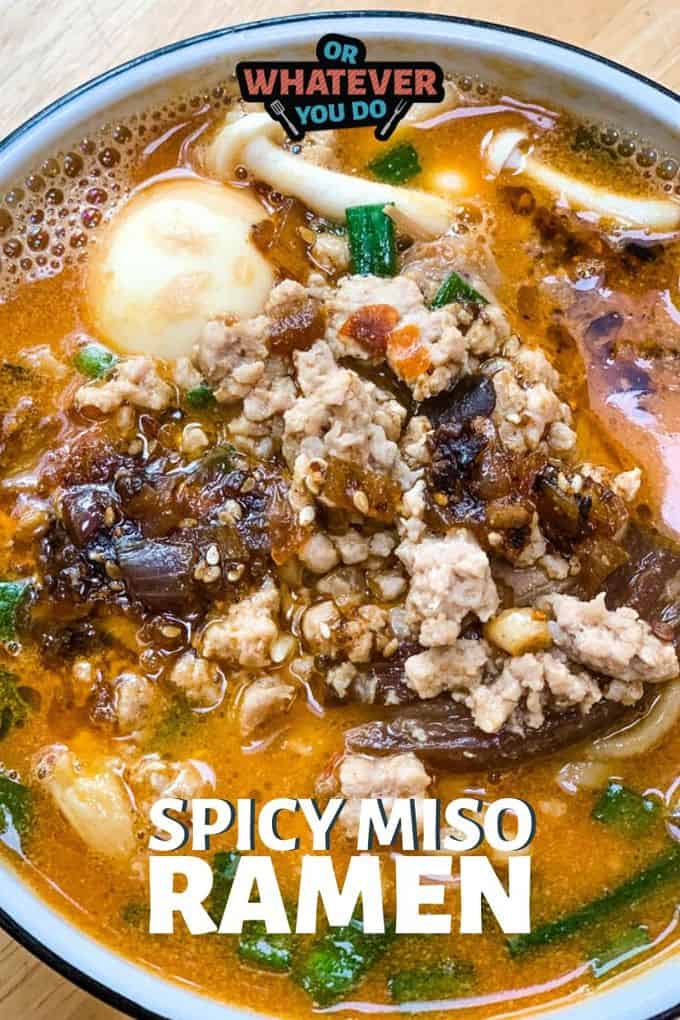 Spicy Tonkotsu Miso Ramen
If 2018 was the year of anything for me culinarily, it was most definitely the year of ramen. I have been obsessed. Like, trying to talk my husband into weekend trips to Denver just to get a bowl of the good stuff, obsessed.
This Spicy Tonkotsu Miso Ramen is the direct result of alllllll of that, and hours upon hours of research on how to do this right.
Have you guys been following along with Ramen week? Probably not since I have not actually TOLD anyone I was doing a ramen week. That's the thing with blogging. In most cases you actually have to share what you are posting in order for anyone to see it. 😉
Anyway, this one I am writing for my own posterity rather than for "the google". Opinions may vary on whether this is technically "right" or not, with a lot of them probably leaning towards NOT.
You see, traditional ramen includes copious amounts of bonito, which is dried shaved fish, and I was making this ramen seafood and fish-free so that my son could partake. He is allergic to white fish and seafood, so really can't safely eat most Asian foods because of the hidden ingredients there.
This time – he could.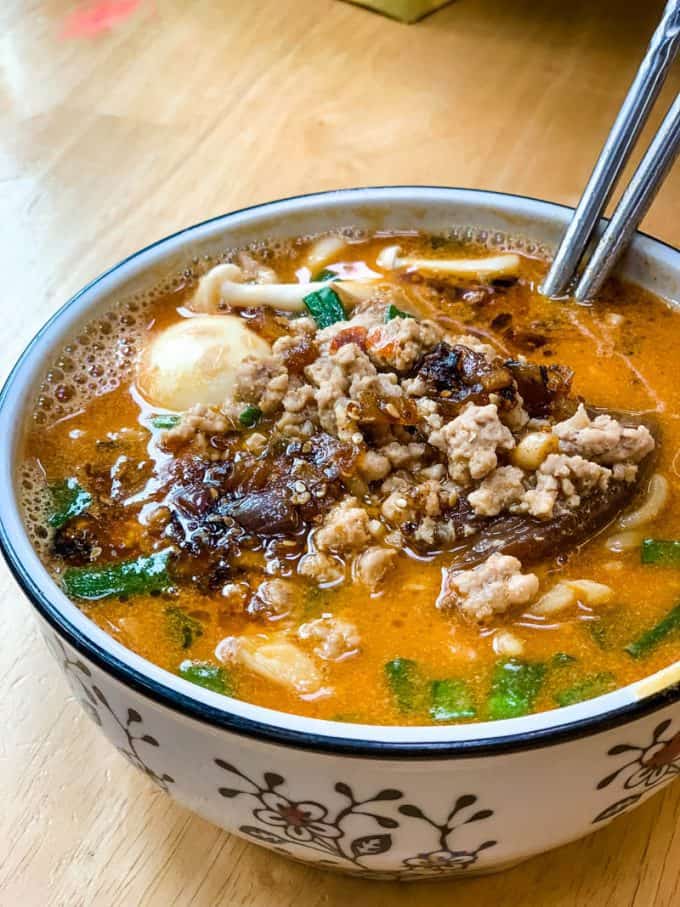 How To Make Delicious Homemade Ramen
This Spicy Miso Ramen was maybe one of the best things I've ever made. Even if I don't ever make it back to Denver again for my precious Uncle ramen, I can still have a bowl of something that is prettttty dang close, and save the frequent flier miles for beachy things, or new places that I've never been before.
Don't get mad at me, but there are a LOT of steps. This is a marathon, and slow and steady is going to win the race.
First – get thee to your local Asian grocery store, or get onto Amazon and make sure you have all the right ingredients. Your shopping list will be long, but it'll be well worth it.
Follow me on Instagram!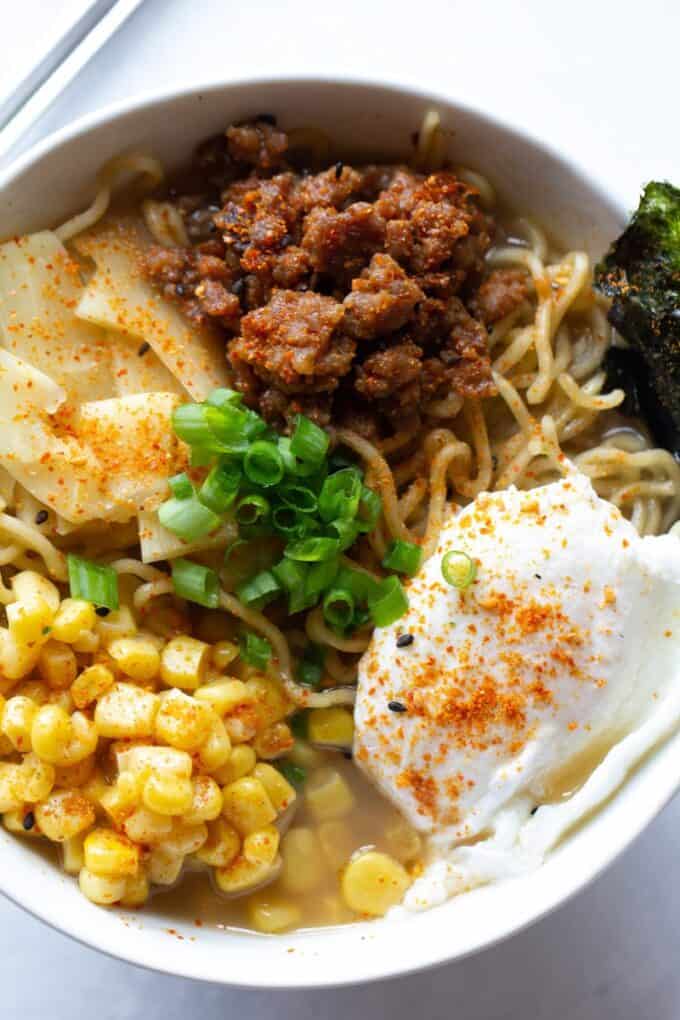 Spicy Miso Ramen Ingredients
pork neck bones
chicken carcass
onions
large piece of ginger
shallots
garlic
green onions
dried shiitake onions
white miso paste
red miso paste
douban chili paste
sesame oil
sambal oelek
pork belly
soy sauce
sake
mirin
sugar
bread flour
baking soda
avocado oil
togarashi
ground pork
plain soy milk
eggs
nori
enoki mushrooms or wood ear mushrooms
bamboo
Amazon Homemade Ramen Shopping List
The following items can be hard to source at a regular grocery store. If you don't have an Asian market within reach, I recommend ordering the following on Amazon. As an Amazon affiliate, I earn from qualifying purchases.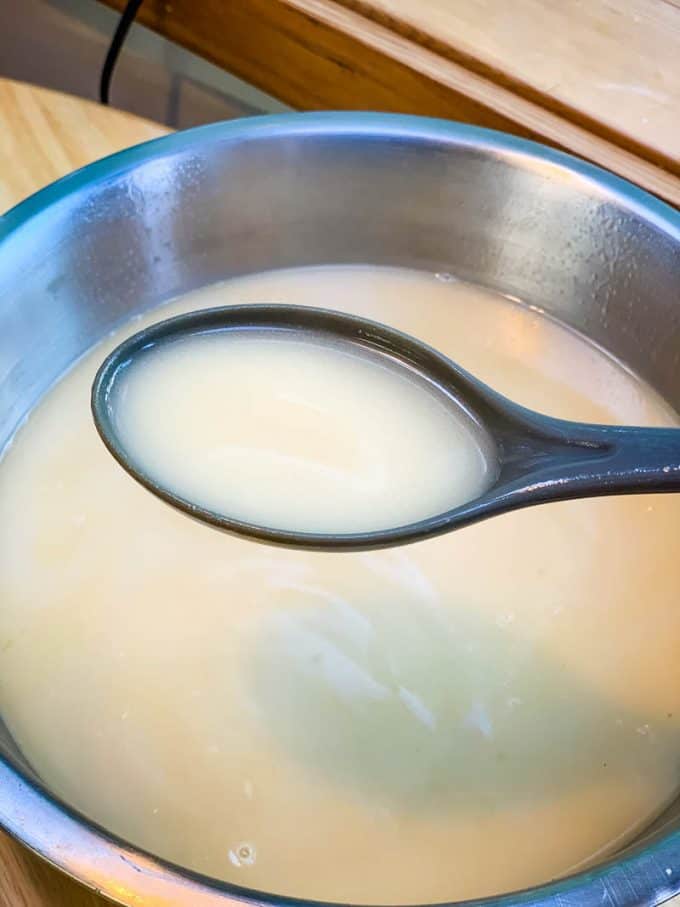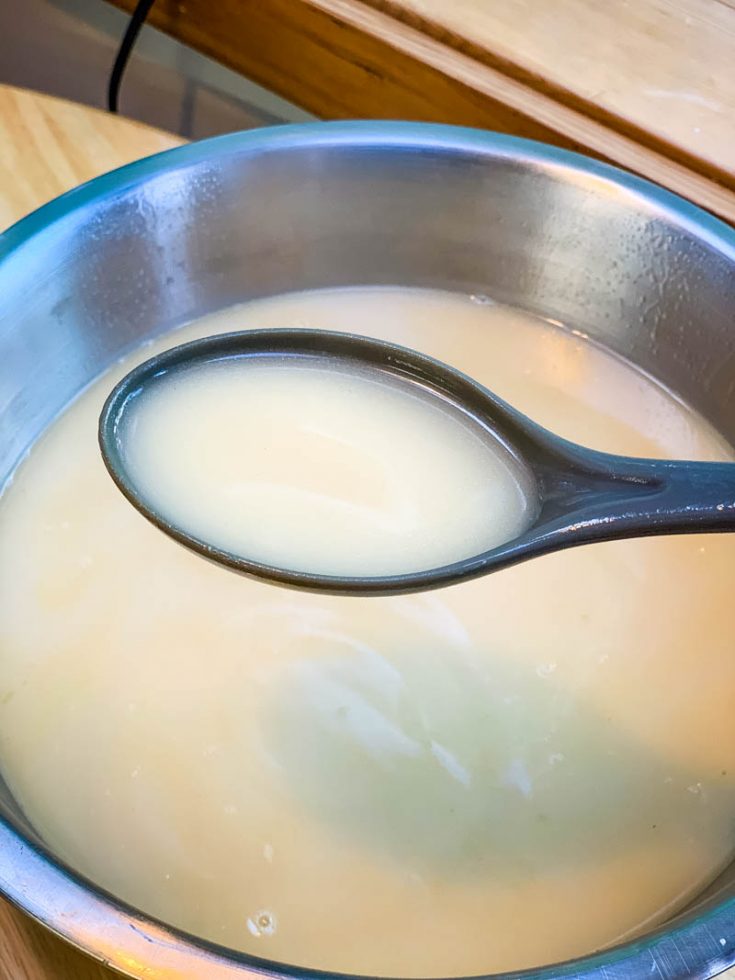 Day 1 – Make the broth
Yeah, you read that right. Day 1. This is a several day affair. It needs to be because to make this in ONE day is a project that even the most ambitious among you would probably regret.
So – day one, get to cooking and get those pork bones boiling! Here's the post that details the whole process.
I highly recommend checking it out! I'm including the recipe below though so you have one spot to reference.
Keep scrolling after the recipe to find out what you need to do tomorrow!
Yield: 10 servings
Tonkotsu Ramen Broth Recipe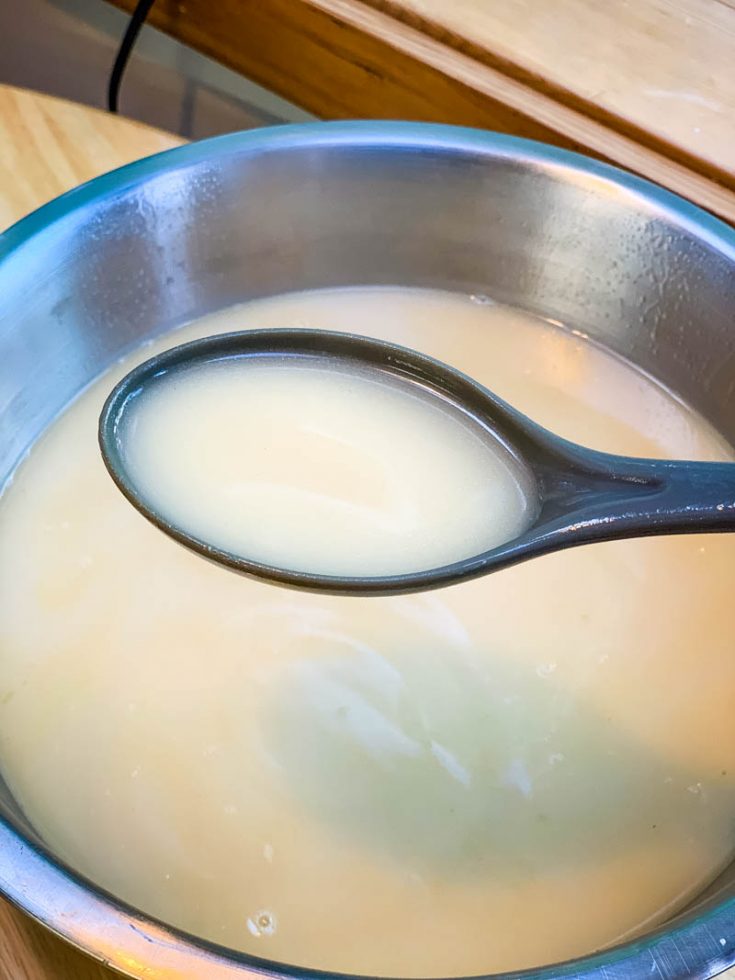 This homemade pork ramen is not difficult to make, but it is a bit time-consuming! Fair warning! The end result is WELL worth it. I'm already planning my next bowl.
Ingredients
3 pounds pork neck bones
1 chicken carcass
1 large onion
2 inches ginger, peeled
2 whole shallots
8 whole cloves garlic
3 whole leeks, washed thoroughly and diced
2 bunches green onions, white part only (save the greens for the soup!)
6 dried shiitake mushrooms, rinsed and diced
Instructions
Place the pork bones into a large stock pot, and cover with water. Bring the water to a boil and cook for 10 minutes.
Skim all of the gunk off of the top of the water. Dump the whole pot out, saving the bones, and fill with fresh water. This is cleaning the bones and will make a better stock.
Place the rest of the ingredients into the post, cover, and let simmer for 8-10 hours, replacing the lost water as necessary to keep the ingredients covered with water. By the end of the cook time many of the chicken bones should be totally broken down, and the pork neck bones should be easily pierced with a knife.
Let cool for a while, and then remove all of the solids you can with tongs and a slotted spoon. Next, strain the broth with cheesecloth or a large clean kitchen towel. I have found the easiest way to do this is to place the cheesecloth in several layers over a large bowl that will fit all of the broth, pour the broth in, and then gather the edges of the cloth together to pull all of the solids out of the broth. You can do this however is easiest for you though!
This will make enough broth for many bowls of ramen. Freeze the extra to make it easier next time!
Recommended Products
As an Amazon Associate and member of other affiliate programs, I earn from qualifying purchases.
Nutrition Information:
Yield:
6
Amount Per Serving:
Calories:

327
Total Fat:

14g
Saturated Fat:

4g
Trans Fat:

0g
Unsaturated Fat:

7g
Cholesterol:

118mg
Sodium:

164mg
Carbohydrates:

10g
Fiber:

2g
Sugar:

2g
Protein:

40g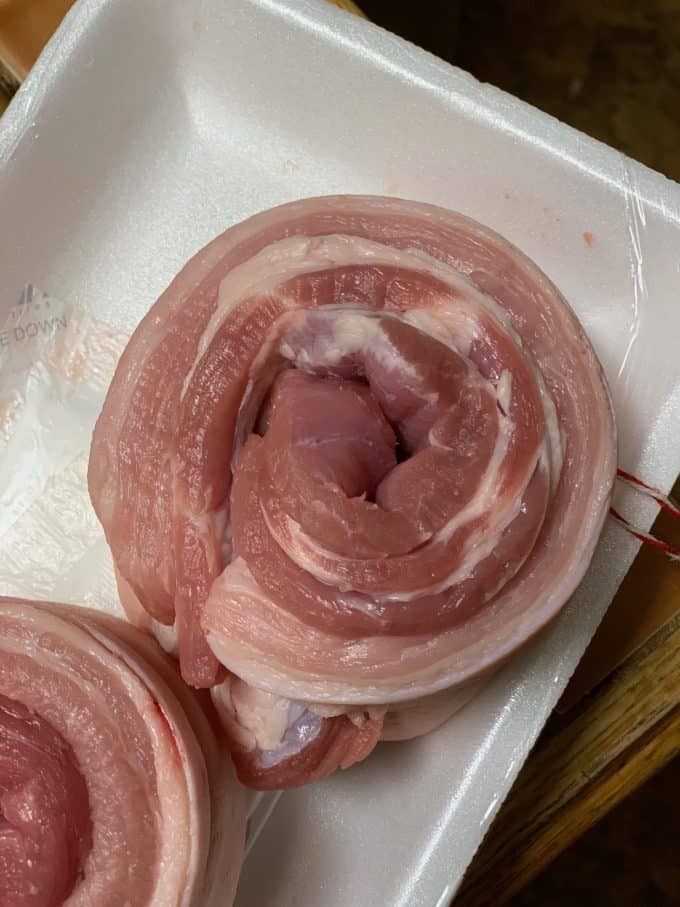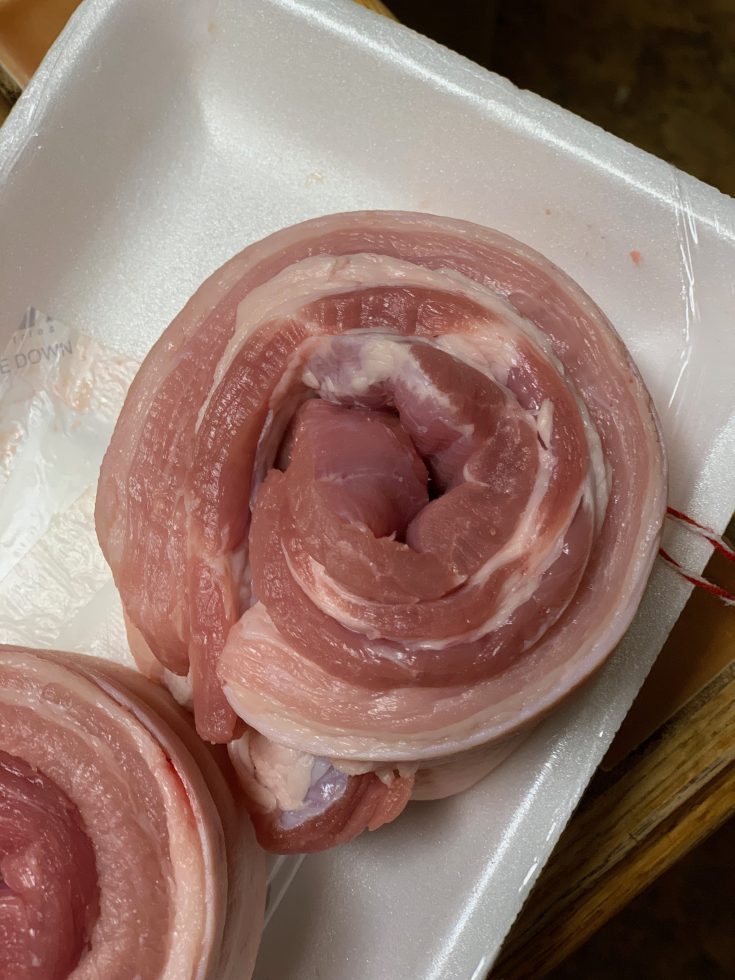 Day 2 – Chashu | Miso Paste | Garlic Togarashi Oil
This is the day I'd suggest tackling any remaining broth items that you couldn't quite get to the day before. Also, get that pork belly cooked and in the fridge overnight, and if you still haven't had enough yet, mix up the miso paste and togarashi oil. Directions for those are down in the Ramen recipe area.
So, make your chashu pork, or not. This is something you could totally skip if you are looking to reduce the steps here a bit and your ramen won't suffer at all. As long as you are going to go for it, though, might as well go all out, right?
Yield: 8 servings
Chashu Pork Belly Recipe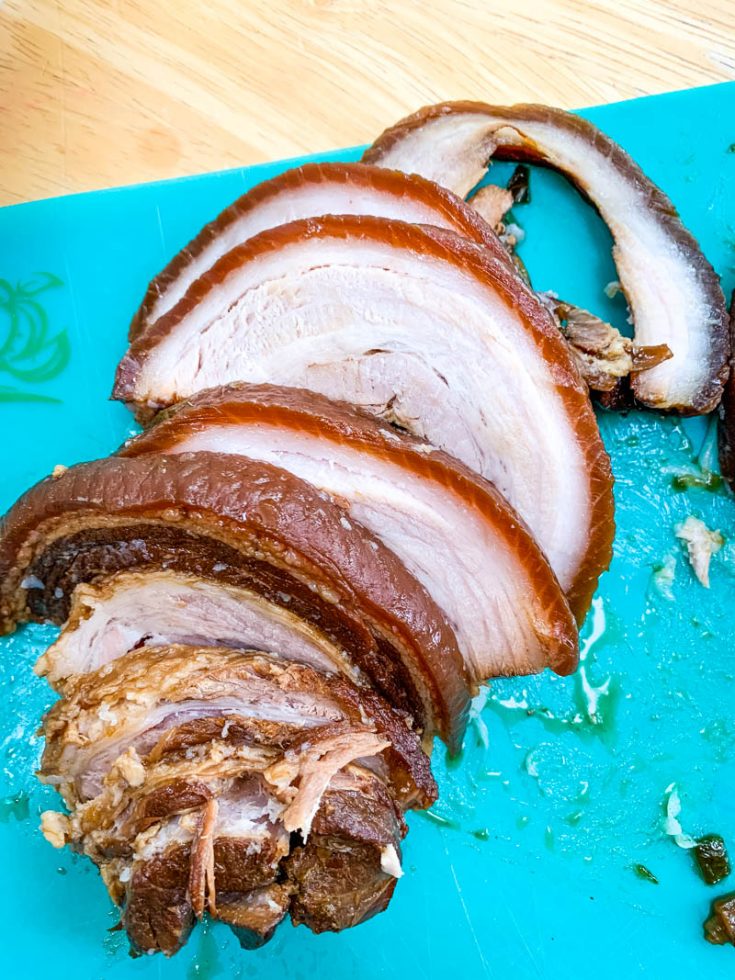 Tender marinated pork belly is what we are making here with the authentic Chashu pork recipe! You're going to love this on top of your next bowl of homemade ramen.
Total Time
4 hours
15 minutes
Ingredients
1 pound pork belly, with skin
1 cup soy sauce
1 cup sake
1 cup mirin
1 cup water
3/4 cup sugar
10 cloves garlic
1-inch ginger, peeled and sliced
2 shallots, roughly chopped
1 bunch green onions, greens and whites, sliced
Instructions
Tie up the pork belly in a rolled-up round, with the skin facing out.
Place all of the marinade ingredients into an oven-safe sauce pan that is large enough to hold all of the ingredients without overflowing. You want the pork to be covered in marinade for the braising portion.
Heat the liquid on the stovetop until it is boiling. Remove from the heat, place the pork belly into the liquid, cover and place in the oven.
Cook for 3-4 hours at 275°, until the pork is fork-tender.
Place the whole shebang in the fridge overnight.
Cut in half, lengthwise, and then slice into thin pieces.
Let it reheat in your ramen.
Reserve the cooking liquid for marinated eggs (ajitsuke tamago).
Nutrition Information:
Yield:
6
Amount Per Serving:
Calories:

379
Total Fat:

12g
Saturated Fat:

4g
Trans Fat:

0g
Unsaturated Fat:

7g
Cholesterol:

48mg
Sodium:

1809mg
Carbohydrates:

39g
Fiber:

1g
Sugar:

33g
Protein:

16g
Plus, if you don't make the Chashu pork you won't be able to marinate your eggs! Which is also optional. A plain soft-boiled egg would be pretty spectacular here too. We're headed towards EPIC and over-the-top with this one though!
Yield: 6 servings
Marinated Soft-Boiled Eggs (Ajitsuke Tamago)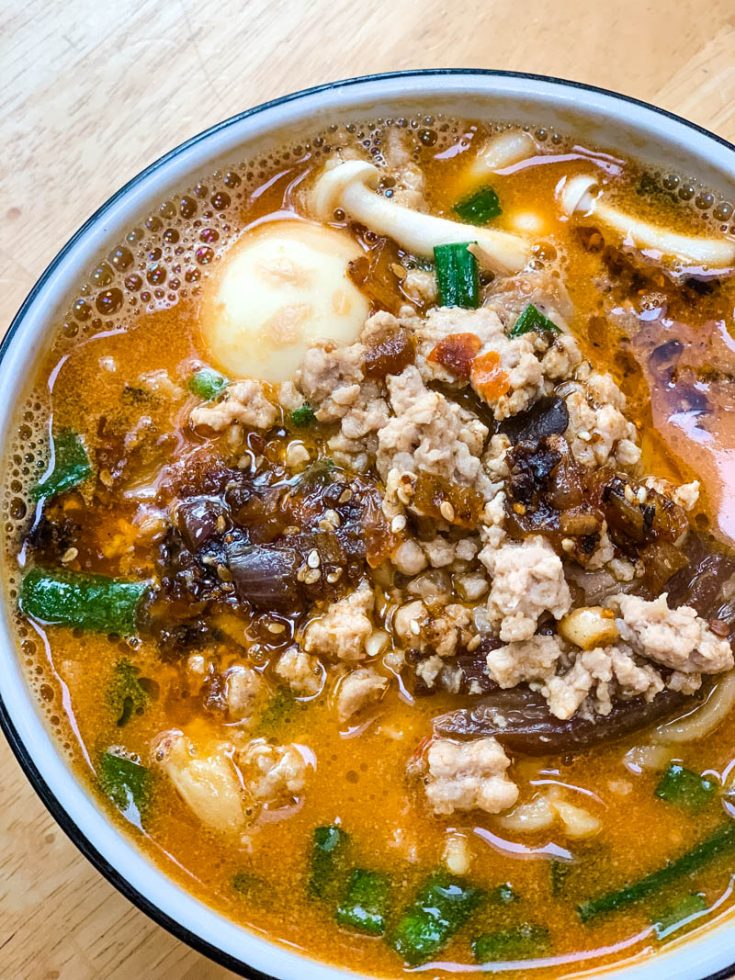 Marinated soft-boiled eggs are the perfect compliment to your next bowl of homemade ramen! Use the cooking liquid from your Chashu Pork for your marinade!
Cook Time
4 minutes
30 seconds
Total Time
4 hours
9 minutes
30 seconds
Ingredients
6 eggs
4-6 cups Charshu braising liquid
Instructions
Bring a pot of salted water to a low simmer, and carefully place the eggs in. Simmer lightly for 4.5 minutes.
Remove from the water and place directly into a bowl of ice water.
Once the eggs are cool, peel carefully and gently, and place into the braising liquid.
Put a paper towel on top of the eggs so it will soak up some of the liquid and ensure that they marinate properly.
Marinate in the fridge for 3-4 hours before reheating in your bowl of ramen. The piping hot ramen broth will be just right for that!
Nutrition Information:
Yield:
6
Amount Per Serving:
Calories:

72
Total Fat:

5g
Saturated Fat:

2g
Trans Fat:

0g
Unsaturated Fat:

3g
Cholesterol:

186mg
Sodium:

71mg
Carbohydrates:

0g
Sugar:

0g
Protein:

6g
The spicy miso paste is easy easy and is basically just some chopping and blending.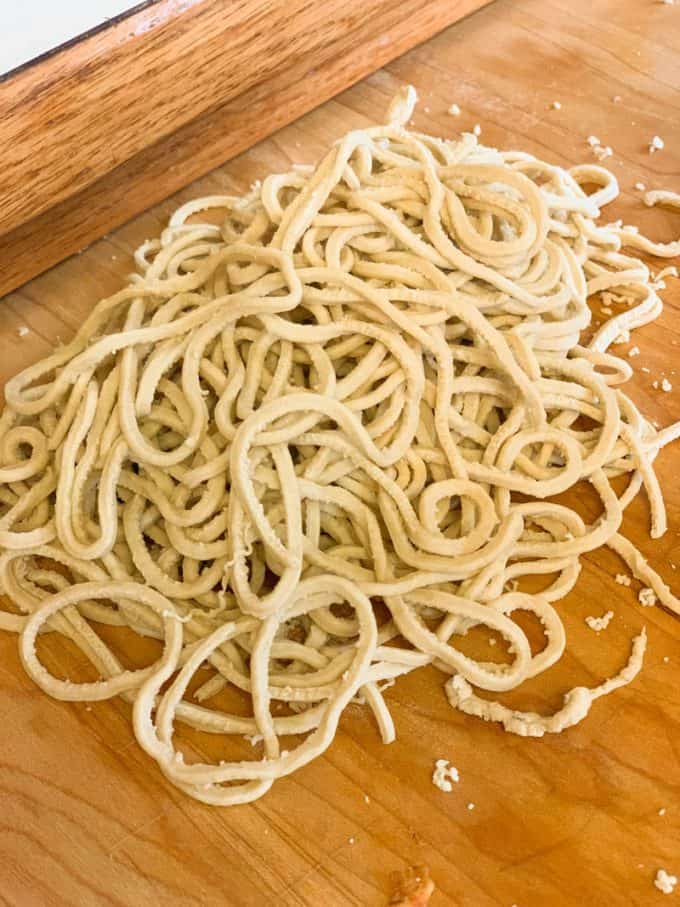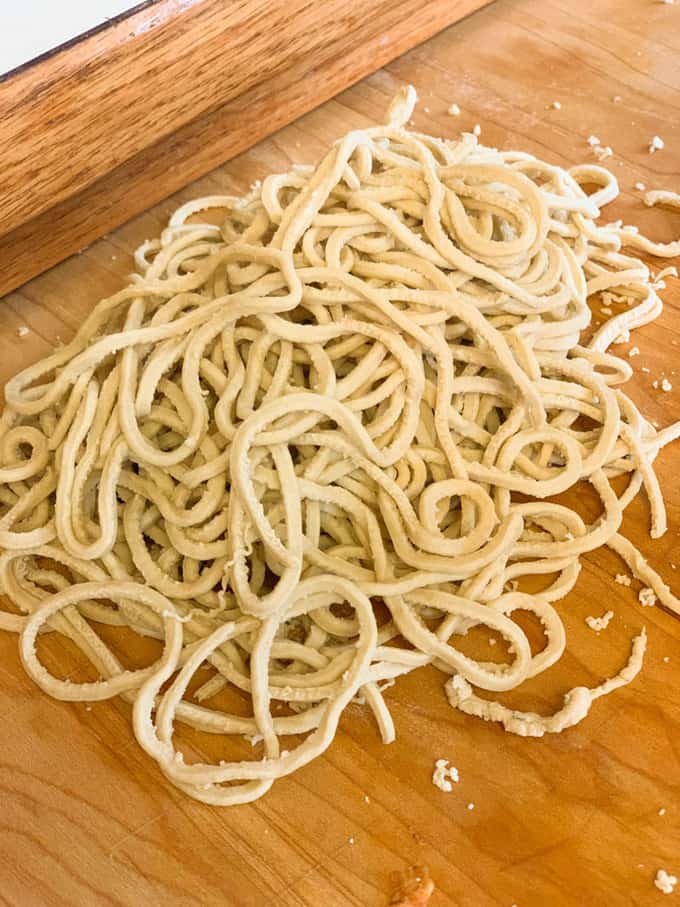 Day 3 – Noodles and (maybe) the MAIN EVENT
Yup! Day 3 and you FINALLY get to actually EAT some of this soup you've been working on and worrying about for days and days. IT IS HERE.
You only have two things left to do today. You have to make up those noodles in the morning if you want to be able to make Ramen for dinner. If you don't get to it until the afternoon, I'd plan to have Ramen on DAY 4.
The reason being is that the noodle dough needs some time to settle and relax. I made this without much rest time and it still worked well, but it would've been easier to roll with that rest time happening. Use your best judgment. Either way, you'll have something delicious at the end.
Here is my post on Homemade Ramen Noodles. Check it out for the whole post, or you can see the recipe below.
Yield: 6 servings
Homemade Ramen Noodles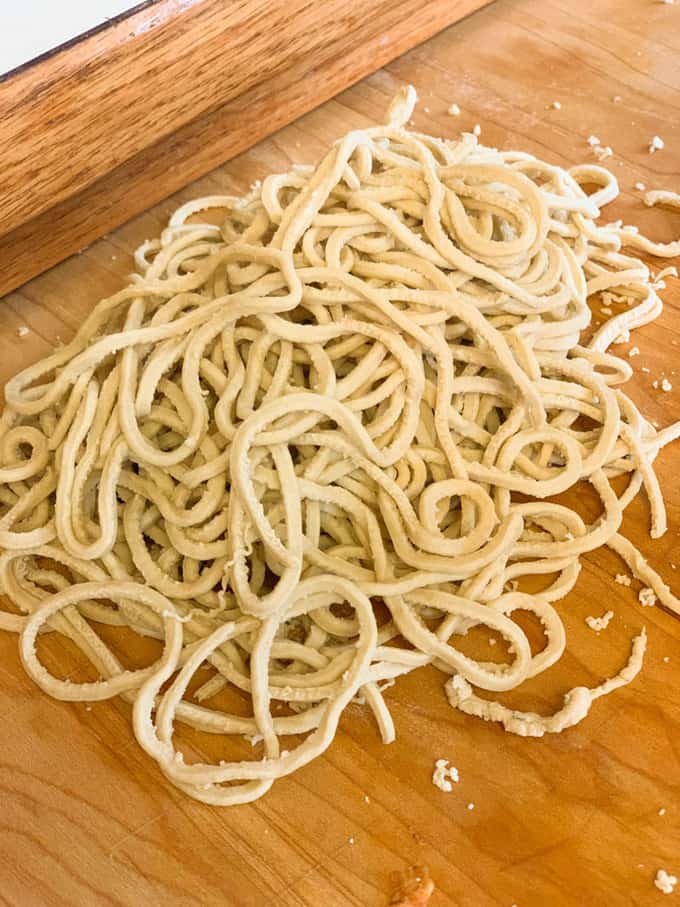 Homemade Ramen noodles that have the perfect bite. Make a bit batch and freeze the extras after they are cut for a quick ramen shortcut next time!
Total Time
4 hours
16 minutes
Ingredients
4 cups bread flour
1 cup warm water
2 teaspoons kansui (see recipe below)
Instructions
Combine the flour, kansui and water in your mixer with the dough hook attached, and mix on medium speed for 8-10 minutes. It may be a bit dry. If you need to add a little more water to make it come together, you can. You want it to JUST stick together as this dough is meant to be dryer than you might be used to.
Let your dough rest for 3 hours in the fridge.
Remove from the fridge and let your dough rest on the counter for 1 hour.
Cut the dough into four pieces, and flatten out with your hand.
With your pasta machine on the thickest setting, roll out your dough balls. Fold in half and roll through a few times. It may break up a bit, but will flatten out after a few go-throughs.
Run the dough sheets through the pasta machine until they are at the 3 setting on your machine.
Cut the dough using the spaghetti cutter. Dust with flour if they are sticking at all.
Boil in well-salted water in small batches for 1 minute. The noodles will cook more in the hot Ramen broth.
Recommended Products
As an Amazon Associate and member of other affiliate programs, I earn from qualifying purchases.
Nutrition Information:
Yield:
6
Amount Per Serving:
Calories:

330
Total Fat:

2g
Saturated Fat:

0g
Unsaturated Fat:

1g
Sodium:

3mg
Carbohydrates:

66g
Fiber:

2g
Sugar:

0g
Protein:

11g
How To Put Together The Best Bowl of RAMEN, ever!
If you've gotten this far, the battle is mostly won. Or the hard work is mostly over, at the very least. Get ready to enjoy because things are going to happen quickly now.
Make sure things are close-at-hand and start assembling your bowls together with all of your garnishes inside, ready and waiting for the broth, which is really the star of the show here.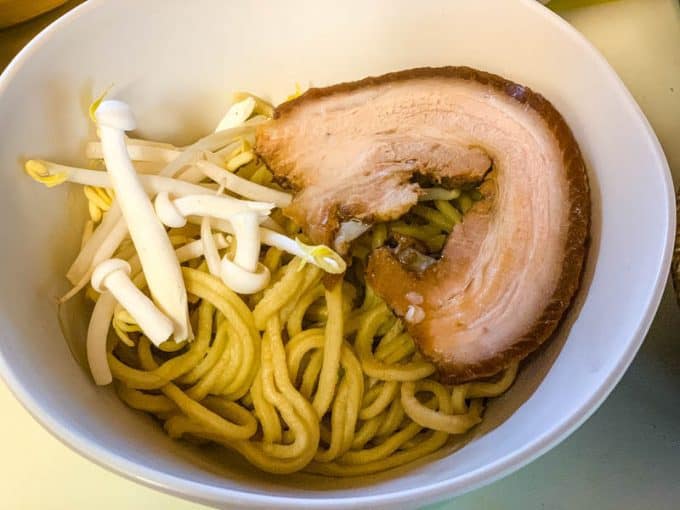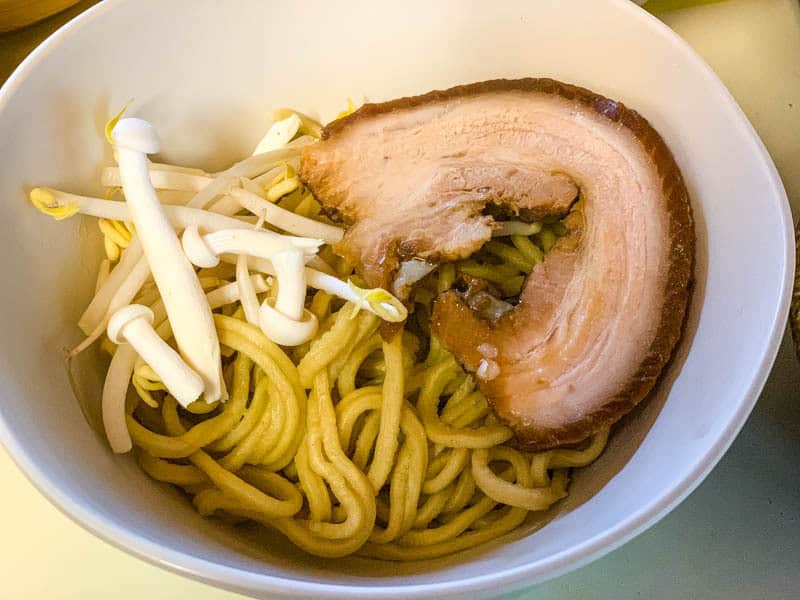 Do you see how yellow those noodles are? That means they are going to be gooooooooood.
If you made it this far, I have alll of the kudos for you. Post a picture of your own bowl of homemade ramen on instagram and hashtag #orwhateveryoudo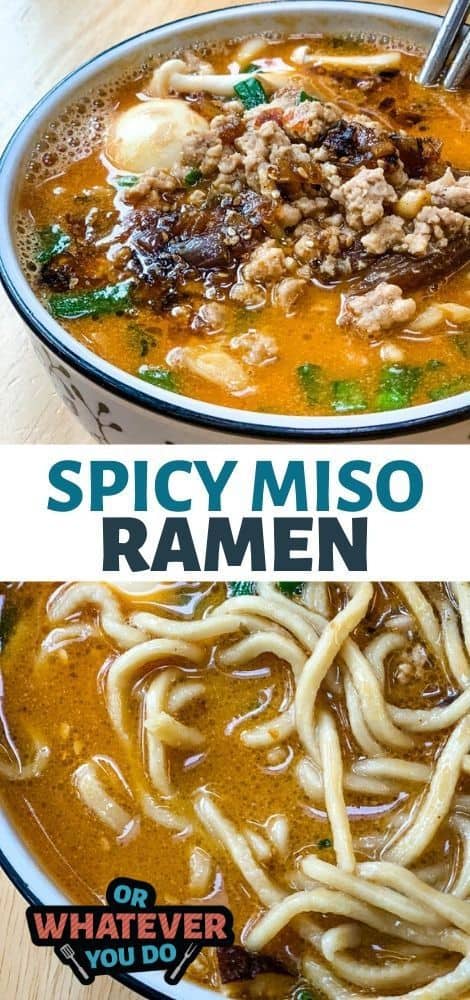 Yield: 6 servings
Spicy Tonkotsu Miso Ramen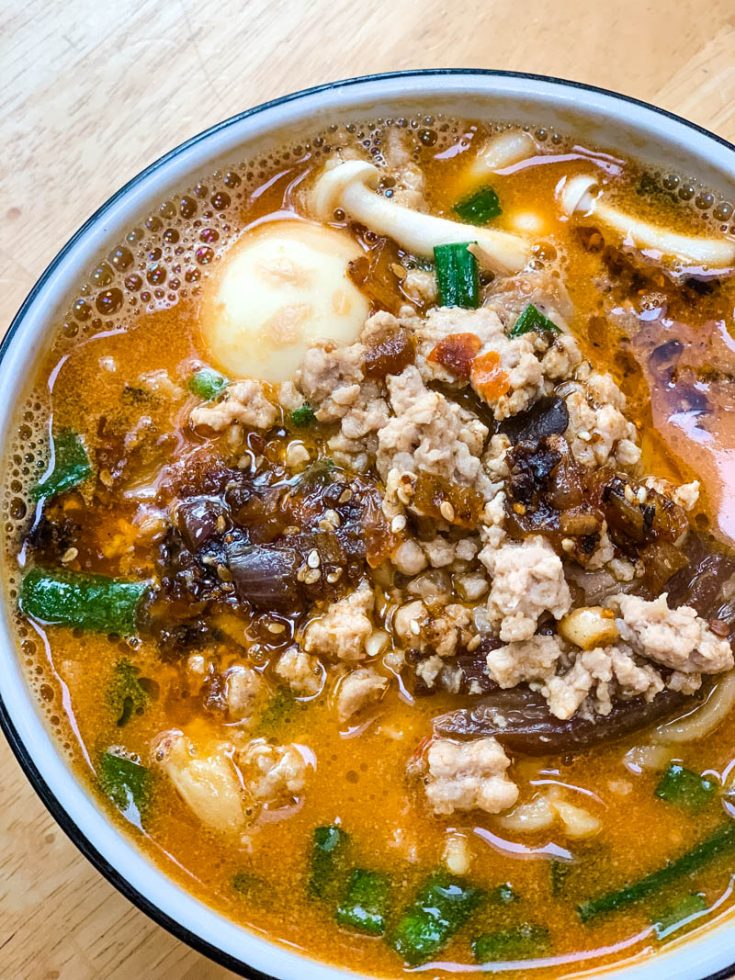 By the time you get to this point, you might be a little mad at me. I promise that's going to go away when you taste the end result of all of your labors. This Spicy Tonkotsu Miso Ramen is now the stuff of legends in this house.
Total Time
1 hour
30 minutes
Ingredients
Spicy Miso Paste
1/2 cup white miso paste
1/2 cup red miso paste
1/3 cup douban chili paste
1 large onion, diced
6 cloves garlic, diced
2 inches ginger, peeled and diced
3 tablespoons mirin
2 tablespoons sesame oil
2 tablespoons Sambal Oelek Chili Paste
Garlic Togarashi Oil
1/4 cup oil
2 small shallots, diced
3 cloves garlic, chopped
3 green onions, whites only, sliced
1/8 cup togarashi
Ramen
1/2 pound ground pork
1 tablespoon sesame oil
2 tablespoons diced dried shiitake
1/4 teaspoon white pepper
1/4 teaspoon salt
1/2 cup spicy miso paste (from above)
6 cups plain unsalted ramen stock
2 cups unsweetened plain soy milk
6 handfuls fresh ramen noodles
Garnish
1/2 cup sliced green onion, green part only
6 soft-boiled marinated shoyu eggs
2 slices chashu pork belly
Nori
mushrooms
bean sprouts
Instructions
Spicy Miso Paste
Place all of the ingredients into a blender or food processor, and blend until everything is combined. Scrape out and place into a separate container and refrigerate until ready to use.
Garlic Togarashi Oil
Add the oil, shallots, garlic, and green onions (whites only) to a small non-stick saute pan over medium-low heat.
Saute the vegetables until they are translucent and tender, about 3-4 minutes.
Remove from the heat and stir in the togarashi. Set aside to drizzle onto your finished soup.
Ramen
In a well-salted pot of boiling water, boil your noodles for 1.5 minutes. They will cook more in the hot ramen broth.
Place the ground pork, sesame oil, dried shiitake, and the salt and pepper into a large stock pot on medium to medium-high heat. Cook, breaking up the meat, until it is browned and the fat has rendered. Add in the 1/2 cup spicy miso paste and cook an additional 1-2 minutes.
Place the ramen stock into the pot, and bring up to a boil.
Add the unsweetened soy milk and stir well.
Place your remaining spicy miso paste into a fine mesh strainer, and then lower into the broth and stir it around a bit (still in the strainer). All of the flavor will work its way into the soup, but none of the solids. You want to keep any solids out of the soup to keep the texture from thickening up. Bring the broth back up to a simmer.
Place a small handful of cooked noodles into each of your bowls, along with the rest of your desired garnishes.
Ladle the hot broth into your bowls and enjoy!
Recommended Products
As an Amazon Associate and member of other affiliate programs, I earn from qualifying purchases.
Nutrition Information:
Yield:
6
Amount Per Serving:
Calories:

992
Total Fat:

48g
Saturated Fat:

12g
Trans Fat:

0g
Unsaturated Fat:

31g
Cholesterol:

161mg
Sodium:

5022mg
Carbohydrates:

95g
Fiber:

8g
Sugar:

26g
Protein:

47g