Sometimes you just want something easy and fast to get on the table that'll satisfy your spaghetti-lovers AND you need to have dinner done in ~30 minutes! This Super Easy Homemade Marinara fits the bill!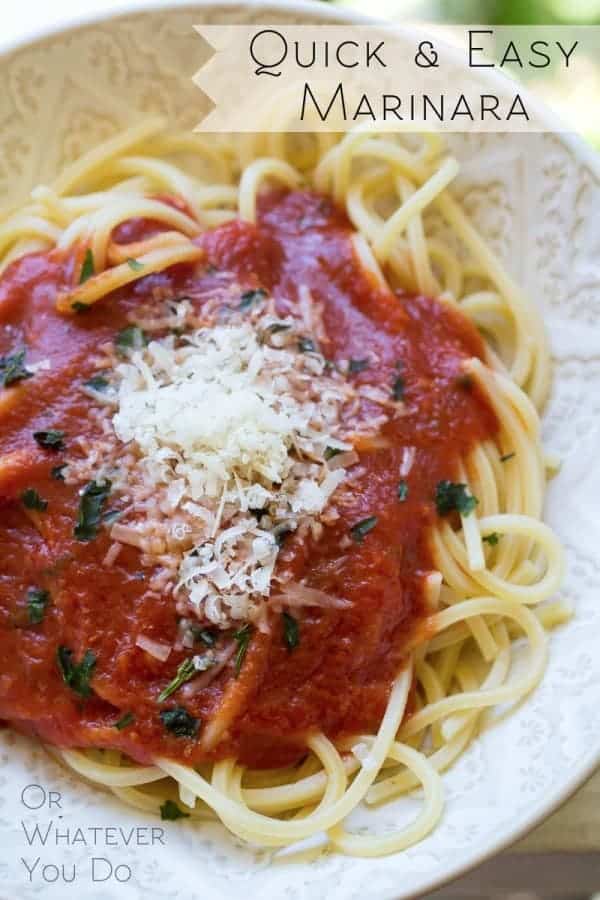 Easy Homemade Marinara
You guys remember a few weeks back when I was ALL over social media in Chicago living it up and attending Eat, Write, Retreat?
Yeah – me either.
It seems like forever ago – but really it was only last month! It was such a great time, and a refreshing, empowering, inspiring weekend filling with friends, food, and fun. I'm already wishing for my next conference to get here – which at this point is looking like sometime in 2016 – so I've got a ways to go yet.
Having fresh herbs around the house is ideal, but I can NEVER use them all up before they start to wilt and go bad, and my thumb is BROWN. The garden I DID manage to get going this year my chickens have pretty much savaged. If you don't have fresh herbs, dried or the refrigerated variety will be fine.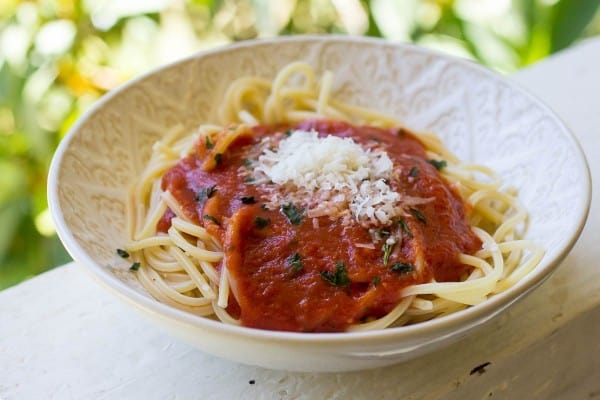 I made this super simple herbed marinara the other day for lunch for the starving masses of kids that call my place home, and it was DEVOURED.
---
Need more pasta recipes? I LOVE those, and have a ton here. Check some out!
---
I love being able to throw something fresh, easy, and kid-friendly on the table during those days when I don't have time to put together a whole production just for lunch. Which – let's get real, is most days.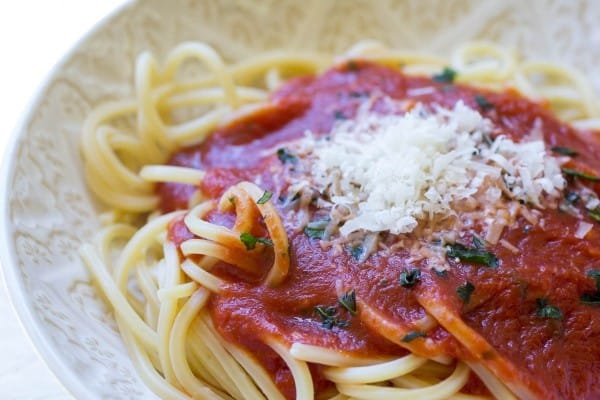 More often than not lunch here is a quick sandwich, some spaghetti-o's, or leftovers. Whichever is quickest. Or will create the least number of dishes to wash. Either or.
So, if you want something quick and easy and don't happen to have a fridge full of Gourmet Garden herbs, feel free to substitute dried, but I highly suggest picking these up next time you are out shopping. They are in the refrigerated section of your produce department.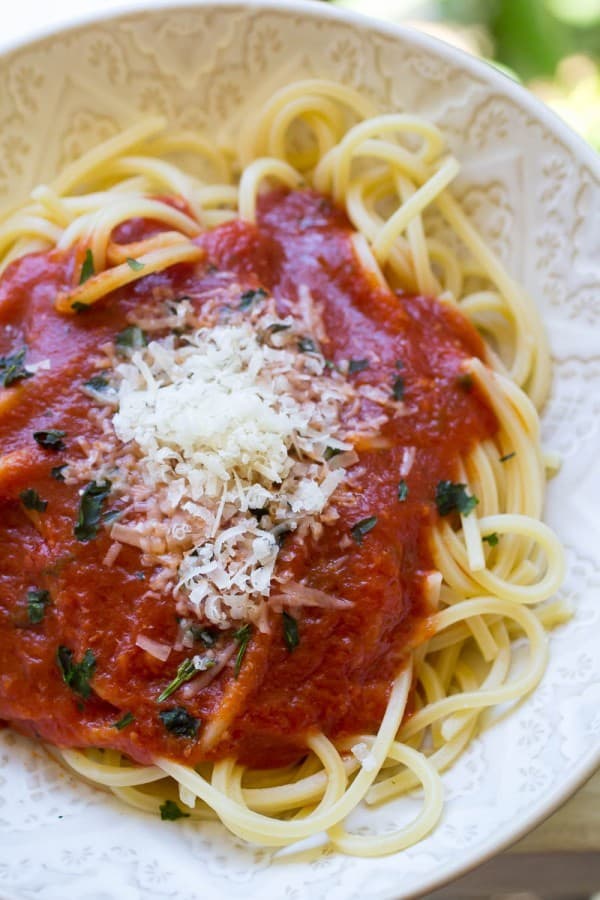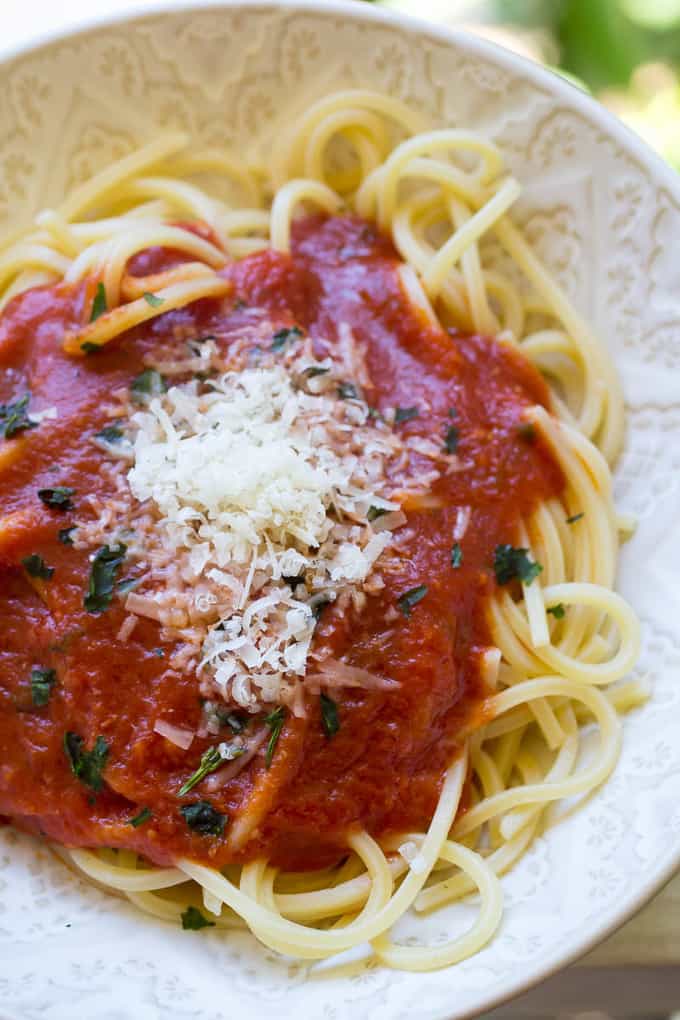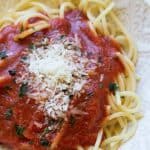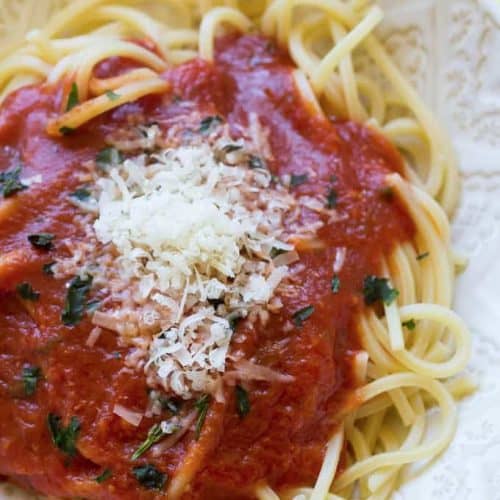 Super Simple Herbed Marinara
Ingredients
1/4

cup

olive oil

2

teaspoon

Gourmet Garden chunky garlic paste or 2 teaspoons fresh chopped garlic

1

28 ounce can

tomato sauce

1

tablespoon

sugar

1

tablespoon

Gourmet Garden Italian Herbs paste or 1 teaspoon dried Italian Herb blend

2

teaspoons

Gourmet Garden Basil or 3/4 teaspoon dried basil

1/2

cup

fresh grated Parmigianno Reggiano

or grated parmesan if you are in a pinch!

Garnish with Gourmet Garden Lightly Dried Basil
Instructions
Heat olive oil over medium low heat and add the garlic paste or fresh garlic to the oil. Stir frequently and cook for 1 minute. Add in tomato sauce, sugar, and the rest of the herbs. Reduce heat to low, and simmer for 25 minutes.

Add in the parmigianno during the last 5 minutes, stir to combine, and toss the sauce with your desired pasta. Top with more Parmigianno, and serve with warm crusty garlic bread.
Recipe Notes
I highly recommend trying out the Gourmet Garden pastes! They are fantastic, and are a huge improvement over dried herbs, but have a much longer fresh-life than typical fresh herbs.