Our easy-to-make Tuna Poke Bowl got an upgrade when we ordered up a few pieces of delicious Bluefin Tuna! Simple ingredients with big, fresh, bold flavors pair perfectly with the Bluefin, which features a rich, buttery taste with a slightly sweet flavor.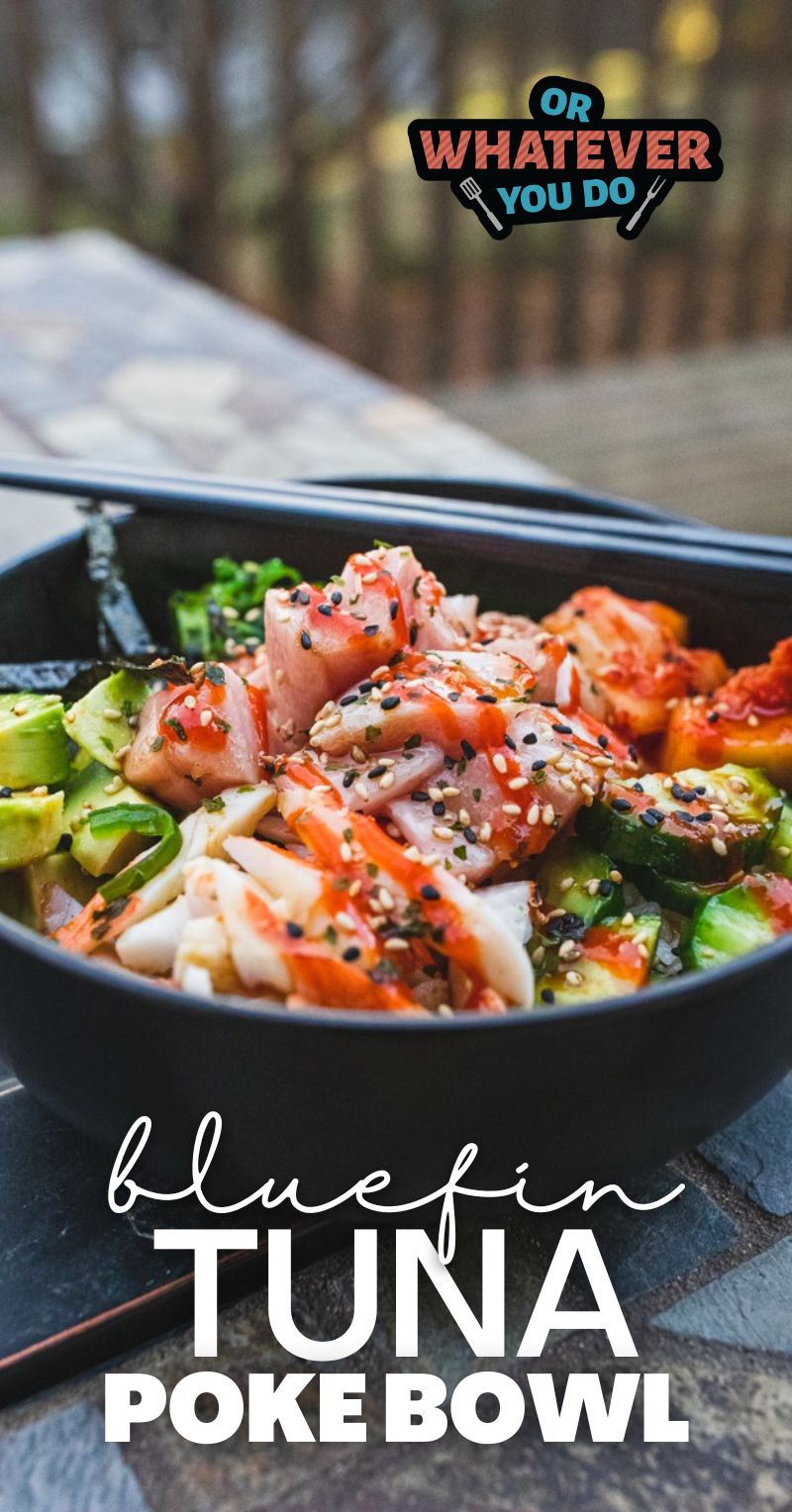 Bluefin Tuna Poke Bowl
Poke bowls are one of my favorite things to order when I am craving all the flavors of sushi, but don't necessarily want to go and order actual sushi rolls or nigiri. So many fun flavors and textures, all in a portable, compact, easy to take with you lunch or dinner.
They are also endlessly customizable, so the picky eaters among you can customize them to your heart's content. You can even use different proteins according to everyone's tastes. We don't spring for Bluefin for the whole family, for instance. 😉 That's usually a treat for the bigger kids and adults in the house, who will actually appreciate it.
Why make a poke bowl at home?
Making a poke bowl at home is a great idea for a few reasons:
It's healthy
Poke bowls are a great way to get in a lot of healthy protein from the raw fish, as well as a variety of vitamins and minerals from the vegetables.
It's customizable
When you make a poke bowl at home, you can choose your own ingredients and seasonings to suit your own taste. You can make it as spicy or sweet as you like.
It's easy
Poke bowls are relatively simple to make, especially if you buy pre-cut fish and vegetables. It's also a great option if you're short on time but still want to prepare a nice meal.
It's different
Poke bowls are a great way to try new flavors and ingredients that you might not have used before.
It's great for parties
Poke bowls are great to serve when you have guests over. You can make different bowls with different ingredients, and you can also let your guests create their own bowls with the ingredients you provide.
It's a great way to save money
Eating out can be expensive, but making poke bowls at home is much more affordable. You can get the ingredients you need for several bowls for the price of one bowl at a restaurant.
Try our Salmon Miso Salmon Poke Bowl too!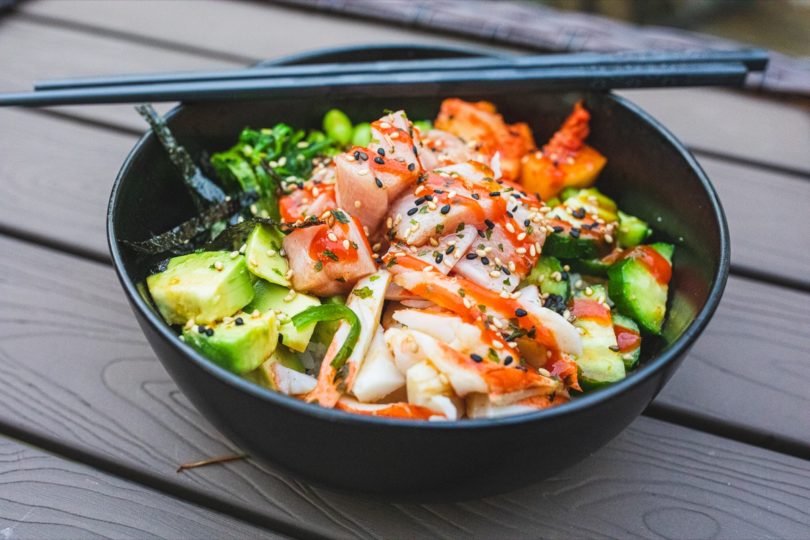 Tuna Poke Bowl shopping list
Wondering if you have to hit the store? Here's the list of items you'll need to make this recipe. For specific amounts, please refer to the printable recipe card at the bottom of the post.
sushi rice
edamame
Japanese (or English) cucumber
crab salad
seaweed salad
tobiko
Bluefin Tuna (chu-toro or otoro, prefered)
shoyu
wasabi mayo
sriracha
furikake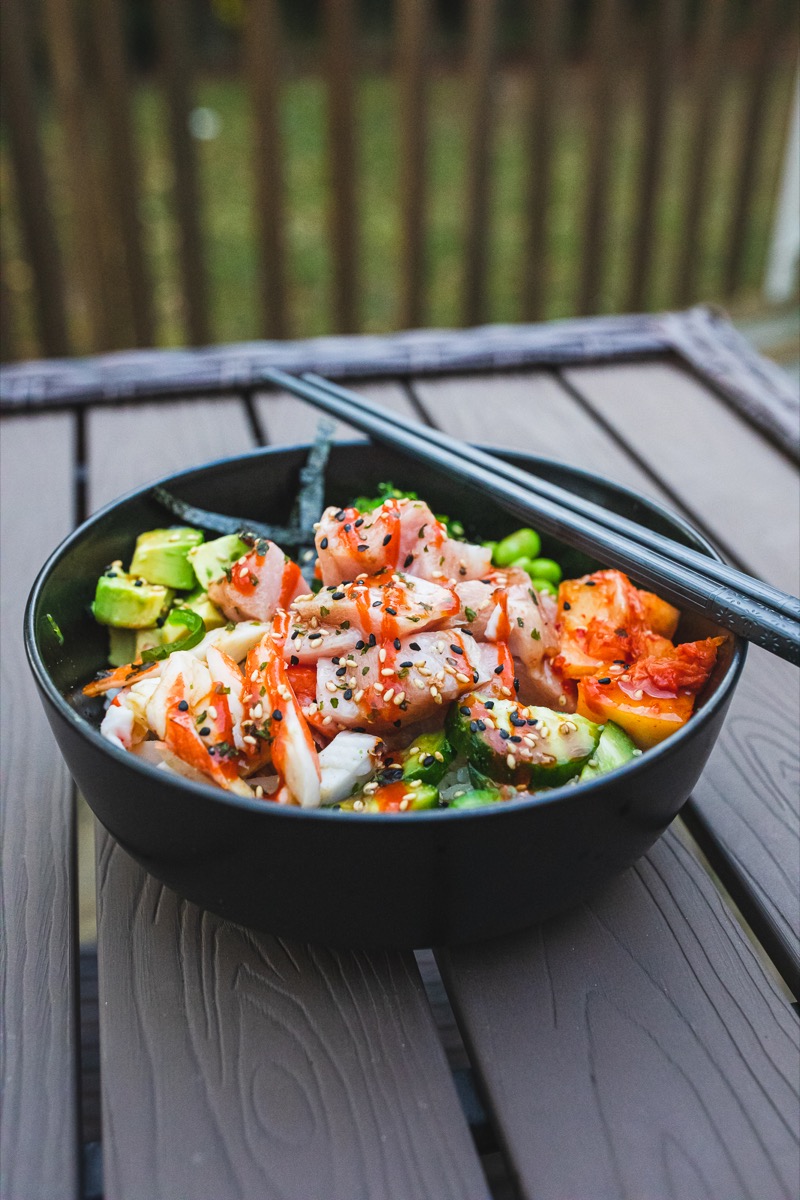 How to make Tuna Poke Bowls
This is just the overview so you can see what you're actually getting into here. When you are cooking, you'll want to use the full recipe at the bottom of the page.
Mix rice
Take your cooked rice and mix in half of the seasoning packet.
Assemble
Split the poke bowl toppings between the two bowls evenly.
Prep fish
Slice your fish into cubes. Sprinkle some of your shoyu over the fish and gently toss to evenly coat.
Split the fish between the two bowls
Garnish
Drizzle your sriracha and wasabi mayo over the poke bowls. Sprinkle with furikake.
Enjoy
Whip out the chopsticks and get busy enjoying this delicious poke bowl you made at home!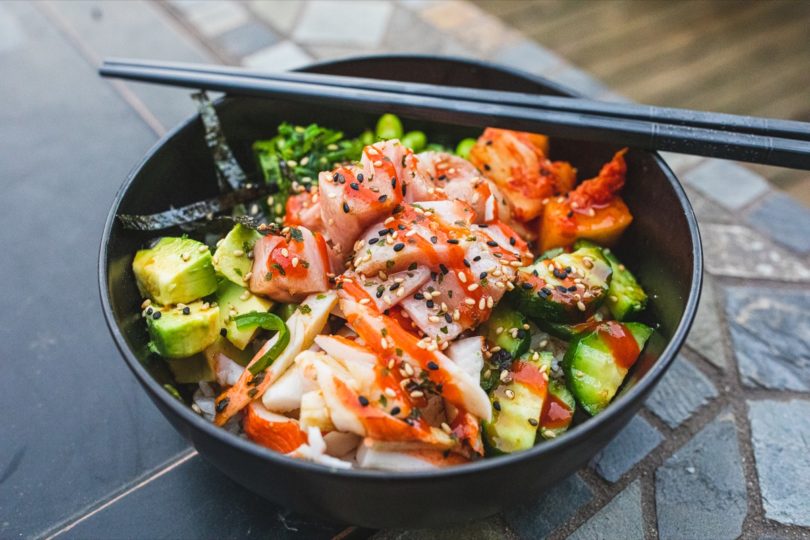 Bluefin Tuna Poke Bowl FAQ
What's the best way to store leftovers?
There is no best way to store leftovers. Fresh, raw fish should be eaten as soon as it is thawed. Only prepare as much of this as can be eaten in one sitting.
Can you use any other types of tuna for this recipe?
Yes! Ahi / Yellowfin Tuna is what is traditionally used for poke. Bluefin is generally reserved for sashimi and nigiri, but YOLO. ¯\_(ツ)_/¯
What other mix-ins work for poke?
I like to throw in some avocado and strips of dried seaweed too. You can also include fresh wasabi and ginger if that's your thing, and get crazy with the mix-ins. There are tons of great options!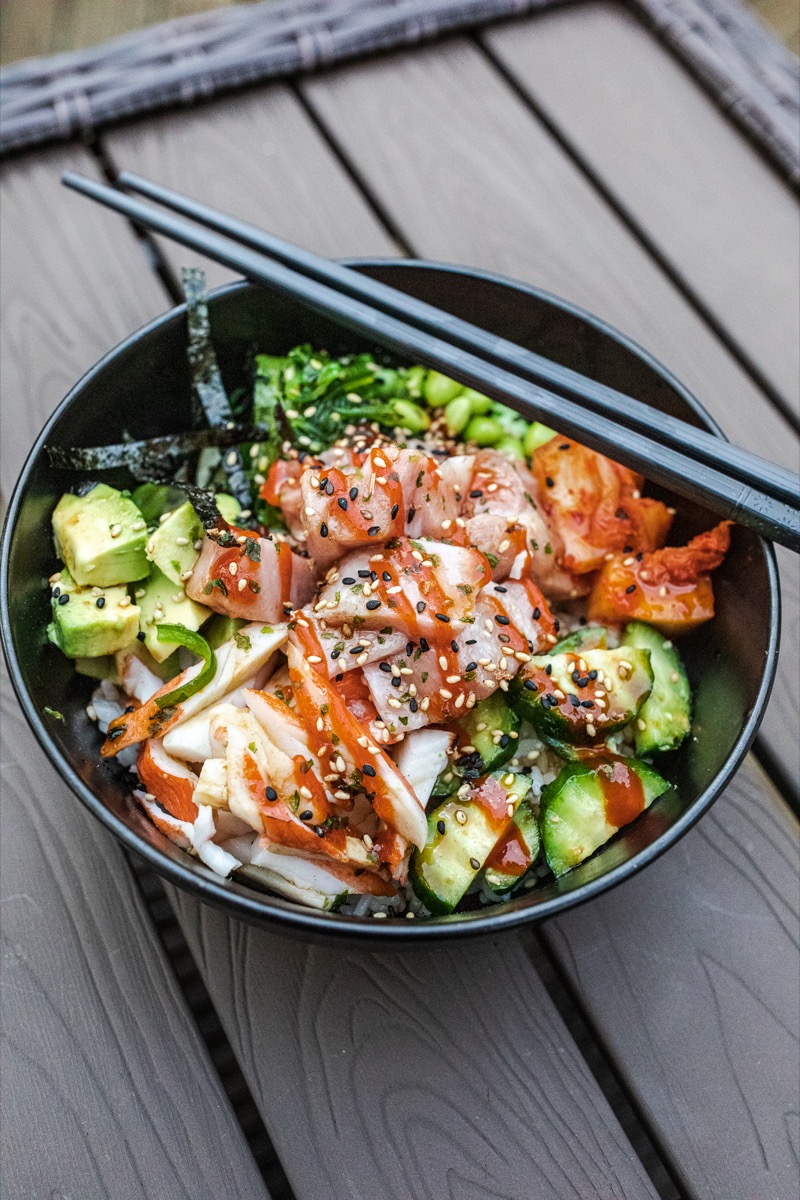 More great recipes to love!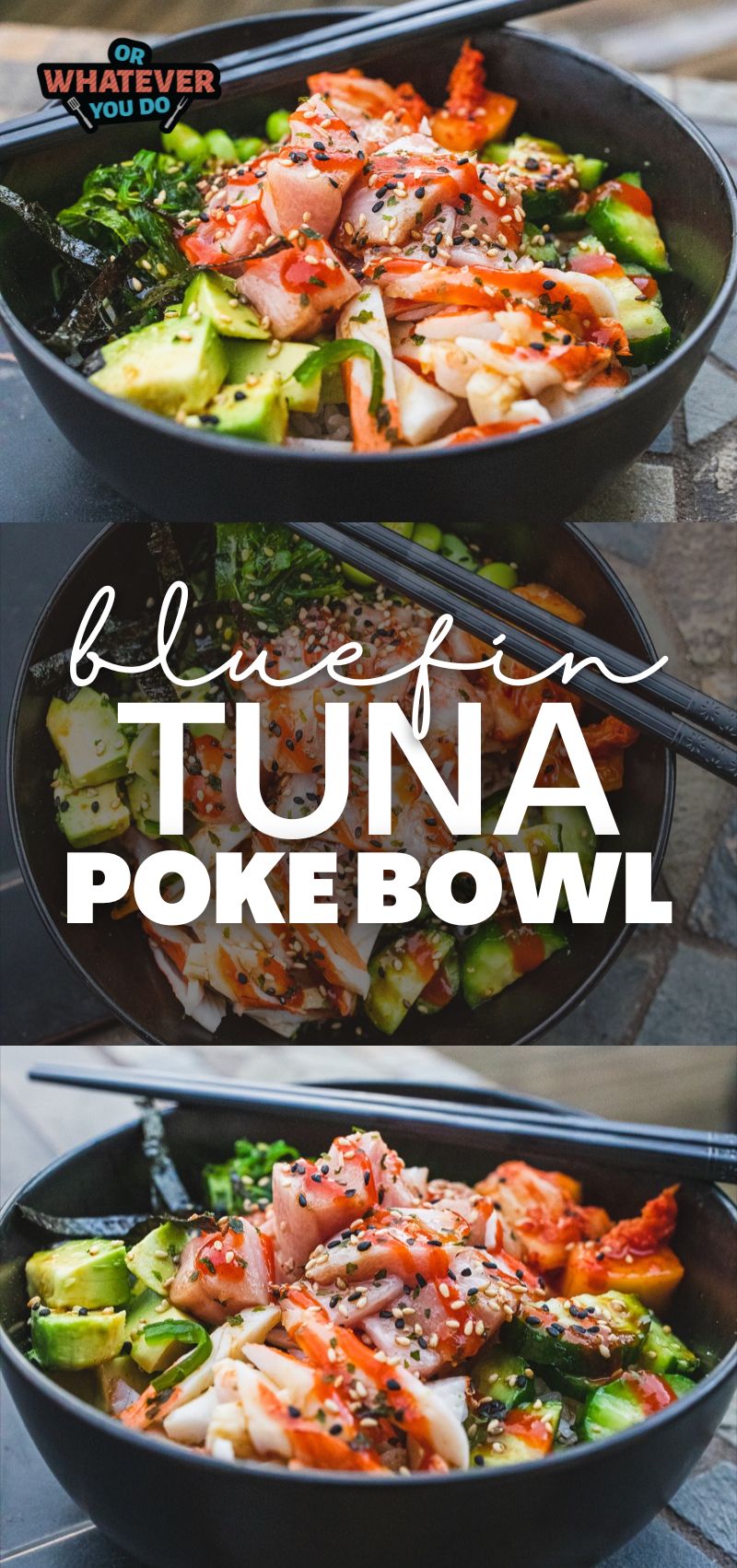 Yield: 2 servings
Bluefin Tuna Poke Bowl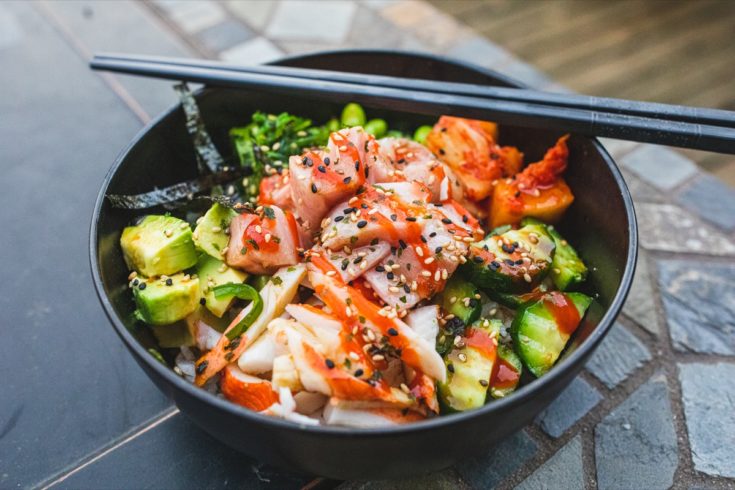 Take a simple, homemade poke bowl and upgrade it by splurging on some real Bluefin Tuna! Make it at home for a fraction of the price.
Ingredients
2 cups prepared sushi rice (see notes)
1/2 packet of sushi rice seasoning
1/2 cup shelled edamame
1 small Japanese cucumber (or English cucumbers also work!) - sliced
1 cup crab salad (Easy recipe here!)
1/2 cup seaweed salad, store bought or homemade
2 tablespoons tobiko (optional)
8 ounces Bluefin (chu-toro or otoro, prefered)
1 teaspoon high-quality shoyu (suggestions below)
1 tablespoon wasabi mayo
1 tablespoon sriracha
1 teaspoon furikake
Instructions
Take the hot rice and mix in half a packet of the sushi rice seasoning.
Split between two bowls along with the edamame, sliced cucumber, crab salad, seaweed salad, and tobiko.
Cut the tuna into cubes. Sprinkle the shoyu over the tuna and gently toss. Split between both of the poke bowls.
Top with a drizzle of wasabi mayo, sriracha, and a sprinkle of furikake.
Recommended Products
As an Amazon Associate and member of other affiliate programs, I earn from qualifying purchases.
Nutrition Information:
Yield:
2
Serving Size:
1
Amount Per Serving:
Calories:

728
Total Fat:

27g
Saturated Fat:

5g
Trans Fat:

0g
Unsaturated Fat:

20g
Cholesterol:

154mg
Sodium:

1682mg
Carbohydrates:

88g
Fiber:

4g
Sugar:

13g
Protein:

32g
Nutrition data provided here is only an estimate.