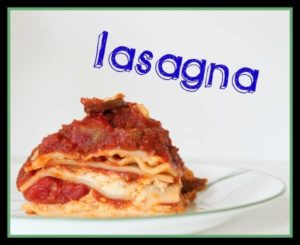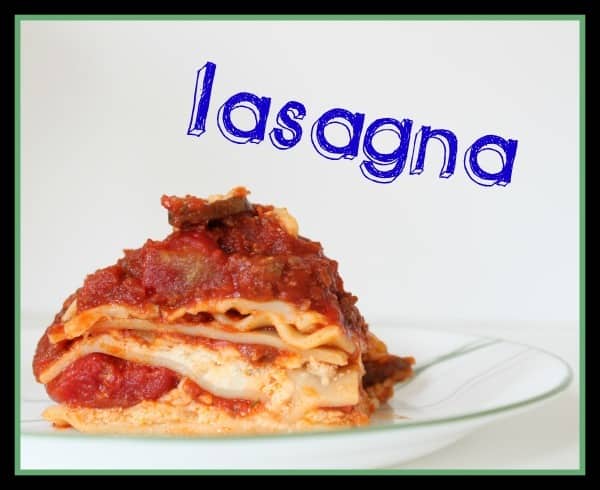 Do you remember a few posts ago I mentioned I was going to tell you all about the meal that, if asked, "What is Nicole's all-time favorite food, ever?", every one of my family would have the exact same answer.
Seriously.
I used to get cases of the main ingredient for Christmas or my birthday from my Grandma as a teenager, and I wasn't disappointed. I was excited. What was the super awesome, best meal ever??
Noodles & sauce
What is noodles and sauce, you ask? Its noodles, of any shape, size, or form, and plain jane tomato sauce.
It was my version of mac-n-cheese I guess, which as "The World's Pickiest Eater", couldn't possibly pass my lips. Oh, was I ever picky. No chunks, of anything, ever. No onion, mushroom, fresh tomato or chunks of tomato, on anything, ever.
Very, VERY few vegetables.
Salad, sometimes, but only with iceberg, cheese, croutons, and Western dressing.
I was in my 20's before I ever tried ranch dressing, or Caesar dressing, and I JUST got myself to try blue cheese dressing this year. Some of my bad habits linger, I'm afraid, but very, very little. There are things I just got in my head somehow that I didn't like, and so I assume that is the case.
It was that way for the poor avocado until last year. Now I'm making up for it by eating my weight in guacamole every possible chance I get.
Seriously.
HOW did I live without guacamole for nearly 28 years???
So my noodles & sauce habit was that of legend. I still get teased about it when I make the trek back to Minnesota. 4-5 times a week, at minimum, I'd make this.
Back when the 'low-carb diet' wasn't really done, and I thought I was doing pretty good with it because it was relatively low in fat and calories. Back when my aunt Terri told me that someday eating like that would most definitely catch up with me and my skinny, teenage, I'm-never-going-to-be-THAT-kind-of-old-person self laughed at her. Now, 13 years and four kids later, I'm not laughing anymore, but my love for all that is pasta cannot die.
I ate enough noodles & sauce that I became somewhat of an expert on the subtle differences in the many different brands of tomato sauce.
Contadina is my favorite for plain old noodles & sauce.
I've progressed in my tastes to at least toss some mozzarella on it, but that's about it. I still love it, but I've also learned to love many, many, many other kinds of pasta as well!
This is my recipe for lasagna. You can use your favorite spaghetti sauce for this to make it quick and easy, and to tide you over until I post MY homemade, giant-batch, Costco-sized sauce recipe that I make for our family. It makes enough to feed a small army, which I need for my crew.
1 box lasagna noodles
8ish cups spaghetti sauce
15 oz ricotta cheese
8 oz cottage cheese
4 oz parmigiano reggiano
8 oz whole milk mozzarella
16 oz divided in half Italian cheese blend (I used a four cheese blend with mozzarella, romano, parmesan, and one other kind I can't think of off-hand.)
1/2 tsp basil
2 tsp parsley
2 eggs
Start by par boiling the noodles. You only want these JUST on this side of flexible, not even halfway done. There's nothing worse than mushy noodles, and lasagna is an easy one to get over-cooked noodles. While they are par-boiling (set a timer! Don't forget!), mix all the cheese together (except 8 oz of the Italian cheese blend, save that for the very top of the lasagna) well with the eggs, the basil, and the parsley.
When the noodles and par-boiled and drained, place 1 1/2 cups of sauce in the bottom of the 10 x 13 pan. Place a single layer of noodles, slightly overlapped at the edges, in the pan. Put 1/2 of the cheese mixture on the top of them and spread it out evenly. Cover with about 2 cups of sauce and gently spread out.
Repeat the process with noodle, the remaining cheese mix, sauce, then do noodle, sauce, and top it with the remaining 8 oz of Italian cheese blend.
Cover with non-stick foil (make SURE it's non-stick, or that you spray it very, very, VERY well with nonstick spray, I've had lasagna disasters before where the entire top layer of cheese comes off with the foil!), and bake in a 325 degree oven for 1 – 1.5 hours.
The amount of time it needs to bake will vary depending on if your sauce is hot or not when you put it together. Take the foil off for the last 15 minutes of bake time. Serve with caesar salad and garlic bread.
Yield: 12 servings
Lasagna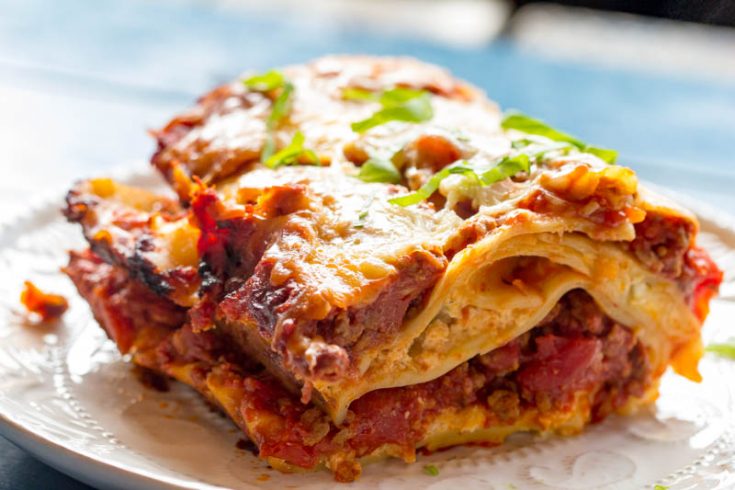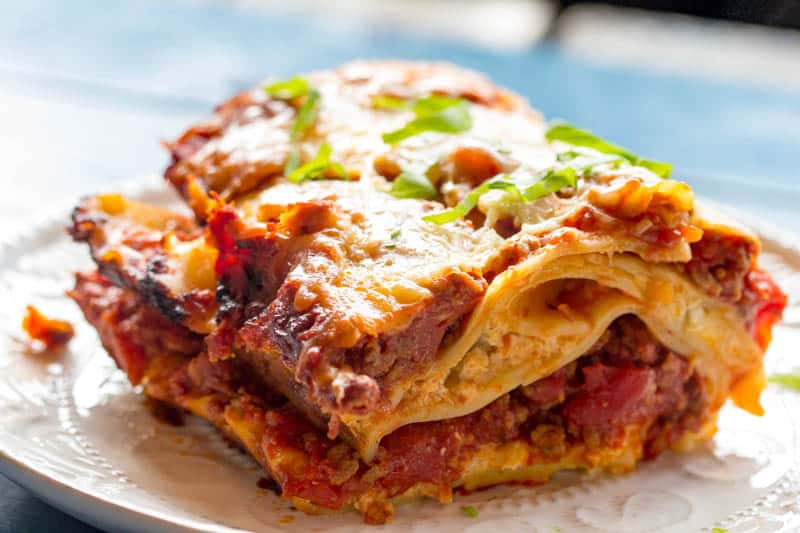 Delicious homemade lasagna filled with homemade meat sauce, tons of cheeses, and love. Lots and lots of love.
Ingredients
1 box lasagna noodles
8 cups spaghetti sauce
15-ounce container ricotta cheese
8 ounces cottage cheese
16 ounces Italian cheese blend
1/2 teaspoon basil
2 teaspoons parsley
2 large eggs
1/2 teaspoon garlic salt
1/4 teaspoon onion powder
Instructions
Boil noodles just until flexible. About 3-4 minutes. Drain, rinse in hot water, and set aside.

Mix together the eggs, ricotta cheese, cottage cheese, reggiano cheese, whole milk mozzarella, basil, parsley and half of the Italian cheese blend, and the garlic salt and onion powder until well combined.

Place 1 1/2 cups of sauce in the bottom of your lasagna pan. Place a single layer of noodles over the sauce, slightly overlapping the edges. Put 1/2 of the cheese mixture over the noodles and spread evenly. Cover with about 2 cups of sauce and gently spread out.

Place another layer of noodles, the remaining half of the cheese mixture, and sauce on top of that.

For the final layer, place noodles down first, then spaghetti sauce, and then the remaining 8 oz of Italian blend cheese that you reserved.

Cover with non-stick foil, or foil that you've sprayed VERY well with cooking spray, and bake for 1.5 hours at 325 degrees. Pull off the foil for the last 15 minutes of cooking time. Serve with Caesar salad and fresh garlic bread.
Nutrition Information:
Yield:
12
Serving Size:
1
Amount Per Serving:
Calories:

311
Total Fat:

18g
Saturated Fat:

9g
Trans Fat:

0g
Unsaturated Fat:

7g
Cholesterol:

85mg
Sodium:

1079mg
Carbohydrates:

18g
Fiber:

3g
Sugar:

10g
Protein:

19g