Egg Rolls in a Bowl are the easy solution to all of your dinner questions, plus a great way to get some vegetables into the more finicky of your eaters. No rolling required with this simple dinner!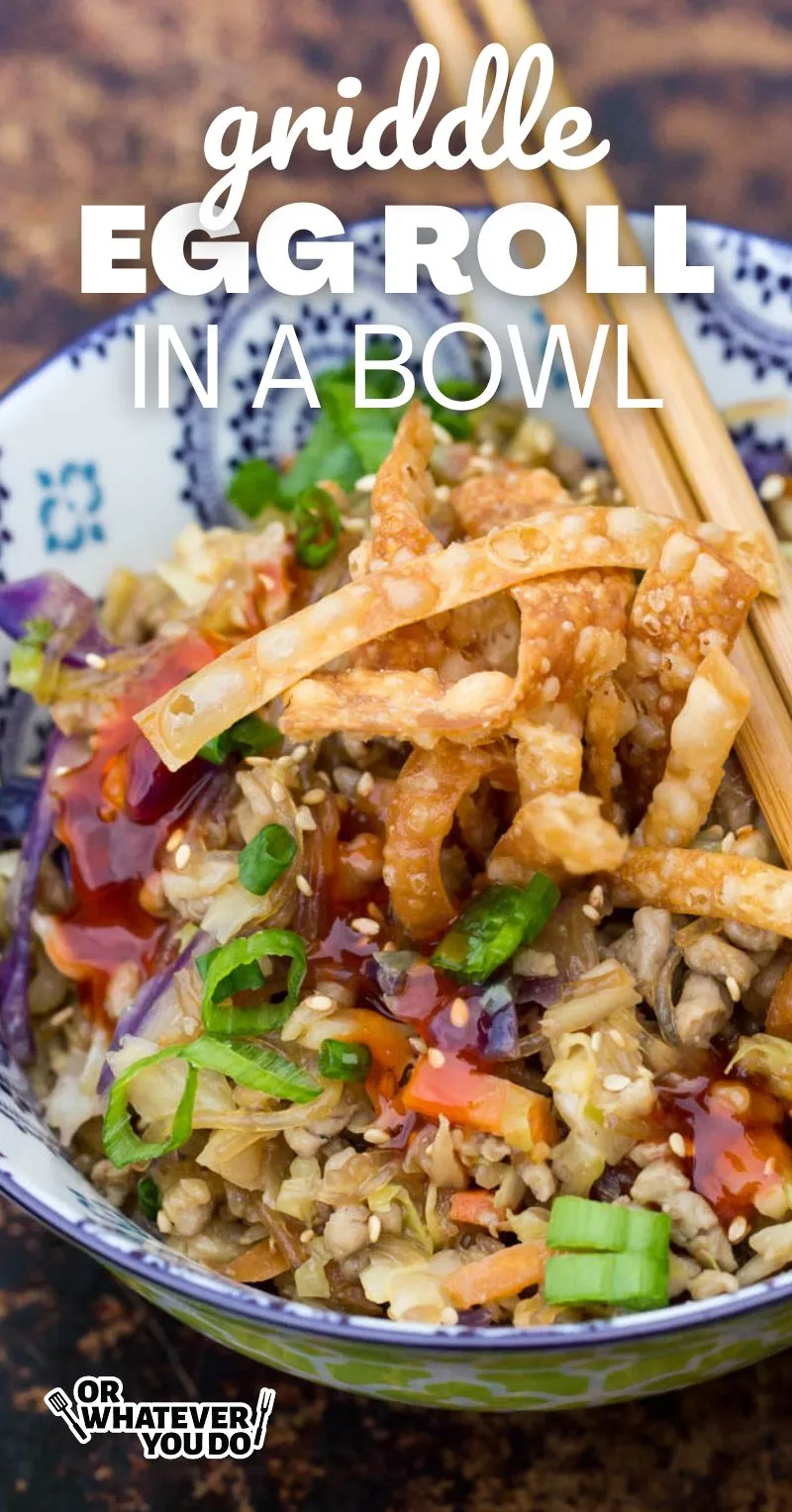 Blackstone Egg Roll in a Bowl
Do you ever get a craving for a really good egg roll? But then you remember how much rolling and frying is involved in egg rolls and that's just not a Tuesday dinner around here.
I was thinking that very same thing one night, and these Egg Rolls in a Bowl happened! You will use the very same ingredients you would if you were making traditional egg rolls, so all of the same flavors are there. This is a much healthier option than traditional deep fried egg rolls.
More Blackstone Recipes here!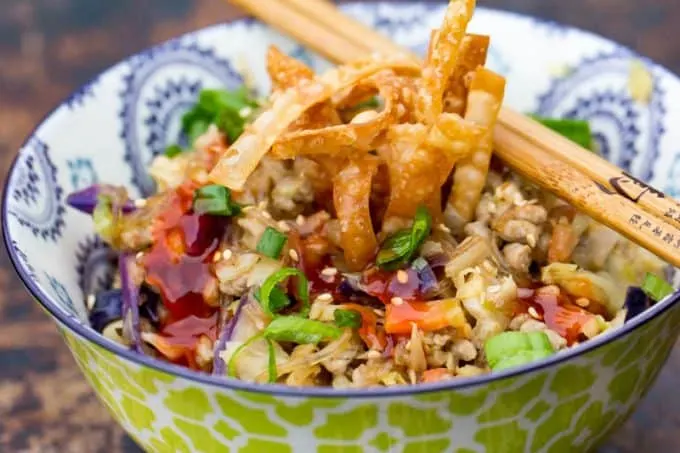 Egg Roll in a Bowl Shopping List
ground pork or ground chicken
ginger
garlic
cabbage
wonton wrappers (optional)
sweet & sour sauce
soy sauce
miso (optional)
Try our Egg Rolls too!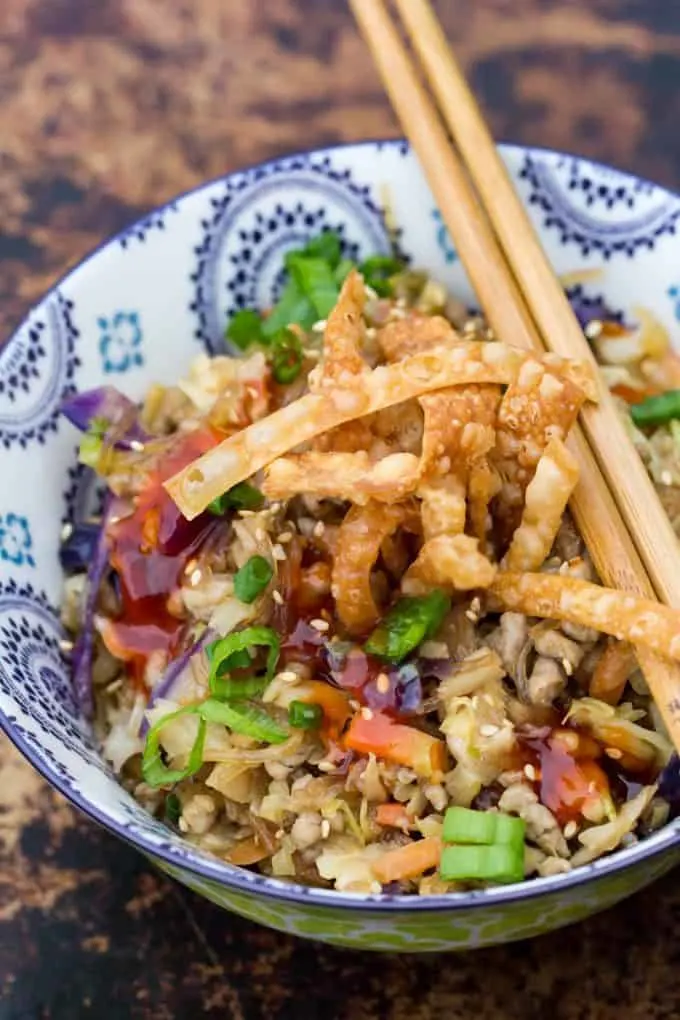 How to make Egg Rolls in a Bowl
This is just the overview so you can see what you're actually getting into here. When you are cooking, you'll want to use the full recipe at the bottom of the page.
Preheat
Preheat your griddle over medium-high heat for 10-15 minutes.
Cook
Combine the meat and seasonings. Cook on the griddle. Add the vegetables. Cook and mix together with the meat. Add the sauce and cook until thickened.
Enjoy
Garnish with any and all of the garnish items and then dig in!
Try our Mongolian Beef Recipe!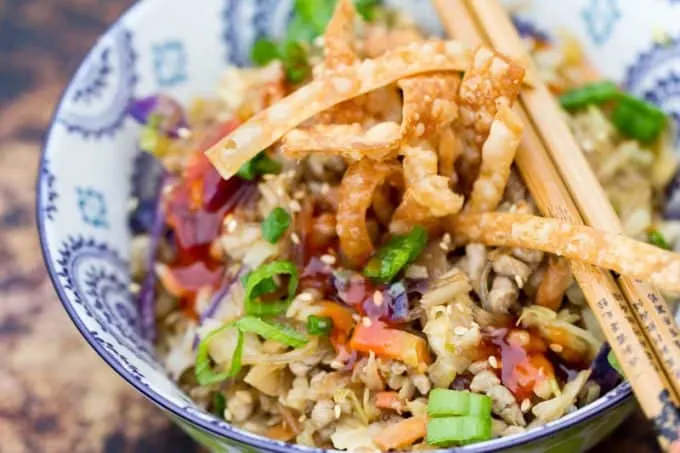 Egg Roll in a Bowl FAQ
What are wonton wrappers, and can you make them at home?
Wonton wrappers are a Chinese dough made of wheat flour, eggs and water. They are then rolled very thin and cut into squares. Wonton wrappers and egg roll wrappers are used in Chinese cuisine for wonton soup, egg rolls, potstickers, and wonton cups.
You can make them at home, but it is quite the process. The store-bought variety taste great and work well, so I'd go with those, personally.
Can you use another type of ground meat in this recipe?
Yes! Ground chicken works well instead of ground pork if you're in the mood. You can also omit the meat and make it vegetarian too.
What's the best way to store and reheat this dish?
This one is easy. Just toss it in an airtight container and keep it in the fridge for 2-3 days. Reheat in the microwave.
Try our Gochujang Chicken Stir Fry!
What are some good options for sides and other dishes to serve with Egg Rolls in a Bowl?
If you would add some more options to your table, you could start off with an appetizer such as my Fried Pork Dumplings. Follow up with either some wonton or egg drop soup served with crunchy Chinese noodles and thinly sliced scallions or green onions for toppers.
My Easy Chicken Fried Rice would be perfect with this meal as well! As would this delicious play on Trader Joe's Orange Chicken!
Blackstone Chicken and Pea Pods is delicious and easy!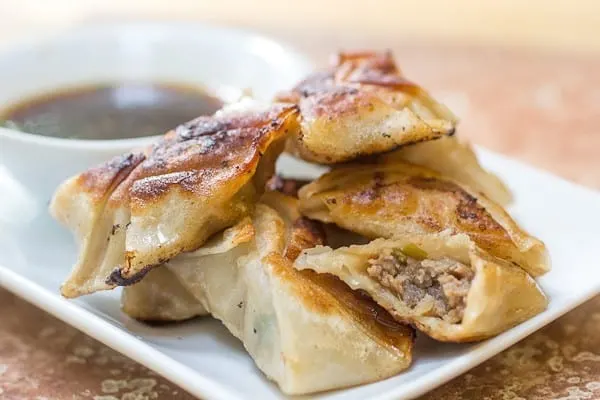 More great Asian-inspired recipes to love
Our Smoked Spicy Asian Pork Ribs offer a blend of smokiness and heat, taking inspiration from all of our favorite Asian flavors. This is a fun twist on smoked pork ribs that you and your family will love!
In this Grilled Teriyaki Salmon recipe, the grill's smokiness balances well with the sweet, tangy flavor of teriyaki, providing an interesting spin on a seafood classic.
With our Smoked Beef Pancit, you'll find a unique combination of Filipino tradition and smoky barbecue elements that gives the dish its distinct flavor.
Chicken and Eggplant Stir Fry is a simple yet tasty dish that features the combined flavors of chicken and eggplant in a quick stir fry format with a tasty umami heavy sauce.
Try our simple Traeger Chicken Teriyaki, and you'll experience the traditional taste of Japanese teriyaki paired with the distinctive smoky taste from a Traeger grill.
If you have access to fresh wild-caught salmon, our Salmon Miso Poke Bowl is a must!
Our Grilled Beef Bulgogi, you'll get a taste of Korean barbecue, featuring thinly sliced, marinated, and grilled beef.
Finally, our Blackstone Teriyaki Steak Yakisoba incorporates steak, vegetables, and yakisoba noodles tossed in teriyaki sauce, making it a robust and flavorful dish.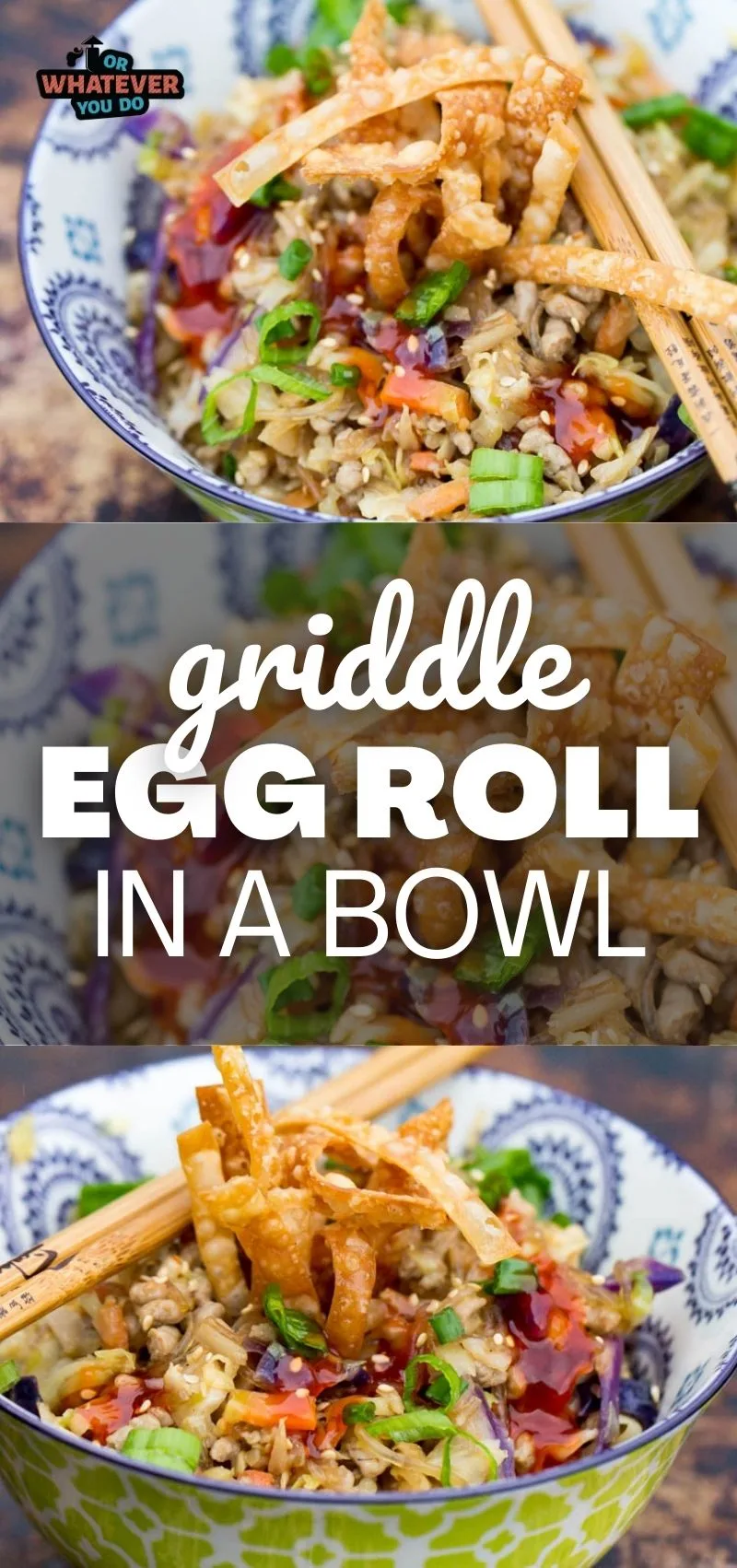 Yield: 6 servings
Griddle Egg Roll in a Bowl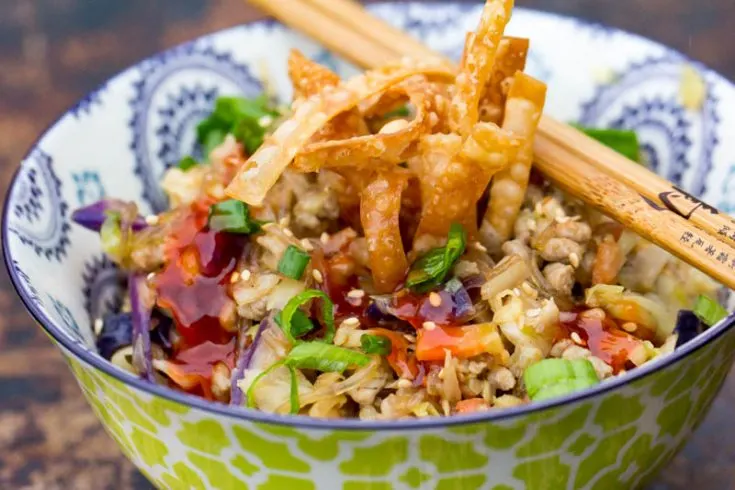 Homemade egg rolls are so delicious! Make a meal out of them, or make an egg roll party with your friends and family and roll up a bunch!
Ingredients
Meat
1/2 pound ground pork or chicken
2 tablespoons oil
1/2 teaspoon minced ginger
1/2 teaspoon minced garlic
1/2 teaspoon salt
1/4 teaspoon ground pepper
1 teaspoon shiitake powder (optional)
Vegetables
1 bag tri-color coleslaw shreds (no sauce)
2 shiitake mushrooms, diced
Sauce
2 tablespoons soy sauce
1 teaspoon miso
1 teaspoon sugar
1/2 teaspoon sesame oil
Garnish
1/2 cup prepared mung bean noodles / cellophane noodles
1 cup wonton strips
sweet and sour sauce
green onions
sesame seeds
Instructions
Preheat your gas griddle over medium high heat for 10-15 minutes.
Mix the meat and seasonings together in a bowl and brown on the griddle.
Add the vegetables to the griddle and turn the heat up to high heat until the cabbage is wilted and tender. Let any excess liquid drain into the grease catch.
Mix together the sauce ingredients and pour over the meat and vegetable mixture. Cook over medium-high heat until thickened.
Garnish with the cellophane noodles, wonton strips, green onions, sesame seeds, and sweet and sour sauce.
Recommended Products
As an Amazon Associate and member of other affiliate programs, I earn from qualifying purchases.
Nutrition Information:
Yield:
6
Serving Size:
1
Amount Per Serving:
Calories:

343
Total Fat:

22g
Saturated Fat:

5g
Trans Fat:

0g
Unsaturated Fat:

15g
Cholesterol:

50mg
Sodium:

636mg
Carbohydrates:

22g
Fiber:

2g
Sugar:

4g
Protein:

16g
Nutrition data provided here is only an estimate.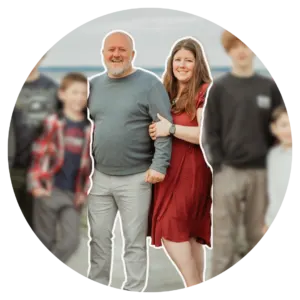 Nicole Johnson, a self-taught expert in grilling and outdoor cooking, launched Or Whatever You Do in 2010. Her blog, renowned for its comprehensive and creative outdoor cooking recipes, has garnered a vast audience of millions. Nicole's hands-on experience and passion for grilling shine through her work. Her husband, Jeremiah Johnson, also plays a pivotal role in recipe development, adding his culinary flair to the mix. Together, they form a dynamic duo, offering a rich and varied outdoor cooking experience to their followers.