Egg Rolls in a Bowl are the easy solution to all of your dinner questions, plus a great way to get some vegetables into the more finicky of your eaters. No rolling required with this simple dinner!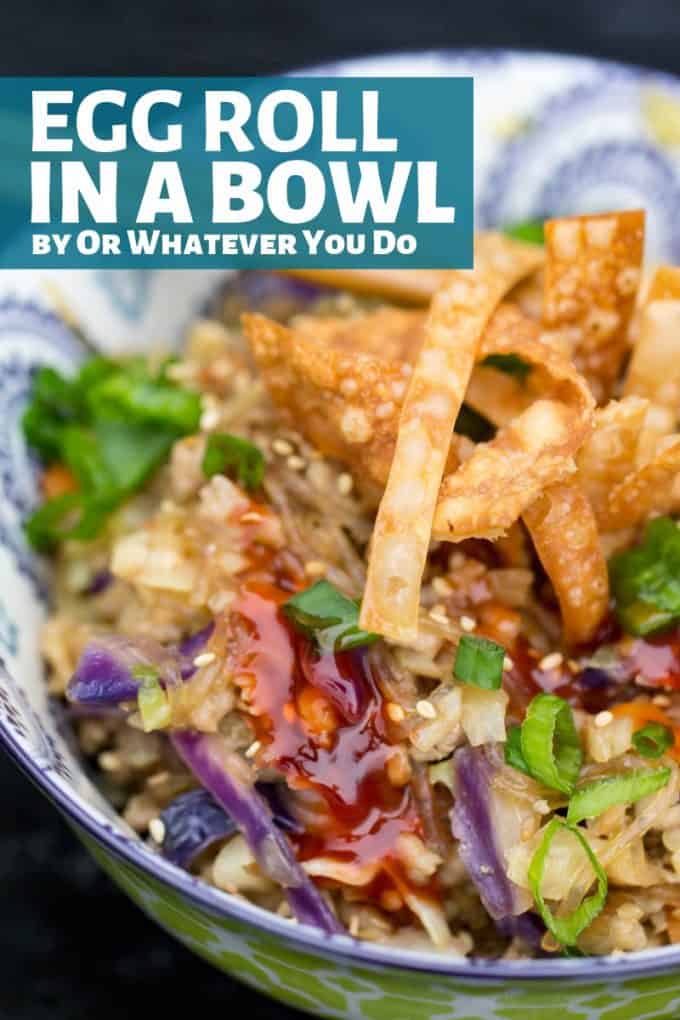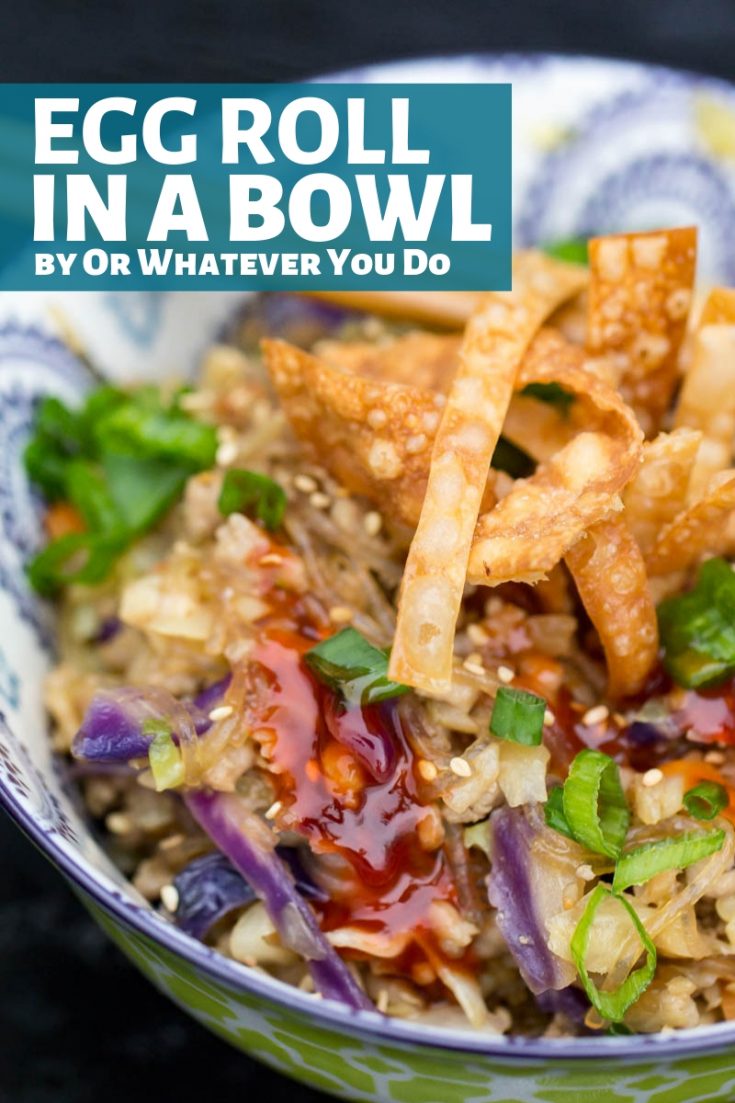 Egg Rolls in a Bowl
Do you ever get a craving for a really good egg roll? But then you remember how much rolling and frying is involved in egg rolls and that's just not a Tuesday dinner around here.
I was thinking that very same thing one night, and these Egg Rolls in a Bowl happened! You will use the very same ingredients you would if you were making traditional egg rolls, so all of the same flavors are there. This is a much healthier option than traditional deep fried egg rolls.

What ingredients are in deconstructed egg rolls?
ground pork or ground chicken
ginger
garlic
cabbage
wonton wrappers (optional)
sweet & sour sauce
soy sauce
miso (optional)

How to make egg rolls in a bowl
Just stir fry all of the ingredients (cook the meat first or your cabbage will be overcooked), except the sweet and sour sauce and the wonton wrappers, until the meat is cooked and the cabbage is crisp-tender. See the recipe below for the whole low-down on this easy dish!
I LOVE this type of cuisine, and making it into an easy, quick option for your busy lives is what I am ALL about!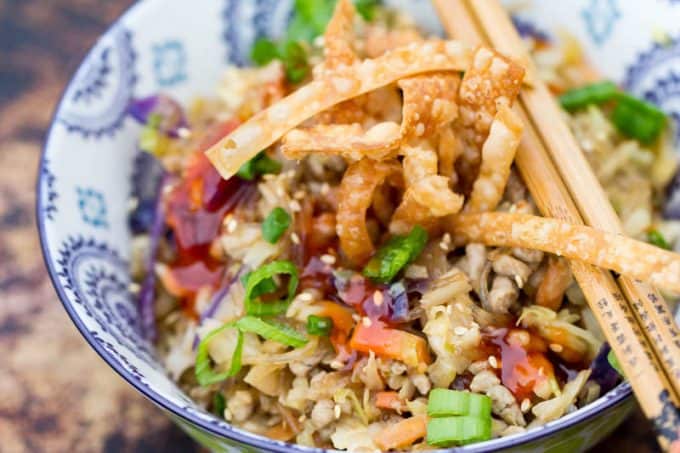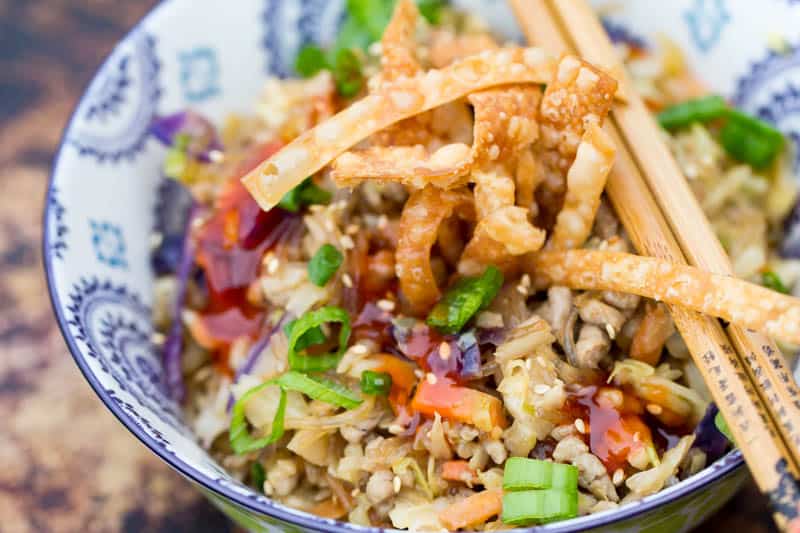 What exactly ARE Wonton Wrappers?
Wonton wrappers are a Chinese dough made of wheat flour, eggs and water. They are then rolled very thin and cut into squares. Wonton wrappers and egg roll wrappers are used in Chinese cuisine for wonton soup, egg rolls, potstickers, and wonton cups.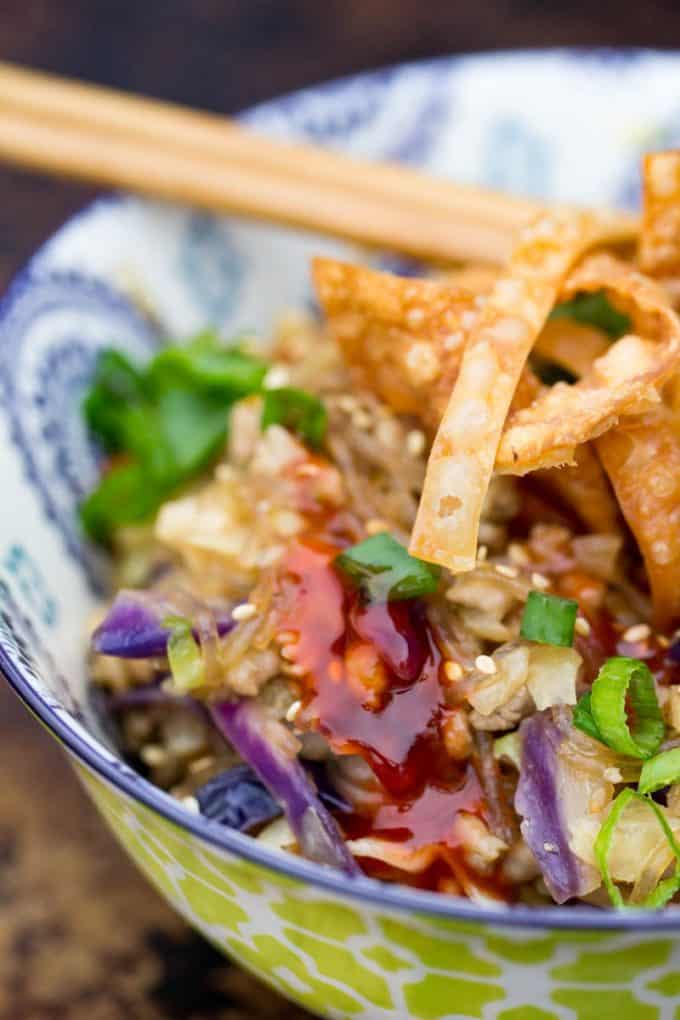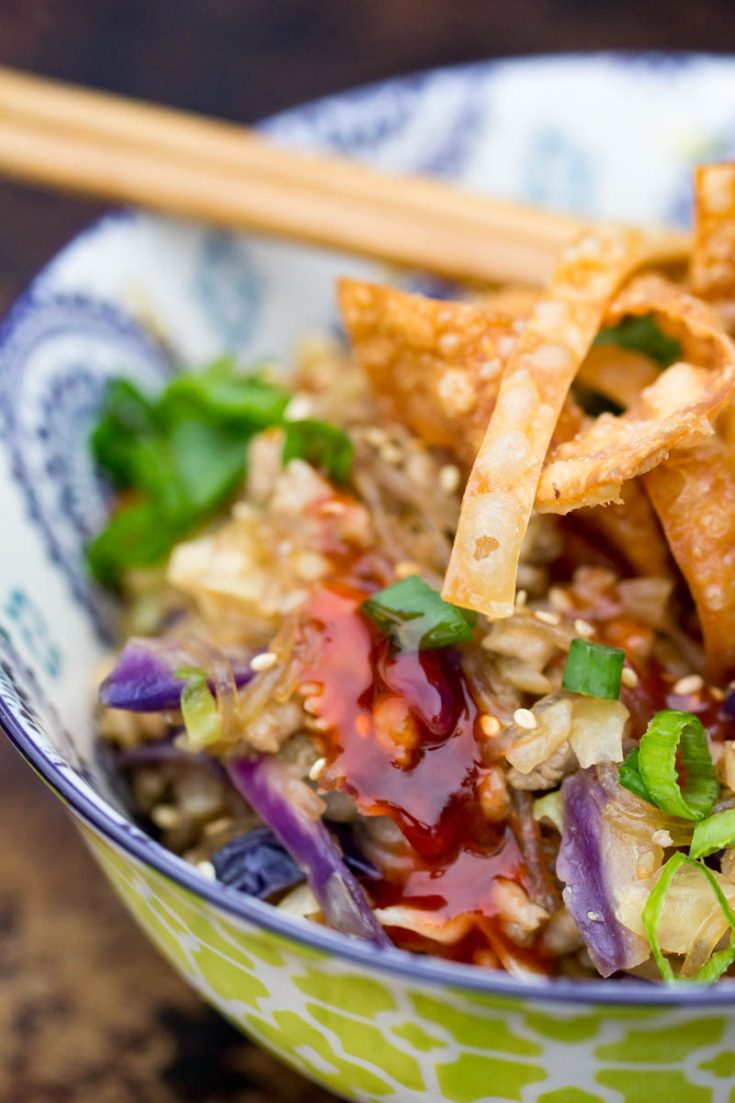 What can I serve with this egg rolls in a bowl?
This is really meant to be a meal in itself. There's everything in there!
If you would add some more options to your table though, you could start off with an appetizer such as my Fried Pork Dumplings. Follow up with either some wonton or egg drop soup served with crunchy Chinese noodles and thinly sliced scallions or green onion s for toppers.
My Easy Chicken Fried Rice would be perfect with this meal as well!.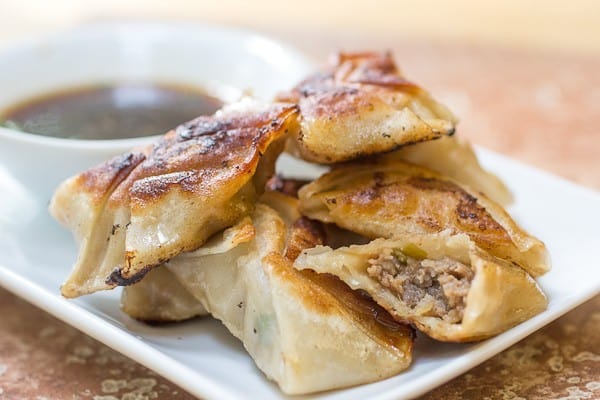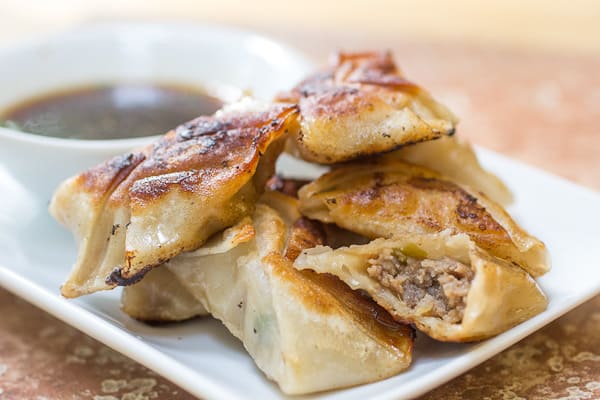 What occasion would be a good time to serve egg rolls in a bowl?
It's a great idea to have the kids do a little research with you and plan a whole meal around a certain cuisine. Do some decorating, have them make paper lanterns or something fun to use as a centerpiece.
Grab some chopsticks to make it REALLY FUN! If you have never tried using them before, this can be a photo op moment! But only if you like a mess. Even experienced chopstick users would have a hard time eating these with chopsticks!
When you can get the kids involved, they may be more likely to try different things that they may otherwise try and turn their nose up at.
And don't forget the fortune cookies for dessert!
No matter how simple your meal, you can always find ways to make it fun for everyone! And this recipe for Pork Egg Rolls in a Bowl can be your next option to change up what can sometimes become a drab menu plan!
So get out your wok or high-sided saute pan and start some new traditions with your family!
Pin for later!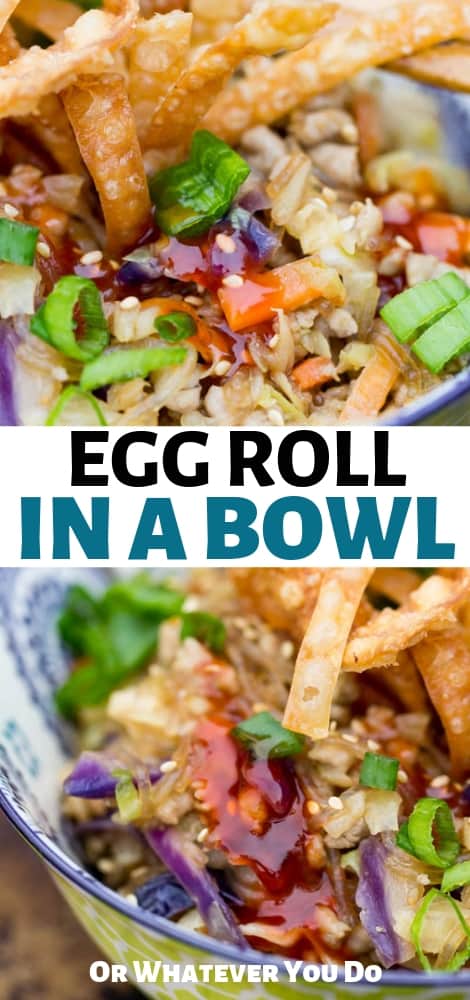 Yield: 24 servings
Egg Roll in a Bowl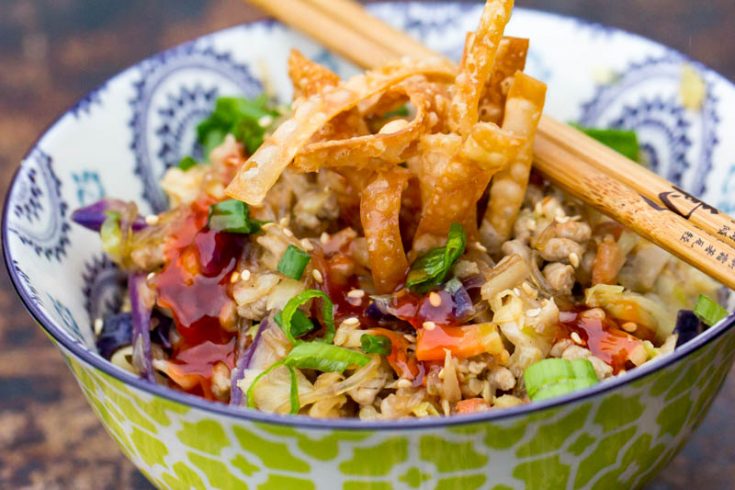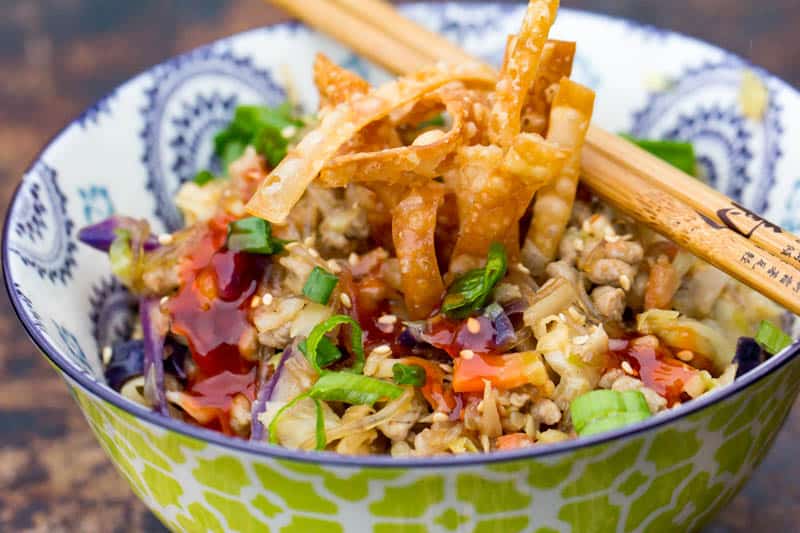 Homemade egg rolls are so delicious! Make a meal out of them, or make an egg roll party with your friends and family and roll up a bunch!
Ingredients
Meat
1/2 pound ground pork or chicken
2 tablespoons oil
1/2 teaspoon minced ginger
1/2 teaspoon minced garlic
1/2 teaspoon salt
1/4b teaspoon ground pepper
1 teaspoon shiitake powder (optional)
Vegetables
1 bag tri-color coleslaw shreds (no sauce)
2 shiitake mushrooms, diced
Sauce
2 tablespoons soy sauce
1 teaspoon miso
1 teaspoon sugar
1/2 teaspoon sesame oil
Garnish
1/2 cup prepared mung bean noodles / cellophane noodles (optional)
sweet and sour sauce
green onions
sesame seeds
Instructions
Mix the meat and seasonings together and brown in a non-stick skillet over medium-high heat.
Add the vegetables into the pan and cook over high heat until the caggable is wilted and tender. Drain any excess liquid from the pan.
Mix together the sauce ingredients and add to the pan. Cook over medium-high heat until thickened.
Preheat the oven to 425. Slice the wonton or egg roll wrappers into strips, lightly spray both sides with cooking spray, and place in the oven until browned and crisp. You can also quickly fry in a shallow pan with some oil in it if you want it extra crispy and don't mind the oil.
Garnish the egg roll in bowls with sweet and sour sauce and sesame seeds and your cooked wrappers.
Nutrition Information:
Yield:
4
Serving Size:
1
Amount Per Serving:
Calories:

76
Total Fat:

5g
Saturated Fat:

1g
Trans Fat:

0g
Unsaturated Fat:

3g
Cholesterol:

13mg
Sodium:

152mg
Carbohydrates:

4g
Fiber:

0g
Sugar:

1g
Protein:

4g