Our homemade Greek Chicken Marinade is full of fresh herbs, and bright lemony citrus, it is perfect for any kind of chicken that you can throw at it. It also works great as an injection liquid, and as you'll see with this whole grilled chicken, as a basting liquid as well.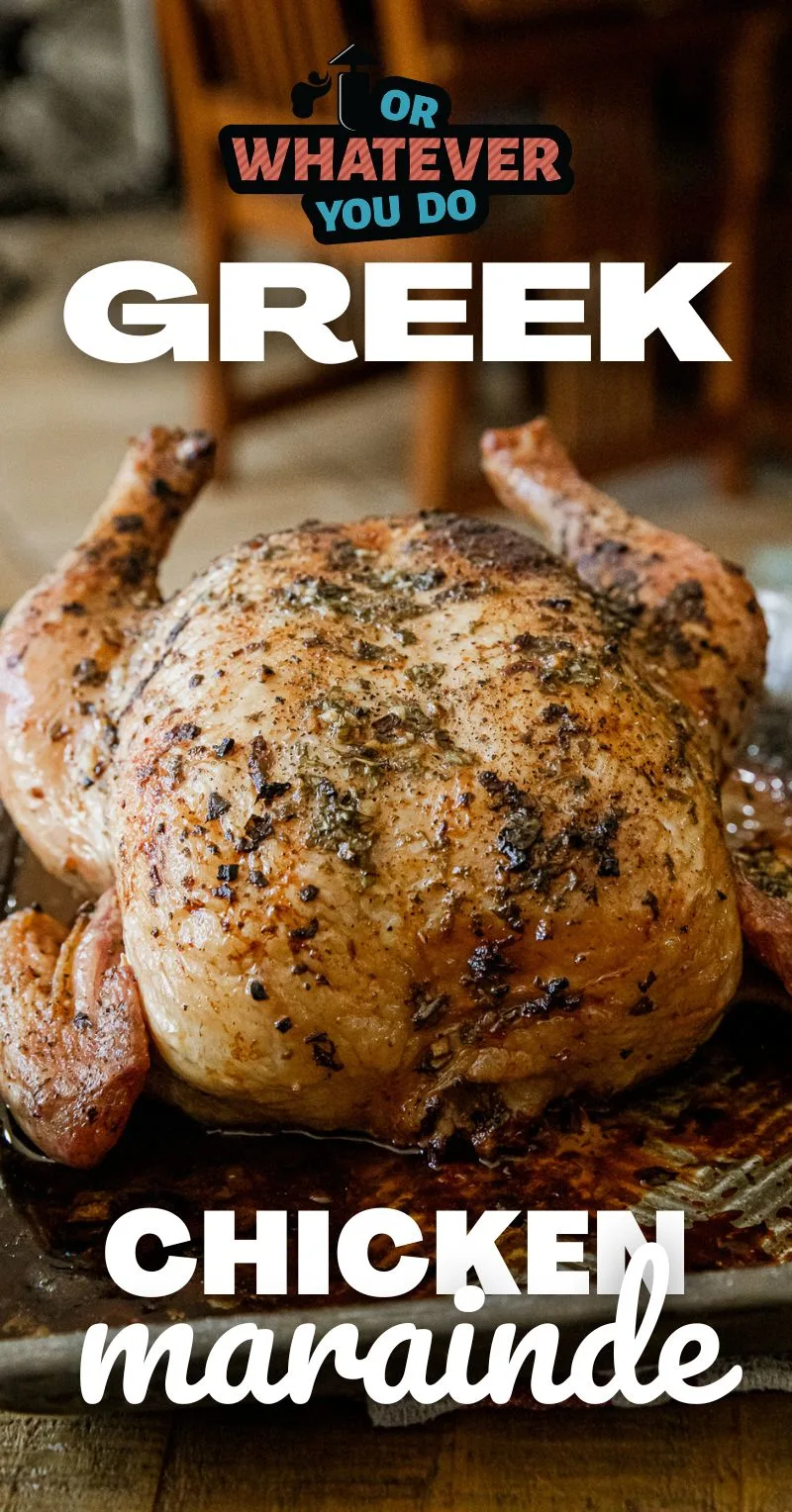 Greek Chicken Marinade Recipe
Are you in the mood for a mouthwatering meal that will transport your taste buds straight to the sunny shores of Greece? Look no further than this delicious Greek Chicken Marinade recipe! With a perfect blend of zesty lemon, rich olive oil, savory garlic, and fragrant herbs, this dish packs a flavorful punch that you are going to love.
Not only is this recipe bursting with bold and aromatic flavors, but it's also incredibly easy to make.
This Greek Chicken Marinade for bbq is sure to please. It'll help you create a healthy and wholesome meal that's packed with protein and essential nutrients, making it a great choice for anyone who wants to eat well and feel their best.
So why wait? Give this recipe a try and discover the amazing flavors of Greece in the comfort of your own home. Your taste buds will thank you!
Try this chicken alongside some Rosemary Parmesan No-Knead Bread!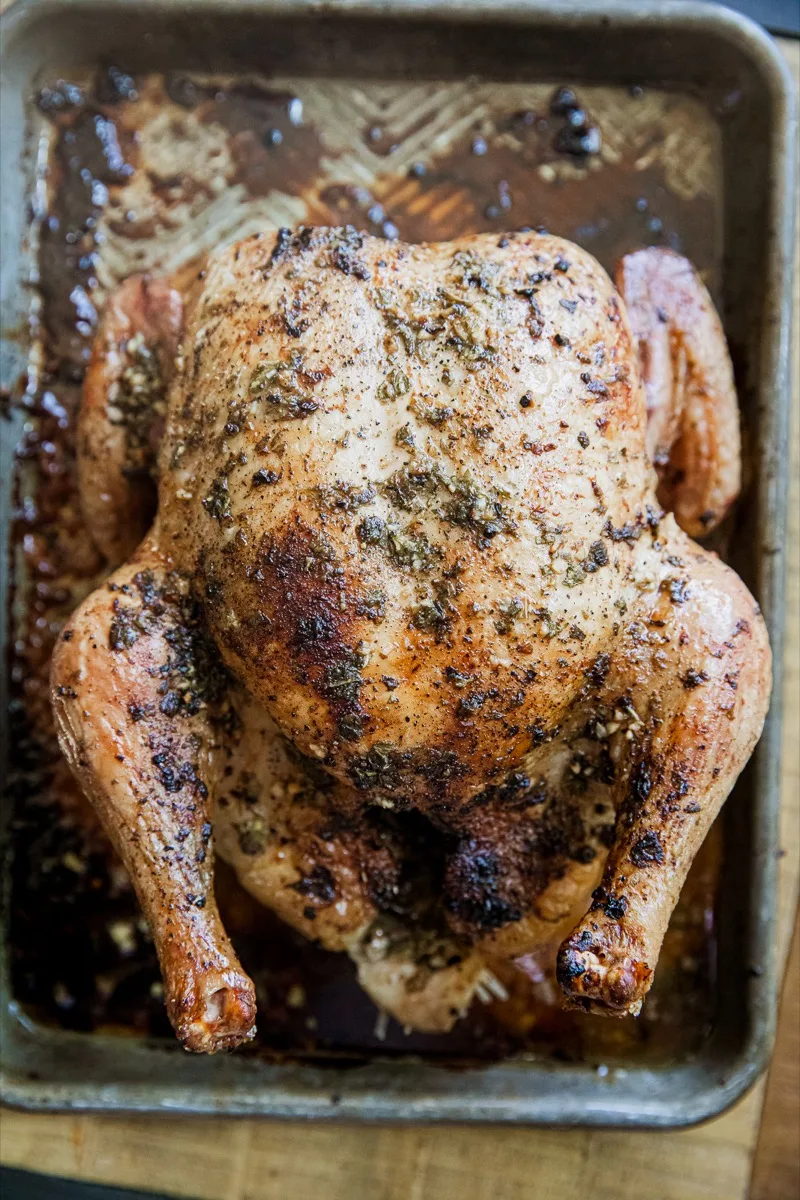 Whole Grilled Greek Chicken shopping list
Wondering if you have to hit the store? Here's the list of items you'll need to make this recipe. For specific amounts, please refer to the printable recipe card at the bottom of the post.
Chicken
Salt & pepper
Lemons
Olive oil
Garlic
Fresh oregano
Fresh mint
Fresh flat-leaf parsley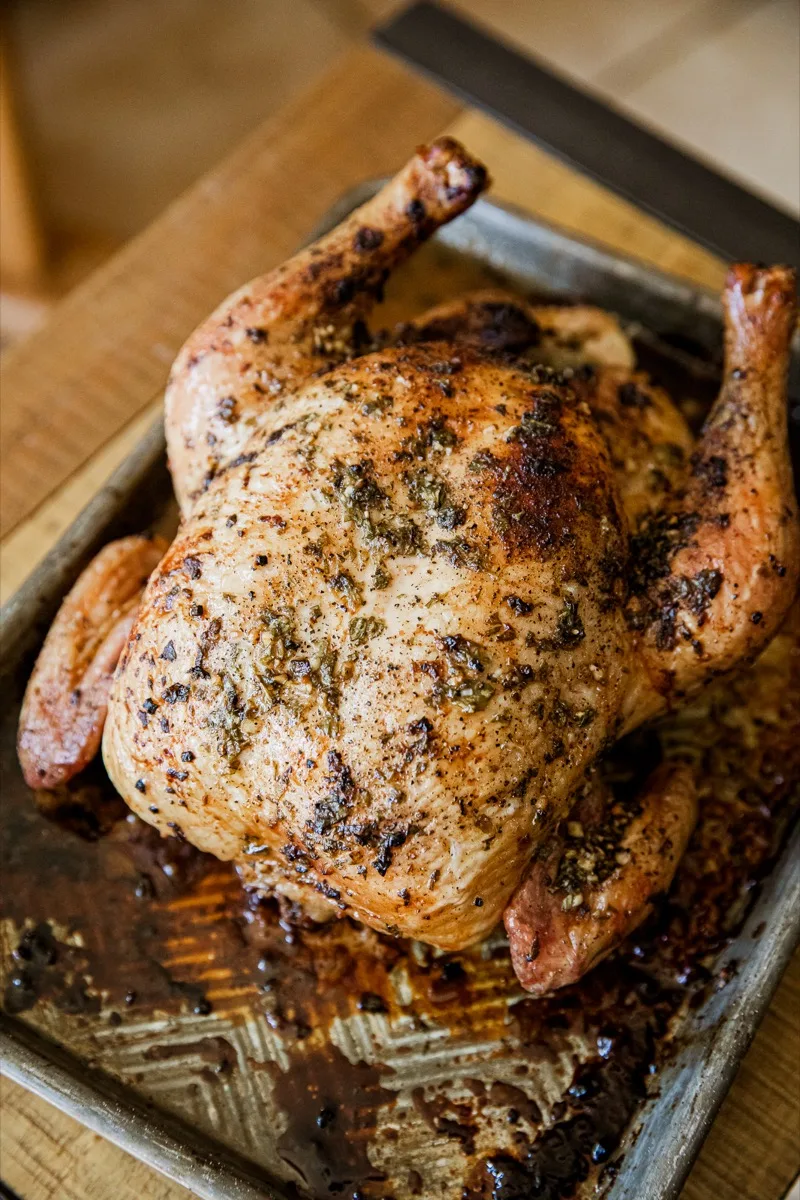 How to make Greek Chicken Marinade
This is just the overview so you can see what you're actually getting into here. When you are cooking, you'll want to use the full recipe at the bottom of the page.
Mix it up
Mix up all the marinade ingredients in a mason jar, give it a good shake to combine, and then park it in the fridge for at least an hour to allow the flavors to meld. You can shake it occasionally to help it along if you'd like!
Decide what to make!
We used this marinade on a whole chicken and injected the breasts and thighs before grilling it on the Traeger.
It works great as an actual marinade for thighs, legs, wings, or chicken breasts too. If you decide to use one of those cuts, submerge them into the marinade and let them chill for 4-5 hours before cooking.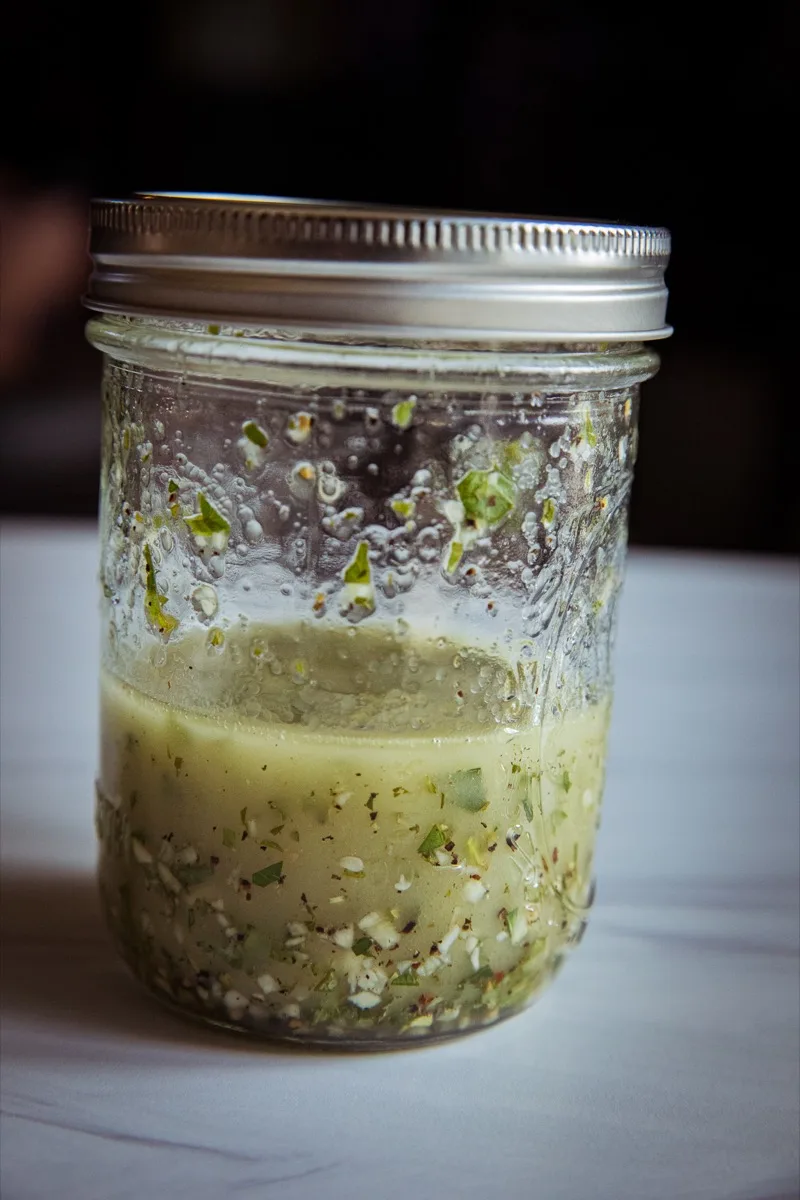 Greek Chicken Marinade FAQ
Common questions people ask about this Traditional Greek Chicken Marinade Recipe.
What kind of chicken should I use for this recipe?
You can use any kind of chicken you have handy. Breasts, thighs, legs, wings, whole chicken, chicken leg quarters, it is great with any of those.
How long should I marinate the chicken?
For best results, marinate the chicken for at least 30 minutes to allow the flavors to penetrate the meat. You can also marinate the chicken overnight in the refrigerator for a more intense flavor.
Can I substitute dried herbs for fresh herbs in this recipe?
While fresh herbs are preferred for this recipe, you can substitute dried herbs if necessary. Use about half the amount of dried herbs as you would fresh, and be sure to crush them between your fingers to release their flavor before adding them to the marinade.
Is this recipe gluten-free?
Yes, this Greek chicken marinade recipe is gluten-free. However, be sure to check the labels on your ingredients to ensure they are free of any gluten-containing additives.
Are there other uses for this beyond a marinade?
Yes! Pictured here, you see this marinade being used as an injection liquid and basting liquid for a whole chicken. It is perfect for that!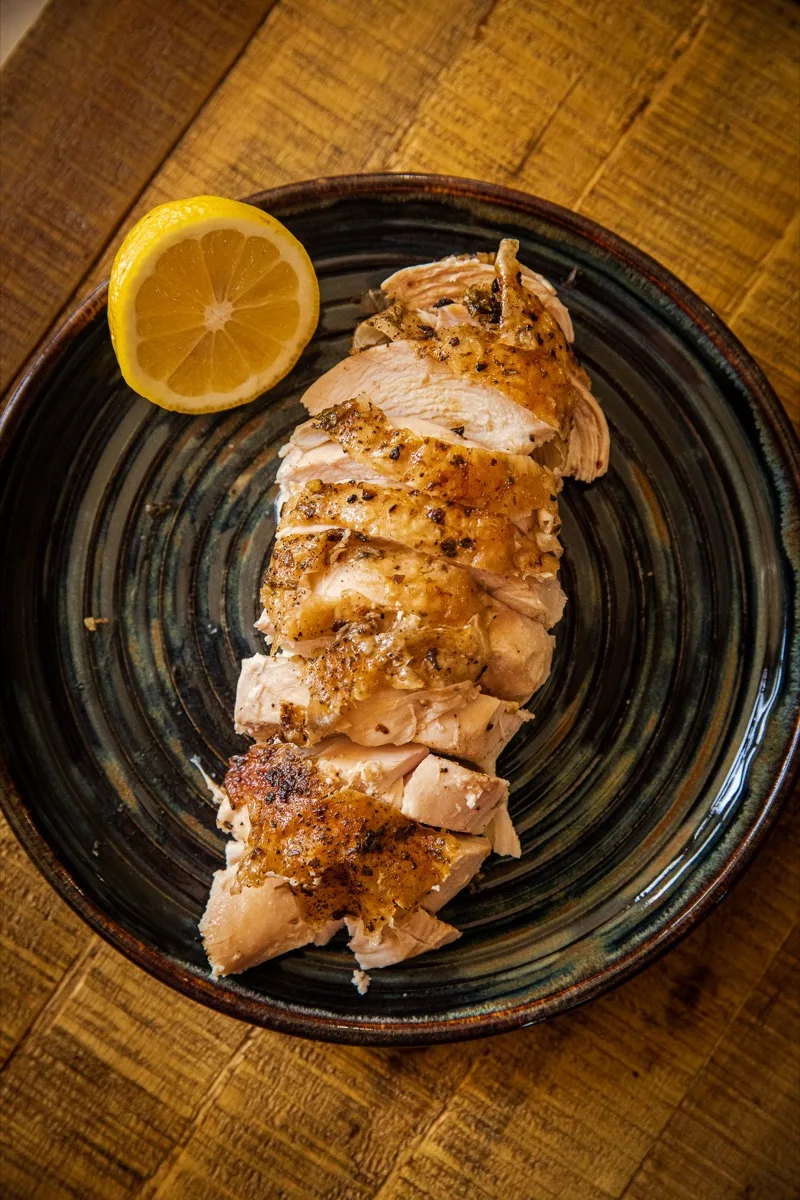 More great chicken recipes to love!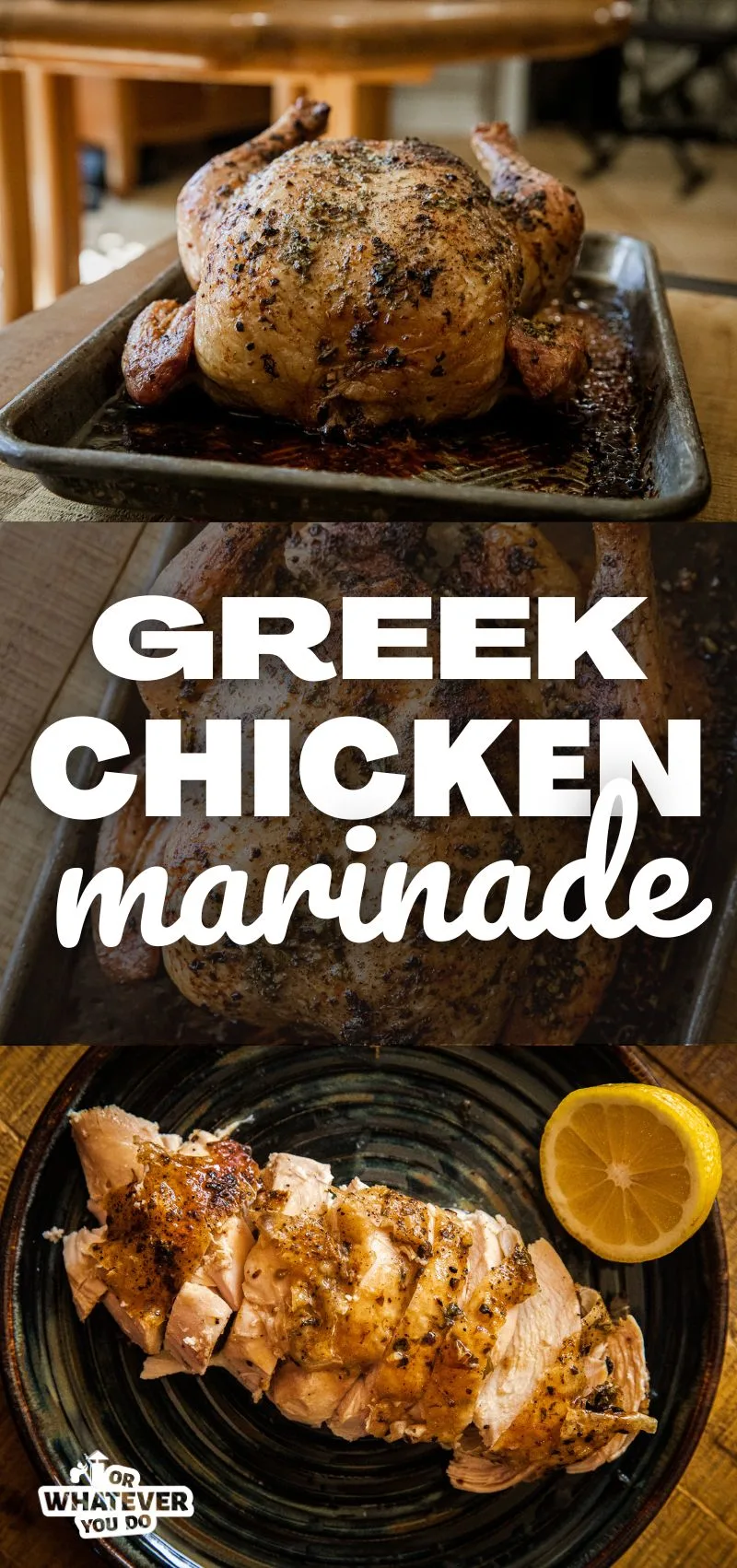 Yield: 6 servings
Grilled Greek Chicken Marinade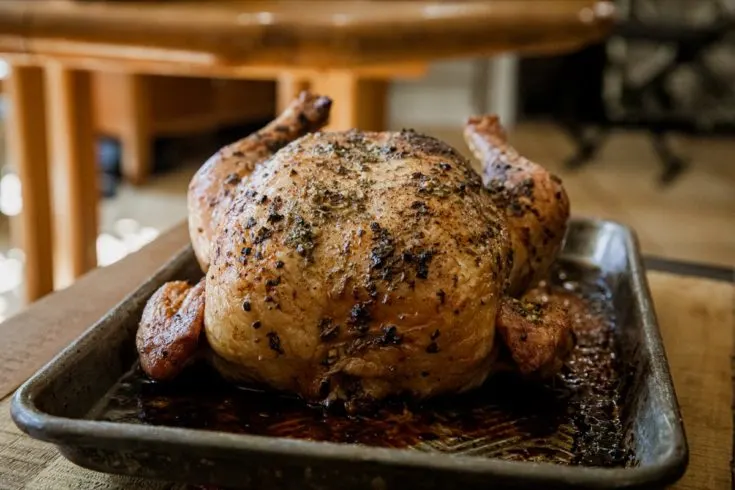 This delicious whole chicken is injected and then basted with the most flavorful, homemade Greek-inspired marinade, ever! I made four meals out of this one chicken, and I already can't wait to make another one!
Cook Time
1 hour
30 minutes
Total Time
1 hour
40 minutes
Ingredients
1 whole chicken
1/2 teaspoon salt
1/2 teaspoon pepper
1 lemon, halved
Marinade
1/2 cup olive oil
1/2 cup fresh squeezed lemon juice
3 cloves minced garlic
1 tablespoon chopped fresh oregano
1 tablespoon chopped fresh mint
1 tablespoon chopped flat leaf parsley
1/2 teaspoon black pepper
1 1/2 teaspoons kosher salt
Instructions
Prep your chicken by removing it from the packaging, removing any giblets and/or the neck from the cavity, and patting the whole thing dry with paper towels. Coat with 1/2 teaspoon each of salt and pepper. Let sit, uncovered, in the fridge, for an hour.
Mix all of your marinade ingredients together in a mason jar, close it, and shake to combine. Place in the fridge and let sit for at least an hour.
Preheat your pellet grill to 350°F. Stuff the lemon inside the chicken's cavity. Separate 1/4 of the marinade into a separate dish. Using an injector, inject the separated portion of the marinade into the chicken breasts and thighs. Place the seasoned chicken onto a grill-safe baking sheet with sides, and place it into the grill.
Continue cooking until the internal temperature reaches about 125°F. Turn up the temp of the grill to 375°F, and start basing the outside of the chicken with the remaining marinade every 5-10 minutes, until the internal temperature of the chicken reaches 165°F. If you have any extra marinade, save it!
Remove the chicken from the grill and let rest for 10-15 minutes.
Slice and serve!
Recommended Products
As an Amazon Associate and member of other affiliate programs, I earn from qualifying purchases.
Nutrition Information:
Yield:
6
Serving Size:
1
Amount Per Serving:
Calories:

410
Total Fat:

32g
Saturated Fat:

6g
Trans Fat:

0g
Unsaturated Fat:

23g
Cholesterol:

88mg
Sodium:

574mg
Carbohydrates:

4g
Fiber:

1g
Sugar:

1g
Protein:

28g
Nutrition data provided here is only an estimate.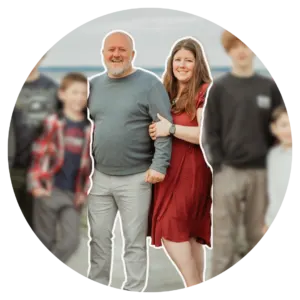 Nicole Johnson, a self-taught expert in grilling and outdoor cooking, launched Or Whatever You Do in 2010. Her blog, renowned for its comprehensive and creative outdoor cooking recipes, has garnered a vast audience of millions. Nicole's hands-on experience and passion for grilling shine through her work. Her husband, Jeremiah Johnson, also plays a pivotal role in recipe development, adding his culinary flair to the mix. Together, they form a dynamic duo, offering a rich and varied outdoor cooking experience to their followers.