This cheesy broccoli chicken pasta is a great weeknight meal if ever I have made one. Broccoli, chicken, and cheese are kind of like peanut butter and jelly in this house. We LOVE this combination, and I hope that you do too. This is one meal that I know my kids will devour, without complaint. Try as I might, my kids are Picky. Hardly a meal goes by where at least one of them aren't complaining, whining, or declaring themselves NOT HUNGRY because they have the passing thought that onions MIGHT have been in the kitchen while the food was cooking, or that there is a vegetable somewhere on their plate.
We are pretty strict with our meal times. You eat what is served or you don't eat. I normally serve a wide variety of foods at every meal if you are counting the main dish, side dishes, and any breads and veggies along with it, so there is ALWAYS something that everyone likes. I think they, being kids, just enjoy being particular sometimes. At 2, 4, 6, and 8 years old, I just can't please everyone. Unless I make this cheesy broccoli chicken pasta, which they often ask specifically for.
Start by grilling a few chicken breasts that are seasoned with salt, pepper, garlic salt, and onion powder. I like to use my stove-top grill pan, which I got from Ikea a while back for less than $20.00. It has become a fast essential in my kitchen.
Boil up some egg noodles and drain well.
Mix in 2 cups of sharp cheddar with the noodles.
Pour hot broccoli cheese soup over the top of your noodles.
If your soup is not hot, you can put all of this into a casserole dish, top with some more cheddar cheese, and bake until everything is hot, bubbly, and delicious.
Top it with your grilled chicken, and serve hot.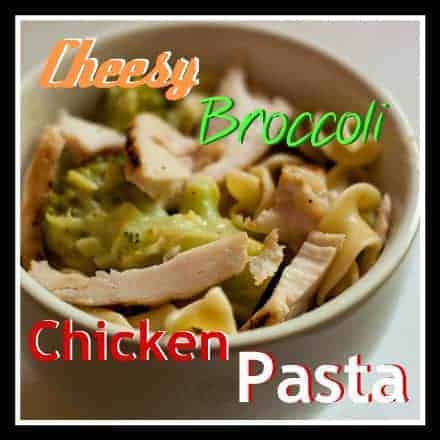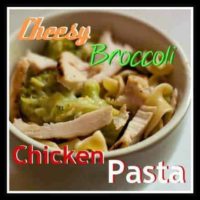 Cheesy Broccoli Chicken Pasta
Yield: 6 serving

Prep Time: 15 minutes

Cook Time: 45 minutes

Total Time: 1 hour

Chicken and broccoli pasta is one of my kids' favorites, and is so easy to throw together!
Ingredients
2-3 chicken breasts, grilled
1 lb egg noodles
5-6 cups broccoli cheese soup
2-3 cups sharp cheddar cheese
Instructions
Grill two chicken breasts seasoned with salt, pepper, garlic salt, and onion powder.
Boil one pound of egg noodles and drain well.
Add 2 cups of sharp cheddar cheese into the hot, drained noodles, and stir well.
Add 5-6 cups, (or until well sauced to your liking!) of broccoli cheese soup to the noodles.
If you are using hot soup, you can stir until the cheese is melted, top with the chicken, and serve immediately. If you are using cold soup, place mixture into a casserole dish, bake at 350 until hot, melted, and bubbly, and then serve.