The Blackstone Griddle is the perfect way to cook your latest catch! Read on to learn the perfect way to make almost ANY kind of Fish on the Blackstone griddle. Our simple flavors complement a wide variety of fish, from salmon, true cod, lingcod, rockfish, sea bass, halibut, snapper, haddock, grouper, and more. If you can catch it, you can cook it on the griddle!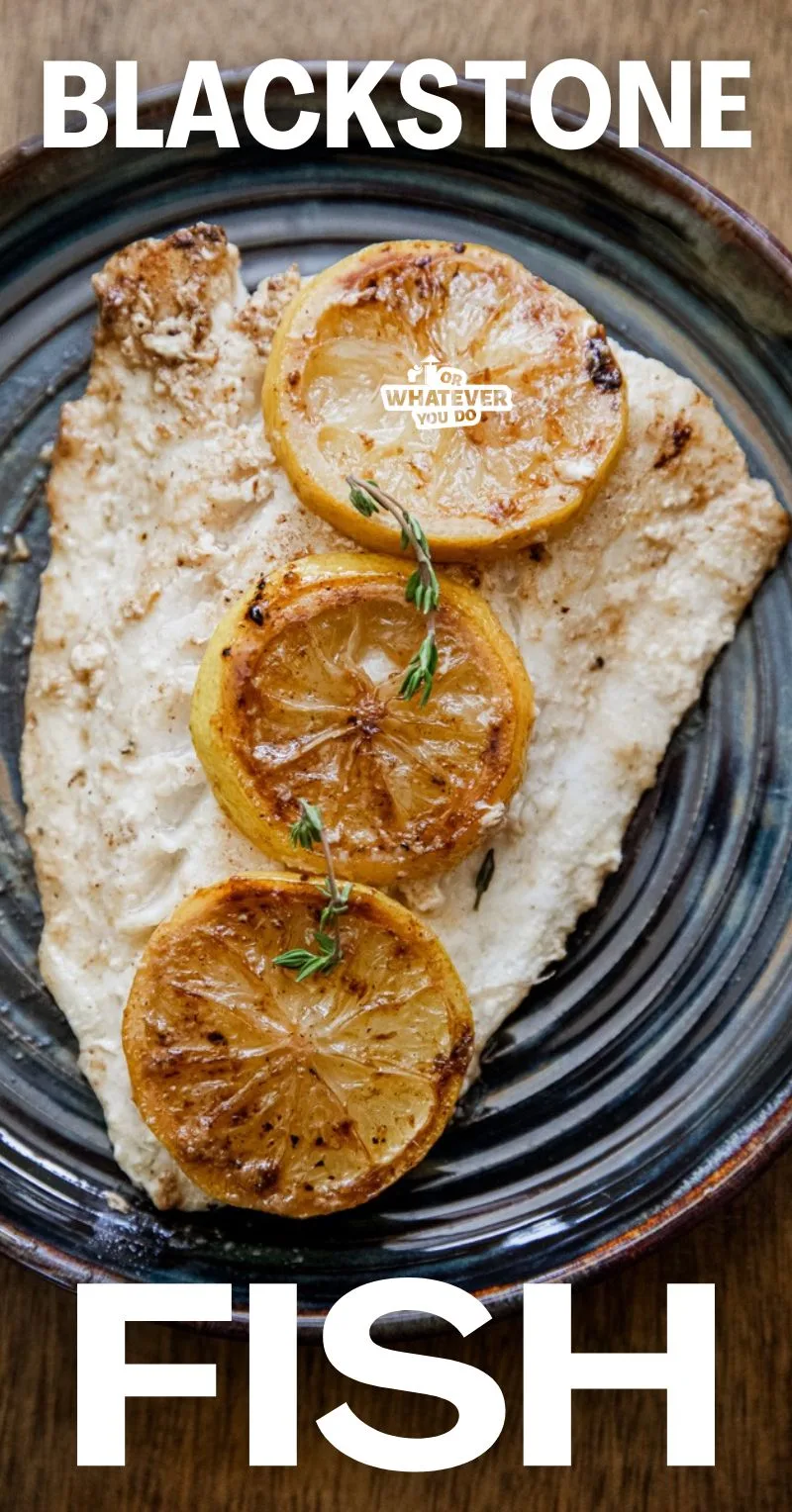 How to make Fish on the Blackstone
We catch a ton of fish around here, and we're always looking for new ways to make it. Sometimes, though, you just want a simple, fool-proof process that'll get dinner on the table quickly and ensure that freshly caught fish is handled properly to bring out all the fresh flavors you can.
The gas griddle is the perfect way to make almost any type of fish. You can get a really great sear without overcooking the fish. Using lemon on the griddle surface and then steaming it with white wine adds some great delicate flavors to the fish without overpowering it.
Follow our fool-proof process below and start eating more fish!
More Blackstone Recipes here!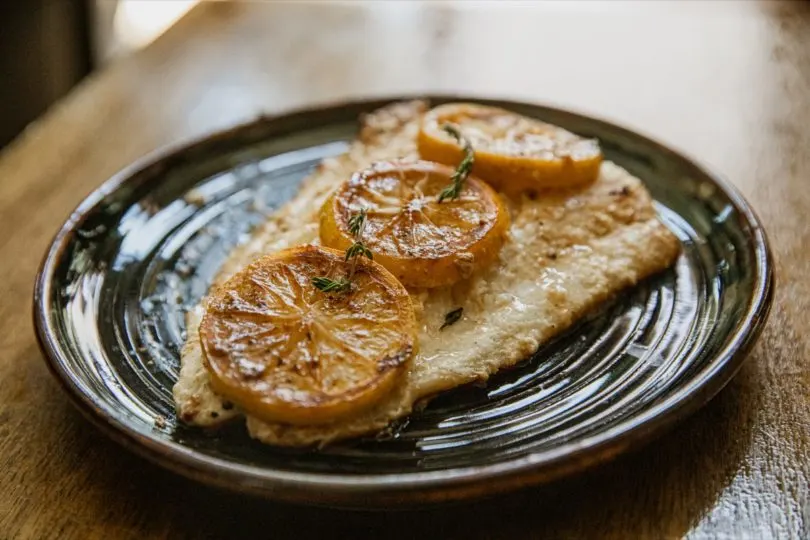 Blackstone Fish shopping list
Wondering if you have to hit the store? Here's the list of items you'll need to make this recipe. For specific amounts, please refer to the printable recipe card at the bottom of the post.
Fish fillets
Lemon
Flaky salt
Ground pepper
Lemon zest
Lemon juice
Garlic paste
Butter
Dry white wine
Fresh thyme
Get all of my FISH recipes!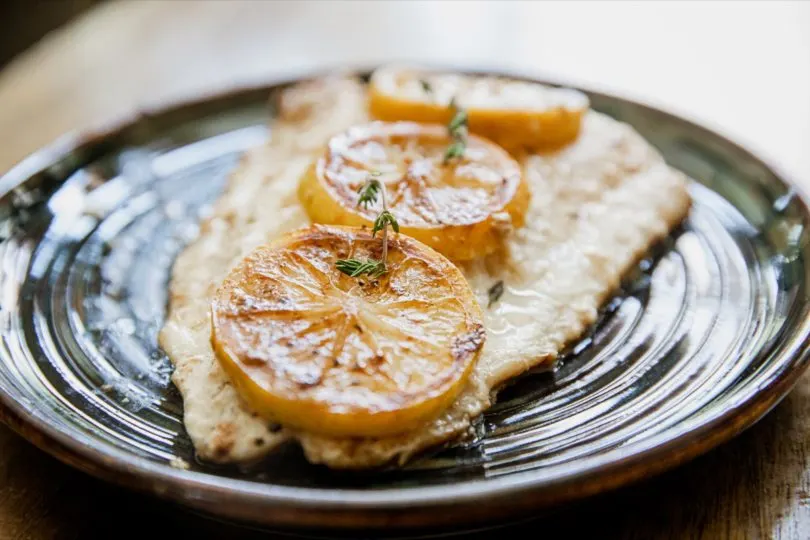 How to make Fish on the Blackstone
This is just the overview so you can see what you're actually getting into here. When you are cooking, you'll want to use the full recipe at the bottom of the page.
Prep and Season
Make sure your fish doesn't have any lingering bones. Season with salt and pepper.
Preheat
Fire up that griddle and get it heated to medium-low heat. Fish is delicate and doesn't really need much heat to cook it.
Mix up the lemon zest, juice, and garlic paste and smear it on one side of your fish fillets.
Cook
Put down butter and place the fish fillets on it. If there's skin, put that skin side on the hot surface.
Place the lemon slices down on the griddle in groups of two. Put a piece of thyme on top.
After 2-3 minutes, flip the fish over ONTO the lemon slices. Cover with the dome and cook for another couple of minutes before squirting in some of the white wine, to steam the fish.
Enjoy
Remove the dome and check the temp of the fish. It should be about 125°F in the middle for the best results. I like to put my spatula under the lemons and all and flip it over, carefully, onto the serving plate.
Try our Smoked Salmon!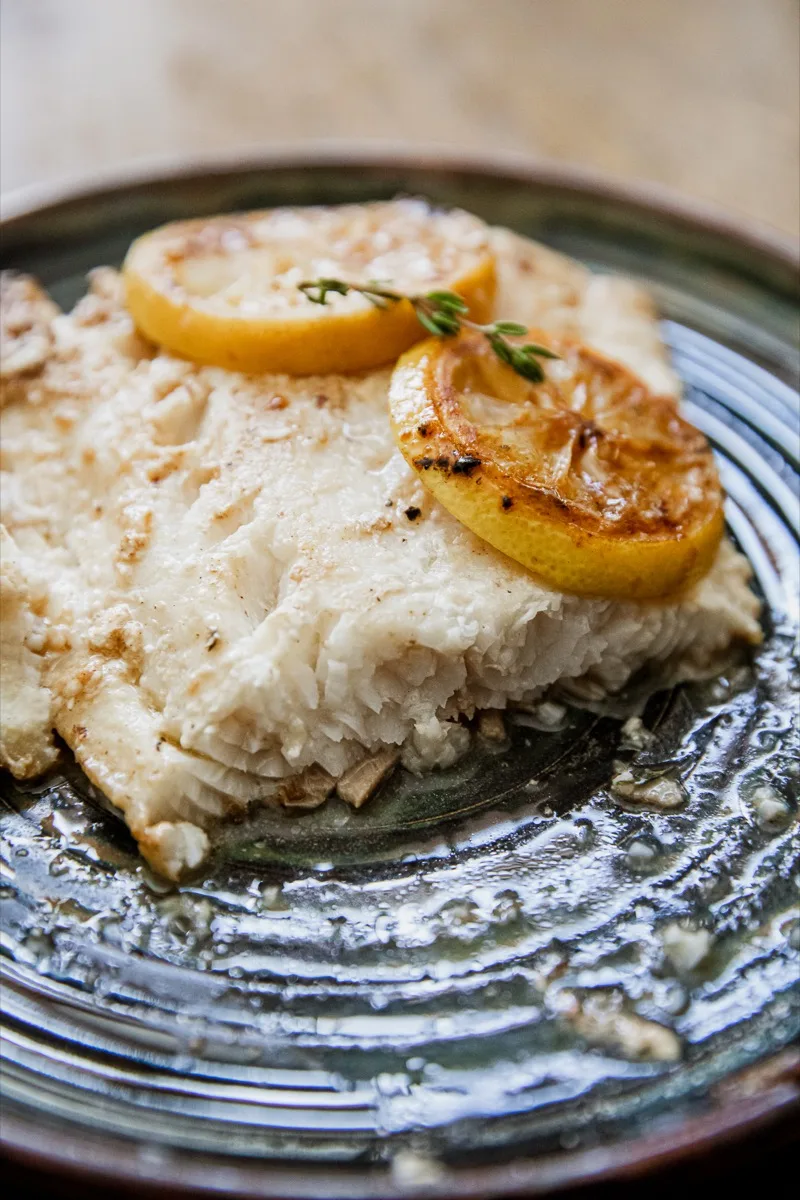 Fish on the Blackstone FAQ
Can this dish be made in advance?
Nope! Fish needs to be made and served right away for the best results.
What's the best way to store and reheat leftovers?
Plan well and only make what you're going to eat in one serving for the best results. Reheating fish is not ideal, in any situation, but if you DO have some extras just please for the love of all that is good and holy keep it out of the microwave.
Are there any recommended substitutions or additions?
Sure! Change things up and make it your own. If you have a favorite fish rub or seasoning blend, use that in place of the salt and pepper. Don't love garlic? Skip it! As with all of our recipes, we encourage you to make it your own.
Try our Blackstone Teriyaki Shrimp Kabobs too!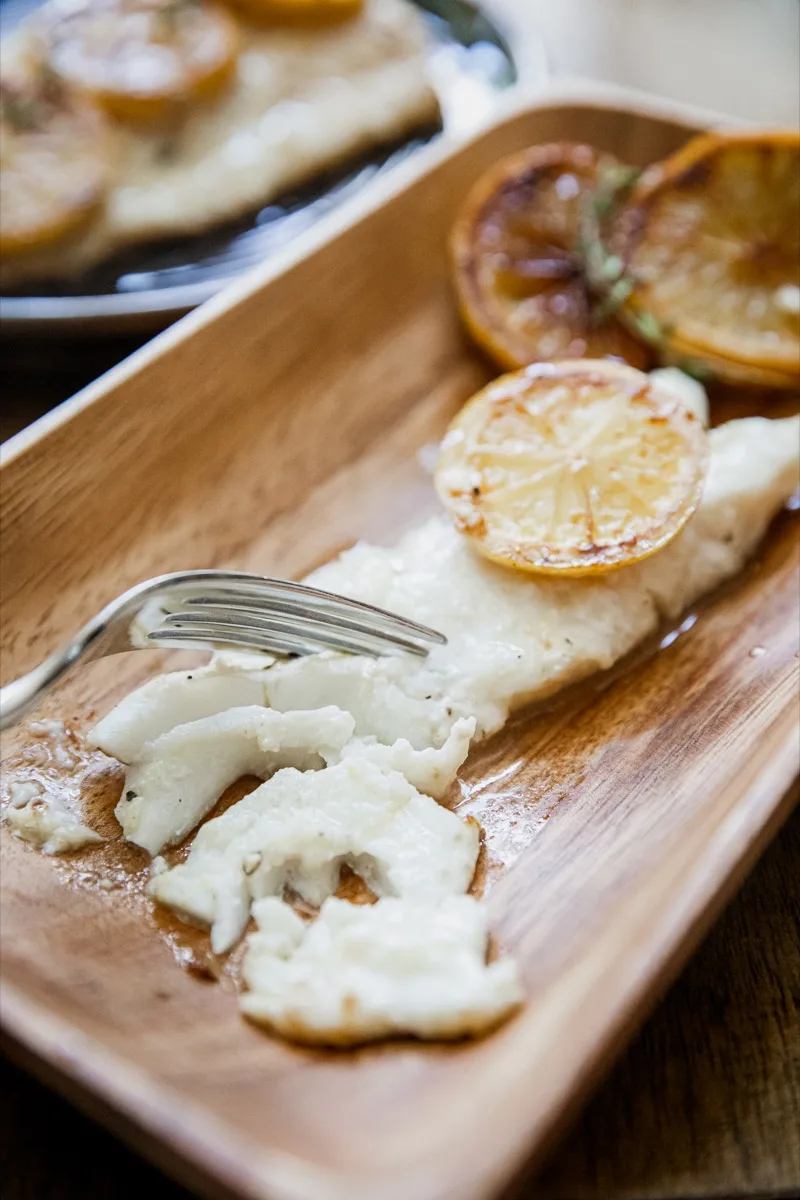 More great recipes using fish to love!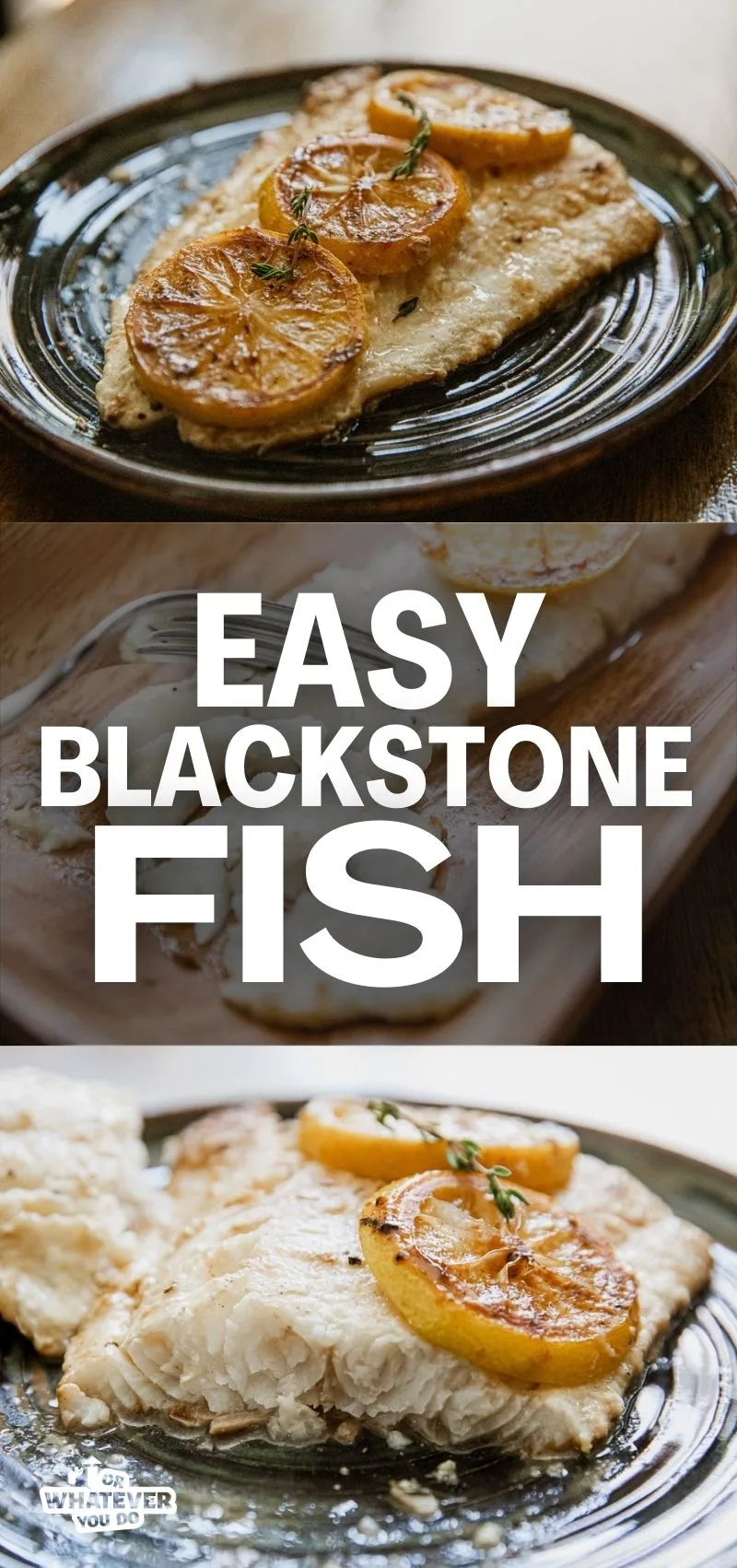 Yield: 4 servings
How to make Fish on the Blackstone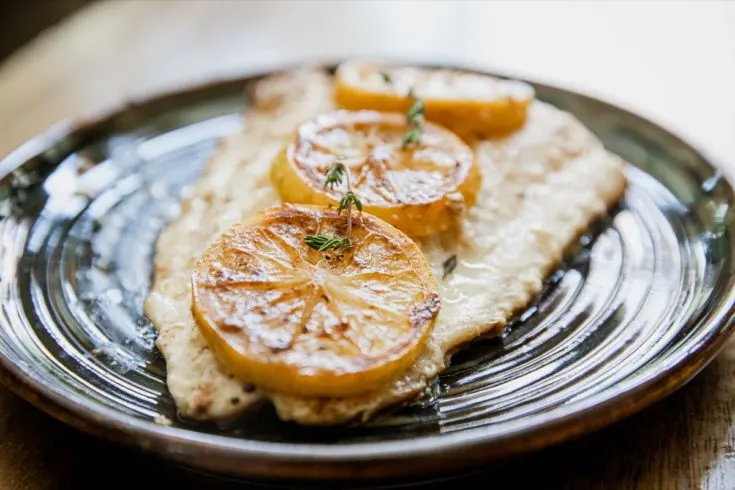 Making fish on the Blackstone is so easy! Any kind of fresh fish will work with this recipe. The fresher the better! This will get dinner on the table in a flash.
Ingredients
16 ounces boneless fish fillets
1 lemon, sliced into rounds
2 teaspoons flaky salt
1 teaspoon ground pepper
2 teaspoons lemon zest
1 tablespoon lemon juice
2 teaspoon garlic paste (we like Gourmet Garden, but you can use fresh garlic too and grind it into paste if that's your thing.)
4 teaspoons butter
4 tablespoons dry white wine
4 sprigs fresh thyme
Instructions
Prep your fish by feeling it to ensure there are no remaining bones. Season with salt and pepper.
Preheat your griddle to medium-low heat.
Mix together the lemon zest, lemon juice, and garlic paste.
Spread the lemon/garlic mixture over the top of each of the fish fillets.
Put down a small pat of butter on the griddle for each piece of fish you'll be cooking.
If your fish fillets have skin on one side, start them skin-side down on the griddle in the butter.
Place groups of two lemon slices down together on the griddle near each other. This is what you're going to flip the fish ONTO. Put a sprig of thyme on top of the lemon slices.
After the fish cooks for 2-3 minutes, flip it onto the lemon slices and thyme. Cover them all with a cooking dome. Let it cook for 3-4 minutes, and then squirt some of the dry white wine under the dome and onto the lemons on the bottom to let the fish steam.
Remove from the griddle and serve immediately. I like to slide the spatula right under the lemon and then carefully flip the whole lemon and filet onto the serving plate.
Notes
How long you need to cook your fillet depends entirely on how thick your fillet is. If you have a fillet that is less than 1" thick, you'll want to cook it for less time. If it is thicker, cook a little longer. The key to GREAT fish is to not overcook it. It should lightly flake but still be moist.
Recommended Products
As an Amazon Associate and member of other affiliate programs, I earn from qualifying purchases.
Nutrition Information:
Yield:
4
Serving Size:
1
Amount Per Serving:
Calories:

192
Total Fat:

6g
Saturated Fat:

3g
Trans Fat:

0g
Unsaturated Fat:

3g
Cholesterol:

117mg
Sodium:

1304mg
Carbohydrates:

4g
Fiber:

1g
Sugar:

1g
Protein:

27g
Nutrition data provided here is only an estimate.