In our Simple Grilled Halibut Recipe we're taking freshly caught halibut filets and cooking them right on our pellet grill. While any grill will work, whether you've got gas, charcoal, a stick burning smoker, or whatever else, utilizing a pellet grill allows for precision in temperature control and the mild smoke contributes an additional layer of flavor without detracting from the halibut's natural taste.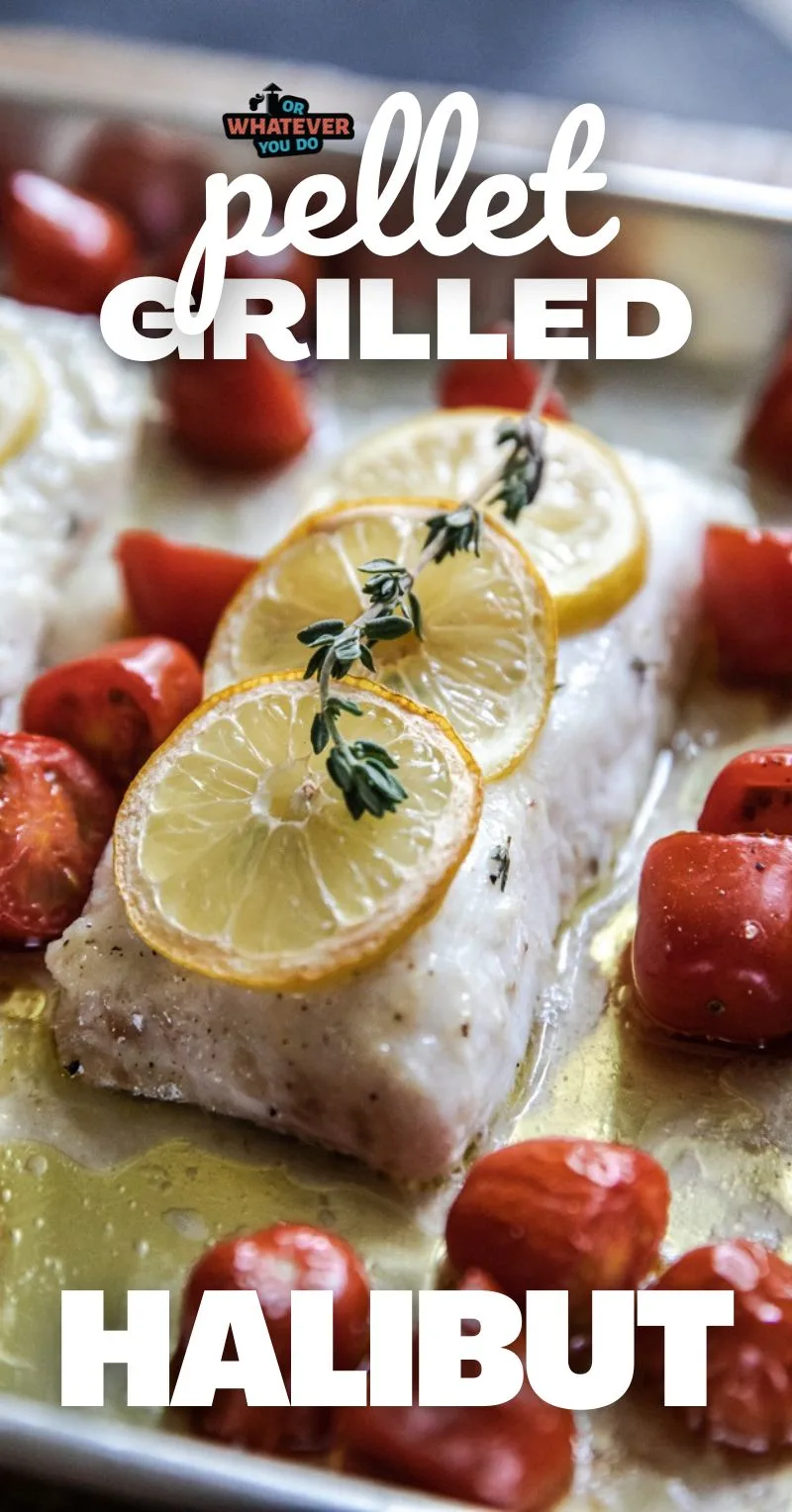 Traeger Grilled Halibut Recipe
If you get the privilege of enjoying freshly caught halibut, it is important to treat it with respect and that means not screwing it up by overcooking, over or under seasoning, or wasting it on a recipe that you aren't sure will turn out.
We catch our own halibut here, and if you think halibut is expensive when you buy it from the store you should see how spendy it gets when you're catching it yourself. You just make a point to not do that math. 😅😂
Either way, this incredible fish should be respected and cooked using methods and techniques that ensure that the final result is as good as you can possibly get, and that's something everyone will enjoy it and feel treated by, with this special fish.
Our simple grilled halibut recipe is easy and incredible. Salt, pepper, thyme, and lemon are used to gently flavor the fish, and the even mellow wood fire cooking from the pellet grill is perfect.
Get all of my Traeger Recipes here!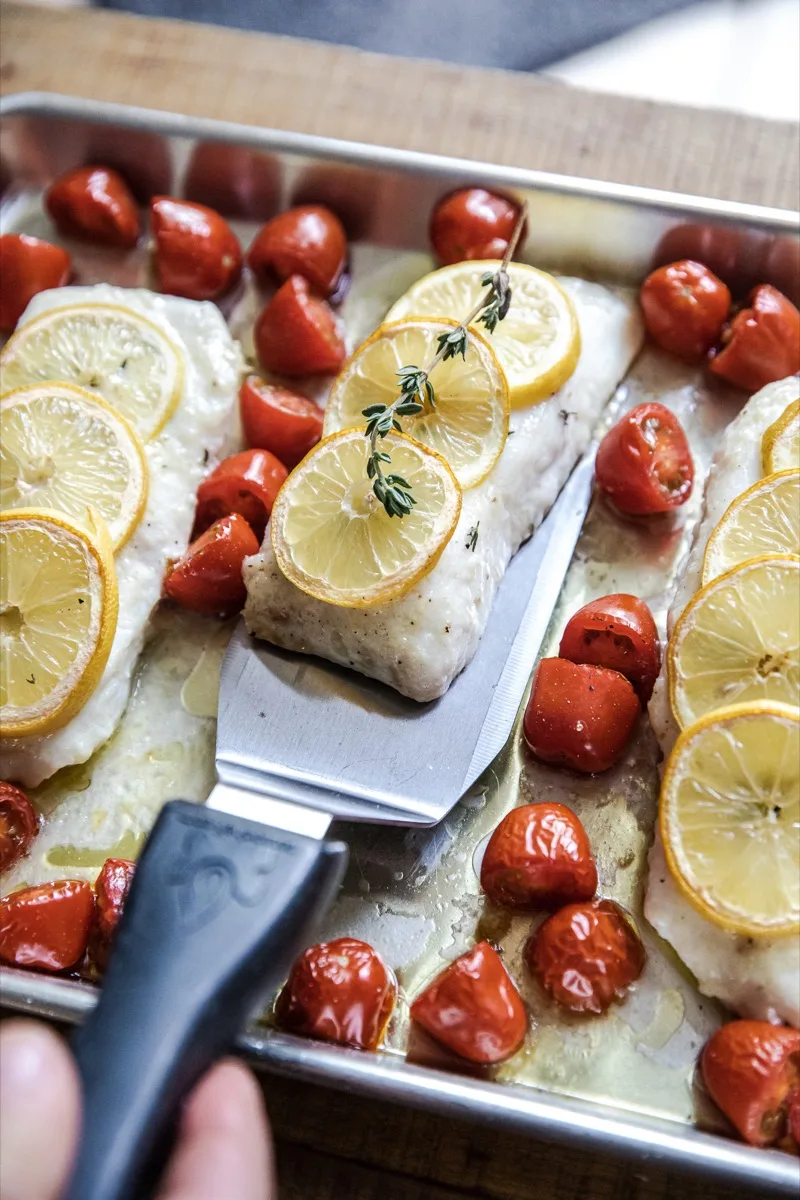 Grilled Halibut shopping list
Wondering if you have to hit the store? Here's the list of items you'll need to make this recipe. For specific amounts, please refer to the printable recipe card at the bottom of the post.
Halibut filets
Olive oil
Salt
Black pepper
Fresh thyme
Garlic paste
Butter
Cherry tomatoes
Lemons
Try our Halibut Fish and Chips too!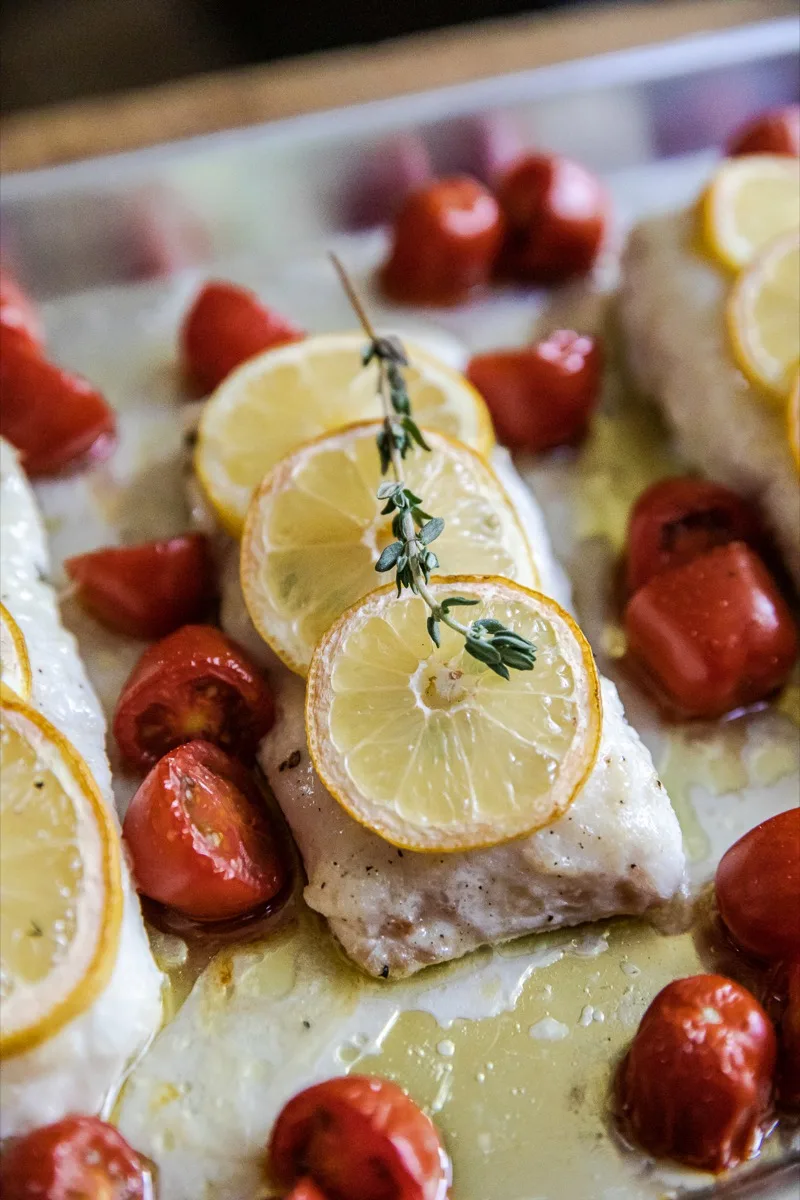 How to make Halibut on the Pellet Grill
This is just the overview so you can see what you're actually getting into here. When you are cooking, you'll want to use the full recipe at the bottom of the page.
Preheat
Fire up the grill and get it preheating to 425°F.
Prep
Spread the olive oil on a baking sheet.
Cut the fish into approximately 6 ounce portions. Put it on the prepped baking sheet. Mix together the garlic paste and butter.
Sprinkle the fish with the salt and pepper and spread on the garlic butter mixture. Add the fresh thyme on top and then place the lemons on top of all of it.
Slice your cherry tomatoes in half. Put them on the baking sheet too.
Cook
Put the baking sheet into the grill and let it cook for approximately 15 minutes, but always cook to temperature and not to time. You want the internal temperature to be 125°F-130°F for the best final texture.
Get 75+ of my favorite Traeger Recipes here!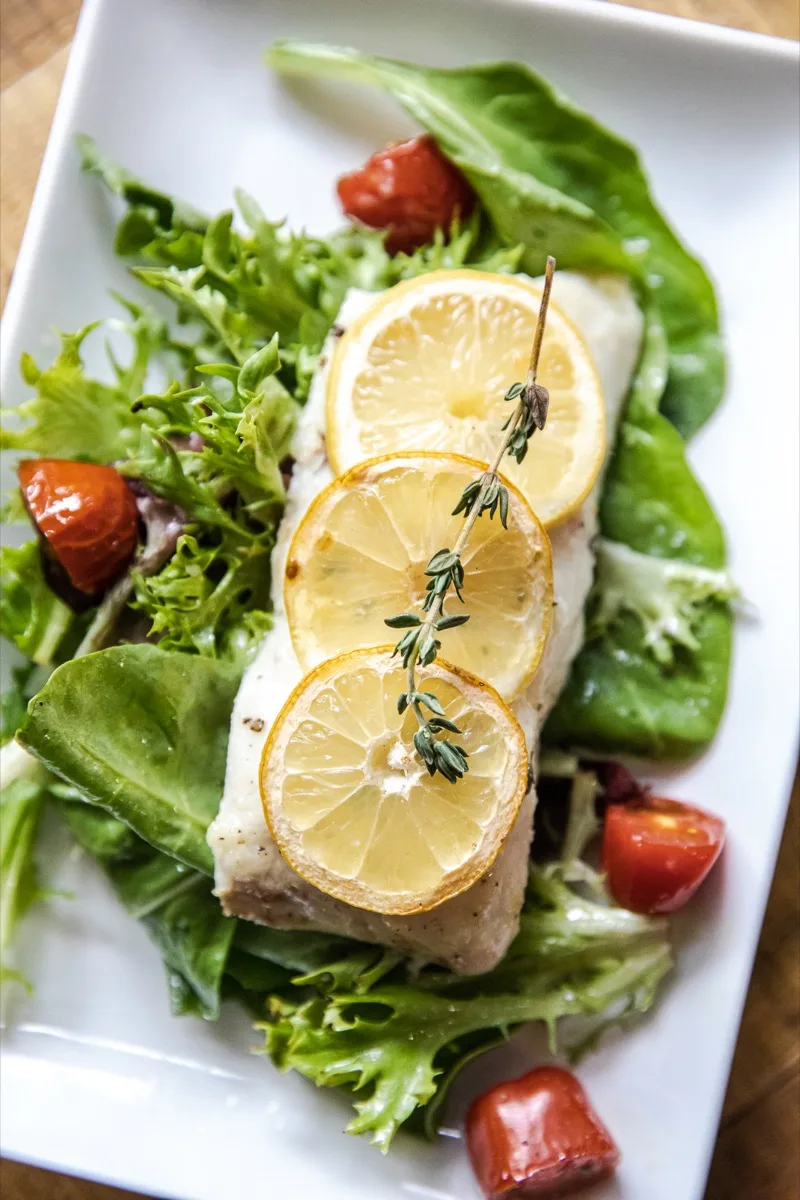 Grilled Halibut FAQ
What are the best cooking methods for halibut?
Halibut is very versatile. It can be sautéed in a pan on the stovetop, grilled, cooked in the oven, sous vide, or fried. The key to a great piece of halibut mostly is ensuring that you're getting fresh, high-quality fish. The other important factors are to season it properly and to NOT overcook.
How long should you cook a piece of halibut?
Until its done. 🫣
Kidding, but also not kidding. Never cook to time. Always cook to temp/texture. Halibut is best when it cooks to 125°-130°F.
Do you rinse Halibut before cooking?
Nah. If you're getting high quality fish you don't need to rinse it before cooking. The same goes for chicken, by the way. Quit. Rinsing. Your. Proteins.
Can you make this recipe ahead of time?
Nope! Fish is best served immediately after coming off the heat source. You don't want to make this ahead of time. Plus – it is such a fast and easy recipe. Cooking it ahead of time is entirely unnecessary.
Air Fryer Parmesan Crusted Halibut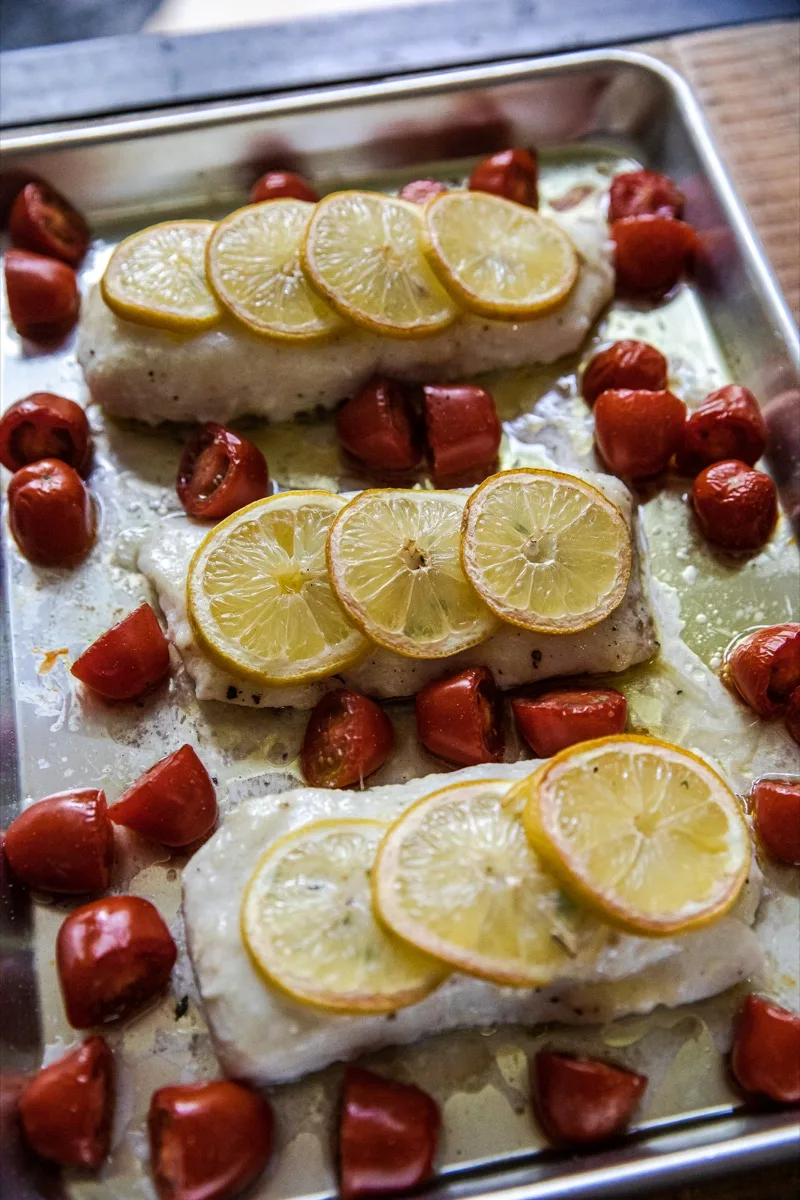 More great fish recipes to love!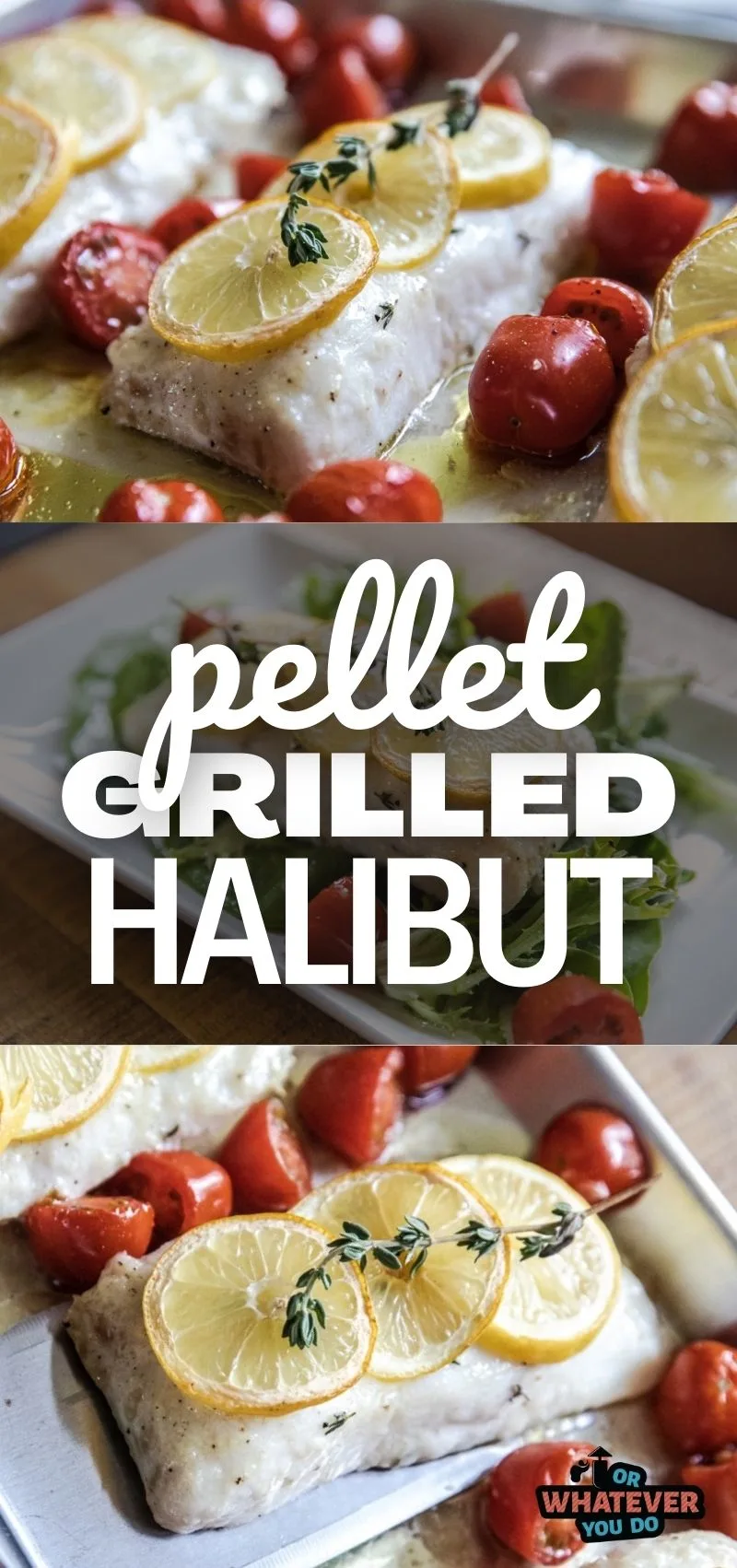 Yield: 4 servings
Traeger Grilled Halibut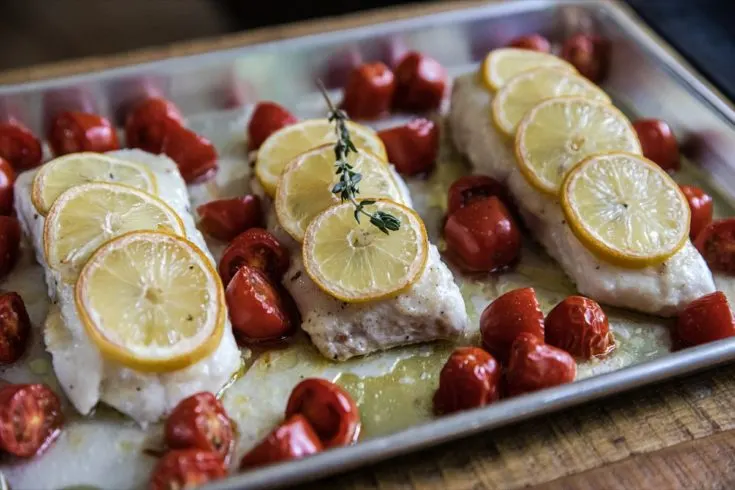 This fresh, delicious halibut recipe is cooked on the pellet grill, and is a perfect lunch or dinner option! Use this method for any fresh white fish.
Ingredients
1 1/2 pounds halibut filets
2 tablespoons olive oil
1/2 teaspoon salt
1/2 teaspoon black pepper
2 sprigs fresh thyme
1 tablespoon garlic paste
2 tablespoons butter
8 ounces cherry tomatoes
2 lemons, sliced
Instructions
Preheat your pellet grill to 425°F.
Cut your fish into six ounce portions. Oil the bottom of a grill safe baking sheet with the olive oil. Place your fish onto the baking sheet.
Season the fish with the salt and pepper.
Mix together the butter and garlic paste, and spread the the mixture on top of the fish filets. Add the fresh thyme to the top of the fish. Thinly slice your lemons and layer the top of the fish with the slices.
Slice your cherry tomatoes in half and put them on the cookie sheet all around the pieces of fish.
Place the sheet onto your grill.
Let cook for 15 minutes, or until the internal temperature reaches 125°F-130°F. If you are sourcing your fish from quality sources, medium rare fish is the way.
Serve hot with a side of steamed rice, a fresh salad with a tangy vinaigrette, or some grilled vegetables.
Recommended Products
As an Amazon Associate and member of other affiliate programs, I earn from qualifying purchases.
Nutrition Information:
Yield:
4
Serving Size:
1
Amount Per Serving:
Calories:

400
Total Fat:

21g
Saturated Fat:

7g
Trans Fat:

0g
Unsaturated Fat:

12g
Cholesterol:

138mg
Sodium:

593mg
Carbohydrates:

7g
Fiber:

2g
Sugar:

3g
Protein:

45g
Nutrition data provided here is only an estimate.