Have a craving for some delicious Garlic Naan? Make it at home on your griddle! Our Blackstone Naan recipe uses a homemade rich yeast dough, requires NO mixer, comes together in under 2 hours, and MOST of that is passive time where you can go watch TikToks or Reels and relax, and it works well for so many different things.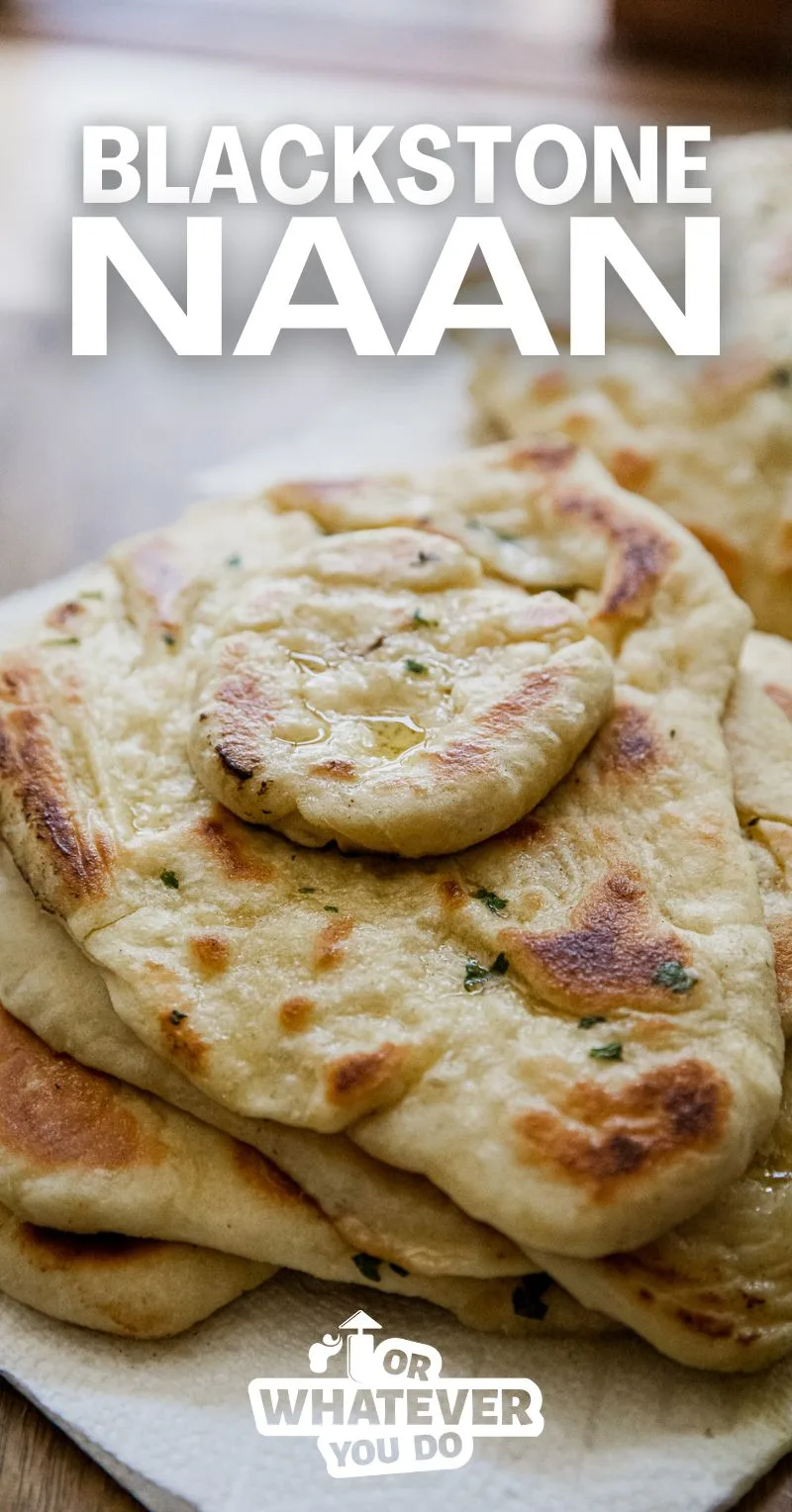 Blackstone Garlic Naan Recipe
I am such a sucker for homemade bread. Put a basket of warm bread and butter in front of me in a restaurant and I could make a meal out of just that. My love for Cheddar Bay Biscuits is well-known, too, and I've made a few versions of them here on the site, even a Traeger Cheddar Bay Biscuit!
I've been wanting to make a great naan at home for so long, so I was excited to try some on the Blackstone since making twenty-some naan individually on the stovetop to feed our crew sounds like my idea of hell, and on the griddle I can cook them SIX at a time instead.
I love this recipe because unlike most of my bread recipes, it doesn't require a stand mixer. It also doesn't require a ton of kneading either. It DOES require rolling out the dough into individual circles, but it goes pretty fast. This is a good one to enlist help with too, so if you have any kids or teenagers hanging around, tell 'em to get ready to get their hands dirty because they are about to be rolling out some dough.
Recipe Note: Traditionally, naan bread is made with plain yogurt. I was clean out, so I used sour cream instead and it worked like a charm. If you want to do things more traditionally, you can use that plain yogurt.
More Blackstone Recipes here!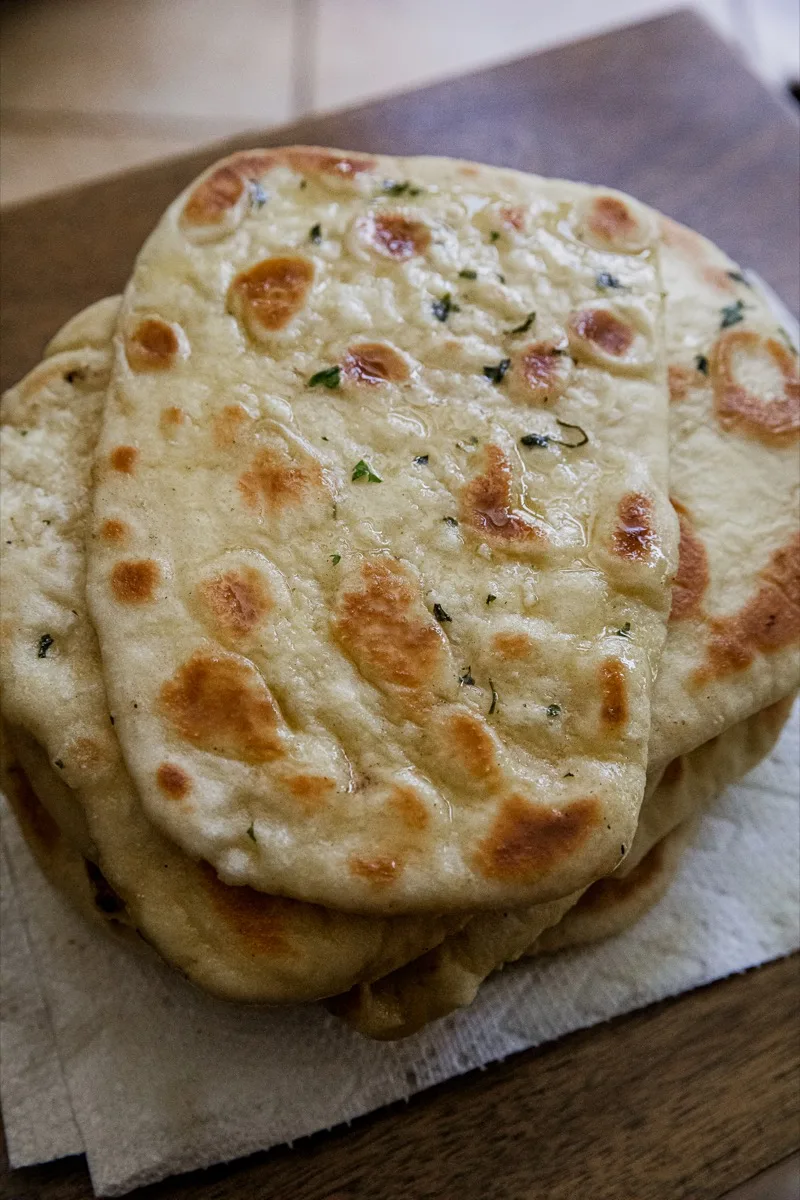 Blackstone Naan Shopping List
Wondering if you have to hit the store? Here's the list of items you'll need to make this recipe. For specific amounts, please refer to the printable recipe card at the bottom of the post.
Yeast
Sugar
Olive oil
Sour cream (or plain yogurt)
Eggs
Salt
Flour
Butter
Garlic
Parsley
Try with our Smoked Butter Chicken Thighs!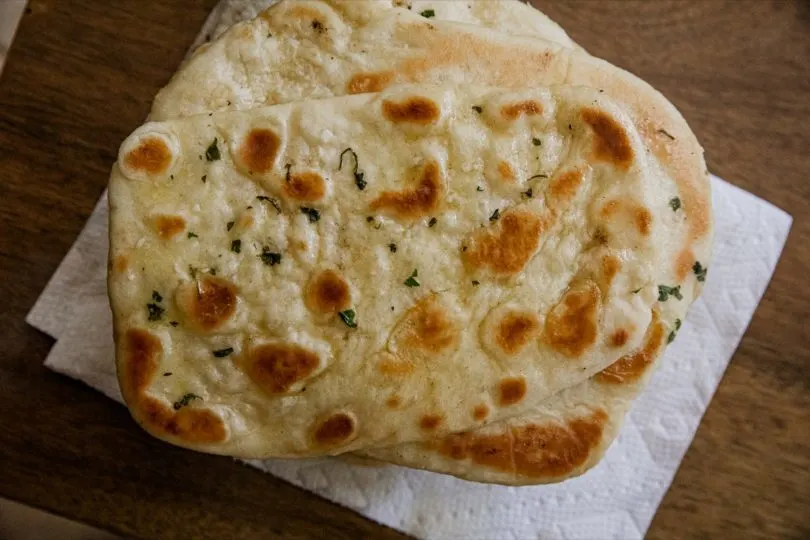 How to make Homemade Naan on the Blackstone
This is just the overview so you can see what you're actually getting into here. When you are cooking, you'll want to use the full recipe at the bottom of the page.
Mix
Combine the warm water, yeast, sugar, olive oil, sour cream, eggs, and salt in a bowl. Mix it up well with a whisk.
Flour
Mix in the flour until a soft dough forms. Then, turn out that dough onto a well-floured counter and knead more flour into it for about 5 minutes.
Rise
Put the dough ball into an oiled ball and cover with an oiled sheet of plastic wrap. Let it rise for an hour, or until doubled.
Preheat & Roll
Preheat your griddle to medium-high heat.
Melt your butter and mix in the garlic and parsley.
Turn the risen dough ball out onto floured counter and cut it into twenty-some equally sized pieces. Roll out each piece into a round, working in groups of 6 to 12.
If you have a helper, just have them bring out the rolled out dough to you and collect the cooked naan as it comes off the griddle.
Cook and enjoy
On a lightly oiled griddle, cook the naan, flipping after the bottom side is browned and the top is bubbly.
Flip again once the bubbly side is browned on the bubbled parts, and paint with the garlic butter.
Remove from the griddle and enjoy.
Repeat until all the naan is cooked.
Serve these with my Spaghetti and Meat Sauce!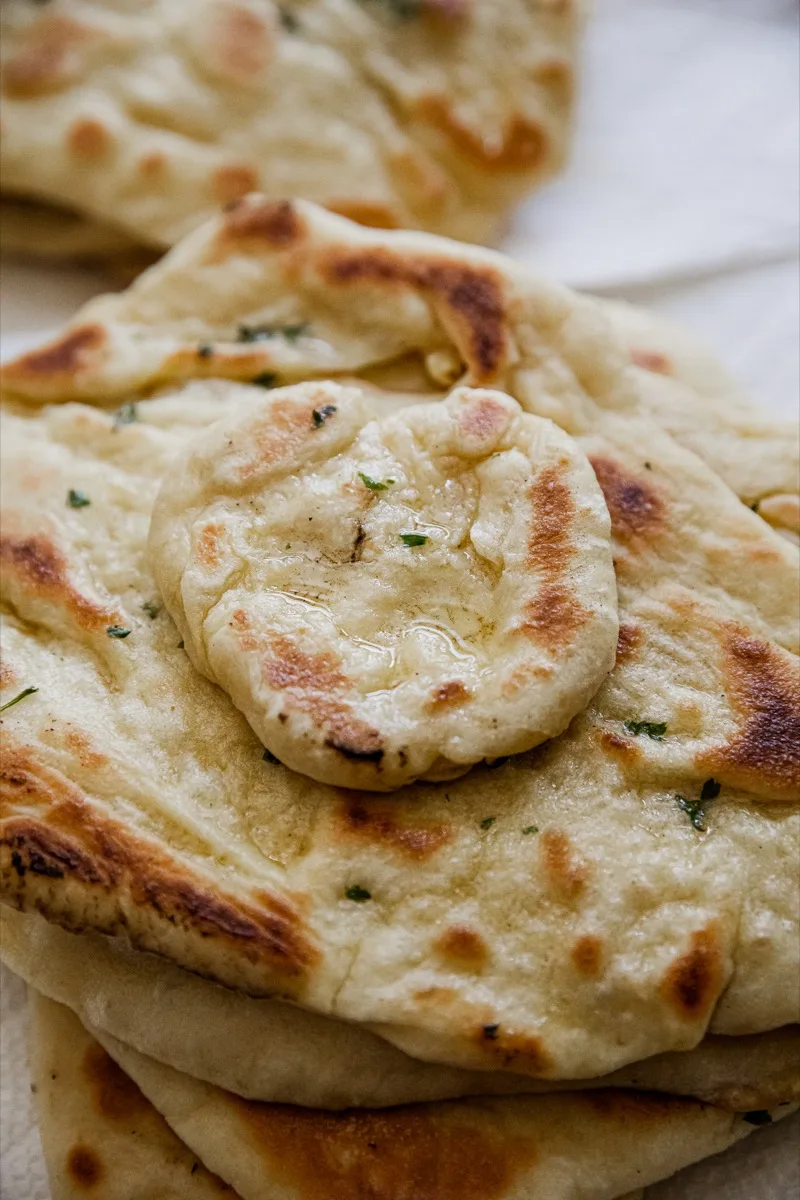 Blackstone Naan FAQ
Can these be made in advance?
Sure! You can make these up to a day in advance. Just store them in an airtight container and give them a quick reheat in the oven before serving.
What's the best way to store and reheat leftovers?
I like to store the cooled naan in a freezer baggie on the counter. To reheat, pop them in the oven at 225°F wrapped in foil.
Can these be cooked on the stovetop?
Sure! You can cook these on the stovetop if you'd like. It'll just take a long time since you're making an OWYD-sized batch fit for a crowd. Can you halve the recipe? Sure. But why? Naan for dayssssss, or for neighbors, or for a party. Whatever.
These would be perfect for my
Buffalo Chicken Flatbread!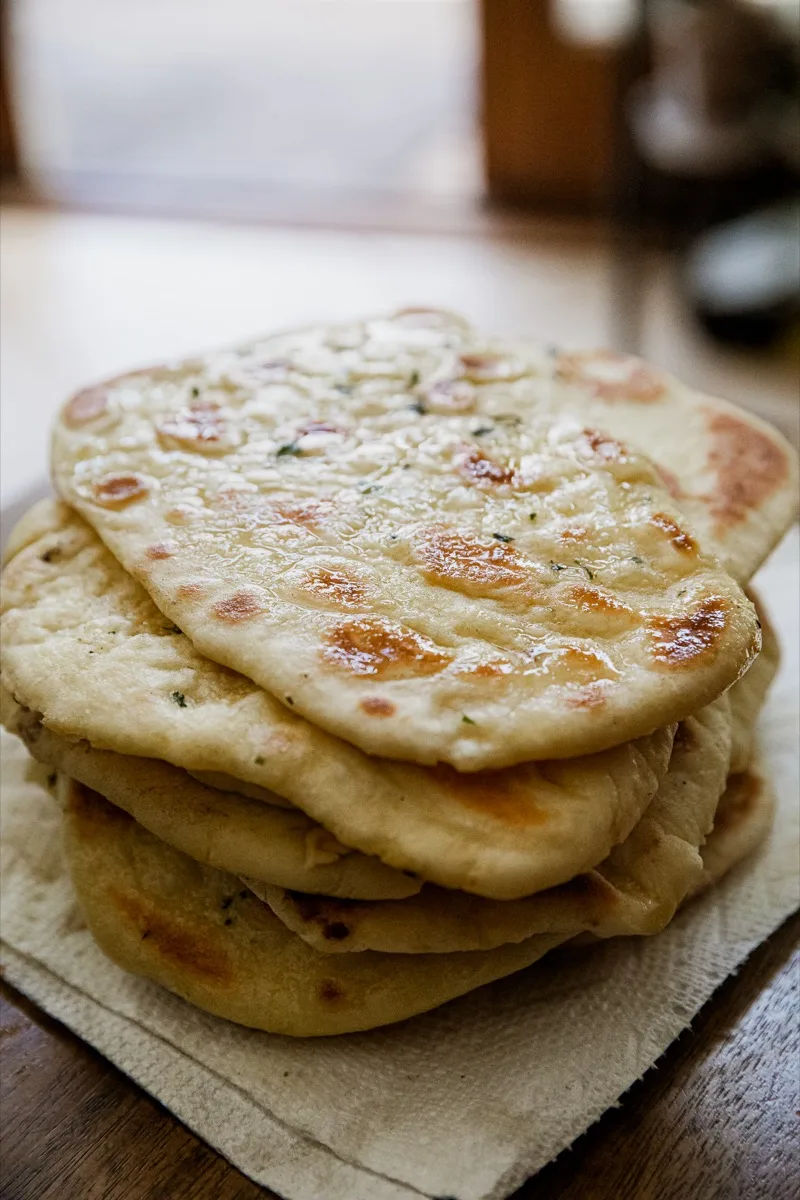 More great homemade recipes to love!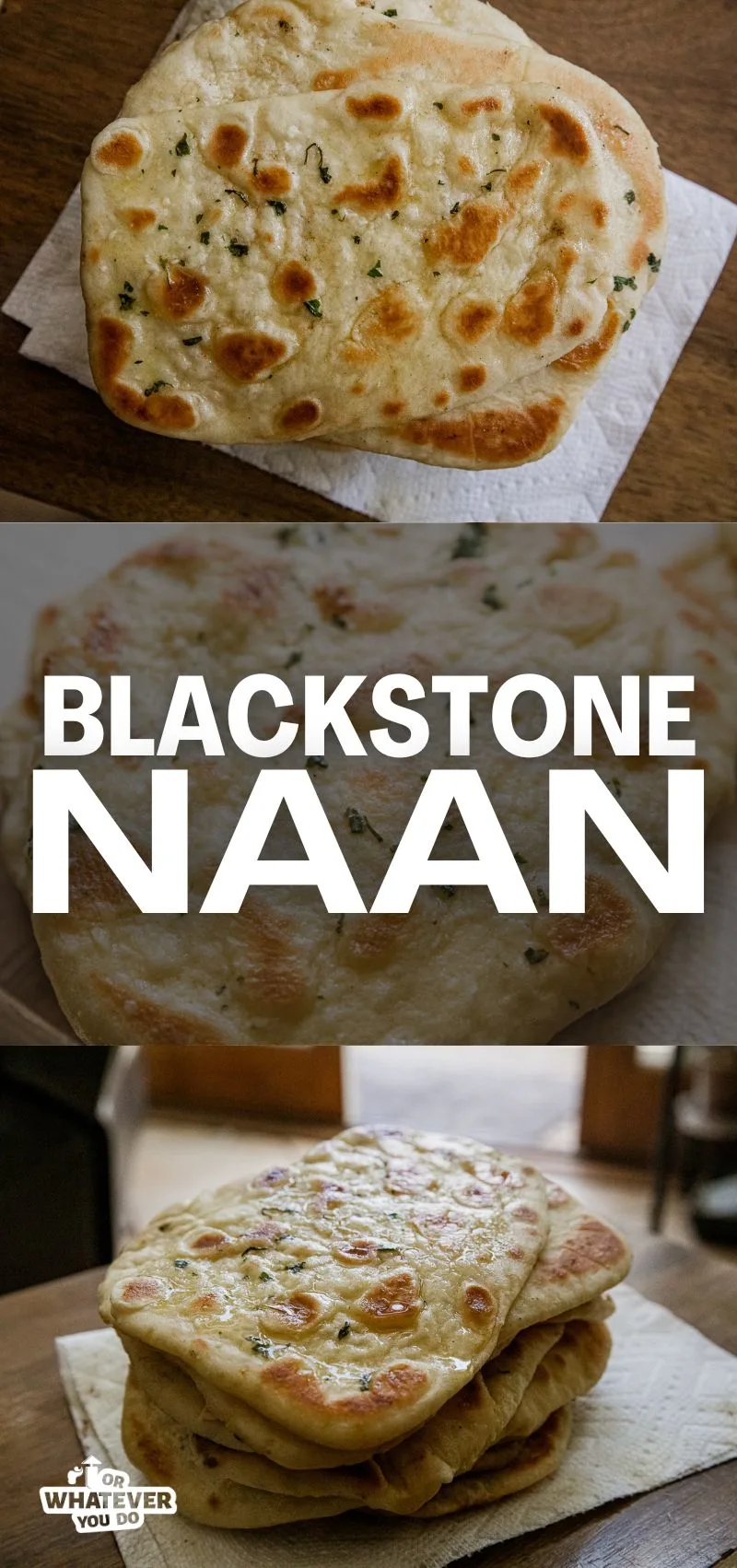 Yield: 24 servings
Blackstone Naan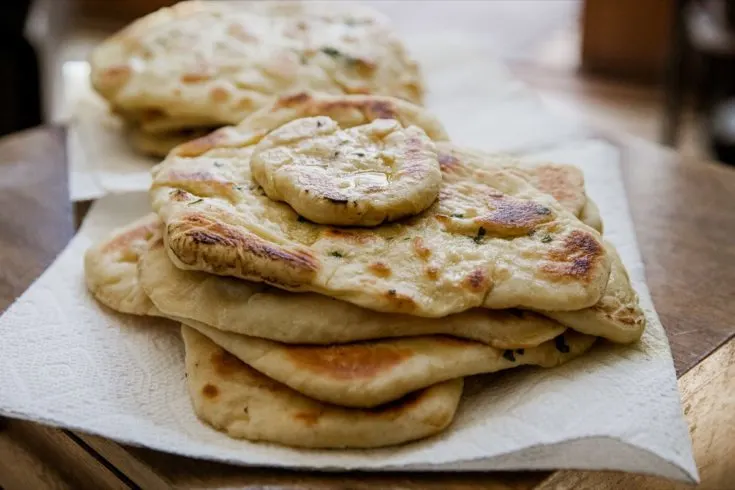 There's nothing like fresh made naan, and this easy recipe comes together in about an hour and a half and is cooked in bulk on your Blackstone Griddle!
Prep Time
1 hour
30 minutes
Total Time
1 hour
50 minutes
Ingredients
2 cups warm water
3 tablespoons + 2 teaspoons yeast
2 tablespoons sugar
1/3 cup olive oil
1 cup sour cream
4 eggs
1 tablespoon salt
10-12 cups all-purpose flour
1/2 cup butter, melted
1 tablespoon crushed garlic
2 teaspoons parsley
Instructions
Combine the warm water, yeast, sugar, olive oil, sour cream, eggs, and salt in a bowl. Whisk to combine.
Add in 6 cups of the flour and stir briskly with a wooden spoon until all of the flour is absorbed into the mixture.
Continue adding flour, 1 cup at a time, until a soft dough forms.
Turn the ball of dough out onto a well-floured surface and knead for 5-6 minutes, continuing to add small amounts of flour as necessary to prevent the dough from sticking to your hands and the counter.
Put the kneaded dough ball into a lightly greased bowl and covered with a lightly greased piece of plastic wrap. Let rise for about an hour, or until doubled in size.
Dump the risen dough ball out onto a floured counter and cut into 24 equally-sized dough balls.
Melt the butter and mix in the garlic and parsley.
Preheat your griddle over medium-high heat.
Roll each dough ball out with a rolling pin until it is about 4-6" in diameter. You'll want to work in batches of 6-12. If you roll them ALL out and stack them all, the bottom WILL stick together before they are done cooking. Ask me how I know.
Keep in mind, the thicker you leave the dough the more it'll puff up.
Cook the dough in batches of 6 on your lightly oiled griddle. Flip after the first side gets browned and there are bubbles formed on the top. Flip, and cook until the other side is getting browned on the parts that are touching the griddle surface.
Flip again, brush with garlic butter, and remove from the griddle.
Enjoy warm!
Recommended Products
As an Amazon Associate and member of other affiliate programs, I earn from qualifying purchases.
Nutrition Information:
Yield:
24
Serving Size:
1
Amount Per Serving:
Calories:

286
Total Fat:

10g
Saturated Fat:

4g
Trans Fat:

0g
Unsaturated Fat:

5g
Cholesterol:

47mg
Sodium:

312mg
Carbohydrates:

42g
Fiber:

2g
Sugar:

2g
Protein:

7g
Nutrition data provided here is only an estimate.