Well, get ready folks, because today we're plunging into the crispy, golden world of Beer-Battered Halibut and Chips. When it comes to deep-fried seafood, beer-battered halibut is the heavyweight champion in my book. Tender, flaky halibut is the start of this show, but that crisp, golden beer batter tries to steal the limelight.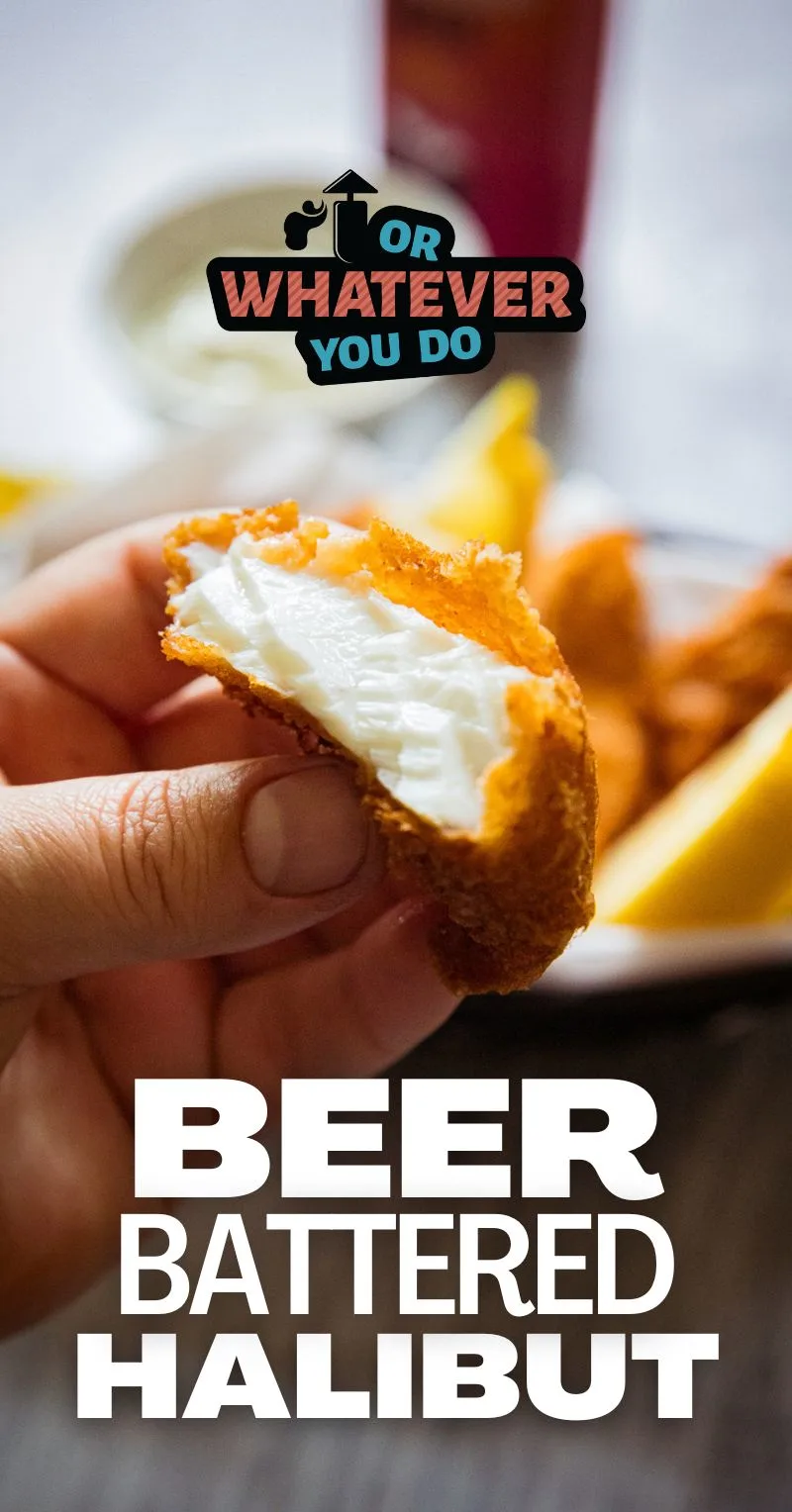 Beer Battered Halibut and Chips Recipe
Beer batter is the superior batter when it comes to breading fish. The carbonation in the beer creates a light, airy batter, and we love all the notes that an Amber beer add to the mix. Once you've tried halibut this way, you won't want to go back.
Speaking of halibut, this isn't your typical fish. With its subtly sweet flavor and beautifully firm texture, halibut holds its own against the robust beer batter. Each bite is a delightful contrast between the succulent, meaty fish and the crispy, flavorful crust.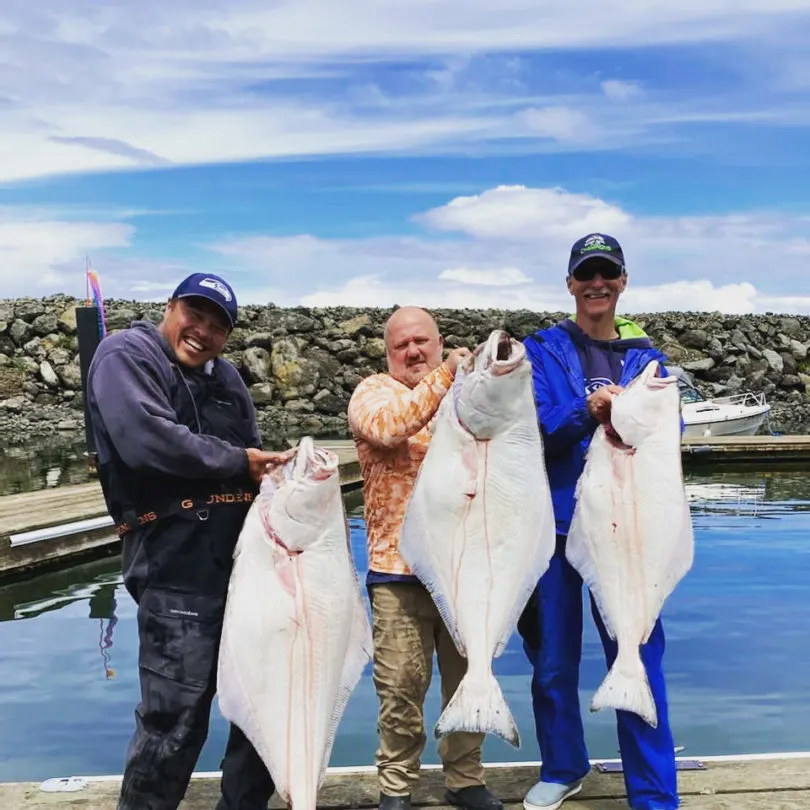 Whether you're a seasoned fish fryer or this is your first time, I promise this beer-battered halibut recipe will be one for the books. Share this with your favorite fisherman and tell them if they bring the fish, you'll cook it up!
Get all of my Traeger Recipes here!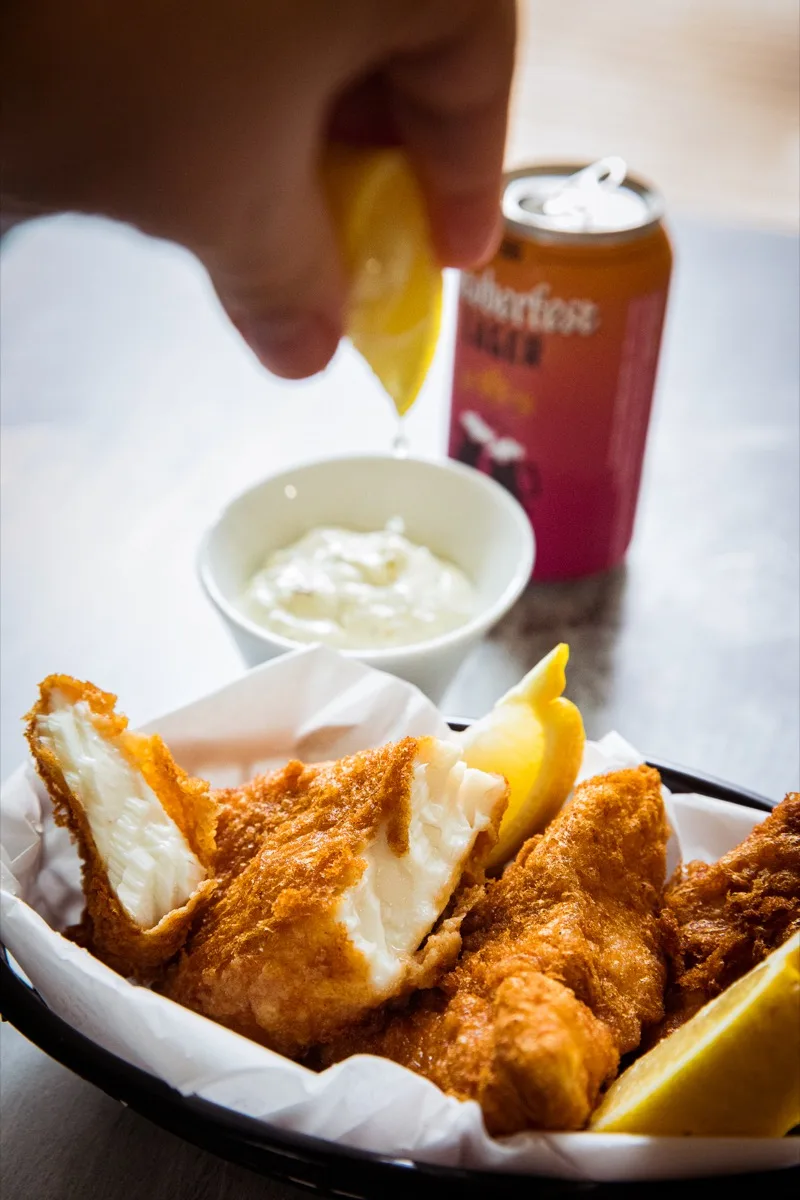 Beer Battered Halibut and Chips shopping list
Wondering if you have to hit the store? Here's the list of items you'll need to make this recipe. For specific amounts, please refer to the printable recipe card at the bottom of the post.
Halibut filets
Oil
Flour
Salt
Paprika
Amber beer
White pepper
Cayenne pepper
Black pepper
Baking powder
Get 75+ of my favorite Traeger Recipes here!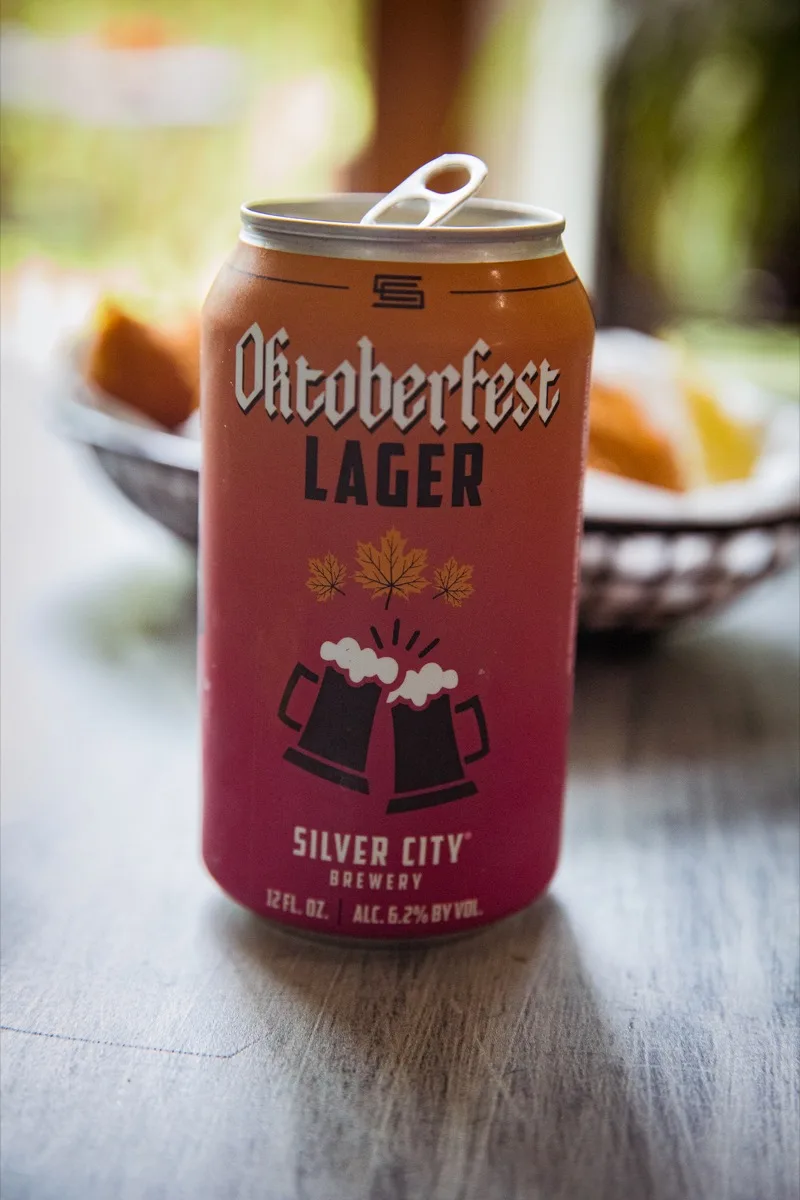 How to make Beer Battered Halibut and Chips
This is just the overview so you can see what you're actually getting into here. When you are cooking, you'll want to use the full recipe at the bottom of the page.
Fish
Cut the fresh halibut filets into chunks a little bigger than a deck of cards. Place onto paper towels to dry.
Oil
Preheat your oil over medium to medium-high heat until it reaches 350°F.
Batter
Combine the dusting mix in one container. In another container, mix the dry ingredients first and then add the beer and whisk until there are no more lumps.
Bread and Fry
Dust in the dust mix, dip in the batter, fry in the oil.
Enjoy
Let sit on paper towels for a minute and then move to a wire rack. Serve hot with lemon and tartar sauce and chips!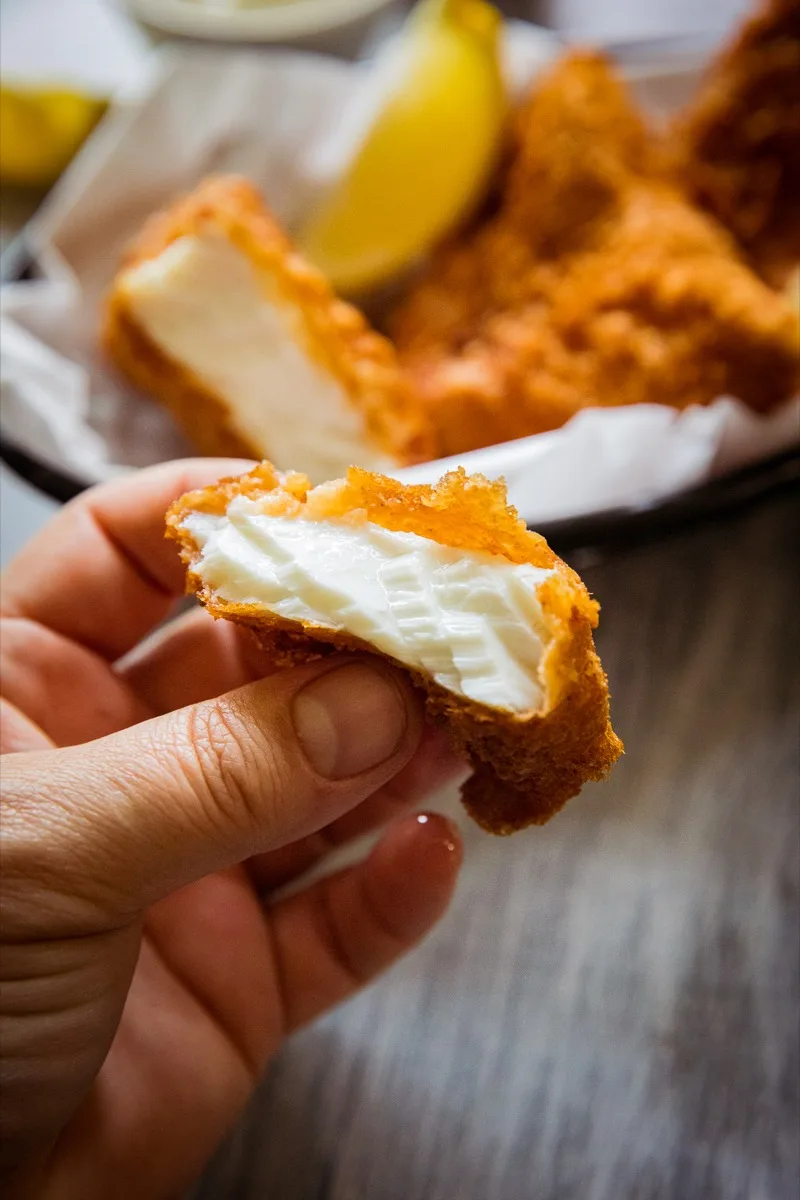 Beer-Battered Halibut FAQ
Can you use another type of beer for this recipe?
Sure! We prefer amber beer, but you can use whatever kind of beer you have handy in this recipe.
Can this be made ahead of time?
It *can*, but I don't think it *should*. Much like the way fish is best eaten as soon as possible after it is pulled out of the water, fried fish is best just a couple of minutes out of the fryer. If you do overshoot and wind up with extra, reheat it in the air fryer for the best results.
Can another type of fish be used instead of halibut?
Yup! We regularly use rockfish and lingcod for this recipe. Any firmer whitefish will work! Cod, Haddock, Tilapia, Pollock, Flounder or Sole, Grouper, Snapper, Mahi-Mahi (Dolphinfish), and Catfish are all popular choices to use for beer battered fish.
Make with our Blackstone Frozen French Fries!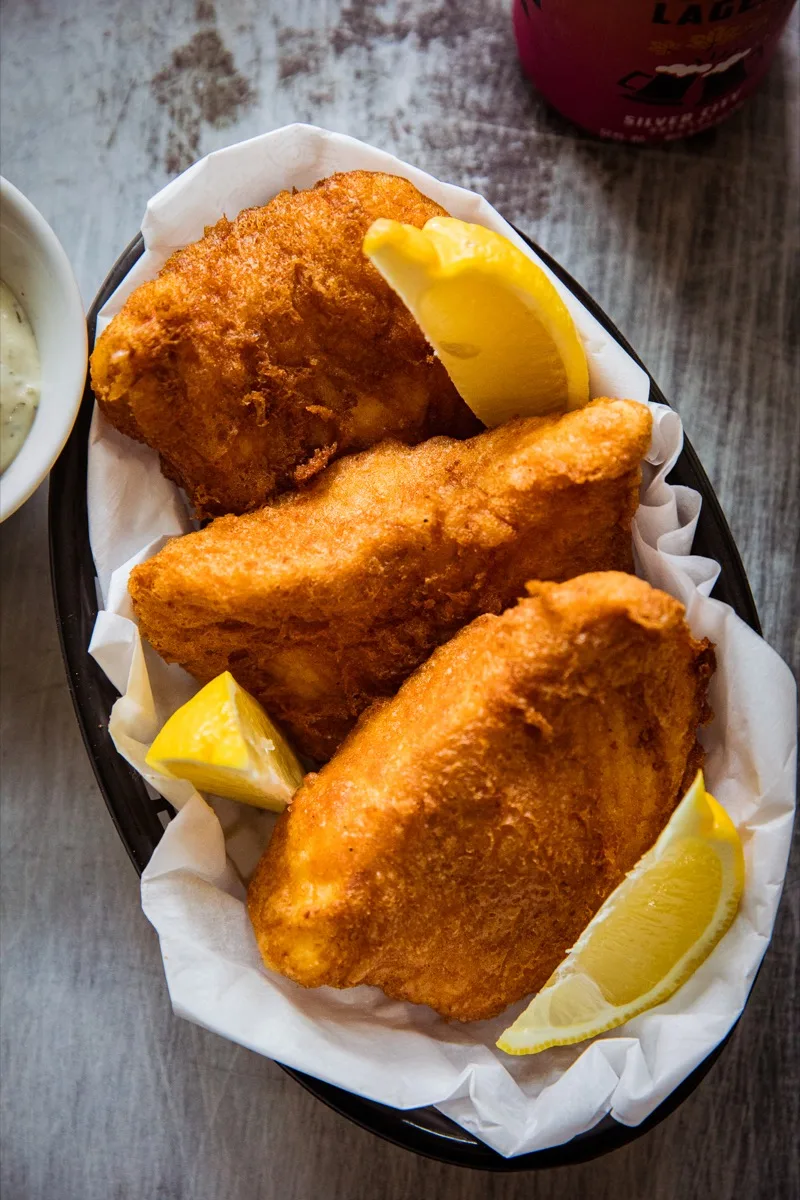 More great fish recipes to love!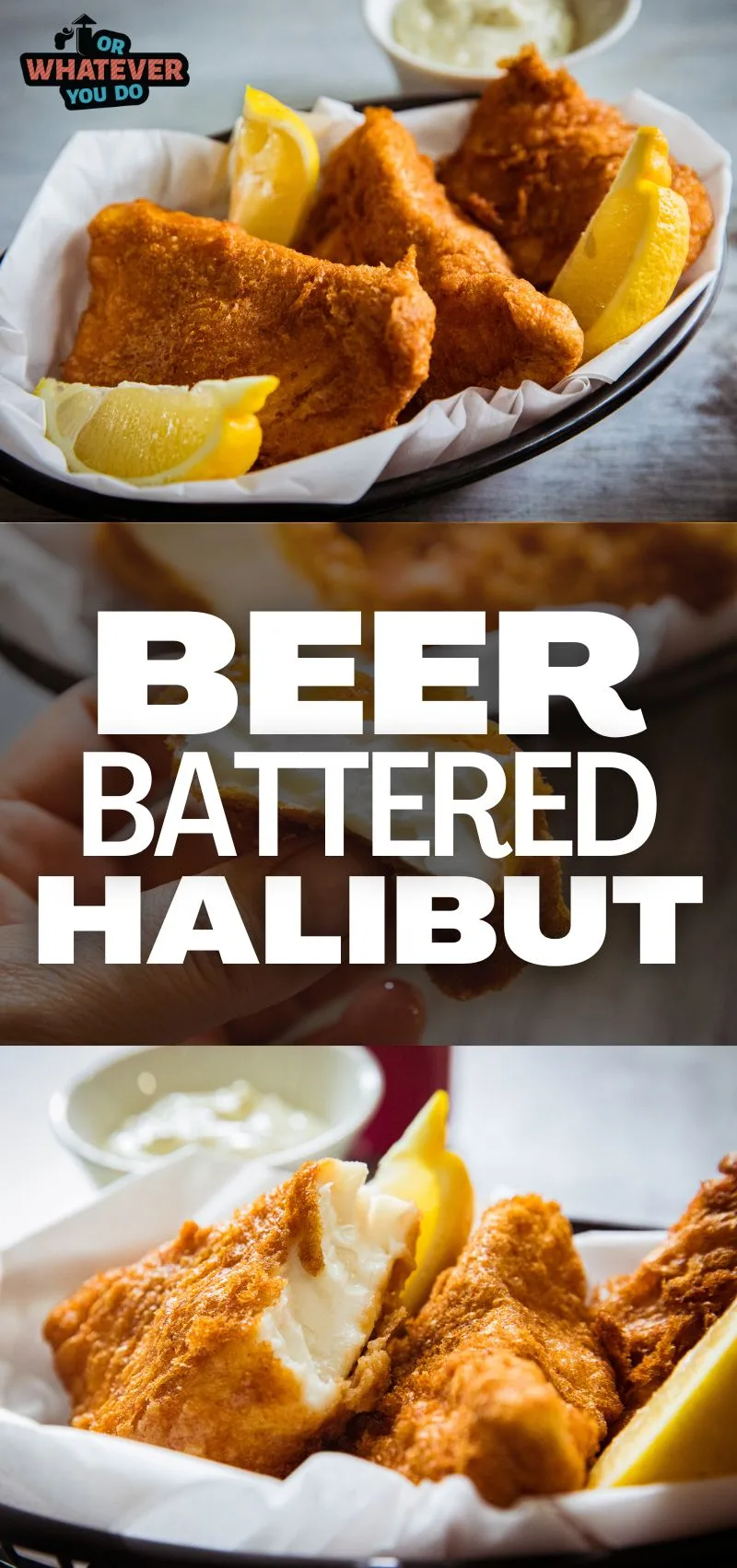 Yield: 12 servings
Beer Battered Halibut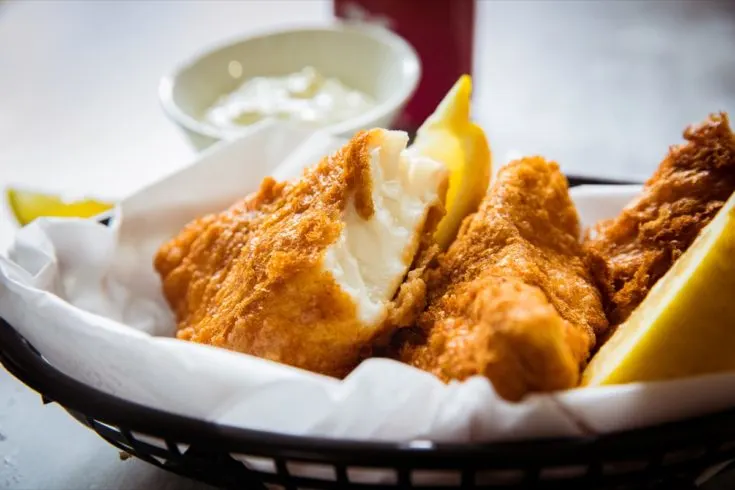 Homemade beer battered halibut is such a special treat to make when you have fresh halibut in the house! This is our favorite batter recipe, and you'll see why once you take a bite!
Ingredients
4 pounds halibut filets
4 cups oil
Dusting Mix
1 cup all-purpose flour
1 teaspoon salt
2 teaspoons paprika
Batter
2 cups all-purpose flour
24 ounces Amber beer (like Fat Tire, or Alaskan Amber)
2 teaspoons salt
1/2 teaspoon white pepper
1/2 teaspoon cayenne pepper
2 tablespoons paprika
1/2 teaspoon black pepper
2 tablespoons baking powder
Instructions
Cut your halibut into filets that are a little bigger than a deck of cards.
Pour the oil into a medium-sized saucepan and put it on the stove on medium-high.
While the oil is heating, mix together the dusting ingredients in a separate bowl.
Mix all dry ingredients thoroughly and then add the beer.
Mix until there are no lumps and the batter is the consistency of pancake batter.
Check the temperature of your oil with a thermometer. When it is 350°, you are ready to fry.
Dredge your fish in the dusting flour. Shake off the excess flour.
Next, put the fish into the beer batter, and lift it out while letting excess batter drip off, and then carefully lower into the oil.
Let the fish fry for 4-6 minutes, or until the internal temperature of the fish is 145°F and the outside is golden brown.
Place the fish on a plate or bowl that is lined with paper towels in order to catch any excess oil. Place onto a wire rack after the excess oil is blotted off.
Repeat the dredging and frying process for the rest of your fish and enjoy!
Serve with lemon and tartar sauce!

Recommended Products
As an Amazon Associate and member of other affiliate programs, I earn from qualifying purchases.
Nutrition Information:
Yield:
12
Serving Size:
1
Amount Per Serving:
Calories:

992
Total Fat:

79g
Saturated Fat:

6g
Trans Fat:

1g
Unsaturated Fat:

69g
Cholesterol:

98mg
Sodium:

904mg
Carbohydrates:

28g
Fiber:

1g
Sugar:

0g
Protein:

40g
Nutrition data provided here is only an estimate.