Discover the vibrant flavors of our mouthwatering Spot Prawn and Rockfish Ceviche recipe. This delectable seafood dish combines the freshest spot prawns and succulent rockfish in a citrus-infused marinade. This easy-to-prepare appetizer is packed with deliciousness and offers the perfect opportunity to showcase the best of seasonal seafood.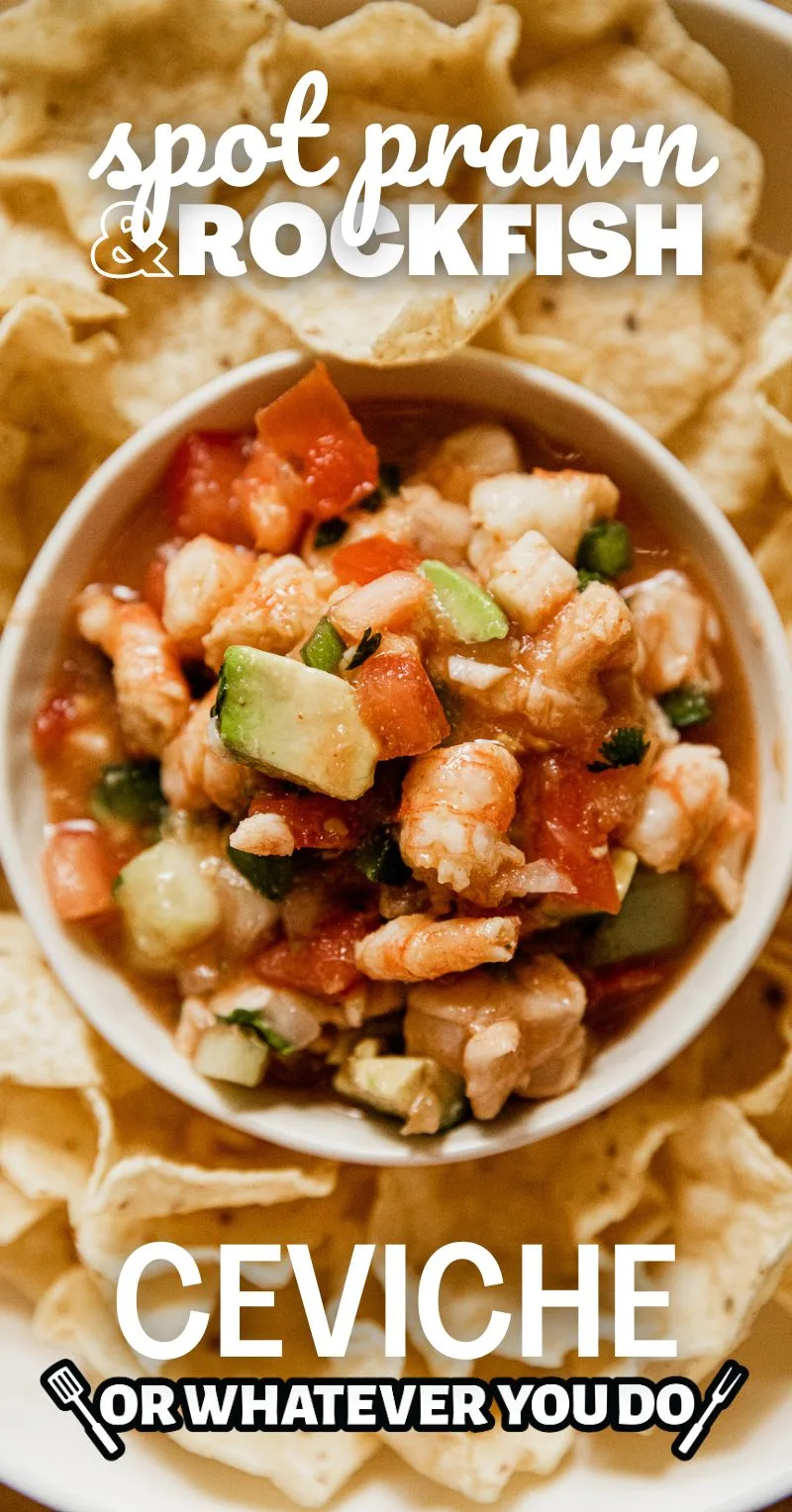 Spot Prawn & Rockfish Ceviche
Indulge in the delightful fusion of flavors with our Spot Prawn and Rockfish Ceviche recipe, a dish that showcases the best of Pacific Northwest seafood. This refreshing appetizer combines the sweetness of spot prawns and rockfish's firm, flaky texture, making it perfect for any gathering or a light, protein-packed meal. A medley of fresh vegetables and a zesty citrus marinade create a symphony of flavors that will leave you craving more.
The key to creating a mouthwatering ceviche is using high-quality, fresh ingredients. This recipe incorporates a variety of colorful vegetables, including Roma tomatoes, cucumber, white onion, and jalapeños, which add vibrant hues to the dish and contribute to its rich taste.
The seasonings provide a perfect balance of savory flavors, while the chopped cilantro and diced avocado give the dish an extra layer of freshness and creaminess.
See all of our FISH RECIPES here!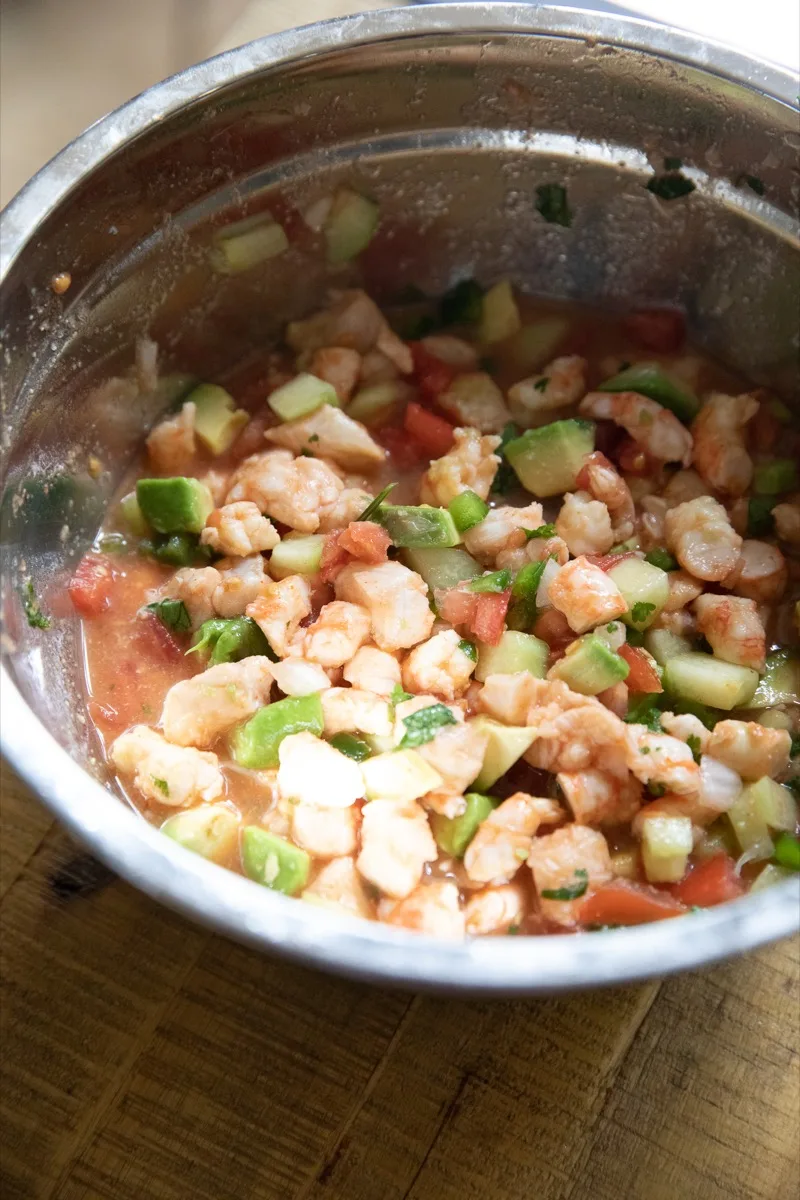 Rockfish and Spot Prawn Ceviche shopping list
Wondering if you have to hit the store? Here's the list of items you'll need to make this recipe. For specific amounts, please refer to the printable recipe card at the bottom of the post.
Spot Prawns
Rockfish
Limes
Roma tomatoes
Cucumber
White onion
Salt
Granulated garlic
Black pepper
Jalapeños
Cilantro
Avocado
Tomato juice
Hot sauce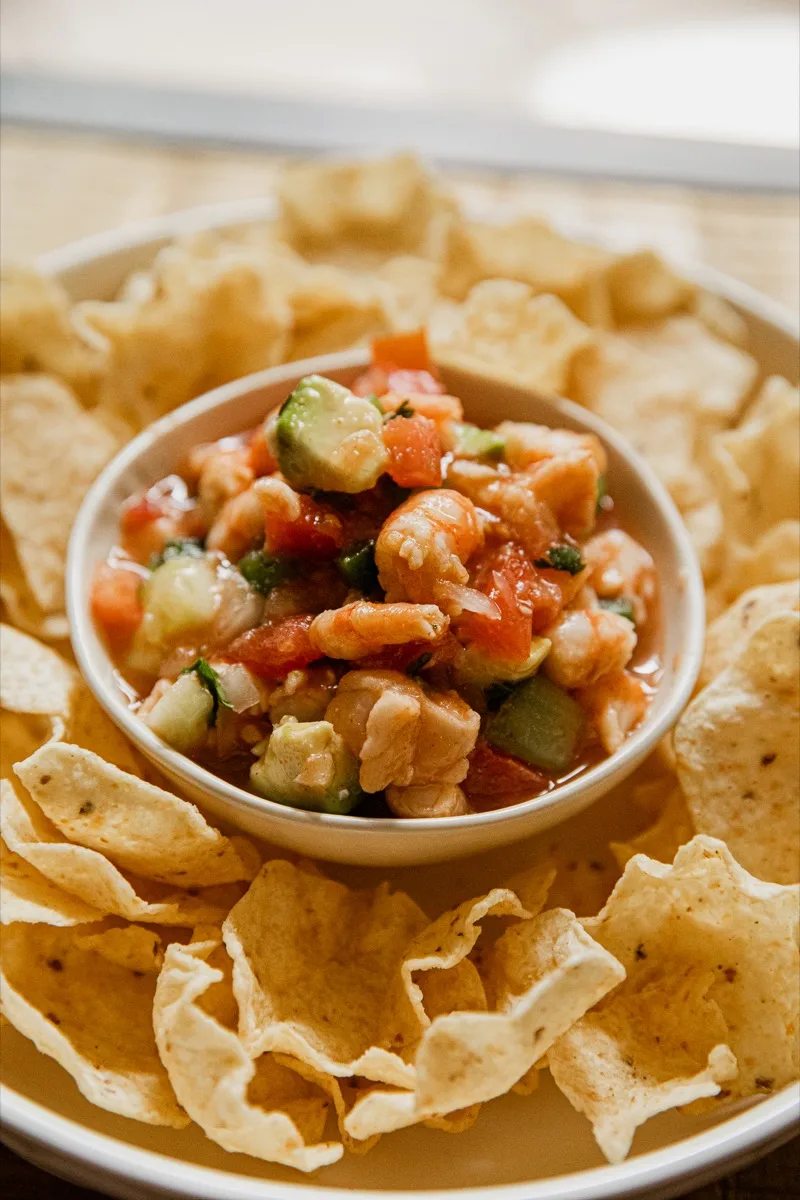 How to make Spot Prawn & Rockfish Ceviche
This is just the overview so you can see what you're actually getting into here. When you are cooking, you'll want to use the full recipe at the bottom of the page.
Cook the prawns
We prefer precooking our prawns before adding to ceviche. You'll see some other recipes that use raw shrimp or prawns and let the citrus do the work, but we prefer a quick cook on the prawns.
Chill them after they are cooked.
Mix
Once the prawns are chilled, mix the ingredients and let them meld in the fridge for 20-30 minutes before serving.
Enjoy
Serve with tortilla chip "scoops" for maximum results!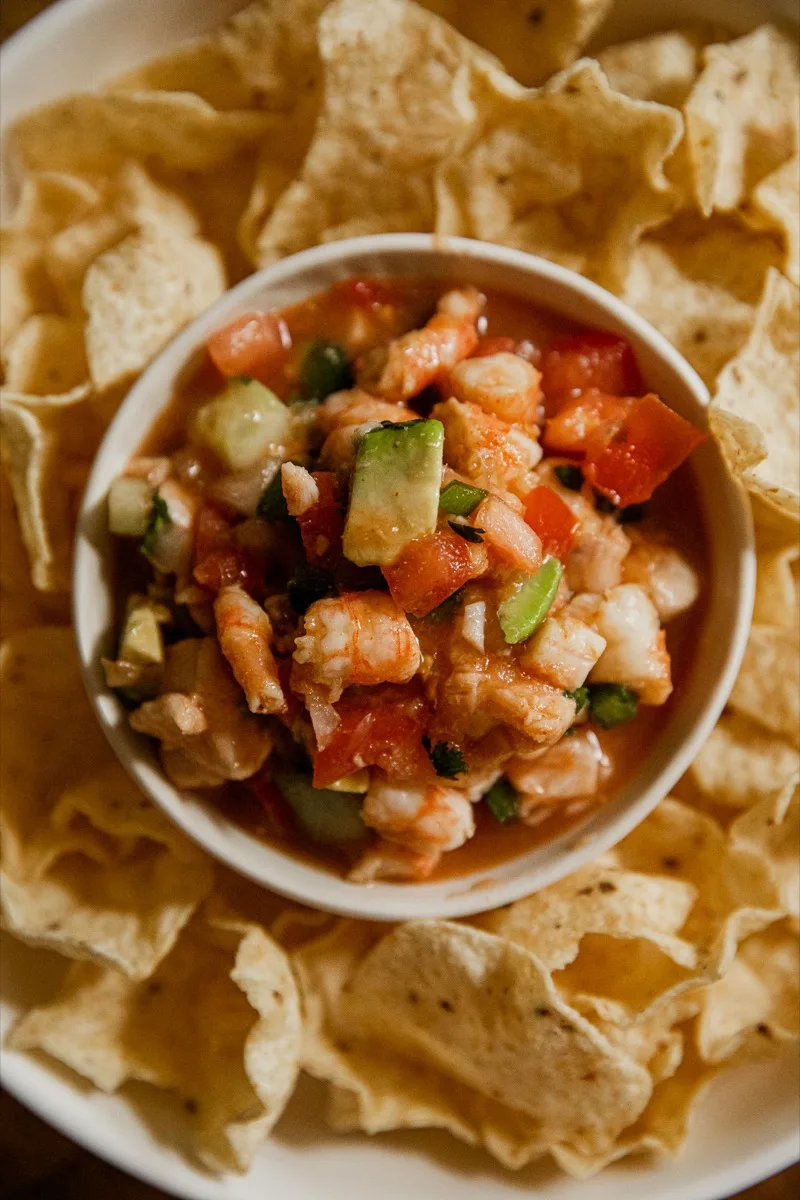 Spot Prawn & Rockfish Ceviche FAQ
What's the best way to store leftovers?
The best way to store leftover ceviche is to place it in an airtight container and refrigerate it as soon as possible. Ceviche should be consumed within 24 hours of preparation to ensure the freshest taste and texture. Remember that the longer it sits, the more the seafood will continue to "cook" in the citrus marinade, which may result in a tougher texture.
Can you make the ceviche in advance?
Yes, you can prepare ceviche in advance. In fact, it's recommended to let the ceviche marinate for at least 30 minutes to an hour before serving to allow the flavors to meld and the seafood to "cook" in the citrus juice. However, it's best not to let the ceviche sit for more than 24 hours, as the texture of the seafood may become too firm and the flavors may become too intense.
Can ceviche be frozen?
It is not recommended to freeze ceviche, as the freezing process can negatively affect the texture and flavor of the seafood. Ceviche is best enjoyed fresh, within 24 hours of preparation. If you have leftovers that you cannot consume within that time, it's better to discard rather than freeze.
Is ceviche safe to eat?
Ceviche is generally safe to eat when prepared with fresh, high-quality seafood and following proper food safety guidelines. The acidity of the citrus juice in the marinade helps to kill bacteria, but it does not eliminate all foodborne pathogens. To minimize the risk, use the freshest seafood possible, ensure your ingredients and work surfaces are clean, and keep the dish refrigerated until ready to serve. If you are pregnant, have a weakened immune system, or are concerned about the potential risks of consuming raw seafood, consult a healthcare professional before indulging in ceviche.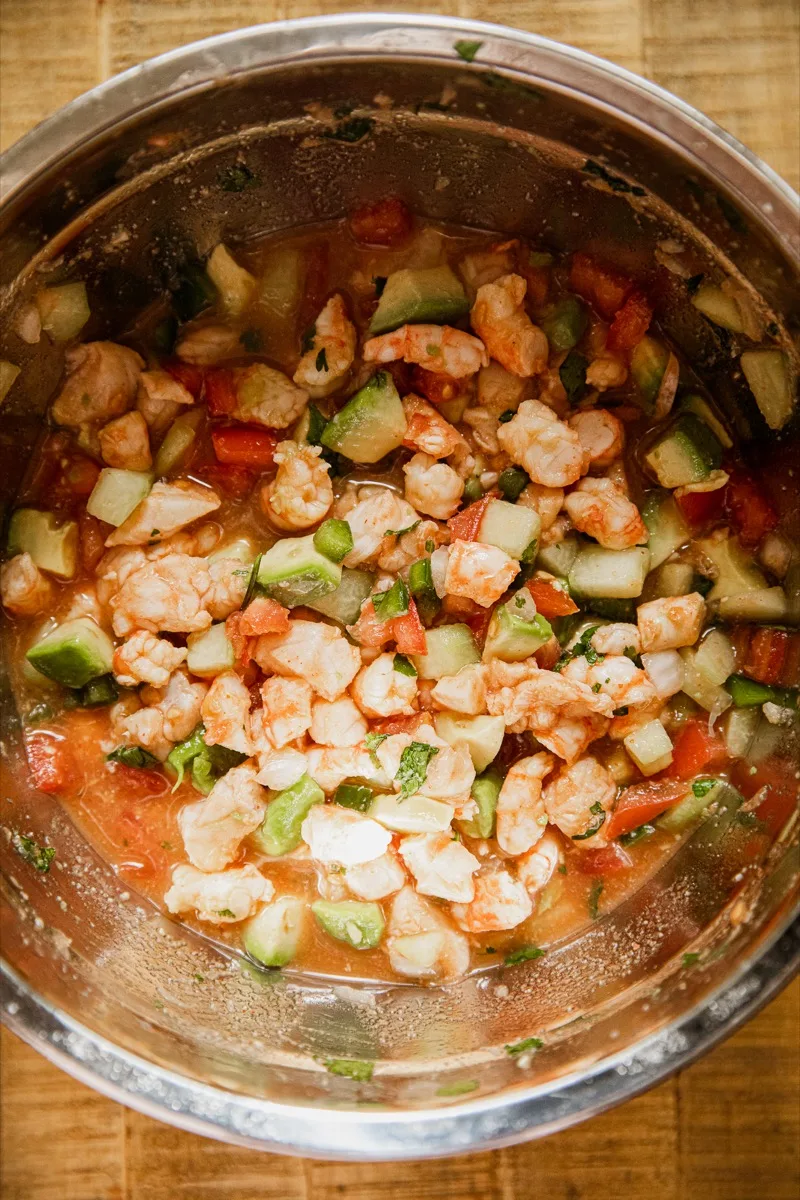 More great recipes using fish & shrimp to love!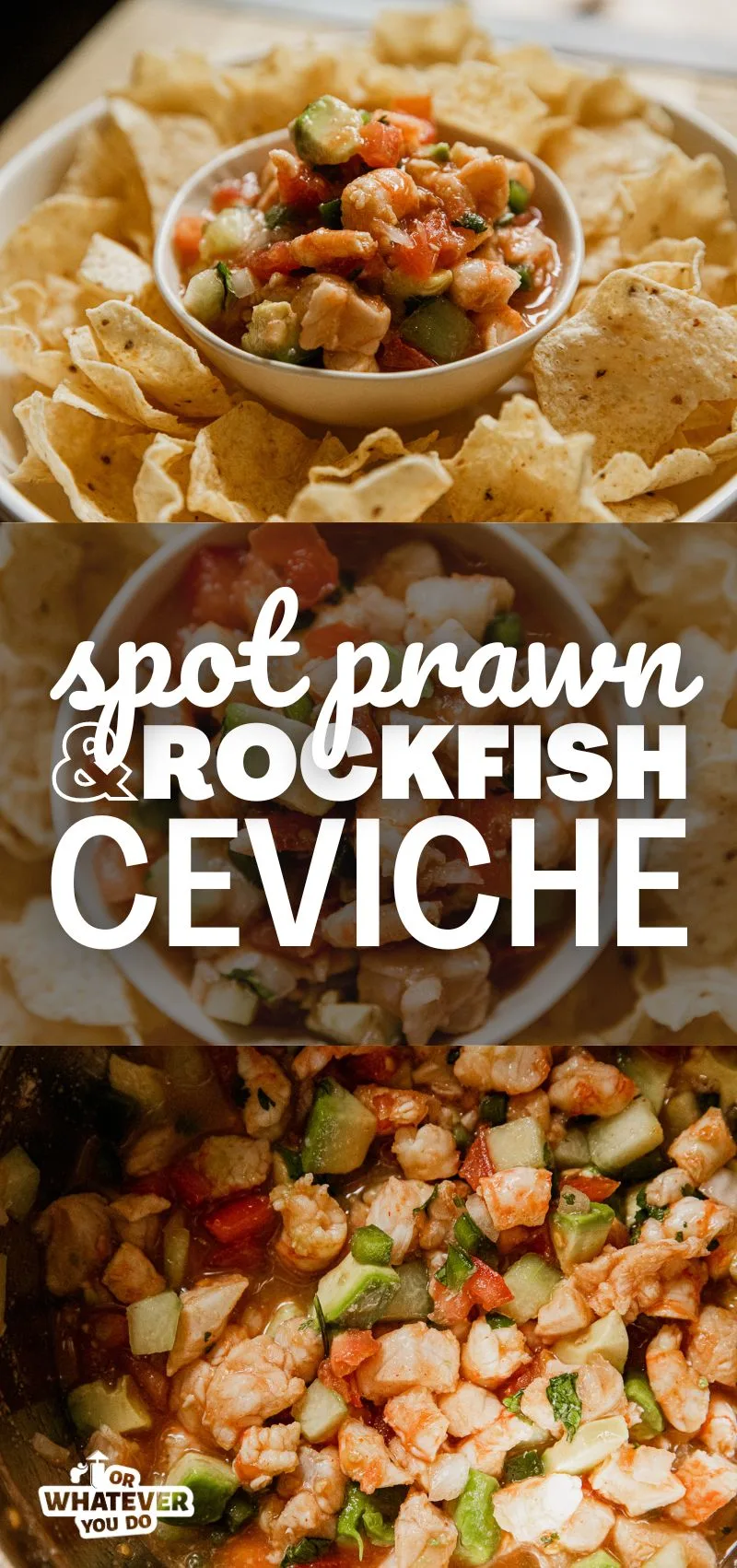 Yield: 8 servings
Rockfish and Spot Prawn Ceviche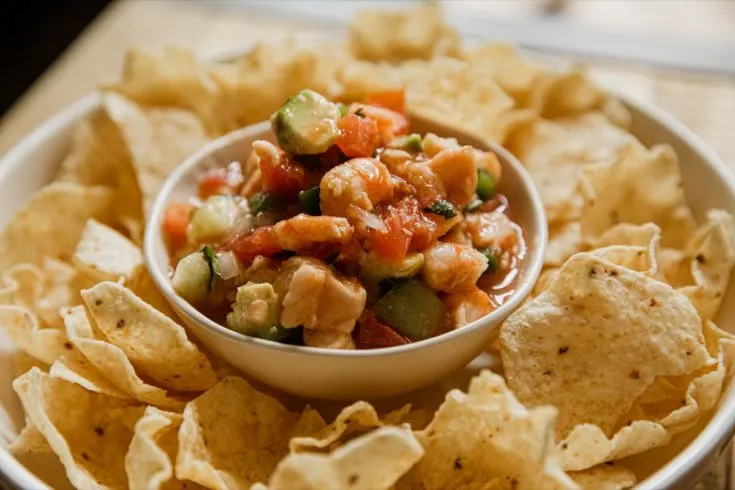 This bright and flavorful blend of spice, citrus, and fresh fish and seafood is perfect for a summer bbq and easy to make a meal of!
Ingredients
2 cups spot prawns
2 cups raw rockfish, cut 1/2" cubes
4 limes, juiced
4 medium Roma tomatoes
1 cup diced cucumber
1/2 cup diced white onion
1 1/2 teaspoons salt
1 1/2 teaspoons granulated garlic
1/2 teaspoons black pepper
2 medium jalapeños, chopped
1/8 cup chopped cilantro
1 large avocado, diced
1/4 cup tomato juice
1 tablespoon hot sauce
Instructions
Clean and peel your Spot Prawns and cook them on the stovetop in a saute pan with some butter. Don't overcook! Put them in the fridge and let them cool.
Once the prawns are cooled, cut them in half or thirds and mix together with the rest of the ingredients.
Let the mixture sit in the fridge for 20-30 minutes before serving.
Nutrition Information:
Yield:
8
Serving Size:
1
Amount Per Serving:
Calories:

183
Total Fat:

6g
Saturated Fat:

1g
Trans Fat:

0g
Unsaturated Fat:

4g
Cholesterol:

107mg
Sodium:

814mg
Carbohydrates:

10g
Fiber:

4g
Sugar:

3g
Protein:

23g
Nutrition data provided here is only an estimate.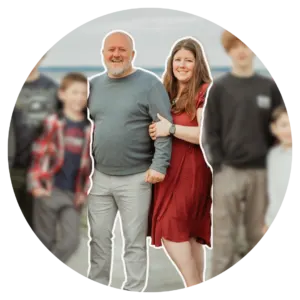 Nicole Johnson, a self-taught expert in grilling and outdoor cooking, launched Or Whatever You Do in 2010. Her blog, renowned for its comprehensive and creative outdoor cooking recipes, has garnered a vast audience of millions. Nicole's hands-on experience and passion for grilling shine through her work. Her husband, Jeremiah Johnson, also plays a pivotal role in recipe development, adding his culinary flair to the mix. Together, they form a dynamic duo, offering a rich and varied outdoor cooking experience to their followers.