My Traeger Cioppino is a fresh fish stew that's filled to the brim with fresh Washington State seafood. With a seafood broth spiked with white wine and tomato, this hearty seafood soup is as delicious as it is fresh.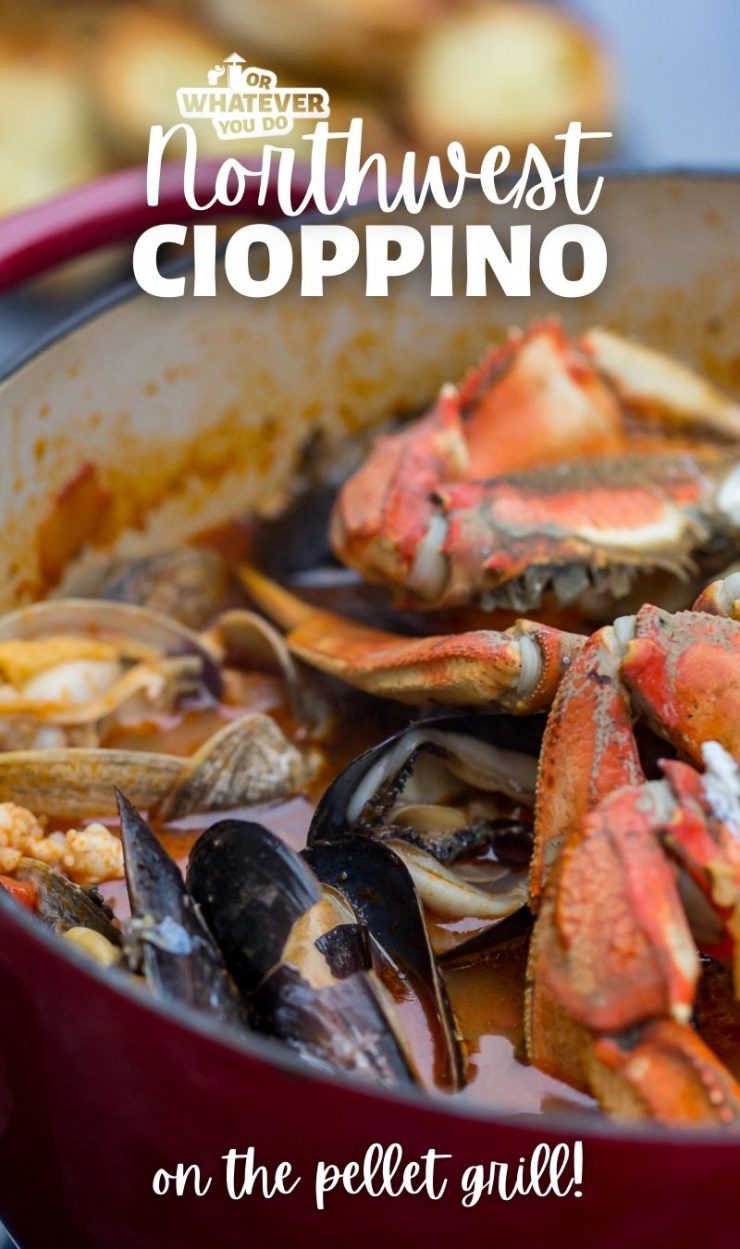 Traeger Cioppino | Pacific Northwest-style
We live in one of the best places in the world for fresh seafood, and lately we've been taking FULL advantage. It is especially fun since most of the items in this got caught by our family and dug out of local beaches, and are as fresh as fresh gets.
Cioppino is a perfect way to highlight the abundance of fresh seafood that's around. If you don't live on a coast and have access to such things, I suggest heading to your local fishmonger, or fancy grocery store with a good, fresh meat counter.
Since the seafood is the star, quality is REALLY important.
More Easy Traeger Recipes here!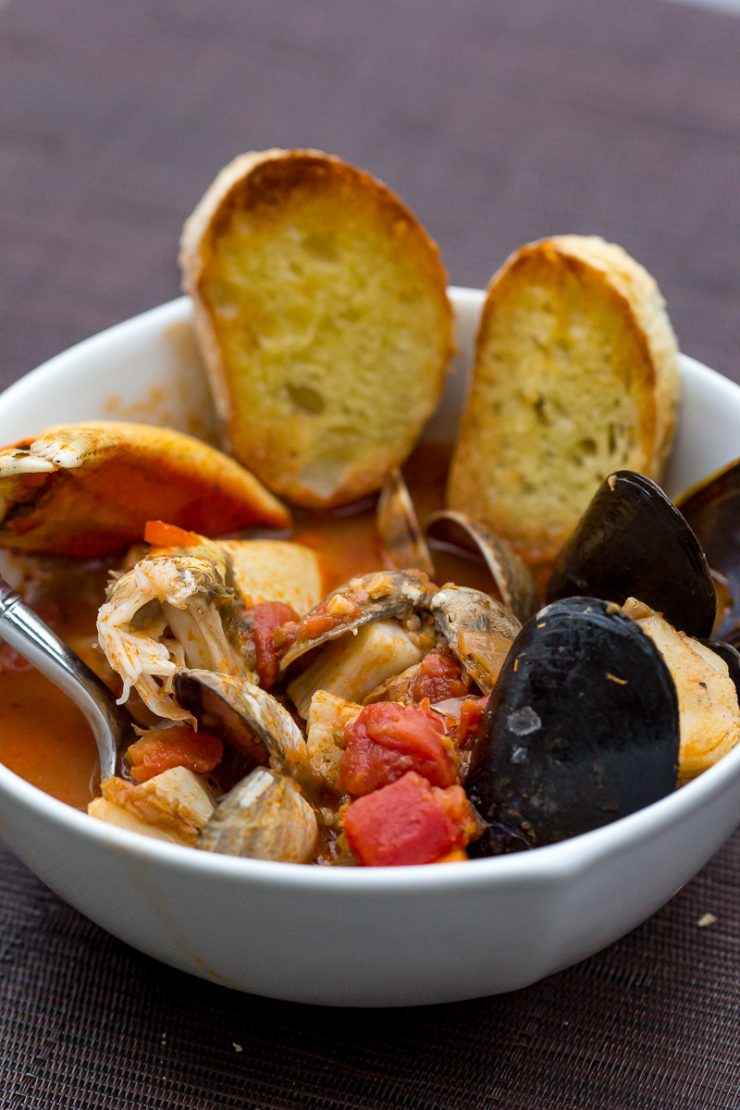 Where did Cioppino come from?
Cioppino originated in San Francisco, and is a hearty fish stew that was often served around the docks to fisherman.
It was developed by Italian immigrants back in the 1800's.
There are many similar seafood stews from around the world, however. Basically anywhere there's a coast and fresh fish to be had, there's a seafood stew to go with it.
No matter what you call it, if you love seafood you're going to LOVE this Traeger Cioppino.
Follow me on Instagram!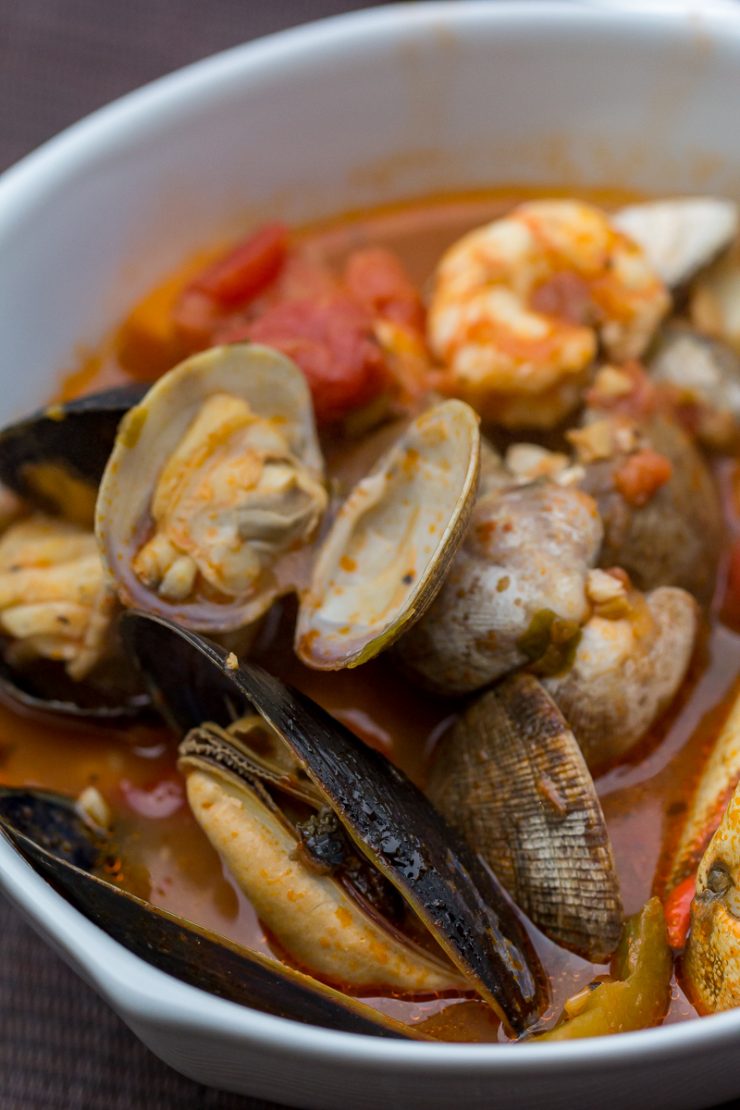 Cioppino Shopping List
Soup Base
olive oil
fennel
onion
shallots
garlic
tomato paste
diced tomatoes
dry white wine
fish stock
Herbs and spices
bay leaves
salt
red pepper flakes
oregano
fresh thyme
Fish and seafood
Dungeness crabs
steamer clams
mussels
Lingcod, Sea Bass, halibut, or Rockfish
prawns or shrimp
Join our Easy Traeger Recipes Facebook Group!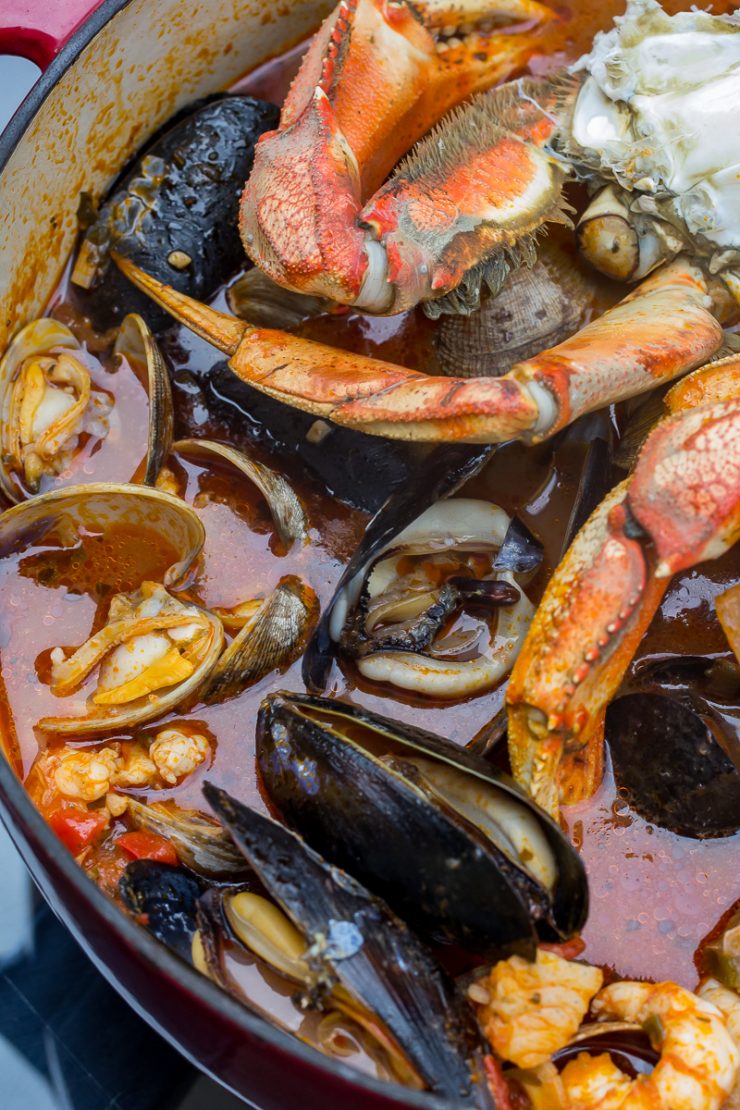 Why make Cioppino on the Traeger?
If you don't have a Traeger, you can definitely make this on the stovetop or in the oven. We cooked it on the Traeger because a little smoke + seafood is one of my favorite things. See these king crab legs, this lobster tail, all this snow crab, and the fish. Oh my gosh – the FISH.
We've done lingcod, halibut, rockfish, walleye, cobia, and salmon on our pellet grills, and something crazy happens when you cook fish over a live fire.
Have a Cocktail with dinner!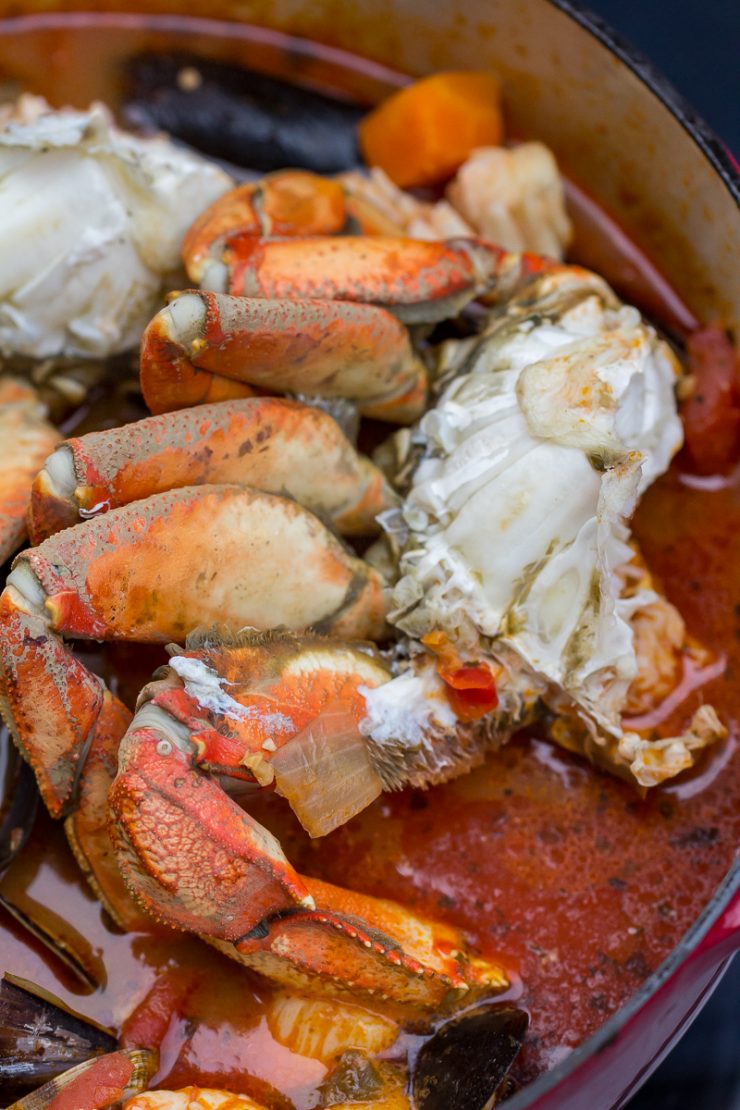 What kind of seafood is best in Traeger Cioppino?
In this batch, we used seafood that is all sourced from the Puget Sound, or the ocean off the coast of Washington State.
Northwest Cioppino Seafood List:
Lingcod – caught up near Cape Flattery by my husband or kids, or a combination of the two. Our 14 year old currently has the biggest ling in the books, I believe!
Dungeness Crab – caught in the Hood Canal, by yours truly (okay mostly Jeremiah, but I was there!)
Manilla Clams – bought at a local market, dug up the day before.
Mussels – also bought at the market with the clams. These we got the day they were harvested.
Spot Prawns – caught in the Hood Canal the day prior, by us!
Honorable mention goes to salmon and geoduck, which would also be amazing in this soup.
If you aren't in Washington State, first, I'm sorry. Washington State is awesome. You should be here. Second – just use whatever fish and seafood is local and fresh if you live on the coast. If you don't live on the coast, this dinner is going to be a lot more expensive for you and you'll likely have to search a bit for truly fresh shellfish.
Check out our OWYD shop!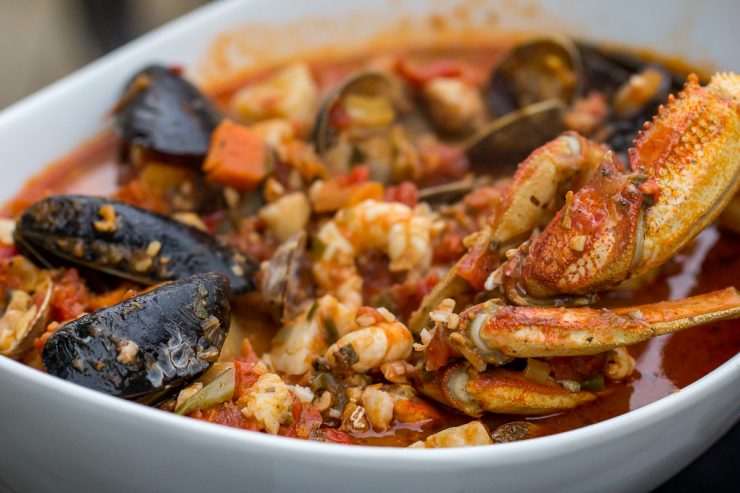 Speaking of seafood, do you have to use fresh seafood?
FRESH IS BEST. I'll keep saying that, but please. Believe me.
No cioppino is infinitely better than bad cioppino.
Low-quality seafood gives cioppino a bad rap. If you have a source for fresh fish and seafood, please use it! This is worth the splurge.
More Seafood Recipes for the Pellet Grill here!
Do you have to pre-cook the seafood for cioppino?
Nope! I like to soak the clams and mussels in saltwater overnight prior to help clean them and encourage them to spit out any sand they might have hanging around, but there's no need to precook those items before adding to the stew.
Your crab will likely already be pre-cooked unless you catch it yourself or can find a live source for live crab. If you use pre-cooked crab, add it in during the last 5 minutes of the cook time. If you use fresh uncooked crab, make sure to put it in the broth first. It needs to be boiled for 15 minutes before consuming.
Like the seafood, the fish and shrimp doesn't need to be pre-cooked either. In fact, I'd advise against it. Fish is delicate and needs to go in during the last 10 minutes of cooking in order to keep its shape.
Check out all of my Traeger Recipes!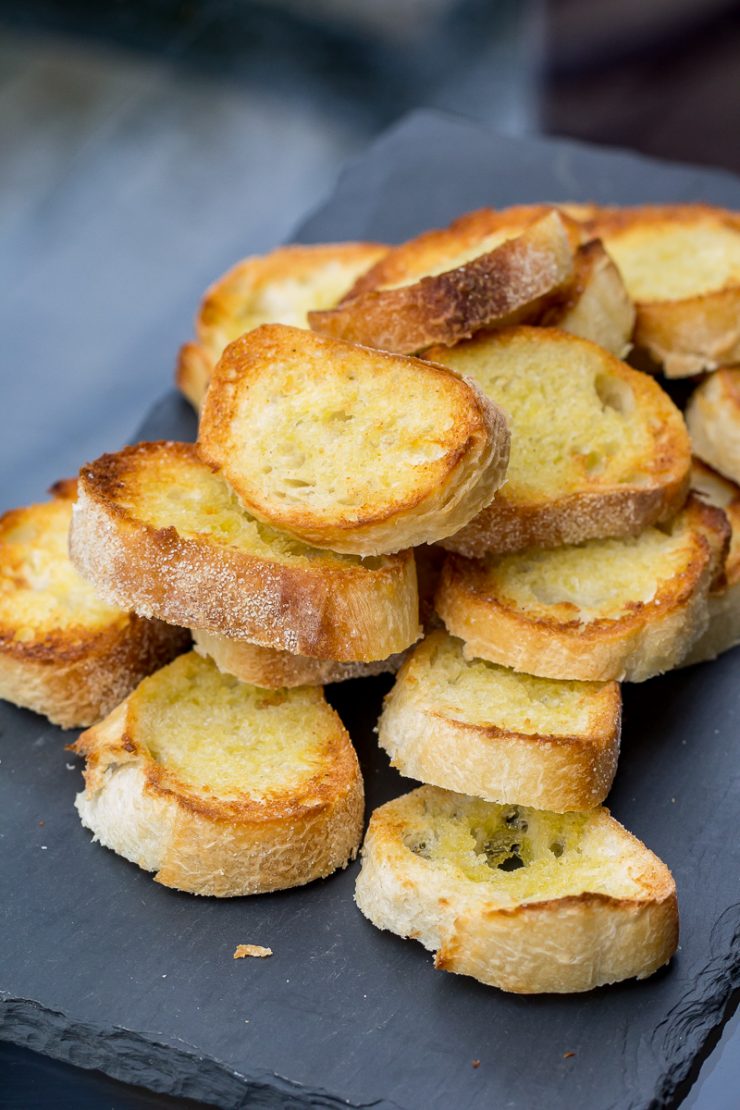 What should you serve with cioppino?
Cioppino is best served with a big loaf of crusty baguette or a loaf of sourdough. If you are in more of a biscuit mood, I could get DOWN with these homemade biscuits.
I'd also throw in a fresh caesar salad into the mix, if it were me. 😉
Do you have big eaters? A fancy grilled cheese would be pretty perfect with a fancy bowl of seafood stew.
Get my easy Side Dish recipes!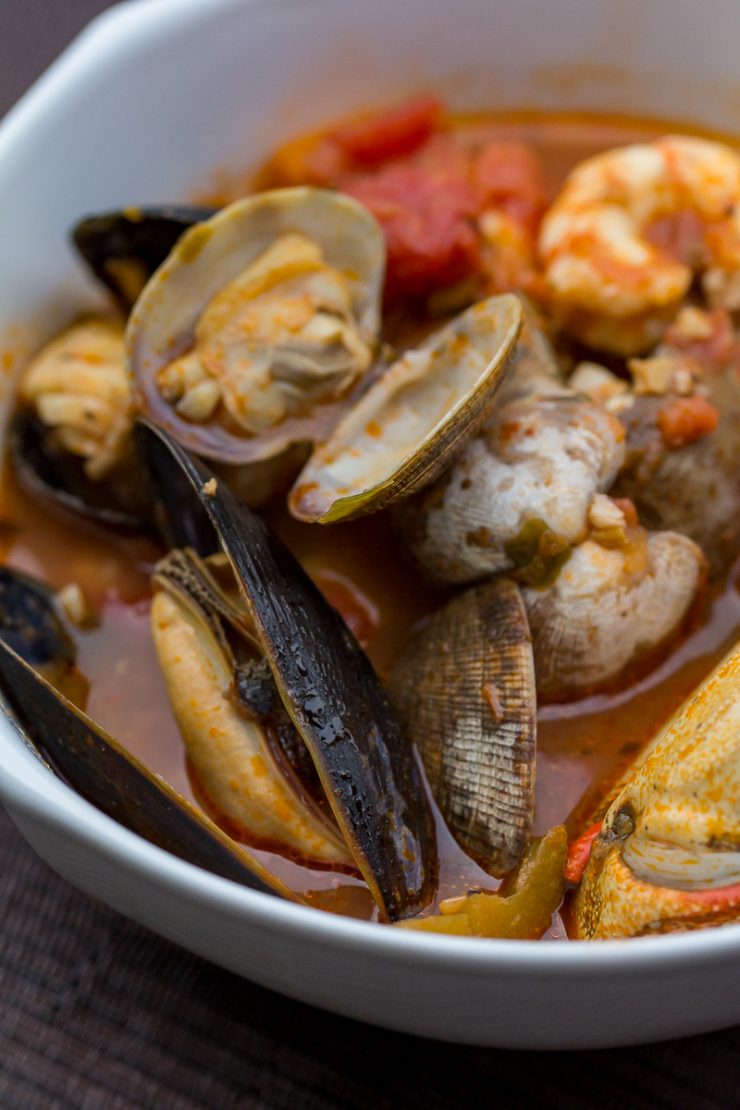 How long can you keep cioppino?
Cioppino is best served the same day it is made, but if you can't eat it all you should be able to safely eat it for 2 days following the preparation.
Can you freeze cioppino?
I would not recommend freezing cioppino with seafood in it. You could freeze the soup base, however, to make your life easier in the future when you want to make a batch but don't want to go through the brother process that minute.
If you want to do that, I'd recommend doubling the broth recipe and removing half to freeze before adding the seafood.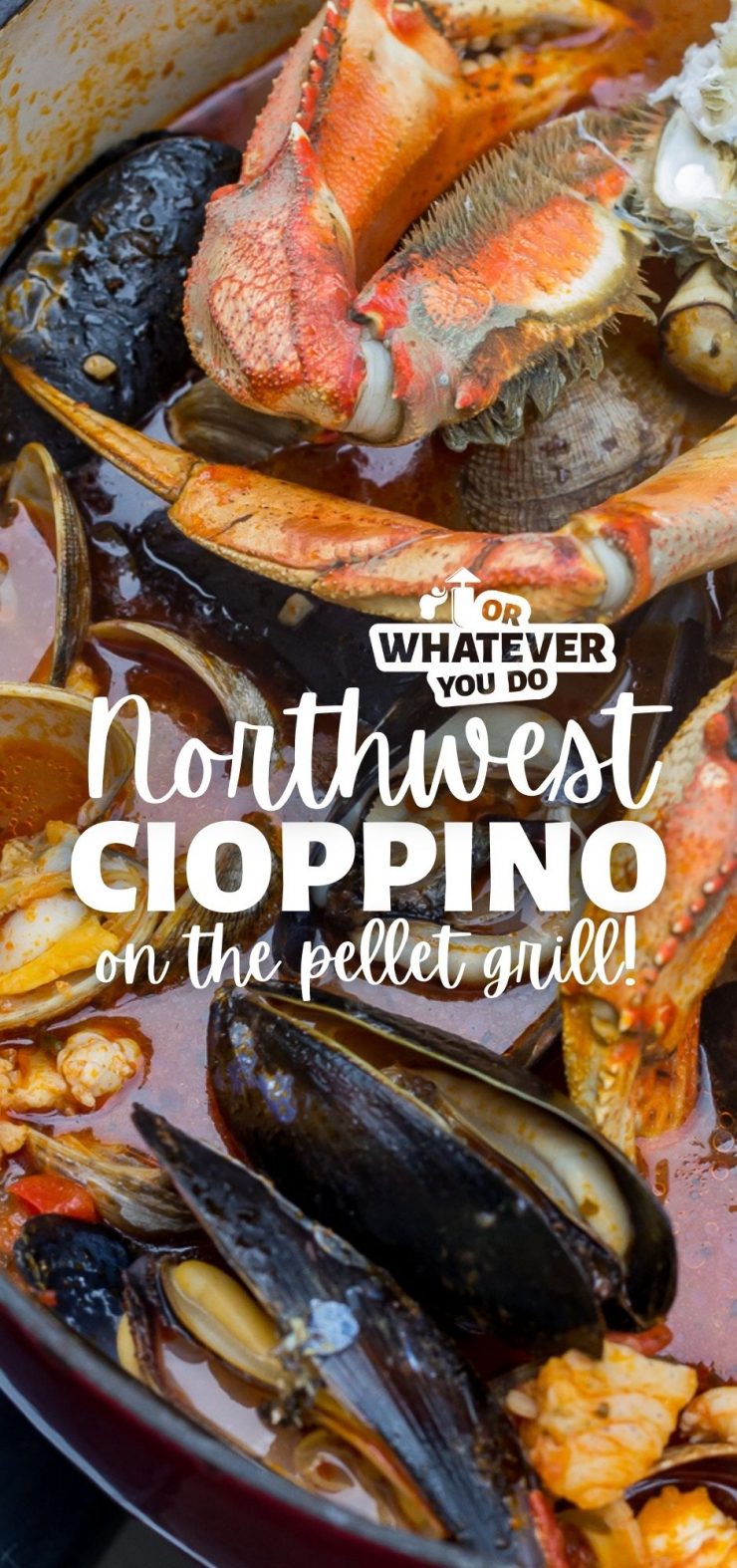 Yield: 8 servings
Traeger Pellet Grill Cioppino Recipe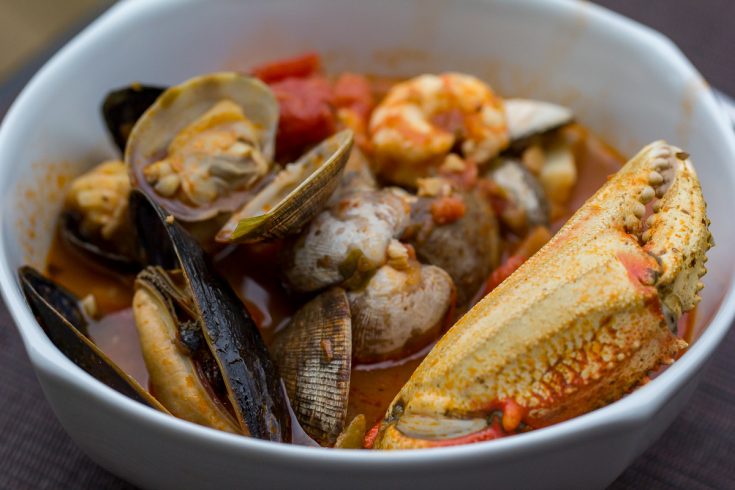 Traeger Cioppino is a hearty seafood stew that is made with fresh fish and seafood from the waters of the Puget Sound and Pacific Northwest coast! Rich and hearty with tomato and white wine, this is something you need to try at least once in your life.
Total Time
1 hour
5 minutes
Ingredients
Soup Base
1/4 cup butter
1 fennel bulb, sliced
1 large onion, diced
1 carrot, diced
4 shallots, diced
5 cloves garlic, minced
2 cups dry white wine, such as Chardonnay or Sauvignon Blanc
6 cups fish stock
1 6-ounce can tomato paste
2 15-ounce can diced tomatoes, juice included
2 bay leaf
1 tablespoon salt
1 teaspoon red pepper flakes
2 teaspoons dried oregano
3 sprigs fresh thyme
Seafood
1 pound steamer clams, washed
1 pound mussels, washed
2 pounds skinless fresh fish such as Lingcod, Sea Bass, halibut, or Rockfish, cut into 1-2" pieces
2 Dungeness crabs, cleaned, halved and steamed
1 pound spot prawns (or shrimp of your choosing)
Instructions
Preheat your Traeger to 375° according to factory instructions.
Put the butter in a large Dutch oven on your stovetop over medium heat, and place the sliced fennel bulb, diced onion, diced carrot, and shallots into the pan.
Cook for 2-3 minutes, or until the vegetables are softened. It is okay for the carrots to still be crunchy.
Add the garlic into the pan and cook for 30 seconds.
Pour in the fish stock, tomato paste, diced tomatoes (with juice), and the herbs and seasonings into the pot. Bring the mixture up to a simmer.
Carefully transfer the Dutch oven to the grill, and let the broth get up to a simmer again in the grill. Let it simmer for about 15 minutes. A wireless thermometer clipped to the side of the pan is a good way to monitor this. Simmering temp is between 180-211°. If you don't have one handy though, just check every 5 minutes with a quick check.
NOTE: If you are using FRESH uncooked Dungeness, place the crab into the pot during this initial simmer. Very important! If you use cooked Dungeness, disregard and toss it in the pot in step 8.
Once the soup has simmered for 15 minutes, add in all the seafood.
Let the mixture come back up to a simmer, and cook for about 10 minutes at that temperature. You want the fish to be firm, the clams and mussels to be opened, and the crab to be hot.
Recommended Products
As an Amazon Associate and member of other affiliate programs, I earn from qualifying purchases.
Nutrition Information:
Yield:
8
Serving Size:
1
Amount Per Serving:
Calories:

713
Total Fat:

17g
Saturated Fat:

6g
Trans Fat:

0g
Unsaturated Fat:

7g
Cholesterol:

315mg
Sodium:

2922mg
Carbohydrates:

30g
Fiber:

5g
Sugar:

13g
Protein:

93g
Nutrition data provided here is only an estimate.