Fresh Pacific Northwest Lingcod meets my very favorite lemon pepper seasoning and then gets topped with butter and cooked over a live wood fire on our pellet grill for this Traeger Grilled Lemon Pepper Lingcod recipe! This is such an easy dinner to throw on the table, and if you don't have access to lingcod, any firm whitefish will work!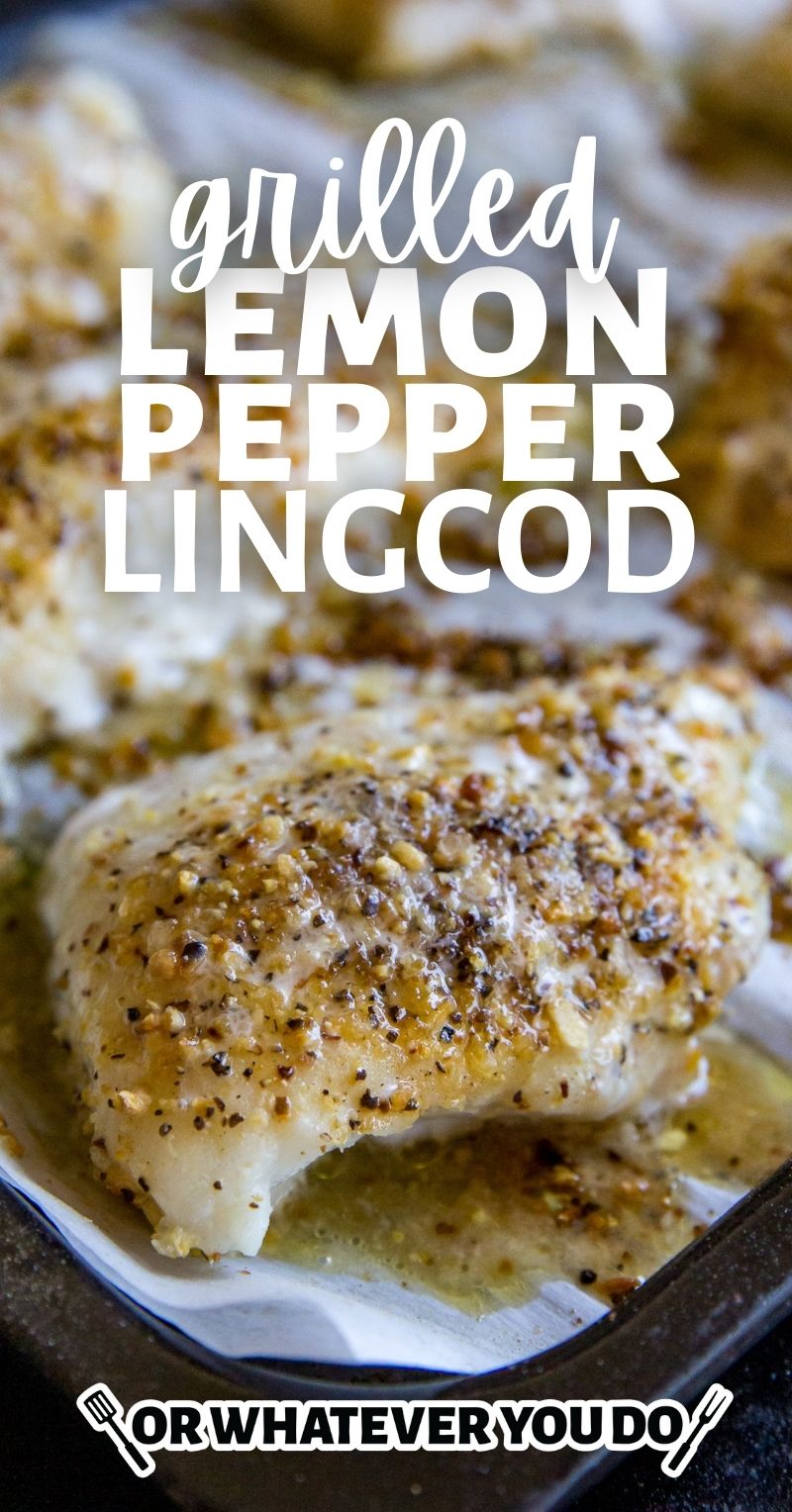 Traeger Grilled Lemon Pepper Lingcod
Lingcod is one of our favorite fish. It is light, fresh, flaky, and is an easy win in the kitchen or on the grill. It isn't the most common fish to find in a grocery store though, so if you aren't familiar with this PNW favorite, no worries! You can sub in any firm whitefish instead, like halibut, cod, flounder, or sea bass.
Get all of my Easy Traeger Recipes here!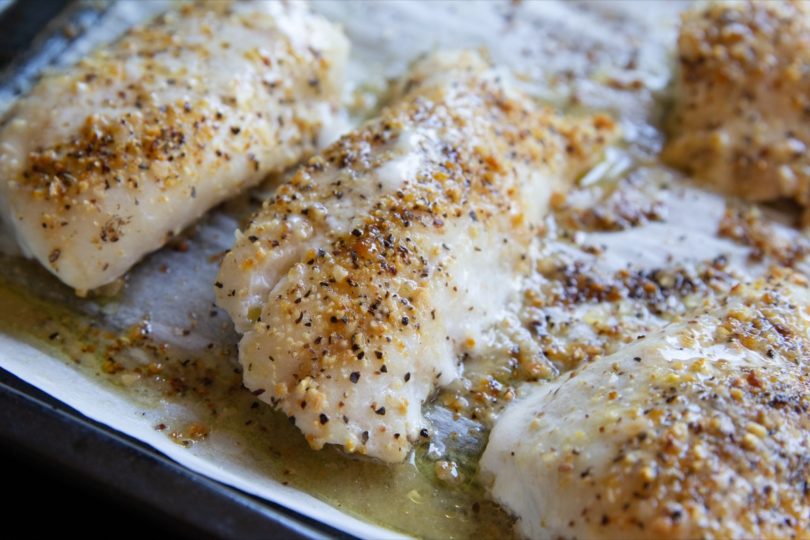 What is lingcod?
Lingcod is a whitefish that is found along the Pacific Coast of the United States and Canada and is most abundant around Washington State and British Columbia. Which is great news for us since we live on the Olympic Peninsula and fish the coast and the straight as much as we can.
Funny enough, it isn't even COD at all.
Lingcod is unique in that sometimes you'll pull one up that is BLUE. Like, weirdly bright blue. It is strange! You can see the blue a bit in the one on the left in the photo above. It is even blue when you filet them, too! The final result doesn't hold that coloring though, so you have to enjoy it (visually) while it is fresh and raw.
Get all of my FISH recipes!
Can you order lingcod online?
Yes! CrowdCow has Pacific Lingcod available seasonally. Pick some up and try this versatile fish soon! I recently got a CrowdCow box to sample and was super impressed with the quality of the steak, chicken breasts, and fish that were sent my way.
We order a LOT of meat in the mail, which sounds weird, but is actually some of the highest quality meat that I've ever had access to. There are a lot of options out there nowadays, and CrowdCow is one of my favorites!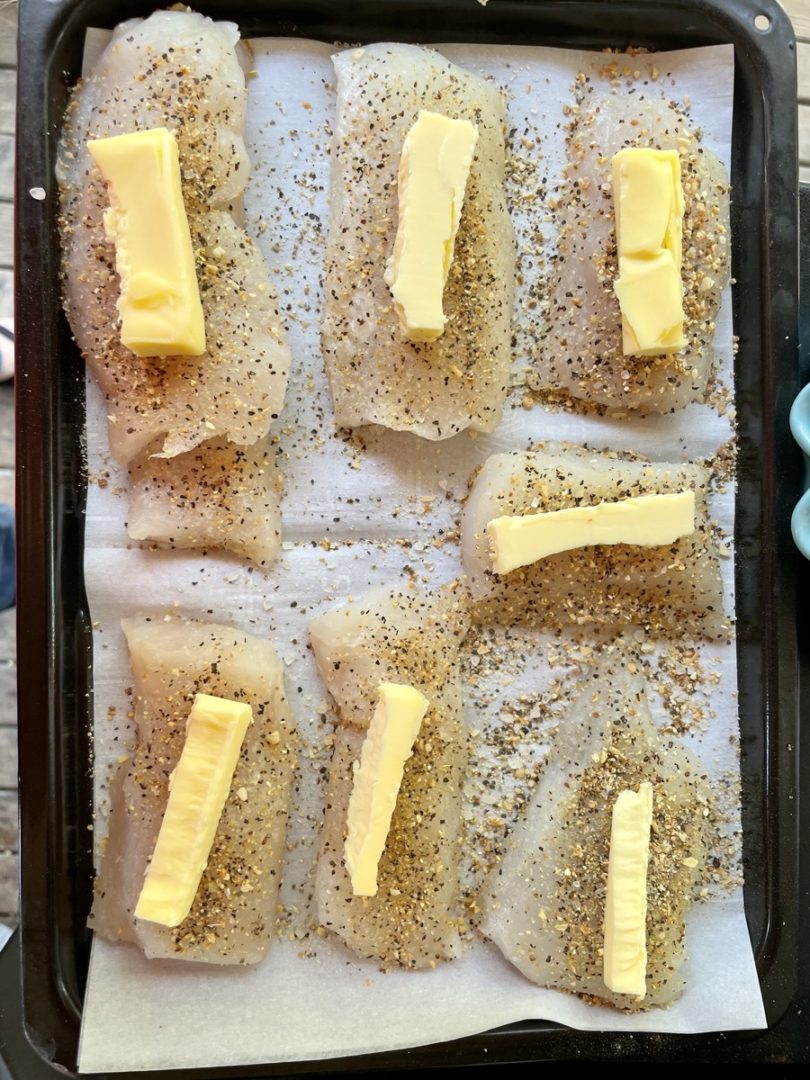 Lemon Pepper Lingcod shopping list
Wondering if you have to hit the store? Here's the list of items you'll need to make this recipe. For specific amounts, please refer to the printable recipe card at the bottom of the post.
Follow me on Instagram!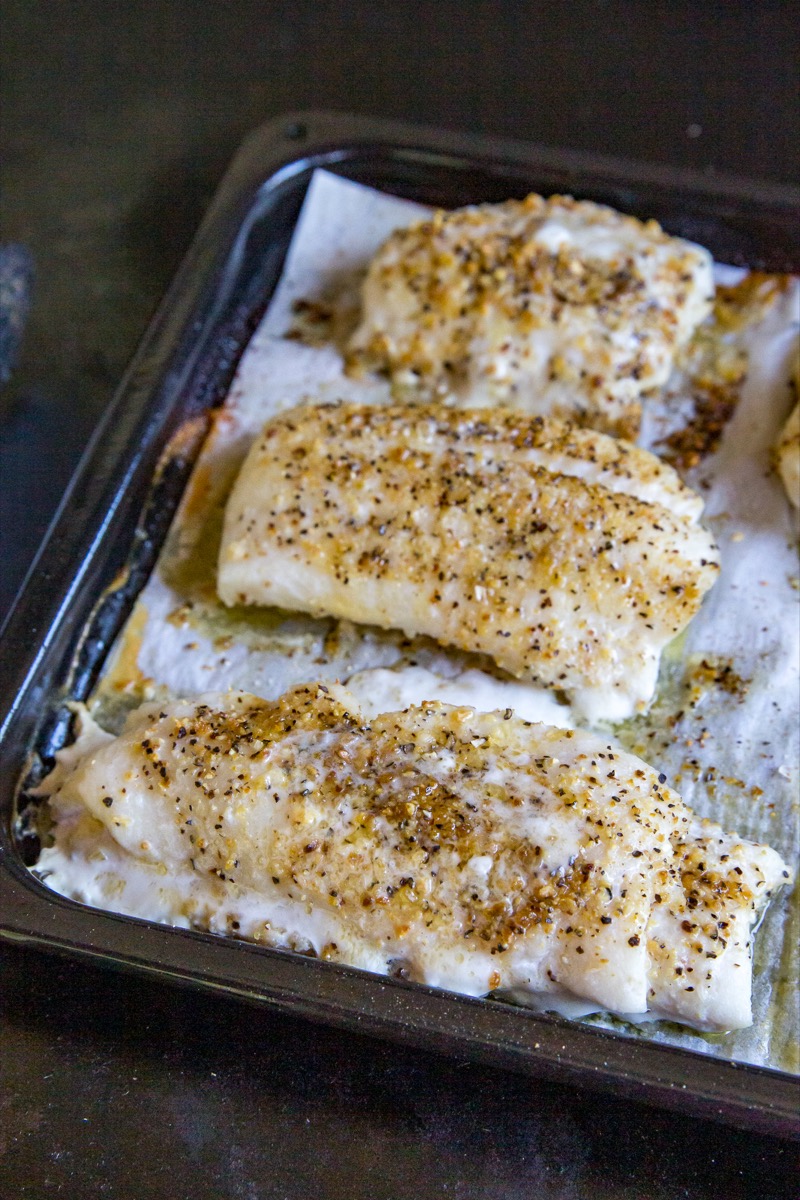 How to make easy grilled lingcod
This is just the overview so you can see what you're actually getting into here. When you are cooking, you'll want to use the full recipe at the bottom of the page.
Preheat your grill
375° is the ideal temp here, but anything within 25 degrees or so will be fine. Don't sweat the swings.
Season your fish
Be generous and get that lemon pepper going. Don't forget the flaky salt and butter on top!
Grill it
It only took me about 8 minutes, but your mileage may vary depending on the thickness of your fish, the outside temperature, and your particular grill. It is cooked when the inside is opaque and the fish flakes easily.
Serve
We like to serve ours with a squeeze of lemon on the side, and one of our easy side dish recipes! Look for some specific suggestions below!
Recommended Sides
Citrus Pucker Pepper
One of the best finds of 2020 for us was definitely Zach and The Spice Guy team! Not only did they collaborate with us to bring you the popular OWYD Everything Rub, but we have found some of our go-to spices and rubs from that shop.
They provide high-quality spices and expert blends, and all at very reasonable prices.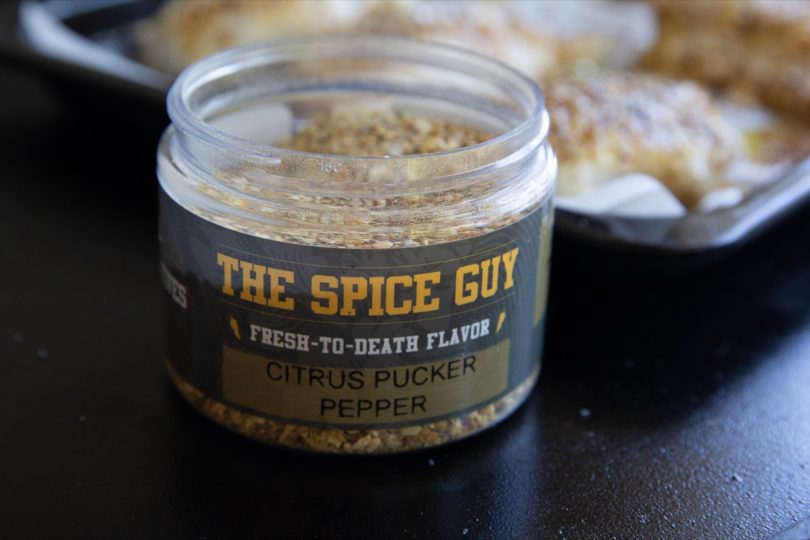 OWYD Favorites from The Spice Guy
Join our Easy Traeger Recipes Facebook Group!
Lemon Pepper Whitefish FAQ
What's the best way to store leftovers?
I never recommend having leftovers when it comes to cooked fish. If you DO happen to wind up with some, it'll keep covered in the fridge for a couple of days.
How should you reheat leftovers for the best results?
Leftover fish gets a bad rap, and for a good reason. It usually isn't really worth it, in the end. If you want to give it a shot, your best chance of success will be if you utilize a hot water bath or sous vide setup to bring your fish back up to temp.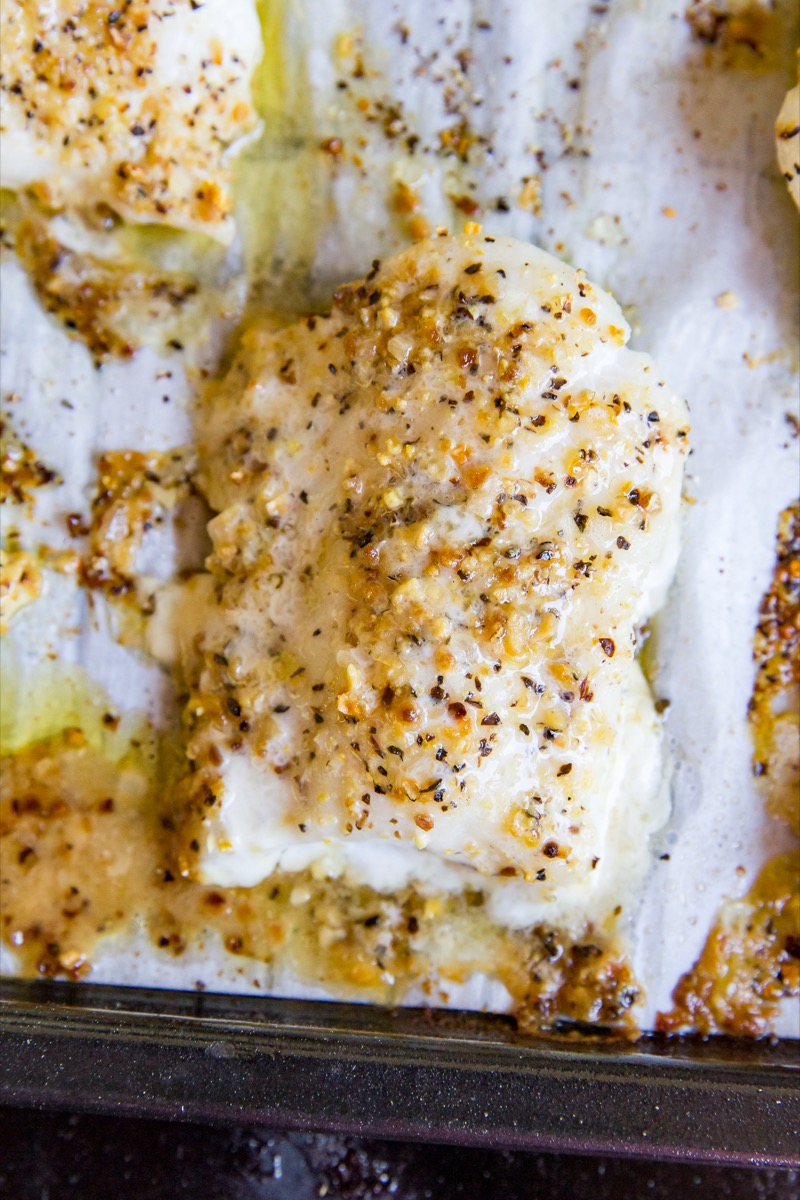 More recipes to love!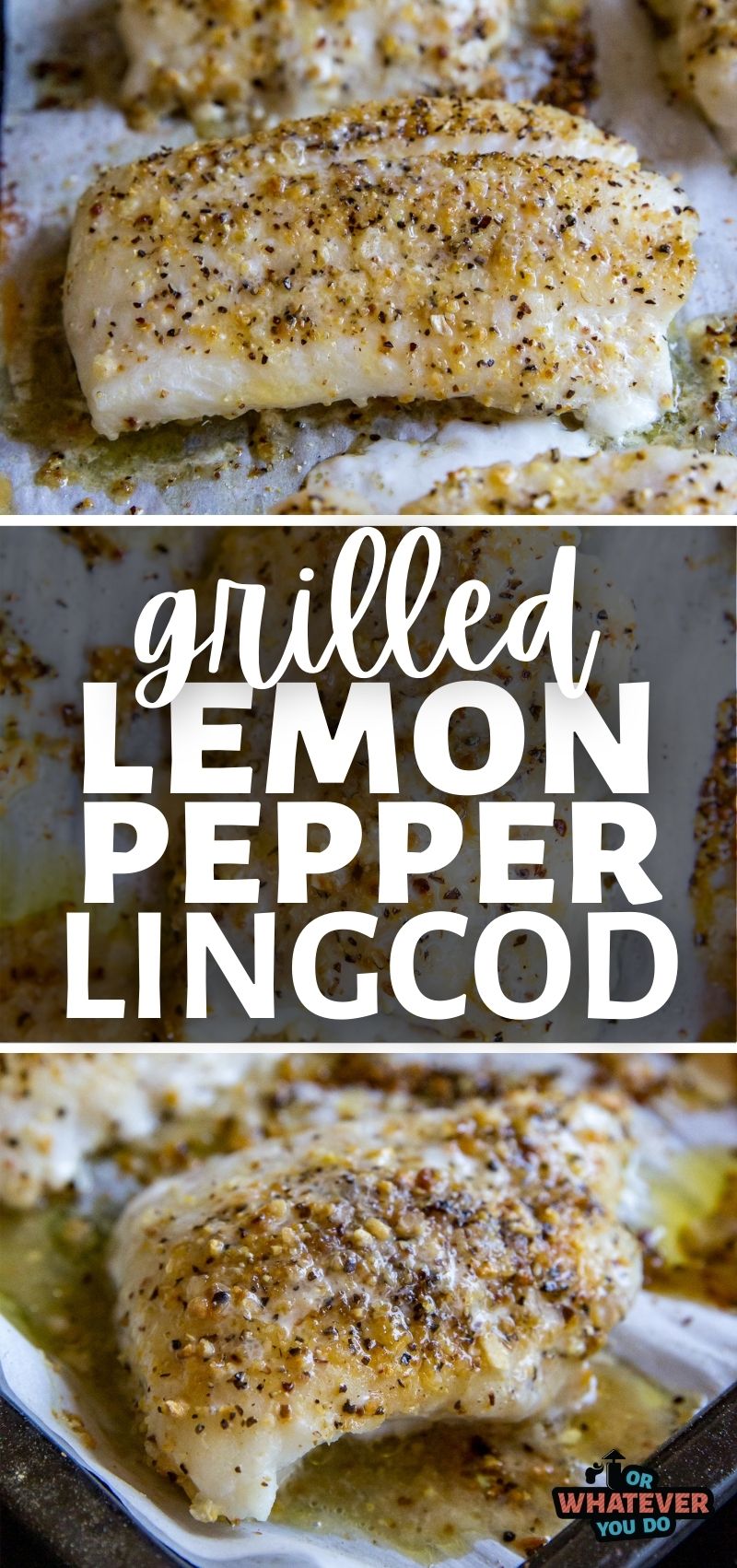 Yield: 8 servings
Grilled Lemon Pepper Lingcod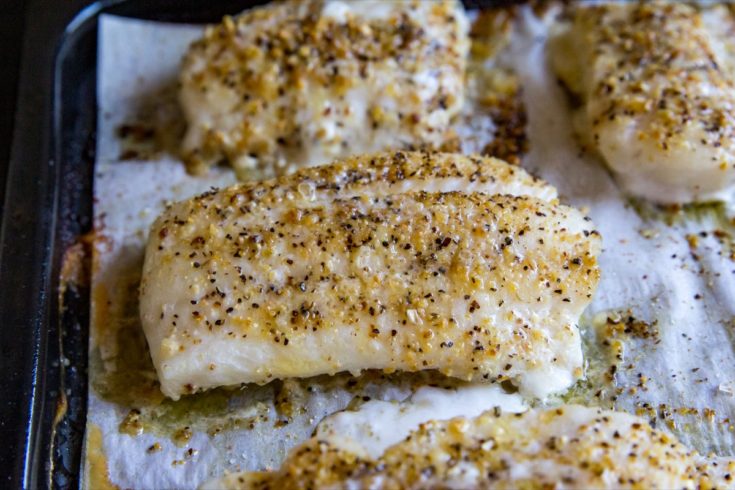 Fresh lingcod is seasoned with a lemon pepper blend, some flaky salt, and the wood fire flavor from our pellet grill. Simple and delicious!
Ingredients
8 lingcod filets
3 tablespoons Citrus Pucker Pepper from The Spice Guy (link below)
8 teaspoons butter
Instructions
Preheat your pellet grill to 375° according to factory instructions.
Pat your fish dry with paper towels, and place onto a grill mat or parchment-lined baking sheet.
Liberally season with the lemon-pepper and flaky salt. Top with butter pats.
Place the fish in the grill and cook for 8-10 minutes, depending on the thickness of your filets. The center of the fish should be opaque and the fish should flake easily with a fork.
Remove, and serve with a wedge of lemon for squeezing.
Notes
If you don't have the Citrus Pucker Pepper, GET some. This is the best lemon pepper I've ever tried, and I've tried a ton. If you have a favorite already in your cupboard, feel free to use that. 😉 I won't be mad at ya.
Recommended Products
As an Amazon Associate and member of other affiliate programs, I earn from qualifying purchases.
Nutrition Information:
Yield:
8
Serving Size:
1
Amount Per Serving:
Calories:

267
Total Fat:

18g
Saturated Fat:

8g
Trans Fat:

0g
Unsaturated Fat:

8g
Cholesterol:

93mg
Sodium:

209mg
Carbohydrates:

1g
Fiber:

1g
Sugar:

0g
Protein:

23g
Nutrition data provided here is only an estimate.