Our Cajun Chicken Pasta Recipe is perfect for a quick and easy dinner recipe that's going to have everyone clamoring for seconds! We made a big batch and all the teenagers at it for the next several days, happily, for easy lunches and snacks. Plus, it is so easy, anyone can make it!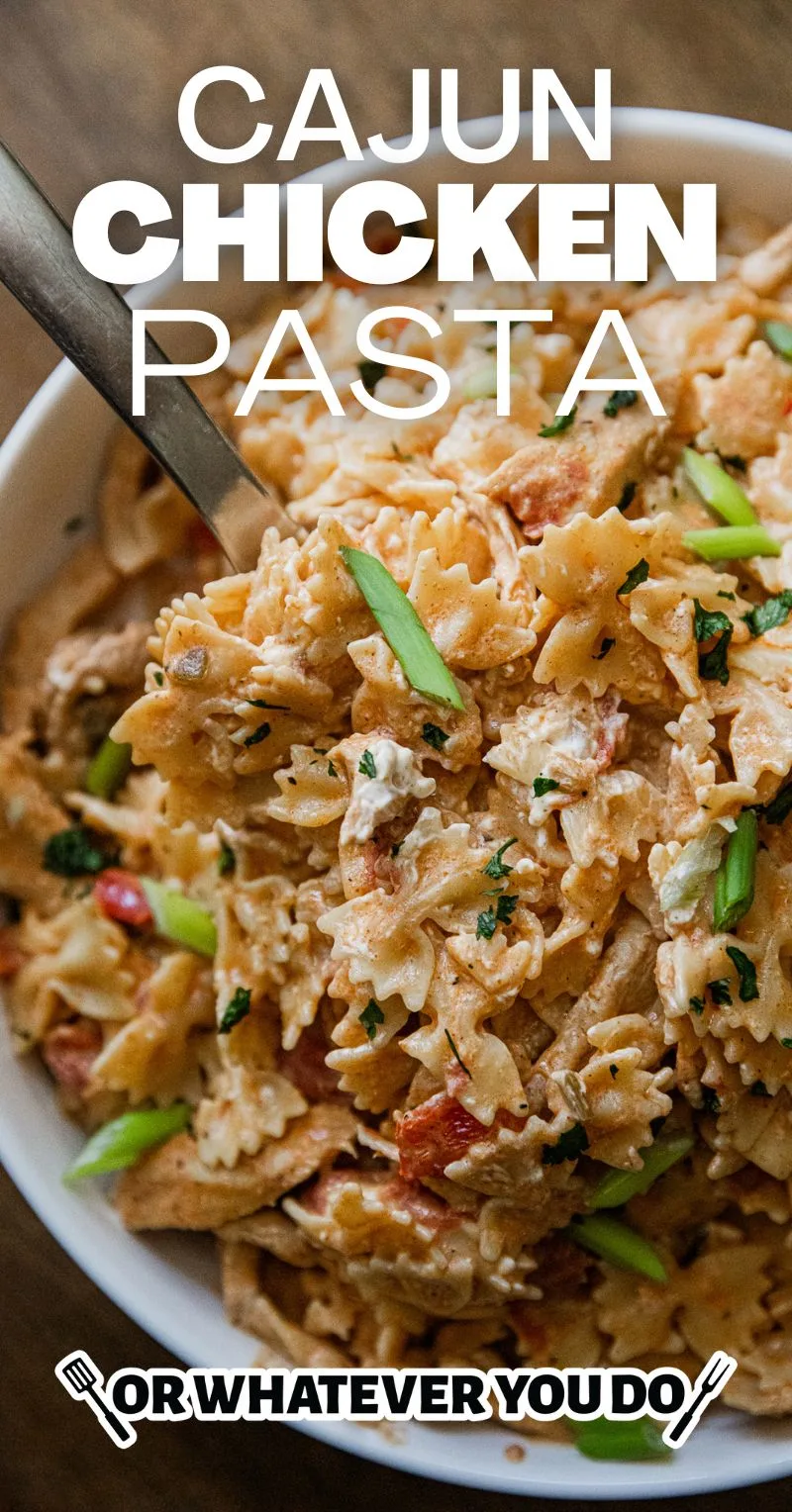 Cajun Chicken Pasta Recipe
Easy Pasta Recipes are one of my very favorite things to make for dinner. The whole family enjoys them, they are budget-friendly and make great leftovers or quick lunches, and they are simple! All of my older kids can make a couple of different pasta dishes on their own, and that's intentional. We're busy, and I want them to be able to fend for themselves and actually cook something that doesn't involve popping something frozen in the air fryer or toaster oven.
This easy Cajun Chicken Pasta uses chicken breasts, lots of spicy Cajun seasoning, and fresh onion and bell pepper. The shape of the pasta you use can be swapped out, but I really like bow ties. They collect the sauce really well in all the nooks and crannies, AND it holds up well to reheating too.
Get all of my Traeger Recipes here!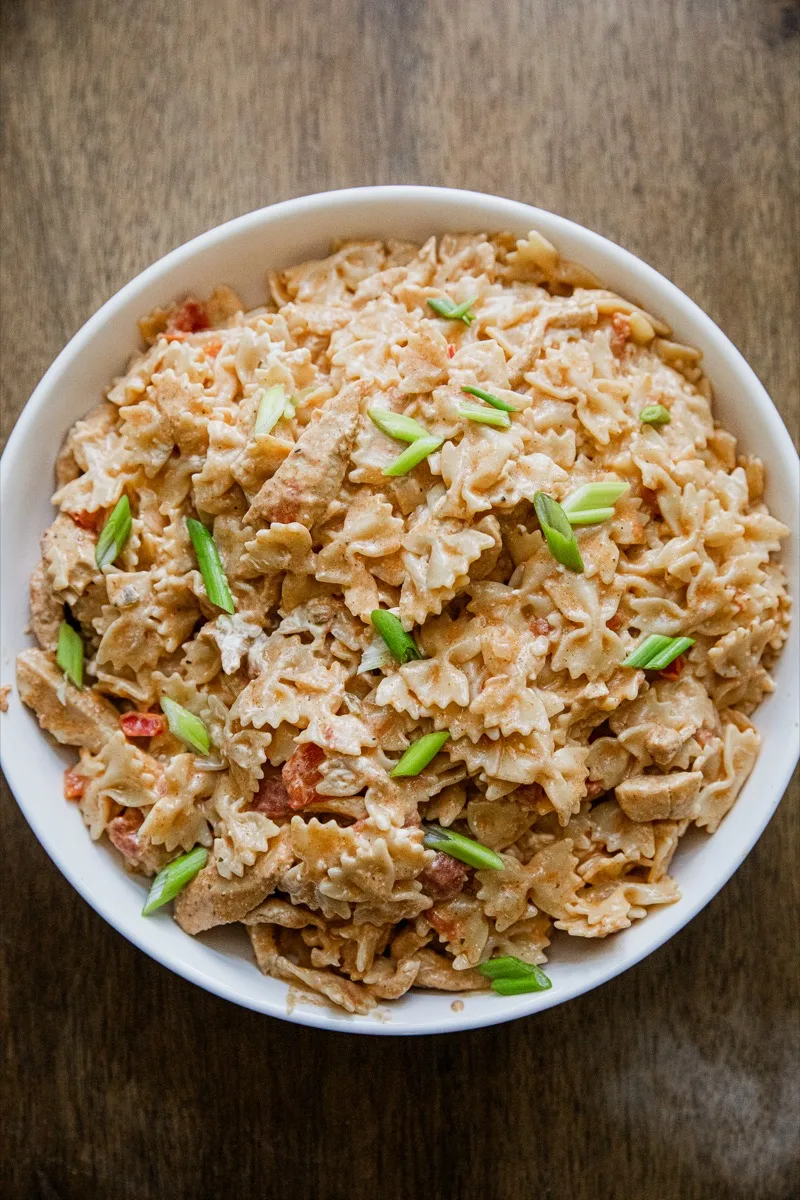 Cajun Chicken Pasta shopping list
Wondering if you have to hit the store? Here's the list of items you'll need to make this recipe. For specific amounts, please refer to the printable recipe card at the bottom of the post.
Pasta
Olive oil
Onion
Red bell pepper, diced
Chicken breast
Andouille sausage
Cajun seasoning
Stewed tomatoes with celery, bell pepper, and onion
Chicken broth
Cream cheese
Get 75+ of my favorite Traeger Recipes here!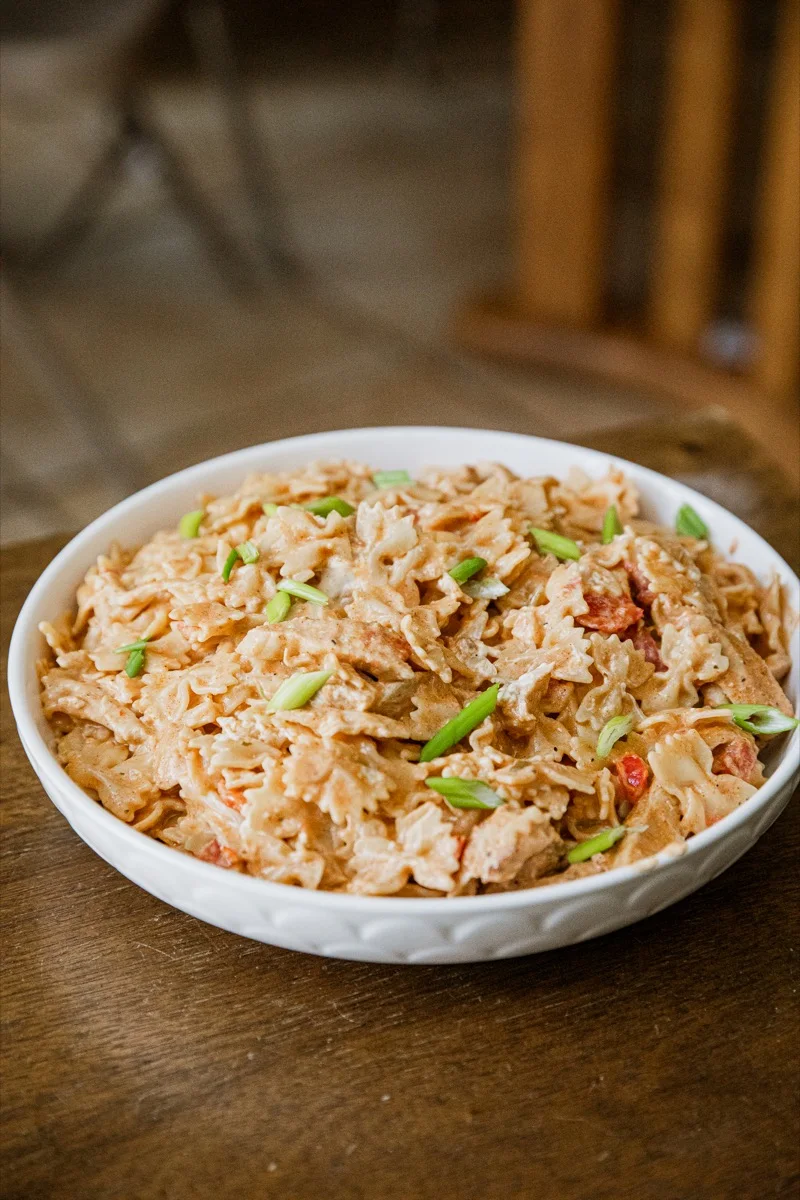 How to make Cajun Chicken Pasta
This is just the overview so you can see what you're actually getting into here. When you are cooking, you'll want to use the full recipe at the bottom of the page.
Boil the noodles
In a pot of well-salted water, par-cook (halfway) your noodles. Drain well and set aside.
Sauce time
Saute the vegetables and sausage. Add the seasoned chicken and brown on both sides. Add the tomatoes and chicken broth and let it all simmer until the chicken is fully cooked.
Mix & Simmer
Add the half-cooked pasta to the pan and cover. The liquid should almost cover the pasta when you gently press it down into the pan. If it doesn't, add a little more chicken broth. Simmer until the noodles are al dente.
Cheese time
Remove the pasta from the heat. Stir in the softened cream cheese until it is fully incorporated into the sauce.
Enjoy
Garnish with some chopped green onions (if you want), and dig in! Great served with Garlic Fry Bread!
Try our Cajun Spot Prawns too!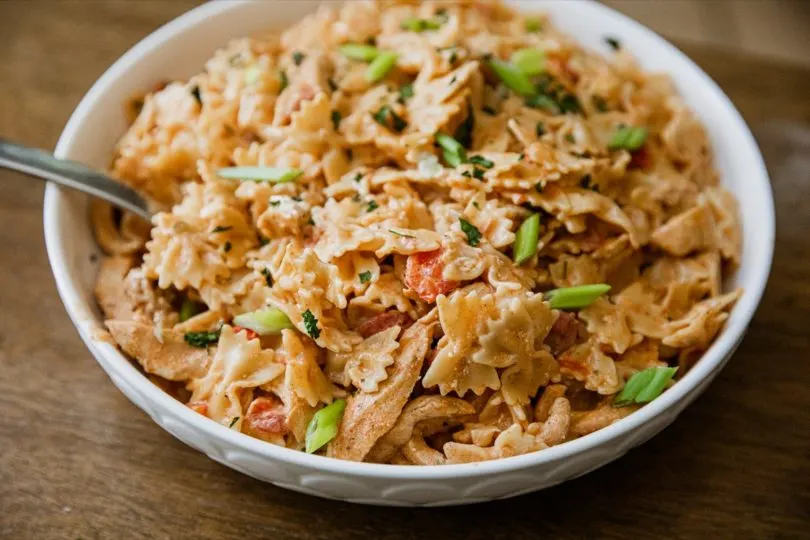 Cajun Chicken Pasta FAQ
Can this be adapted for the Traeger?
YES! You know we LOVE cooking outdoors, especially on our pellet grills. If you want to adapt this for the Traeger, use the following adaptations:
Preheat the Traeger to 375°F with a grill-safe saute pan inside.
Add the oil and vegetables to the pan and the seasoned chicken to the grill grates directly. Let the vegetables brown and saute, stirring occasionally, and flip the chicken so that both sides get browned.
Once the chicken has some grill marks, add it to the pan with the vegetables along with the broth and tomatoes.
Let everything simmer, just like you would on the stove, but on the pellet grill instead.
Follow the rest of the recipe instructions as written in the recipe card.
Can this be made ahead of time?
Sure! Just make sure you use a pasta shape that holds up well to a cook and reheat. I love the bow ties pictured here. They resist getting mushy better than other types, from what I've seen.
What's the best way to store and reheat this pasta?
Store this pasta in an airtight container in the fridge for 2-3 days max. Reheat in the microwave, or in a pan on the stove. You will want to mix in a little milk or cream while reheating to help the sauce along.
Are there any suggested additions or substitutions?
Yes! One change-up that I like to do is to use Smoked Cream Cheese instead of just regular cream cheese. It adds some additional notes to the dish that you can't get on the stovetop alone. You can also mix in some red pepper flakes and a couple of pinches of gumbo file for a little kick.
You can also add more bell peppers and some celery to the dish at the beginning while you are sauteeing the vegetables and sausage if you like that kind of thing. This will bring some of the flavors of Gumbo and Jambalaya into the dish, which is never going to be a bad idea!
Serve with a Homamde Caesar Salad!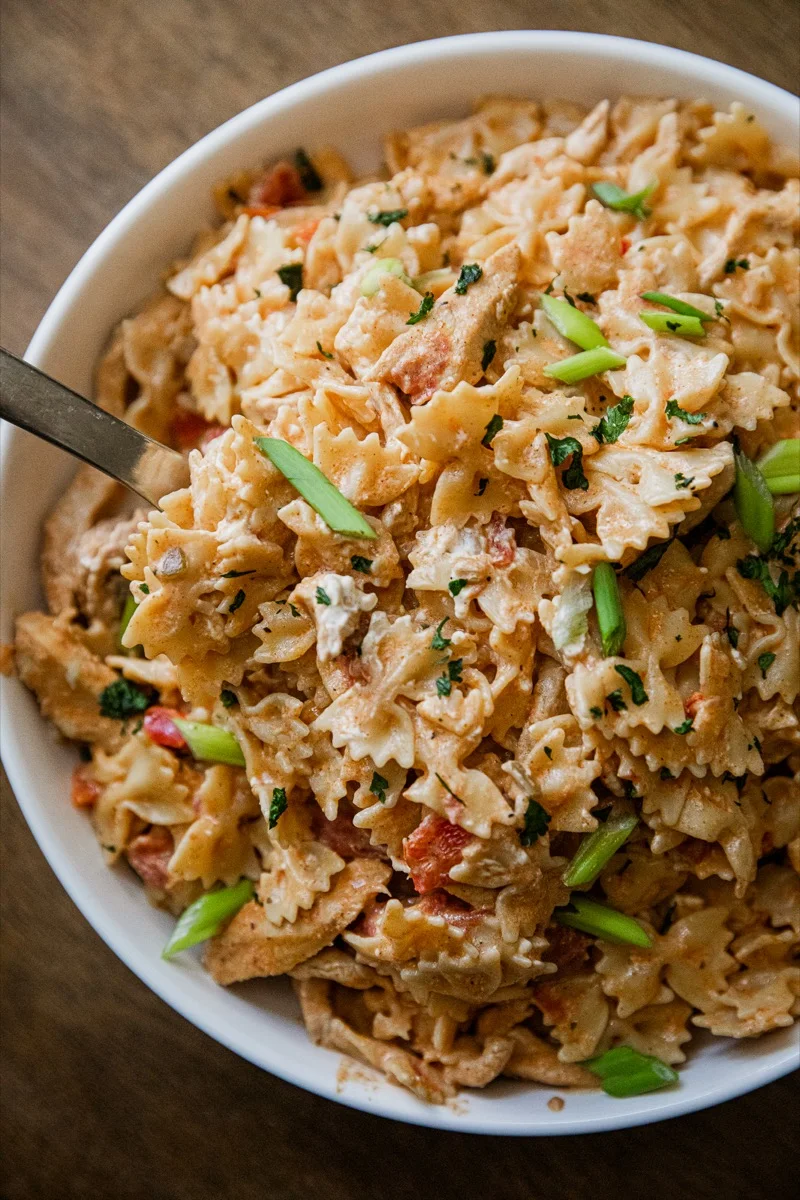 More great pasta recipes to love!
My newest obsession, Miso Brown Butter Udon, is on the table in under 30 minutes and is so customizable. You're going to love it!
My kids are obsessed with our Traeger Pizza Pasta Hotdish. All the pizza flavors you love, including the pepperoni, and so much cheese that you'll wonder if there's any left on the shelves.
Traeger Cheesy Italian Shells is a one-pot wonder that is a take on the classic Hamburger Helper flavor of the same name.
Our Traeger Smoked Cream Cheese Pasta recipe is another super simple recipe that comes together in a flash and tastes amazing! Taking the Smoked Cream Cheese trend to a whole new level!
This is my go-to Spaghetti and Meat Sauce recipe, and it hits our table a few times a month at least. Homemade, with big flavors, and is a major crowd-pleaser!
If you're looking for a hearty and delicious soup to warm you up, try our Smoked Lemon Chicken Orzo Soup! We do a homemade Greek Chicken Marinade, make our own broth, and then brighten it up with lemon juice. It is delicious!
There's nothing easier to put together than this Traeger Boursin Pasta recipe! Fresh vegetables, your favorite Boursin cheese, and a little wood-fired flavor from your pellet grill!
A Creamy Shrimp Alfredo Recipe is made right at home and tastes just as good as anything you can find at a restaurant. Serve with some of our Trager Grilled Garlic Bread!
Shrimp Marinara is the perfect easy dinner recipe, and it comes together in a flash!
We love this Buffalo Chicken Mac and Cheese recipe! It is always a hit with the family, and I think yours will love it too!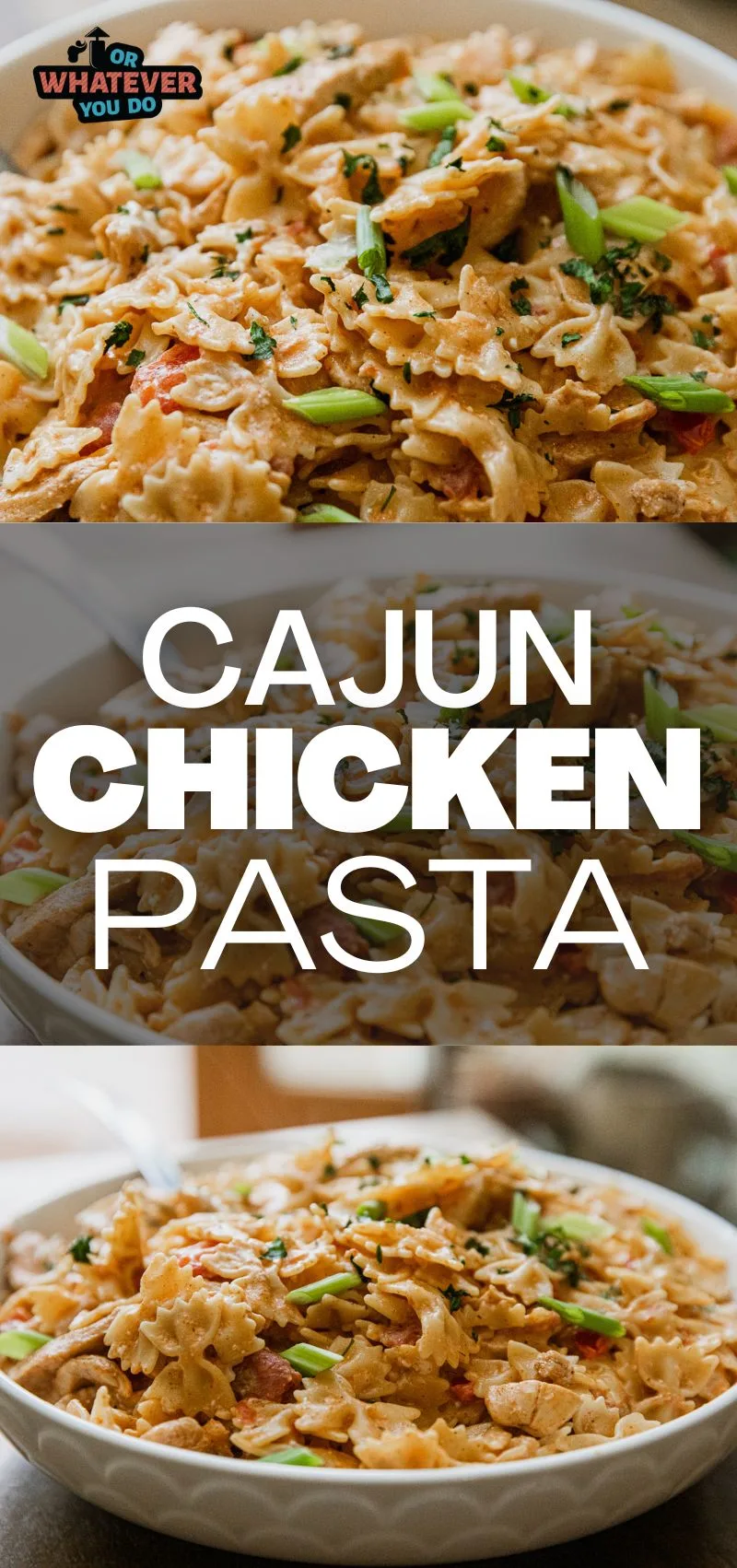 Yield: 8 servings
Cajun Chicken Pasta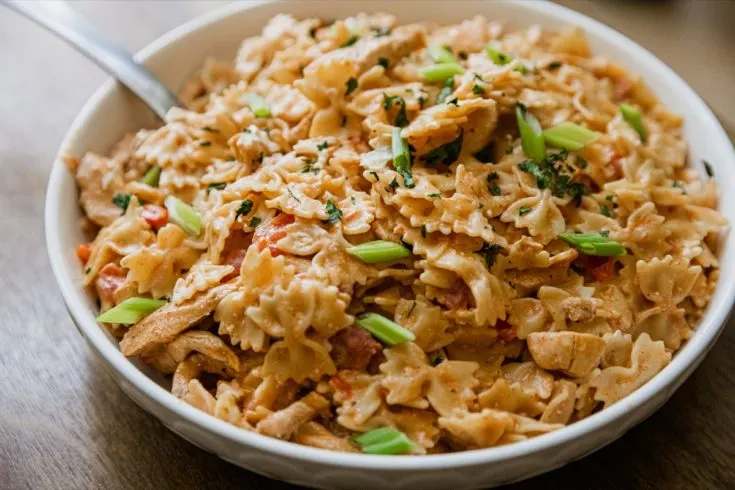 This creamy delicious Cajun chicken pasta recipe is easy to throw together and packed full of flavors! Makes great leftovers too, so save some for lunch!
Ingredients
1 pound pasta
3 tablespoons olive oil
1/2 cup diced onion
1 red bell pepper, diced
1 pound chicken breast, stir fry cut
1 andouille sausage link, sliced
3 tablespoons Cajun seasoning
1 can stewed tomatoes with celery, bell pepper, and onion
3 cups chicken broth
8 ounces cream cheese, cubed and softened
Instructions
Put a pot of well-salted water on the stove over high heat. Let it come to a boil, and add your noodles.
Par cook (halfway cook) the noodles and then drain.
Heat a large high-sided skillet with the olive oil in it over medium-high heat.
Add the onions and bell peppers and let them cook for 5-6 minutes, stirring frequently.
Add the sausage and let it brown a little in the pan for 3-4 minutes. Move all of the sausage and vegetables over to one side of the pan.
Season the chicken on all sides with the Cajun seasoning.
Add the chicken to the pan. Let it brown on one side and then flip and brown the other side.
Add in the stewed tomatoes and chicken broth. Add the par-cooked noodles to the pan and cover. Let simmer until the noodles are cooked.
Remove from the heat and mix in the cubed cream cheese. Stir until it is melted and incorporated into the sauce.
Serve hot!
Recommended Products
As an Amazon Associate and member of other affiliate programs, I earn from qualifying purchases.
Nutrition Information:
Yield:
8
Serving Size:
1
Amount Per Serving:
Calories:

431
Total Fat:

23g
Saturated Fat:

8g
Trans Fat:

0g
Unsaturated Fat:

12g
Cholesterol:

94mg
Sodium:

1895mg
Carbohydrates:

28g
Fiber:

3g
Sugar:

6g
Protein:

29g
Nutrition data provided here is only an estimate.