If you're looking for a flavorful and filling meal that's easy to make, Traeger Jambalaya is a perfect choice. This classic Cajun dish combines a variety of meats, vegetables, and rice, all cooked together in one pot for a delicious and satisfying meal. With a perfect balance of spices, it's sure to become a favorite in your recipe rotation.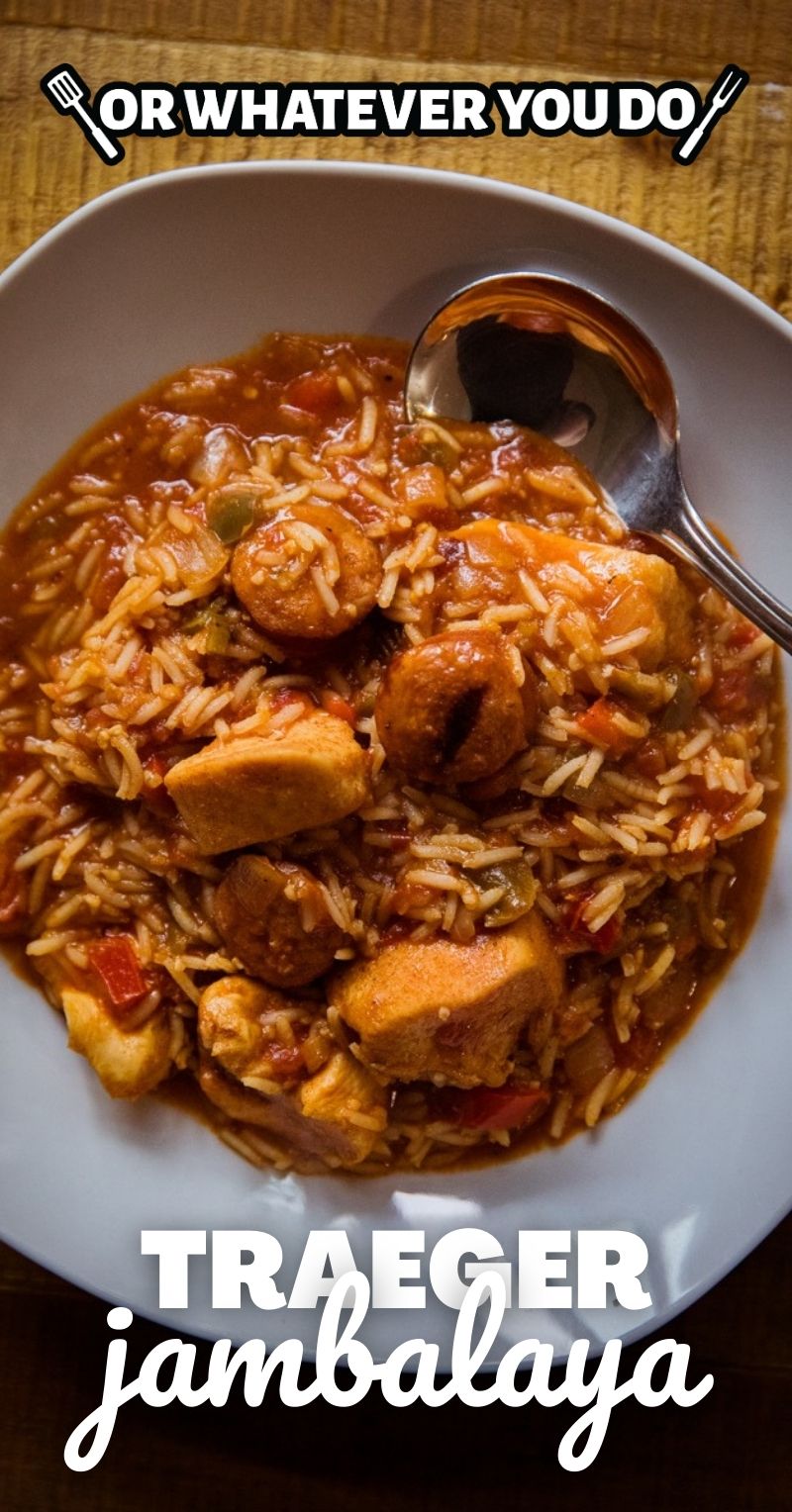 Traeger Jambalaya Recipe
Whether you're a seasoned cook or a beginner, this recipe is easy to follow and is sure to impress your family and friends. So fire up your Traeger grill and get ready to enjoy a taste of the Bayou!
One of the best things about Traeger Jambalaya is the fact that the meat is first grilled on your Traeger grill before being added to the pot with the rest of the ingredients. This adds an extra layer of smoky flavor that really sets this dish apart. Whether you're using chicken, sausage, shrimp, or a combination of all three, grilling the meat first helps to lock in the juices and infuse it with that unmistakable Traeger taste.
To get started with this recipe, all you need is a Traeger grill and a few simple ingredients. First, you'll want to fire up your grill and get your meats cooking. While the meat is grilling, you can start preparing the vegetables and spices that will give this dish its authentic Cajun flavor. Once the meat is cooked, it's time to add it to the pot with the vegetables, rice, and seasonings, and let everything simmer together until the flavors have melded and the rice is cooked.
The end result is a spicy, hearty, and satisfying meal that's perfect for any occasion. Whether you're hosting a backyard barbecue, a family dinner, or just looking for a tasty and filling meal to enjoy on a weeknight, Traeger Jambalaya is a recipe that you'll want to have in your arsenal. So fire up your Traeger grill and get ready to experience the mouthwatering flavors of this classic Cajun dish!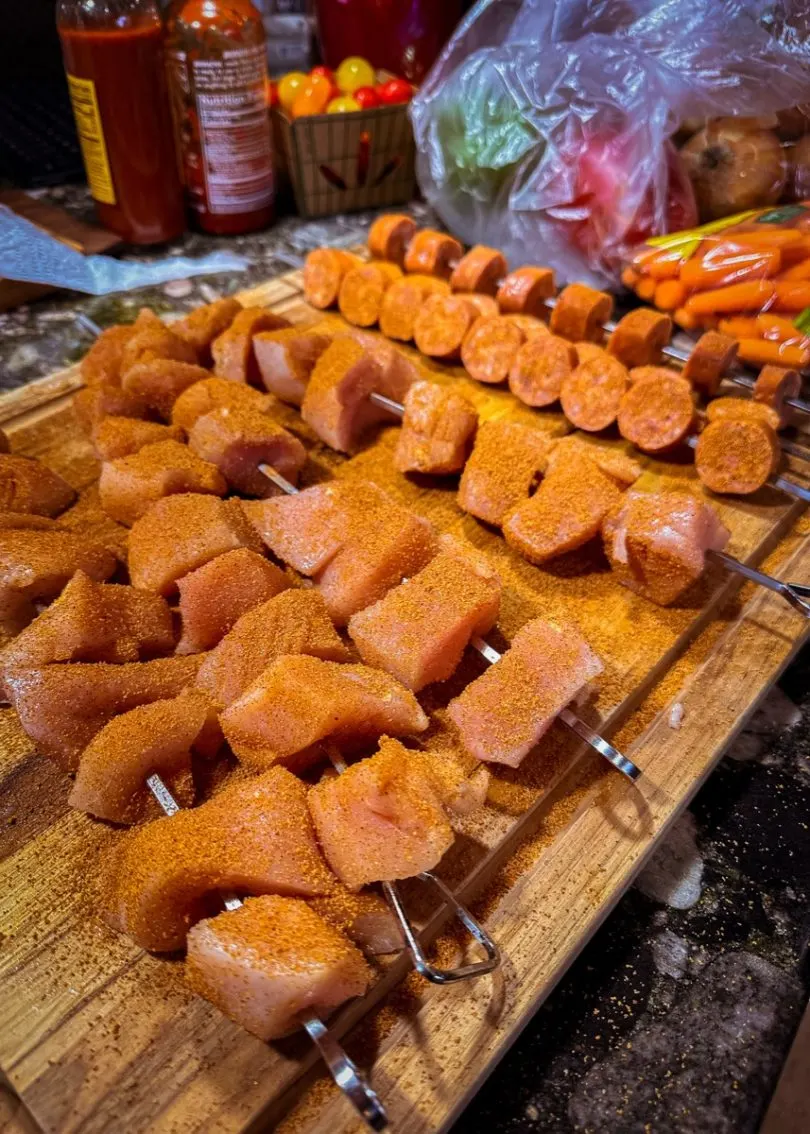 Traeger Jambalaya shopping list
Wondering if you have to hit the store? Here's the list of items you'll need to make this recipe. For specific amounts, please refer to the printable recipe card at the bottom of the post.
andouille
chicken breasts
Cajun seasoning
butter
olive oil
red & green bell peppers
onion
celery
garlic
red pepper flakes
gumbo file
salt & pepper
crushed tomatoes
hot sauce
rice
chicken broth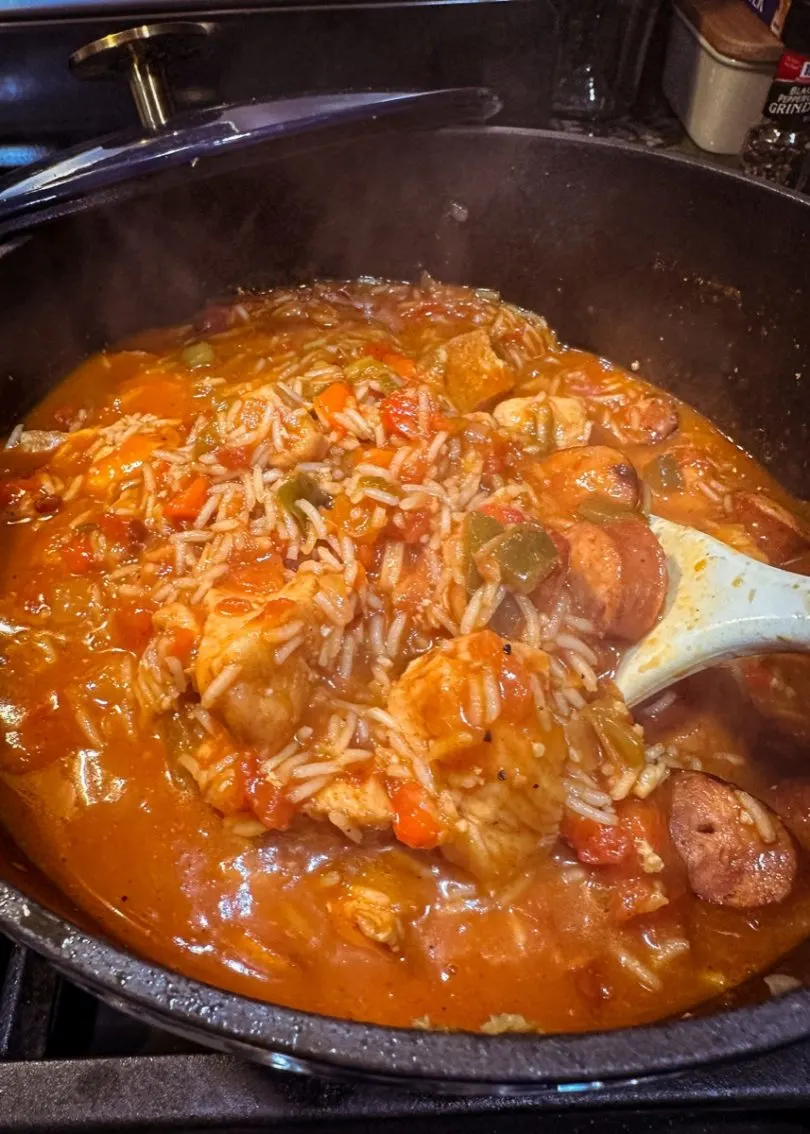 How to make Traeger Jambalaya
This is just the overview so you can see what you're actually getting into here. When you are cooking, you'll want to use the full recipe at the bottom of the page.
Preheat the grill
We're cooking hot and fast this time, so fire it up and preheat to 400°F.
While it is preheating skewer your meat onto kabobs skewers.
Break out the Dutch oven
Toss in the chopped onions, bell peppers, and celery along with the butter and olive oil. Cook it for a while and then mix in the seasonings, crushed tomatoes, and chicken broth. Let it simmer for a while.
Grill
While the sauce is going, after the grill is preheated, season your meat skewers and put them on the grill. Cook for 10 minutes or so and flip. Cook another 10 minutes on the grill.
Combine
Remove the meat from the skewers and toss it in the pot. Let them simmer for a little bit before adding the rice.
Cover and simmer for 5 minutes. Stir. Recover and cook until the rice is tender.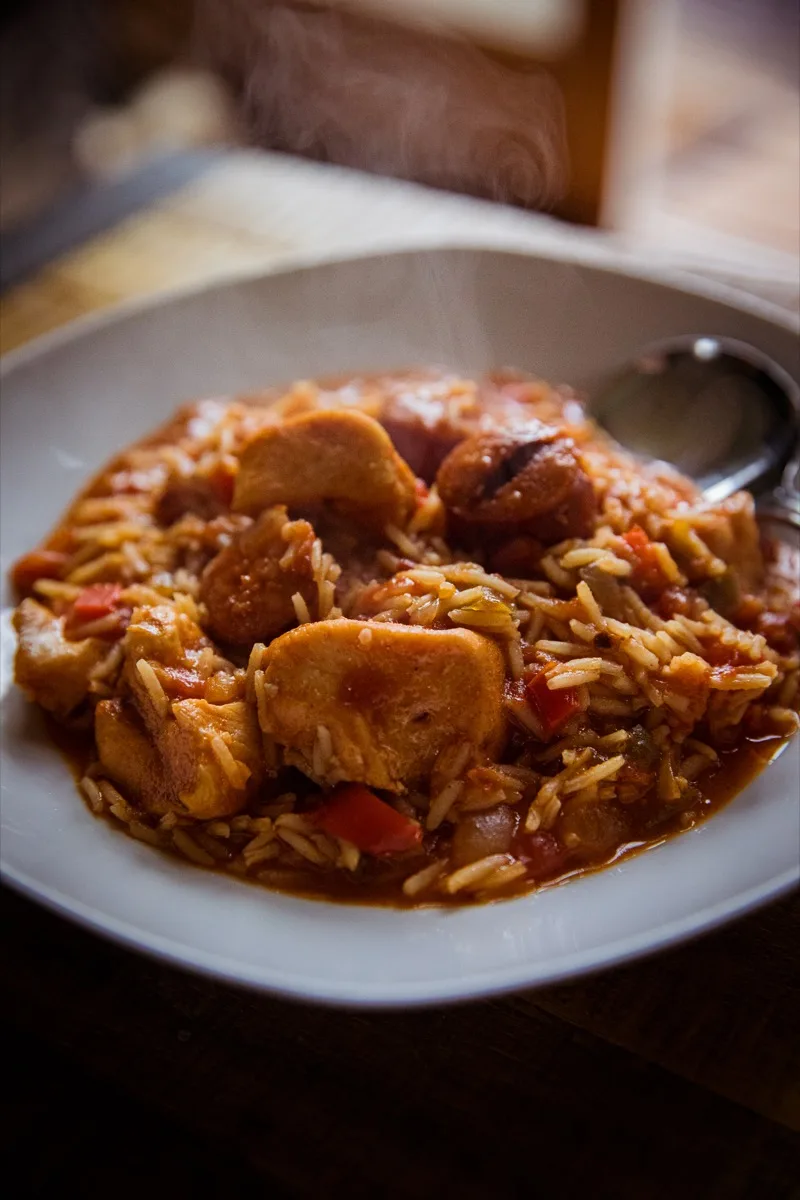 Pellet Grill Jambalaya FAQ
Do you have to use the grill?
Nope! If you don't have a pellet grill you can cook the whole thing in your Dutch oven. Just brown the chicken and sausage in the pot and remove before you cook the vegetables.
How can you make it smokier?
Want to give this some extra smoke? There are a couple different ways to do this. First, you can smoke the meat at 200° for 30 minutes before cranking the heat up and grilling it. Second, you can cook this in the Dutch oven inside the Traeger the whole time. You'll need to leave it uncovered and watch the liquid levels since more will evaporate off during the cooking process, but it'll get more smoke this way if that's your thing.
What's the best way to store and reheat leftovers?
These are very low-maintenance leftovers. Store them in any covered storage container, or just throw the lid on the Dutch Oven and refrigerate the whole thing. Reheat in the microwave, and don't be afraid to add a little more chicken broth if it tightens up too much. It'll still have a hefty kick!
What if you are a spice baby and need to keep things mild?
If you don't like spice, just omit the red pepper flakes and hot sauce and that'll keep it more on the mild side of the scale.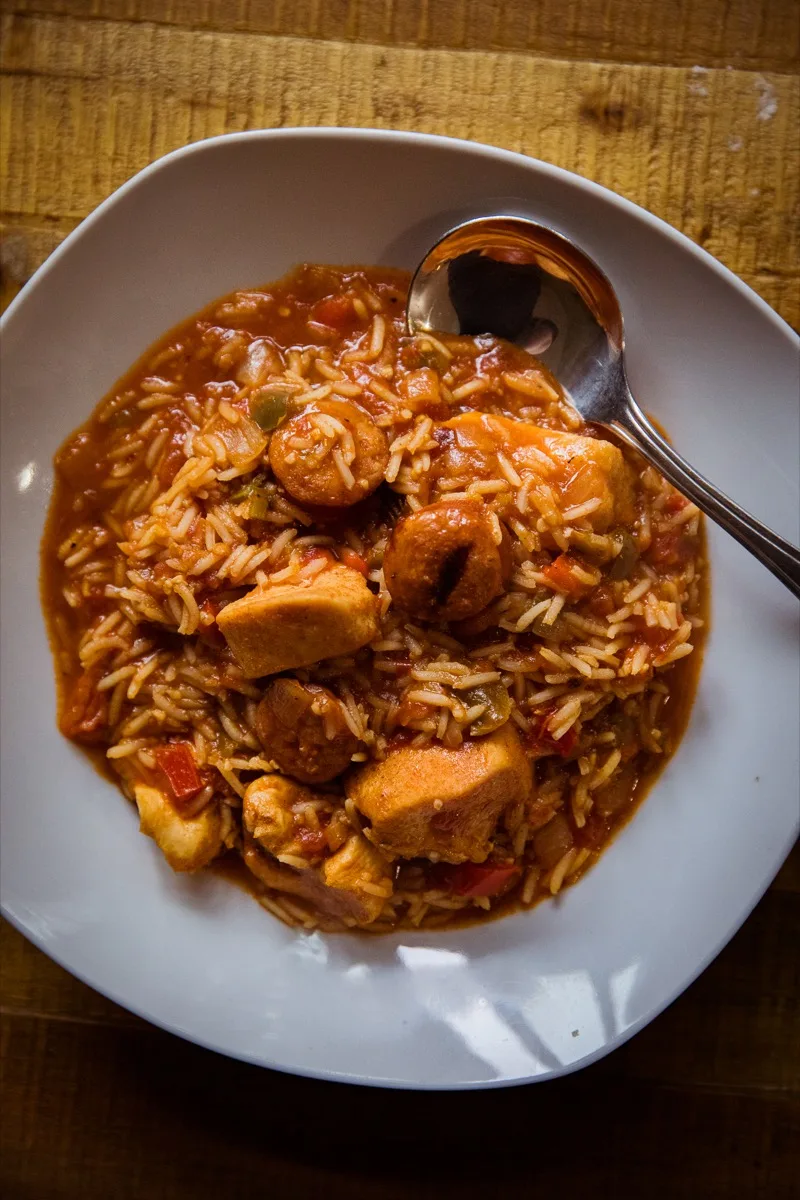 More great recipes to love!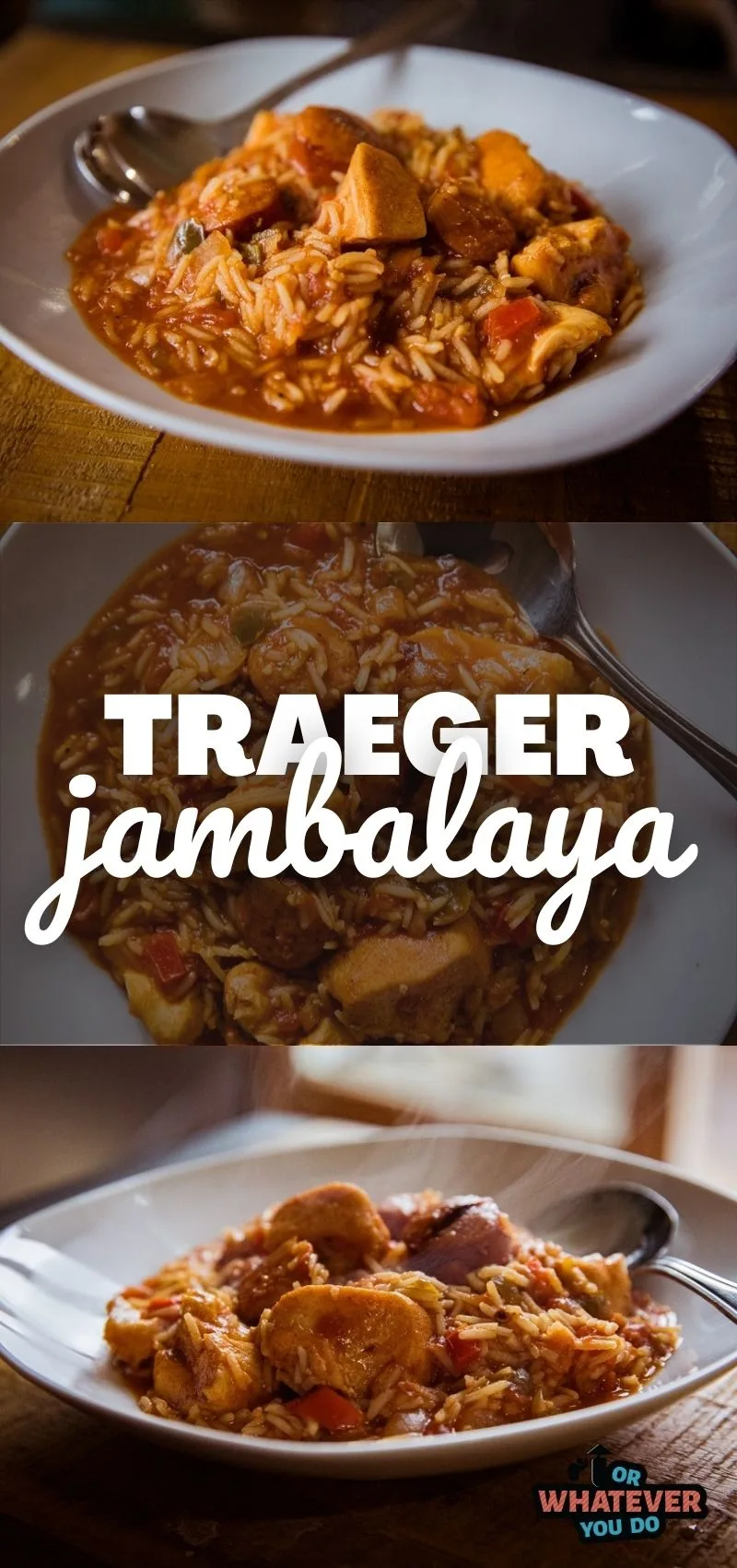 Yield: 8 servings
Spicy Traeger Jambalaya Recipe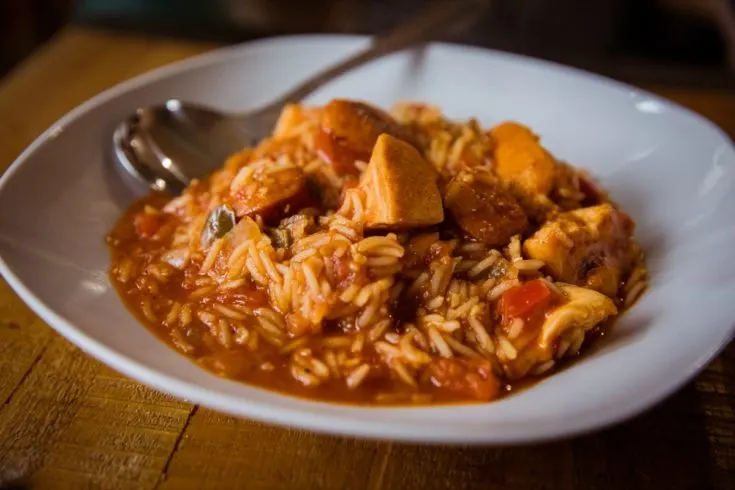 If you're in the mood for a hearty and flavorful one-pot meal, look no further than this Traeger Jambalaya recipe. Packed with a delicious combination of meat, vegetables, and rice, this dish is sure to satisfy your taste buds and leave you feeling satisfied!
Total Time
1 hour
10 minutes
Ingredients
3 andouille sausage links
2 large boneless skinless chicken breasts
2 tablespoons Cajun seasoning
3 tablespoons butter
1 tablespoon olive oil
1 green bell pepper
1 red bell pepper
1 medium yellow onion
3 stalks celery
2 tablespoons minced garlic
1/2 teaspoon red pepper flakes
1 teaspoon gumbo file
1 teaspoon salt
1/2 teaspoon pepper
28 ounces crushed tomatoes
1 teaspoon hot sauce (optional)
2 1/2 cups chicken broth
1 1/4 cups white rice
Instructions
Preheat the Traeger to 400°F.
Slice the sausage into 1" thick rounds and the chicken into large chunks. Place onto skewers and season with the Cajun seasoning. Grill for 10 minutes, turning halfway through.
While the grill is preheating and the meat is cooking, dice the onions, peppers, and celery.
Put the butter and olive oil into a large Dutch oven over medium heat. Cook down the onions, peppers, and celery for 10-15 minutes, stirring frequently. Add the garlic and sauté for 1-2 minutes.
Stir in the red pepper flakes, file, salt, pepper, crushed tomatoes, hot sauce (if using), and chicken broth. Bring up to a low simmer.
When the meat comes off the grill, remove from the skewers and put into the pot. Let cook for 5 minutes.
Add in the rice and stir. Reduce the heat to low, cover the pot, and let cook for 5 minutes.
Stir, recover, and let simmer for another 5-10 minutes, or until the rice is cooked.
Serve hot, and prepare yourself! This recipe brings the heat!
Notes
If you like things a bit less spicy, you can omit the red pepper flakes and hot sauce.
My favorite Cajun seasoning blend is linked below, but you can use whatever type you have on hand.
Gumbo file is not optional.
Recommended Products
As an Amazon Associate and member of other affiliate programs, I earn from qualifying purchases.
Nutrition Information:
Yield:
8
Serving Size:
1
Amount Per Serving:
Calories:

242
Total Fat:

12g
Saturated Fat:

5g
Trans Fat:

0g
Unsaturated Fat:

6g
Cholesterol:

48mg
Sodium:

1753mg
Carbohydrates:

20g
Fiber:

3g
Sugar:

7g
Protein:

15g
Nutrition data provided here is only an estimate.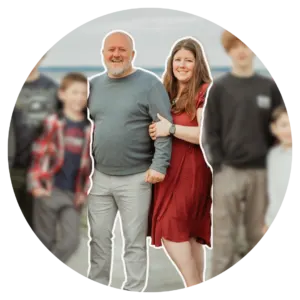 Nicole Johnson, a self-taught expert in grilling and outdoor cooking, launched Or Whatever You Do in 2010. Her blog, renowned for its comprehensive and creative outdoor cooking recipes, has garnered a vast audience of millions. Nicole's hands-on experience and passion for grilling shine through her work. Her husband, Jeremiah Johnson, also plays a pivotal role in recipe development, adding his culinary flair to the mix. Together, they form a dynamic duo, offering a rich and varied outdoor cooking experience to their followers.