Our Smoked Lemon Chicken Orzo Soup uses a smooth, rich homemade chicken broth full of fresh vegetables, bright lemon, and delicious orzo pasta! Perfect for a chilly evening, packed in a thermos for a lunch on the go, or for a big family dinner alongside a fresh green salad and warm rolls.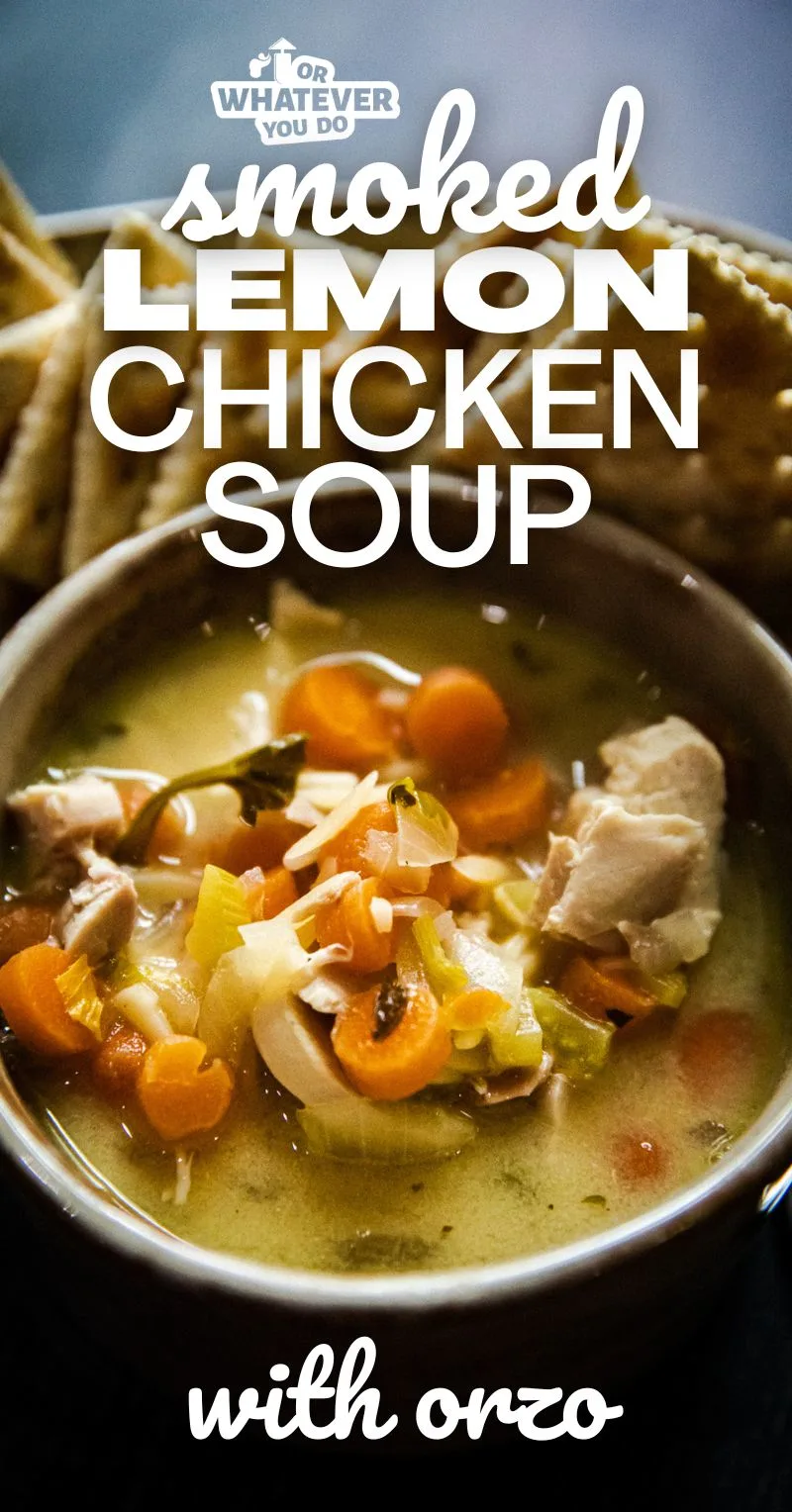 Smoked Lemon Chicken Orzo Soup
I've been making all the recipes this week using my new favorite thing, our Greek Chicken Marinade! We roasted a whole chicken and injected it with that fresh, herby marinade, and then also basted the whole thing in it too. It made the best roasted chicken I've ever had, and in turn, the things we made from that chicken benefitted from that goodness.
You CAN make this soup using just boxed or canned chicken stock.
You CAN make this soup using a rotisserie chicken.
But – if you have the time and the inclination, please try our Greek Chicken Marinade on a whole roasted chicken, and make the stock from the carcass. You'll thank me later.
Making chicken stock is so easy, you literally just boil a chicken carcass for a few hours and then strain it. It tastes much better than store-bought and is a great way to utilize the whole animal and not waste a bit.
I've included the recipe for my Greek Marinade below, above the soup recipe, for your cooking convenience.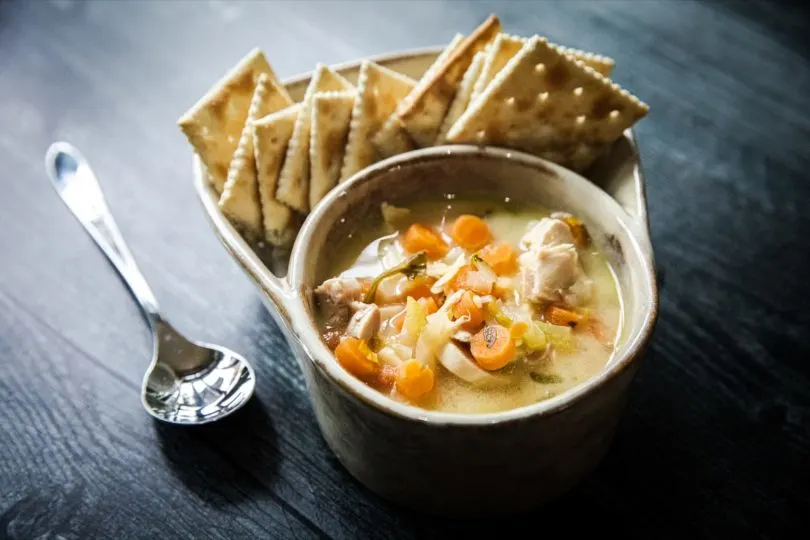 Lemon Chicken Orzo Soup shopping list
Wondering if you have to hit the store? Here's the list of items you'll need to make this recipe. For specific amounts, please refer to the printable recipe card at the bottom of the post.
Smoked chicken carcass
Bay leaves
Olive oil
Onion
Celery
Carrots
Lemon juice
Chicken Better Than Bouillion
Fresh thyme
Fresh parsley
Butter
Flour
Egg yolks
Salt & pepper
Orzo
Smoked Chicken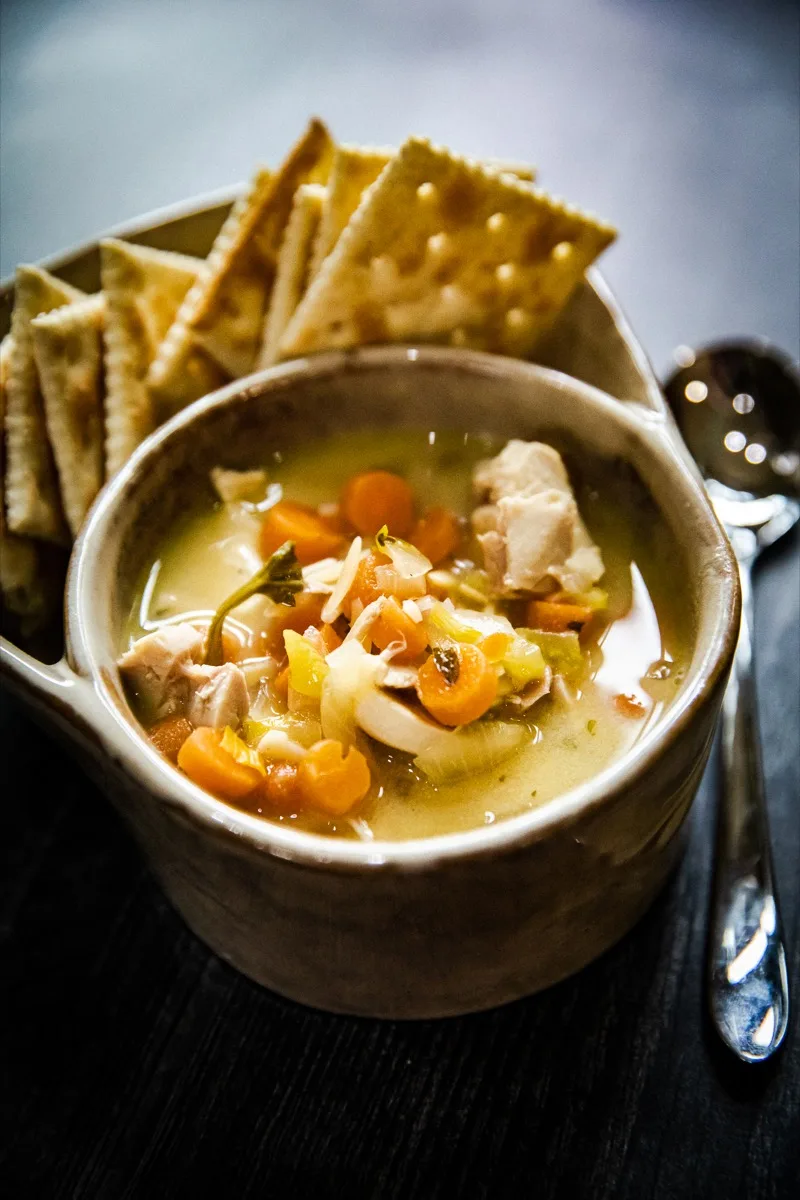 How to make Smoked Lemon Chicken Orzo Soup
This is just the overview so you can see what you're actually getting into here. When you are cooking, you'll want to use the full recipe at the bottom of the page.
Stock
Make your stock by simmering the chicken carcass in water in a large stock pot on the stove over medium heat.
Strain the broth after it has simmered for several hours.
Saute
Saute your celery and onion in olive oil.
Soup it up
Add the sauteed vegetables to your chicken stock along with the bouillion, carrots, lemon juice, thyme, and parsley.
Extras
Make a butter/flour roux and cook for a few minutes before whisking into the stock.
Whisk the egg yolks and temper them before adding to the stock. (If you aren't familiar with tempering, read ALL the instructions in the recipe card at the bottom of the post.)
Finish
Return the soup to a simmer and add in the smoked chicken and orzo. Continue to simmer until the orzo is cooked.
Enjoy!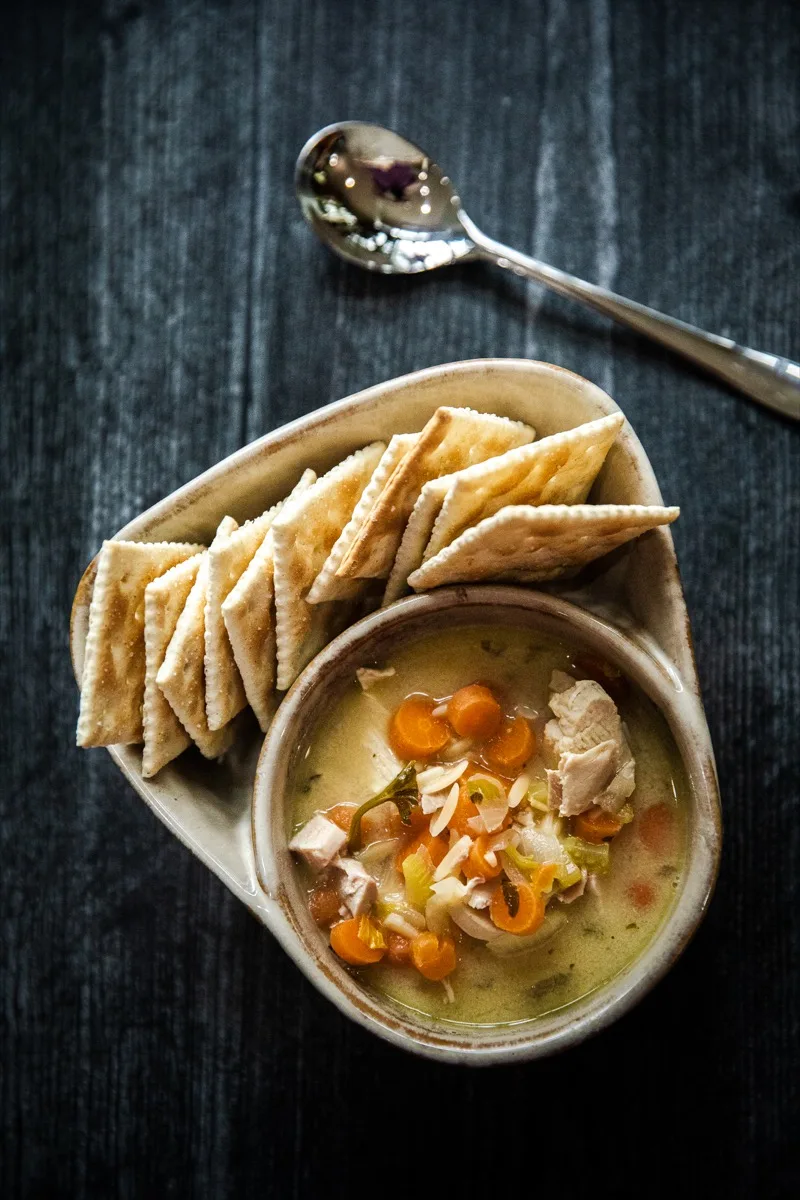 Greek Lemon Chicken Orzo Soup FAQ
What if I don't want to roast a whole chicken?
If you want to skip to the good part you can use a precooked rotisserie chicken for this recipe and it'll still be incredible. You can also use all boxed broth instead of making your own and cube up some chicken breast and/or thigh meat to use too. It won't be quite as good but I promise, no one will complain.
How should I store and reheat leftovers?
This is soup, so it is easy. Toss it into a storage container and reheat it in the microwave.
Can I use another type of pasta for this recipe?
Yes! I'd stay away from most of the kinds of pasta you'd use for mac and cheese or spaghetti night though. They get mushy when used in soup, unlike orzo which keeps its bite much better than others. A good substitute would be the frozen "homestyle" egg noodles you can find. Or you can whip up a batch of our homemade egg noodles for soup.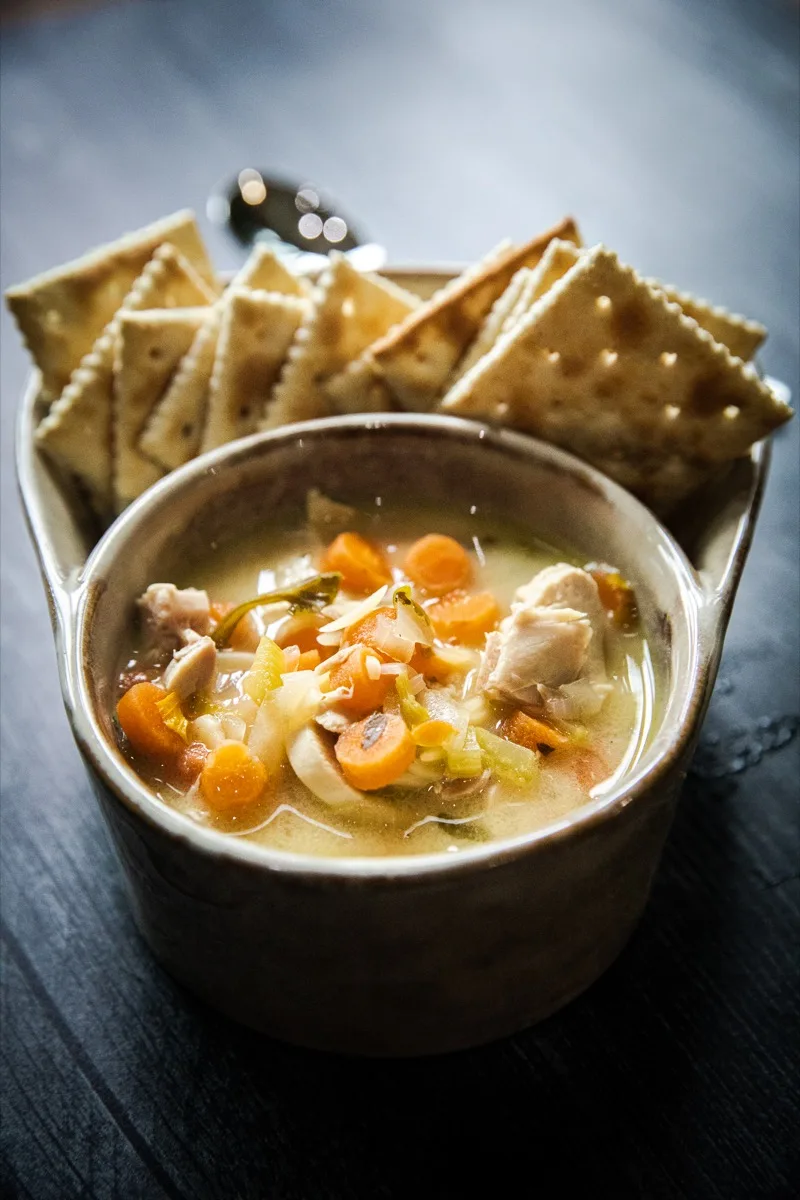 More great soup recipes to love!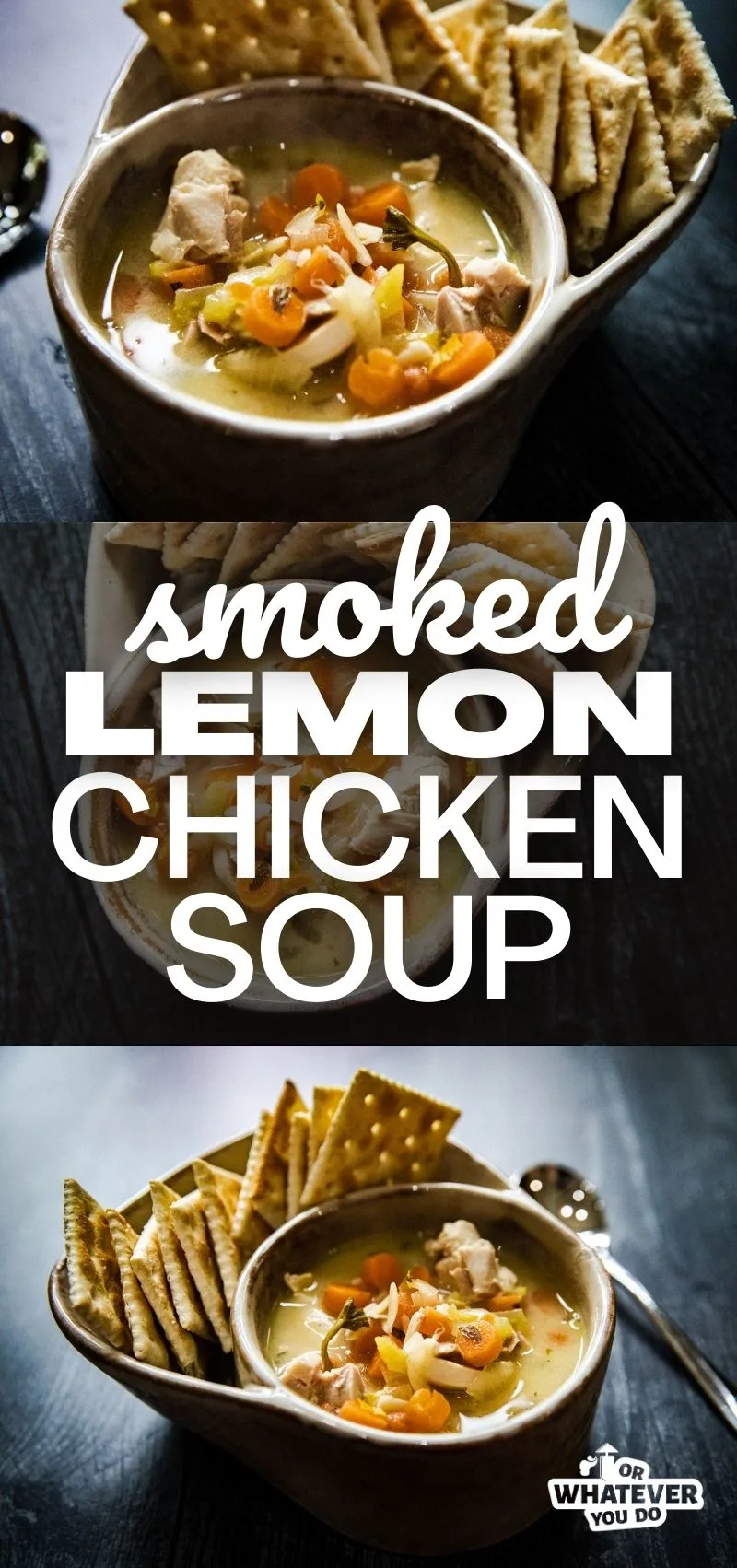 Keep scrolling for the chicken soup recipe! I included my Greek Chicken Marinade / Whole Grilled Greek Chicken recipe on this page for convenience.
Yield: 6 servings
Grilled Greek Chicken Marinade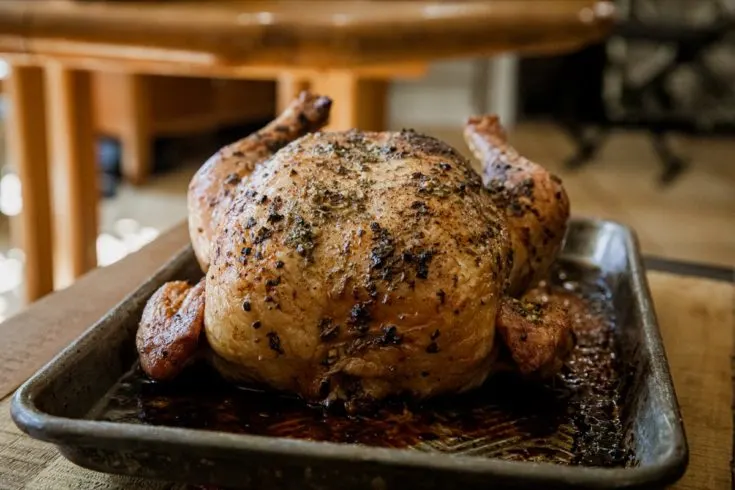 This delicious whole chicken is injected and then basted with the most flavorful, homemade Greek-inspired marinade, ever! I made four meals out of this one chicken, and I already can't wait to make another one!
Cook Time
1 hour
30 minutes
Total Time
1 hour
40 minutes
Ingredients
1 whole chicken
1/2 teaspoon salt
1/2 teaspoon pepper
1 lemon, halved
Marinade
1/2 cup olive oil
1/2 cup fresh squeezed lemon juice
3 cloves minced garlic
1 tablespoon chopped fresh oregano
1 tablespoon chopped fresh mint
1 tablespoon chopped flat leaf parsley
1/2 teaspoon black pepper
1 1/2 teaspoons kosher salt
Instructions
Prep your chicken by removing it from the packaging, removing any giblets and/or the neck from the cavity, and patting the whole thing dry with paper towels. Coat with 1/2 teaspoon each of salt and pepper. Let sit, uncovered, in the fridge, for an hour.
Mix all of your marinade ingredients together in a mason jar, close it, and shake to combine. Place in the fridge and let sit for at least an hour.
Preheat your pellet grill to 350°F. Stuff the lemon inside the chicken's cavity. Separate 1/4 of the marinade into a separate dish. Using an injector, inject the separated portion of the marinade into the chicken breasts and thighs. Place the seasoned chicken onto a grill-safe baking sheet with sides, and place it into the grill.
Continue cooking until the internal temperature reaches about 125°F. Turn up the temp of the grill to 375°F, and start basing the outside of the chicken with the remaining marinade every 5-10 minutes, until the internal temperature of the chicken reaches 165°F. If you have any extra marinade, save it!
Remove the chicken from the grill and let rest for 10-15 minutes.
Slice and serve!
Recommended Products
As an Amazon Associate and member of other affiliate programs, I earn from qualifying purchases.
Nutrition Information:
Yield:
6
Serving Size:
1
Amount Per Serving:
Calories:

410
Total Fat:

32g
Saturated Fat:

6g
Trans Fat:

0g
Unsaturated Fat:

23g
Cholesterol:

88mg
Sodium:

574mg
Carbohydrates:

4g
Fiber:

1g
Sugar:

1g
Protein:

28g
Nutrition data provided here is only an estimate.
Yield: 8 servings
Smoked Lemon Chicken Orzo Soup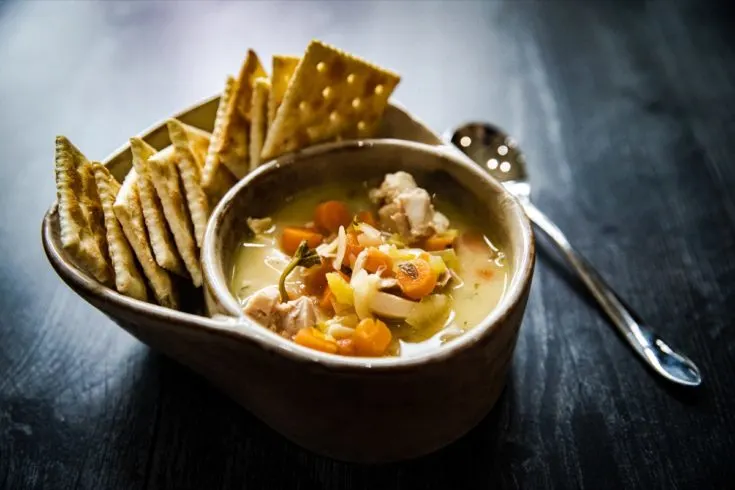 One of the very best things that I've ever made, this easy lemon chicken soup is made from scratch and is full of bright, savory flavors.
This recipe plays off another recipe of ours for a Whole Grilled Greek Chicken. If you don't have that, you can sub in a regular grilled or rotisserie chicken.
Total Time
2 hours
15 minutes
Ingredients
4 quarts water (or enough to cover the chicken)
1 smoked chicken carcass
2 bay leaves
2 tablespoons olive oil
1 onion, diced
3 stalks celery, diced (include some leaves from the inside stalks)
2 cups diced carrots
1/2 cup lemon juice
4 tablespoons Chicken Better Than Bouillion
1 teaspoon chopped fresh thyme
2 teaspoons chopped fresh parsley
1/2 cup butter
1/3 cup flour
3 egg yolks
salt & pepper (to taste)
2 cups orzo
3 cups cubed smoked chicken
Instructions
Take your grilled whole chicken and remove the meat from the carcass. Take the carcass and put it into a large pot and cover it with water and the bay leaves.
Simmer over medium heat for at least an hour. Four hours is better, and this can go as long as 6 hours if you keep an eye on the water levels and keep adding more as needed.
During the last 30 minutes of simmering, place the olive oil into a cast iron skillet over medium heat and add the onion and celery. Saute until they are tender and translucent.
Strain off all of the solids from the broth and return them to the stock pot. Add in the sauteed vegetables along with the carrots, lemon juice, Better Than Bouillion, as well as thyme, and parsley. Bring up to a simmer.
In a small non-stick pan, melt the butter and whisk in the flour. Let it cook, stirring frequently, over low to medium-low heat. Let it cook for about 4-5 minutes. Whisk into the simmering soup.
Take the egg yolks and put them into a small bowl. Whisk until they are all incorporated with each other, and then temper the yolks by slowly drizzling in some of the simmering broth while whisking. Continue adding little bits of hot broth while whisking until you've added about 1/2 cup total. It should now be tempered enough to whisk into the pot of soup.
Return to a simmer and add in the orzo and cubed chicken. Cook on a low simmer, stirring frequently so the orzo doesn't stick, until it is tender.
Serve hot with crackers.
Recommended Products
As an Amazon Associate and member of other affiliate programs, I earn from qualifying purchases.
Nutrition Information:
Yield:
8
Serving Size:
1
Amount Per Serving:
Calories:

435
Total Fat:

22g
Saturated Fat:

10g
Trans Fat:

0g
Unsaturated Fat:

10g
Cholesterol:

171mg
Sodium:

1136mg
Carbohydrates:

26g
Fiber:

3g
Sugar:

3g
Protein:

32g
Nutrition data provided here is only an estimate.