Fire up your Traeger, we're about to make one of the simplest, most flavorful pastas ever! Our Traeger Boursin Pasta uses fresh bell pepper, onion, and tomatoes as the base along with Garlic & Herb Boursin cheese. Delicious! Works great as a side dish, or turn it into a main with some grilled chicken or shrimp.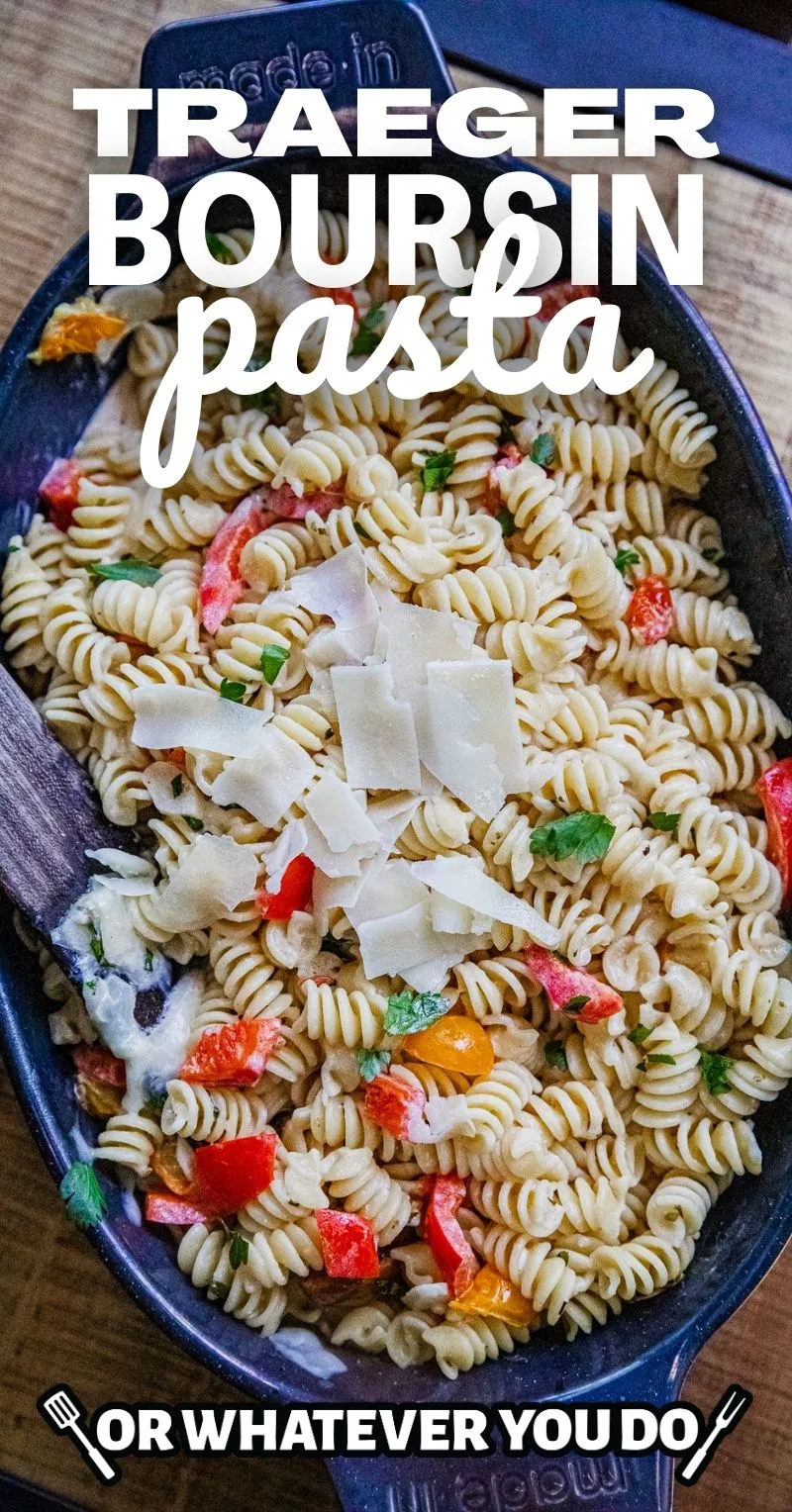 Traeger Boursin Pasta
Sometimes when I fire up the grill, I want something more on it than a slab of meat. Not that a slab of meat isn't amazing, it is. But occasionally, we want something a little different. The great thing about pellet grills is that they're basically big outdoor ovens so you aren't really stuck making the same things over and over again.
This Boursin pasta recipe was born as a spin-off of the viral TikTok Feta Pasta trend from years past that puts a slab of feta in the middle of a baking dish surrounded by vegetables and then gets tossed with pasta. That recipe was originally done in the oven, but you know I adapted and messed with it and made a Traeger TikTok Feta Pasta. We even included some sausage in one version and it was fantastic!
I love Boursin cheese spread on a cracker and it makes an appearance at most of our parties and holiday gatherings, but I'd never used it in cooking before. Can't figure out why! It works wonders, is easy to use, and adds such a big kick of flavor into your dishes.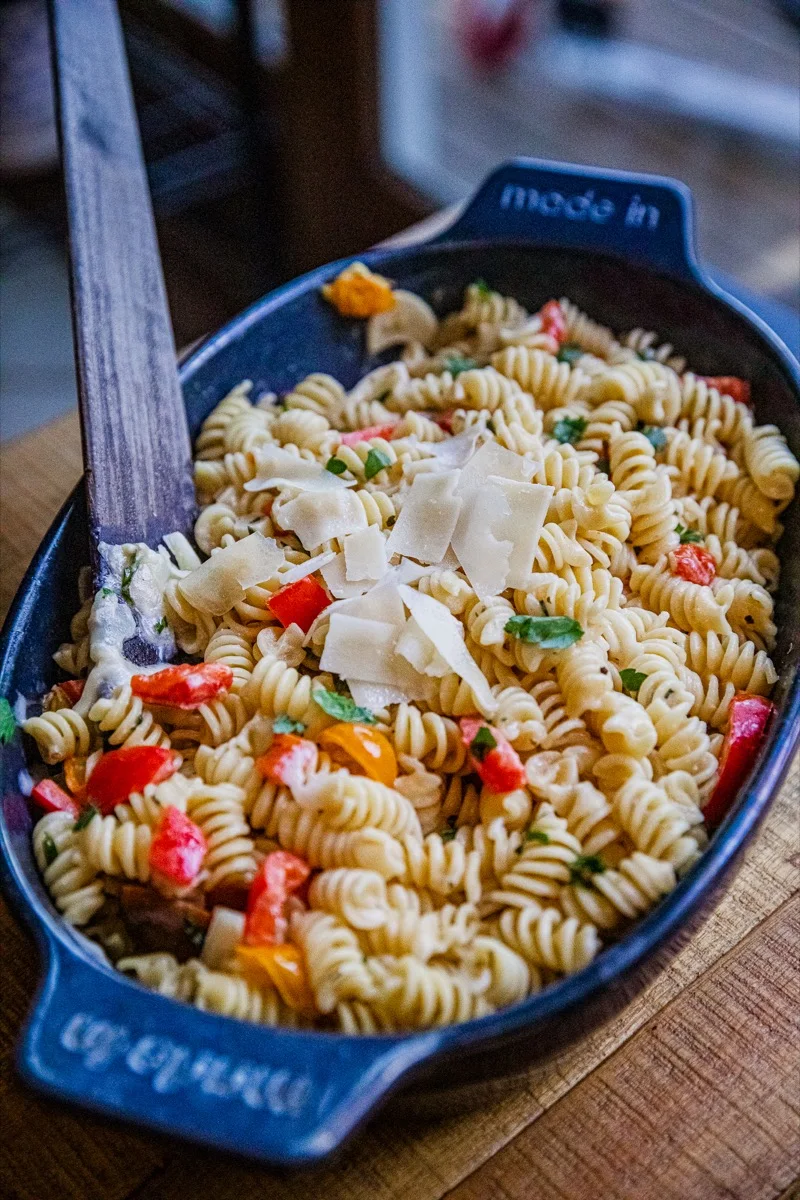 Traeger Boursin Pasta shopping list
Wondering if you have to hit the store? Here's the list of items you'll need to make this recipe. For specific amounts, please refer to the printable recipe card at the bottom of the post.
Extra Virgin Olive Oil
Garlic and Herb Boursin Cheese
Cherry Tomatoes
Red Bell Pepper
Yellow Onion
Garlic
White Wine
Parmesan Cheese
Salt & Pepper
Parsley
Basil
Pasta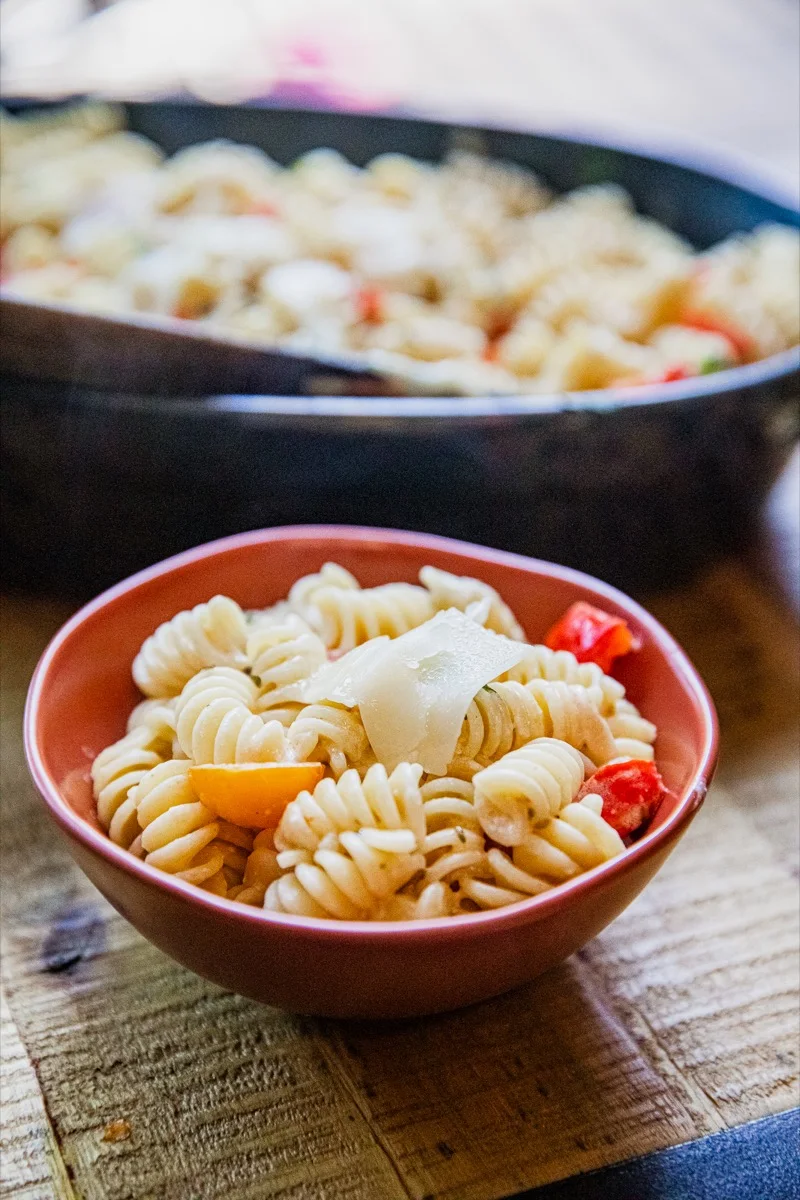 How to make Boursin Pasta on the Traeger
This is just the overview so you can see what you're actually getting into here. When you are cooking, you'll want to use the full recipe at the bottom of the page.
Preheat
Fire up that pellet grill and get it preheating to 375°F.
Prep
Put the olive oil into the bottom of a grill-safe baking dish. Slice the tomatoes, dice the peppers, chop that garlic, and do whatever else needs to be doing while the grill heats up.
Assemble
Slap the Boursin in the middle of the dish. Surround it by the vegetables.
Roast & Boil
Roast it in the grill for 20 minutes. Add the wine. Keep on roasting for another 15 minutes or so.
Boil your noodles while all this is happening. Use well-salted water. Don't overcook them! No one likes a squishy noodle.
Mix & Enjoy
Mix together the Boursin and the vegetables with the pasta. Stir in the parmesan, salt and pepper to taste, and sprinkle on those fresh herbs. Enjoy!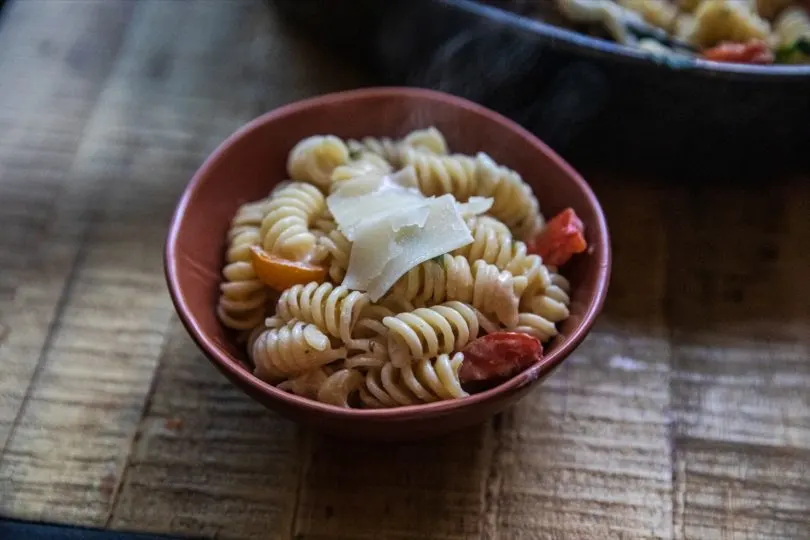 Boursin Pasta FAQ
What's the best way to store the leftovers?
Toss these in any airtight container in the fridge for 2-3 days. Spoiler alert! The leftovers make great pasta salad, eaten cold, the following day!
Can you substitute another type of cheese?
You can, but the flavor will be significantly different. Experiment and try it out though! We've used feta successfully, as well as cream cheese, goat cheese, and leftover cheese balls too. Get creative. It is just cooking!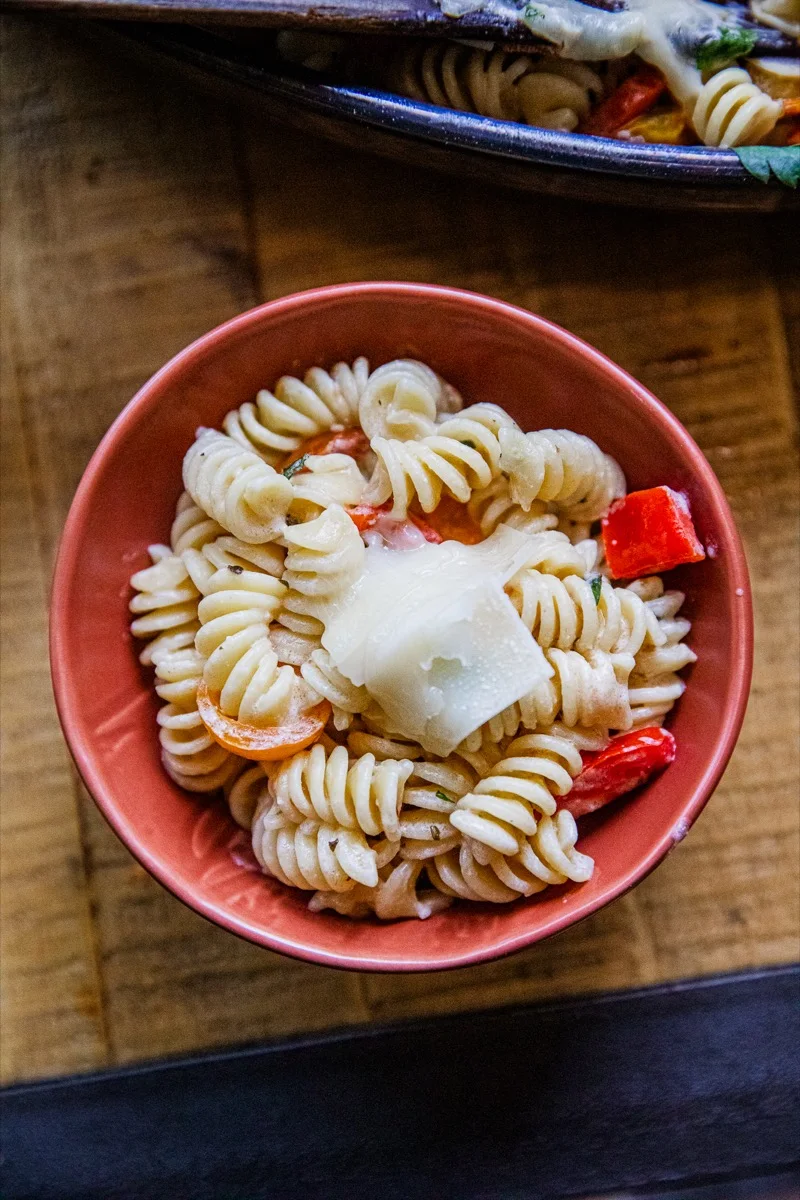 More great recipes to love!
Our Hanger Steak is the perfect cut to serve next to a big pile of this pasta! Easy to make, and comparable to a tenderloin in flavor. One of my favorite cuts of beef!
Hot outside? Cool down with our Homemade Pina Colada recipe! You might not BE on an island, but you're going to feel like you are.
These Smoked Pork Chops are simple to make, taste amazing, and are budget-friendly too. Bonus, you can make these for a crowd and it is just as simple.
Want more pasta? Get all of the Pasta Recipes you can handle!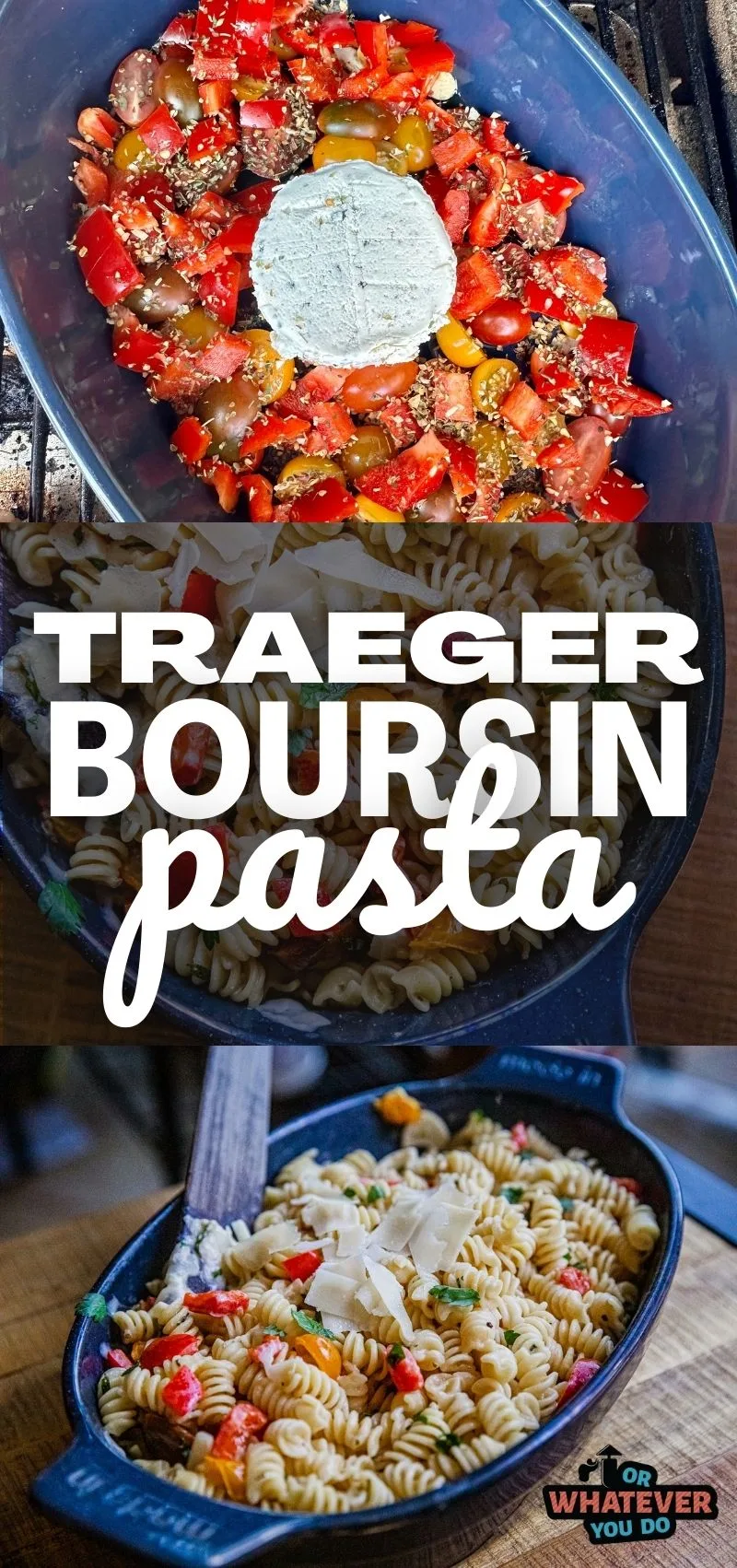 Yield: 8 servings
Traeger Boursin Pasta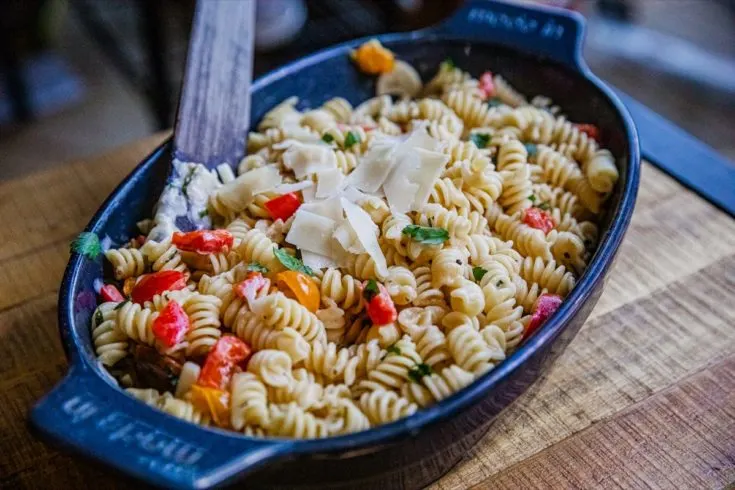 This simple Traeger Boursin Pasta recipe is perfect as a side dish or a main! Easy to throw together, full of fresh vegetables, and endlessly customizable.
Ingredients
2 tablespoons extra virgin olive oil
1 round Boursin Garlic and Herb cheese
8 ounces cherry tomatoes, halved
1 red bell pepper, seeded and diced
1/2 yellow onion, diced
2 cloves garlic, minced
1/2 cup white wine
1 cup parmesan cheese
1/2 teaspoon salt (to taste)
1/2 teaspoon ground black pepper
1 tablespoon fresh parsley, chopped
1 tablespoon fresh basil, chopped
1 pound pasta
Instructions
Preheat your pellet grill to 375°F.
Drizzle the olive oil into a grill-safe baking dish. Unwrap the Boursin cheese and place into the middle of the dish. Add the tomatoes, bell pepper, onion, and garlic around the Boursin cheese.
Roast in your pellet grill for 20 minutes.
Add the white wine to the pan and let roast for another 15 minutes.
While that is roasting, boil your noodles until they are al dente.
Mix together the Boursin cheese with the wine and vegetables and stir in the pasta.
Toss with the parmesan cheese, add salt and pepper to taste, and sprinkle with fresh herbs.
Enjoy hot (or cold!)
Recommended Products
As an Amazon Associate and member of other affiliate programs, I earn from qualifying purchases.
Nutrition Information:
Yield:
6
Serving Size:
1
Amount Per Serving:
Calories:

164
Total Fat:

11g
Saturated Fat:

4g
Trans Fat:

0g
Unsaturated Fat:

6g
Cholesterol:

19mg
Sodium:

512mg
Carbohydrates:

7g
Fiber:

1g
Sugar:

2g
Protein:

7g
Nutrition data provided here is only an estimate.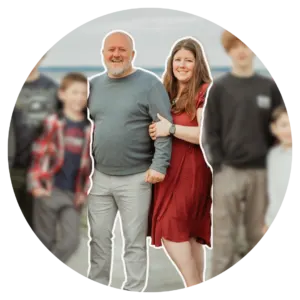 Nicole Johnson, a self-taught expert in grilling and outdoor cooking, launched Or Whatever You Do in 2010. Her blog, renowned for its comprehensive and creative outdoor cooking recipes, has garnered a vast audience of millions. Nicole's hands-on experience and passion for grilling shine through her work. Her husband, Jeremiah Johnson, also plays a pivotal role in recipe development, adding his culinary flair to the mix. Together, they form a dynamic duo, offering a rich and varied outdoor cooking experience to their followers.