When Spot Prawn season arrives in the Pacific Northwest, all the shellfish lovers in the area get very excited. With this easy Grilled Cajun Spot Prawn recipe, we are highlighting these delicious bites with some spicy Cajun flavors and a touch of smoke from our pellet grill.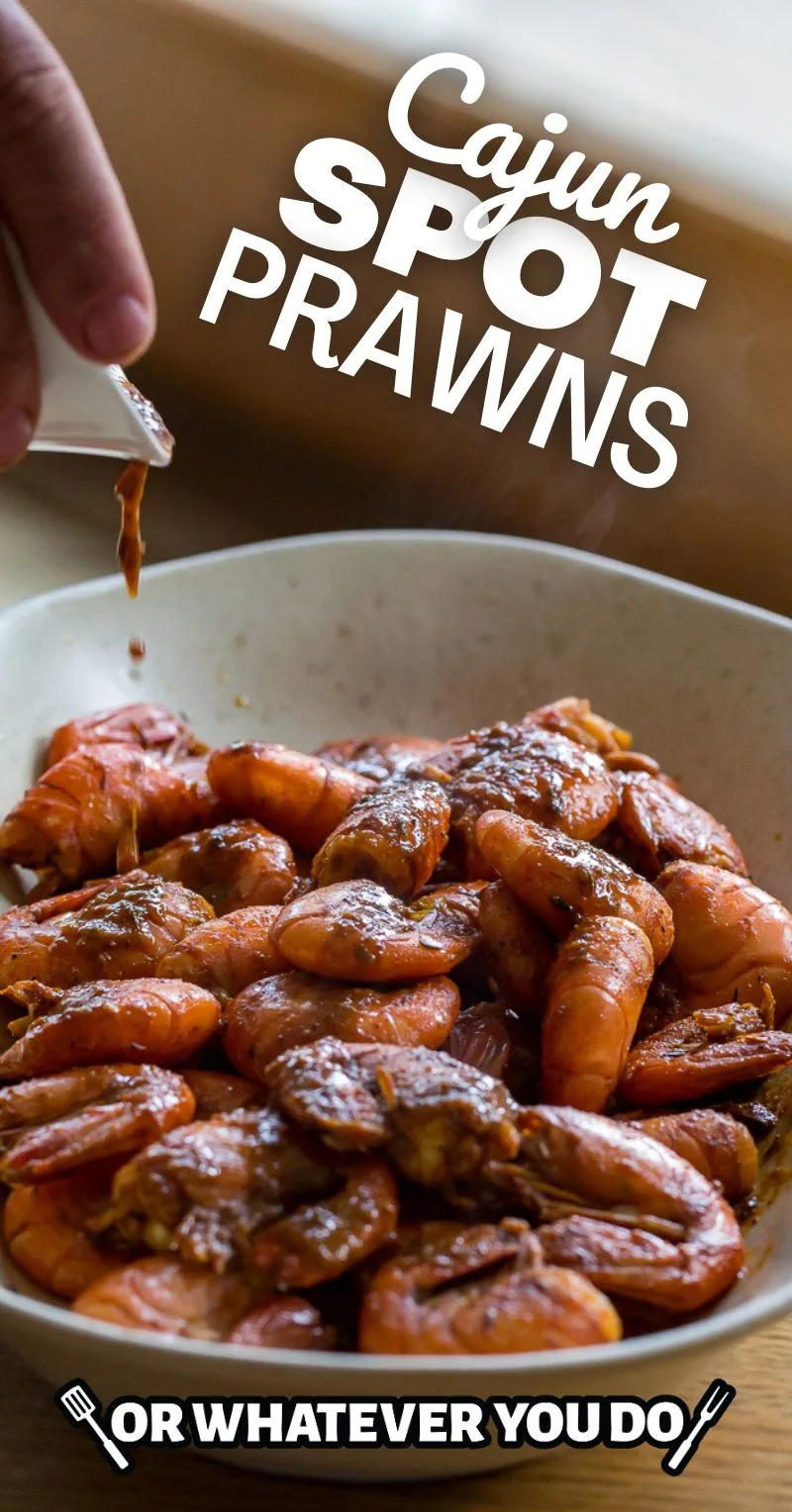 Grilled Cajun Peel and Eat Spot Prawns
Spot Prawns are a delicacy, and one of the world's most expensive seafoods if you are buying it from the store. If you have a boat (or better – a friend with a boat), it is still one of the most expensive shellfish but also one of the most fun to harvest too.
These little beauties range from Southern California all the way up to Alaska's Aleutian Islands. Their habitat also goes around to the Sea of Japan and the Korea Strait. In that range includes our own Puget Sound and the Strait of Juan de Fuca, which is where we go to harvest these prawns.
Now – I realize that most of you reading this won't be able to source fresh spot prawns very easily, and that's okay! The good news is that this recipe can be used with other types of prawns and shrimp very successfully.
I still wanted to highlight this species, however, because if you do have the chance to try them sometime you definitely should!
Try our Spot Prawn Rolls!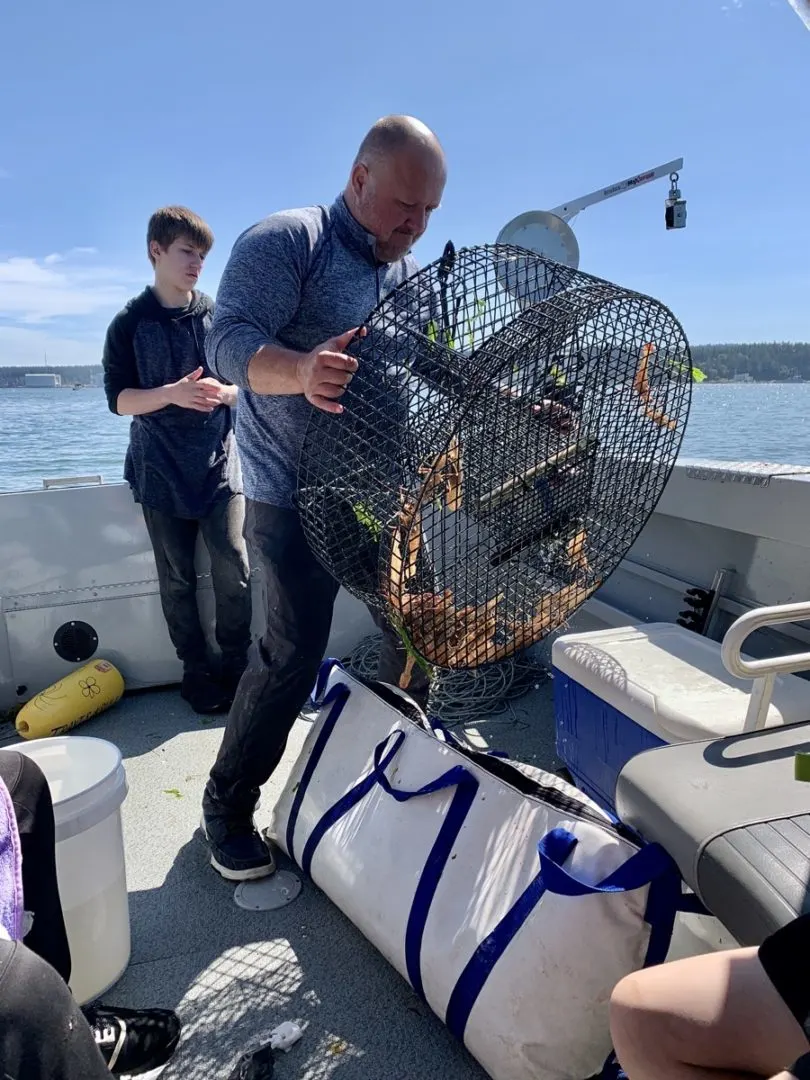 Are prawns and shrimp the same thing?
No, but as far as cooking with either is concerned, they may as well be. There are some specific scientific differences between shrimp and prawns (different gills, differently shaped bodies, etc), the taste and preparation are both basically the same.
Tips for processing spot prawns
Our first time out catching spot prawns was successful, but turned into a disaster pretty fast. You see, spot prawns need very specific handling in order to maintain the quality of the meat, or the meat itself turns into mush when you cook it, which no one wants.
Here are some tips for success if you'll be headed out to catch some of these this season.
Keep the prawns cool:
As soon as you catch the prawns, you should keep them cool to prevent spoilage. You can do this by putting them in a cooler with ice or in a bucket with seawater and ice.
Remove the heads:
To remove the heads, hold the body with one hand and grasp the head with the other hand. Twist and pull the head off the body.
Devein the prawns:
Use a small paring knife or a pair of kitchen scissors to make a shallow incision along the back of the prawn. You should be able to see the dark vein running down the middle. Use the tip of your knife or scissors to remove the vein.
Rinse the prawns:
Rinse the prawns under cold running water to remove any dirt, sand, or other debris.
Store the prawns:
Once the prawns are cleaned and rinsed, you can store them in the refrigerator or freezer. If you're planning to eat them soon, store them in the refrigerator in a covered container with a damp paper towel on top. If you want to freeze them, place them in a plastic freezer bag and remove as much air as possible before sealing.
It's important to note that spot prawns are highly perishable and should be eaten within a day or two of catching them. If you're not planning to eat them right away, it's best to freeze them to maintain their freshness.
Get all of my Traeger Recipes here!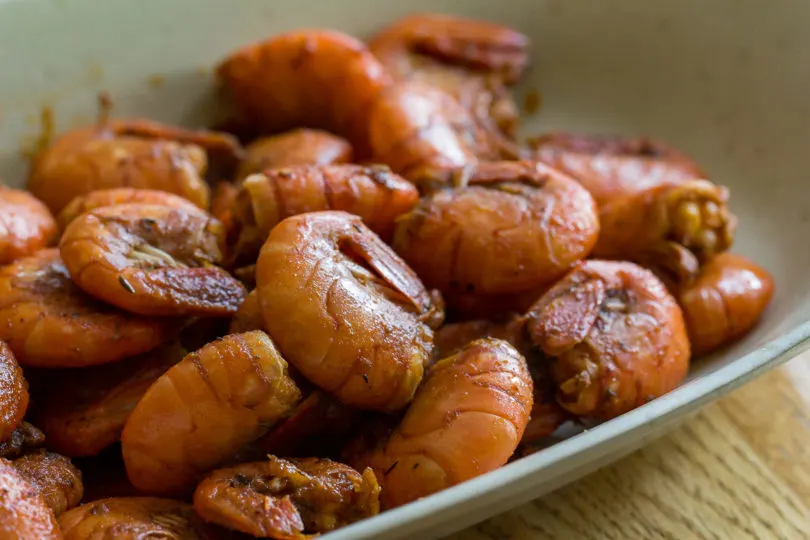 Cajun Spot Prawns shopping list
Wondering if you have to hit the store? Here's the list of items you'll need to make this recipe. For specific amounts, please refer to the printable recipe card at the bottom of the post.
Spot prawns (or shrimp)
Salted butter
Garlic
Cajun seasoning blend
Lemon juice
Amber beer
Get all of my Traeger Recipes here!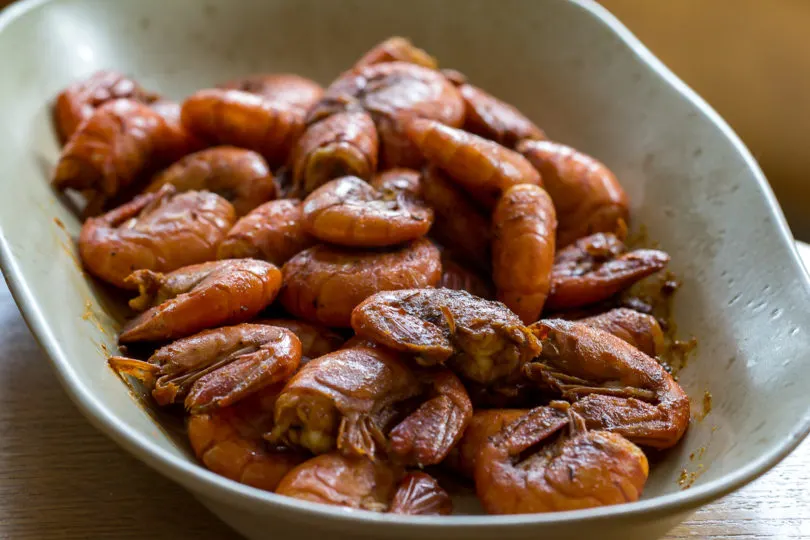 How to make Grilled Cajun Spot Prawns
This is just the overview so you can see what you're actually getting into here. When you are cooking, you'll want to use the full recipe at the bottom of the page.
Preheat
Fire up your grill and get it heated to 375°F.
Put your grill-safe baking dish in the grill while it is preheating.
Make the sauce
Add the butter, garlic, seasoning, lemon juice, and beer to the pan. Let it heat up and come to a simmer on the grill.
Add the prawns
Add your cleaned, head-off but shell-on prawns to the cajun sauce in the pan on the grill. Stir it around to coat them in the sauce and let cook for 5-6 minutes before flipping and stirring again. Cook for another few minutes until the internal temperature reaches 120°F.
Enjoy
Remove from the grill and enjoy! Bring extra napkins!
Get all of my Traeger Recipes here!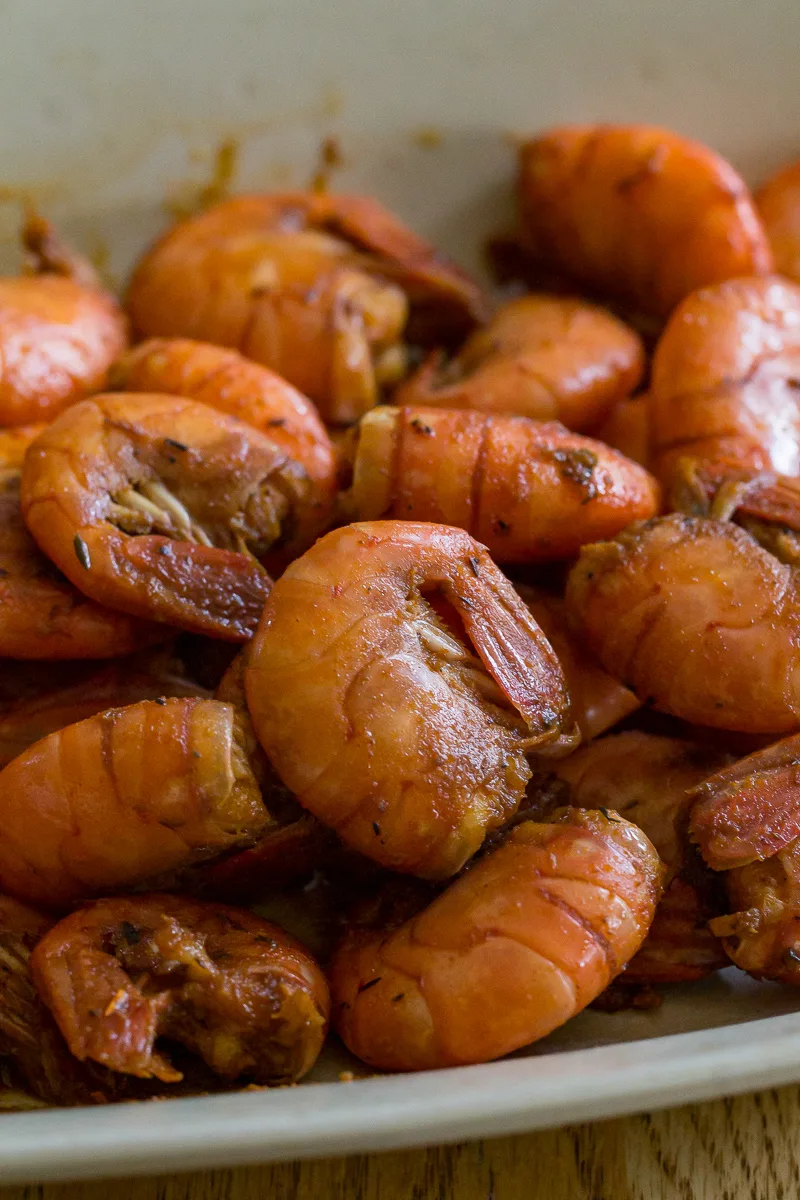 Cajun Spot Prawns FAQ
What is the best way to store and reheat leftovers?
Spot Prawns are the BEST when they are freshly cooked. Leftovers aren't ideal. That being said, if you overdo it a little bit, you can store these in an airtight container in the fridge for 1-2 days, max. Reheat in a pan on the stove over medium to medium-low heat with butter.
Can you make this dish on the stovetop instead of on the grill?
Yes! You can cook these indoors if you'd like in a pan on the stovetop. You can also cook them in an air fryer or in the oven. Just follow the basics of the sauce recipe and make sure you don't overcook!
What are some other good types of Cajun seasoning?
If you don't have any Thunderdust (yet) from Isaac Toups, get some! It is my favorite Cajun seasoning blend by far. However, if you need to just grab some from the grocery store, the products below are usually available and have great reviews.
Tony Chachere's Cajun blends are really popular! I also hear great things about the Louisiana Fish Fry Brand Cajun Seasoning.
Get all of my Traeger Recipes here!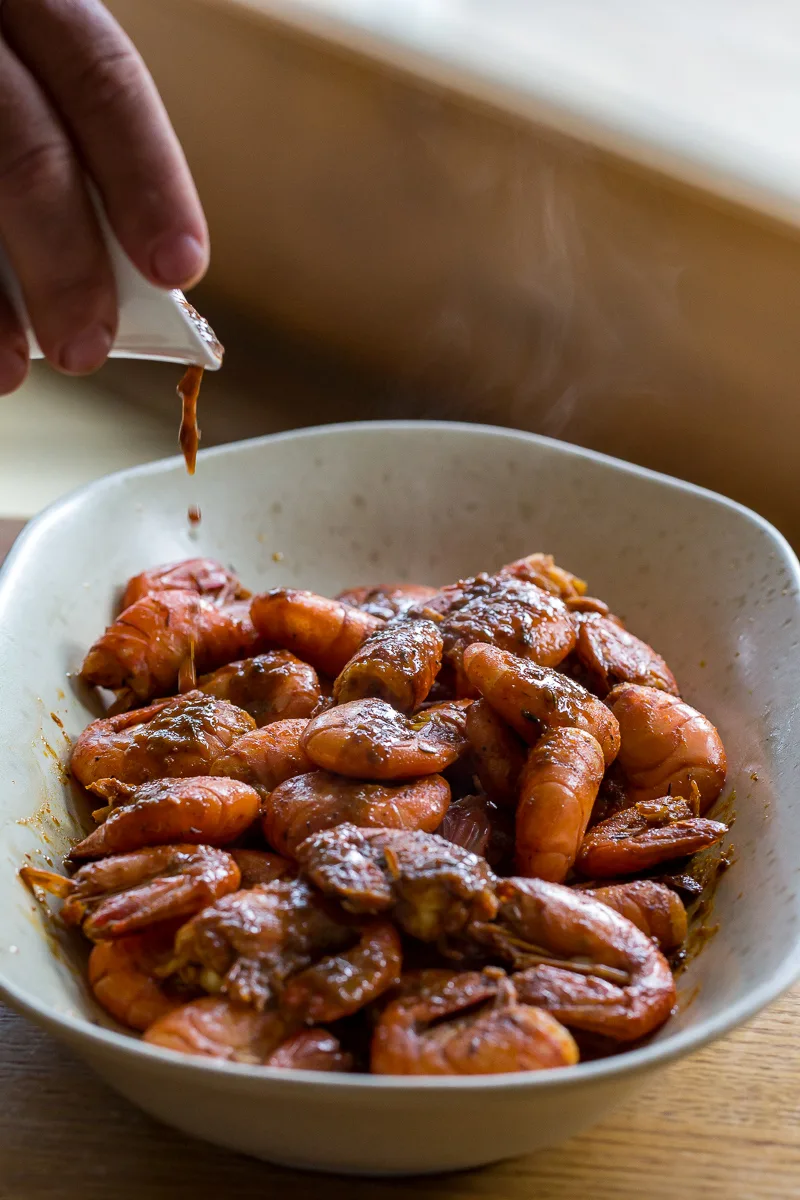 Serve your Cajun Spot Prawns with…
More great spicy recipes to love!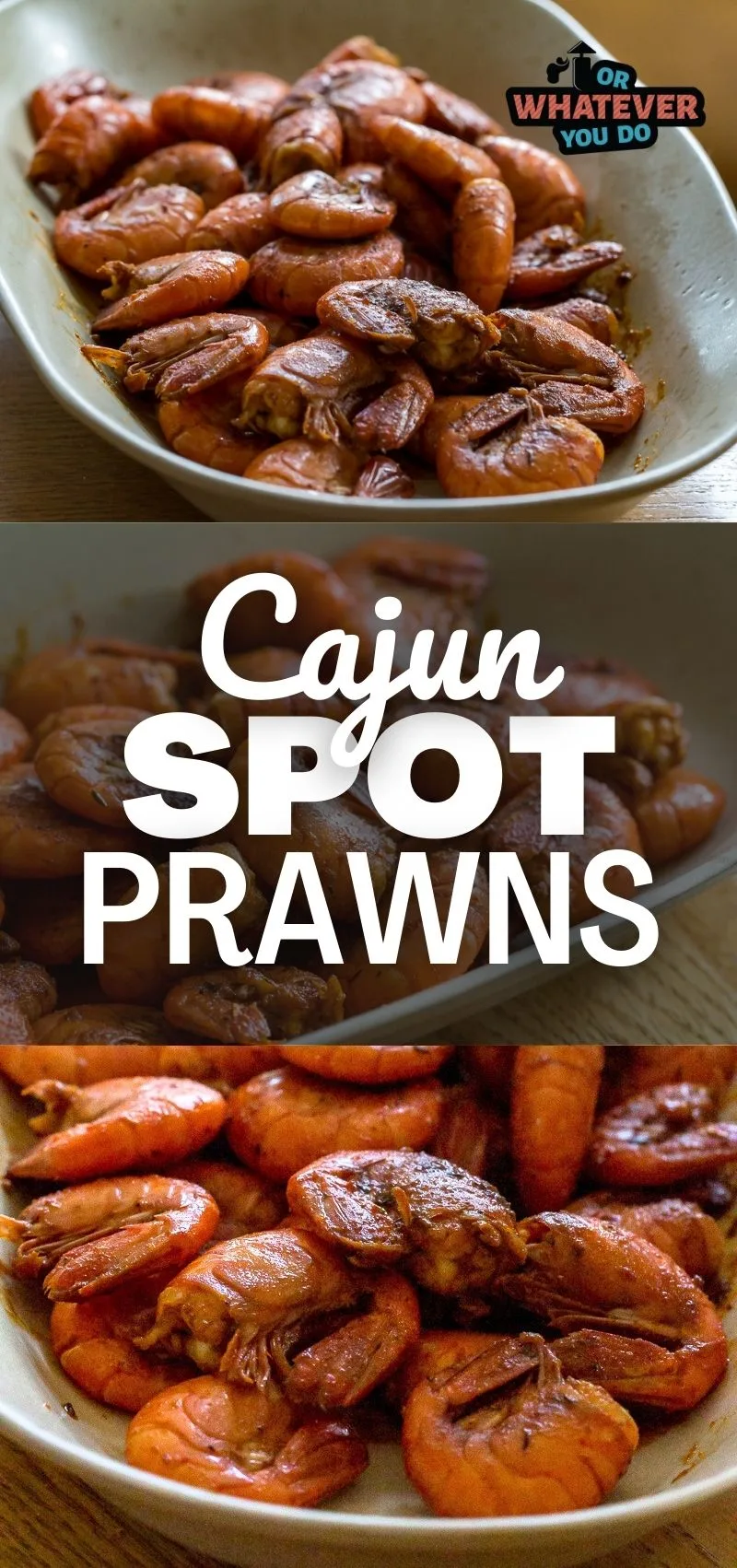 Yield: 8 servings
Grilled Cajun Peel and Eat Spot Prawns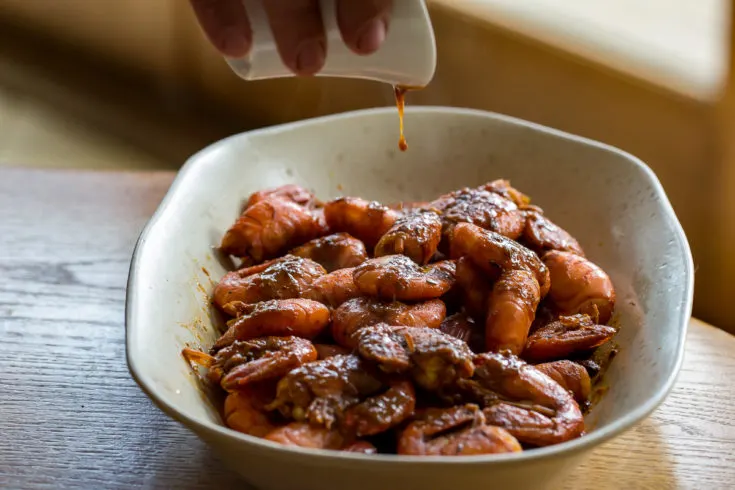 These spicy, fresh, Cajun Peel and Eat Spot Prawns are such a hit! Make them as an appetizer or as a main course, and bring the extra napkins!
Ingredients
2 pounds fresh spot prawns, heads removed
1/2 cup salted butter
1 tablespoon minced garlic
2 tablespoons Cajun seasoning blend
3 tablespoons lemon juice
1/2 cup Amber beer
Instructions
Preheat your grill to 375°F. Put your grill-safe high-sided baking dish inside while the grill preheats.
Add the butter, garlic, cajun seasoning blend, lemon juice, and amber beer to the pan.
Let the sauce mixture cook for about 10-15 minutes, or until everything is melted and it is bubbling hot.
Add the shrimp and stir them around to coat with the sauce mixture. Cook for 5-6 minutes. Stir and flip the shrimp over, and cook another 5-6 minutes or until the internal temperature of the shrimp reaches 120°F.
Serve hot!
Notes
My favorite Cajun seasoning blend is linked below, but there are a lot of good options out there, many available at your local grocery store. Pick your favorite and get cookin'!
Recommended Products
As an Amazon Associate and member of other affiliate programs, I earn from qualifying purchases.
Nutrition Information:
Yield:
8
Serving Size:
1
Amount Per Serving:
Calories:

248
Total Fat:

14g
Saturated Fat:

8g
Trans Fat:

1g
Unsaturated Fat:

5g
Cholesterol:

270mg
Sodium:

1980mg
Carbohydrates:

4g
Fiber:

0g
Sugar:

0g
Protein:

26g
Nutrition data provided here is only an estimate.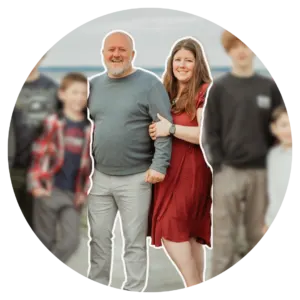 Nicole Johnson, a self-taught expert in grilling and outdoor cooking, launched Or Whatever You Do in 2010. Her blog, renowned for its comprehensive and creative outdoor cooking recipes, has garnered a vast audience of millions. Nicole's hands-on experience and passion for grilling shine through her work. Her husband, Jeremiah Johnson, also plays a pivotal role in recipe development, adding his culinary flair to the mix. Together, they form a dynamic duo, offering a rich and varied outdoor cooking experience to their followers.