Pepperoni Pizza Rollups take homemade pizza to a whole new level. Grab these and dip them for maximum fun, or take them on the go for a fun lunch on the run!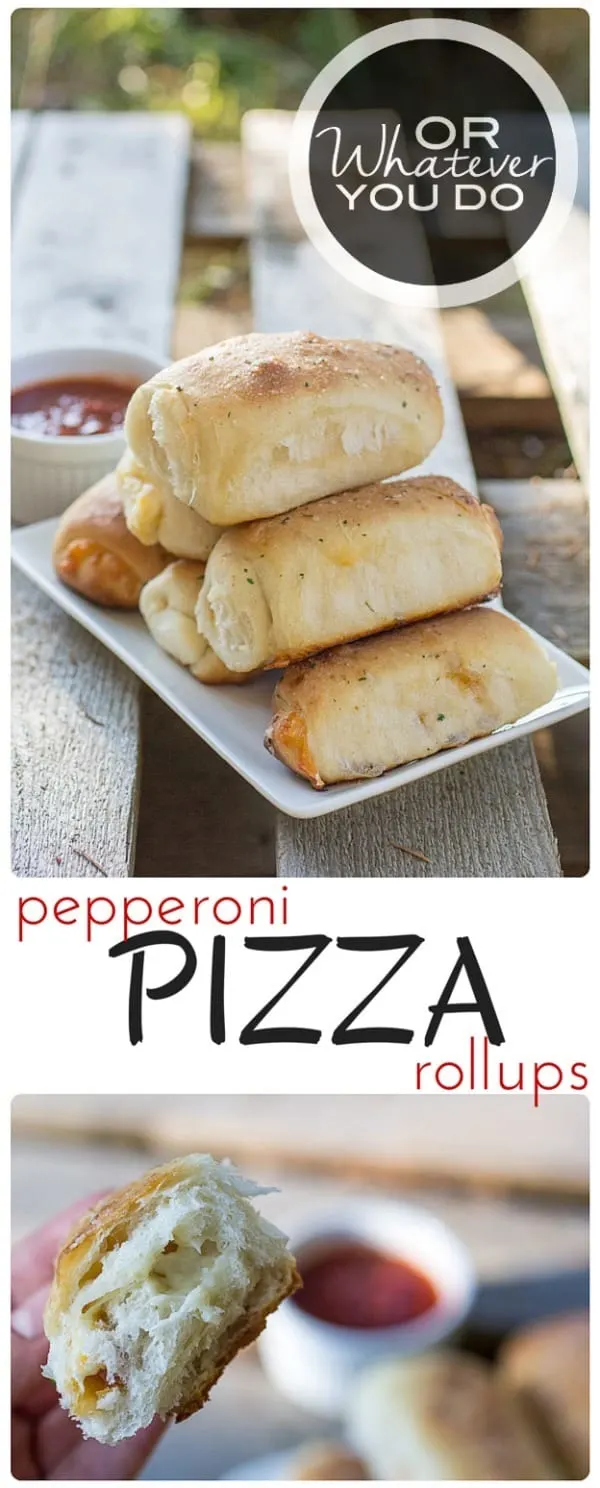 Pepperoni Pizza Rollups
I have the worst writer's block right now. I've been trying to write this post for days. Days and days and days. I'm not sure why this one has been so hard to write, because these pepperoni pizza rollups were a major MAJOR hit here with all the kids.
When you have five kids, finding something to make that everyone likes is like the unicorn of parenting accomplishments. It is ever elusive because the one thing that everyone declared the BEST THING EVER will cause rivers of tears and mountains of drama the very next week.
Even pizza.
Even when you decide early on you will be the mean parent who doesn't cater to pickiness.
Because I am totally that parent.
I'm all, "Oh, sorry tiny child. You don't like this homemade spaghetti sauce that I carefully prepared? That's too bad. No, you can't have toast. Or cereal. Or anything else. Eat, or be hungry."
Still, it doesn't work. Or at least it doesn't work in my house. That's one of the many benefits of having a million kids.
Love Pepperoni? Try our Chopped Italian Sandwich!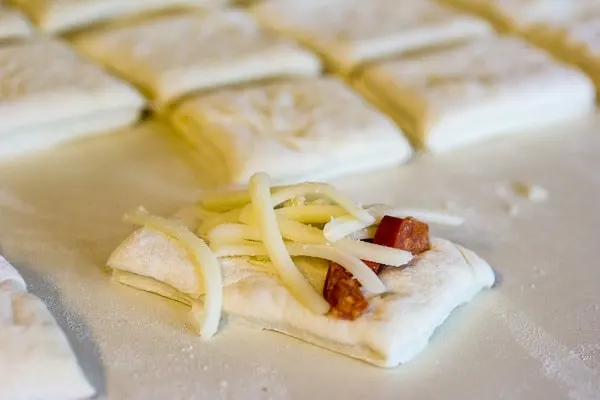 If you are feeling especially tired, overworked, or just lazy – you could definitely use frozen bread dough or even refrigerated biscuit or crescent roll dough for these. I did, in this Pizza Poppers recipe.
I was feeling especially cheap, and especially unmotivated to drag 5 kids to the store, so I pulled out the mixer and the flour and other items and whipped up some fresh pizza dough. Mmmmmmmm, gluten. Freshly kneaded gluten. You've seen this recipe's cousins here on the site a couple of times in my Homemade Milk Rolls, English Muffins, and Buttermilk Oatmeal bread.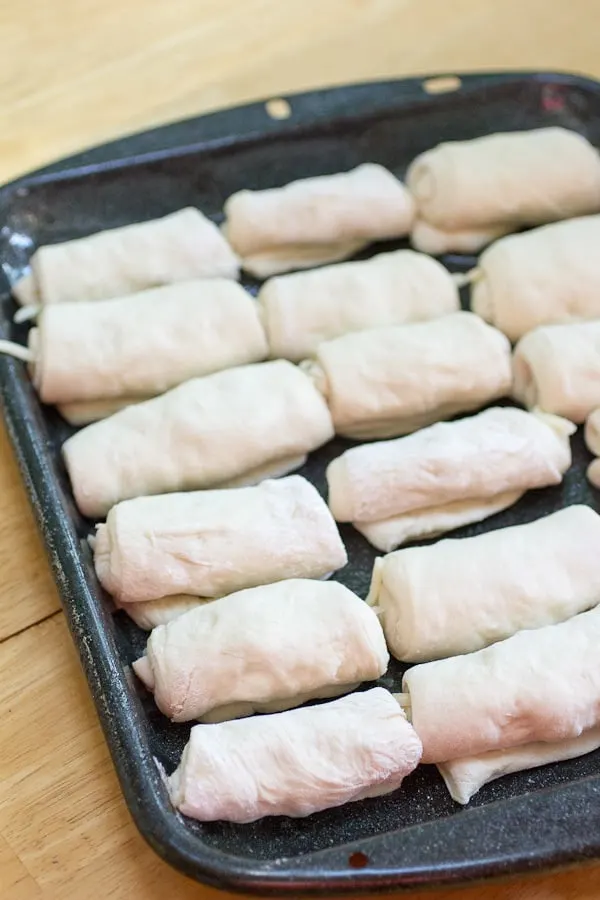 You could also quicken this up by picking up some jarred pizza sauce. I totally do that. On the reg. My favorite brand is Ragu Pizza Sauce, NOT Pizza Quick.
They are totally different.
This is a bit of a sentimental preference because that's the brand my mom always used growing up, so when I don't feel like making my own I fall back to the familiar. But again – dragging all kids to the store for jarred sauce seemed stupid when I have all the ingredients right here waiting for me to make this easy homemade pizza sauce.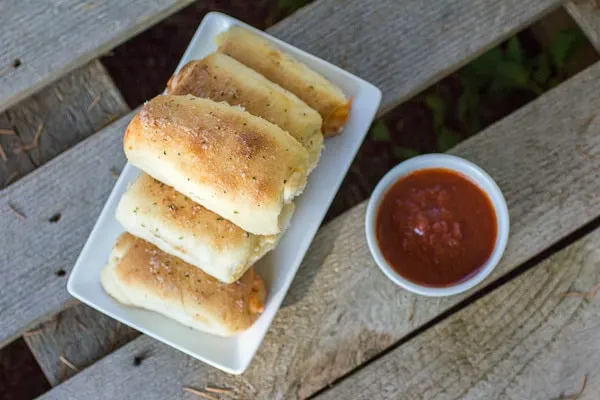 But really? If you have the time and the inclination?
Make some bread.
There is really nothing better than fresh bread kneaded in your own kitchen, baked in your own oven. It's so satisfying and comforting to sit down to a fresh roll, or put a bit plate of hot pepperoni pizza rollups in front of your family.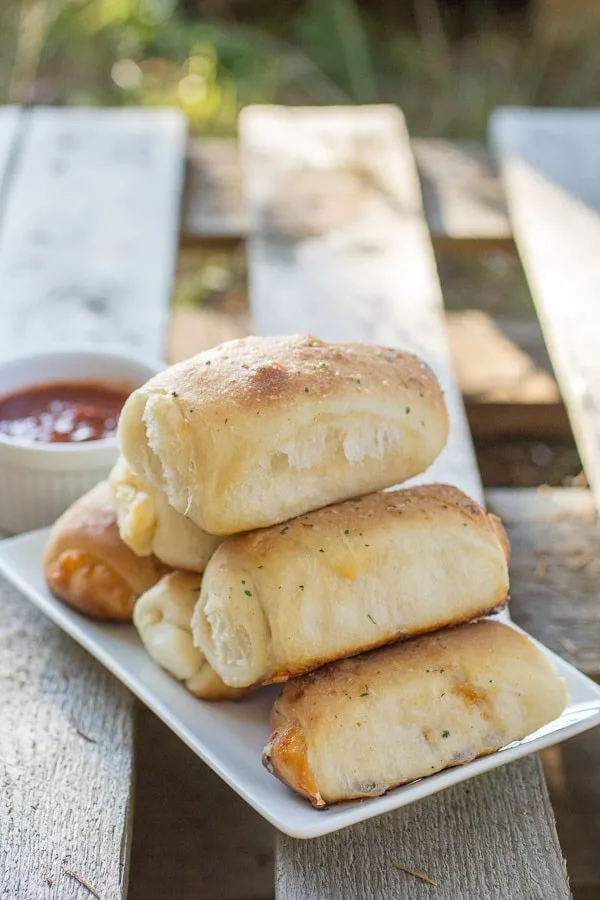 Assembly instructions
Roll out dough on a well-floured surface into a large rectangle about 1/2 inch thick.
Cut into rectangles.
Place some cheese and pepperoni on the rectangle, and roll up.
Seal the edge, place on a parchment-lined baking sheet, and let rise for 30 minutes.
Bake at 450 for 10-15 minutes, or until rollups are golden brown.
Brush with a garlic butter/herb mixture, and serve with dipping sauce.
Yield: 8 servings
Pizza Roll-ups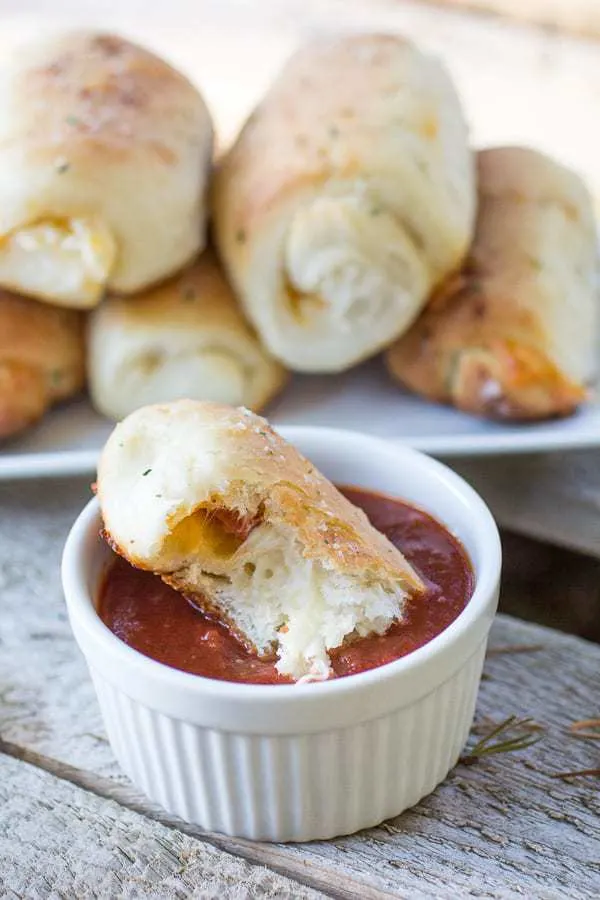 Delicious pizza rollups that are a grab and dunk version of your favorite pizza snack.
Ingredients
1 1/2 cups warm water
4 teaspoons sugar
2 teaspoons salt
1/2 teaspoon garlic powder
1/8 cup olive oil
1 package instant yeast
3-4 cups bread flour
1 15 ounce can tomato sauce
1 6 ounce can tomato paste
1/4 teaspoon basil
1/2 teaspoon oregano
1/2 - 1 teaspoon salt
1 teaspoon sugar
3 tablespoon olive oil
1 clove garlic, extra large
1 6 ounce can water
1 tablespoon red wine
shake cayenne
3 TBSP parmesan
Instructions
Place the water, sugar, salt, garlic salt, olive oil, and yeast into your mixer. Mix about 30 seconds.
Turn the mixer on medium speed and begin adding flour until a soft dough is formed that cleans the side of the mixer. Mix 4 minutes after the sides are cleaned.
Remove from the mixer and place into a large bowl that is coated with olive oil. Cover and let rise in a warm place until doubled.
Proceed to follow rollup assembly directions.
Bake at 450 until golden brown.
Heat olive oil over medium-low heat and add garlic. Cook for 1 minute, and add tomato paste and tomato sauce, and all the seasoning and the water.
Cook over medium-low heat for 20 minutes, stirring frequently.
Nutrition Information:
Yield:
8
Serving Size:
1
Amount Per Serving:
Calories:

937
Total Fat:

14g
Saturated Fat:

3g
Trans Fat:

0g
Unsaturated Fat:

10g
Cholesterol:

8mg
Sodium:

1182mg
Carbohydrates:

172g
Fiber:

7g
Sugar:

20g
Protein:

29g
Nutrition data provided here is only an estimate. If you are tracking these things for medical purposes please consult an outside, trusted source. Thanks!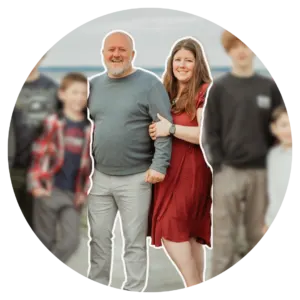 Nicole Johnson, a self-taught expert in grilling and outdoor cooking, launched Or Whatever You Do in 2010. Her blog, renowned for its comprehensive and creative outdoor cooking recipes, has garnered a vast audience of millions. Nicole's hands-on experience and passion for grilling shine through her work. Her husband, Jeremiah Johnson, also plays a pivotal role in recipe development, adding his culinary flair to the mix. Together, they form a dynamic duo, offering a rich and varied outdoor cooking experience to their followers.