Cast iron deep dish pizza crust and I go way back. Way back to my days at Pizza Hut as a line cook, and then eventually a waitress and delivery driver. That job was probably my favorite of all of my food service jobs, and bought me many pairs of jeans, meals out, and other various teenagery things.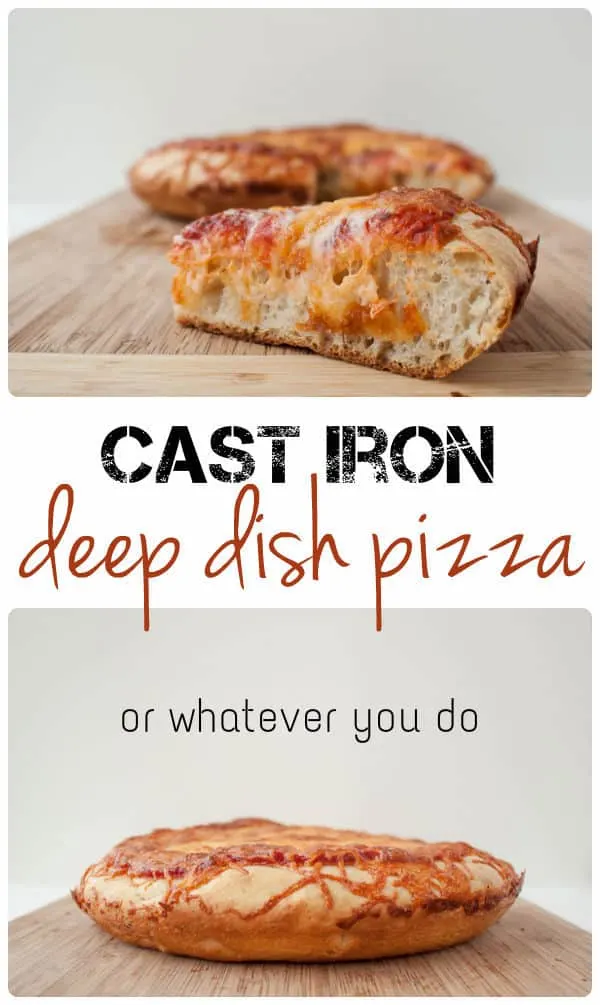 Oh yes. I finally did it. I finally perfected not only my regular pizza crust recipe, but made an awesome deep dish as well. This cast iron deep dish pizza crust recipe will please even the pickiest pizza fan! It is crispy on the bottom, soft and chewy on the inside. Flavorful, and will hold a TON of toppings.
In my house, we are generally regular hand-tossed or thin crust pizza eaters. Very rarely do I break out the big guns and attempt a thick crust. It just ends up too bready, the crust not crispy enough, just NO. You can find my regular pizza dough recipe here.
By using a cast iron pan you are going to get closer to those pan pizzas of your memories.
Start by proofing your yeast in your mixer. Add 1 cup of hot water, 1 heaping teaspoon sugar, and 1 TBSP yeast. Pulse a couple of times to mix, and then let this mixture sit for 15 minutes. When you come back, it should look a bit foamy and smell yeasty and delicious. This is telling you that your yeast is alive and ready to rock.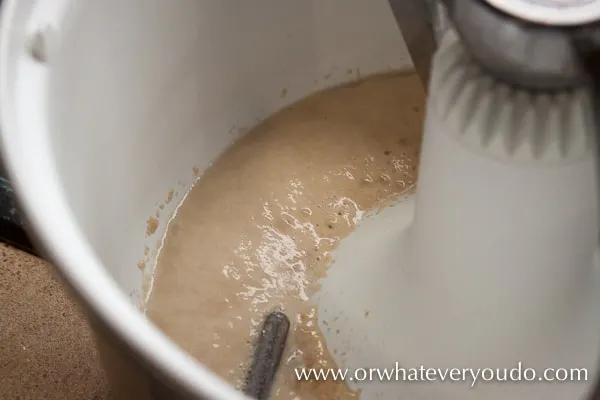 Next, add in 1 cup of milk, 1/2 cup of olive oil, and 3 cups of bread flour. Mix this up until it is fully combined.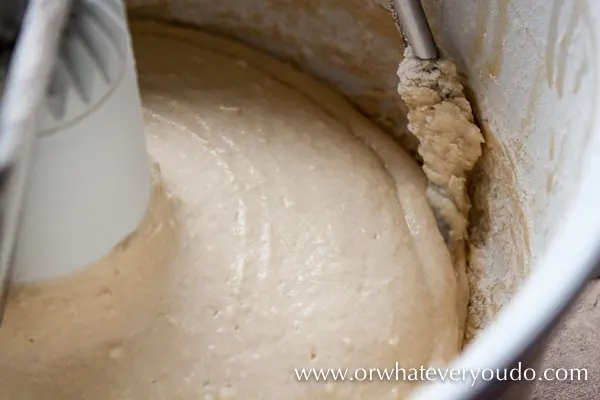 Then walk away and let it rest for 30 minutes. This is called the autolyse, if you wanted to get fancy. I don't.
Basically the purpose for this is to let the flour fully absorb the liquid and start developing gluten. It is supposed to help you develop a more open crumb, and a deeper flavor. It also makes the dough easier to work with.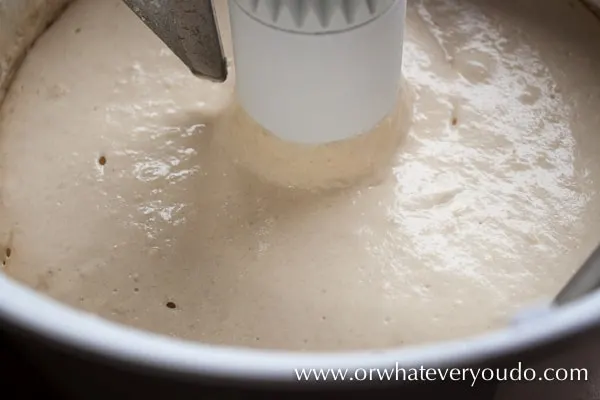 Come back after that 30 minute rest and turn your mixer back on medium. Add 1 tsp salt, and 1/2 – 3/4 cup flour. The amount will depend on a whole host of things. You want your dough to just form into a nice ball, and start pulling from the sides. Knead with your mixer on medium for 5 minutes. Turn out into a well oiled bowl. Your dough should be smooth, and stretch nicely.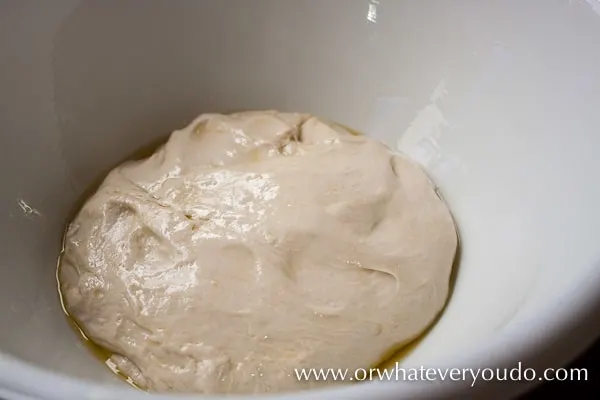 Cover your bowl and let the dough rise until doubled in size. Mine took about 1.5 hours.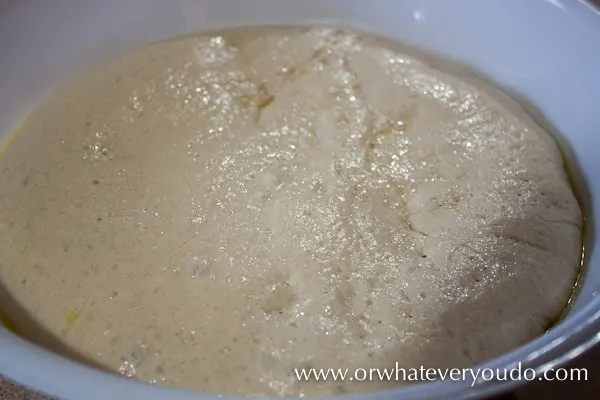 Here is another view of the dough so you can see how high up the bowl it had risen.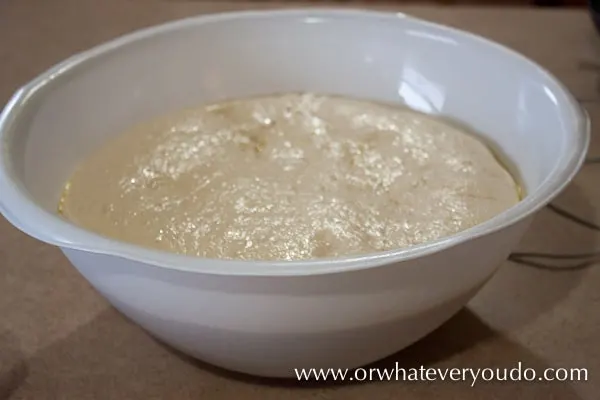 One way to check this is by poking a finger into the dough. If the indentation stays, it is almost ready.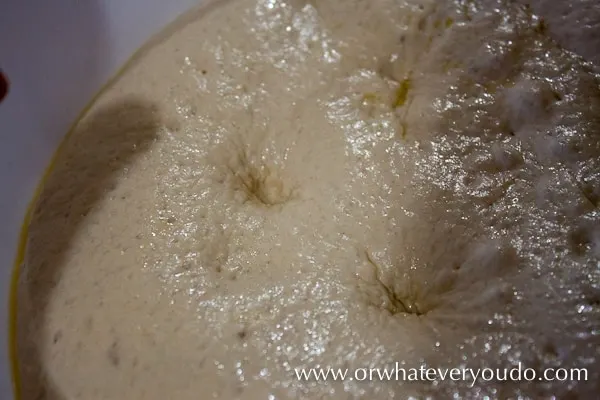 Punch down the dough (deflate it by pushing on it, basically, no need to go all UFC on it or anything.) and cover it again for another 30 minutes. Turn on your oven to preheat now to 450℉. When you come back, it will have risen some more and be beautiful and ready to shape.
Oil your cast iron skillet WELL, and press half of your dough into it.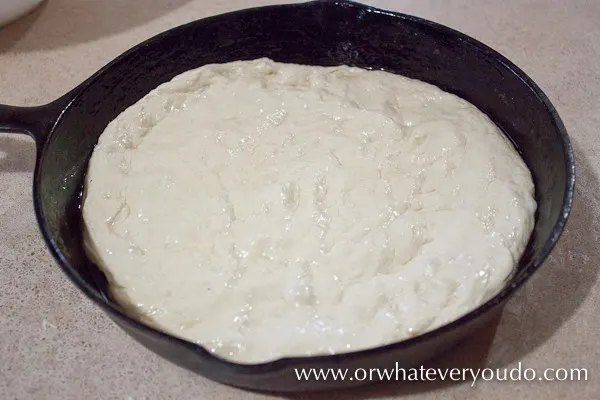 Press down gently in the pan, and then poke some holes in the dough with a fork.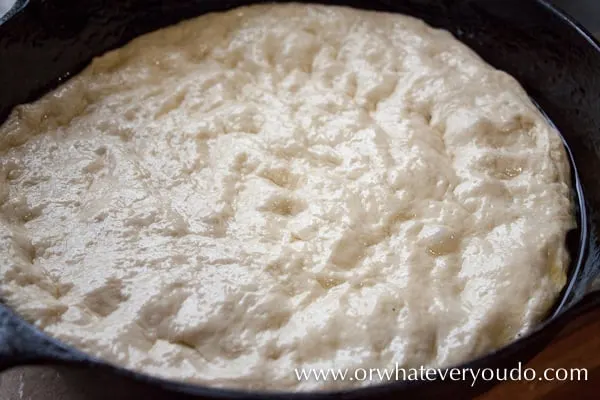 Next turn on your stove to high, and place the cast iron pan on there. Heat until the pan is hot and the oil under the crust starts bubbling. You will hear it and see the sides start to move.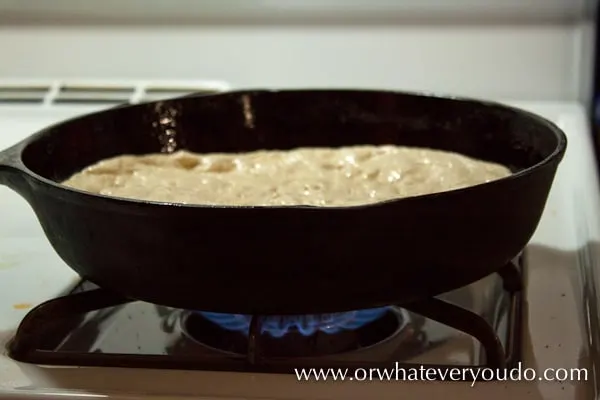 When this happens place the crust in your oven on the lowest rack for 10 minutes to pre-bake it a bit. Remove, top with your favorite toppings, and finish baking. Pro tip, this easy homemade pizza sauce is my favorite! Make it while your dough is rising! It will take approximately 30 minutes. Keep a close eye on it as this will depend on your oven, your toppings, and your pan.
Remove from the pan and marvel at your creation.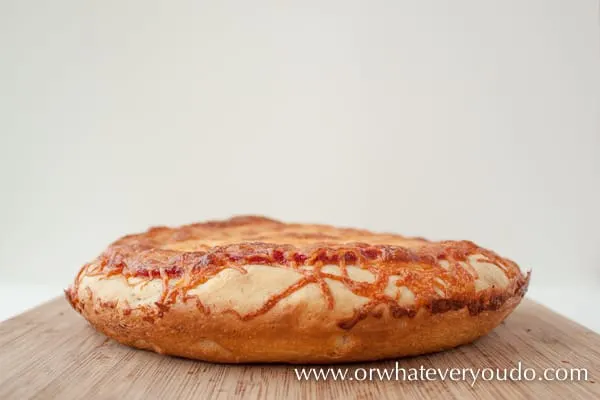 Now slice and enjoy!
This crust also works well for a hand tossed crust. I used half and stretched it out onto a 16 inch pizza pan (the kind with holes in it, LOVE that pan!!), pre-baked for 5 minutes, and then saved it for later.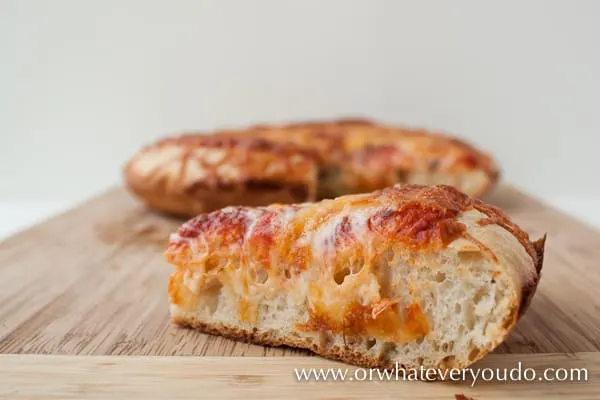 Yield: 2 pizzas
Cast Iron Deep Dish Pizza Crust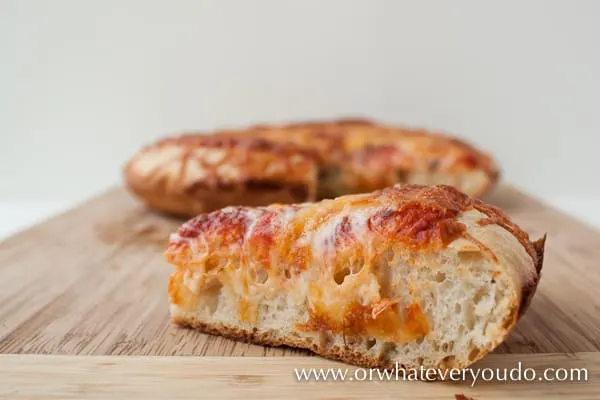 This pizza is like your favorite Pizza Hut pan crust! DEEP deep dish uses your cast-iron skillet to form that signature crunch that everyone loves.
Ingredients
1 heaping tsp sugar
1 cup hot water
1 TBSP yeast
1 cup milk
1/2 cup olive oil
3 cups bread flour
1/2 - 3/4 cup bread flour
1 tsp salt
toppings and cheese of your choice
Instructions
Combine sugar, hot water, and yeast in your mixer. Let proof for 15 minutes.
Add milk, olive oil, and 3 cups of bread flour. Mix until well combined and let rest for 30 minutes.
Add 1/2 - 3/4 cups flour and salt. Knead on medium for 5 minutes. Turn out into a well oiled bowl, turn to coat, and cover to let the dough rise until doubled, approximately 1.5 hours.
Punch down the dough and let rise again for 30 minutes. Preheat oven to 450.
Place approximately half of the dough into your well-oiled cast iron skillet. Poke with a fork to create some holes. Place on your stovetop over high heat until the skillet is hot and the oil under the pizza crust is bubbling. Place pizza and pan into the oven on the bottom rack for 10 minutes to pre-bake.
Top with your favorite toppings, and finish baking for approximately 30 minutes.
Repeat with remaining dough.
Nutrition Information:
Yield:
8
Serving Size:
1
Amount Per Serving:
Calories:

365
Total Fat:

16g
Saturated Fat:

3g
Trans Fat:

0g
Unsaturated Fat:

12g
Cholesterol:

6mg
Sodium:

333mg
Carbohydrates:

45g
Fiber:

2g
Sugar:

1g
Protein:

9g
Nutrition data provided here is only an estimate. If you are tracking these things for medical purposes please consult an outside, trusted source. Thanks!
What is your favorite kind of crust? Favorite pizza toppings? Comment below or come and see me over at the OWYD Facebook page and let me know! If you liked this post, please pin it, share it, or stumble it using the buttons available too. Tell your friends if you like it, tell me if you don't! 😉
Big HUGE gigantic shout out to reader Jeff Shurts! He recently made my deep dish pizza featured in this post, and send me a picture and had this to say.
"I made your cast iron deep dish pizza last night. Wow. This is the crust I've been wanting to make. In the center, soft and pillowy like the Garcia's I grew up with in central Illinois. Near the edge, almost like Gino's East, one of the best in Chicago. I added a little fine-ground corn meal to the dough for deeper color and a little sweetness. And, in a nod to my favorite Pequod's pizza, I pressed mozzarella around the edge of the crust (touching the pan) as I fried and then prebaked the crust, giving it a nice "caramelized" ring of crunchy cheesy goodness around the outside." – Jeff Shurts
Wow! Thanks so much for reading, and for taking the time to let me know how it turned out. That is so exciting for me to see that people out there are getting some enjoyment out of my little corner of the internet.
Send in your reader photos to be featured on the blog, and to make my day. <3