Today I'm sharing with you an amazing recipe that I've been loving lately. This Thai French Bread Pizza is a fusion dish that combines two of my favorite things – the classic French bread pizza and the bold and distinct flavors of Thailand.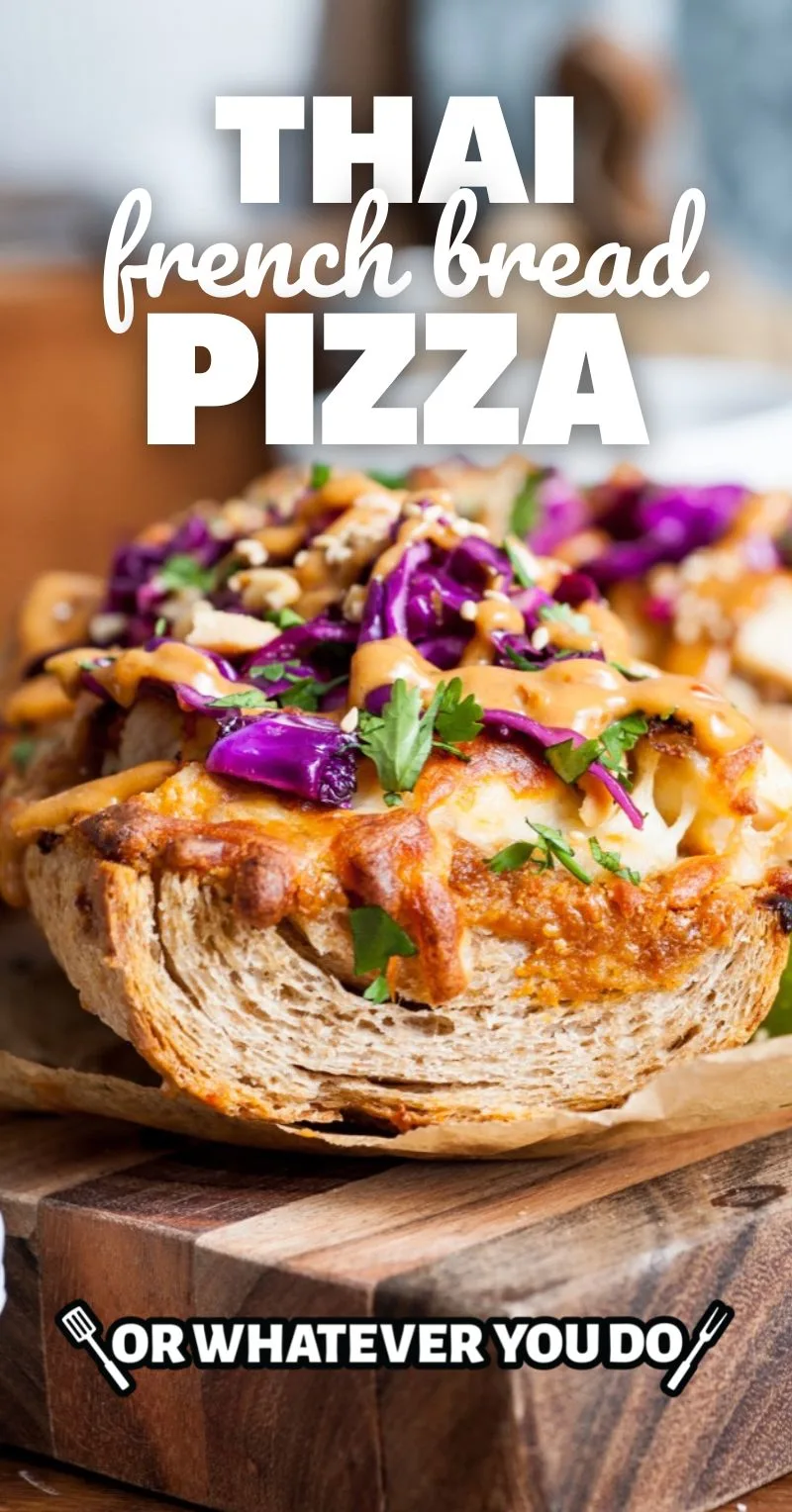 Thai Style French Bread Pizza
Our Thai French Bread Pizza is not your average pizza. It's topped with a crunchy and tangy purple cabbage slaw that perfectly complements the rich and spicy Thai peanut sauce. The combination of the two is perfect, and the garlic butter base and smoked chicken add a savory twist that will leave you wanting seconds.
This recipe is perfect for any occasion, whether it's a fun family dinner or a party with friends. It's easy to make and will impress even the pickiest of eaters. So, grab your ingredients and get ready to indulge in this delicious and unique pizza that will take your taste buds on a culinary journey.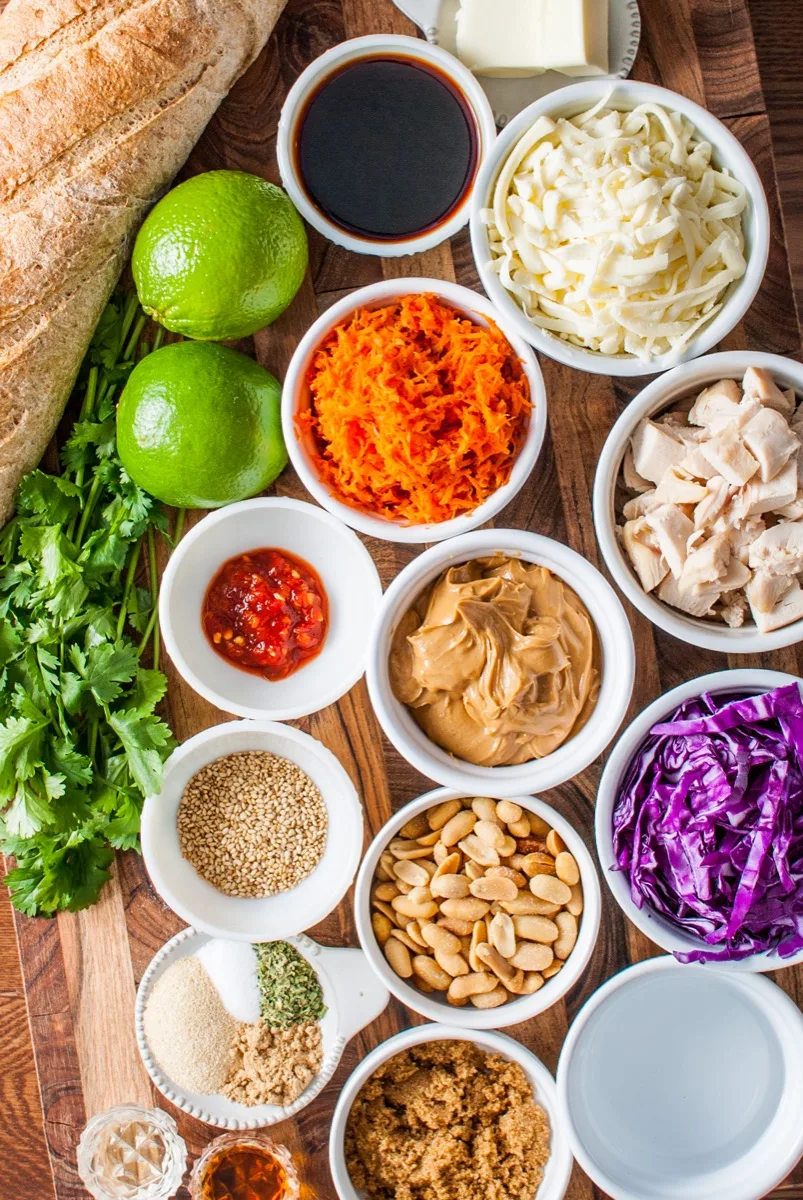 Thai French Bread Pizza shopping list
Wondering if you have to hit the store? You probably do. This list is long, but it is all worth it. Here's the list of items you'll need to make this recipe. For specific amounts, please refer to the printable recipe card at the bottom of the post.
lime
purple cabbage
butter
parsley
salt
bread loaf
mozzarella
smoked chicken
carrots
cilantro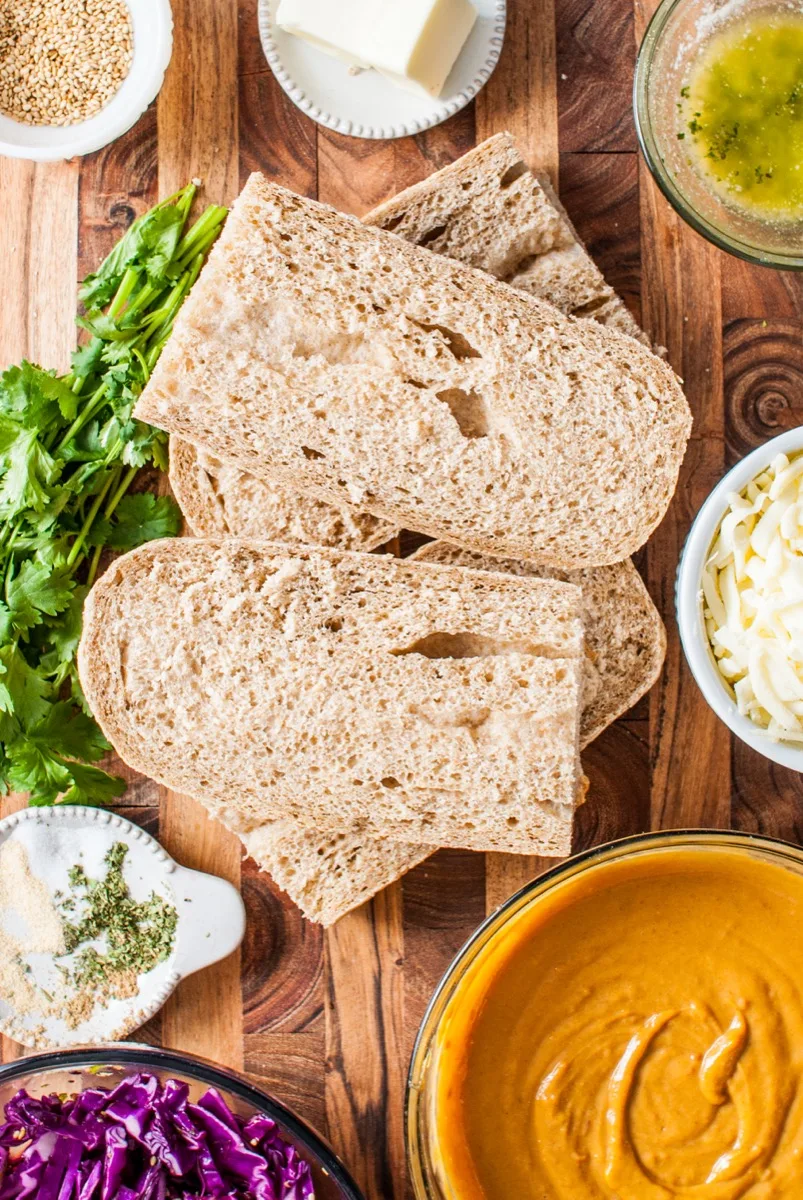 How to make Thai French Bread Pizza
This is just the overview so you can see what you're actually getting into here. When you are cooking, you'll want to use the full recipe at the bottom of the page.
Preheat
Your pellet grill or oven to 425°F.
Make the things!
The slaw and peanut sauce, that is. Whip those up first.
Load 'em up
Slice the bread and load all four pieces with ingredients. (More instructions in the recipe card below.)
Bake/Grill
Cook the pizza breads in the grill or in the oven on a parchment-lined baking sheet. until all the cheese is melted and everything is roasty toasty.
Enjoy
Load up with the extras and drizzle with the leftover peanut sauce and enjoy!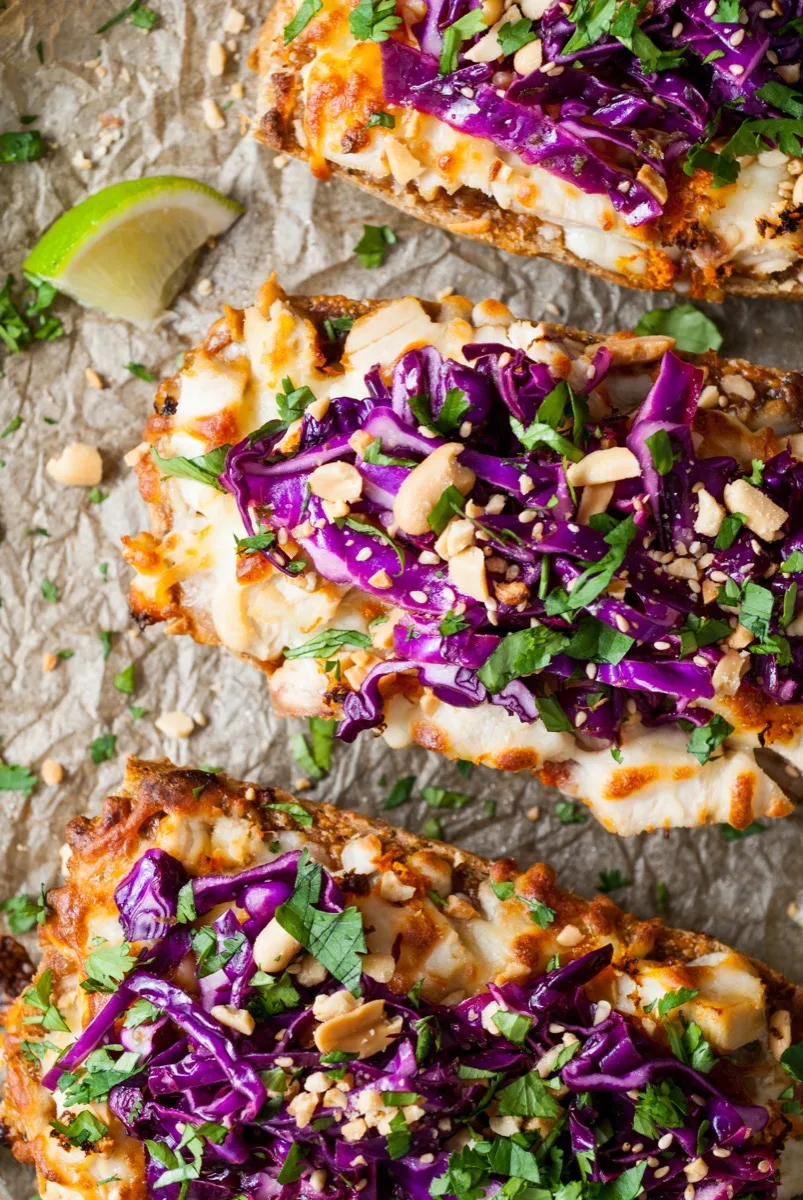 Thai French Bread Pizza FAQ
Can I make the Thai peanut sauce ahead of time?
Yes, absolutely! In fact, making the sauce ahead of time can help to develop the flavors even more. Just store it in an airtight container in the fridge until you're ready to use it.
Can I use a different type of cheese instead of mozzarella with provolone?
Yes, you can use any cheese you like. However, mozzarella with provolone is a great choice for this recipe because it melts well and has a mild flavor that won't overpower the other ingredients.
If you can't find that mix in your grocery store, slices of provolone will work too!
Can I use a different type of meat instead of smoked chicken?
Yes, you can use any type of cooked and shredded meat you like. Pulled pork, shredded beef, or even smoked turkey would all be great options. You can also use rotisserie chicken from the grocery store, if you want to skip roasting a whole chicken. We all have to hit the easy button sometimes. Currently for me that's about 3-4 times a week these day, but hoping to dial that back a bit here soon!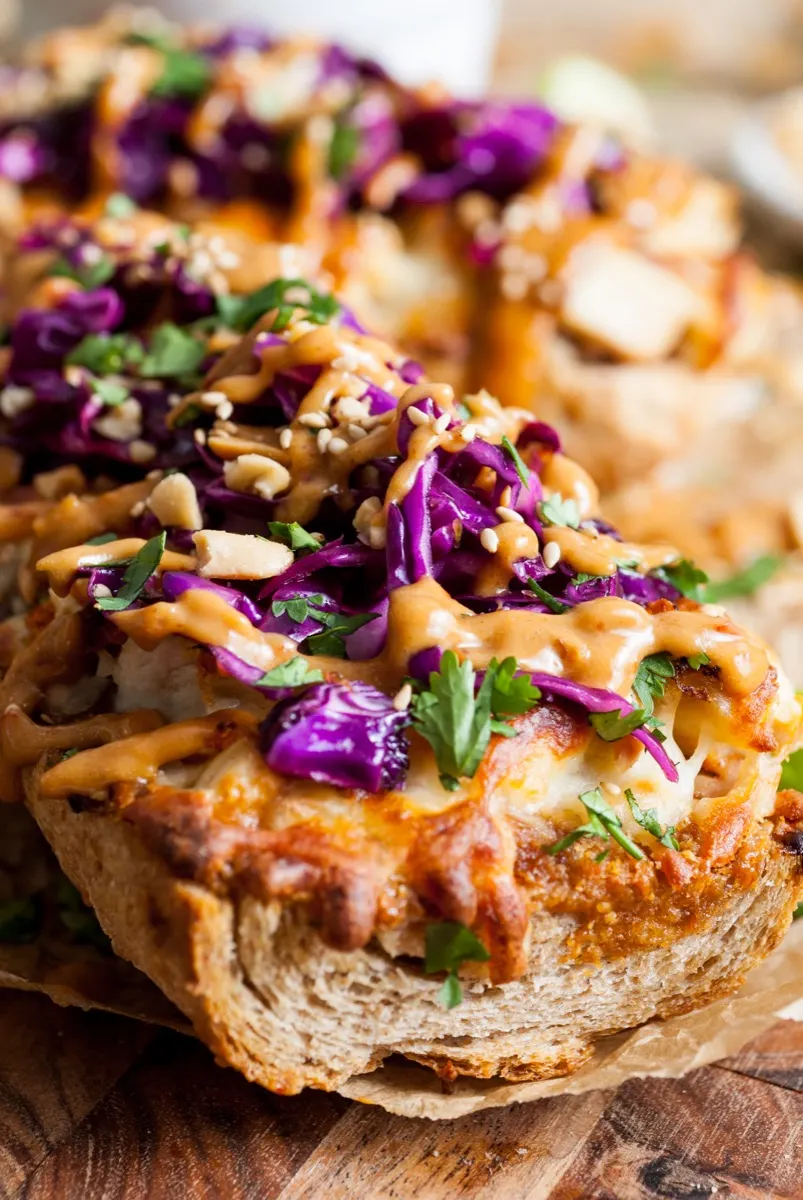 More great things to make with smoked chicken!
More great recipes to love!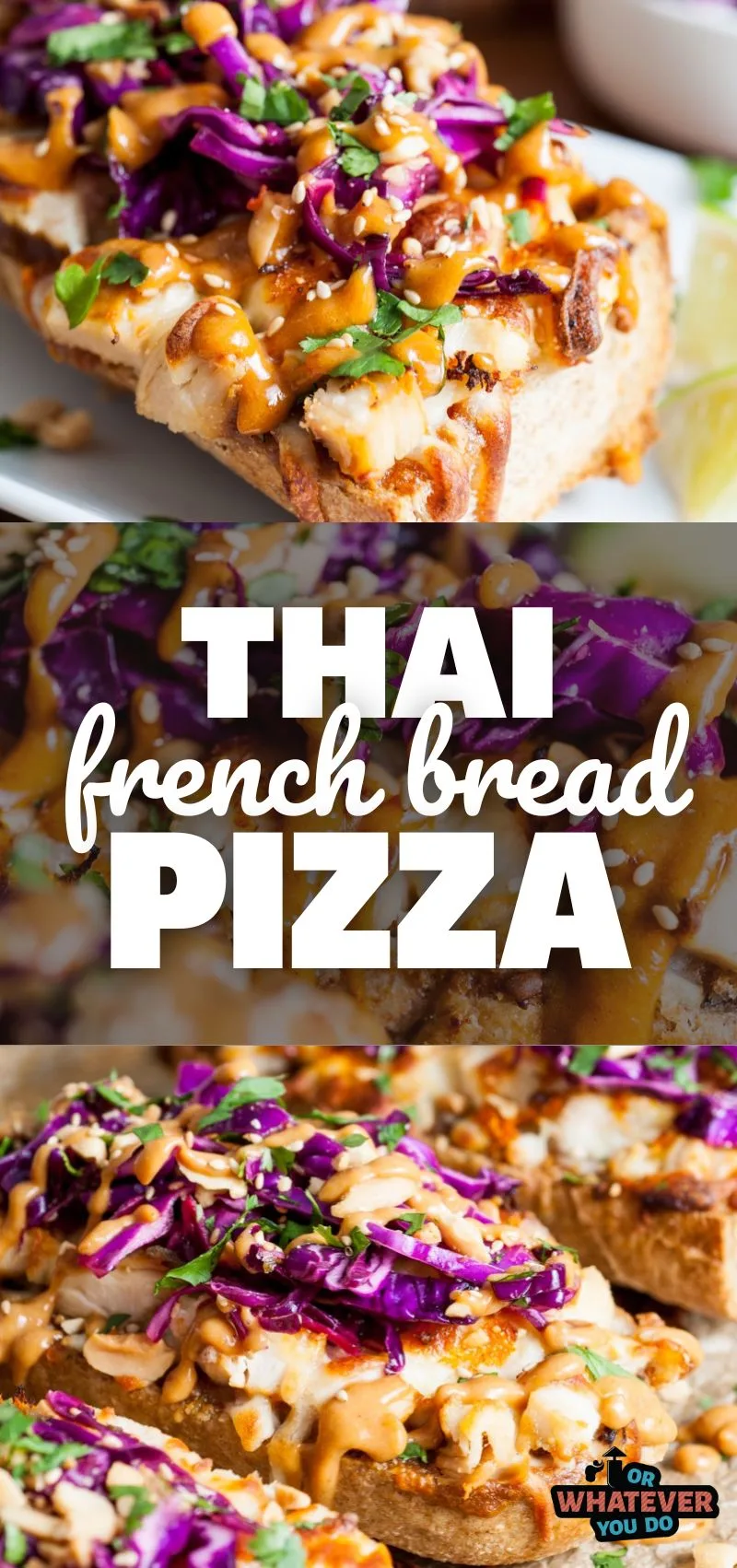 Yield: 4 servings
Thai Style French Bread Pizza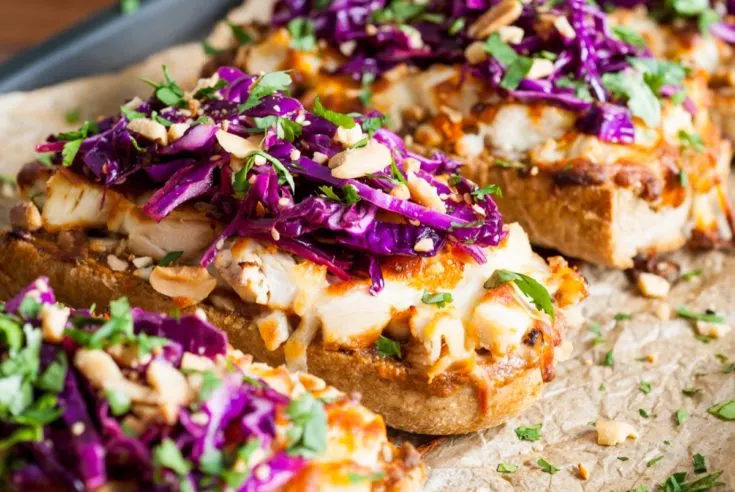 Indulge in the bold flavors of Thailand with this delicious and easy-to-make Thai French Bread Pizza, topped with a crunchy purple cabbage slaw and rich, spicy peanut sauce.
Ingredients
Purple Cabbage Slaw topping:
¼ cup rice vinegar
½ tablespoon soy sauce
½ teaspoon sesame oil
½ teaspoon toasted sesame seeds
1 lime, juice and zest
2 cups packed, finely shredded purple cabbage
Thai Peanut Sauce:
½ cup creamy peanut butter
¼ cup hot water
3 tablespoons soy sauce
2 tablespoons rice vinegar
2 tablespoons brown sugar
2 tablespoons lime juice (fresh or bottled)
3 teaspoons chili garlic sauce
1 ½ teaspoons toasted sesame oil
1 teaspoon garlic powder
1 teaspoon ginger powder
Garlic Butter Base:
2 tablespoons butter, salted
1 teaspoon garlic powder
½ teaspoon dried parsley
⅛ teaspoon salt
Pizza
1 large french bread loaf (approx 16-18oz)
3 cups shredded mozzarella with provolone cheese
2 cups rotisserie chicken, chopped
¼ cup finely shredded carrots
¼ cup salted party peanuts, crushed
Fresh cilantro, chopped
Toasted sesame seeds
Instructions
Preheat the pellet grill (or oven) to 425°F and prepare a large baking sheet by lining with parchment paper or aluminum foil.
Start by making the purple cabbage slaw topping. In a bowl mix together ¼ cup rice vinegar, ½ tablespoon soy sauce, ½ teaspoon sesame oil, ½ teaspoon toasted sesame seeds, juice and zest from 1 lime.
Once mixed, toss the purple cabbage in the mixture to coat, and set aside to rest (give the slaw a little stir once or twice while working on the remainder of the recipe).
Next you will make the Thai peanut sauce. In a medium bowl, whisk the peanut butter with the remaining ingredients for the Thai peanut sauce until smooth. Set aside.
Slice the french bread in half parallel to the counter. Then cut each of those slices in half perpendicular to the counter to make 4 individual pizzas. Set each piece crust-side up onto the prepared baking sheet.
In a small bowl melt 2 tablespoons of butter, once melted, mix in the garlic powder, parsley flakes, and salt. Brush the cut side of the bread with the garlic butter.
Brush a thick layer of the peanut sauce on top of the garlic butter, and sprinkle a very light layer of cheese over the top of the peanut sauce.
Pack about ½ cup of chopped smoked chicken onto the top of each pizza. Split the remaining cheese into 4 equal portions and mound the cheese on top of the chicken. Gently but firmly using your hand or a spatula, press the toppings down to help secure them together.
Sprinkle the tops with the shredded carrots and some of the crushed peanuts.
Bake the pizzas in the preheated Traeger (or oven) for approximately 12-15 minutes or until the top is bubbly and golden brown. (depending on the fat level in the cheese you use, you may want to spritz the top of the pizzas with a light spray of oil about halfway through to get the perfect glistening golden tops.)
When the pizzas come out of the grill (or oven), carefully transfer them to a serving platter or individual plates. Top each pizza with ¼ of the purple slaw (letting excess liquid from the slaw drain a little before placing on the pizzas).
Sprinkle the finished pizzas with more crushed peanuts, sesame seeds, and fresh cilantro.
As a final touch, put any remaining peanut sauce into a zip top bag and snip one of the bottom corners. Use this to drizzle peanut sauce over the tops of the pizzas! Serve any leftover sauce, if any, in a small dish for dipping.
Enjoy!
Notes
Can you use cashews and cashew butter instead of peanuts?
YES YES YES! You may want to add an additional tablespoon of brown sugar as I find cashew butter to be less sweet than traditional peanut butter, but otherwise I have made other thai "peanut" sauce recipes using cashew butter instead and they are always just as delicious!
Cutting options:
You can choose to just cut the bread in half (hamburger style) and make 2 large pizzas that you can cut into smaller portions after cooking, or you can cut into 4 pieces as suggested in the recipe.
Load them up:
If you REALLY love toppings, try taking a little of the bread out from the middle of the loaf, making each piece like a little boat for toppings
Hate spice?
If you prefer a really mild version you can reduce or omit the chili garlic sauce, if you choose to completely omit it, I recommend adding an extra ¼ - ½ teaspoon of garlic powder instead.
Recommended Products
As an Amazon Associate and member of other affiliate programs, I earn from qualifying purchases.
Nutrition Information:
Yield:
4
Serving Size:
1
Amount Per Serving:
Calories:

875
Total Fat:

57g
Saturated Fat:

20g
Trans Fat:

1g
Unsaturated Fat:

30g
Cholesterol:

201mg
Sodium:

2156mg
Carbohydrates:

38g
Fiber:

5g
Sugar:

13g
Protein:

59g
Nutrition data provided here is only an estimate.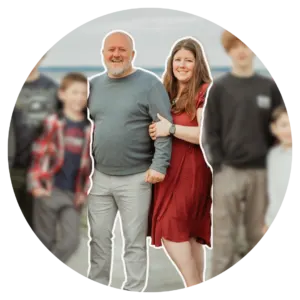 Nicole Johnson, a self-taught expert in grilling and outdoor cooking, launched Or Whatever You Do in 2010. Her blog, renowned for its comprehensive and creative outdoor cooking recipes, has garnered a vast audience of millions. Nicole's hands-on experience and passion for grilling shine through her work. Her husband, Jeremiah Johnson, also plays a pivotal role in recipe development, adding his culinary flair to the mix. Together, they form a dynamic duo, offering a rich and varied outdoor cooking experience to their followers.