Easy Biscuit Pizza Poppers go from the fridge to the oven in just a few minutes, and your entire family is going to love this fun pizza alternative.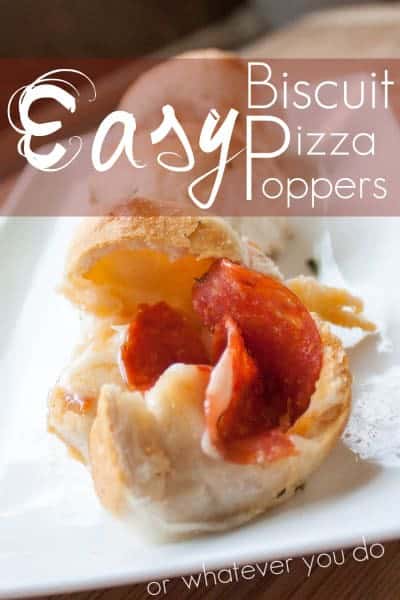 Easy Biscuit Pizza Poppers
I've been pretty vocal in my love of cooking from scratch and my general avoidance of prepared convenience type foods here on Or Whatever You Do.
In general, that still holds true, but right now in my life I am starting to embrace the quick, the easy, and the convenient!
Five kids is a LOT. Having #5 during the summer when the other four are home is hard. Really hard. I've been really blessed to have my husband home for a lot of the 6 awesome weeks that Amelia has been here, but even with two adults around sometimes dinner is the last thing either one of us want to think about.
An even bigger consideration these days seems to be how big of a mess dinner is going to make. I haven't always been known for my love of a clean house (*cough cough* Those who know me are probably laughing right now, especially my mom. Hi Mom!) In fact, growing up I was a certifiable slob.
Then I became an adult and realized that just keeping my room clean should have been simple. Then we started having kids and I really really struggled keeping up on things for a long time. I have some pictures stashed away on this hard drive somewhere that would make Mr. Clean run away screaming.
I can pretty happily say that my personal tolerance for mess has lessened a LOT the last year or two. For instance, I now HATE going to bed with a dirty kitchen. It used to not bother me to leave last night's dishes ON the table to deal with sometime in the morning. Or afternoon. Or early evening once in awhile.
Yikes.
That is hard to admit.
It was gross. NO MORE though! It makes me twitchy to leave ONE pan in the sink to soak. But now, hello! This sleep deprived, exhausted, new mom to FIVE is about ready to pass out by 8 lately, a little earlier even if I've been up cooking for a while prior, so clean up has to be as easy and fast as the dinner was.
This "recipe" fits all of that criteria, AND as a bonus it was really, really tasty. The kids loved it, and asked for more. They've been pretty skeptical of new foods lately, even new variations of old favorites, but really…who could NOT like these.
You *could* make your own biscuit dough and scratch this recipe up, for sure, but if you can find the Pillsbury Biscuits on sale sometime you might want to give them a try. I was very impressed at how they turned out. I typically have stayed away from all of those refrigerated dough products, but I'm starting to come around.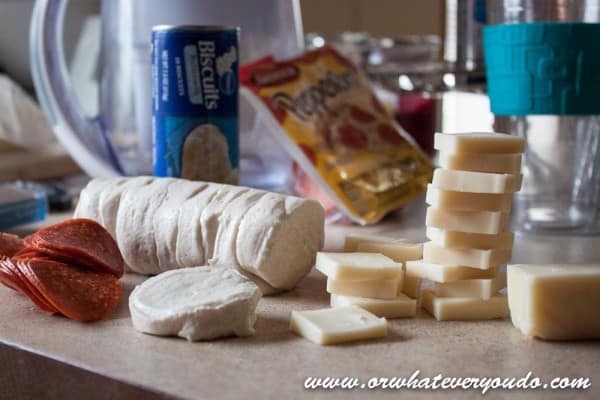 Flatten out one of the biscuit discs until its about palm sized. Place some cheese and toppings inside, and close the dough up around the fillings, making sure to pinch the seams well to close them up.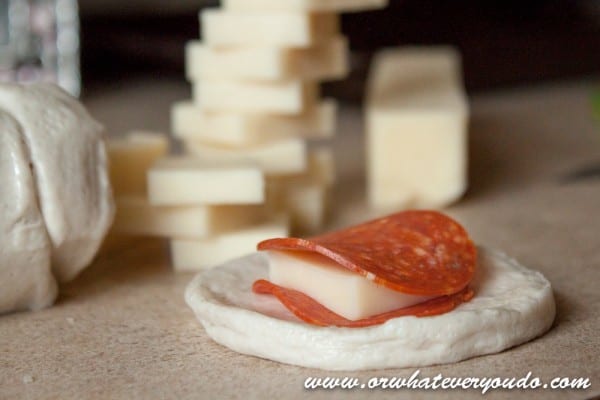 Place them seam down in a prepared (you can use garlic butter or cooking spray to prep the pan…your choice!) baking pan.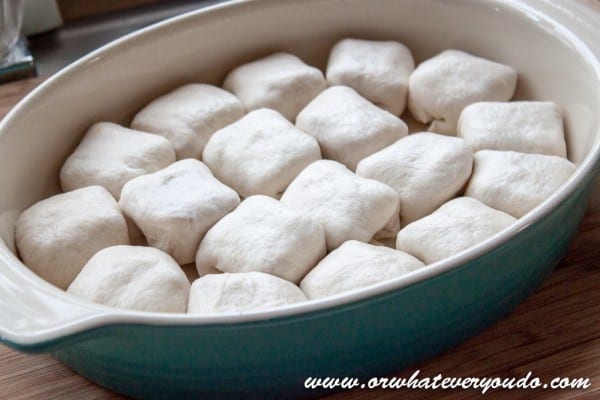 Bake according to package directions until they are JUST starting to turn golden brown, then remove from oven and brush liberally with cheesy garlic butter. Return to oven to finish baking.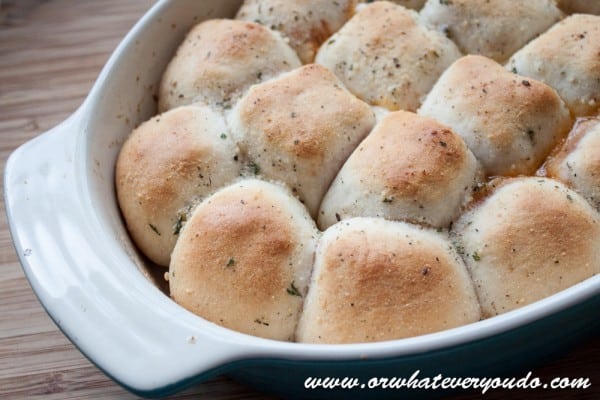 Let cool for 5 minutes and serve with pizza sauce for dunking.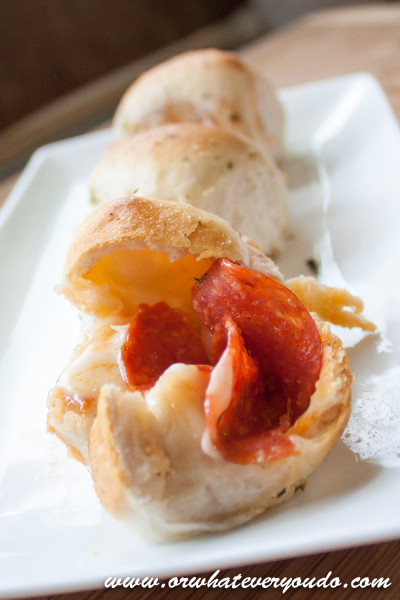 I had a few extras that wouldn't fit into my pan, so I made little mini pizzas. Also a hit.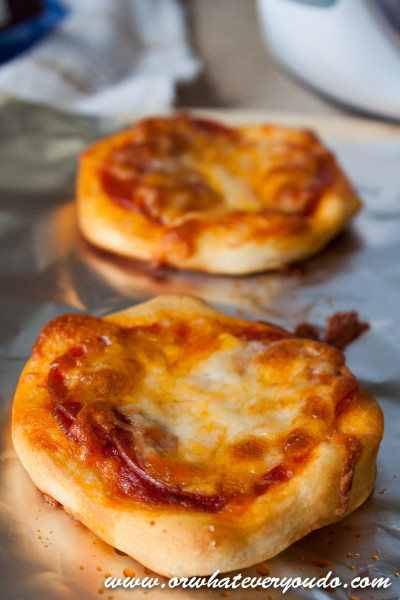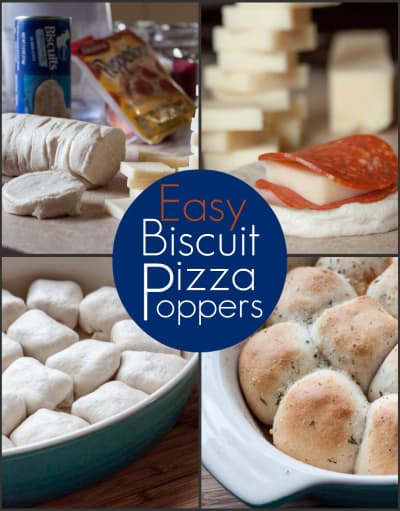 Yield: 12 servings
Easy Biscuit Pizza Poppers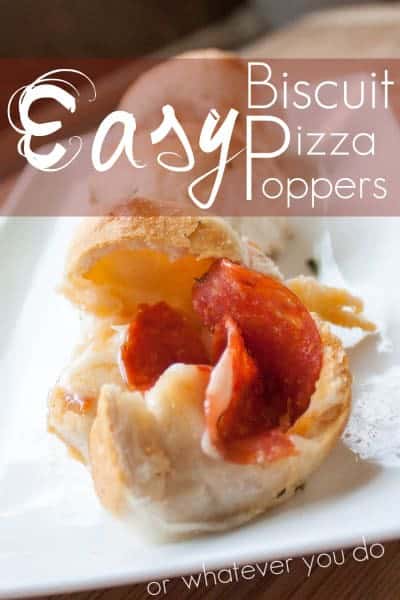 Quick and easy biscuit pizza poppers that are delicious and kid friendly.
Ingredients
2 tubes Pillsbury Biscuit dough
4 ounces mozzarella cheese
20-30 slices pepperoni
cheesy garlic butter
pizza sauce
Instructions
Slightly flatten biscuit discs and place toppings inside. Wrap dough around toppings and pinch the seam to seal shut.
Place seam down into a prepped baking dish. Bake according to package directions. When the biscuits begin to turn golden, brush liberally with garlic butter. Return to oven to finish baking.
Remove from oven, let cool for 5 minutes, and serve with pizza sauce for dipping.
Nutrition Information:
Yield:
12
Serving Size:
1
Amount Per Serving:
Calories:

179
Total Fat:

11g
Saturated Fat:

5g
Trans Fat:

0g
Unsaturated Fat:

6g
Cholesterol:

15mg
Sodium:

340mg
Carbohydrates:

15g
Fiber:

1g
Sugar:

1g
Protein:

4g
Nutrition data provided here is only an estimate. If you are tracking these things for medical purposes please consult an outside, trusted source. Thanks!